Maple Leafs' landmark women hires consistent with Dubas' mindset
Rick Madonik / Toronto Star / Getty
(Warning: Story contains coarse language)
Kyle Dubas delivered a memorable - and prescient - soundbite less than a year into his tenure as assistant general manager of the Toronto Maple Leafs.
"Your eyes and your mind are lying sons of bitches in the worst absolute way," Dubas said during a presentation about cognitive bias and personnel decisions at the annual MIT Sloan Sports Analytics Conference in 2015.
He went on to explain how recency bias and sample-size bias, among other inclinations, can negatively impact decision-making. Basing your opinion of a player on their performance over the last three games versus the previous three years, for instance, is a natural reaction. But it's also suboptimal because it is shortsighted.
Fast forward to this offseason; Dubas, promoted to GM in May, is putting his stamp on the Leafs' hockey operations group by promoting from within and hiring outside help. And efforts to mitigate bias are baked into Dubas' approach.
As the organization sought to add bodies to its scouting department, Dubas introduced an extra layer to the hiring process. Candidates filed scouting reports to an online system that masked their identity. This anonymity gave Dubas and his advisors the latitude to sift through the reports and flag the most qualified candidates without being influenced by things like gender, appearance, ethnicity, and age.
Among the top scorers was Noelle Needham, a former Minnesota State University women's hockey player who had never held an official scouting position in the professional or junior ranks. The reports she filed anonymously elevated her status and ultimately helped earn her a gig with the Leafs.
Needham, the club's new Midwest-based amateur scout, was one of three hires and two promotions announced by the club Thursday. Also joining the Leafs are Ontario-based amateur scout Victor Carneiro, a longtime talent evaluator for the OHL's Soo Greyhounds, and assistant director of player development Hayley Wickenheiser, arguably the greatest women's hockey player of all time.
Asked about hiring two women in hockey ops roles and, intentionally or not, diversifying his staff overnight, Dubas insisted he's merely looking out for the best interests of the Leafs.
"I think that if you're only hiring white males - and I'm saying that as a white male - you're probably leaving a lot on the table in terms of where your organization (is going) and how it can think, and how it can evolve and develop," the GM said on a conference call.
"I don't think we've gone out and said that we want to hire females only, males only - anything like that. We're looking for the best candidates and we're not pushing anybody aside. And I think sports, in general, are moving well in that direction."
__________
While the Needham hire provides a window into Dubas' methods, the Wickenheiser news hogged the headlines, and deservedly so. You don't reel in a universally revered, four-time Olympic gold medalist and future Hall of Famer and expect the sporting world to turn a blind eye. Especially if you're the iconic Toronto Maple Leafs.
The sheer lack of women employed by NHL teams amplifies the significance of the Wickenheiser-Needham double whammy. Prior to Thursday's announcement, the list of women currently working in full-time hockey ops roles was as follows: Dawn Baird (Arizona Coyotes skating coach), Alexandra Mandrycky (Minnesota Wild hockey ops analyst), Rachel Doerrie (New Jersey Devils player info/video analyst), and Kate Madigan (Devils player/info assistant).
Four women on three of the NHL's 31 teams - that's it.
Graduating to six women on four teams doesn't exactly register as a female invasion, or pose a threat to the old boys club that is so ingrained in hockey culture. But it's undoubtedly a breakthrough, and Wickenheiser's name recognition alone is invaluable.
"There's a 15-year-old girl there, sitting right now and looking at the screen and realizing, 'Oh, maybe I could pursue a career in sports, in the NHL,'" Mandrycky told theScore. "We're seeing it with other sports, too. I think seeing people in the position that you aspire to be in is something that is really important … It's important for someone who is young to know that their dream is possible."
Added Sydney Bell, manager of hockey administration for the Florida Panthers: "It shows that hockey is really growing and it's great to see qualified women (in meaningful roles). The passion that they have for the game can be applied to the NHL now."
Bell, hired full-time by the Panthers this spring, is one of many women across the NHL whose job lands somewhere between business ops and hockey ops, and is thus only loosely tied to the on-ice product. The recent St. Lawrence University grad is involved in some personnel discussions, notably around the draft and free agency, though her primary responsibilities are admin tasks such as player immigration and travel coordination.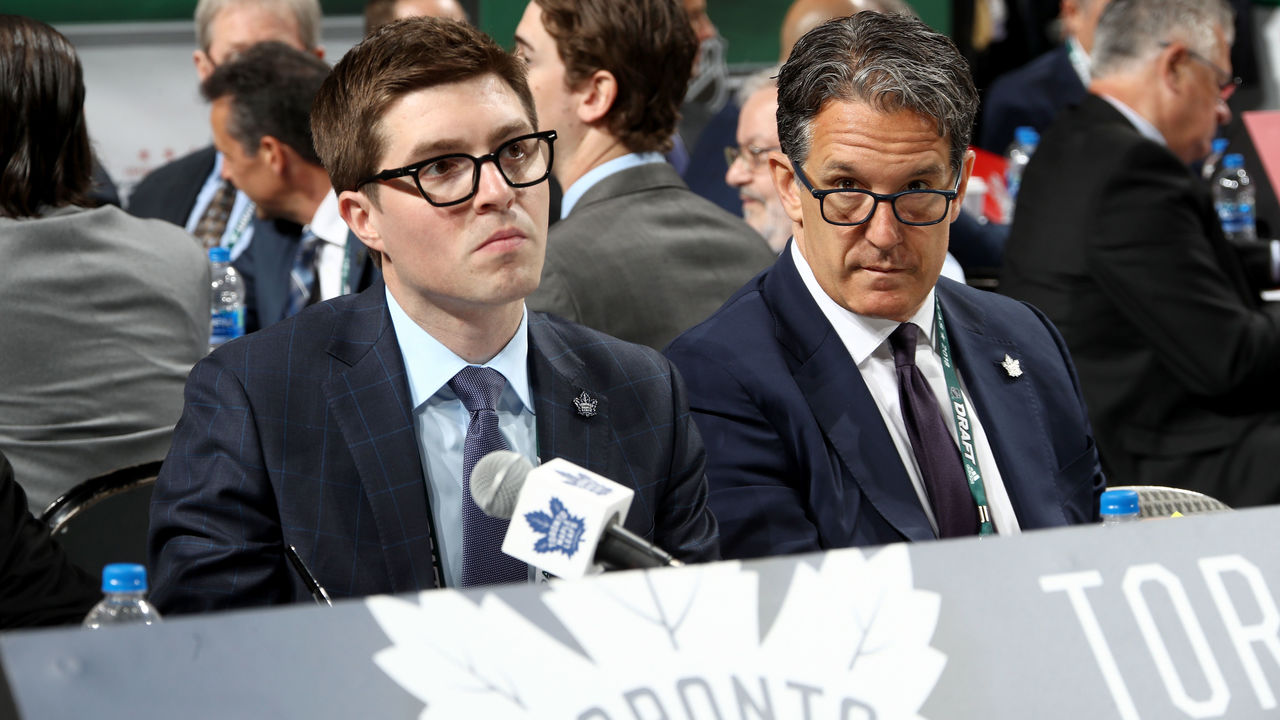 But hey, maybe the resource-rich Leafs will start a trend. Maybe the floodgates open for women, because it's a copycat league - and Toronto, an Original Six franchise that has been on an upward trajectory since Brendan Shanahan was named president in 2014, has provided the template.
Maybe additional part-time roles - like those filled by skating coaches Barb Underhill (Leafs and Tampa Bay Lightning) and Tracy Tutton (Colorado Avalanche) - emerge and more women trickle in that way. Maybe more turnover at the GM level is required. It's probably no coincidence that the men employing Wickenheiser and Braid (29-year-old Arizona GM John Chayka) are young, open-minded, and willing to buck tradition.
Mandrycky, who is tasked with translating complicated statistical concepts to members of the Wild's scouting, front office, and coaching staffs, sure hopes so. Although she says she hasn't encountered any "negative experiences" because of her gender since being hired in January 2016, the Atlanta native is conscious of the unusual dynamic.
"In some ways, you do feel a burden knowing that I'm maybe the only woman that this scout or this coach has in their active list in that hockey business or front office aspect," Mandrycky said. "You sometimes feel like your independent successes and failures (are) going to dictate how these people view women in the business, in general. ...
"But, if there's more of us, I think that it becomes more normal. All of a sudden, there won't just be that one girl that someone is talking about. There's a whole collection of not just women but youthful staff members."
__________
It's the mantra every June at the NHL draft: Select the best talent available.
Whatever's deterring you from drafting the most talented hockey player - whether it's size, position, or nationality - forget it. Acquire the best players, at all costs, and figure out the rest later.
Shouldn't that mentality apply to hockey ops too? Even though the Leafs tapping Wickenheiser and Needham is noteworthy on a cultural level, it's also a business decision about recruiting competent individuals.
"I think Noelle and Hayley didn't earn those opportunities because they're women," noted Ryan Hardy, GM of the USHL's Chicago Steel. "They earned those opportunities because they're extremely talented in what they do and the work they've put in up to this point has opened doors for them."
Dubas reached out to Hardy early in the process that ended with Needham signing a contract with the Leafs. Hardy put Needham's name forward in part because the 32-year-old doesn't back down from anyone or anything - a trait particularly helpful in a scouting field dominated not only by men, but by white men with similar attitudes.
"Everything she says has value behind it. It's because she's done homework and researched the information," Hardy said of Needham, who was a guest coach at Chicago's minicamp a few months ago. "She can be in a room with Brendan Shanahan and Kyle Dubas and 20 scouts that have opinions and she'll fight the good fight."
Needham has been running Legend Hockey school in South Dakota for nine years while co-founding the Sioux Falls Power Tier I minor hockey club. Now, she steps into the limelight - at least relatively speaking. Scouting isn't a particularly glamorous or front-facing role, but the Leafs brand attracts attention to every nook and cranny of the organization. Carneiro, whom Dubas knows well from their time together in Sault Ste. Marie, is in the same boat.
Wickenheiser, on the other hand, frames her move to the Leafs' development staff as "the evolution of myself as someone in hockey." Wickenheiser, 40, retired from playing last year, hanging up her skates after 23 years of brilliance in the women's realm and 55 games split between Finnish and Swedish men's pro leagues. In her post-playing days, she remains one of hockey's ultimate spokespeople.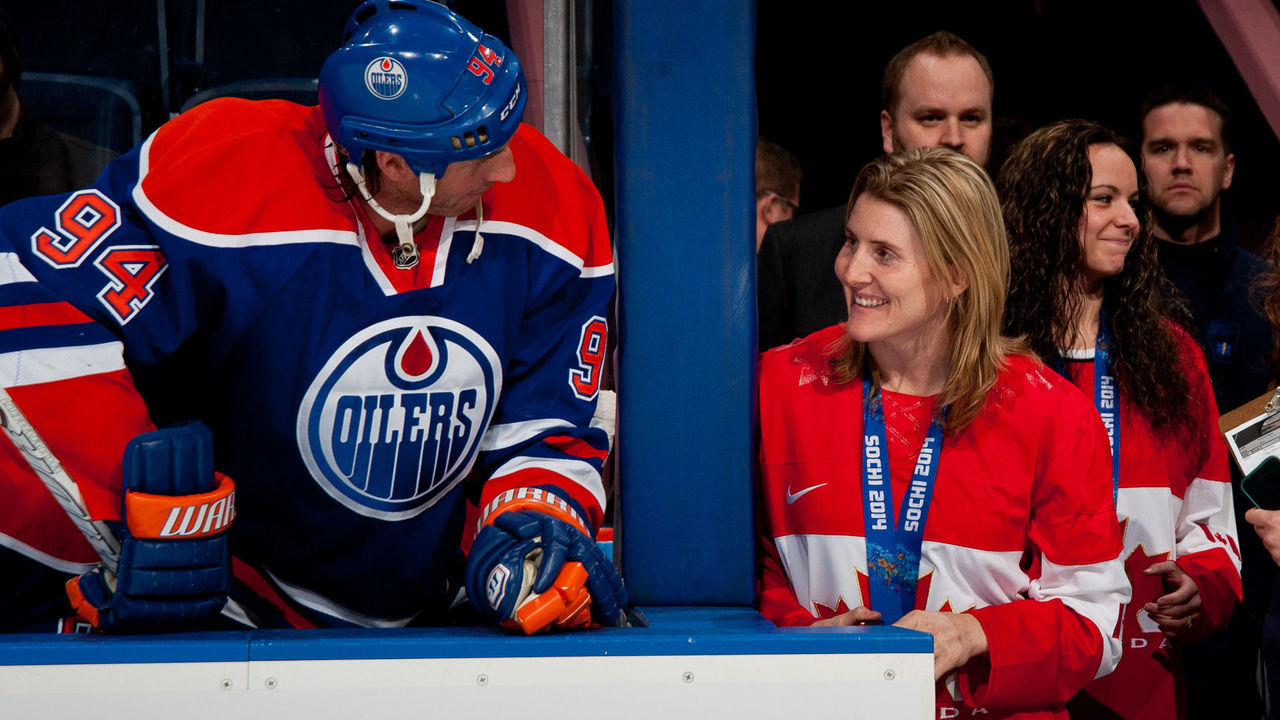 She also started medical school at the University of Calgary in July. Her new role - which requires Wickenheiser to work with Western Hockey League prospects when they roll through Calgary, and to occasionally fly to Toronto to skate with the Leafs and AHL Marlies - allows her to stay in Alberta. She is intent on juggling school, work, and family life.
"I played at the highest level I could and wanted to stay in the game," Wickenheiser said Thursday. "I enjoy working with players and I love being around people that are the best at what to do.
"If you were to pick a franchise in the NHL to work for, to be able to work for the Toronto Maple Leafs, it's a pretty huge honor and it's a big responsibility that comes with that. I understand well what pressure is - playing for Canada on the world stage - so hopefully some of those experiences that I've had can help some of these players as the team tries to win."
It has been an agonizingly slow burn for women in NHL hockey ops. Laura Stamm worked with the New York Islanders in the 1970s, but there was no subsequent boom. Progress has stalled and built up again over the past 40 or so years, with North America's three other major pro sports leagues currently lapping the NHL.
The NHL is unlike the NBA, which features San Antonio Spurs lead assistant coach Becky Hammon. It lags behind the NFL, which has had a few women coach on the sidelines. It even trails MLB, which has embraced women with various skill sets during the analytics era.
Dubas - and, by extension, Shanahan and Maple Leaf Sports & Entertainment - believes women can excel in the NHL hockey ops environment. He believes competent people can provide value to his club.
"When we go through any process of hiring people to add to our program," Dubas said Thursday, "we're looking for the best people. Period."
He's really just applying logic to the Leafs' hiring practices: Ignore the status quo, and hire the best people. It's not mind-blowing. But it is necessary.
John Matisz is theScore's national hockey writer. You can find him on Twitter @matiszjohn.
(Photos courtesy: Getty Images)
Comments
✕
Maple Leafs' landmark women hires consistent with Dubas' mindset
  Got something to say? Leave a comment below!