2003 redrafted: Staal, Getzlaf sit atop deepest class ever
Doug Pensinger / Getty Images Sport / Getty
Any NHL draft selection is at best an educated guess. Even among the top picks, a year's worth of scouting and analysis boils down to an uncertain decision, with teams hoping, at the very least, that this one pans out.
Each year, the talent is distributed differently. Sometimes there's a can't-miss generational superstar locked into the No. 1 slot. Other times, there are two prospects worth debating over at the top, or one position group that heavily outweighs others. Regardless of how it shakes out, there are no guarantees.
Fifteen years ago in Nashville, though, it appeared teams could do no wrong, as the 2003 draft produced arguably the league's greatest talent crop ever.
That wave of prospects didn't feature slam dunks at the top like in 2004 (Alex Ovechkin, Evgeni Malkin) and 2005 (Sidney Crosby). Its hype also paled in comparison to the 2003 NBA Draft, held one week later, where LeBron James, Carmelo Anthony, Chris Bosh, and Dwyane Wade famously went in the top five. But looking back, the NHL's 2003 draft class shifted the league's landscape just as much.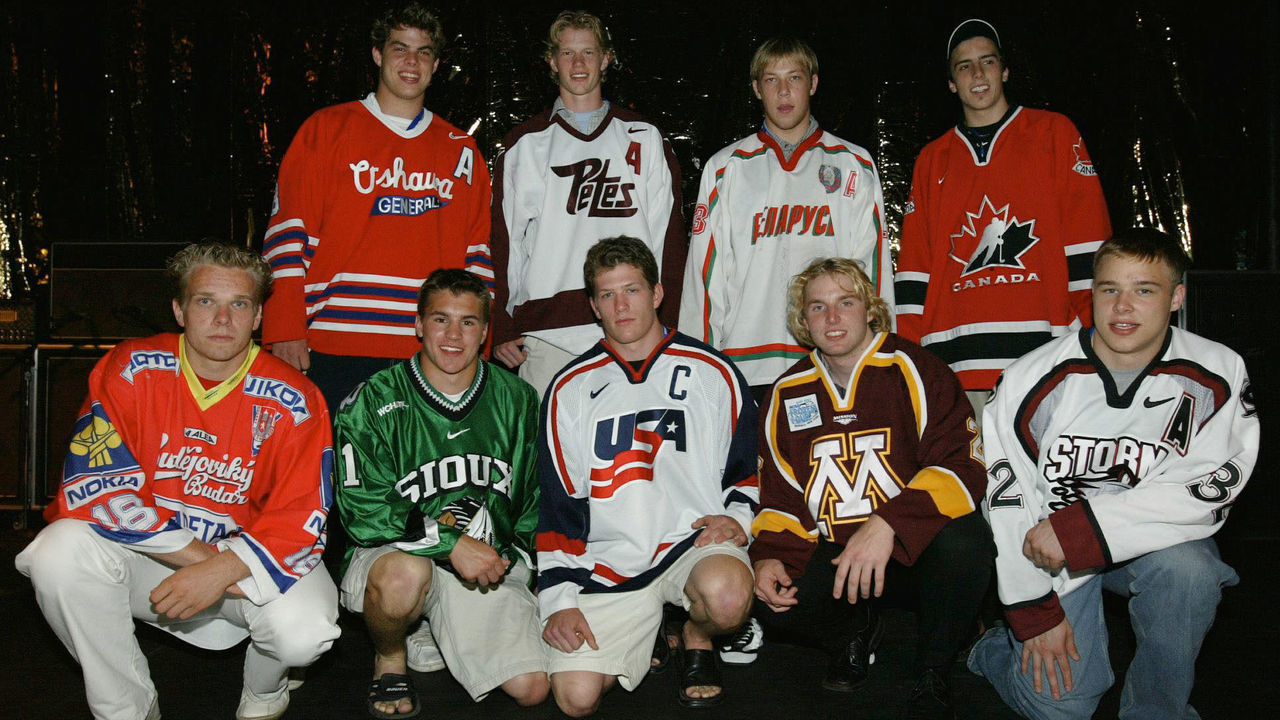 Of the 292 players drafted, 130 went on to play at least one NHL game, including all 30 first-rounders. Three members (and counting) of the storied draft class have topped 1,000 career contests, with a remarkable 45 players going on to suit up in at least 500. From the big dogs at the top to the hidden gems unearthed in later rounds, the class is rife with Stanley Cup and international champions, All-Stars, and major individual award winners.
"It was the best draft I have ever seen," former Minnesota Wild general manager Chuck Fletcher told Michael Russo, then of the Star Tribune, in 2016. "In the 2003 draft, if you didn't select an All-Star, you were falling behind your competition."
Fletcher has a point, as 17 players chosen in the first round alone have played in at least one All-Star Game. And while the names at the top of the list aren't as renowned as its closest rival in the "Greatest draft of all time" debate - the 1979 class that featured Mark Messier, Ray Bourque, Mike Gartner, Michel Goulet, and a handful of other Hall of Famers - 2003's depth makes it truly special.
With that in mind, let's use what we've learned over the past 15 years to redraft the first round. All picks were made using the original draft order, with scouting reports included for the top five selections.
1. Florida Panthers - Eric Staal, C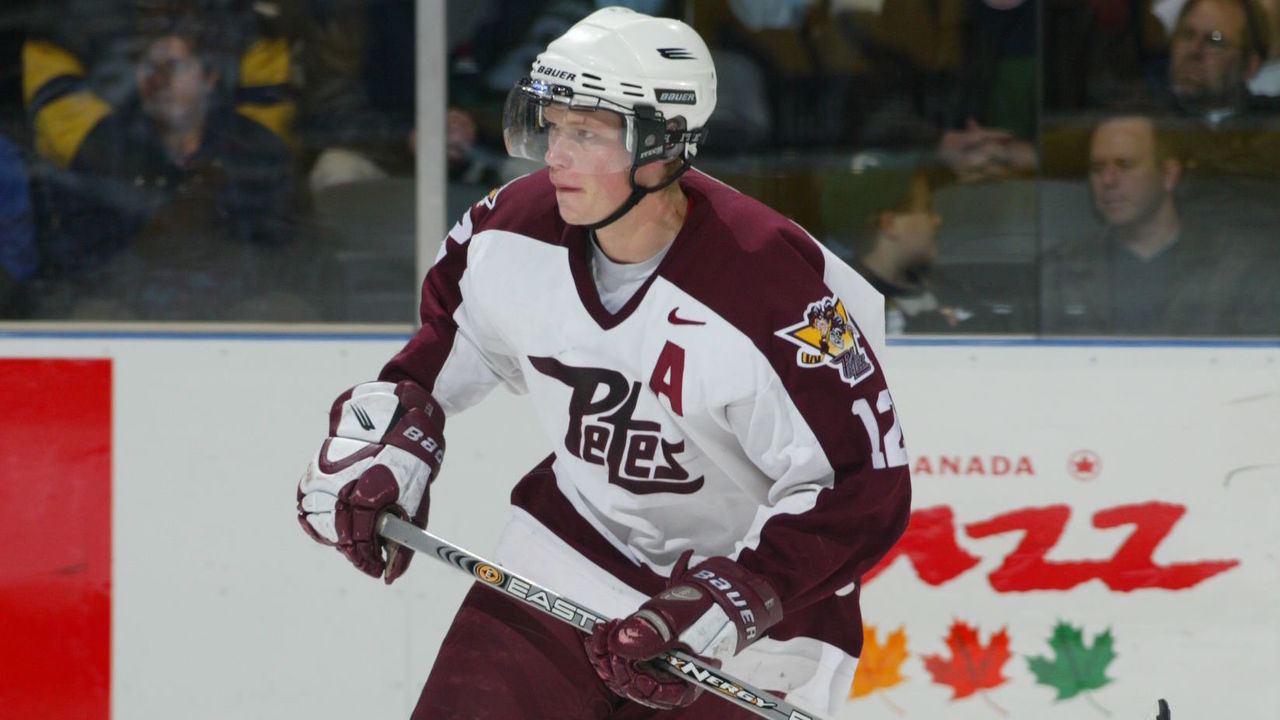 Actual Pick: Marc-Andre Fleury (Penguins)
Staal's Actual Draft Position: 2nd (Hurricanes)
Career Stats: 1,093 GP, 395 G, 527 A
Accolades: 2006 Stanley Cup
"Has exceptional talent and can dominate a game ... an excellent skater with a long, fluid stride ... combines good speed with balance and agility ... has a good change of pace ... has quick hands with good finish around the net and can score several ways." - NHL Central Scouting
Rather than accepting Pittsburgh's offer of the third overall pick, the 55th pick, and winger Mikael Samuelsson, Florida general manager Rick Dudley opts to keep his No. 1 pick and takes Staal, the No. 1-ranked North American skater in the draft.
After a 98-point output with the OHL's Peterborough Petes, Staal - who currently leads all draftmates in games played, points, and goals - joins 2002 first-rounder Jay Bouwmeester in Florida.
If Dudley and the Panthers had it their way, though, Alex Ovechkin would've been the top choice in Sunrise, as the organization hilariously pushed to acquire the underaged Russian sniper, arguing that, if leap years were taken into account, the Great 8 would indeed be eligible to be drafted in 2003. Oh, what could've been.
2. Carolina Hurricanes - Ryan Getzlaf, C
Actual Pick: Eric Staal
Getzlaf's Actual Draft Position: 19th (Ducks)
Career Stats: 917 GP, 247 G, 628 A
Accolades: 2007 Stanley Cup
"A strong skater with good balance and agility ... has a good change of pace ... excellent stickhandler, intelligent, smart, and very shifty ... possesses good hands and playmaking abilities ... carries the puck with poise and confidence." - NHL Central Scouting
Looking back, it's hard to imagine how Getzlaf slipped to 19th, but with the top center off the board, the 'Canes land a pretty solid consolation prize by nabbing the Regina native at No. 2.
After a stunning run to the Cup Final one year prior, Carolina finished the 2002-03 campaign with the worst record in the league but lost out to the Panthers in the lottery, dropping to the No. 2 selection. The 61-point Hurricanes had ranked dead last in goals, and while they had needs throughout the roster, adding an offensive catalyst in Getzlaf would have its positive effects down the road - particularly with Calgary Hitmen teammate Andrew Ladd available to be drafted in 2004.
3. Pittsburgh Penguins - Shea Weber, D
Actual Pick: Nathan Horton (Panthers)
Weber's Actual Draft Position: 49th (Predators)
Career Stats: 867 GP, 189 G, 312 A
Accolades: 2011, 2012 First-team All-Star
"Solid defensive player who seldom joins the rush ... hard and accurate first pass ... very poised and doesn't panic with the pick ... has a quick accurate wrist shot from the point along with a heavy slap shot."
- NHL Central Scouting
While it's clear the Penguins were enamored with Fleury, general manager Craig Patrick's quest to pull Pittsburgh out of the doldrums by building from the back out begins by selecting Weber to patrol the blue line for years to come.
Weber didn't make his mark on the Predators until 2005-06, but over time he developed into one of the league's most dominant defenders. He's the Pens' first building block in an era of dominance - future salary-cap complications notwithstanding.
4. Columbus Blue Jackets - Patrice Bergeron, C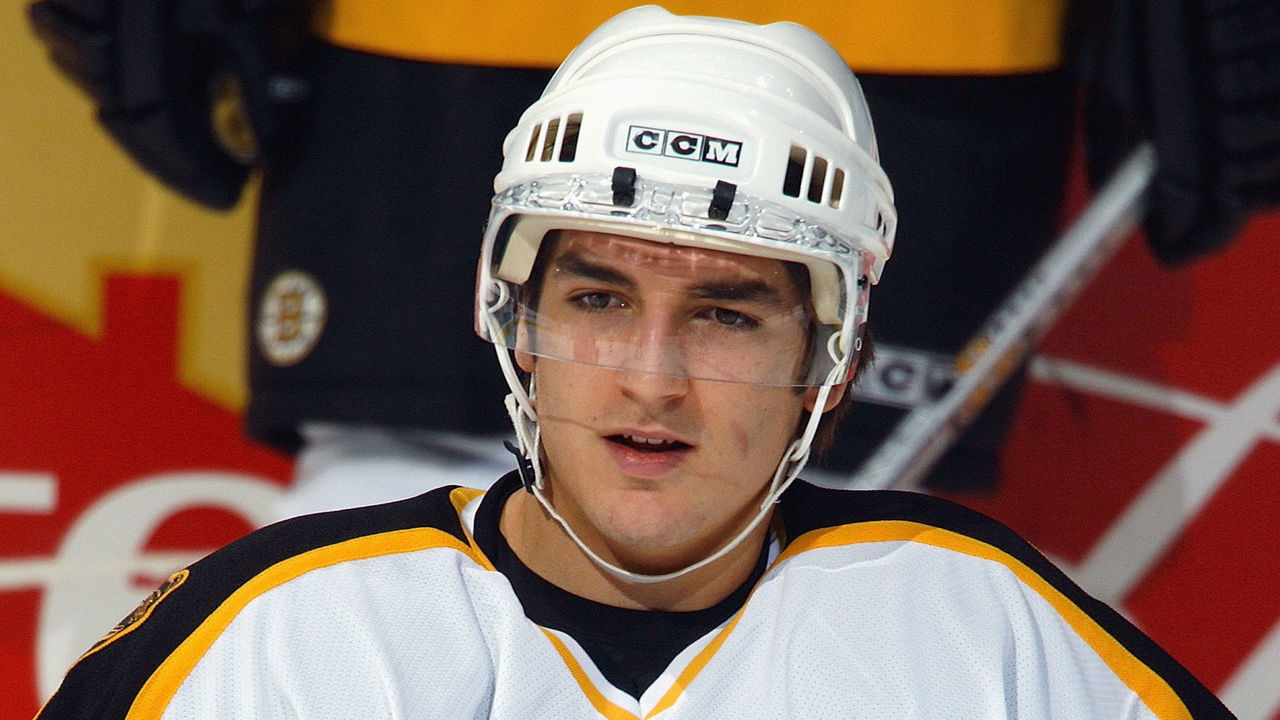 Actual Pick: Nikolai Zherdev
Bergeron's Actual Draft Position: 45th (Bruins)
Career Stats: 963 GP, 289 G, 445 A
Accolades: 2011 Stanley Cup, Four-time Selke Trophy winner
"Has very good hockey sense which enables him to set up teammates for scoring chances ... knows when to shoot or pass ... excels on faceoffs ... has natural scoring instincts and a very good work ethic."
- NHL Central Scouting
The Blue Jackets were one of few teams to whiff in Round 1, though it's tough to fault them for fawning over Zherdev, the top-ranked European skater at the time. In this universe, they avoid the possibility of a bust and take Bergeron to form a daunting top-line tandem with 2002 No. 1 pick Rick Nash.
Sounds about right, doesn't it?
Despite posting 73 points in 70 games in his draft year, Bergeron fell all the way to the middle of the second round in the waiting hands of the Bruins, with whom he emerged as one of the greatest two-way players of all time.
5. Buffalo Sabres - Corey Perry, RW
Actual Pick: Thomas Vanek
Perry's Actual Draft Position: 28th (Ducks)
Career Stats: 957 GP, 366 G, 400 A
Accolades: 2007 Stanley Cup, 2011 Hart Trophy, Rocket Richard
"Uses his size and long reach well to protect the puck ... has a hard, accurate shot ... has steadily improved his intensity over the course of the season to become a consistent competitor." - NHL Central Scouting
The Sabres traded for Daniel Briere at the 2003 deadline and acquired Chris Drury shortly after the free-agency window opened to form a pretty nice 1-2 punch at center coming off a season in which they mustered only 190 goals. Seeking more offensive reinforcements, Buffalo nabs Perry at No. 5.
Despite entering the draft as the 35th-ranked skater, mainly due to criticisms of his skating, the Ducks dealt two second-round picks to the Stars for the chance to take Perry at No. 28. It paid off, as Perry is the only member of his class to be named MVP, and ranks second among his peers in goals.
6. San Jose Sharks - Jeff Carter, C
Actual Pick: Milan Michalek
Carter's Actual Draft Position: 11th (Flyers)
Career Stats: 904 GP, 352 G, 320 A
Accolades: 2012, 2014 Stanley Cup
The Sharks experienced a disappointing drop-off in 2003 - one year after claiming their first division title. San Jose shipped captain Owen Nolan to the Maple Leafs before the deadline and was bound to lose Teemu Selanne in free agency. With two key offensive departures to fill, the Sharks claim Carter at No. 6.
Carter never grew into a prototypical No. 1 center, but has been a consistent producer his entire career, missing out on the 20-goal mark in his sophomore season and maxing out at 46 tallies in 2008-09.
7. Nashville Predators - Thomas Vanek, LW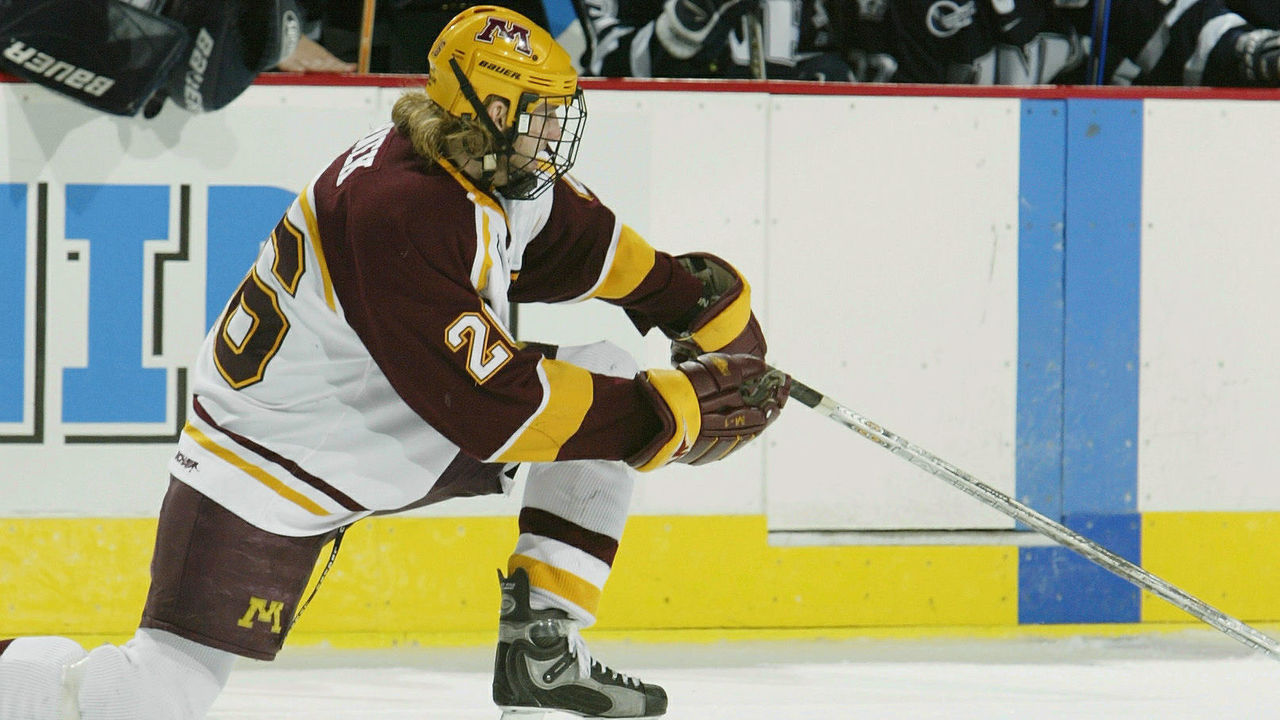 Actual Pick: Ryan Suter
Vanek's Actual Draft Position: 5th (Sabres)
Career Stats: 965 GP, 357 G, 396 A
David Poile laid the groundwork for a dominant defensive scheme at the 2003 draft, nabbing Suter, Weber, and Kevin Klein within the first 49 picks. But in this universe, the Preds add an offensive piece after ranking in the bottom 10 in goals through the first five years of their existence.
As it stands now, Vanek is known for bouncing around from team to team as a perennial trade-deadline candidate, making it easy to forget how effective he was in his prime. The big Austrian was a goal-scoring machine as a prospect, and carried that label into the pros, bagging 25-plus in the first seven seasons of his career. He's lost a step these days, but he ranks behind only Staal and Perry in goals in his entire star-studded draft class.
8. Atlanta Thrashers - Ryan Suter, D
Actual Pick: Braydon Coburn
Suter's Actual Draft Position: 7th (Predators)
Career Stats: 991 GP, 75 G, 418 A
Accolades: 2013 first-team All-Star
With a steady core of offensive weapons, including Dany Heatley, Ilya Kovalchuk, Marc Savard, and Vyacheslav Kozlov, the Thrashers were dangerous enough to rank 10th in scoring in 2002-03. Unfortunately, that's about all they had going for them, as the future Jets were dead last in goals allowed with 284. Enter Suter, who should help patch things up in that area down the road.
Suter arrived at the draft ranked behind only one North American defenseman, Braydon Coburn, whom the Thrashers actually picked. Coburn only played 38 games in Atlanta, while Suter became one of the top defenders in the game.
9. Calgary Flames - Joe Pavelski, C
Actual Pick: Dion Phaneuf
Pavelski's Actual Draft Position: 205th (Sharks)
Career Stats: 888 GP, 317 G, 380 A
The Flames were lucky enough to have MVP candidate Jarome Iginla leading their attack, but their supplemental pieces at the time were lacking, particularly after dealing Savard to the Thrashers. With hindsight on its side, Calgary lands Pavelski, arguably the greatest steal of the draft.
The undersized center fell to the seventh round but has gone on to outproduce all but five players from his class. The Sharks' captain quietly blossomed into a top goal-scorer, ranking 10th among all players with 284 goals since 2008-09.
10. Montreal Canadiens - Brent Burns, RW/D
Actual Pick: Andrei Kostitsyn
Burns' Actual Draft Position: 20th (Wild)
Career Stats: 961 GP, 182 G, 384 A
Accolades: 2017 Norris Trophy, First-team All-Star
Jose Theodore lost his Hart Trophy form in 2002-03 and the Habs suffered, dropping 10 points in the standings and ultimately missing the playoffs for the fourth time in five seasons. With that in mind, the Canadiens take the best player available and land a dynamic hybrid in Burns.
Burns took some time to find his bearings in the NHL, but he took off after being traded to San Jose and transitioning to defense. He's gotten better as he's gotten older, topping 60 points in each of the last four seasons and winning the Norris in 2017.
11. Philadelphia Flyers (From PHX) - Marc-Andre Fleury, G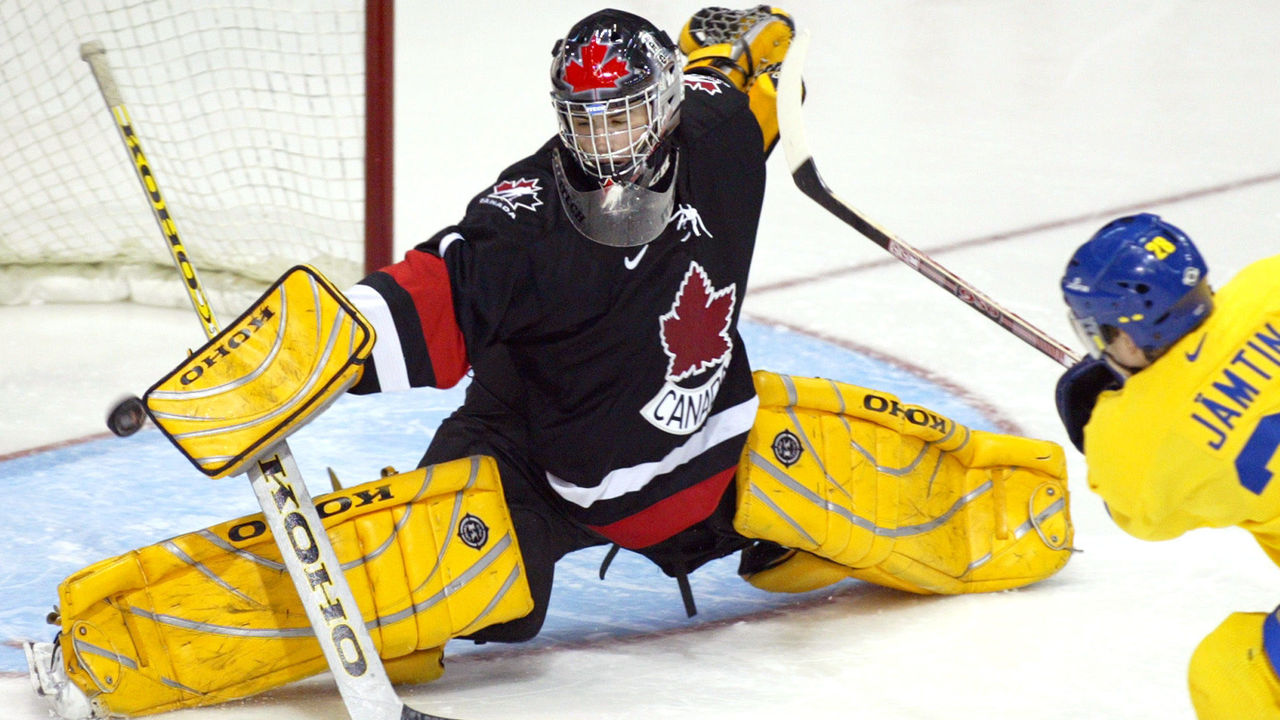 Actual Pick: Jeff Carter
Fleury's Actual Draft Position: 1st (Penguins)
Career Stats: 758 GP, 417 W, .914 SV%
Accolades: 2009, 2016, 2017 Stanley Cup
Look away, Penguins fans.
The Flyers shipped forward Daymond Langkow to the Coyotes and received their first-rounder as part of the return. This time, though, Philadelphia makes a point to focus on goaltending.
Philly had a 107-point season in 2002-03, despite a netminding tandem of Roman Cechmanek and Robert Esche. With the top-ranked goalie prospect now in the system, the Flyers fix a problem that continues to ail them to this day.
12. New York Rangers - Zach Parise, LW
Actual Pick: Hugh Jessiman
Parise's Actual Draft Position: 17th (Devils)
Career Stats: 872 GP, 333 G, 352 A
Despite him owning potentially the greatest nickname ever, the Rangers whiffed on Hugh "the Specimen" Jessiman at No. 12, as the 6-foot-6 winger played just two NHL games. New York's draft record over the years certainly isn't anything to marvel at, but this might be its biggest miss of all.
Instead, the Rangers lure Parise to the Manhattan side of the Hudson River and lock in a rare piece of organizational homegrown talent. While a spell of injuries has derailed his availability in recent years, Parise was one of the top wingers in the game at his peak, eclipsing 30 goals in five consecutive full seasons from 2007-2012.
13. Los Angeles Kings - Brent Seabrook, D
Actual Pick: Dustin Brown
Seabrook's Actual Draft Position: 14th (Blackhawks)
Career Stats: 1,004 GP, 95 G, 337 A
Accolades: 2010, 2013, 2015 Stanley Cup
With three first-round picks, the Kings had a tremendous chance to build for the future in 2003, and while they landed their future captain in Dustin Brown, Los Angeles starts by securing a piece to bolster the back end.
The Kings' D corps at the time was anchored by the likes of Jaroslav Modry and captain Mattias Norstrom, leaving much to be desired. And while an onerous contract and deteriorating foot speed have tarnished Seabrook's image lately, there's no denying his impact in three championship runs in Chicago.
14. Chicago Blackhawks - Corey Crawford, G
Actual Pick: Brent Seabrook
Crawford's Actual Draft Position: 52nd (Blackhawks)
Career Stats: 409 GP, 230 W, .919 SV%
Accolades: 2013, 2015 Stanley Cup, Two-time William M. Jennings Trophy
Things were bleak for the Blackhawks at this point, as owner Rocky Wirtz began a series of penny-pinching moves that included broadcasting blackouts throughout the Chicago area and raising ticket prices despite a lousy on-ice product.
Despite the turmoil, the Blackhawks made out alright in the '03 draft, and this time around they grab their goalie of the future one round sooner. Crawford didn't become a full-time NHLer until the 2010-11 season, but quickly established himself as a premier netminder, winning more than 30 games in all but two injury-plagued seasons since.
15. New York Islanders - Ryan Kesler, C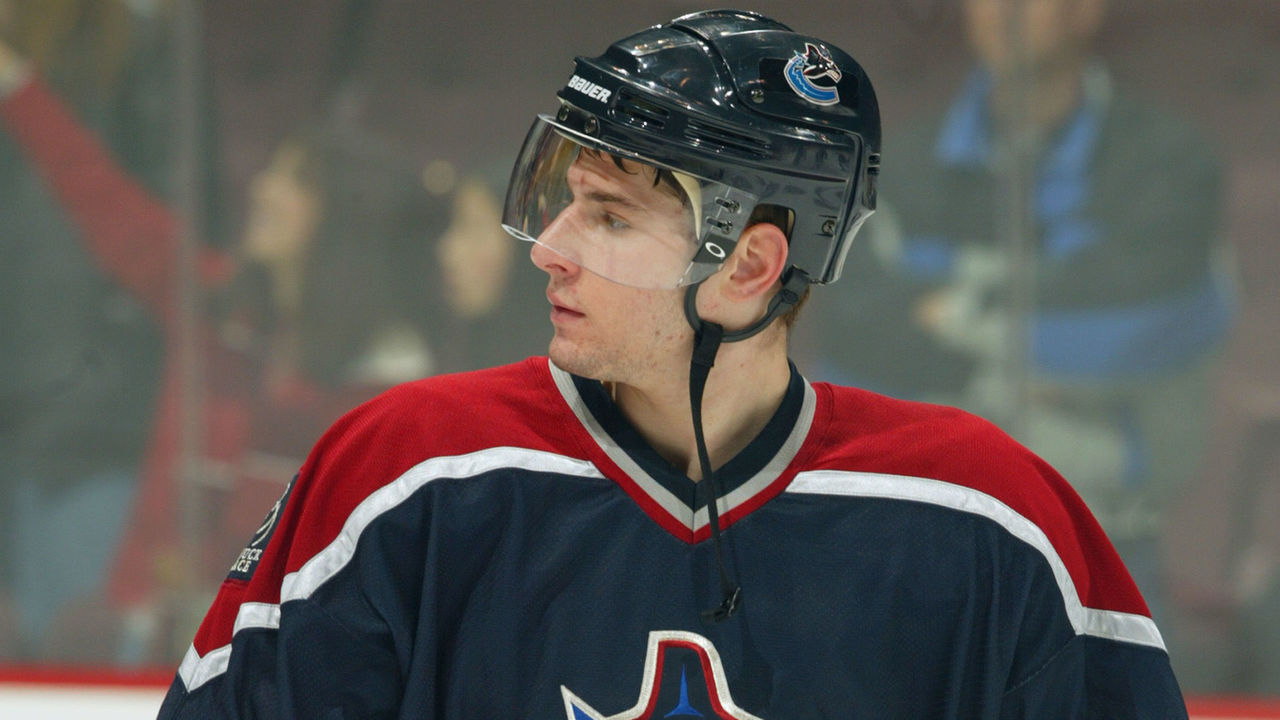 Actual Pick: Robert Nilsson
Kesler's Actual Draft Position: 23rd (Canucks)
Career Stats: 941 GP, 253 G, 312 A
Accolades: 2011 Selke Trophy
The Islanders were after a center, and they settled on Nilsson, who only suited up in 53 games for the franchise. Rather than striking out on another first-rounder - an occurrence far too common for the Isles - they settle on Kesler, a rugged two-way player with scoring touch.
His opponents hate him for his agitating ways, but a strong, fast, defensive-minded pivot with a penchant for scoring 20-plus goals would fit nicely in any organization, let alone one that traded the chance to draft one for a lifetime commitment to Alexei Yashin a few years prior.
16. Boston Bruins - Dustin Brown, RW
Actual Pick: Steve Bernier (Sharks)
Brown's Actual Draft Position: 13th (Kings)
Career Stats: 1,045 GP, 260 G, 307 A
Accolades: 2012, 2014 Stanley Cup
The Bruins swapped first-rounders with the Sharks, whose pick originally belonged to the Maple Leafs. Avoiding all the confusion, Boston holds on to its pick and takes Brown, who was behind Staal at No. 2 on the final central scouting rankings.
Brown's blend of physicality and offense would fit the prototypical Bruins mold, and his resume of 500-plus points and more than 1,000 games played is solid for a mid-round pick.
17. Edmonton Oilers - Dustin Byfuglien, D
Actual Pick: Zach Parise (Devils)
Byfuglien's Actual Draft Position: 245th (Blackhawks)
Career Stats: 827 GP, 173 G, 321 A
Accolades: 2010 Stanley Cup
The Oilers followed the Bruins' decision to trade down a few spots in a swap with the Devils and wound up with an inferior player in Marc-Antoine Pouliot. Here, the Oilers scoop up an eventual eighth-rounder in Byfuglien, who's bound to be a fan favorite in Alberta.
Byfuglien made a name for himself by scoring 11 goals as a brute-force winger on Chicago's first Cup run in 2010. Even in transitioning to a defenseman, Big Buff is easily one of the most physically imposing players in the league - and topping 40 points in a season seven times since 2011 certainly hasn't hurt his reputation.
18. Washington Capitals - Dion Phaneuf, D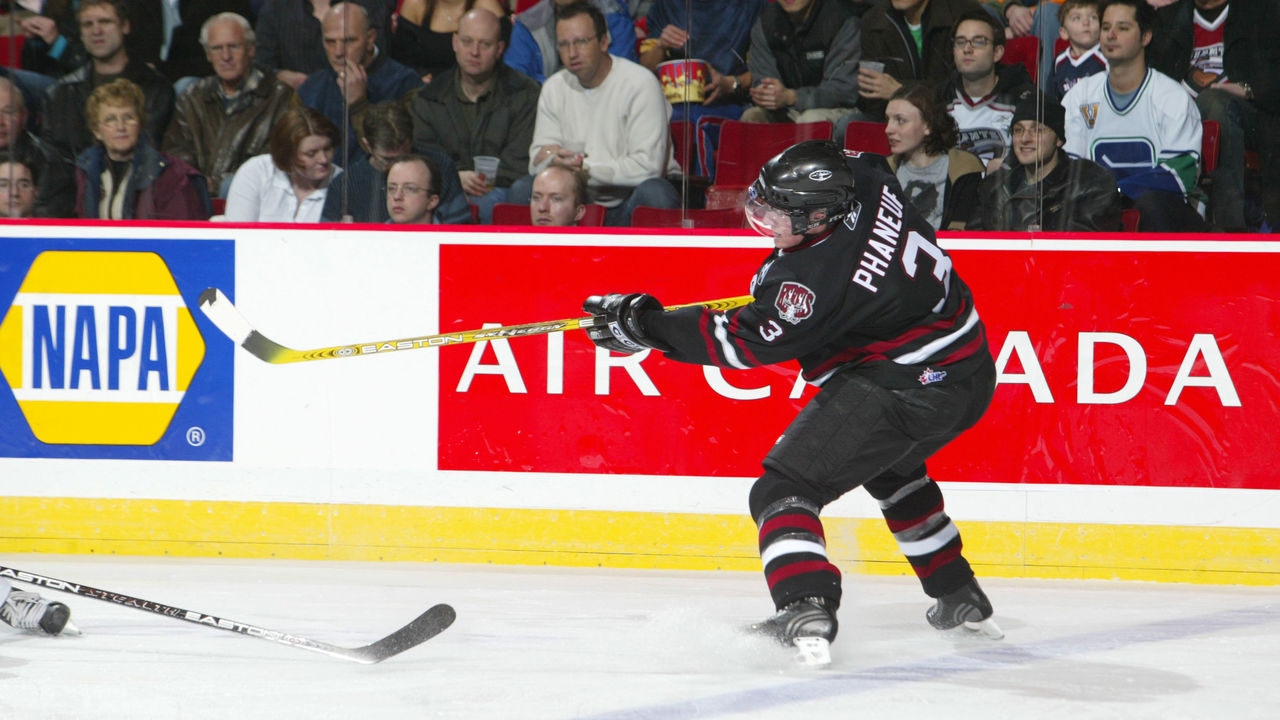 Actual Pick: Eric Fehr
Phaneuf's Actual Draft Position: 9th (Flames)
Career Stats: 981 GP, 136 G, 352 A
Changes were on the horizon for the Capitals after the 2002-03 campaign, as the club would lose Jaromir Jagr and star blue-liner Sergei Gonchar in separate trades over the next year.
With Gonchar's supporting cast on D already thin, the Caps snag Phaneuf as a future piece to build around. Phaneuf's faced plenty of scrutiny in his career - mainly as a Maple Leaf - but he was a star in Calgary, and has been more than serviceable since. Health permitting, he should reach the 1,000-game and 500-point milestones in 2018-19.
19. Anaheim Ducks - Nathan Horton, RW
Actual Pick: Ryan Getzlaf
Horton's Actual Draft Position: 3rd (Panthers)
Career Stats: 626 GP, 203 G, 218 A
Accolades: 2011 Stanley Cup
Based on their selections of Getzlaf and Perry, it's clear the Ducks prioritized size in the '03 batch of prospects, and they secure a promising power forward in Horton.
Horton was a bright spot on several lousy Panthers teams, and he struggled to stay healthy in Boston. But when he was on, his mix of size and skill was impressive.
20. Minnesota Wild - Loui Eriksson, LW
Actual Pick: Brent Burns
Eriksson's Actual Draft Position: 33rd (Stars)
Career Stats: 840 GP, 233 G, 318 A
The Wild stunned the hockey world in 2003, advancing all the way to the Western Conference Final in their first playoff berth after concluding the regular season in true Jacques Lemaire fashion: fourth in goals against, 24th in goals for.
In need of an infusion of offense, Minnesota decides on Eriksson, who has gone on to be the fifth most productive winger in his class with 551 career points.
21. San Jose Sharks - David Backes, RW
Actual Pick: Mark Stuart (Bruins)
Backes' Actual Draft Position: 62nd (Blues)
Career Stats: 858 GP, 237 G, 294 A
Using their extra pick acquired in the Owen Nolan trade, the Sharks secure another offensive player in Backes, who could form a strong duo alongside No. 6 overall pick Jeff Carter.
Backes' physical play has led to wear and tear as he's aged, but he spent several highly productive seasons in St. Louis, authoring six 20-goal seasons and topping 30 twice.
22. New Jersey Devils - Mike Richards, C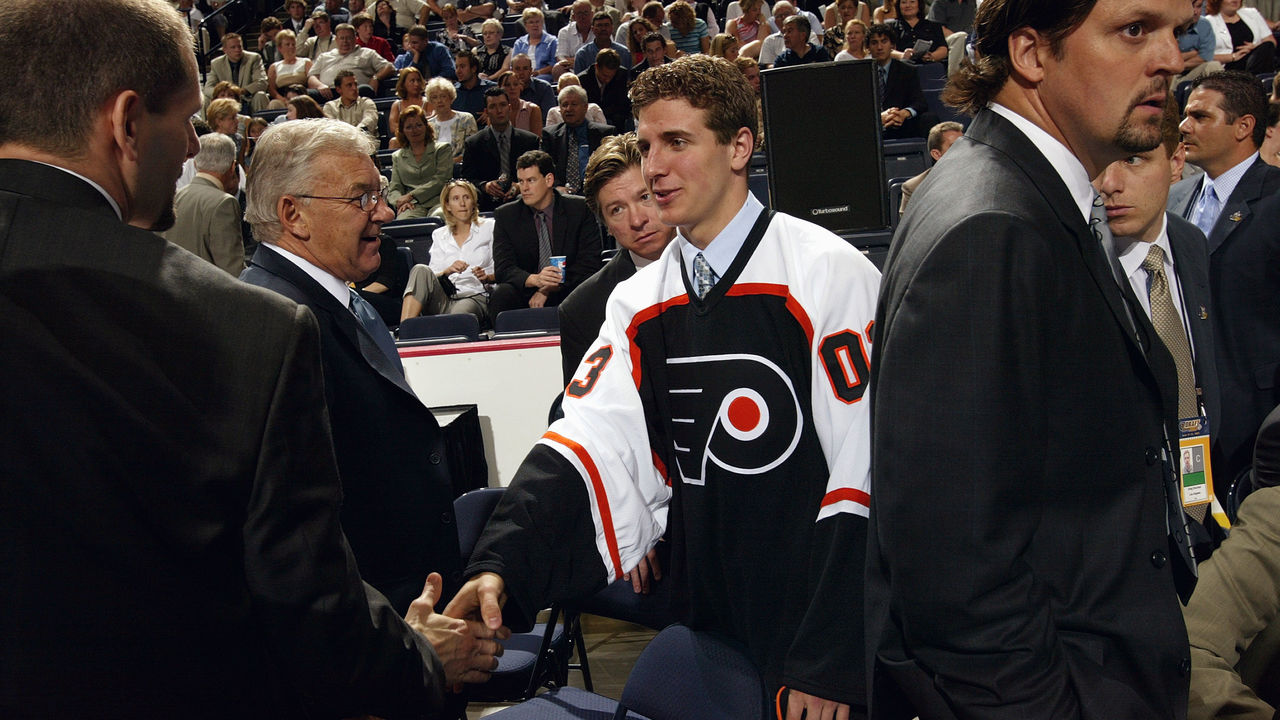 Actual Pick: Marc-Antoine Pouliot (Oilers)
Richards' Actual Draft Position: 24th (Flyers)
Career Stats: 749 GP, 181 G, 306 A
Accolades: 2012, 2014 Stanley Cup
The Devils' 2003 draft was complicated. New Jersey won the Cup, so was destined to pick last, but thanks to a settlement from the league between the Devils and Blues over an alleged tampering case involving St. Louis' signing of Brendan Shanahan in 1991, Lou Lamoriello won the right to one of the Blues' first-round picks between 1999-2004, along with a record $1.425 million. He chose the 2003 pick, which, in actuality, was traded to Edmonton for No. 17.
Pretending New Jersey and Edmonton never switched places, the Devils choose Richards, who, before a messy ending to his career, was one of the league's most valuable centers, topping 60-plus points in each season between 2008-2011, and earning a Selke runner-up and an Olympic gold medal along the way.
23. Vancouver Canucks - Jimmy Howard, G
Actual Pick: Ryan Kesler
Howard's Actual Draft Position: 64th (Red Wings)
Career Stats: 461 GP, 221 W, .915 SV%
The Canucks were built to win in 2003, with Markus Naslund, Todd Bertuzzi, and Brendan Morrison anchoring the attack in front of the young Sedin twins, while Ed Jovanovski, Mattias Ohlund, and Sami Salo operated the back end.
Vancouver's weakness was its "goalie graveyard" - a term coined by former general manager Brian Burke - and that makes Howard ripe for the taking. The second-ranked goalie in the draft, Howard likely could've performed well behind a complete roster.
24. Philadelphia Flyers - Tobias Enstrom, D
Actual Pick: Mike Richards
Enstrom's Actual Draft Position: 239th (Thrashers)
Career Stats: 719 GP, 54 G, 254 A
With Fleury in Flyers colors, Philadelphia takes a chance on Enstrom, who went on to develop into a nice piece on the blue line.
At only 5-foot-10, 180 pounds, Enstrom was sure to be overlooked due to his size, but he has had a steady NHL career thanks to his mobility and puck movement.
25. Tampa Bay Lightning - Milan Michalek, LW
Actual Pick: Anthony Stewart (Panthers)
Michalek's Actual Draft Position: 6th (Sharks)
Career Stats: 747 GP, 208 G, 238 A
The Lightning were one year away from winning the Stanley Cup at this point, thanks to a stacked core of forwards built around Martin St. Louis, Vincent Lecavalier, and eventual Conn Smythe winner Brad Richards.
At this point for Tampa Bay it's about securing the best player available, and even though Michalek never quite matched the expectations of his draft position, the Czech Republic native certainly had his moments, including three consecutive seasons with at least 55 points while with the Sharks.
26. Los Angeles Kings (From COL) - Marc Methot, D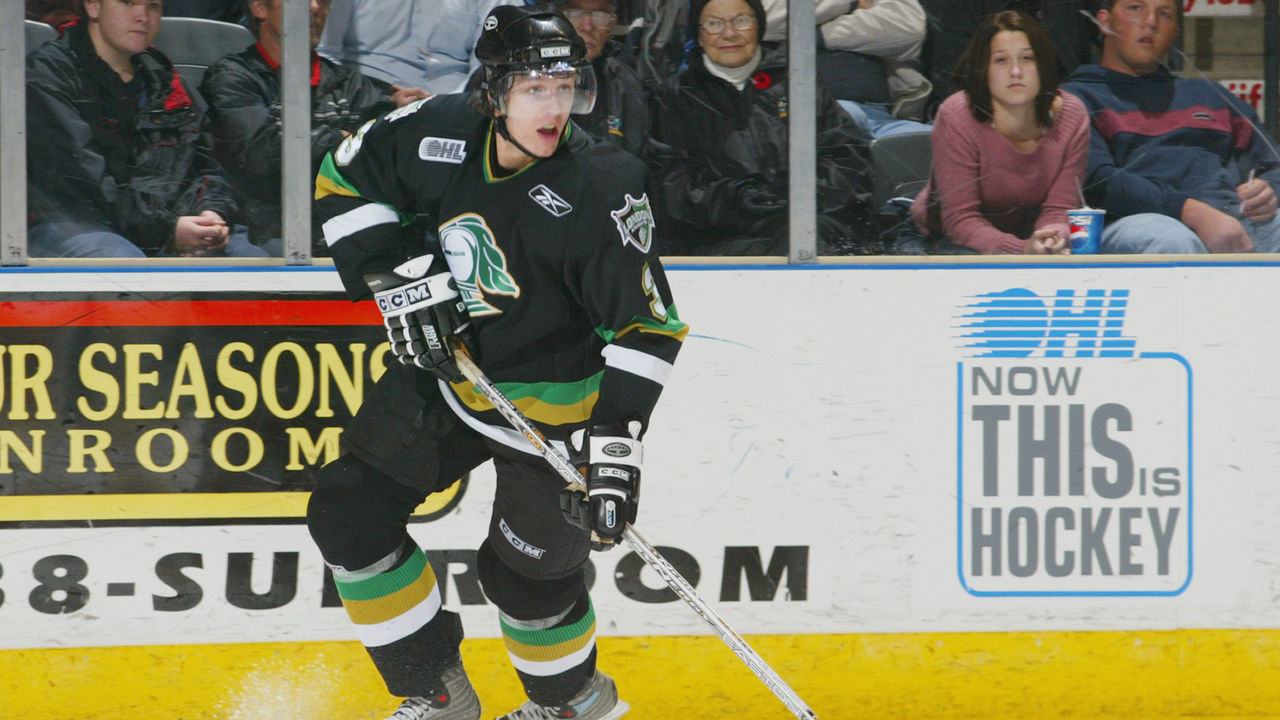 Actual Pick: Brian Boyle
Methot's Actual Draft Position: 168th (Blue Jackets)
Career Stats: 615 GP, 22 G, 101 A
Even though the Kings already locked down Seabrook with their initial first-rounder, they take another future defender in Methot with a pick from the Avs, who gave up two firsts, Adam Deadmarsh, and Aaron Miller for Hall of Famer Rob Blake and center Steve Reinprecht.
Coming from the London Knights, Methot didn't offer much offensive upside, but he made a solid career for himself as a stay-at-home defender. He had the intangibles GMs at the time craved, and has never shied away from the physical aspects of the game, making him a worthwhile late-round pick.
27. Los Angeles Kings (From DET) - Lee Stempniak, RW
Actual Pick: Jeff Tambellini
Stempniak's Actual Draft Position: 148th (Blues)
Career Stats: 909 GP, 203 G, 266 A
The Kings acquired their third pick of the first round from the Red Wings - along with Sean Avery, Maxim Kuznetsov, and a 2004 second-rounder - in exchange for veteran defenseman Mathieu Schneider, and they use it to make a play for some offense.
Stempniak never possessed game-changing offensive flair, but he entered the draft after producing 49 points in 34 games at Dartmouth, and has had a more than respectable NHL career.
28. Dallas Stars - Clarke MacArthur, LW
Actual Pick: Corey Perry (Ducks)
MacArthur's Actual Draft Position: 74th (Sabres)
Career Stats: 552 GP, 133 G, 171 A
The Ducks were locked in on Perry at this point, so they offered the Stars the 36th and 54th overall picks to move up. With Perry long gone, Dallas receives no such offer, taking MacArthur after finishing atop the Western Conference standings in the regular season.
The Stars were a force in the NHL at this point and didn't require much immediate help, but having MacArthur in the system should help down the road.
29. Ottawa Senators - Jaroslav Halak, G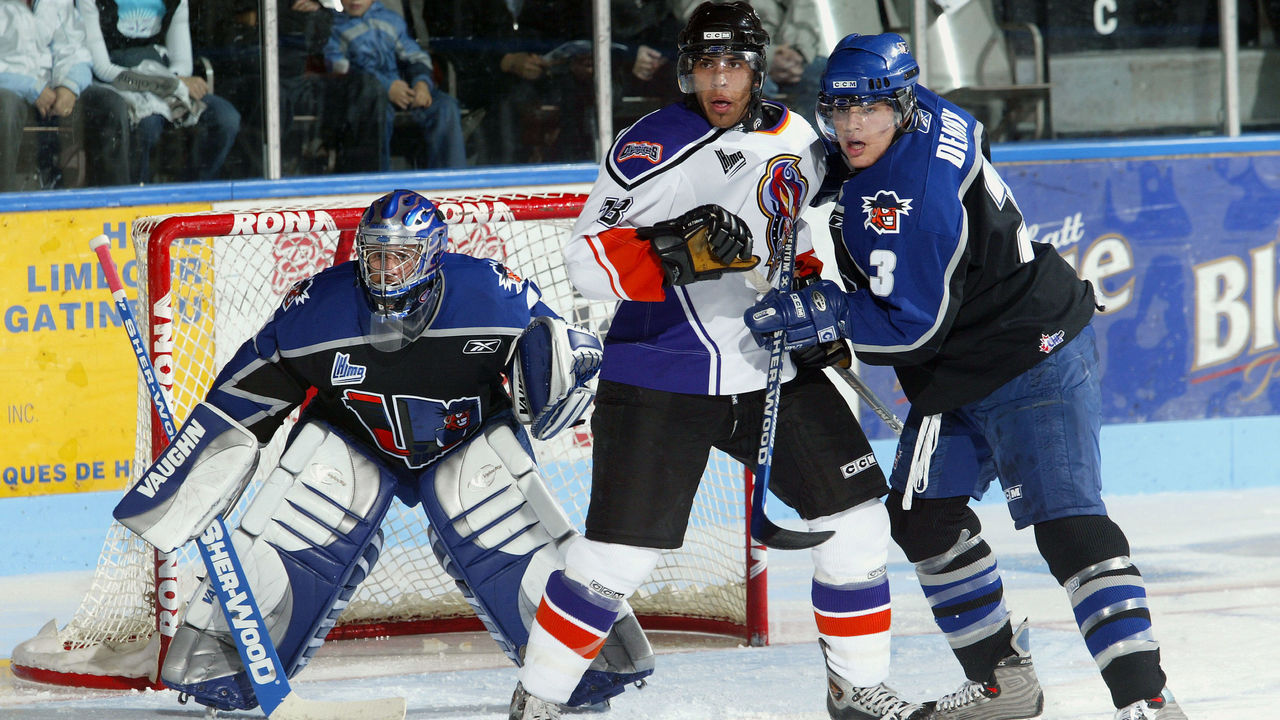 Actual Pick: Patrick Eaves
Halak's Actual Draft Position: 271st (Canadiens)
Career Stats: 449 GP, 232 W, .916 SV%
Much like the Canucks, the Senators were brought down by inconsistency in the crease. Ottawa won the Presidents' Trophy in 2003 with 113 points, had five players reach 50 points, and boasted Zdeno Chara, Wade Redden, and Chris Phillips on the blue line.
The end result was a heartbreaking Game 7 loss in the Eastern Conference Final, leading the Sens to choose Halak in hopes of landing a goaltender of the future. There's no guarantee he'd push Ottawa over the hump at any point in the Daniel Alfredsson era, but it couldn't have hurt to give it a try.
30. St. Louis Blues (From NJ) - Braydon Coburn, D
Actual Pick: Shawn Belle
Coburn's Actual Draft Position: 8th (Thrashers)
Career Stats: 850 GP, 44 G, 161 A
St. Louis' blue line was anchored by Hall of Famers in Al MacInnis and Chris Pronger and had a promising young rearguard in Barret Jackman, who was fresh off beating out Henrik Zetterberg and Rick Nash for the 2003 Calder Trophy.
Still, with MacInnis and Pronger in the twilight of their careers, the Blues needed another young body on the back end. Enter Coburn, who averaged just over 16 minutes per night in his 13th NHL season in 2017-18.
(Photos courtesy: Getty Images)