How the Oilers gifted the Islanders with hockey's best 2nd line
Elsa / Getty Images Sport / Getty
The Edmonton Oilers could sure use this trio right about now.
Already owning arguably hockey's most dynamic line in captain John Tavares flanked by Anders Lee and Josh Bailey, there is no doubt when rounding out the rest of the top six - the Islanders have the NHL's best secondary scoring: Jordan Eberle, Mathew Barzal, and Anthony Beauvillier.
Thank you, Peter Chiarelli.
With two trades made over the last three years, the Islanders pieced together their second line from a pair of deals courtesy of the Oilers.
It began at the 2015 draft, when the Islanders flipped former fourth overall pick Griffin Reinhart to Edmonton - an odd pickup by the Oilers, given the young blue-liner had made little progress since his own draft three years earlier, but seemingly enough for Chiarelli to pay top dollar.
The Oilers parted with two draft choices to acquire Reinhart - first- and second-round picks in 2015. A steep price for sure, and the Islanders went to work.
With the first of the two picks, New York called Barzal's name, a top-scoring center from the WHL who pocketed 57 points in 44 games with the Seattle Thunderbirds in his draft year. Scouts were deterred by Barzal's diminutive size - he now stands 6-feet and nearly 190 pounds - but the Islanders liked what they saw, picking Barzal with the 16th selection, eight slots below his final draft ranking.
And for the Islanders' next trick? General manager Garth Snow attached his team's own third-round pick - the 72nd selection - to the Oilers' second-rounder - pick No. 33 - to move up five slots in the draft order.
That set the table for the Islanders to return to the draft podium for the second time that night, and they wasted little time by adding a Shawinigan Cataractes standout in Beauvillier, who scored a team-leading 42 goals and 94 points in his draft year, good for eighth in QMJHL scoring that season.
As for Reinhart? He played all of 29 games with the Oilers, picking up a single point, before he was set free in last summer's expansion draft. He's now lacing up for the Vegas Golden Knights' minor-league club.
Meanwhile, Barzal and Beauvillier, one rookie and one sophomore, are both producing this season, forming a second-line combo that is proving to be a tactical challenge for opposing teams who are already exerting plenty of effort to try to keep Tavares off of the scoresheet.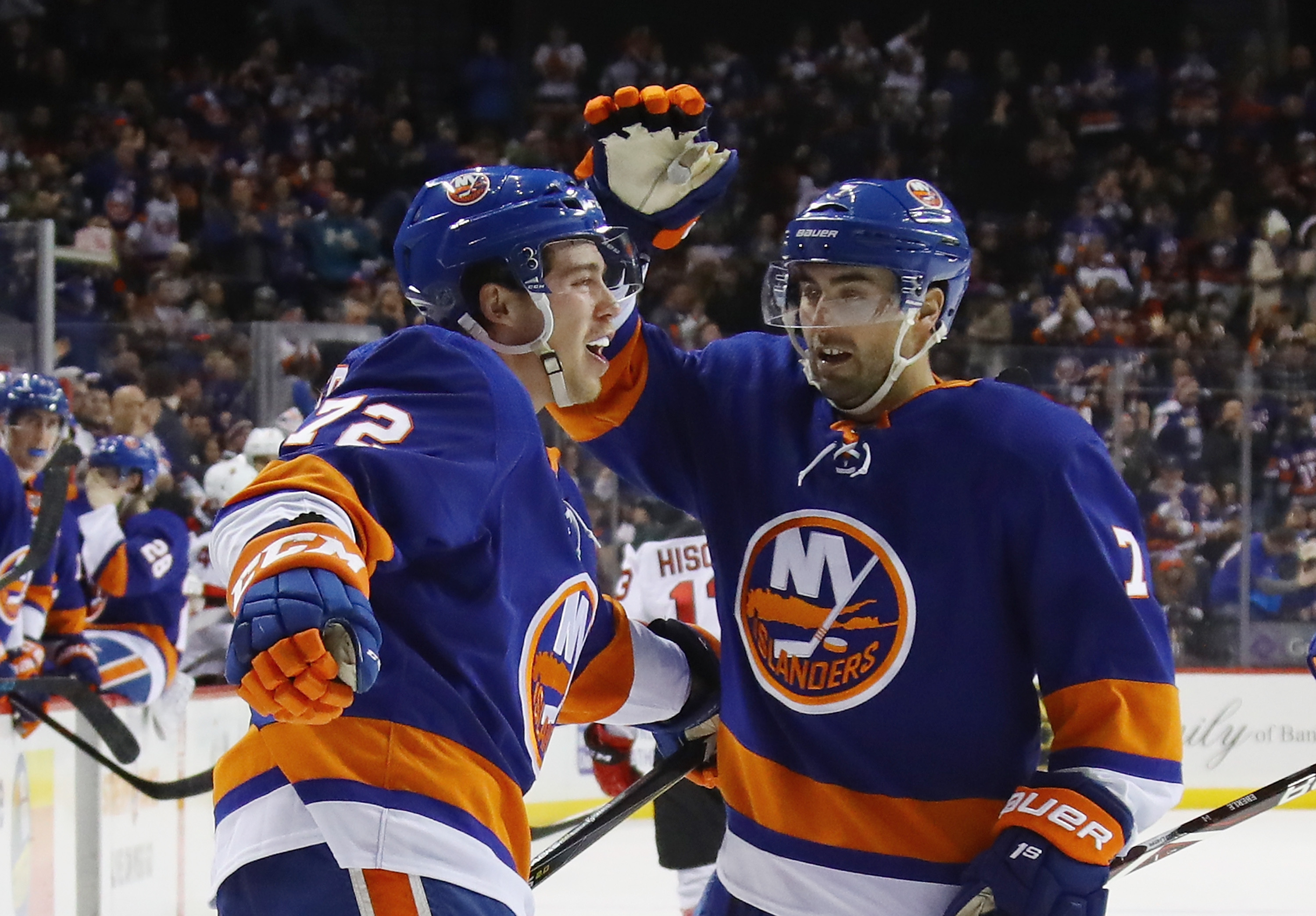 (Photo courtesy: Getty Images)
The sort of secondary scoring is what's missing in Edmonton this season.
Despite owning both Connor McDavid and Leon Draisaitl, the Oilers seemingly struggle to score - Edmonton's offense sits in the NHL's bottom third.
Take away McDavid and Draisaitl and it gets even uglier, as the Oilers then have only 100 goals on the season, just above two a game, and with only 79 of those tallies coming from the forward corps.
If only that's where the dealing had stopped.
But Snow then revisited the Chiarelli vending machine this offseason, parting with another former top pick who had failed to live up to expectations in Ryan Strome to return Jordan Eberle, a five-time 20-goal scorer.
While the deal gave the Oilers cap relief - which they subsequently spent on extending Kris Russell - the skill side of the equation never favored Edmonton. Only twice previously has Strome scored more than 10 goals. It was an all too familiar scenario from a year earlier, when the Oilers moved Taylor Hall for a middle-pairing defender in Adam Larsson.
The Eberle trade was a bad deal then and has only gotten worse, as he's been a tremendous fit with the Islanders, while Strome is still struggling to meet to his original billing. In all, Eberle has more than doubled Strome's production this season.
There was no better showing of the Islanders' second line than Monday night, when the trio combined for six points to power New York to victory over the Montreal Canadiens. It was a key win for the Islanders, who are fighting for a playoff berth in hockey's most competitive division.
Among Monday's top producers was Barzal, who picked up a goal and two assists to push his point total to 10 in his last three outings, as he continues to build a safe cushion on Vancouver Canucks freshman Brock Boeser for top spot in rookie scoring.
And the Oilers? They're 10 points from a playoff position and soon to be back in the all-too-familiar territory of the draft lottery.
Comments
✕
How the Oilers gifted the Islanders with hockey's best 2nd line
  Got something to say? Leave a comment below!