Meet Zach Hyman, the most intriguing player on the NHL's most dynamic line
Dan Hamilton / USA Today Sports
TORONTO - On a frigid November afternoon, Auston Matthews has the hockey world hanging on his every word. He's returning to practice after missing the Toronto Maple Leafs' previous three games due to injury, and reporters have swarmed his locker.
Standing on the opposite side of the room is Zach Hyman, the oft-forgotten third member of a line with Matthews and William Nylander that's taken the NHL by storm to begin the season. Hyman, a Toronto native, is content to entertain a smaller cohort of journalists at his locker, who are, in reality, patiently waiting for the reigning Calder Trophy winner to speak.
Though the spotlight is often pointed elsewhere, Hyman might be the most intriguing player on a potentially dynastic Leafs team that's once again captured the imagination of its zealous fan base. An overlooked prospect whose father was so heavily invested in the city's minor-hockey ranks - and some argued his kids' success - Hockey Canada ultimately intervened, Hyman actually found his stride south of the border. Some consider him an atypical top-liner for a club with Stanley Cup aspirations, a fitting description when you consider his unusual journey.
__________
The odds of making it to the NHL are microscopic, and parents are often warned in advance not to get their hopes up once their sons pass a certain age. This is especially true in the hyper-competitive Greater Toronto Hockey League (GTHL), which attracts players from all over the world.
Hyman played alongside NHLers Jeff Skinner, Tyler Toffoli, and Devante Smith-Pelly throughout his minor-hockey career, while competing against stars like Tyler Seguin. That's not lost on the Leafs winger, who marvels at the fact he's still facing his friends at the highest level.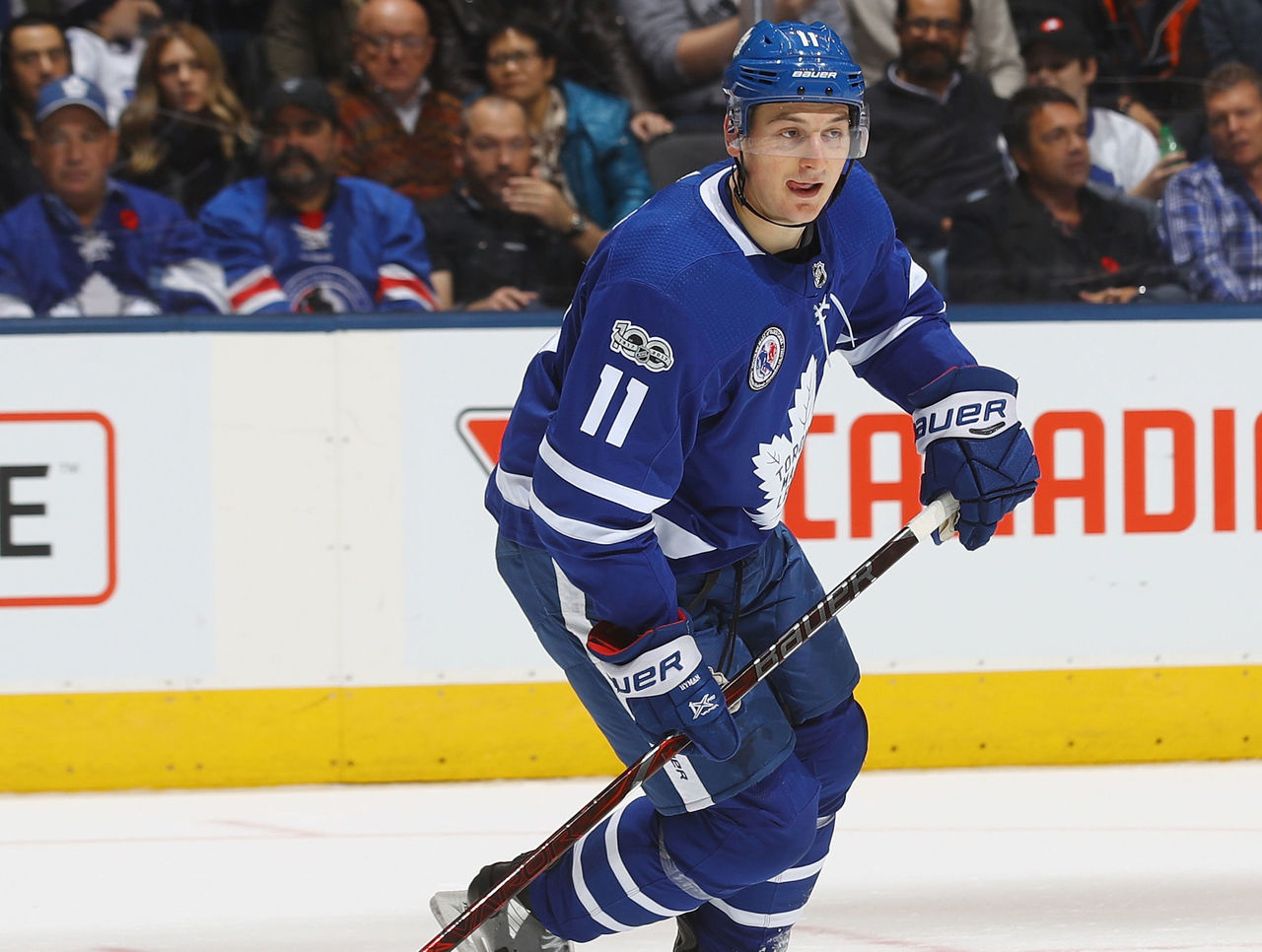 (Photo courtesy: Getty Images)
Though Hyman was often overshadowed in minor hockey, his name was well-known. Hyman's father, Stuart, reportedly took sole or partial ownership of more than 90 minor hockey organizations at one juncture before relinquishing his ownership stakes amid pressure from the GTHL and the country's governing hockey body. Hyman has said opponents used the owner's-son label as ammo for trash talk.
Stuart Hyman also purchased International Scouting Services three months before the 2010 NHL Entry Draft. He said the deal wasn't related to his son's status as a fringe prospect, but Zach was largely dismissed by pro scouts.
"We think there were 210 other skaters that have a better chance of being an NHL player than Zach Hyman," the late E.J. McGuire, NHL Central Scouting Bureau director, said in 2010.
The Florida Panthers selected Hyman 123rd overall that spring. After decommitting from Princeton, Hyman went to Michigan in 2011, and played for legendary Wolverines head coach Red Berenson, the man whom he counts as the biggest influence on his career.
Berenson, who won two national titles with the program and retired in 2017, speaks fondly of Hyman, noting that it took a ton of effort and commitment for the player to refine his game.
"A lot of people thought hockey was easy for him, but he had to work hard to get the results he got and he really did, on the ice and off the ice," Berenson said.
Added Berenson, "It took him at least two-and-a-half years at Michigan to really start showing the kind of player that he was hoping to be when he got here."
In each of his first two seasons with the Wolverines, Hyman had nine points. As a junior, he posted 17. In his senior year, Hyman scored 22 goals and added 32 assists in 37 games - good enough for fourth in Division I scoring - and was a finalist for the Hobey Baker Award as U.S. college hockey's top player.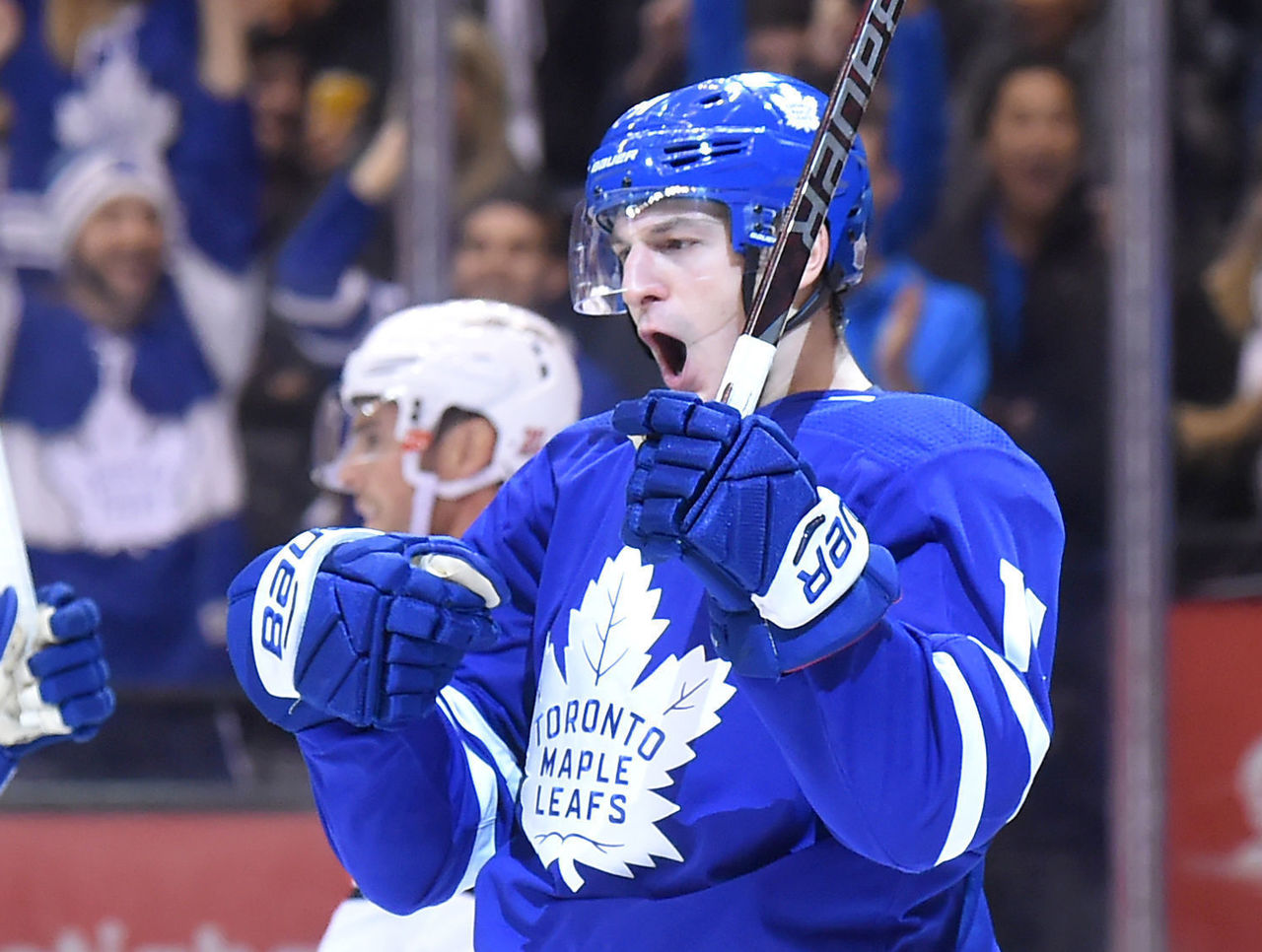 (Photo courtesy: Action Images)
That's not all he accomplished at Michigan. Hyman graduated with a 3.7 GPA and captured numerous academic awards for student-athletes, along with the school's athlete of the year honor.
"We have a lot of kids that go through school like Zach that were good players and maybe didn't have an NHL career," Berenson said. "We had a lot of kids that went on to be doctors, lawyers, and so on. I think Zach could've been either one."
As was the case at Michigan, Hyman's on-ice exploits don't tell the whole story about his work ethic - or his talents. Before the Leafs called him up to the NHL, he'd already emerged as a successful children's author, earning rave reviews for his first two works, "The Bambino and Me" and "Hockey Hero."
His next book is set for release in April.
"I think every player should have a passion or hobby outside the rink because you don't want your life being just hockey, hockey, hockey," Hyman said. "Have an outlet to express yourself in a different manner. For me, it's writing ... I was a history major in college, I did writing there. I write children's books because I really enjoy it and it's a passion of mine."
Hyman and the Panthers ultimately couldn't come to terms on a deal and in June 2015 Florida traded his rights to his hometown Maple Leafs, who signed him to a two-year, entry-level contract.
__________
If it were up to a large faction of Leafs fans, Hyman wouldn't have the opportunity to thrive alongside Nylander and Matthews. When Patrick Marleau joined the Leafs in July, many fans called for him to take Hyman's spot on the first line.
Leafs head coach Mike Babcock was aware of the criticism, but it didn't sway his opinion of Hyman's contributions to the unit.
"Hyman is a guy who gets the puck back all the time," Babcock said in September, according to Jonas Siegel of The Athletic. "... I've learned from good players - they like to have the puck. When you have three guys who want the puck - like (Pavel) Datsyuk used to tell me all the time, 'No, put him on somebody else's line. I want somebody to get me the puck.' He gets the puck back better than anyone."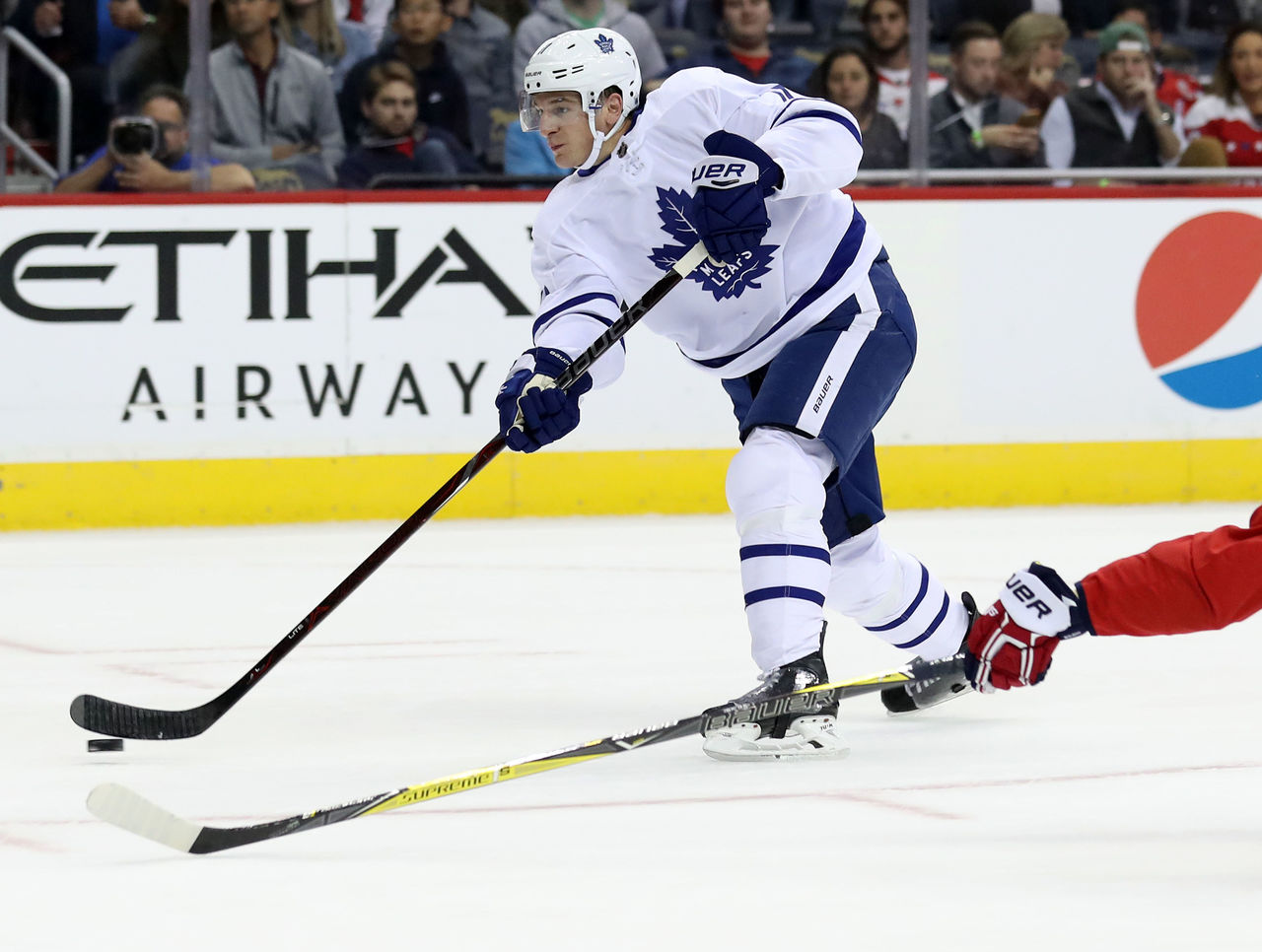 (Photo courtesy: Getty Images)
Hyman takes pride in his role, which he characterizes similarly, but credits his more heralded linemates.
"When you play with guys like Auston and Willie, who want the puck all the time and they're skilled guys, if you get them the puck, chances are your team will benefit from that," Hyman said. "That's kinda something that's important to me and is a big part of my game."
After collecting 28 points in 82 regular-season games and four more in six playoff contests in 2016-17, Hyman signed a four-year, $9-million extension in July, indicating that the defensive conscience of his high-octane line is part of the Leafs' plans as they pursue that elusive Stanley Cup.
He's been prepared for the bright lights of Toronto from an early age, and is unfazed by the added attention of playing on the top line for a contending club.
"Nothing really compares to Toronto, the hockey capital, with the amount of attention we get. It's good for us, it's good for the game," Hyman said. "People care about how you're doing. All the attention is really generated from the amount of passion fans have for the team and just want to know about the team, so, it's a good thing."
When asked if he's finally receiving due credit after being largely passed over, Hyman deferred to Matthews and Nylander again.
"Honestly, I don't even think about that stuff. I just try to go out there and play my game and help the team win. ... I play with Auston and Willie for the majority," Hyman said. "Those guys deserve a lot of attention and I'm happy to fly under the radar and just do my thing."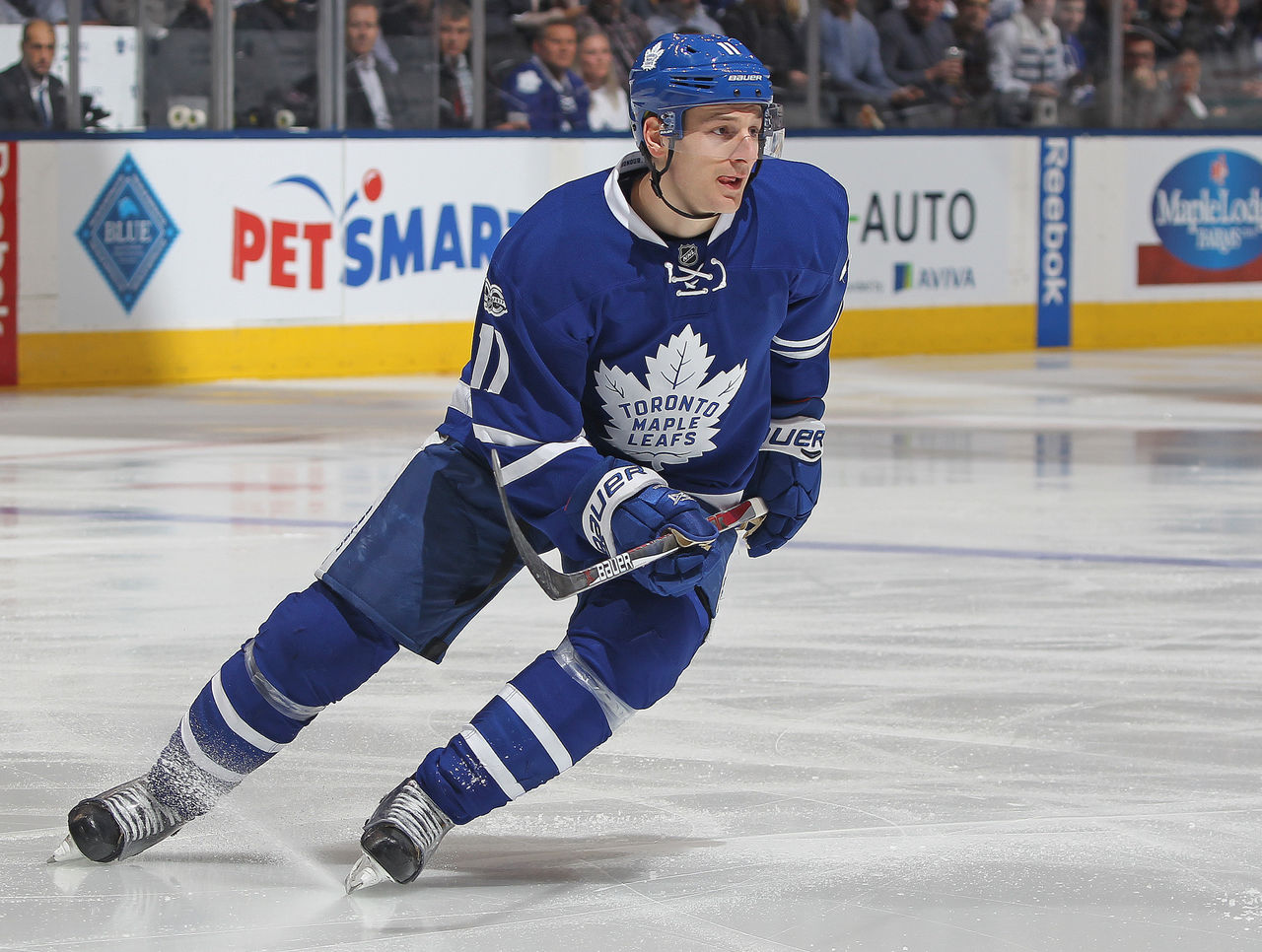 (Photo courtesy: Getty Images)
Matthews and Nylander were destined for stardom since they were teenagers; the former was championed as a byproduct of Gary Bettman's western expansion project, while the latter learned the inner workings of the league from his father, Michael, who notched 679 points in 920 career NHL games.
Hyman's route to the pros stands in stark contrast.
"Everybody has a different path and mine was a bit longer," Hyman said. "For me, it was really the right path because I needed time to develop as a player. Going to school, taking a year off, and doing all those things was the right path for me because I needed the time."
Berenson says he's closely followed Hyman's success with the Leafs and beamed about his maturation as a player.
"My lasting observation would be that Zach worked his way through all the adversity," Berenson said. "You can judge people by how they react to success, but you can really see their true character when they don't have success and how they handle it. And Zach Hyman was a true warrior in the way he worked his way through all the adversity, and then when he had success, everyone really appreciated how hard he worked to get there.
"I think you see that now. He has a great work ethic and he shows up every day, every practice, every game, and he's ready to work hard."
In hockey terms, Hyman's considered a late bloomer, but he's accumulated a lot of experience in his 25 years. Now, he personifies the Canadian dream as a Toronto born-and-raised kid playing on the Maple Leafs' first line. When it comes to accolades, he may be the odd man out compared to Matthews and Nylander, but make no mistake: Hyman's the most interesting member of the league's most dynamic young trio, and his story isn't over.
Comments
✕
Meet Zach Hyman, the most intriguing player on the NHL's most dynamic line
  Got something to say? Leave a comment below!