Why the Golden Knights won't maintain their hot start
Stephen R. Sylvanie / USA Today Sports
The Vegas Golden Knights are without question one of the best stories around the NHL in the early going, winning eight of their first nine games.
Even Sidney Crosby thinks so after crunching some numbers and declaring the expansion franchise to be no fluke. But is there validity to the Pittsburgh Penguins superstar center's apparent findings?
The answer appears to be no, and here are a few reasons why the Golden Knights are very unlikely to maintain their hot start.
Taking shots
In 5-on-5 play, Vegas boasts a Corsi For rating of 46.9 - good for 23rd, according to Corsica Hockey. What this means is the opposition is regularly recording more shot attempts than the Golden Knights.
For those who rely more on actual shots on goal, there's a disparity here as well, making the situation look even more ominous:
| | Shots/GP | Shots Allowed/GP |
| --- | --- | --- |
| Amount | 28.9 | 33.6 |
| Rank | 31 | 7 |
These numbers don't necessarily spell doom, as evidenced by the success achieved to date. However, being on the wrong end of the majority of shots and attempts isn't typically viewed as a recipe for success.
Puck luck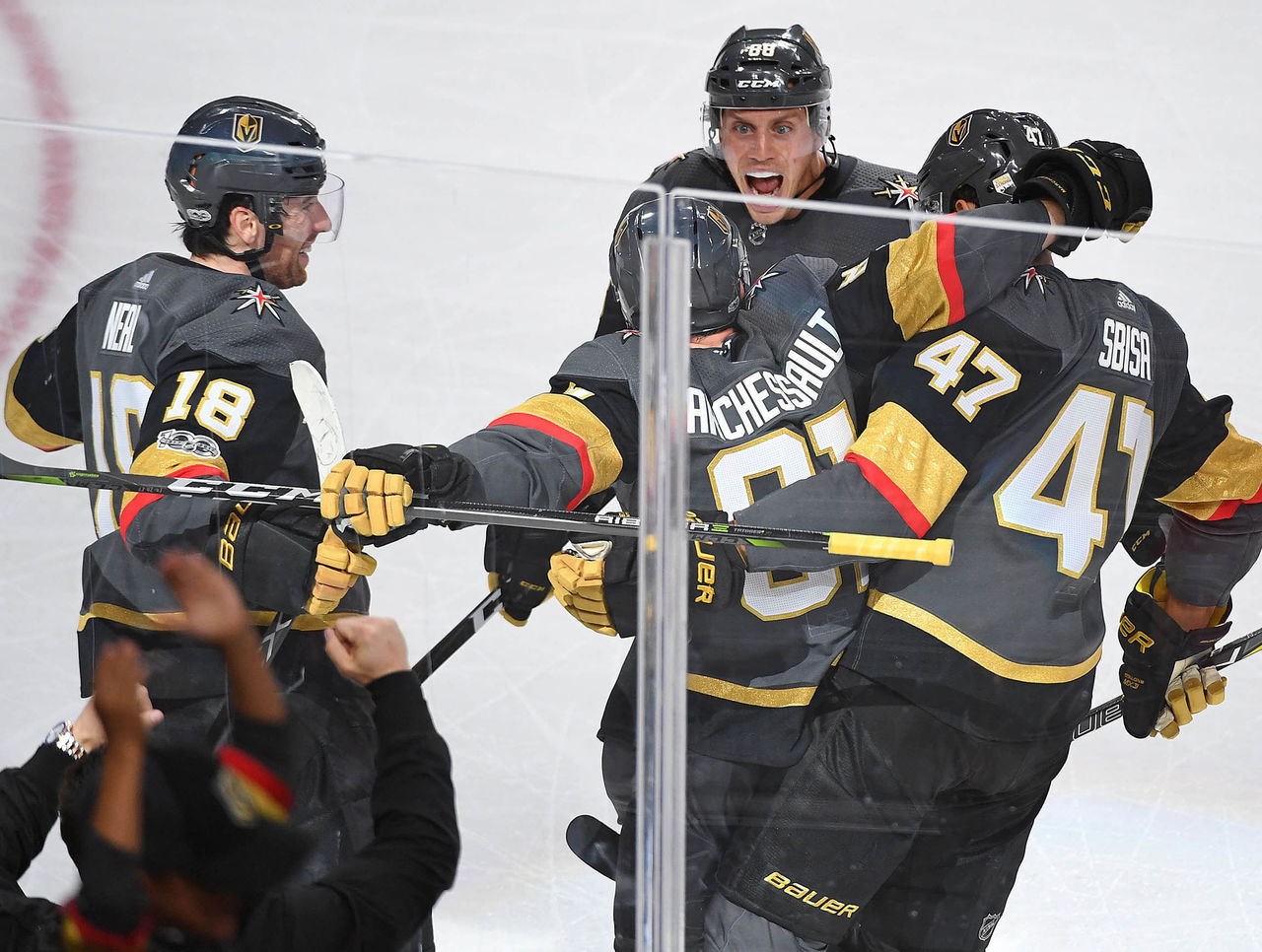 (Photo courtesy: Action Images)
Here's what is going Vegas' way: The Golden Knights rank first in PDO at even strength, which is calculated by adding a team's shooting percentage and save percentage.
Vegas sits at 106.55, ranking first in shooting percentage (11.93) and second in save percentage (94.62). The latter stat is staggering considering both starter Marc-Andre Fleury and backup Malcolm Subban are out due to injury, leaving Oscar Dansk as the man in net.
In all situations, Vegas maintains its first-place ranking, with their PDO dropping ever so slightly to 106.45 thanks to a very successful penalty kill and an average power play.
It's believed that most teams will eventually land close to 100, with a higher or lower number suggesting luck - positive or negative, respectively - is playing a significant role.
The Golden Knights are on a lucky streak that should eventually cool off.
Home cooking
Finally, we come to the schedule.
Seven of Vegas' nine games have been played at home, where the team has posted a record of 6-1-0.
While both road games have been wins, only one - an opening-night victory in Dallas - carries much weight, seeing as the other came at the expense of winless Arizona.
So what does this all mean?
Calling Vegas a fluke is perhaps too strong, but undoubtedly a lot has gone right for the expansion club. The Golden Knights have been able to roll on despite injuries to Fleury and Subban, and they've been shooting the lights out.
Again, the high shooting and save percentages suggest they've been rather lucky, and it definitely helps to play within the friendly, state-of-the-art confines of T-Mobile Arena.
With 12 of the next 16 games on the road - and no back-to-back home games during that stretch - the schedule between now and Dec. 1 will better demonstrate that the Golden Knights' hot start is unsustainable.
Comments
✕
Why the Golden Knights won't maintain their hot start
  Got something to say? Leave a comment below!