5 things Jagr accomplished before his new linemates were even born
Sergei Belski / USA Today Sports
Presented by
Jaromir Jagr's advanced age is no secret, but his new linemates are young enough to be his sons.
The NHL's elder statesman will start Thursday's game against the Carolina Hurricanes on the Calgary Flames' top line alongside Johnny Gaudreau and Sean Monahan for the first time since joining the club earlier this month.
At 45, Jagr is nearly older than Gaudreau (24) and Monahan (23) combined. The veteran played his rookie NHL season in 1990-91, while Gaudreau was born on Aug. 13, 1993, and Monahan's parents welcomed him on Oct. 12, 1994.
The age disparity is truly remarkable, so to further emphasize it, here are a handful of things Jagr had on his resume before Gaudreau and Monahan entered the world:
2 Stanley Cups
Not many players have won back-to-back titles in their first two NHL seasons, but that's what Jagr did in 1991 and '92.
He had a solid rookie campaign and added 13 points in his first playoff run before exploding for 11 goals and 24 postseason points in the Pittsburgh Penguins' second consecutive championship run.
3 full NHL seasons
It's pretty amazing to think Jagr played at all before his youthful new linemates even existed, but it's even more impressive when you consider he was already well acclimated to the NHL game by the time Gaudreau and Monahan officially came to be.
By the summer of 1993 when Gaudreau was born, Jagr had already played three full seasons in North America, appearing in at least 80 games in two of them.
2 seasons with 30-plus goals
Not only did Jagr already have three NHL seasons to his name; he was also really good in them.
The Czech native scored more than 30 goals in two of his first three campaigns, including a 34-goal, 94-point outburst in 1992-93.
He improved on that point total the following season, finishing with 99 in 1993-94, months before Monahan was born and while Gaudreau was still less than a year old.
2 All-Star Game appearances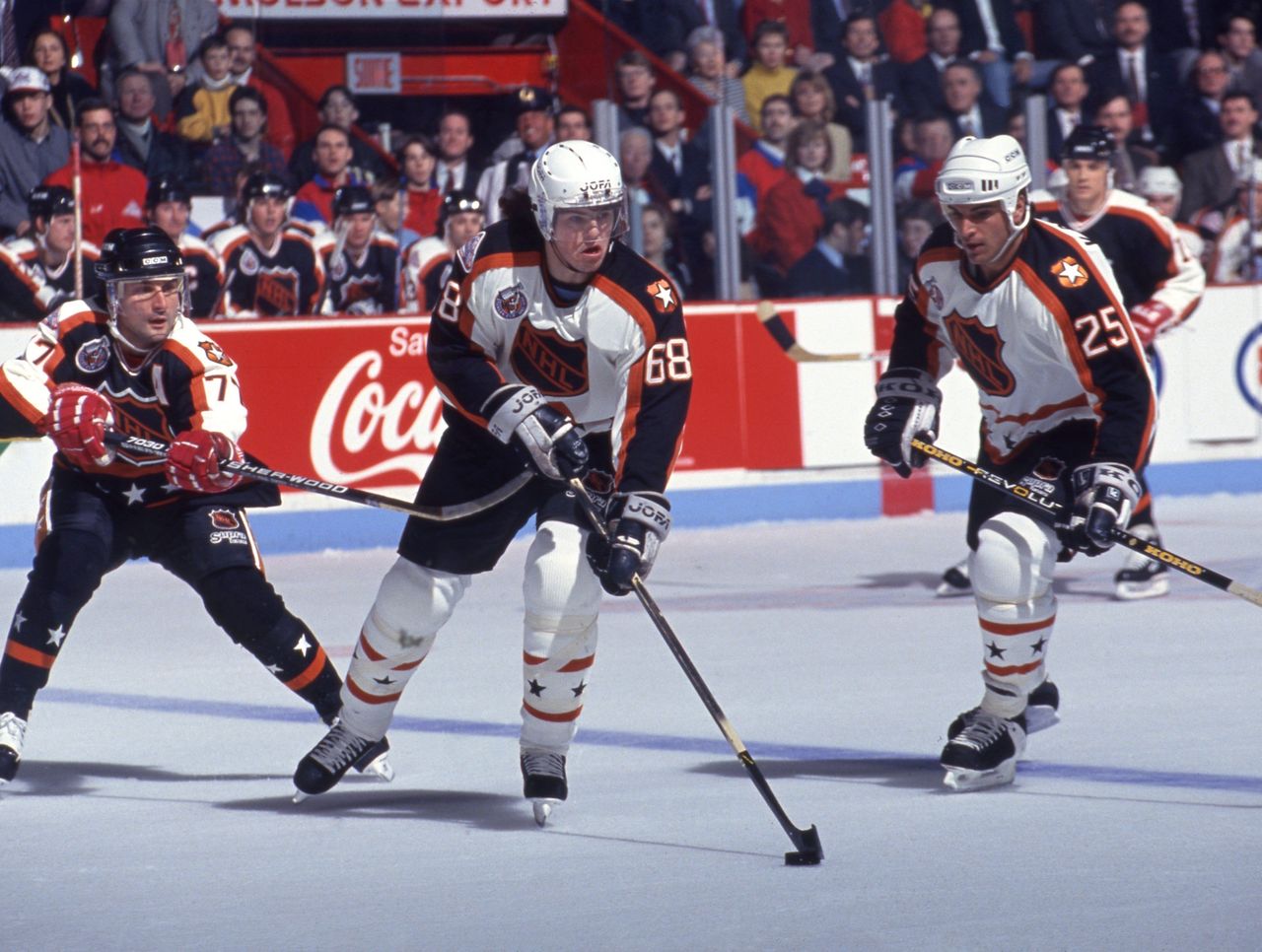 Jagr earned deserving All-Star nods in 1992 and '93. His lone point in the '92 event came on a goal by Penguins teammate Kevin Stevens, with Mario Lemieux drawing the secondary helper in the Wales Conference's 10-6 loss to the Campbell Conference.
The Wales Conference fared much better the following year, and that time Jagr chipped in a goal and an assist in a 16-6 victory.
Czech/NHL history
Jagr became the answer to a trivia question before even stepping on the ice for an NHL game.
He earned the distinction of being the first player from then-Czechoslovakia to be drafted into the NHL without first needing to defect when the Penguins selected him fifth overall in 1990.
Jagr also got a fair amount of experience with his home country's national team on multiple levels before Gaudreau and Monahan were even born, helping Czechoslovakia win the bronze medal at both the World Junior Championship and the World Championship in his draft year.
In all, he represented Czechoslovakia (and later the Czech Republic) five times before his new linemates saw daylight for the first time.
(Photos courtesy: Getty Images)
Comments
✕
5 things Jagr accomplished before his new linemates were even born
  Got something to say? Leave a comment below!