3 teams that should attempt to acquire Ward with Darling now signed
Gregg Forwerck / National Hockey League / Getty
Scott Darling is signed, sealed, and delivered.
Related: Hurricanes sign Darling to 4-year, $16.6-million contract
The former Chicago Blackhawks netminder will join two other under-contract goalies in Raleigh, as the Carolina Hurricanes have both Cam Ward and Eddie Lack signed through next season.
| Goalie | Age | Record | GAA | SV% | Contract |
| --- | --- | --- | --- | --- | --- |
| Cam Ward | 33 | 26-22-12 | 2.69 | .905 | 3.3M AAV - 1 year |
| Eddie Lack | 29 | 8-7-3 | 2.64 | .902 | 2.75M AAV - 1 year |
| Scott Darling | 28 | 18-5-5 | 2.38 | .924 | 4.15M AAV - 4 years |
That makes for a crowded crease, meaning a trade of one of the Hurricanes' extra goaltenders is likely around the corner. Netminding needs will be a common concern this offseason, and three teams rise above the rest as the most viable candidates to make a deal with Carolina for Ward:
Edmonton Oilers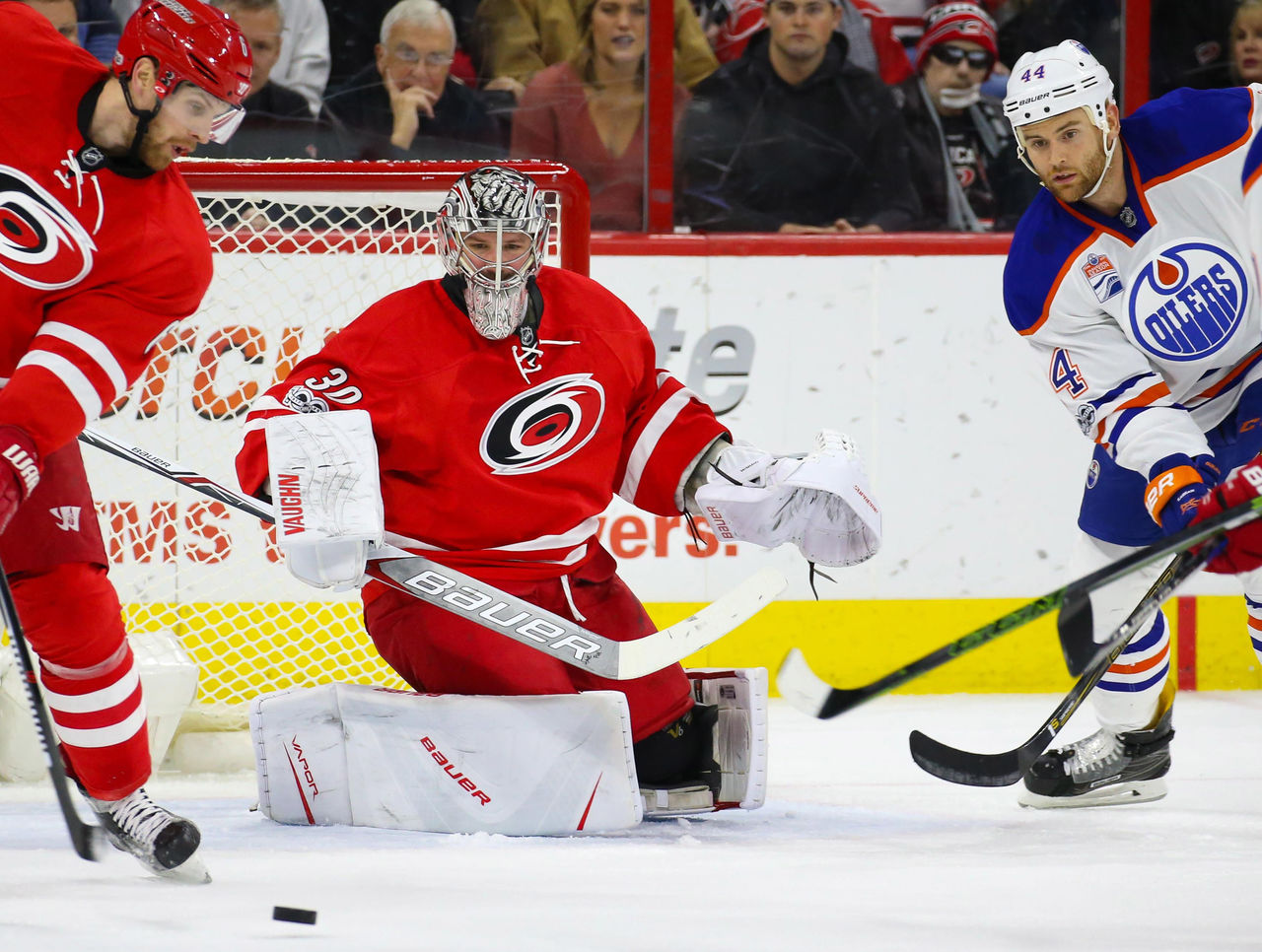 Ward could stay in Carolina, where he's spent the first 12 years of his career, but he'd now play second fiddle to the new starter in Darling.
Or he could accept a trade - Ward carries a 15-team no-trade list - to head to Alberta and play for the Oilers. It would mark a Western Canada homecoming of sorts for Ward, a Saskatoon native who spent his junior years with the WHL's Red Deer Rebels.
While Ward would still be the second option in Edmonton, the Oilers showed this season that they need a reliable backup behind starter Cam Talbot. He appeared in all but nine games this season, primarily due to Edmonton's limited depth in the crease.
Ward could offer the Oilers insurance on the short term, as he's signed for just one more season. That cap space will be needed after 2017-18, when captain Connor McDavid becomes due for a new contract.
Winnipeg Jets
The Jets have a promising young netminder in Connor Hellebuyck, the goaltender of the future in Winnipeg. But he showed this season he's not yet ready to handle prime-time duties.
That left Winnipeg to experiment with veteran 'keeper Ondrej Pavelec, who started the season in the minors. That wasn't the case with Ward, who still put up decent numbers with the Hurricanes, holding down a .905 save percentage on a team that did not qualify for the postseason.
Aside from Hellebuyck, the Jets also have Michael Hutchinson and Eric Comrie working their way up the ranks, and Ward could serve as a vital stop-gap while the franchise's young goalies continue developing their games.
Vegas Golden Knights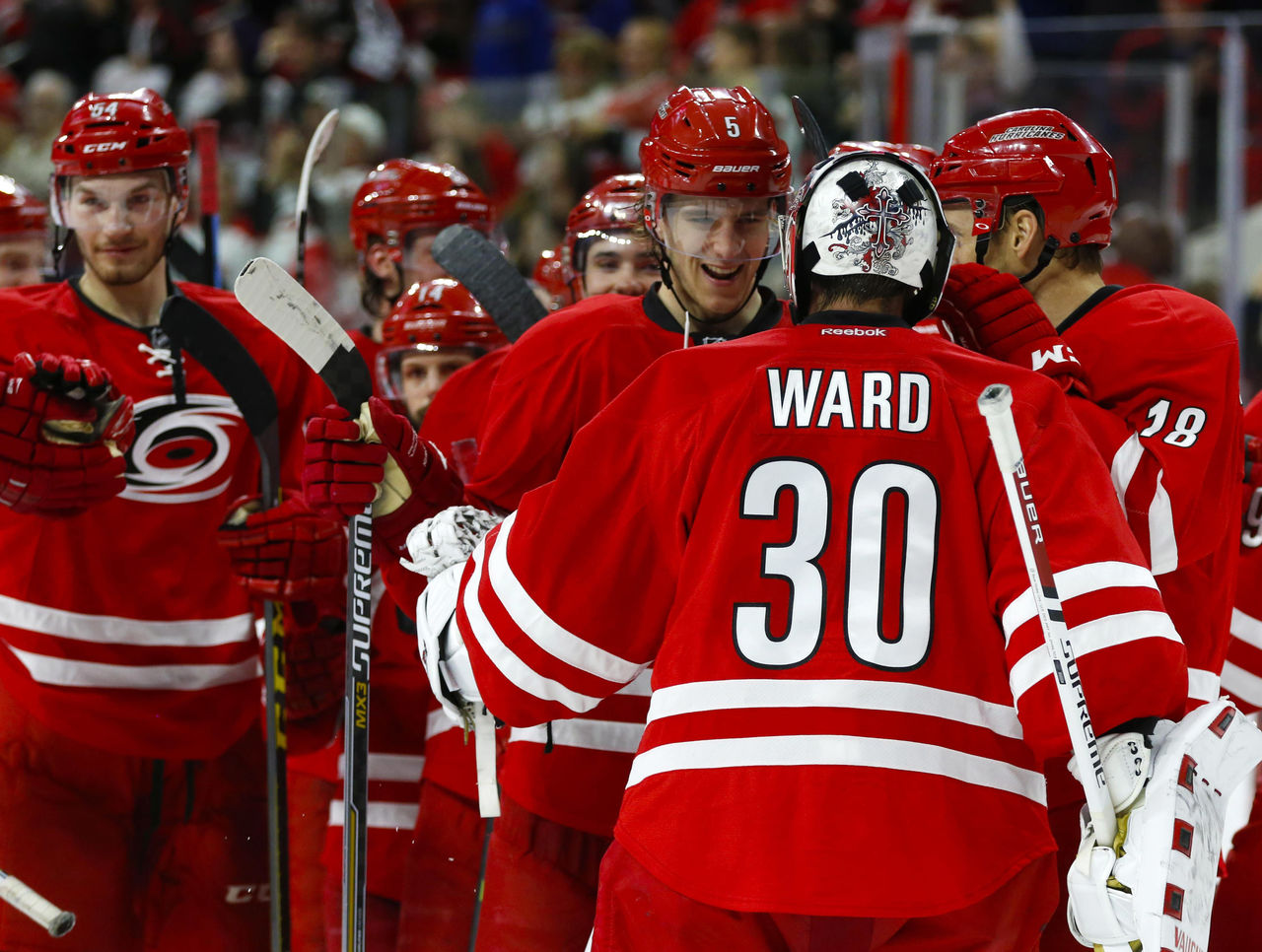 The Golden Knights wouldn't need to trade for Ward. They could simply add him for free. That is, if the Hurricanes opt to expose him in the summer expansion draft.
Vegas will build its initial roster from a blank canvas, with two spots to fill between the pipes. Thirty netminders will be made available to the Golden Knights, so the question will be whether general manager George McPhee believes Ward is one of the two best goaltenders to be free for the picking.
Ward won the Stanley Cup and playoff MVP honors in his rookie season with the Hurricanes in 2005. He'd bring a winning pedigree to the NHL's newest franchise.
Only a year away from free agency, the possibility remains Ward could put together a solid campaign in Vegas, backstopping plenty of pucks on a piecemeal team. That would make him an attractive rental option at next year's trade deadline, with the first-year Golden Knights likely set for the seller's seat.
(Photos courtesy: Action Images)
Comments
✕
3 teams that should attempt to acquire Ward with Darling now signed
  Got something to say? Leave a comment below!