The Stanley Cup. She's tough to win.
Ask Alex Ovechkin. And Roberto Luongo. And all of the San Jose Sharks.
And with that, we present the all Stanley Cup-less team, comprised of active NHLers who have yet to - and may never - win it all.
Forwards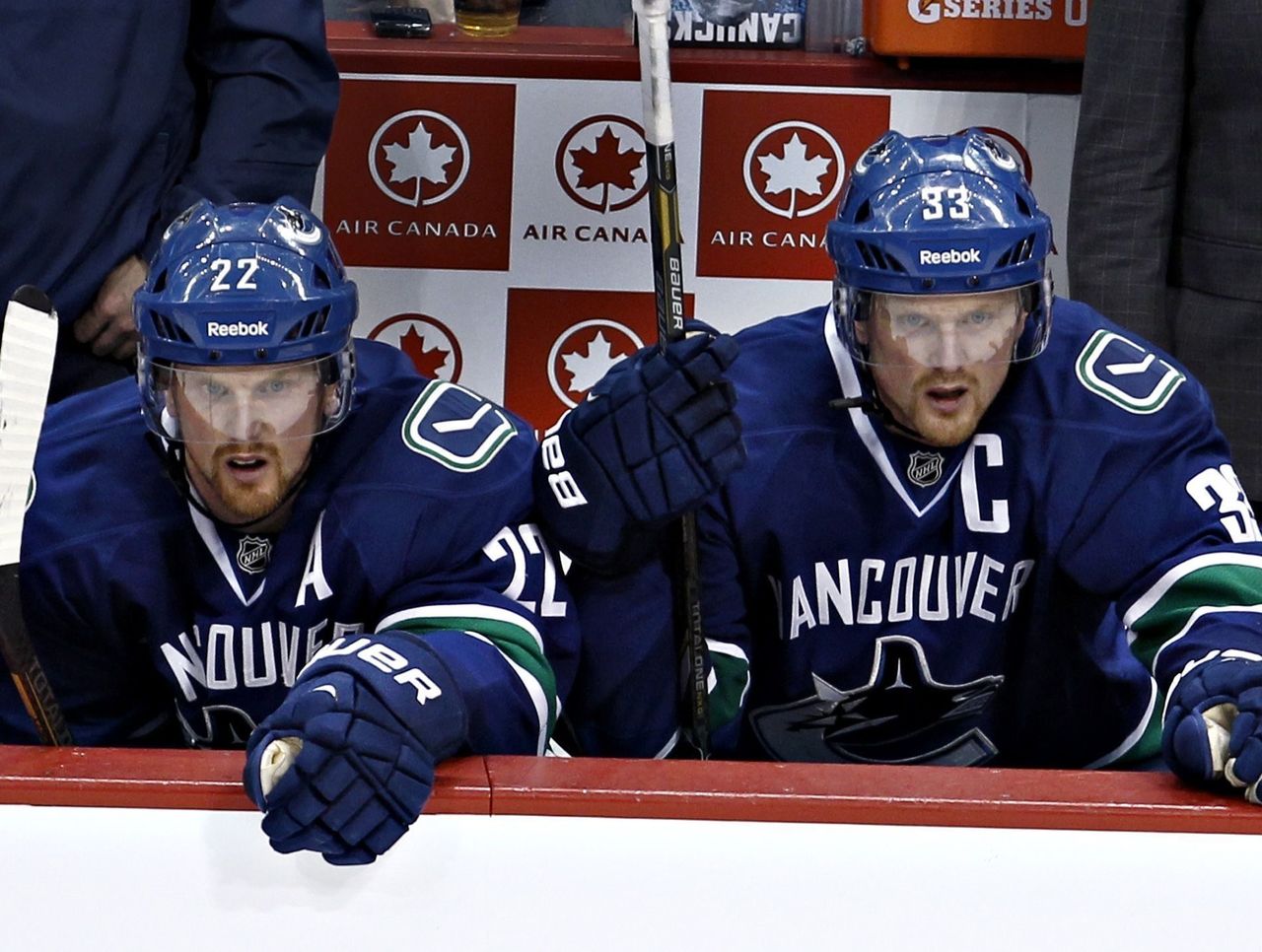 | LW | C | RW |
| --- | --- | --- |
| Alex Ovechkin | Joe Thornton | Jarome Iginla |
| Zach Parise | Henrik Sedin | Daniel Sedin |
| Patrick Marleau | Joe Pavelski | Shane Doan |
| Logan Couture | Nicklas Backstrom | Jason Spezza |
| Claude Giroux | Ryan Kesler | Mike Fisher |
Notes:
Since the 1995-96 season, only successful ring-chaser Marian Hossa (205) has played more playoff games than Patrick Marleau (177) and Joe Thornton (160). It really will be a shame if these two never raise the Cup.
While it's absolutely ridiculous to tie Ovechkin's legacy to the Cup, the fact that he's never played in the third round is, well, also absolutely ridiculous. Ovie's averaged 0.93 points per game in 97 postseason games (46 goals). He's not the problem in D.C.
The poor Sedins were up 3-2 on the Bruins in the 2011 Stanley Cup Final. That's going to hurt forever.
Jarome Iginla has 37 goals in 81 career playoff games (0.84 points per game). He too came oh so close, his Flames losing Game 7 of the final to the Lightning after also being up 3-2 in the series.
Shane Doan has been in the NHL since 1995 and has played 55 playoff games. Life is unfair.
Mike Fisher is hoping to excuse himself from this roster over the next two weeks. Fisher's played 129 playoff games, 14th among active forwards since 1995.
While Claude Giroux and Jason Spezza haven't played a ton of postseason games (63 and 69, respectively), they've produced in 'em. Giroux's 0.98 points per game ranks fifth among all active forwards since 1995, while Spezza's 0.94 places him seventh. Both make this team because it doesn't look like the Flyers or Stars will be winning the Cup anytime soon.
Players who just missed the cut: Rick Nash (41 points in 77 career playoff games), James Neal (42 points in 75 games), Derek Stepan (49 in 97), and Scott Hartnell (47 in 95).
Defense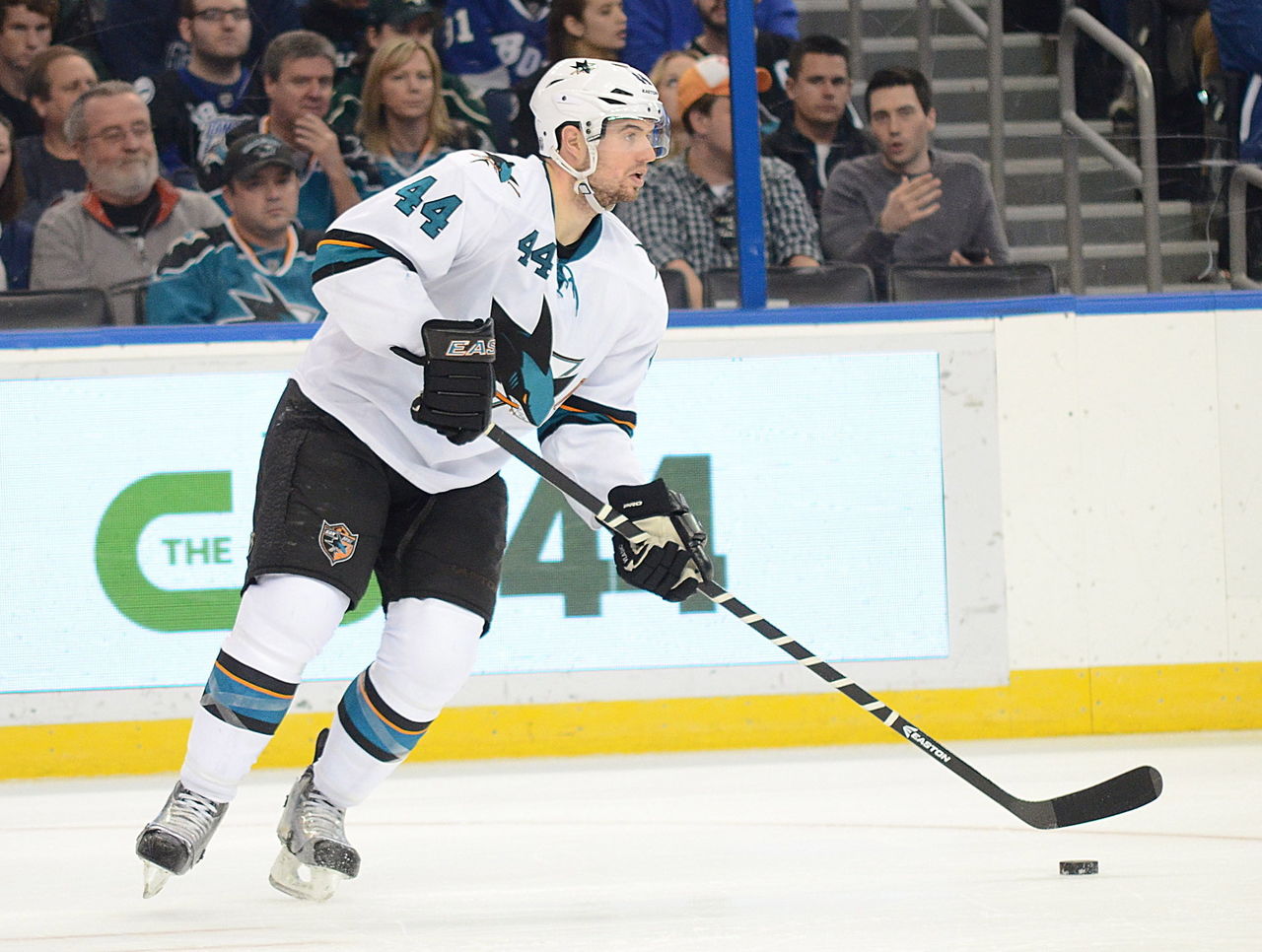 | LD | RD |
| --- | --- |
| Paul Martin | P.K. Subban |
| Marc-Edouard Vlasic | Ryan McDonagh |
| Braydon Coburn | Dan Girardi |
| Andrei Markov | Matt Niskanen |
Notes:
We went with - for the most part - games played for the crew on defense. P.K. Subban's the exception, but he makes the team because his 0.68 points per game in the playoffs (72 games) ranks first among all active defensemen since 1995. He's also hoping to be off this team by mid-June at the very latest.
Dan Girardi, Paul Martin, and Marc-Edouard Vlasic make up the century club on the back end. They've played 122, 115, and 114 playoff games respectively, with nothing to show for them.
Braydon Coburn's on the team because he's twice made the Stanley Cup Final and lost. Oh, the humanity.
Honorable mention to another Ranger: Marc Staal. He's played 104 postseason games.
Others who have produced in the playoffs but missed the cut due to not having played - and suffered through - enough postseason games: Brent Burns (0.63 PPG in 57 games), Keith Yandle (0.61 PPG in 51), Victor Hedman (0.57 PPG in 65), Mike Green (0.49 PPG in 76), Alex Edler and Shea Weber (0.48 PPG in 65, for both), and John Carlson (0.46 PPG in 76), and Kevin Bieksa (0.35 PPG in 85).
Here's the deal: There are a lot of good defensemen who are never going to win a Stanley Cup.
Goalies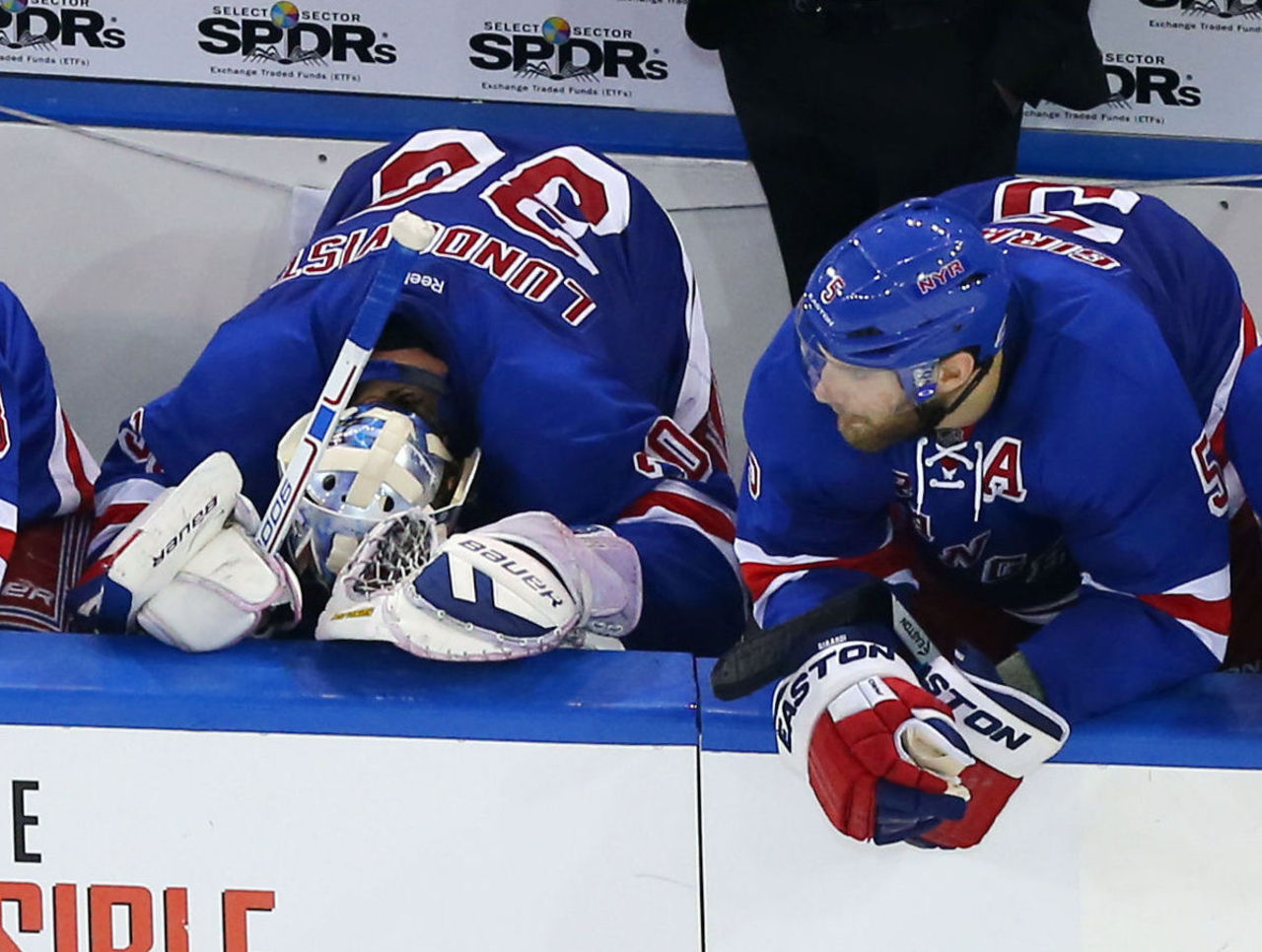 | Goalie | Playoffs GP | Playoffs SV% |
| --- | --- | --- |
| Henrik Lundqvist | 128 | .922 |
| Roberto Luongo | 70 | .918 |
| Braden Holtby | 59 | .932 |
Notes:
(Photos courtesy: Action Images)