Carlyle: I was never told why I was fired by Leafs
Jerome Miron-USA TODAY Sports
Randy Carlyle was apparently on a need-to-know basis with the Toronto Maple Leafs. And when he was fired by the club on Jan. 5, 2015, he wasn't told why management thought he was no longer up to the task.
Carlyle returns to Toronto for the first time as an NHL coach Monday, bringing with him his new old club, the Anaheim Ducks.
"I'd leave those questions to the people that were above me," Carlyle said Sunday, according to NHL.com's Dave McCarthy, when asked why he was let go when his Maple Leafs had a 21-16-3 record and held down a wild-card playoff spot. "If they don't want to answer them, they never told me any reason."
Carlyle took over for Ron Wilson in 2013, after Wilson was fired with 18 games to go in the 2012-13 season. In the shortened 2013-14 season, Toronto made the playoffs for the first time since the lockout cost the NHL the 2004-05 campaign. The Maple Leafs were up 4-1 on the Boston Bruins in the third period of Game 7 of their first-round series, only to collapse like no other team has collapsed before.
Toronto lost 5-4 in overtime after shockingly, amazingly blowing their lead. Carlyle never called a timeout.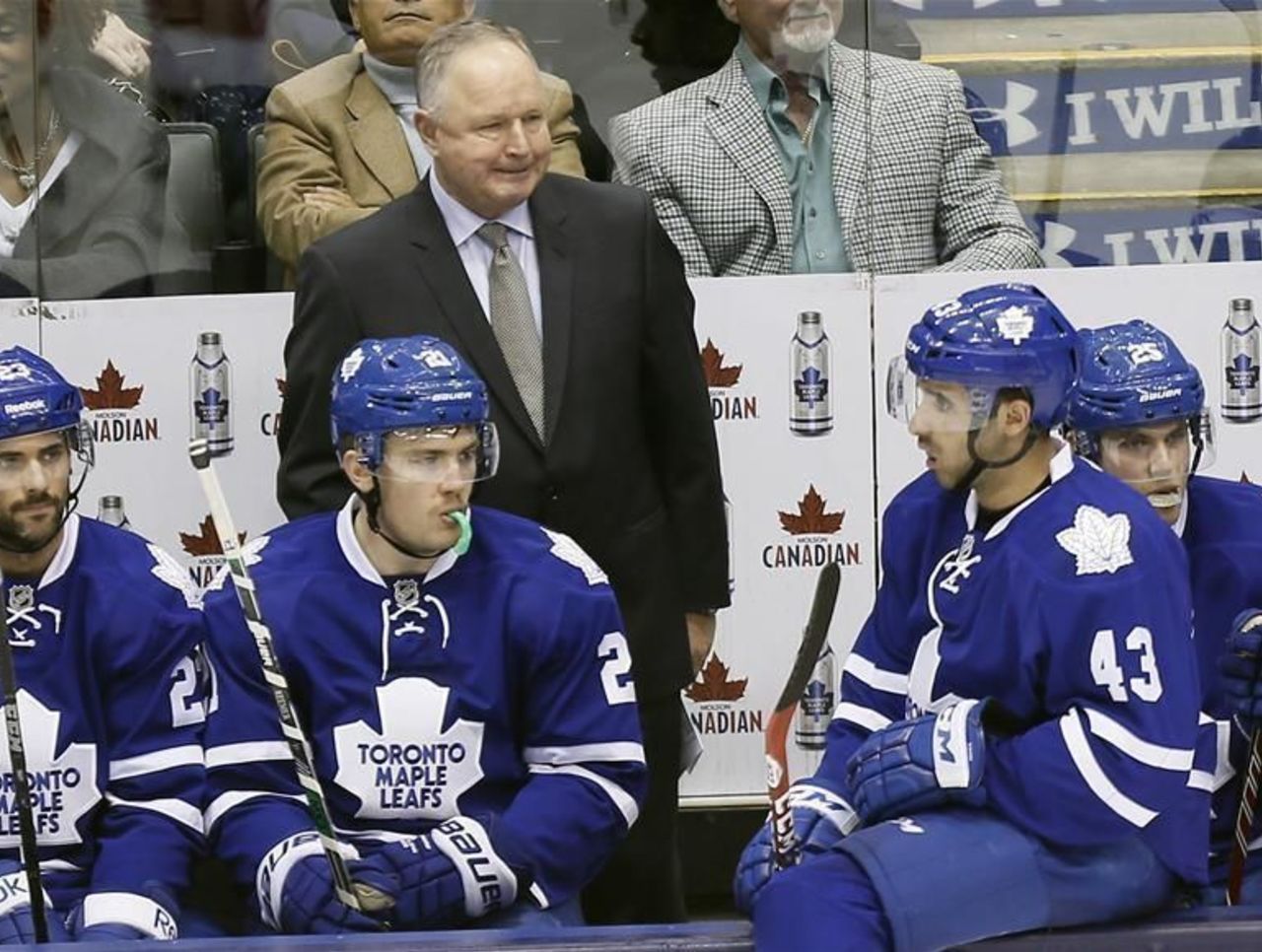 A native of Sudbury, Ont., Carlyle has had this one circled on his calendar since rejoining the Ducks, the team he coached to a Stanley Cup in 2006-07.
"It'd be crazy to say that it's not special but again it's not about me, it's about our hockey club going out and playing against the Maple Leafs," Carlyle said.
Though Carlyle left Toronto with a winning record as Maple Leafs head coach (91-78-19), advanced stats show his teams in blue and white were a disaster. From 2012-13 through 2014-15, Toronto was the second-worst club in the league with respect to possession, coming in at a ghastly 44.47 percent, according to Corsica Hockey.
Under Carlyle, the Maple Leafs simply never had the puck. A career season from goaltender James Reimer - a .924 save percentage and four shutouts in 31 starts - got the club into the postseason in 2013, where it was thoroughly dominated by the Bruins, who were the deserving series winners, even though it took a modern miracle.
Carlyle drove a portion of Maple Leafs fans crazy with his lineup decisions. He played enforcers Colton Orr and Frazer McLaren on his fourth line regularly in 2013, and had the backing of Brian Burke in management to dress a team focused on physical play, while the league moved towards more skill and speed.
This season, Carlyle has a skilled Ducks team at his disposal, but the club ranks 18th in possession at 49.10 percent. Last season, under Bruce Boudreau, the club finished fifth at 52.36 percent.
Much of the criticism leveled at Carlyle when he left Toronto was that he wasn't willing to adapt to a changing game.
Monday, meanwhile, will also mark the first start for Toronto goalie Frederik Andersen against his former team. Andersen was traded to the Maple Leafs in the offseason, signing a five-year deal to be the No. 1.
Andersen will be motivated to show Anaheim it picked the wrong goalie between him and John Gibson. And Carlyle is, no doubt, hoping to prove to Toronto that he wasn't the problem.
Comments
✕
Carlyle: I was never told why I was fired by Leafs
  Got something to say? Leave a comment below!