Alter: Gimmick no more, Europe justifies World Cup format
Dave Sandford / World Cup of Hockey / Getty
Presented by

When the World Cup of Hockey began over a week ago, Team Europe was an afterthought, already written off.
Pre-tournament games against Team North America suggested that perhaps the European experiment wouldn't work. That notion was only further cemented after a four-period span in which Europe was outscored 9-1 by the kids.
"That was a real turning point for us," defenseman Roman Josi said after Europe beat Sweden 3-2 in overtime to advance to the World Cup final against Canada. "That's when I think we started coming together."
Once the puck dropped for the first round-robin game, Team Europe took on a whole new identity, and changed people's perceptions in the process.
The Outsiders
To understand this underdog story, look no further than Europe head coach Ralph Krueger.
In June 2013, he was dismissed as head coach of the Edmonton Oilers - over Skype - after one lockout-shortened season. After a brief stint as an advisor for Canada at the 2014 Sochi Olympics, Krueger left hockey and is now chairman of the Premier League's Southampton Football Club. It was a career change in sport that is rarely done successfully, especially at the highest level.
Europe's captain, Anze Kopitar, is a perennial All-Star from Slovenia. He's had to carry his nation's hopes at every World Hockey Championship, with Slovenia regularly alternating between staying in the top 16 in order to play in the main tournament, and relegation.
Training camp was in Quebec City, far from Europe, and the team chose to have no national anthem or musical score played before its games, even though a medley was provided by the tournament. Meanwhile, every other team heard its anthem before puck drop, with North America getting both the U.S. and Canadian anthems.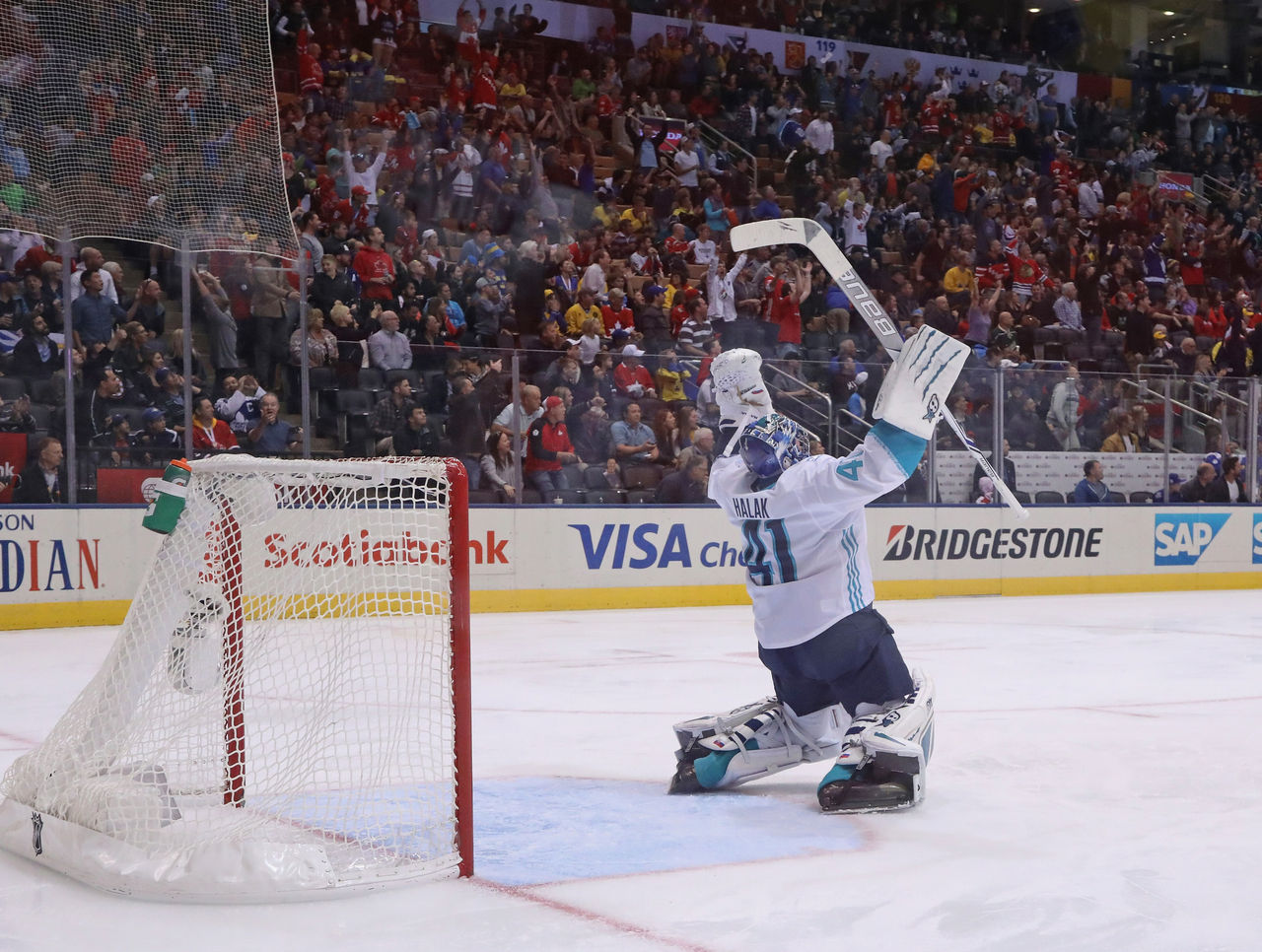 Team Europe: Outsiders by all accounts.
"A lot of the presidents are down there from the eight countries we're representing, but I think we're representing all the rest, which is about 12 to 13 countries in Europe that cannot play in the top six, and I think that the pride in that group right now is large," Krueger said.
A Force, Together
Most of the countries where the members of Team Europe come from wouldn't stand much of a chance at placing on the podium at the Olympics or even a World Championship. In fact, none of the eight nations Team Europe represents has ever been to the final of a best-on-best tournament. United in their difficulties to achieve international supremacy, the Europeans are now in uncharted territory - they're through to the World Cup final with heavily favored Canada.
"Obviously, a big opportunity," said forward Tomas Tatar, who scored twice against Sweden, including the overtime winner. "The story continues. We know and respect Canada and how good they are, but we will be together and we will battle together for a win."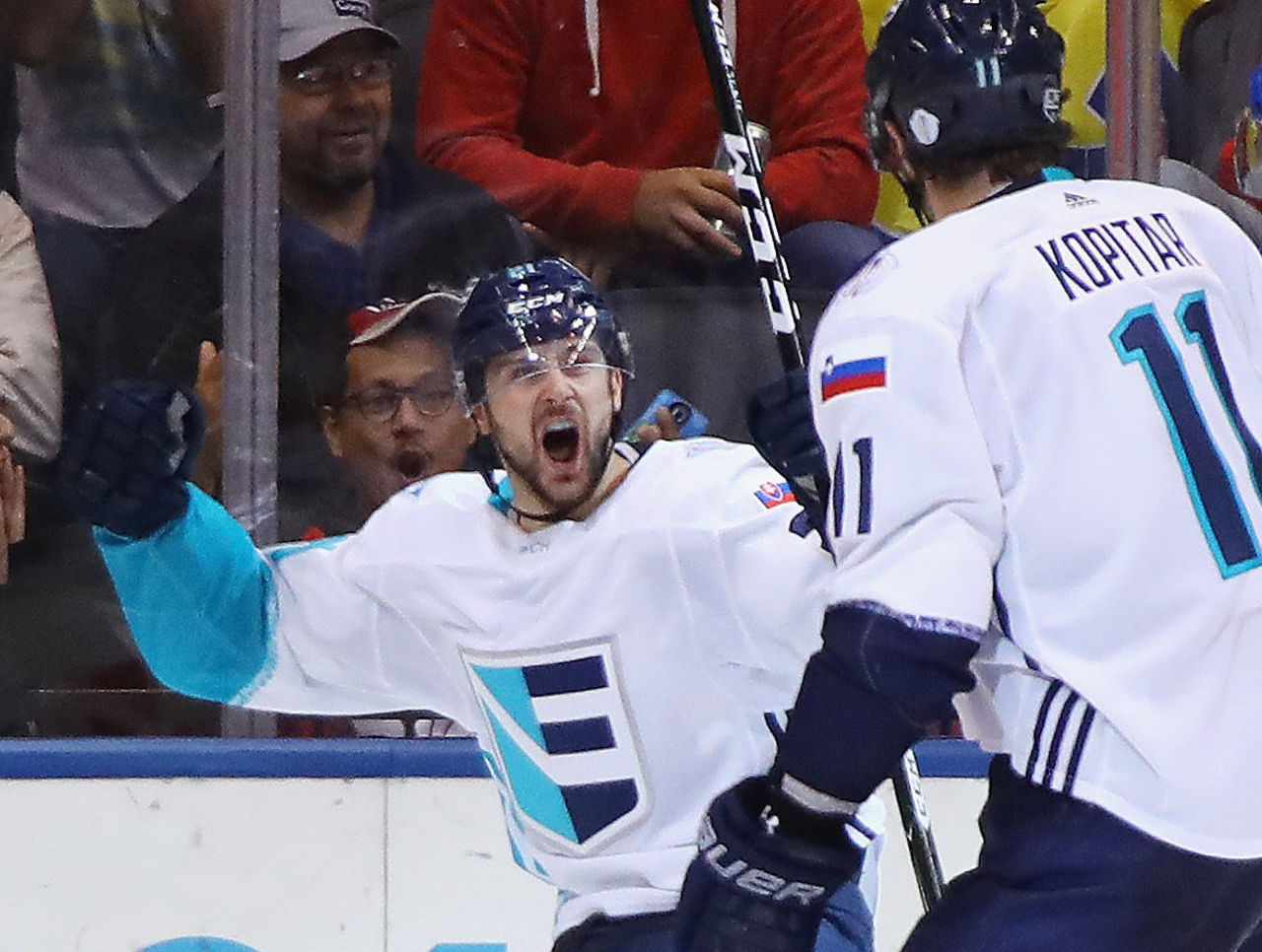 Europe kicked off the World Cup last week by blanking the Americans 3-0. In an instant, the perception of the European team - and the U.S. team - changed. Krueger's squad punched its ticket to the semifinals with a win over the Czechs two days later. The club's latest and most impressive achievement is an overtime win over hockey powerhouse Sweden to keep the run going.
"I think nobody would guess we could be in the final," Marian Hossa said. "It was 33-to-1 odds against us. So it just feels good to be where we're at. I think everybody here is really happy."
Justified
A best-on-best international tournament with two select teams was a concept many weren't sure would work. But with North America dazzling every game and Europe in the final, it's the best possible outcome for the organizers who dreamed it up. A Europe-Canada final sheds the World Cup of the gimmick label and helps to grow the game internationally.
"There were half the people who were into it and half the people who weren't," Hossa said. "I think now more people have started getting into it and realizing there are a few guys playing for each of those countries in the final against the best team there is in Canada. Lots of people are going to watch now."
With the final a best-of-three format, Team Europe will play at least two more times, on the biggest international stage, its players taking part in what will likely be the most important international games of their careers.
"I came in here saying that we hoped that a few young children back in those countries get inspired by what we do and become great NHL players in 10 years or 12 years," Krueger said. "And if that happens when I'm old and retired, I hope that it was a part of this tournament that did that."
Comments
✕
Alter: Gimmick no more, Europe justifies World Cup format
  Got something to say? Leave a comment below!