Conn Smythe Power Rankings: Captain Joe steering the Sharks to new waters
Rocky W. Widner/NHL / Getty Images Sport / Getty
Presented by

The Stanley Cup Final is upon us.
With that, the field of players - not only vying for a drink from Lord Stanley, but also to lift the Conn Smythe Trophy - has been narrowed.
Here are the five most worthy candidates to take home postseason MVP honors heading into the Stanley Cup Final Monday night in Pittsburgh:
1) Joe Pavelski, Sharks
What more could be asked of Joe Pavelski that he hasn't already done in his first season as the club's new captain?
The 31-year-old paces the league with the 13 goals in 18 games, with four coming in the form of game-winners - also a playoff best. He has been instrumental in helping the Sharks boast one of the deadliest power plays in the playoffs with five power-play goals and nine points with the extra man.
As Pavelski enters the final round of the playoffs, he brings with him a seven-game point streak - having collected at least one point in every game of the third round - and a four-game goal streak. Meanwhile he has been held off the scoreboard just four times during the postseason.
Vegas Odds: +250
2) Logan Couture, Sharks
While Pavelski's name has come up the most in the goals column, Logan Couture has his name on almost every playoff scoresheet.
After three rounds Couture leads all playoff performers with 16 assists and 24 points. He has already amassed more points than Patrick Kane and Tyler Johnson did last year, who led the playoffs with 23 points.
With a few more productive games, Couture could amass one of the most stellar playoff performances of the last 20 years, an honor most certainly worthy of playoff MVP status.
Vegas Odds: +750
3) Phil Kessel, Penguins
Phil Kessel has been one hot dog.
The Penguins forward has continued his career narrative, once again elevating his play in the postseason. His nine goals and nine assists in 18 games see him leading the march of the Penguins toward their first Cup since 2009.
In classic Kessel fashion, he also leads all players with 73 shots and all while occupying the team's third line with Carl Hagelin and Nick Bonino - forming the now famous, "HBK" line.
A World Cup of Hockey omission could be the last thing on his mind with a possible Stanley Cup and Conn Smythe on his mantle.
Vegas Odds: +550
4) Brent Burns, Sharks
Brent Burns went fairly uncontested for the title of best defenseman this postseason, after capturing a Norris Trophy nomination for his regular-season display.
His 20 points in 18 games help cap off a Sharks sweep atop the playoff scoring leaderboard, as he sits third behind Couture and Pavelski. Burns has been a constant threat all postseason from the back end, with his deadly wrister seemingly always able to get through any traffic with ease.
His offense has helped make the Sharks an offensive juggernaut at all positions, and he could be a difference maker heading into the final round.
Vegas Odds: +900
5) Matt Murray, Penguins
It's no question that the Penguins wouldn't be where they are if not for Matt Murray's coming-out party.
The 22-year-old has shined in his first taste of NHL playoff hockey, posting a .924 save percentage, a 2.22 goals-against average, and one shutout in 15 games.
After a shaky Game 4 in the Conference Final, the youngster gave way for veteran Marc-Andre Fleury's first and only start of the playoffs in Game 5.
Regaining his confidence, Murray returned to the net facing elimination in Games 6 and 7. There he cashed in two clutch performances, giving up just three goals in two games and a .937 save percentage, helping his team oust the reigning Eastern Conference champs.
Vegas Odds: +600
In the running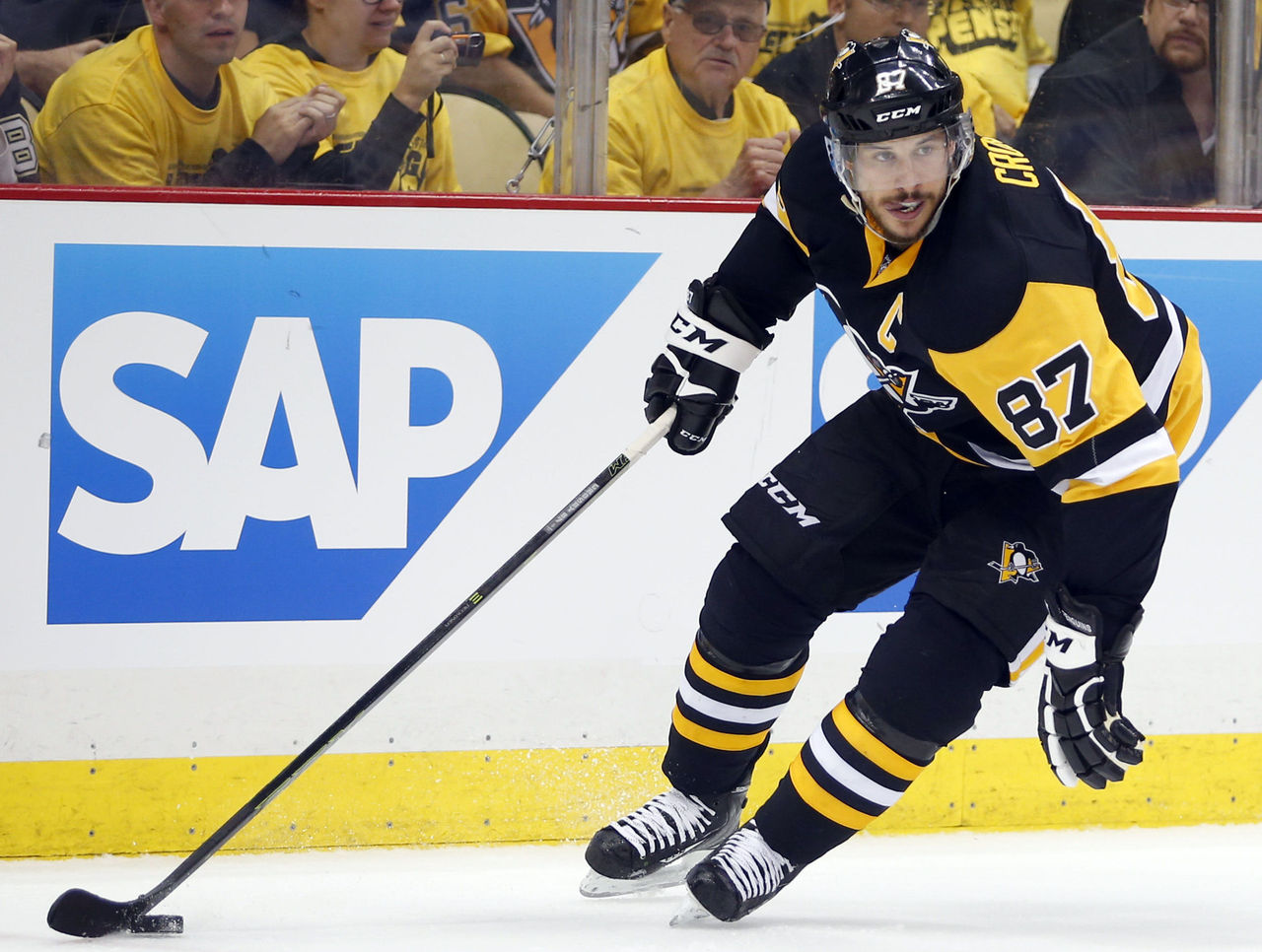 Sidney Crosby
Crosby appeared to rekindle his knack for the dramatic after a quiet second-round against the Washington Capitals. He collected five points, including three game-winning goals, against the Tampa Bay Lightning.
He now shares the second spot alongside Evgeni Malkin and Nick Bonino in team scoring.
Vegas Odds: +600
Joe Thornton
It is no accident that Joe Thornton will finally get a chance to play for his first Stanley Cup. He has continued to do his thing this postseason with 15 assists and 18 points in 18 games.
Jumbo Joe only has one trophy on his mind, but winning a Conn Smythe is definitely not out of the question.
Vegas Odds: +900
Martin Jones
While Matt Murray is garnering most of the goalie discussion, Jones has also thrived in his first true playoff test. His 12 wins this postseason are a franchise best in a single playoff season, while his three shutouts match Evgeni Nabokov for the franchise record.
Vegas Odds: +900
(Odds coursey: Bovada)
Comments
✕
Conn Smythe Power Rankings: Captain Joe steering the Sharks to new waters
  Got something to say? Leave a comment below!