Film Room: Branden Oliver providing spark for Chargers' running game
Jake Roth / USA TODAY Sports
At the University at Buffalo, Branden Oliver rushed for more than 3,000 yards and no NFL team wanted him. He rushed for more than 30 touchdowns over his final three years, and they still didn't want him. It was blatant disrespect for his talent.
Scouts visited Buffalo because they wanted to see linebacker Khalil Mack, Oliver's teammate. Mack went fifth overall in the 2014 NFL Draft, while Oliver wasn't selected.
Maybe it had to do with Oliver's height. He's only 5-foot-7. That doesn't mean he's small; it simply means he's short. He's thick and packs a punch at 208 pounds, enabling him to run between the tackles.
In late May, the San Diego Chargers saw something in him, maybe nonplussed by his overlooked skills, or maybe they just needed depth. Either way, he was on their roster out of nowhere.
When an injury sidelined the Chargers' top three backs, and a fourth didn't pan out as expected, they had to turn to Oliver. They had no choice.
San Diego slowly expanded his role, starting him off with three carries on six snaps, then nine carries on 19 snaps. They started to trust him more, which was evidenced by the plays they called. The run concepts and formations multiplied.
His breakthrough came in Week 5, against the New York Jets, who had the best rush defense at the time, giving up a mere 63 yards per game.
What a matchup it was.
Oliver didn't blink. He'd already overcome obstacles in football. Heck, he wasn't supposed to have a football career. Yet there he was, carrying the rock 19 times for 114 yards at six yards a pop, including a game-breaking 15-yard touchdown. The offense was on his shoulders. 
On the touchdown, inside of the one-minute mark in the second quarter, the Chargers had third-and-2 in the red zone. A draw play was dialed up and Oliver shot forward like a cannon behind the 6-foot-4 right guard and 6-foot-5 right tackle. He was hard to find behind that beefy wall, which a Jets safety realized when he attempted to fill the alley from the deep middle.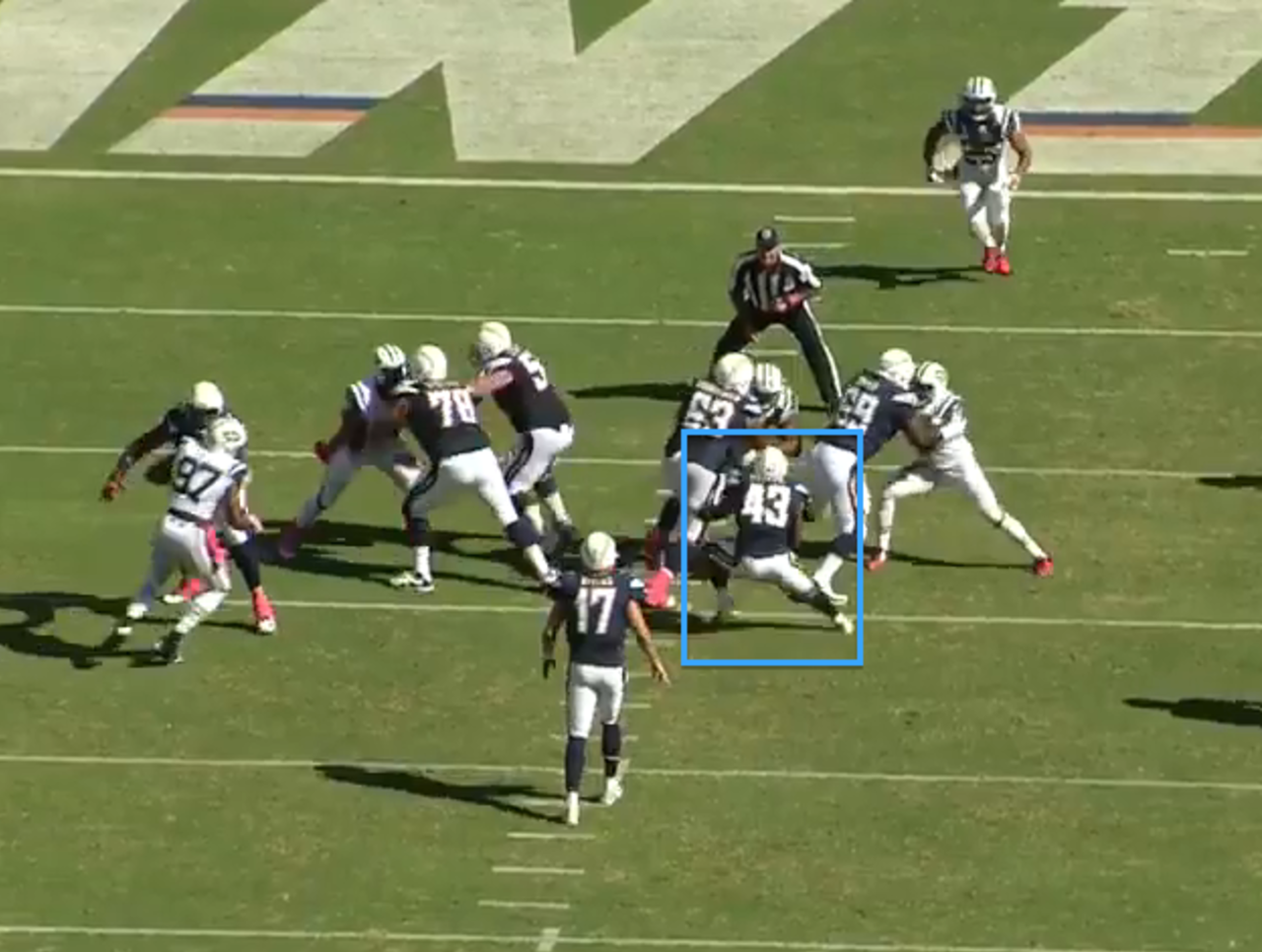 The safety hesitated, bewildered, unable to spot Oliver, who pressed behind both linemen and kicked up dirt with a hard cut. He straightened his shoulders and followed the left hash to the promised land.
Oliver's hard to spot not just because of his stature, but his skills, too. He presses the hole very well, running closely behind linemen. Naturally, a defender expects him to keep running forward when that's the case. He then cuts abruptly, stretching his calf muscles, squaring his shoulders to get downhill. It's reminiscent of Darren Sproles in the No. 43 blue jersey, though their similarities stop there.
Oliver is unlike most running backs that have come through the NFL. He's not as talented as Maurice Jones-Drew, another frequent comparison, despite measuring and weighing nearly the same. He has neither the vision nor the speed that Jones-Drew had. Jones ran a 4.39 40-yard dash coming out of UCLA. Oliver ran a 4.62 at Buffalo's pro day.
It's another reason many didn't pay attention to him coming out, but they have to now. He became the Chargers' starting running back for the time being when he got the nod against the Oakland Raiders and former teammate Mack in Week 6.
In the second quarter, the Chargers called a toss play on second-and-10. Oliver ran right and followed two tight ends who blocked in space. A third blocker, a wide receiver, was blocking ahead.  He ran outside and watched the Raiders' edge defenders run head-first toward the sideline.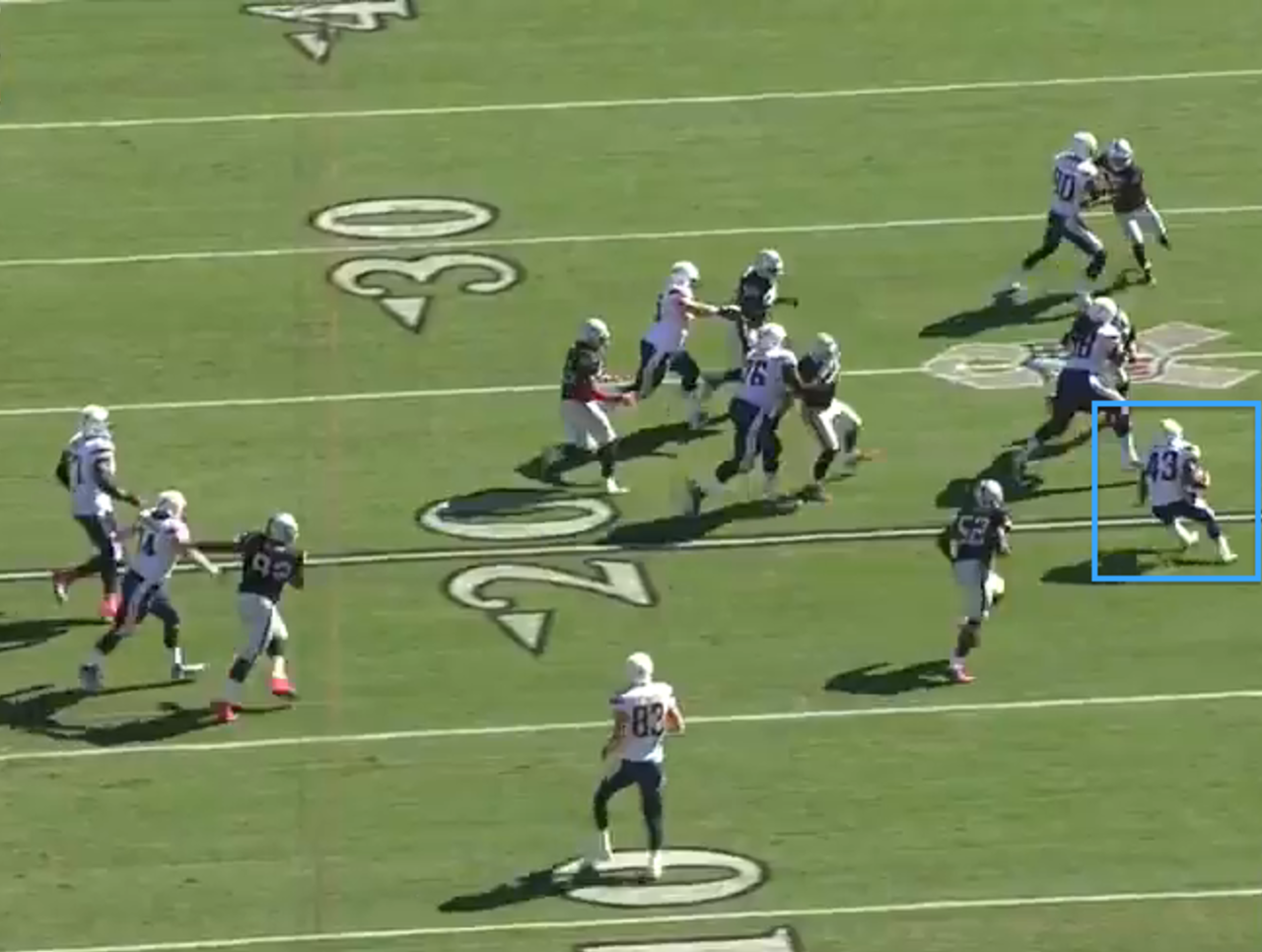 Oliver read their helmets, saw their leverage and cut inside, across the tight end. His quickness helped him avoid a couple of Raiders until he was taken down by one from the ground after a gain of six.
By the game's end, he racked up another 100 yards and a touchdown on 26 carries. It was his best performance to date.
He didn't have as much success against the Kansas City Chiefs in Week 7, rushing for only 67 yards on 15 carries as the Chargers lost for the first time since the season opener, yet he was still impressive. He made defenders miss and kept his head down to keep his feet pedaling forward.
Down six early in the fourth quarter, Oliver stood eight yards deep. The depth was ideal for an inside zone run, which required him to run laterally before cutting downfield.
He ran right and followed two tight ends and a wall of linemen. The Chiefs defense was crashing hard toward the sideline like the Raiders did on the toss play. That allowed Oliver to press close to his linemen, deceiving defenders into thinking he would keep running downhill with his head down, and cut to the back-side.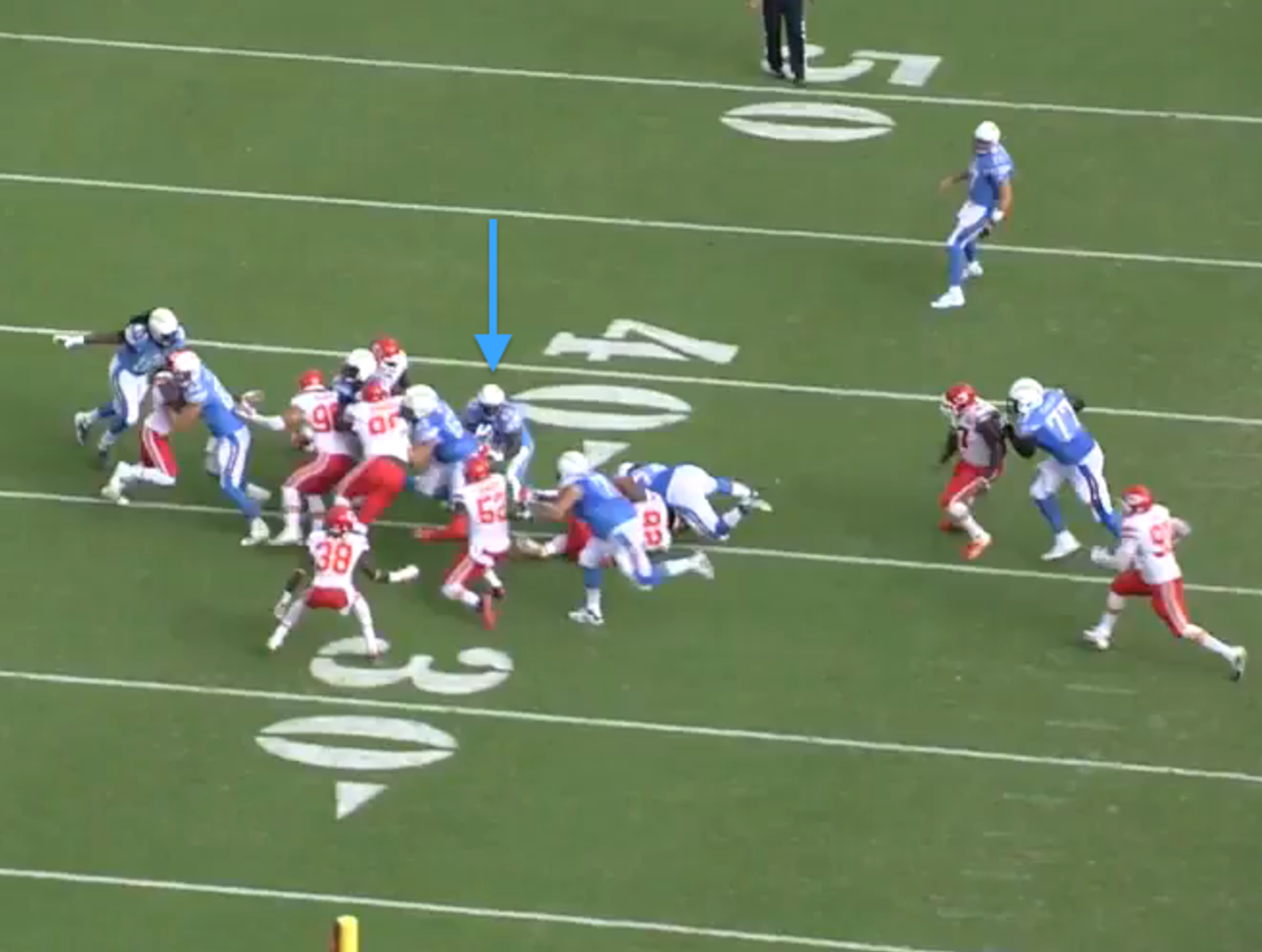 When he cut back, two defenders tried to tackle him, hitting him low at the thighs and high at the back. Oliver spun off both, including 6-foot-3, 275-pound Tamba Hali. He continued to run for a dozen yards, squaring his shoulders downhill, cutting inside again prior to being dragged down from behind.
Oliver's lack of height, once knocked on, has become a big advantage against tree-sized defensive ends and linebackers. They can't tackle him. Neither can safeties, even when they find him in the alleys.
Comments
✕
Film Room: Branden Oliver providing spark for Chargers' running game
  Got something to say? Leave a comment below!