Turnovers are burying the Bills in the AFC's crowded playoff race
Julian Catalfo / theScore
Every loss hurts in the NFL, but two in particular explain the Bills' current predicament.
They should have trounced the Jets in Week 1, especially once Aaron Rodgers tore his Achilles. They should have beaten the Broncos last Monday, seeing how Denver's first shot at a game-winning field goal sailed wide. Theatrical, crushing defeats ensued.
The Bills' expected record through 10 weeks is 7-3, per Pro Football Reference. They should lead the AFC East. In reality, they're 5-5 and have to fight a crowd of challengers for a wild-card berth.
Lots of AFC teams - the Jets and Broncos included - are hovering around .500. All have a chance to benefit from Buffalo's recent malaise.
Turnovers are to blame. Buffalo's stopped forcing them and is careless with the ball. Intercepted five times across the Jets and Broncos games, Josh Allen has thrown a pick in six other weeks. Every so often, this tendency is ruinous.
Allen's perplexing team, a title contender on paper, ranks eighth in the NFL in scoring and is fifth in points allowed. The Bills excel in the red zone (they're third in touchdown percentage at 70.3%) and pummel opposing quarterbacks (second in sacks with 33).
Only the Ravens, Cowboys, and 49ers boast a better point differential this season. By that metric, the Bills are an all-time great 5-5 team.
Wasting possession hurts, though. When the Bills stomped the Raiders, Commanders, and Dolphins in consecutive weeks, they won the cumulative turnover battle 10-1. Across seven other games, they lost it 17-5.
Since Week 5, the Bills are 2-4 with a minus-six point differential. Neither win was inspiring, and two defeats were debacles. They choked a late lead to Mac Jones' Patriots. The comedy of errors in the Broncos game that culminated in a 12th-man penalty and kicking do-over for Denver ensured the Bills have no room for error against stellar upcoming opponents.
What ails Buffalo is fixable, though. Allen's play hasn't cratered this season. He's tied for the NFL lead in passing touchdowns (19) and QB rushing scores (seven); his glittering 70.3% completion rate is a career high; and he's taking fewer sacks, making fewer reckless plays, and agonizing over fewer dropped passes than usual.
Problematically, his giveaways cause Buffalo to play from behind. Allen's 11 interceptions are a league high. His last six picks have come in the first half of games. Telegraphing throws to the sideline, Allen hit safety Jabrill Peppers on his first dropback against the Patriots and allowed Fabian Moreau to set up a Broncos field goal before halftime.
Buffalo routed the electrifying Dolphins 48-20 in Week 4. From Weeks 5-10, opponents outscored the Bills 76-42 in first halves. Their offense ranked 27th in that span in first-half expected points added per play, per Ben Baldwin's database. Leading the NFL in second-half EPA/play didn't offset enough slow starts to save offensive coordinator Ken Dorsey's job.
Simultaneously, Buffalo's defense stopped making plays. The Bills have two takeaways in the last five weeks, both on fumbles after completions. They'll be the 14th team in the Super Bowl era to record a seven-game interception drought if they don't pick off Zach Wilson in Sunday's Jets rematch, per Stathead.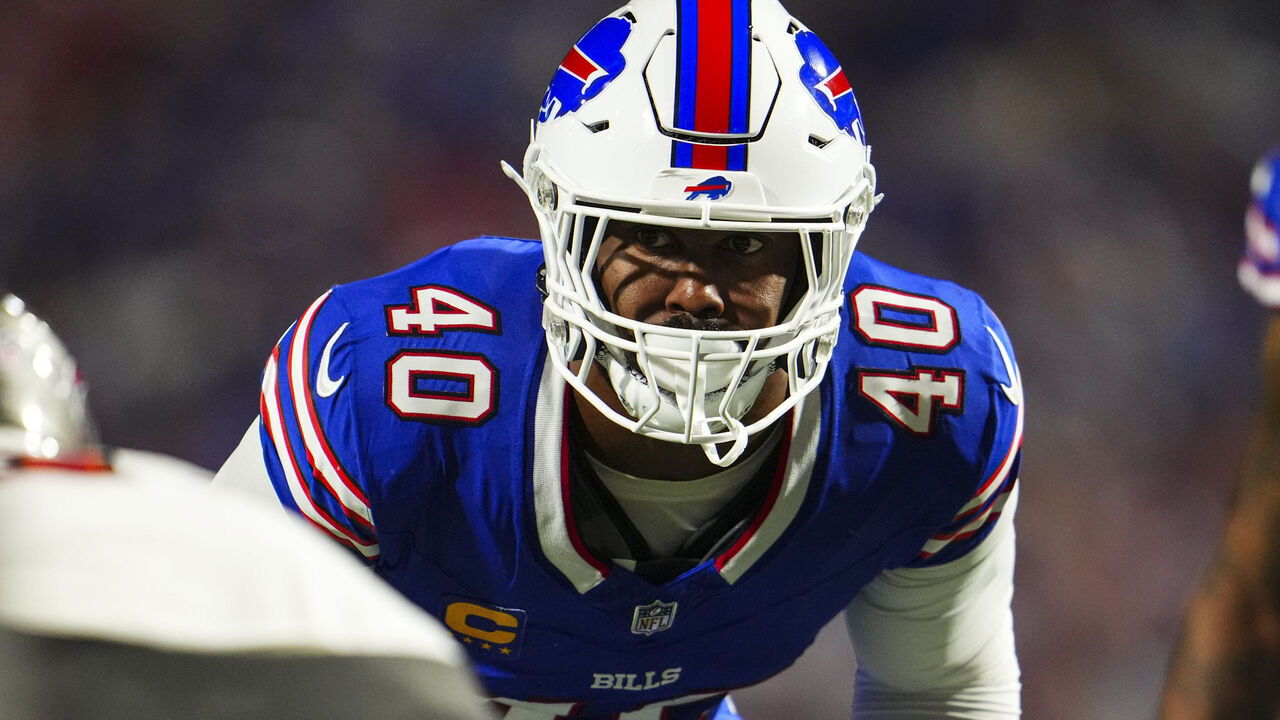 Injuries have been a major factor. Key defenders at every level - nose tackle DaQuan Jones, linebacker Matt Milano, and cornerback Tre'Davious White - landed on injured reserve around the time Buffalo's skid began. A league-high 26 Bills have played at least 50 defensive snaps, according to Stathead. That includes Von Miller, the aging legend who's been a nonfactor (no sacks, one QB hit) in his return from ACL surgery.
This version of the Bills isn't used to losing. Pushovers throughout Tom Brady's heyday, they lead the NFL in point differential and are second in wins since 2020, when Brady relinquished control of the AFC East and Allen became an MVP candidate.
Head coach Sean McDermott's club hasn't dropped three straight games in the regular season since 2018. The Bills haven't lost by more than six since Week 11 of 2021 - two years and 33 games ago. They triumphed in 23 of those ensuing matchups but failed to win the turnover battle in all 10 close defeats.
In 2023, 17.3% of Bills drives have ended in a turnover. That ranks 31st (only the Raiders offense is sloppier) and would have been the NFL's worst mark in each of the past three years. Asking Allen, the chief culprit, to play it safe curtails his immense upside, but his mistakes threaten to sink Buffalo's season.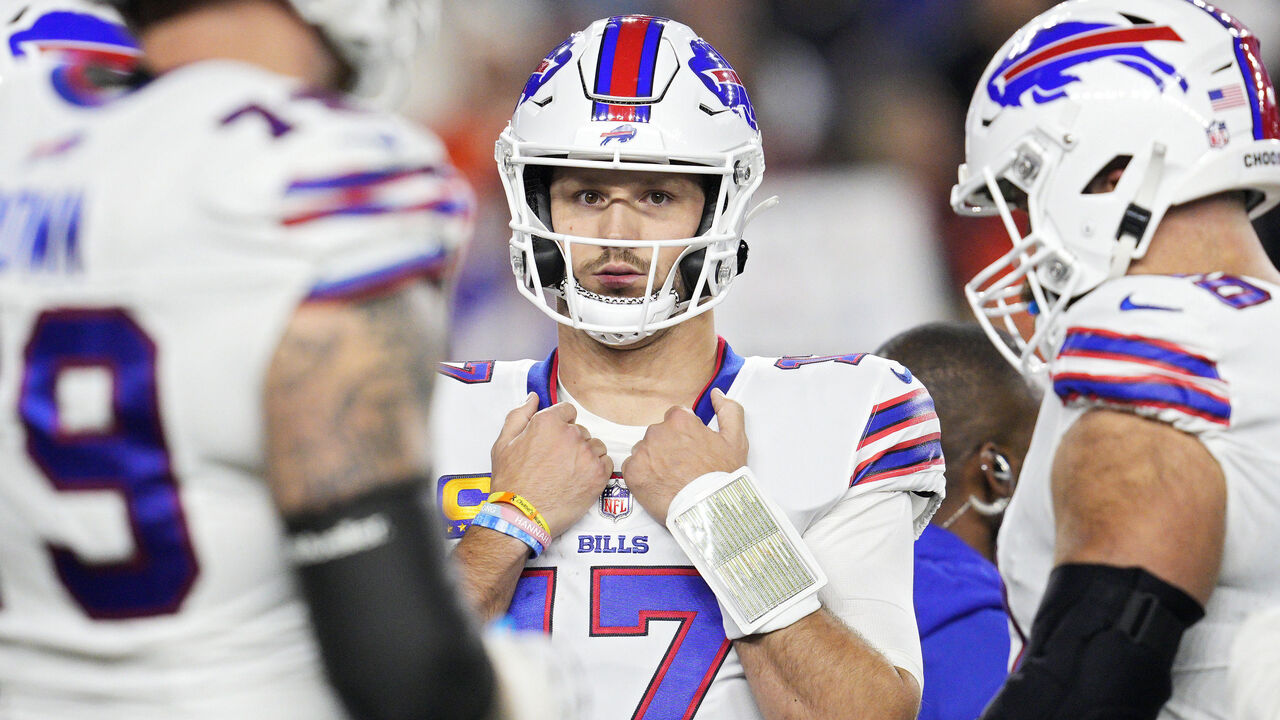 Showdowns with juggernauts loom. Failing to exact revenge on the Jets would doom the Bills even before they face the Eagles, Chiefs, and Cowboys, followed by the Chargers, Patriots, and Dolphins to conclude the schedule.
Beating the Jets and splitting the Eagles and Chiefs games would boost the Bills' playoff odds to about 30%, as forecasted by The New York Times' simulator. Currently, they have worse odds than six teams battling for three wild-card spots: the Steelers, Browns, Texans, Chargers, Bengals, and Colts. The Broncos and Raiders are long shots to make it but got on rolls recently to remain in the pack.
Fielding an elite quarterback is a huge advantage. The loss of Joe Burrow for the rest of the season will devastate Cincinnati. Meanwhile, Allen shreds teams when he's at his best. Masterful in the Dolphins blowout, he passed for as many touchdowns as incompletions (four) and compiled a rare perfect passer rating - the 21st in NFL history on 25-plus attempts, per Stathead.
Allen hasn't shone like that in several weeks. NFL catch leader Stefon Diggs last reached 100 receiving yards in mid-October. James Cook's lost fumble against Denver was the Bills' second turnover this year on their opening play. For a turnaround to happen in time, this talented group needs to stop digging.
Nick Faris is a features writer at theScore.