Key takeaways and analysis from Week 11 in the NFL
Photo illustration by Julian Catalfo / theScore
Sunday Rundown recaps the most important developments from the day's action and examines their significance moving forward.
Bills' offense shines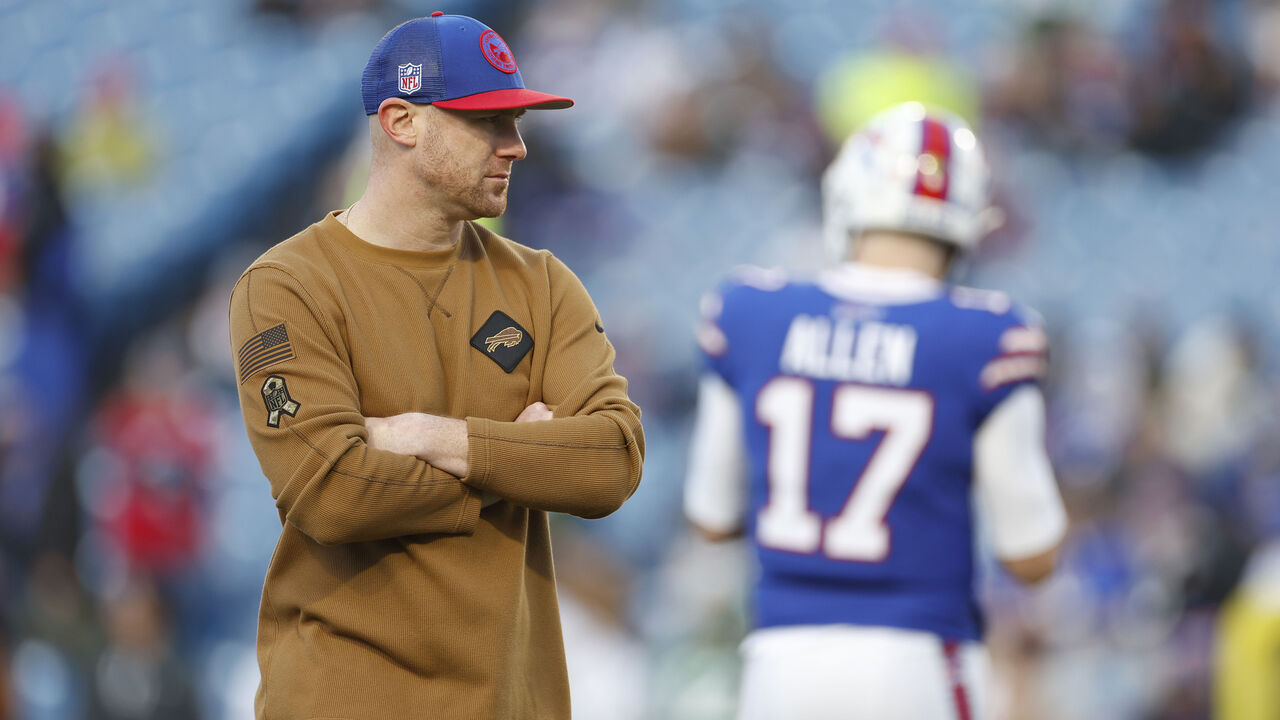 Buffalo's first game after a surprise offensive coordinator change couldn't have gone much better. The Bills moved the ball well through the air and on the ground in a 32-6 win over the Jets, the most points their AFC East rivals have allowed since 2021.
So, was Sean McDermott right? Did the season depend on showing Ken Dorsey the door and promoting Joe Brady in his place? That makes for a great headline, which you'll certainly find on debate shows Monday morning, but let's not get too crazy here.
Brady, to his credit, called a great game against a tough opponent in his debut as the Bills' OC. And if Khalil Shakir taking Gabe Davis' spot as WR2 was his idea, even if for one game, even better. But are we sure this wouldn't have played out the exact same way under Dorsey?
The Bills' offense was objectively good during Dorsey's time as coordinator, no matter what was being said and written. Here's a look at how the unit ranked in some key categories over the first 10 weeks of this season, according to Ben Baldwin's database:
| Category | Rank |
| --- | --- |
| EPA/play | 3rd |
| Success rate | 1st |
| Dropback EPA | 8th |
| Dropback success rate | 2nd |
| Rush EPA | 2nd |
| Rush success rate | 1st |
McDermott's panic move to dump Dorsey came after a mistake-filled loss to Denver. The pressure was mounting with Buffalo at 5-5, and McDermott perhaps felt like he had to do something, but Josh Allen and James Cook turning the ball over a combined four times (including two fumbles) doesn't exactly fall on the coaching staff.
Buffalo's offense is always going to be a bit of a roller coaster with Allen at quarterback - that's just the way he plays the game. Brady will get deserved praise if he can help Allen rein it in down the stretch, but there was a real chance those issues would have worked themselves out without any major personnel changes based on everything we've seen to this point.
Don't be surprised when another team quickly adds Dorsey in the offseason. The numbers speak for themselves.
Stick a fork in 'em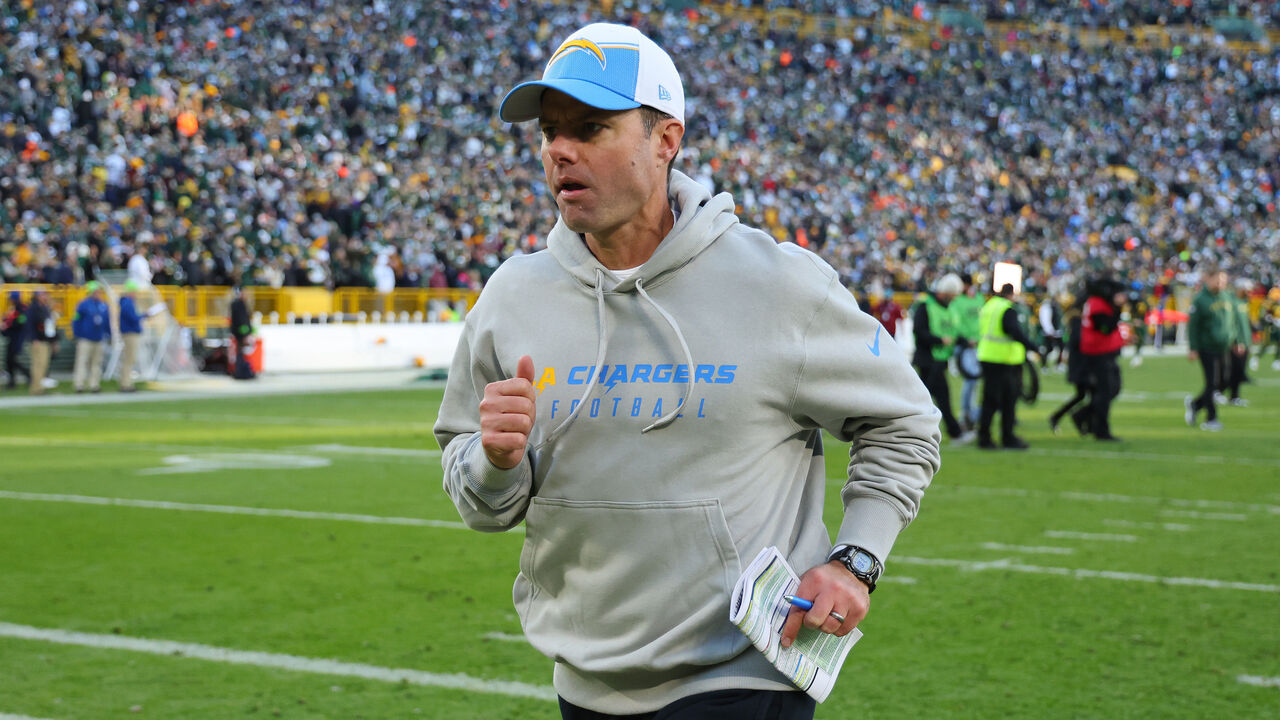 The Chargers are done.
Finding a reason to believe in this team is something of an annual tradition among us Eternally Online folks. The talent looks consistently great on paper, and it feels like it must be just a matter of time before the Chargers finally stop wasting elite quarterback play.
It even seemed like there was some hope heading into this week. A win over the lowly Packers would have gotten the Chargers back to 5-5 at a time when two other AFC contenders lost their starting QBs for the season. And yet, here we are.
The Chargers' loss to the Packers dropped them to 4-6 ahead of a Sunday night matchup with the powerhouse Ravens. That means the Chargers have to be near-perfect to challenge for a playoff spot, let alone make noise from there. That's a lot to ask from this club.
The offense hasn't taken a leap following Kellen Moore's hire as coordinator. There are still flashes of brilliance, as expected with Justin Herbert behind center, but this group somehow still tends to leave you wanting more.
Things aren't any better on the other side of the ball, despite some star talent being led by a defensive-minded head coach. Last year, it was the run game. This year, the Chargers' defense is helpless against the pass. L.A. entered this week ranked 26th in dropback EPA and 28th in dropback success rate. It was more of the same against the Packers, with Jordan Love enjoying a career day and recording the first 300-yard game for a Green Bay QB since 2021.
This defensive calamity should all but guarantee Brandon Staley is on the way out this offseason, but this team needs a lot more than a coaching change. The consistent and comically predictable failures extend to the front office, too.
Time to sit Bryce?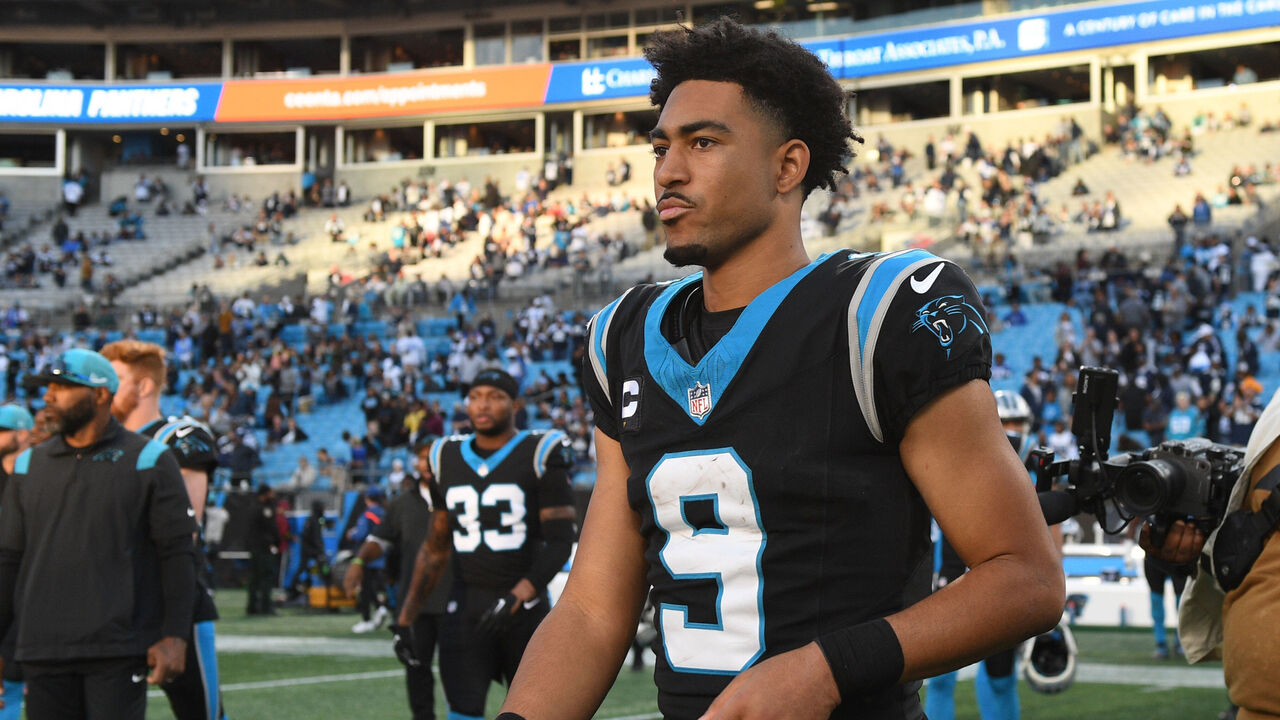 Rookie QBs seldom start their careers on the bench anymore. Young players need all the reps they can get, and teams want to take full advantage of their cheap contracts as soon as possible.
It sure seemed like the Panthers had the right idea when they started Bryce Young from the jump, but it's likely time to consider giving the young QB a breather - mostly for his own good.
To be clear: Carolina's offensive struggles aren't on Young. While you hope a player selected with the No. 1 overall pick would do more to elevate those around him - especially with C.J. Stroud immediately dominating in Houston - the Panthers haven't provided him with any sort of foundation for success. That's the real issue here.
While Young's failed to make an impact, the dire state of the Panthers' offense makes it difficult to even begin to evaluate his play. Most notably, pass protection is nonexistent despite some significant investments up front. Young was again constantly under siege Sunday against Dallas, taking a season-high seven sacks and 11 QB hits in the blowout loss.
Even when Young does get time in the pocket, his receiving corps has been unable to create any sort of regular separation. If you're wondering whether that's on the receivers or the coaching staff, blame both. But head coach Frank Reich is already on the hot seat less than a year into his tenure, and it's increasingly difficult to see how Carolina possibly brings him back.
To summarize: We've got an undersized franchise QB taking a beating and getting zero help from anyone involved with the offense on a 1-9 Panthers team that is going nowhere. What exactly are we doing here?
There's no downside to Young sitting and resetting. Whether it's for the rest of the season or a few weeks, it can't hurt. The Panthers have much more to lose by continuing to throw him into a no-win situation for more punishment and failure.
Quick slants
Purdy perfection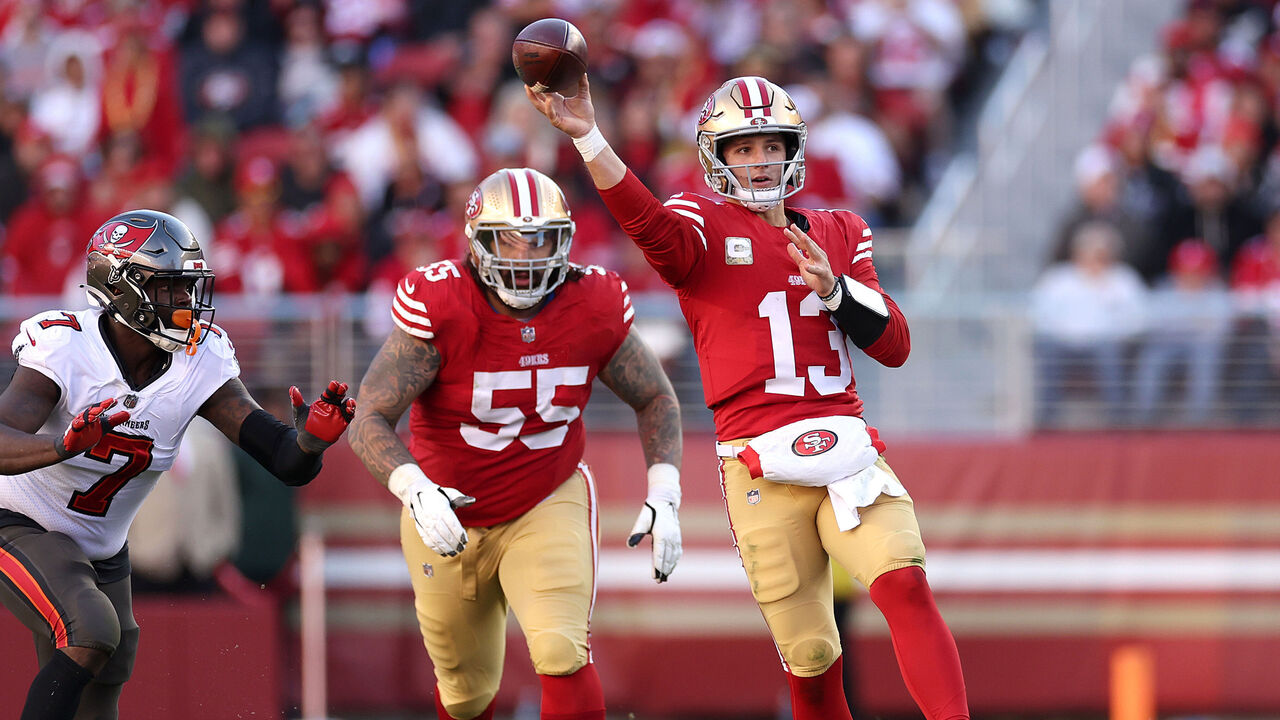 I've been tough on Brock Purdy. While his production's been impressive, particularly for a seventh-round pick, it's easy to make the case he's been elevated by playing in a quarterback's dream situation in San Francisco. Am I going to backtrack? Absolutely not. But Purdy deserves a special shoutout for his latest performance. Completing 21-of-25 passes for 333 yards and three touchdowns in a win over the Bucs makes the 23-year-old the first 49ers quarterback to post a perfect 158.3 QB rating since Joe Montana in 1989. San Francisco can absolutely win it all with Purdy under center, and that's all that matters.
Pickett ain't it
The Steelers winning as often as they do makes zero sense. Coordinator Matt Canada draws most of the criticism for a horrific offense, and deservedly so. But at what point do we have a conversation about Kenny Pickett? The quarterback's 106-yard day in Sunday's loss to the Browns was a great representation of his current capabilities. Pocket presence remains an issue, he doesn't have the arm talent to push the ball downfield, and he either can't or won't attack over the middle. While limiting turnovers can be enough to beat less capable teams, you need something (anything!) from your signal-caller to compete with the big dogs. Yes, Mitch Trubisky can be reckless, but is it possible his playmaking traits give the Steelers a better chance to win than Pickett does by playing not to lose?
Warren > Najee
Sticking with the Steelers: Jaylen Warren continues to be a bright spot for this offense. The second-year back had his most productive game of the season in Cleveland, with a 74-yard touchdown highlighting a 129-yard day. He's clearly the most explosive playmaker on this offense, yet Najee Harris leads the team in carries in every game. Ramping up Warren's usage is imperative to make this offense competitive - especially if the QB situation doesn't improve.
Jags trending up
Doug Pederson said recently that Trevor Lawrence's lingering knee injury has been a critical factor in the offense's struggles. If Sunday's blowout win over Tennessee is any indication, Lawrence is feeling a lot better. His mobility was key to Jacksonville's impressive output, highlighted by a pair of rushing scores. The best pass protection Lawrence has gotten all year helped, as did a long-awaited big day from Calvin Ridley. The Jaguars still aren't quite where they want to be offensively, but things are trending in the right direction.
Houston's dynamic duo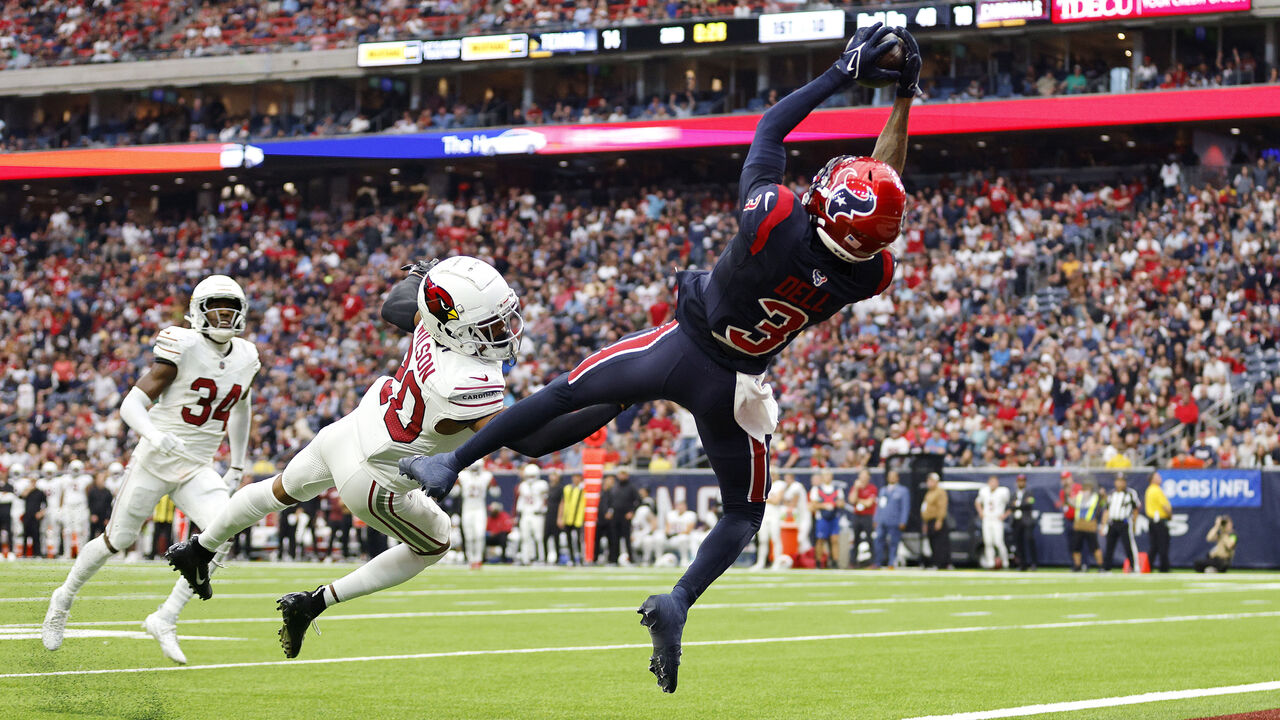 Stroud isn't the only rookie lighting up Houston. Tank Dell has emerged as the Texans' most dynamic playmaker, silencing anyone skeptical of an undersized third-round receiver. Dell set new career highs in receptions and receiving yards in Sunday's win over Arizona, hauling in eight catches for 149 yards and a touchdown. His effort on a 40-yard score is one of the best catches you'll see all year, and it held up as the eventual game-winner.
Rodgers should take his time
All indications suggest Aaron Rodgers wants to make an unprecedented return from a torn Achilles. He wants to be back for a playoff run, and current plans to practice in early December suggest it might be possible. The only problem? The Jets are now 4-6 with a Black Friday game against the Dolphins up next, so it's tough to envision them being in the playoff mix, no matter how good the defense is. Zach Wilson's benching Sunday is further confirmation that the Jets should have had a better backup for Rodgers from the jump. It's too late now.
Bland chasing history
The Cowboys sure have a knack for finding playmakers in the secondary. DaRon Bland's breakout season continued this week with his sixth interception and his fourth returned for a touchdown, which ties the NFL's single-season pick-6 record - and he's still got seven games to play. Getting a surprise All-Pro season out of the second-year corner has helped the Cowboys' defense maintain its level of play despite Trevon Diggs' absence. This will be a scary cornerback duo for years.
Ramsey was a steal
The NFL's salary cap will always lead to some bizarre trades, but the Rams trading Jalen Ramsey for Hunter Long and a third-round pick is the kind of transaction that should only be possible in Madden. That's all it cost the Dolphins in their offseason deal and Ramsey - absolutely unsurprisingly - has taken Miami's defense to another level. He had two interceptions in Sunday's win over the Raiders, including an acrobatic play in the end zone to seal it. Other contenders have to be kicking themselves for not stepping up and beating Miami's offer for one of the game's best corners.
Stat of the week
MNF lookahead
Eagles vs. Chiefs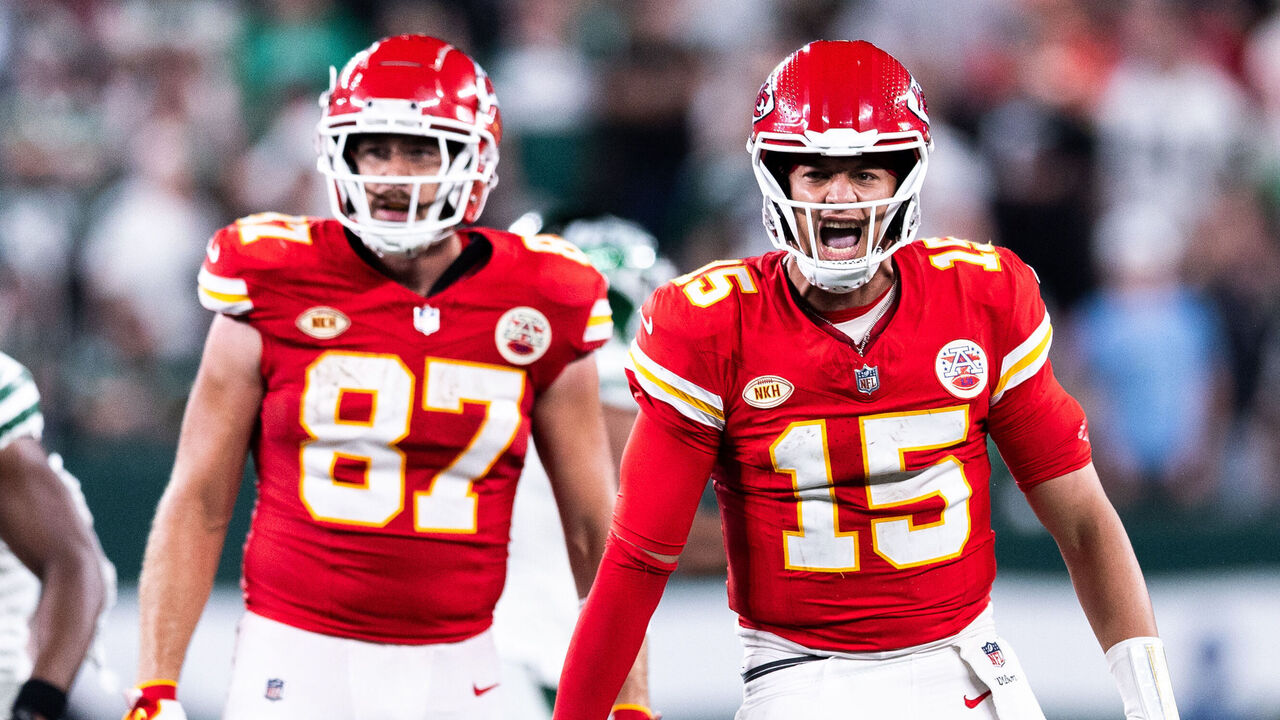 We get to see Taylor Swift a Super Bowl rematch on Monday Night Football? Prime-time games don't get better than this. The Eagles are arguably the best team in football to this point, but it still feels like they haven't played a complete game. That bodes well for the stretch run, assuming they can put it all together. And doing so at Arrowhead would be a massive statement. Philly seems like an easy pick in this one, given the Chiefs' offensive struggles, but Patrick Mahomes could be in for a big day against the Eagles' secondary. You should never be truly confident in betting against the best player on the planet.