NFL Offseason Awards: Evaluating best moves, most improved teams
Julian Catalfo / theScore
theScore's football news editors recap some of the best moves and most improved teams after an offseason with its fair share of big changes.
Best Signing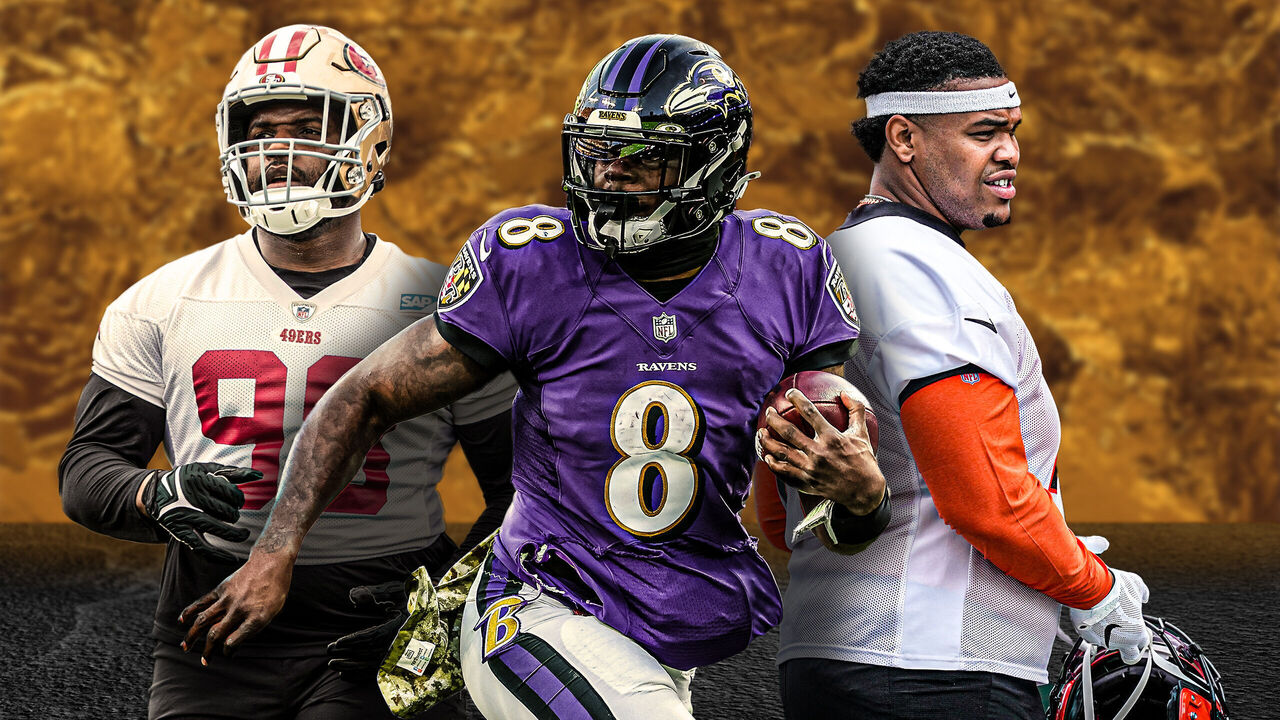 🥇 Lamar Jackson re-signs with Ravens
There were moments when it looked like the Ravens might need to reset at quarterback, but Baltimore and Jackson eventually agreed to terms on a five-year contract worth $260 million. Baltimore retained an elite player at the most important position and Jackson became the highest-paid player in NFL history.
🥈 Javon Hargrave signs with 49ers
Hargrave turned his impressive 2022 campaign (11 sacks, 10 tackles for loss, 16 quarterback hits) into a four-year, $84-million deal with the 49ers. The 30-year-old should continue to excel on a San Francisco defensive line that also includes the likes of Nick Bosa and Arik Armstead.
🥉 Orlando Brown Jr. signs with Bengals
Brown signed a four-year, $64-million contract with the Bengals in free agency to solidify the left tackle position for the foreseeable future. The former Raven and Chief brings imposing size and above-average pass protection skills. Improving the offensive line has been a priority since Joe Burrow arrived in Cincinnati and this move only helped.
Best Draft Haul
🥇 Eagles draft trio of Georgia Bulldogs
General manager Howie Roseman added defensive tackle Jalen Carter (No. 9 overall), linebacker Nolan Smith (No. 30), and cornerback Kelee Ringo (No. 105) in April. The three key pieces from Georgia's vaunted defense bolster a roster that made it to last year's Super Bowl. OT Tyler Steen (No. 65), S Sydney Brown (No. 66), QB Tanner McKee (No. 188), and DT Moro Ojomo (No. 249) round out the class.
🥈 Steelers select Jones, Porter, and more
The Steelers seem to have hit a home run in Omar Khan's first draft as general manager. Broderick Jones (No. 14 overall) should start at left tackle early, Joey Porter Jr. (No. 32) is a physical corner, and Keeanu Benton (No. 94) can learn behind Cam Heyward before taking over on the defensive interior. Pittsburgh also added TE Darnell Washington (No. 93), EDGE Nick Herbig (No. 132), CB Cory Trice Jr. (No. 241), and G Spencer Anderson (No. 251).
🥉 Seahawks draft 9, including Witherspoon and Smith-Njigba
Seattle turned its pair of first-round selections into defensive back Devon Witherspoon (No. 5 overall) and wideout Jaxon Smith-Njigba (No. 20), getting better on both sides of the ball. The Seahawks also picked up a good combination of potential starters and depth in EDGE Derick Hall (No. 37), RB Zach Charbonnet (No. 52), OL Anthony Bradford (No. 108), DL Cameron Young (No. 123), EDGE Mike Morris (No. 151), C Olusegun Oluwatimi (No. 154), S Jerrick Reed II (No. 198), and RB Kenny McIntosh (No. 237).
Best Trade
🥇 Dolphins trade for Jalen Ramsey
Miami traded just a third-round pick and tight end Hunter Long for perennial Pro Bowler Jalen Ramsey. The 28-year-old is a three-time first-team All-Pro and should create a formidable tandem with Xavien Howard. Getting one of the NFL's best corners for so little is one of the best overall moves of the offseason.
🥈 Arizona trades down with Houston in 1st round
The Arizona Cardinals entered the draft with one of the worst rosters in the NFL. Despite still having plenty of holes, the club was able to send picks No. 3 and No. 105 to the Houston Texans in exchange for picks No. 12 and 33 in the 2023 draft, plus Houston's first- and third-round picks in next year's draft. The Cardinals continued to make deals with their new capital and left 2023's event with plenty of assets for the future.
🥉 Cowboys trade for Stephon Gilmore
Gilmore doesn't have Ramsey's long-term upside, as the veteran turns 33 in September, but Dallas only had to send the Indianapolis Colts a fifth-round selection to acquire his services. Pairing Gilmore with Trevon Diggs gives the Cowboys one of the league's best perimeter duos.
Best Under-the-Radar Move
🥇 Lions ink C.J. Gardner-Johnson to 1-year deal worth up to $8M
The Lions made several additions to improve their secondary this offseason, but Gardner-Johnson stands out as the biggest get after he tied for the league lead in interceptions (six) despite playing only 12 games last season. They were able to secure the veteran's services for a very reasonable price and should capitalize on both his talent and experience.
🥈 Vikings sign Byron Murphy to 2-year, $17.5M contract
Like Detroit, Minnesota struggled to consistently defend the pass in 2022. The Vikings finished 31st in passing yards allowed per game (265.6), narrowly avoiding last place. Adding Murphy should help them improve in that regard. The 25-year-old still has plenty of room to grow, but he flashed some ball-hawk skills after recording four interceptions in 2021.
🥉 Bills add Leonard Floyd on 1-year, $7M pact
Floyd didn't sign until June, but he could be one of the league's most impactful additions. The soon-to-be 31-year-old has posted at least nine sacks in each of the last three seasons and should benefit from rotating with Von Miller, Greg Rousseau, and Shaq Lawson.
Best Coaching Hire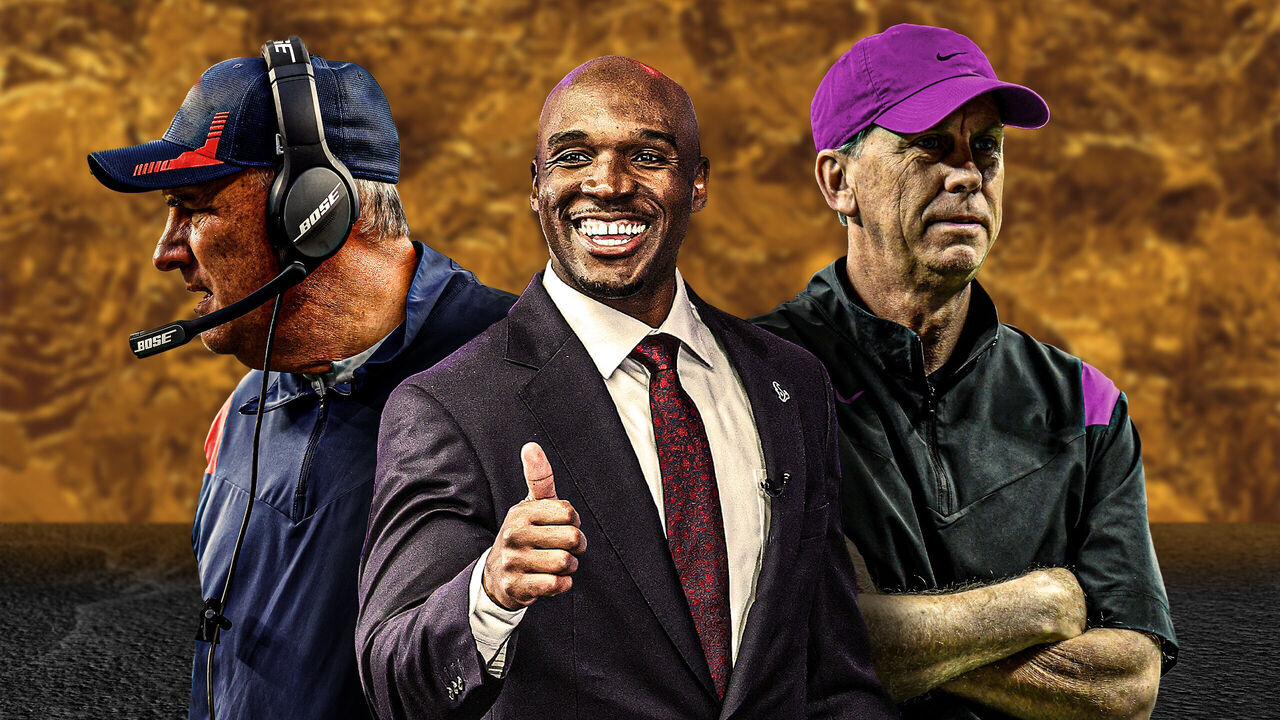 🥇 Texans hire DeMeco Ryans as head coach
Ryans brings plenty of familiarity with the Texans organization and hope for the fan base. The 38-year-old led the best defense in the league last year, with the 49ers ranking first in both yards allowed per game (300.6) and points allowed per contest (16.3) while he was defensive coordinator. There's still plenty of work to be done in Houston, but hiring Ryans was a good step.
🥈 Dolphins hire Vic Fangio as defensive coordinator
Miami ranked around the middle of the league in most defensive categories a year ago. After adding Jalen Ramsey and Fangio, that's likely to change. Fangio is widely regarded as one of the sharpest defensive minds in all of football. His resume includes building multiple top-10 defenses with the 49ers and Bears, among other clubs.
🥉 Ravens hire Todd Monken as offensive coordinator
After four years of Greg Roman's run-heavy offense, the Ravens are switching things up. New offensive coordinator Monken should create a system that promotes moving the ball through the air while still leveraging quarterback Lamar Jackson's dynamic rushing ability. Monken most recently served as Georgia's offensive coordinator, helping the Bulldogs capture back-to-back College Football Playoff National Championships.
Most Improved Playoff Team
🥇 Ravens add WRs, new OC in effort to build around Lamar Jackson
Speaking of Monken's willingness to call more passing plays, Baltimore added more receiving weapons this offseason. The Ravens signed free-agent receiver Odell Beckham Jr. to a one-year, $15-million deal and drafted Zay Flowers with the 22nd overall pick to bolster their passing attack. Baltimore successfully re-signed Lamar Jackson and inked Roquan Smith to a long-term extension, though those moves didn't come in the offseason. The team also drafted LB Trenton Simpson and EDGE Tavius Robinson to add more talent to their front seven.
🥈 Seahawks bolster defense, add more weapons on offense
Seattle's draft haul was one of our favorites thanks in large part to the additions of Devon Witherspoon and Jaxon Smith-Njigba, but the club also retained quarterback Geno Smith, signed DL Dre'Mont Jones, and reunited with LB Bobby Wagner. The addition of rotation players like LB Devin Bush Jr., S Julian Love, and RB Zach Charbonnet should only help the Seahawks as they look to make the postseason for the fifth time in six seasons.
🥉 Cowboys load up on veteran talent
We've addressed Gilmore, but the Cowboys made some other impactful moves, too. Dallas traded fifth- and sixth-round picks for wide receiver Brandin Cooks, shed running back Ezekiel Elliott's albatross of a contract while retaining Tony Pollard after his breakout 2022 campaign, and re-signed EDGE Dante Fowler Jr. after he posted six sacks a year ago. The franchise also drafted DL Mazi Smith in the first round and followed that by selecting his Michigan teammate TE Luke Schoonmaker in the second before adding solid depth through the rest of the draft.
Most Improved Non-Playoff Team
🥇 Jets make change at QB, reinforce defense
New York missed out on a wild-card spot after finishing last year's campaign with a 7-10 record. Adding four-time MVP quarterback Aaron Rodgers and wide receiver Allen Lazard and getting running back Breece Hall back from a torn ACL should improve the offense. Defensively, the team selected EDGE Will McDonald IV with the No. 15 pick, giving them another edge defender to rotate along the line. The Jets also recently signed Quinnen Williams to a huge extension, locking in the All-Pro and creating cap space for this season.
🥈 Lions rework RB room, secondary
General manager Brad Holmes made plenty of adjustments to Detroit's roster this offseason, replacing running backs D'Andre Swift and Jamaal Williams with first-round pick Jahmyr Gibbs and free agent David Montgomery. The Lions also selected a pair of Iowa playmakers in LB Jack Campbell (No. 18 overall) and TE Sam LaPorta (No. 34), plus defensive back Brian Branch (No. 45). Pairing those young additions with veterans like DB C.J. Gardner-Johnson, Emmanuel Moseley, and Cameron Sutton could help Detroit make the playoffs for the first time since 2016 after finishing 9-8 a year ago.
🥉 Broncos seek stability with Payton acquisition
The biggest improvement Denver made was adding Sean Payton as head coach after he took a year off. The team had to trade a first-round pick to the New Orleans Saints, but there's hope that he'll be able to revive quarterback Russell Wilson's career after the signal-caller struggled through 2022. Beyond Payton, the club also added OT Mike McGlinchey, EDGE Frank Clark, and DL Zach Allen in free agency. Denver's top rookies include WR Marvin Mims Jr. (No. 63 overall), LB Drew Sanders (No. 67), and CB Riley Moss (No. 83), with all of them expected to contribute quickly.
Juiciest Rumor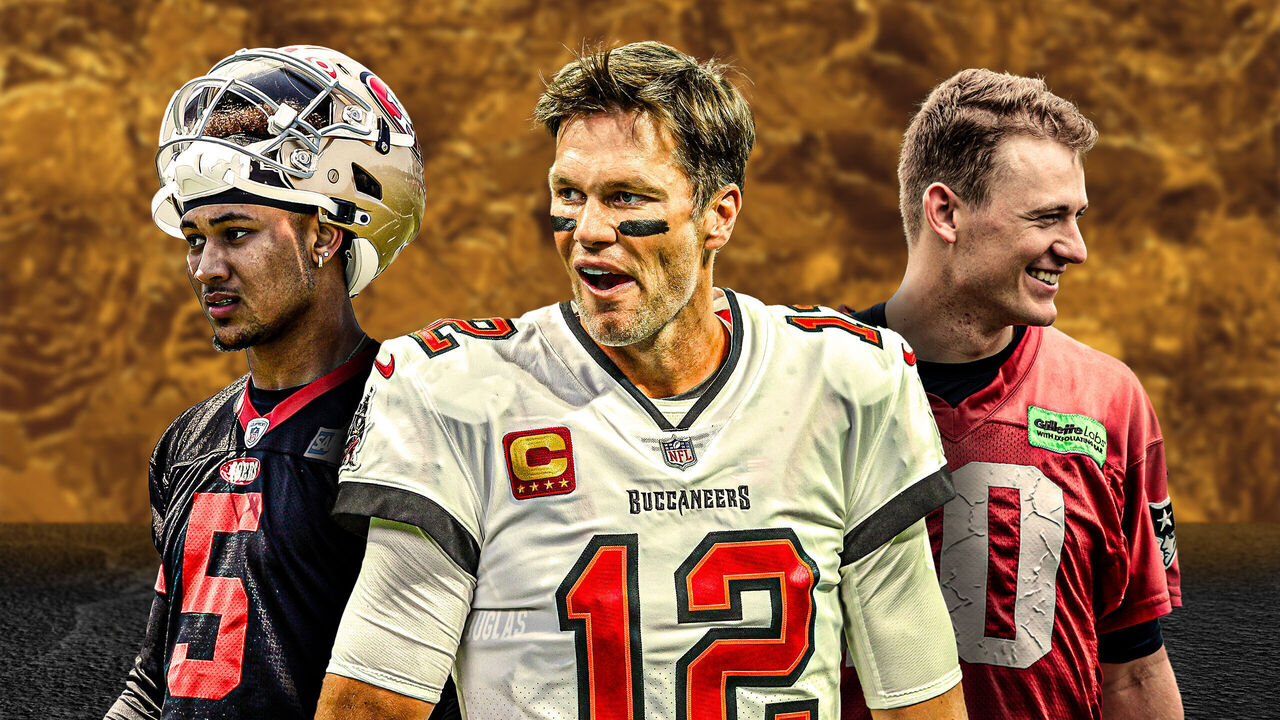 🥇 Tom Brady becoming player/owner with Raiders
Rumors swirled that Tom Brady would unretire, again, and attempt to function as both part-owner and quarterback of the Las Vegas Raiders. While Brady did submit paperwork to become a minority owner of the club, he appears content to take 2023 off before beginning his broadcasting career with Fox Sports in 2024.
🥈 49ers actively trying to trade Trey Lance
San Francisco's quarterback room is among the most intriguing in the NFL right now and there was talk that the team would trade Trey Lance, the No. 3 pick in the 2021 draft. Lance is still competing with Brock Purdy and Sam Darnold, but it's not difficult to envision the team moving on from Lance if Purdy can prove that his play in nine appearances last year was more than a fluke.
🥉 Patriots shopping Mac Jones
Reports flew that the Patriots and Mac Jones could be heading for an early divorce with the club shopping the quarterback ahead of the draft. The team has since appeared content with keeping the former first-round pick, but pressure could be on Jones to deliver now that he's working with Bill O'Brien.
Best Quote
🥇 & 🥈 Ja'Marr Chase and Patrick Mahomes' exchange
Cincinnati Bengals wide receiver Ja'Marr Chase and Kansas City Chiefs quarterback Patrick Mahomes combined for the two best offseason quotes. Chase was asked who the best player in the NFL was and responded with his quarterback, Joe Burrow. The 23-year-old was then informed that Burrow had named "Pat" the league's top player, prompting Chase to respond, "Pat who?"
Mahomes clapped back two days later with a picture of him and his two Super Bowl rings, simply stating: "That's who."
🥉 Melvin Gordon laments playing RB
Free-agent running back Melvin Gordon joined the offseason conversation when he spoke about the difficulties and frustrations of playing the running back position. Gordon's thoughts can be simplified to a single sentence: "It literally sucks."
Best Schedule Release Announcement
🥇 Titans go viral thanks to strangers
Tennessee dropped not one, but two schedule reveal videos this year. The first hilariously went viral thanks to strangers incorrectly guessing team names based on logos.
🥈 Chargers social team drops another anime
The Chargers had one of the most creative reveals last year and doubled down with their second anime-inspired reveal video in as many years.
🥉 Jaguars reveal the script
The Jacksonville Jaguars leaned into the jokes about the NFL being scripted and delivered a satirical reveal featuring plenty of players and other organization members.