The run game matters again, so what's a running back worth in free agency?
Getty Images, Pexels.com / Photo illustration by theScore
The ground game is trendy again. Rushing attempts across the NFL hit an 11-year high in 2022. The average team logged 121.6 yards per game, the biggest figure since 1987.
Five mobile quarterbacks in their mid-20s - Justin Fields, Lamar Jackson, Josh Allen, Jalen Hurts, and Daniel Jones - helped revitalize rushing. They dashed for more than 700 yards apiece last season and amassed more yards per carry than the league's record average (4.5). As teams packed the defensive backfield to guard against deep throws, fewer spies were in the box to deter these dual threats from scrambling.
Sixteen running backs also surpassed 4.5 yards per attempt. Some of them timed it perfectly: Three of the NFL's five leading rushers were pending free agents. Ten running backs who ranked in the top 30 in total yardage are set to sign new contracts this offseason.
The cohort is star-studded. Josh Jacobs exploded offensively right after the Raiders declined his fifth-year option. Tony Pollard usurped Ezekiel Elliott as the Cowboys' best carrier. Rebounding to peak effectiveness, Saquon Barkley joined Jones as the Giants' only consistent playmakers. Miles Sanders ran rampant behind the Eagles' bruising offensive line and enters free agency as the top back who wasn't franchise tagged.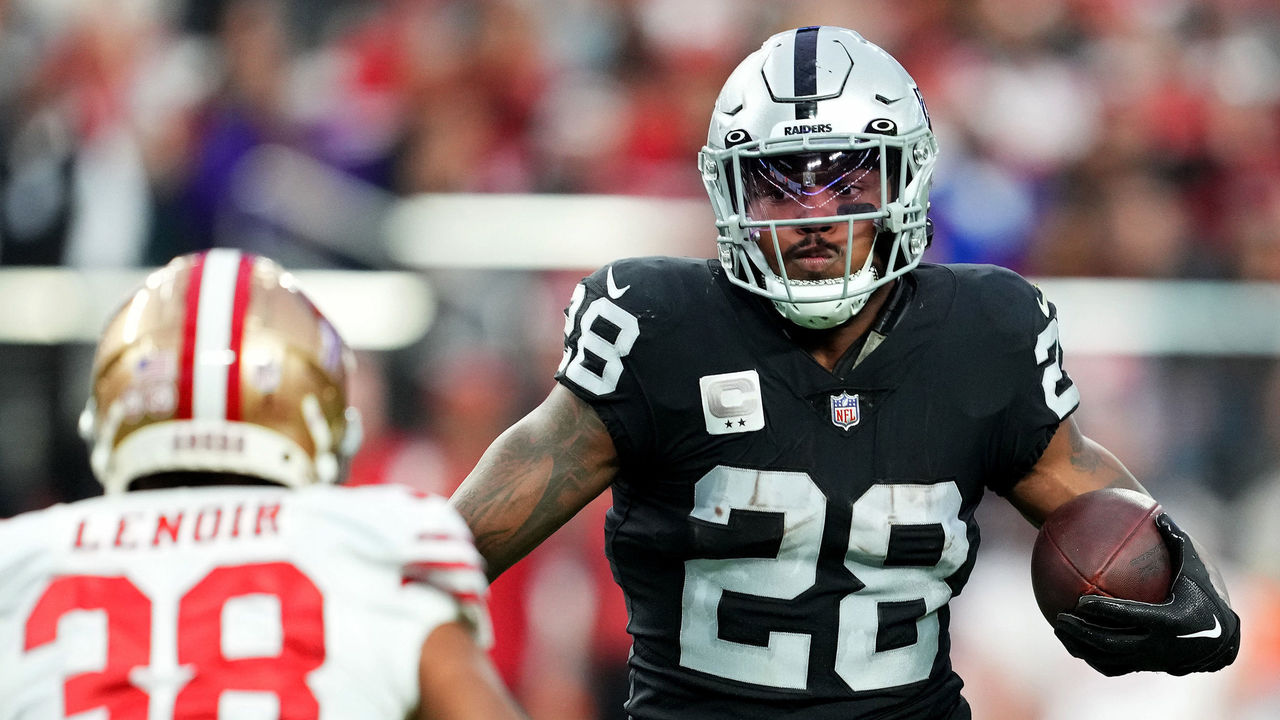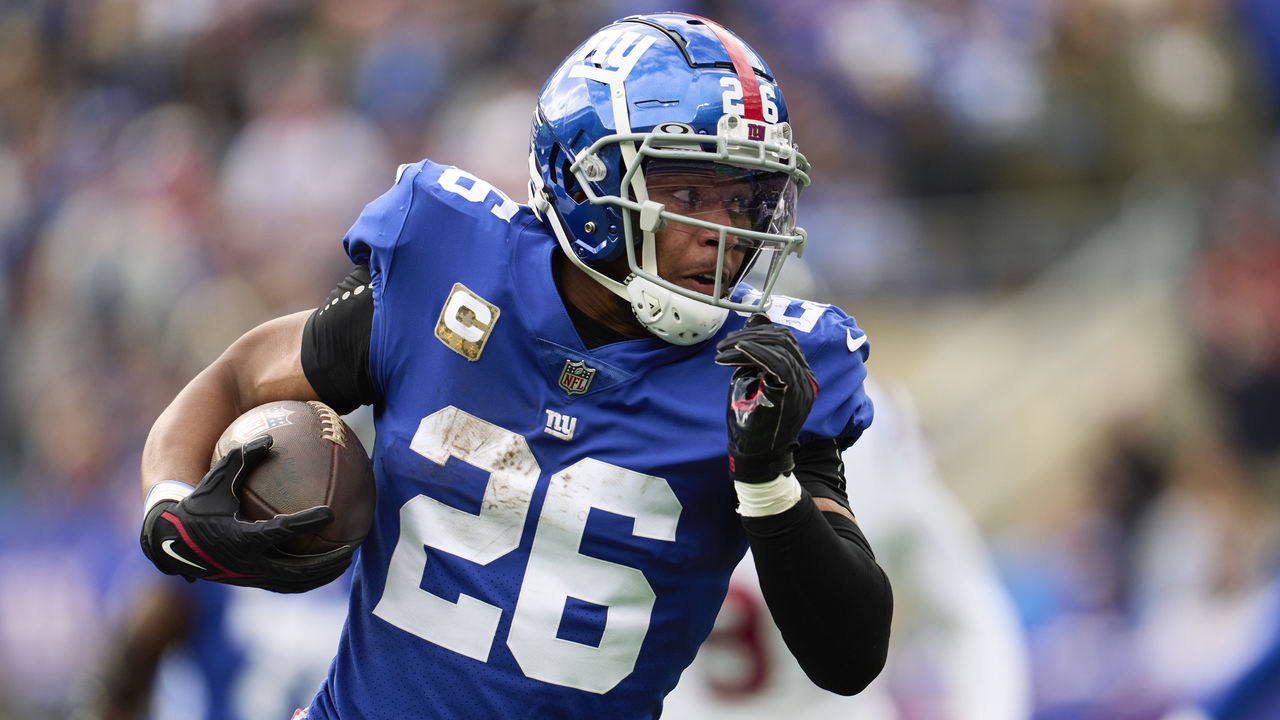 Free agency will reveal how teams view running backs in 2023. Does the run game's newfound relevance increase their value? Which backs make a particular difference, and which are interchangeable in the right scheme? What should they be paid when the new league year opens Wednesday?
Christian McCaffrey, the position's contractual standard-setter, is uniquely versatile. He ranked first on the 49ers in catches and second in receiving touchdowns on passes from Brock Purdy, eclipsing Brandon Aiyuk, Deebo Samuel, and George Kittle in one or both categories. McCaffrey leads all running backs since the AFL-NFL merger in career receiving yards per game (50.1), according to Stathead.
The pending free agents won't command McCaffrey money. But the class is stronger than the 2022 crop headlined by Leonard Fournette, who'll be back on the market when his release from the Buccaneers is formalized.
Three teams used the franchise tag this week to retain a breakout or resurgent star at a cost of $10.1 million.
Tagging Jacobs was a bargain for Las Vegas. Over The Cap's player valuation tool estimates that his production in 2022 was worth $15.4 million. Jacobs led the NFL in yards from scrimmage (2,053) and became the fourth running back ever to exceed 300 in a game, punctuating that overtime victory over Seattle with an 86-yard touchdown sprint. No player has forced more missed tackles than Jacobs (267) since he entered the league four years ago, per PFF.
Fully healthy for the first time since his 2018 Offensive Rookie of the Year campaign, Barkley was Jones' top receiving target last season and collected 924 more yards from scrimmage than Darius Slayton, his closest teammate. Playing 80% of New York's offensive snaps, Barkley only fumbled once on 352 touches, an elite ratio. The Giants tagged him after agreeing minutes before the tag deadline to ink Jones to a four-year deal.
Like Jacobs and Barkley, Pollard will play on the tag unless he negotiates a longer deal by July 17. Each of them is free to sign elsewhere if their incumbent team is compensated with two first-round draft picks.
Hard to haul down, Pollard ranked third in rush yards over expected in 2022 behind Nick Chubb and Travis Etienne, per Next Gen Stats. He recorded 410 more yards from scrimmage than Elliott on 16 fewer touches, suggesting the Cowboys should rely on him to carry the load heading forward.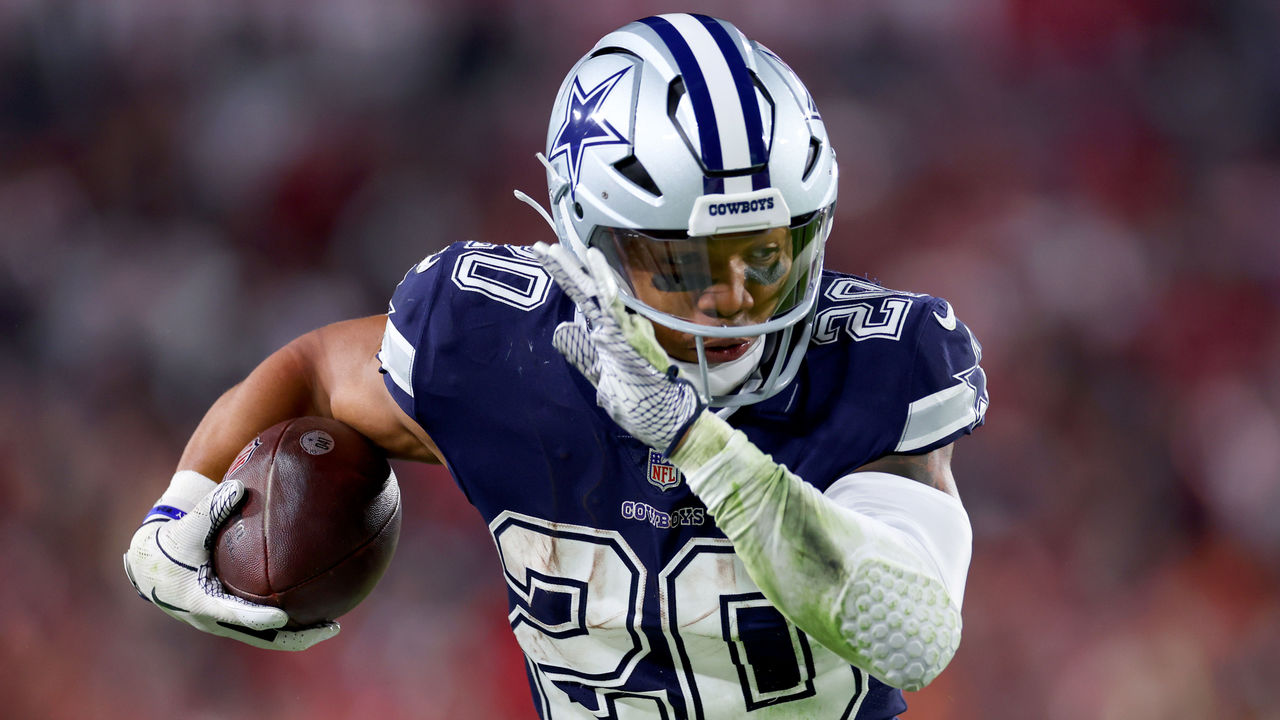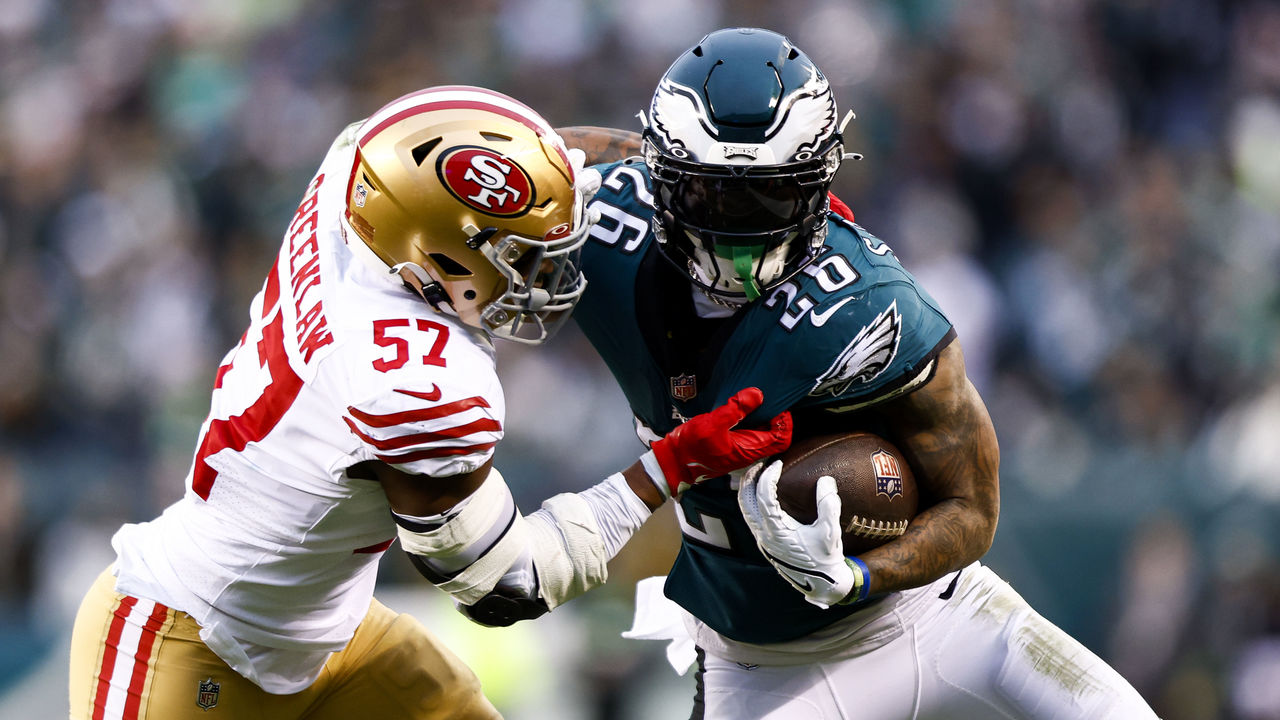 Sanders is an interesting free agent. Good health enabled him to be a focal part of the NFC's championship offense. But PFF graded him No. 37 at the position, assigning more credit to the Philadelphia O-line.
Sanders' role diminished in the playoffs. Backfield mate Kenneth Gainwell, whose breakout 112-yard game helped the Eagles rout and eliminate the Giants, is signed through 2024 at a fraction of the contract that Sanders will seek.
Other names of interest include:
David Montgomery, Bears: The four-year pro punishes defenders and can pitch in as a receiving threat. Montgomery broke the eighth-most tackles in the NFL in 2022 and posted an 85% catch rate in Chicago's lifeless passing offense. Jacobs, Barkley, and Pollard all being tagged could heighten demand for Montgomery, though the Bears have the cap space (about $75 million in all) to keep him as a complement to Fields.

Devin Singletary, Bills: Another lead back whose QB overshadows him as a runner, Singletary might have untapped 1,000-yard potential entering his fifth season. Over The Cap valued his 2022 production at $8.6 million. Facing a cap squeeze, Buffalo could let Singletary walk and opt to promote second-round rookie James Cook in his place.

Jamaal Williams, Lions: Seventeen Detroit drives in 2022 ended with Williams rushing for a touchdown, a top-20 total in the NFL this century, per Stathead. He housed 13 of those scores from either one or two yards out. Williams was also a 1,000-yard rusher for the first time in his six-year career. He could return to Detroit to split the carries with D'Andre Swift again or depart to lead another team's backfield committee.

Raheem Mostert, Dolphins: The elder statesman of the group turns 31 next month, but there's a chance Mostert will age gracefully. Undrafted in 2015, he bounced between practice squads and has racked up half as many NFL touches (532) as Montgomery (1,070). Mostert ranked ninth in broken tackles and set career highs across the board in 2022, showing few signs of wear and tear.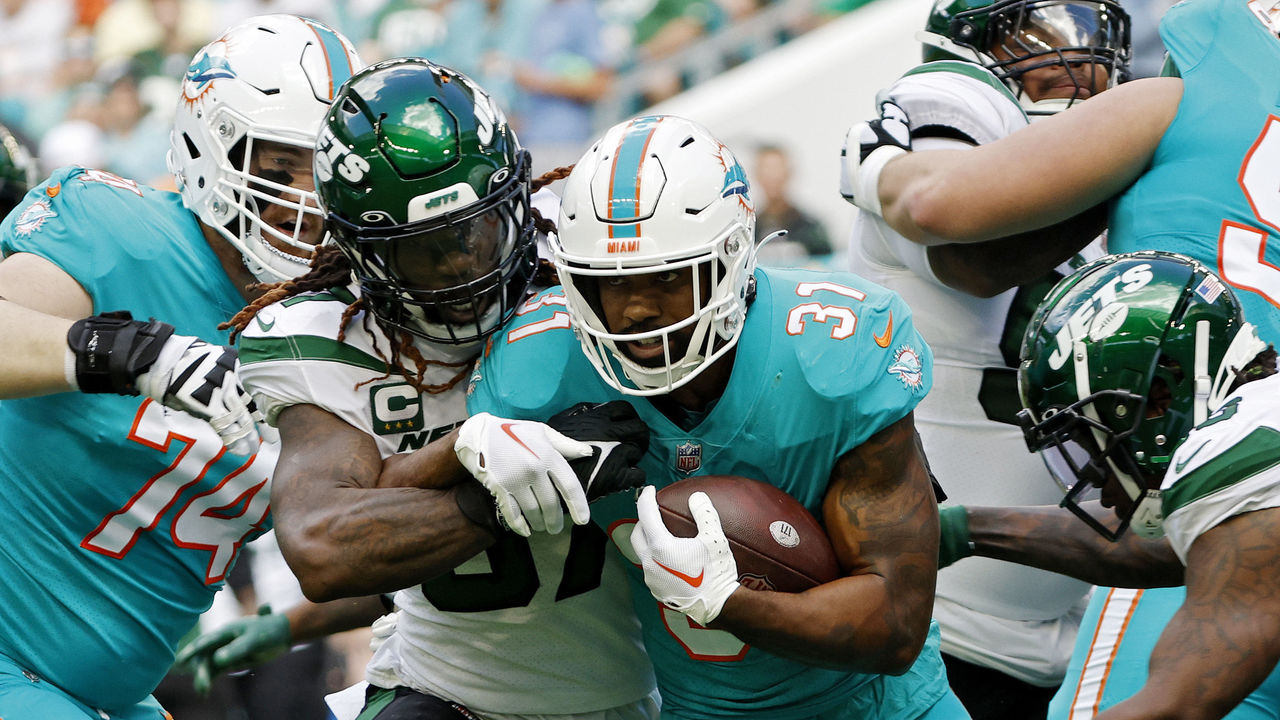 The market devalues their position because the game emphasizes passing production. Every offense - even Chicago's - was more efficient last season when it threw on early downs, per Ben Baldwin's database.
By average annual value, McCaffrey's deal is the 99th-richest in the NFL, while the running backs who make $12 million squeak into the top 175, according to Spotrac. A mere 20 running backs commanded more than 2% of the salary cap at the time they signed, per Over The Cap. The average salary is lower at three positions: fullback, punter, and long snapper.
Front offices know that running-back production declines precipitously with mileage. Only five of the top 50 backs in PFF's grades last season turned pro before 2017. One of the outliers, 29-year-old Titans workhorse Derrick Henry, is reportedly a candidate to be traded after leading the league in carries per game for the fourth straight year. Henry's rushing average has fallen by a full yard since his 2,000-yard campaign in 2020.
Clubs replenish their depth charts in the draft. Texas junior Bijan Robinson, a consensus first-round talent, is the top running back available next month. theScore's latest mock draft projects the Bengals taking Robinson at No. 28 and moving on from Joe Mixon - potentially by releasing him after June 1 when they'll gain greater cap savings.
Contributors abound later in the draft, too. Of the 10 running backs who topped last season's PFF grades, four players were selected in the second or third round, and another four went in the fourth through six rounds, including Falcons rookie Tyler Allgeier at No. 151 overall in 2022.
The '22 Falcons and Ravens both ranked in the top three in rushing yardage and in rushing DVOA at Football Outsiders. Allgeier, Cordarrelle Patterson, and Atlanta QB Marcus Mariota gained 2,168 yards as a trio. Four Baltimore running backs - J.K. Dobbins, Kenyan Drake, Gus Edwards, and Justice Hill - complemented Jackson's rushes by racking up 1,697 yards while accounting for 4% of the team's cap outlay, per Over The Cap.
Motley personnel groups can pound the ball upfield at little cost and elevate an offense that struggles to pass.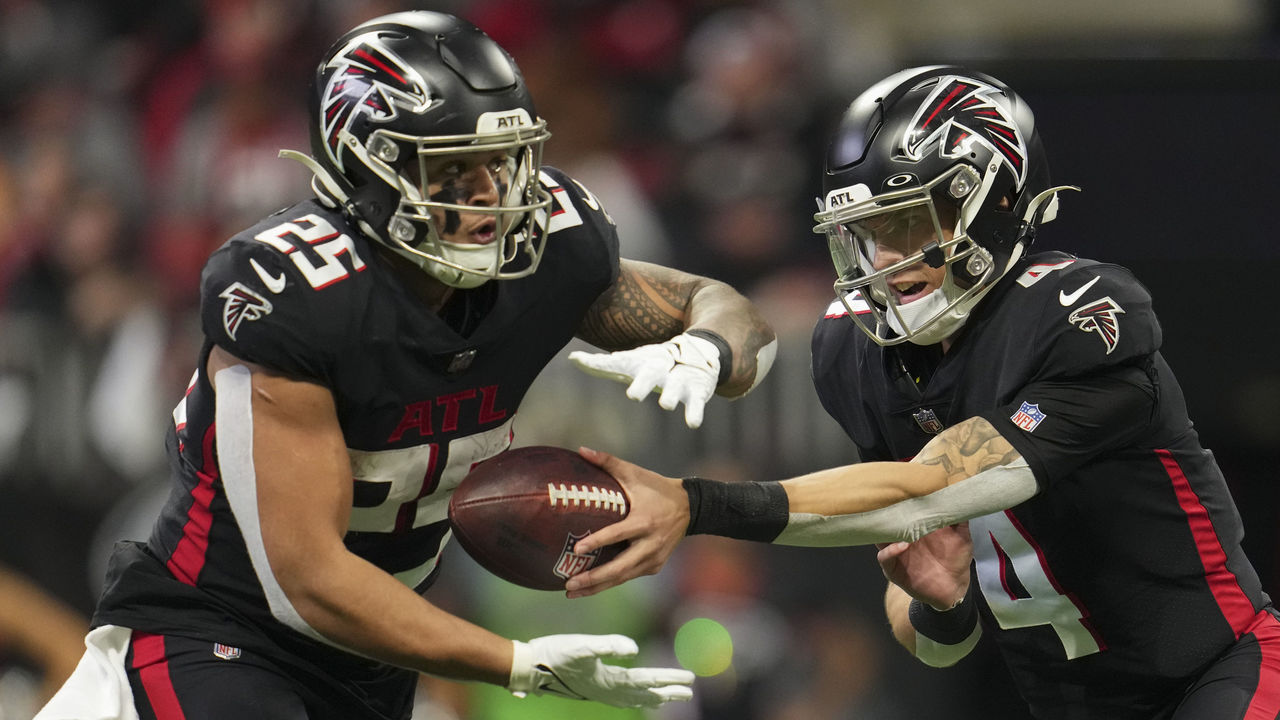 Despite ranking 24th in passing TDs and 31st in passing yardage, the Falcons wound up 15th in scoring and earned PFF's No. 3 team offensive grade because they had superb rushing and run blocking. Atlanta has more than $60 million in cap space and could devote the lion's share to replacing Mariota, upgrading at receiver, or fortifying the league's No. 23 defense.
Higher up the standings, rushing well can strengthen a contender's title hopes. Five 2022 playoff qualifiers - the Jaguars, Chargers, Seahawks, Vikings, and Buccaneers - ranked 20th or worse in rushing DVOA, per Football Outsiders, signifying that's a weakness to address. Buffalo averaged 54 fewer rushing yards in the playoffs than in the regular season, spiraling as the Dolphins and Bengals dropped deep to continually intercept Allen.
Singletary received a season-low six carries in the loss to Cincinnati. The Bills ought to strive for greater balance in the clutch next season no matter who they pay to run the ball.
Nick Faris is a features writer at theScore.
Comments
✕
The run game matters again, so what's a running back worth in free agency?
  Got something to say? Leave a comment below!