Inside the mind and the eye of a Super Bowl photographer
Christian Petersen / Getty Images
Christian Petersen, a staff photographer at Getty Images, shot memorable college football action before graduating to the pros. He covered the USC Trojans during the Matt Leinart era when the quarterback and Reggie Bush were Heisman Trophy winners and starred in epic bowl games that sealed undefeated seasons.
Petersen's instinct at the start of his career was to plant himself behind the end zone and hope the game would come to him. Distanced from the play on most downs, he realized his subjects looked small. He needed to move freely and hug the sideline to capture images that struck people.
"Peak action. Strong emotion. Defining moments. All of these things get put together (in a great football photo)," Petersen said. "Maybe there's some artistic spin on it. The fundamentals: it's a sharp, clean photo with a nice background. Something that tells the story of what's going on."
The biggest game in the sport arrives in Petersen's backyard this month. The Arizona resident will be Getty's lone photographer credentialed to roam the sidelines when the Kansas City Chiefs and Philadelphia Eagles clash in Super Bowl LVII on Feb. 12.
Getty plans to station four photographers at the corners of the end zones. Another will shoot peering down from the 400 level of State Farm Stadium, home of the Cardinals. Two more photographers will chronicle Rihanna's halftime show and the rest of the entertainment. Getty editors handpick the best snapshots and disseminate them within minutes of being taken to editorial clients worldwide, theScore included.
Petersen covered two Super Bowls as an editor; this is the fifth he'll work with cameras in hand. (Canon bodies, specifically.) Only the players and game officials get closer to the greatest spectacle in American sports. The protagonists are ecstatic in victory and brood over defeats. Petersen watched Tom Brady navigate that emotional gamut a few years apart.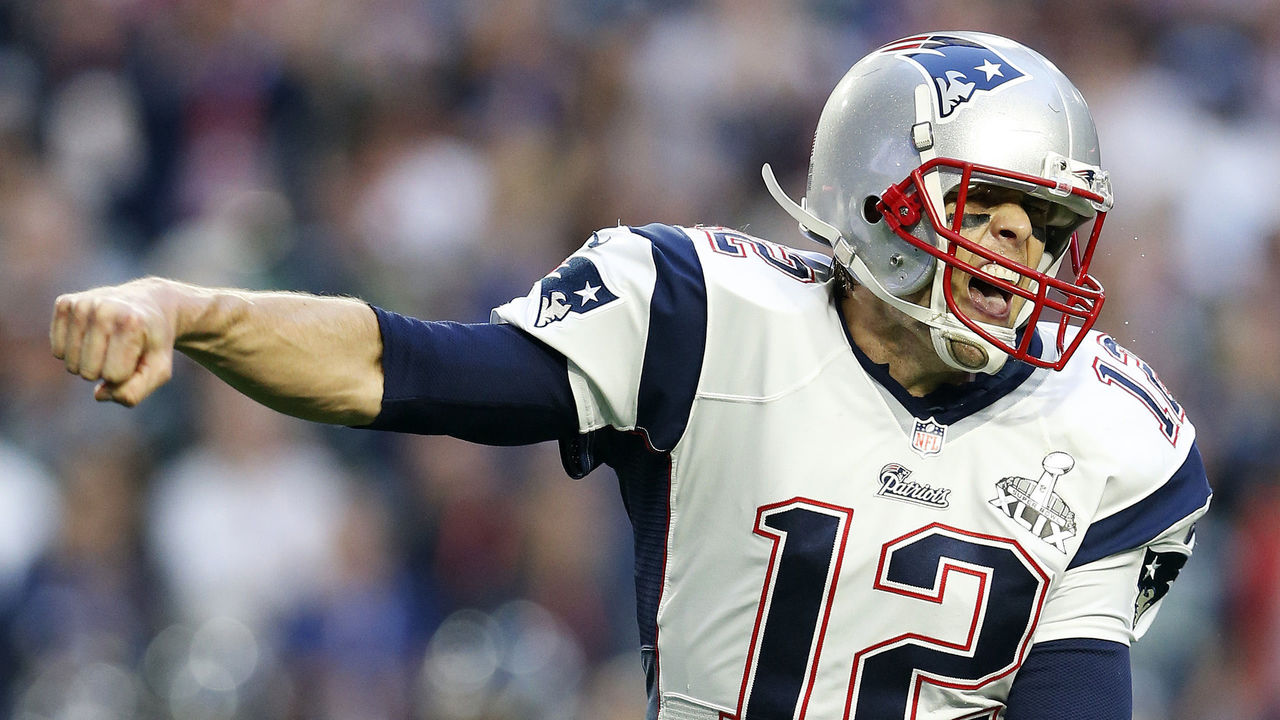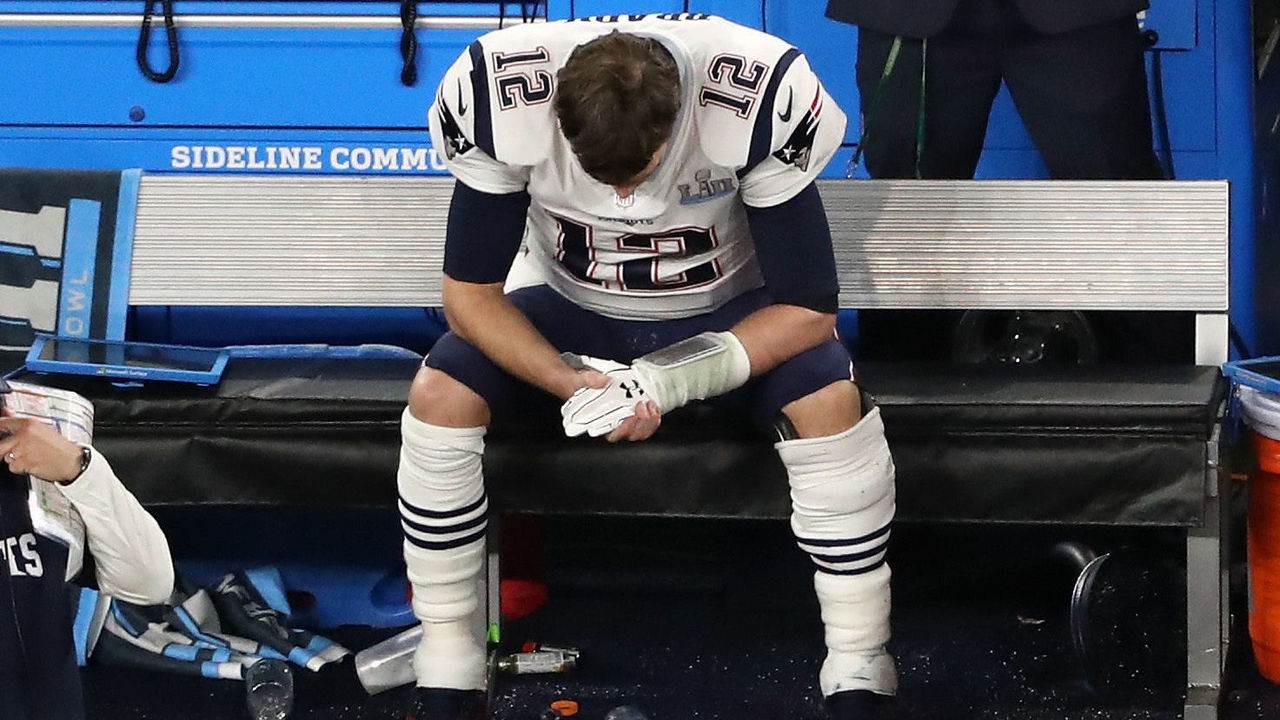 Each indelible Super Bowl moment authored since 1967 lives on in pictures. Skilled photographers record them by being in the right place at the right millisecond. Former Sports Illustrated staffer John Biever has shot all 56 Super Bowls to date and once expressed a grim fear to his hometown San Diego Union-Tribune: "I'm looking to not miss the best play, because if you do, you have a year to think about that."
Petersen photographs every major Arizona team, plus playoff action elsewhere and marquee events that range from golf championships to the Summer Olympics. He never played football except in the street with childhood friends. But the Super Bowl is one of his favorite assignments.
"It's definitely top three," Petersen said this week. "I'm such a fan of the NFL and the product they put on the field every week. It's a dynamic event that has eyes from all over the world - people looking in, people interested, people grabbing the photos right away. It's iconic. It's incredible."
Petersen spoke to theScore about the pressure to perform next Sunday, the team tendencies he'll scout in advance, the appeal of a Chiefs-Eagles matchup, and the time in Glendale that Katy Perry and Malcolm Butler stole the show. The conversation has been edited for length and clarity.
theScore: How does shooting the Super Bowl differ from photographing any other football game?
Petersen: The difference is the two weeks leading up to it. There's so much building pressure. Preparation. Planning. Teamwork. Once the ball is kicked, it's kind of like any other game.
Yes, there are more people on the sides. There are much bigger stakes. But once the game starts, my follow-through is the same. I just hustle, get in position, get the pictures, stay calm, and try to anticipate what's going to happen.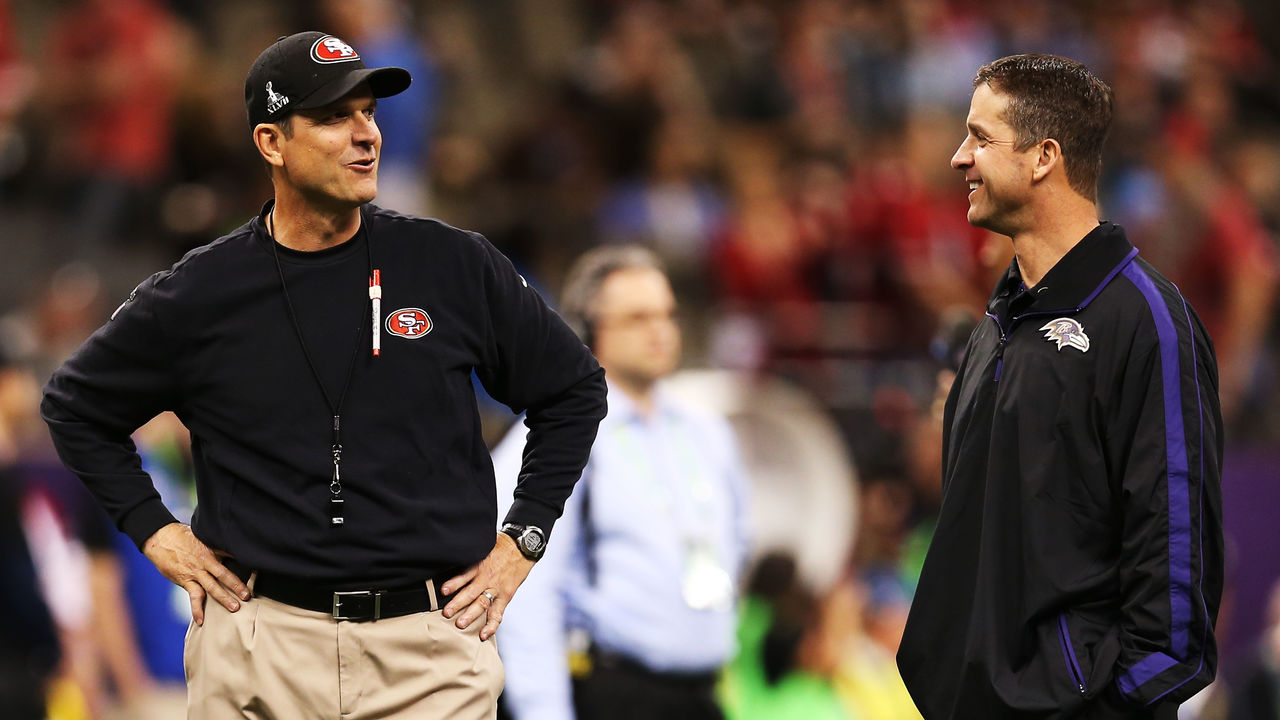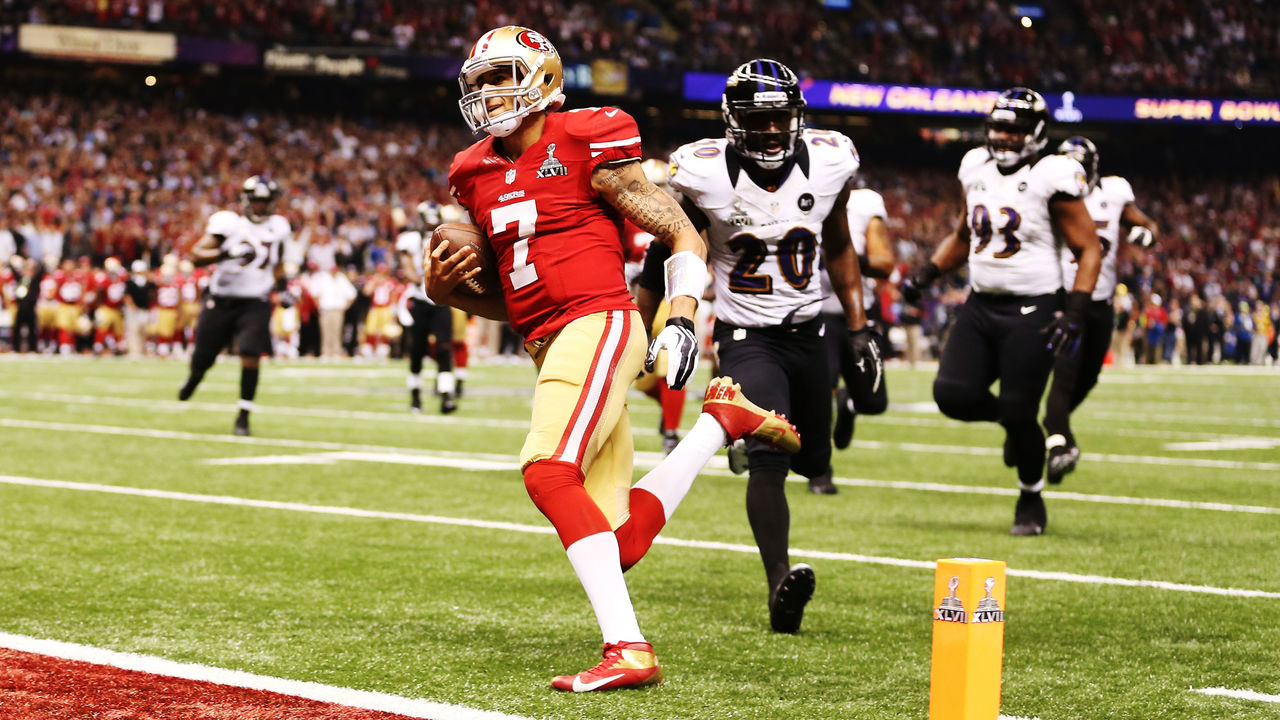 What's the prevailing emotion when you're standing in the stadium ahead of kickoff?
It's just excitement. Football's a difficult sport. There are 100 yards, and the play can go any direction.
In past Super Bowls, we've had more photographers on the field. This one's a bit different. Credentials have been cut back. I'll be the only photographer on the field, which puts a lot more pressure on me. But as long as I stay agile and put myself in a smart position, I should be good.
I like to be able to choose where I go with less restrictions. I try to stay ahead of the play - maybe 20 yards, 25 yards. But I always keep myself ready to jump and move. An interception, a long play to the other side - the play goes in so many directions. It's very fluid.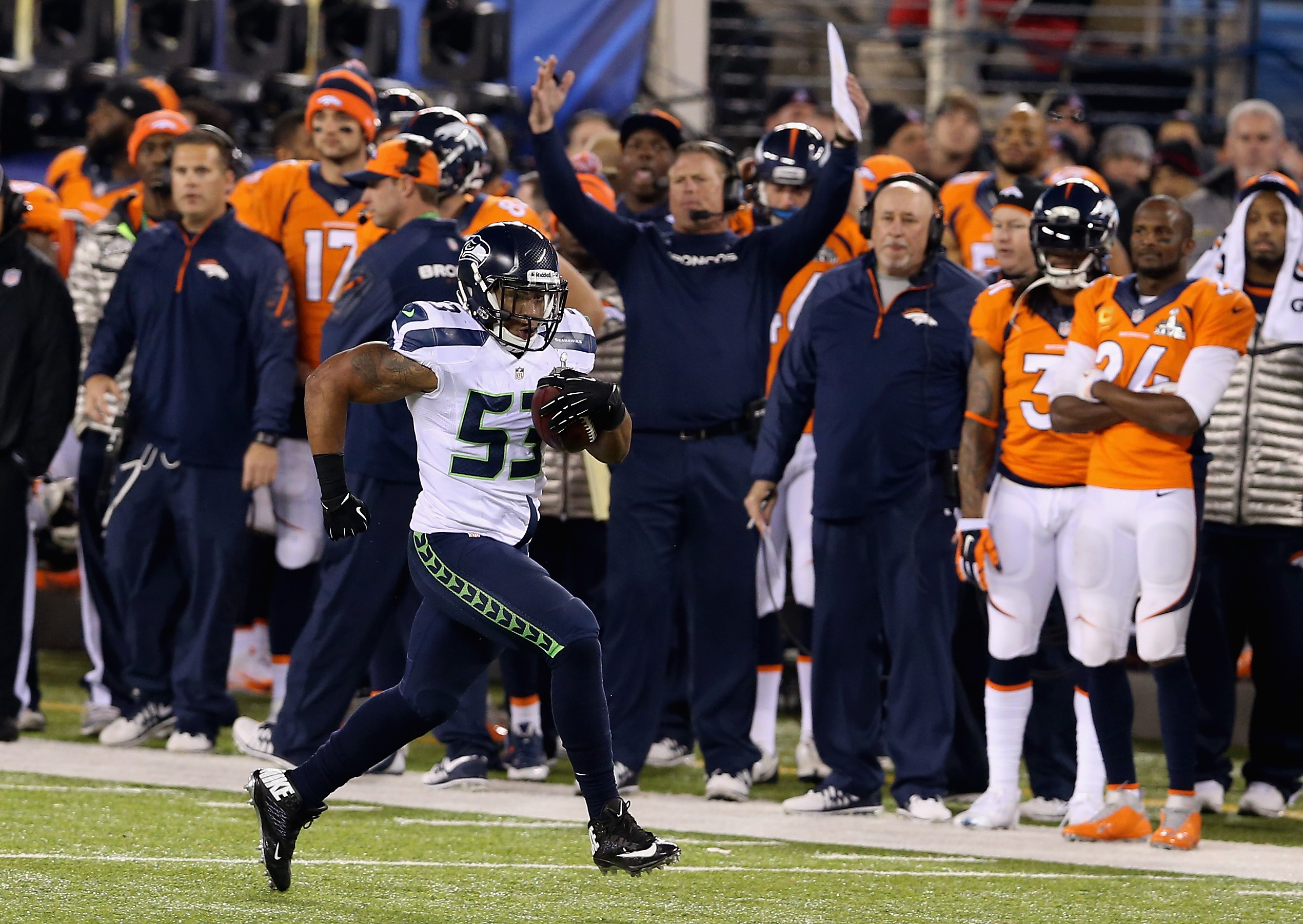 What kind of preparation do you put in beforehand? Do you study team tendencies in advance when you're assigned to a game?
Not so much Xs and Os. Definitely learn the key players: who's big on defense, who's big on offense. Coaches.
It is important to know: Are they a passing team? Are they a running team? Do they do a lot of play-action? Do certain quarterbacks celebrate before the game starts? Is there a place on the bench they like to hide? Little things like that. But as far as the big plays, it's the coaches' job to come up with plays that nobody anticipates. They have the jump on us.
I'll read previews, and I'll study players and weather concerns. But I'm lucky here in Glendale. We have a closed stadium, so that doesn't really affect me.
As an Arizona guy, how well do you know State Farm Stadium? How does the look and configuration of that field influence the photography?
I've covered lots of big games there, whether college or pro. I've been here since 2009. I'd say I'm very fortunate. It's a beautiful stadium. It does have a retractable roof that usually remains closed, but it still lets in a lot of light. It's a great stadium for fans. Parking's easy. I live close by.
I'd like to run through a few of your favorite Super Bowl photos. When the Patriots met the Eagles, Brandin Cooks tried to hurdle Rodney McLeod. From your angle, it looked like he was about to kick McLeod in the face. How many shots do you take during that sort of sequence to try to capture the perfect frame?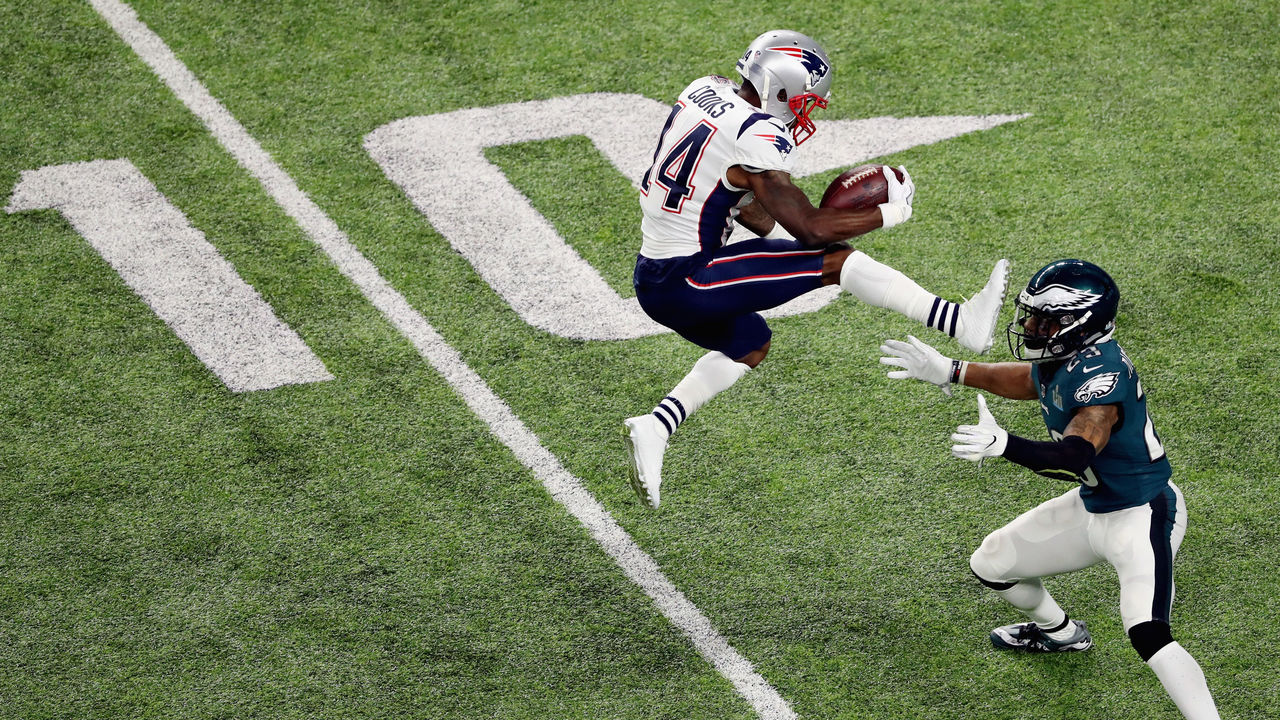 That's probably a pretty long burst. These cameras are incredibly fast. It would probably be 20, 25 pictures.
The editors do a fantastic job of picking the peak moment. I'm sure that was him at the top of his jump. It also had a nice graphic element to it with the 10-yard-line marker in the background.
You got this nice action shot of Katy Perry and a backup dancer at the halftime show in 2015. What's the key to capturing a great concert or entertainment photo at the Super Bowl?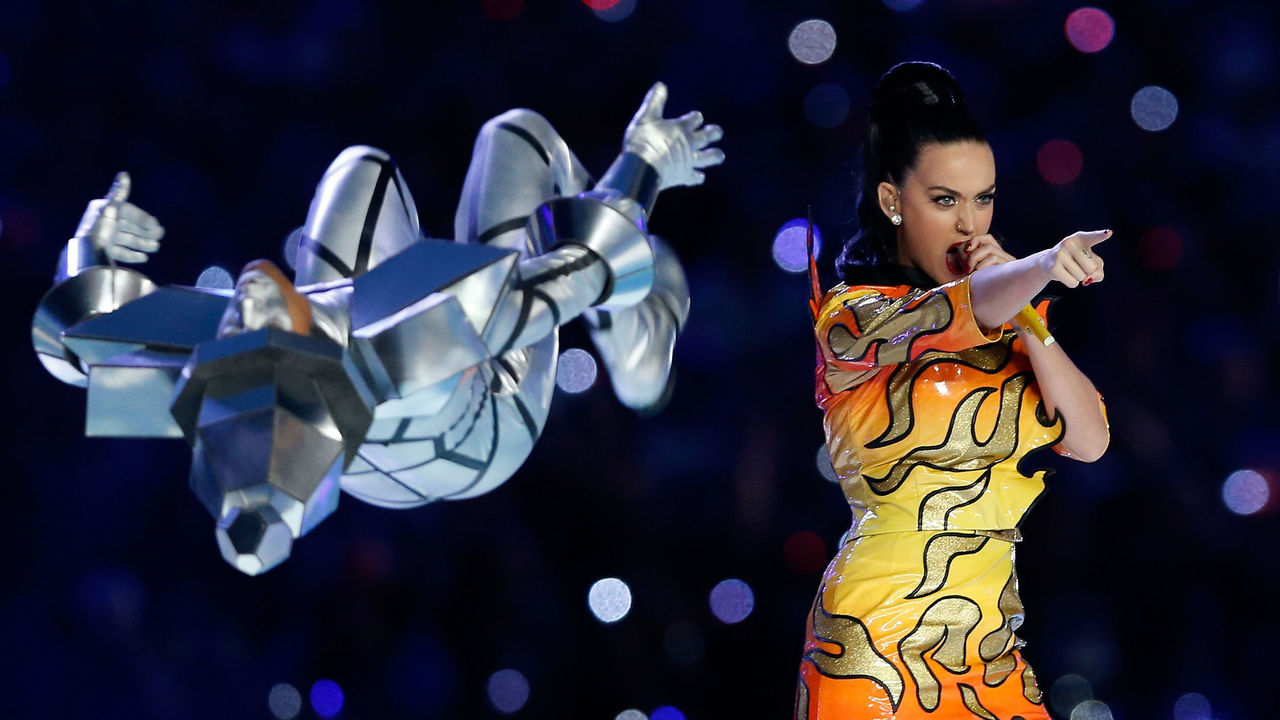 That was also here in Glendale. That was the Seahawks and Patriots. Everybody remembers "Left Shark" from that halftime performance. I love shooting entertainment. The halftime show is just as important as the game to me and, I think, to the rest of the world.
That was a terrific show. (Perry) came in on a giant lion with fireworks blowing up everywhere. There was the whole shark dance. The photo you're referring to, one of her dancers is doing a flip next to her. She's got this power pose going. The basics (matter): clean, sharp, graphic elements. The action would be her pointing and singing at the same time. Katy Perry brought the house down.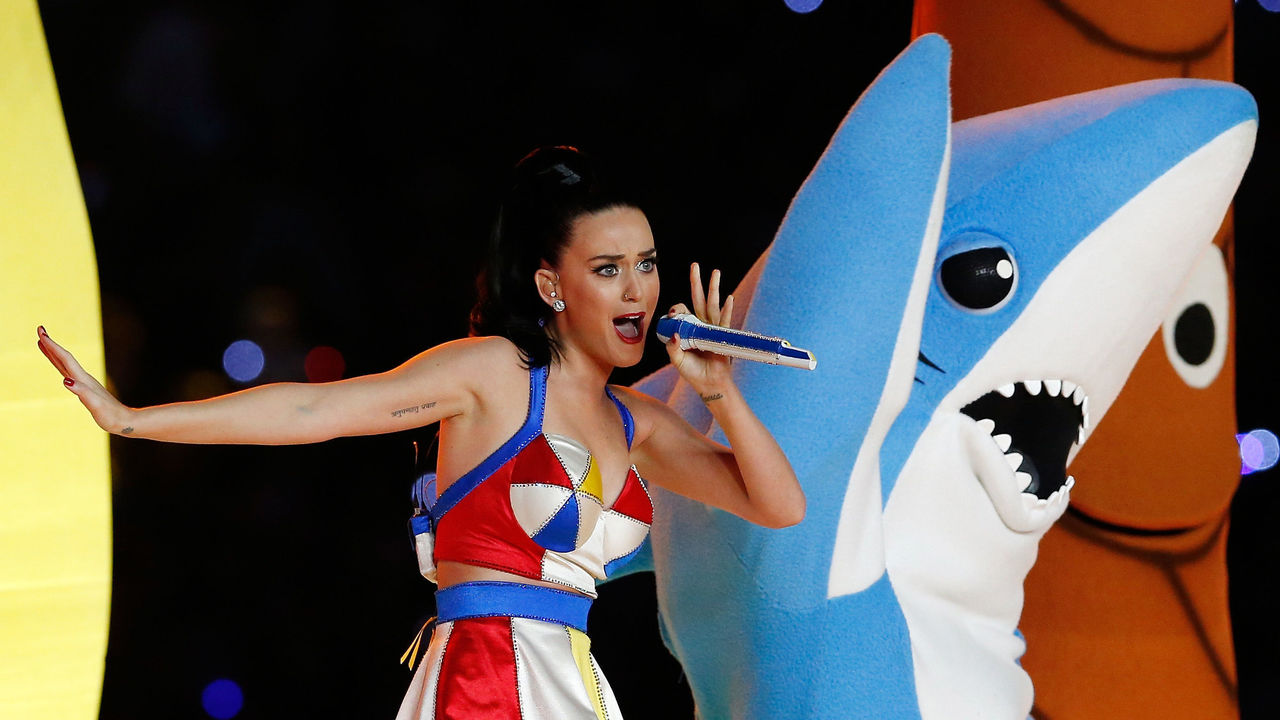 At different Super Bowls, you took postgame shots of Colin Kaepernick walking away defeated and Russell Wilson congratulating Tom Brady as photographers swarm them. When the game ends, is your instinct to try to track down the quarterbacks? What are you doing at that point?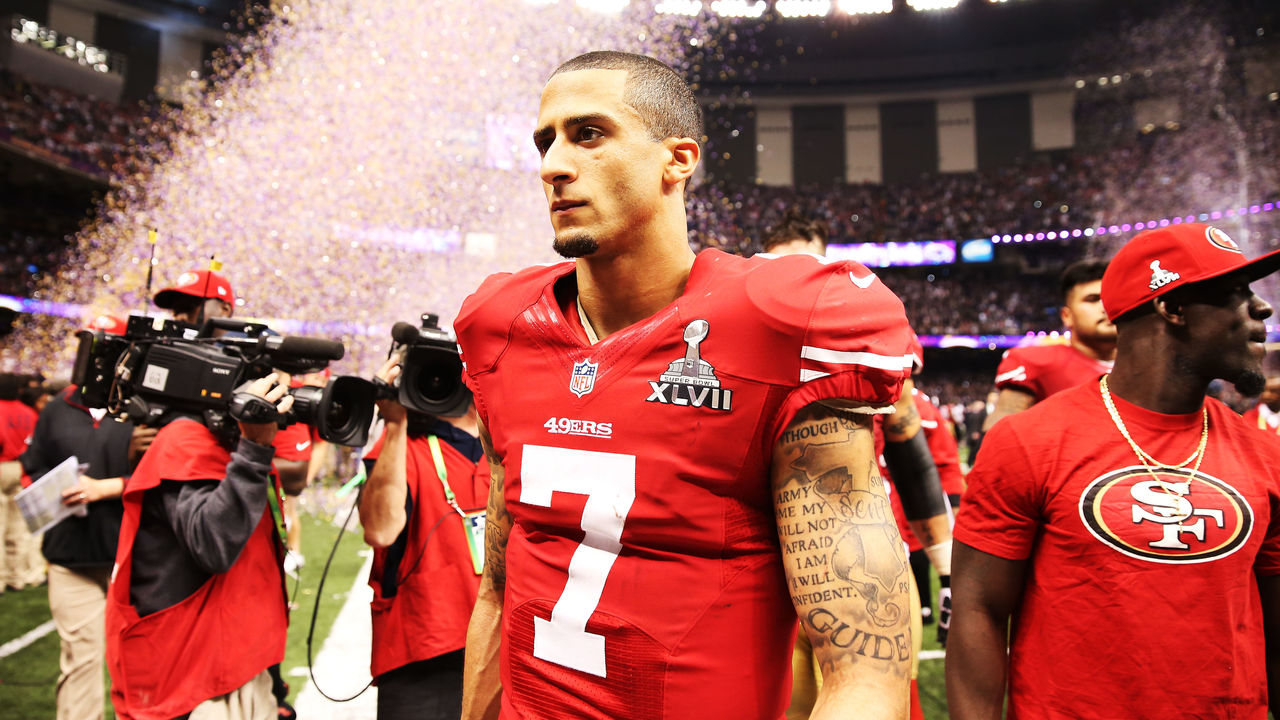 That's the million-dollar question. Normally, we have assignments. When there are more of us on the field, one of us will track down the coaches and stay with the winning coach. One of us will go for the quarterbacks. One will go for the star. Maybe a kicker had an important field goal.
This game's going to be different. I think I'll probably be looking for the star of the game, the story of the game, whether it's Patrick Mahomes or Jalen Hurts. The problem being: When the game ends, when the clock starts, everybody rushes the field. If you don't have eyes on where you're going, you're going to lose them.
It closes in so quickly. There's confetti in championship games. Players put on shirts. You can't tell who they are. You really have to be focused on where you're going and have a plan for what you're going to do. A backup plan, too, maybe.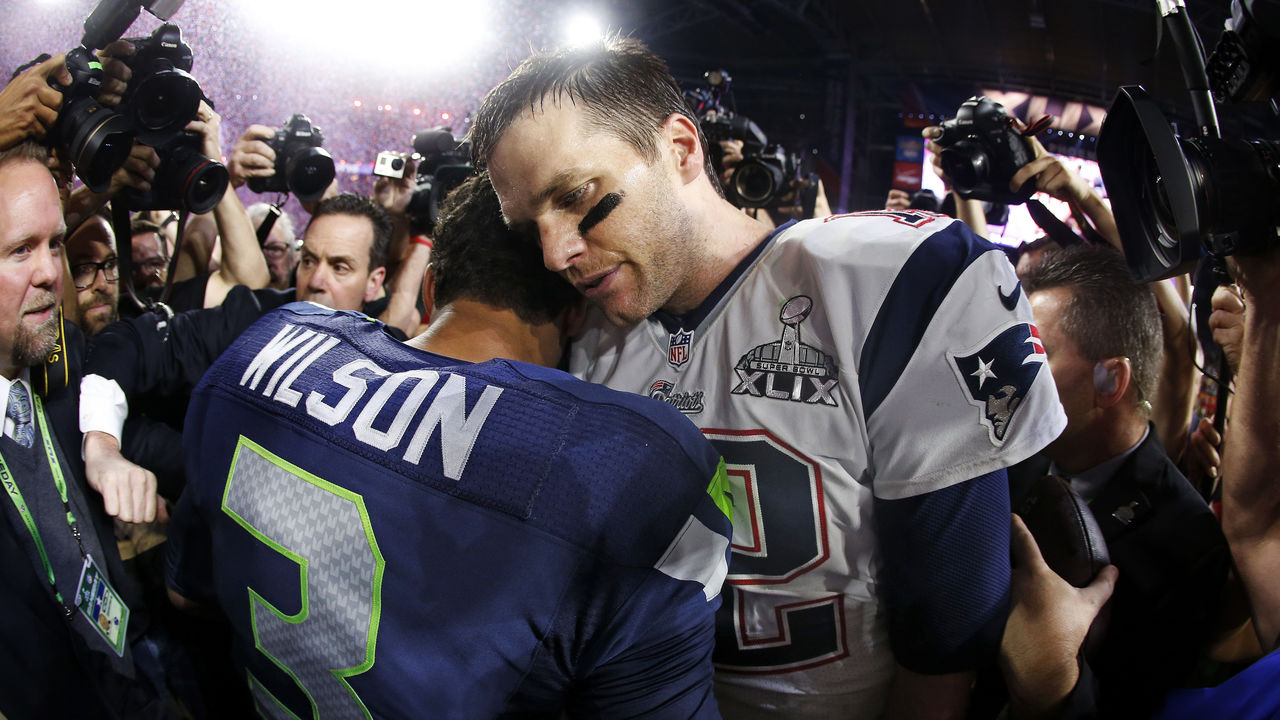 I had the Fiesta Bowl here (on New Year's Eve). It was a semifinal game. At the end of the game, I had a plan, lost the player in a sea of other players, and then you're kind of lost. I was able to find the coaches and stay with them, but my gut instinct was to go with the quarterback and the offensive players. It doesn't always work out that way.
That is a nervous point for me. Once the ball is kicked off and the action's going, I'm pretty calm. I'll be fine. But in those last few seconds, you're always doubting yourself. Should I go here? Should I go here? You cross your fingers.
In (the Patriots-Seahawks) Super Bowl, I followed Brady, and he went over and gave Russ a nice hug. They leaned heads on each other. It was a beautiful moment. From there, I found the Vince Lombardi Trophy and followed it everywhere I could. That is a shiny piece of metal that I think most people in the world will recognize. It just looks great in photos.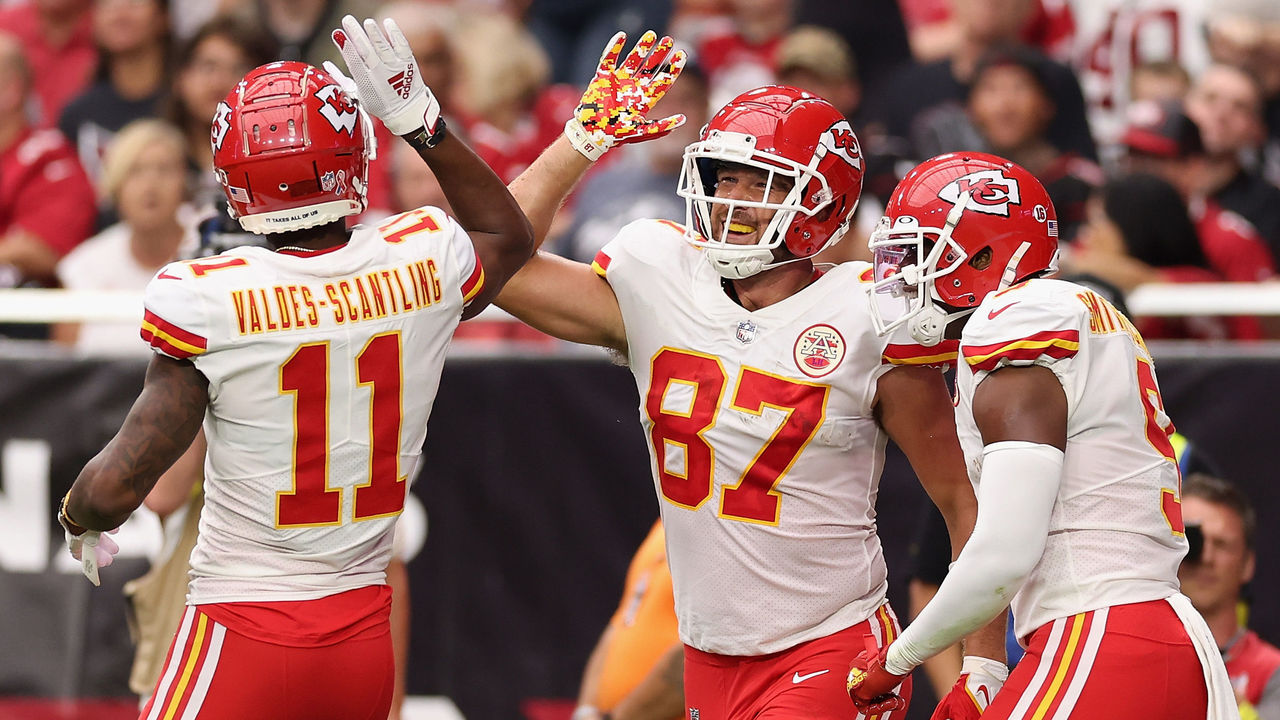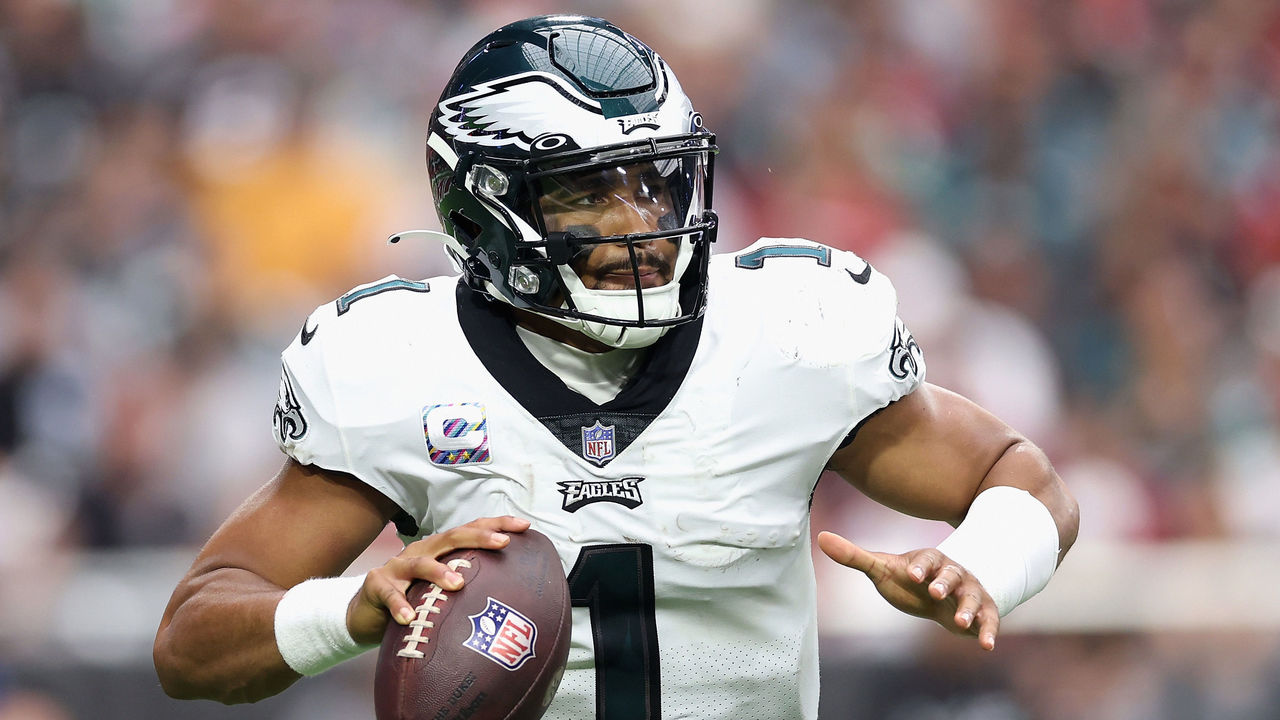 What do you find compelling about Chiefs-Eagles as a Super Bowl matchup?
Strangely enough, we've had both of those teams here this season. The Chiefs were here for Week 1, and the Eagles were more recently. For me, it's the quarterbacks. One is an up-and-coming superstar and may be the MVP. One, Mahomes, everybody knows. It feels like he's won five championships.
That's the matchup. I'm hoping Mahomes is 100% healthy and we can see the best out of both teams.
It's also interesting that the Kelce brothers are matching up. I heard that's the first time two brothers have played each other in a Super Bowl. Andy Reid is coaching against his old team. It's an exciting matchup. I can't wait for kickoff. Everything leading up to it is going to be drawn out. Let's get to the game.
You talked about focusing postgame at the Fiesta Bowl on one player you ultimately lost in the fray. I imagine every photographer has a shot that got away - the big moment they missed by half a second or weren't in position to capture. What's the Super Bowl photo you wish you could have taken?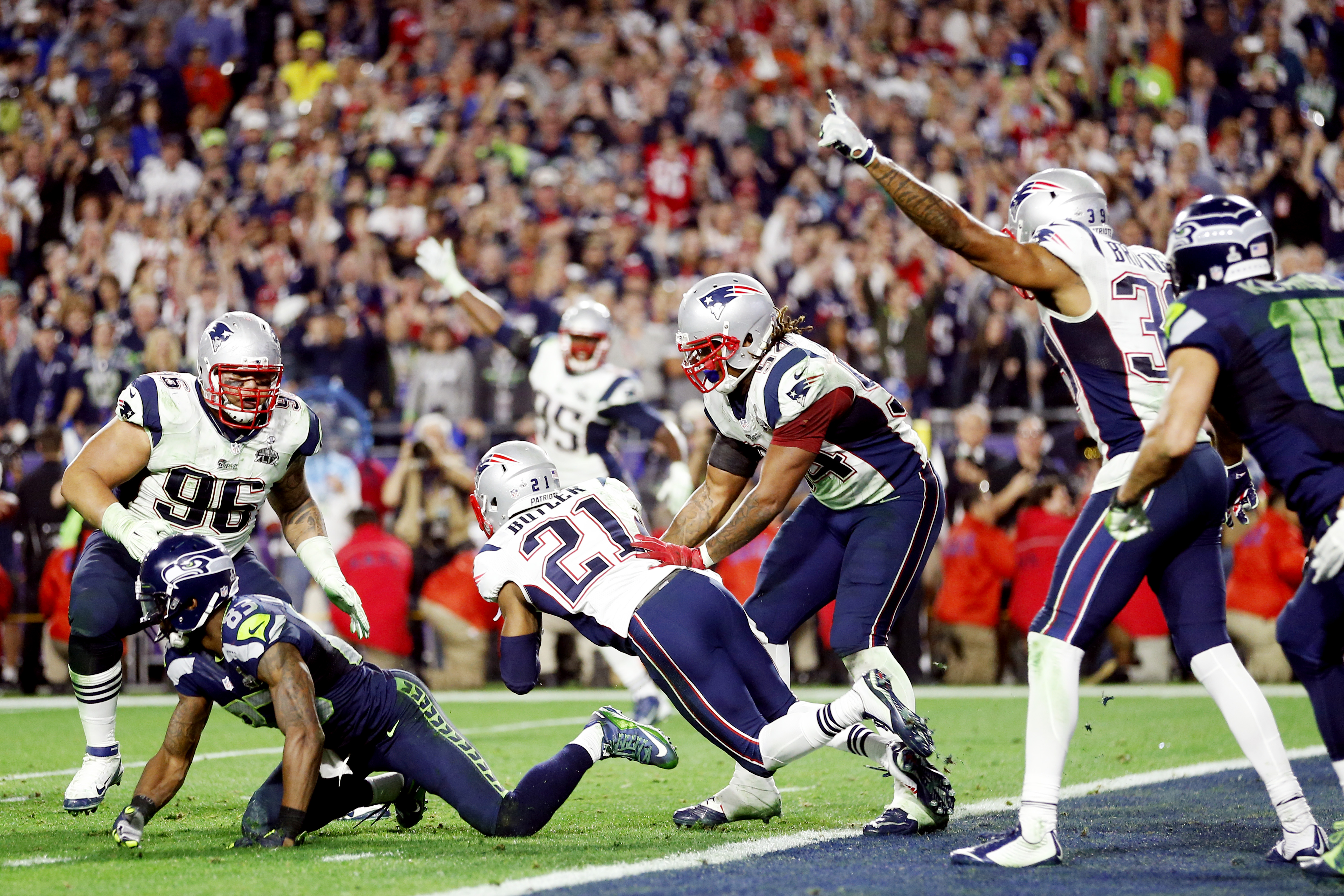 Malcolm Butler with the Patriots. He had the interception. The Seahawks were about to win the game. They didn't hand the ball off to Marshawn Lynch. I was on the back side of that play (on Seattle's sideline). Although I did get the photo, you don't see his face. You don't see the ball.
You do see some reaction from the other players. But the people on the other side of the field had the photo that ran everywhere. That was the picture. Yes, the trophy celebration was great after the fact, but that interception, that's an iconic Super Bowl moment.
I wish I was in a better position for that one. But at least I had something. There's always the "what if I did this, maybe I should have been there" question in your head.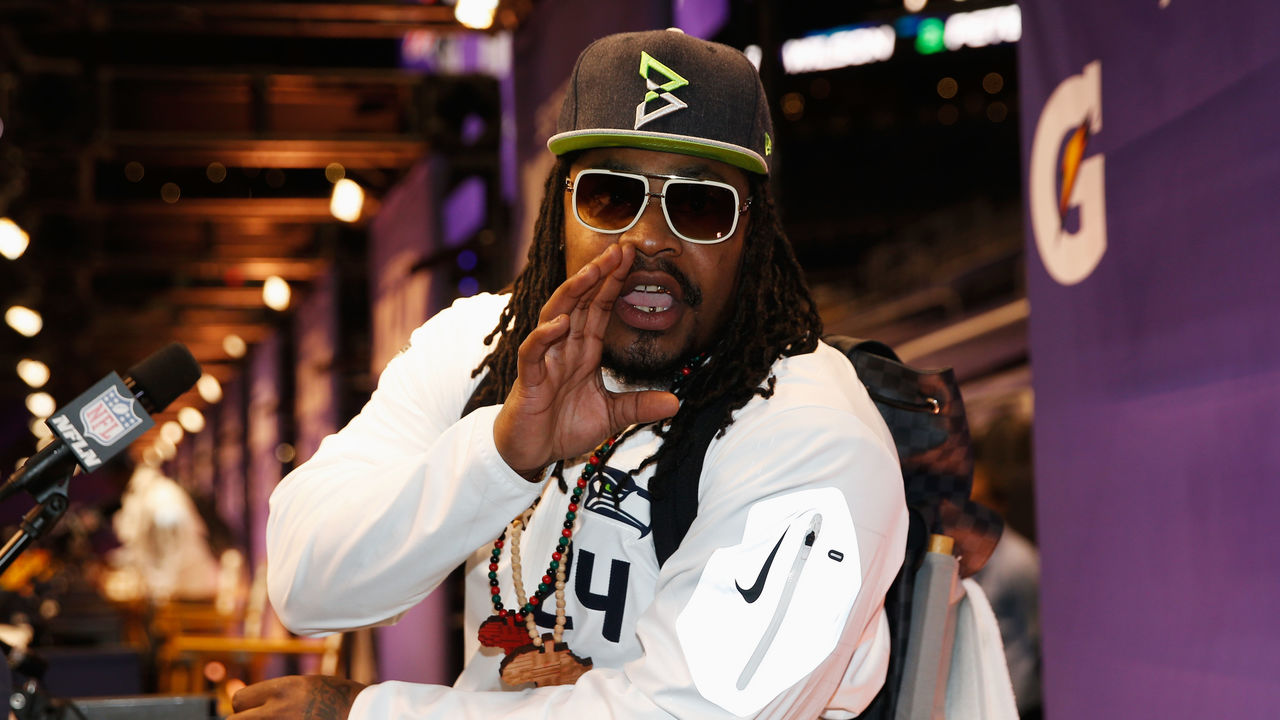 On the flipside, what was your all-time best day covering a Super Bowl?
In 2009, I transferred from being an editor to a photographer. One of my final assignments as an editor was the Super Bowl between the Steelers and the Cardinals. I grew up a Steelers fan, and I knew I was moving to Arizona to become a Cardinals photographer.
I never even saw the field at that Super Bowl. That was the famous comeback from the Steelers. That was a big moment for me, seeing my past team and my future team come together.
The Ravens-49ers Super Bowl was the first time I was on the field for a Super Bowl. That was the Super Bowl where the lights went out. We had 30, 40 minutes of almost complete darkness. As a photographer, we had to tell this story. That's a hard story to tell, to take a picture with no lights in an already dark stadium.
It broke the tension for me. I remember after that happened, after the lights came back, I felt a lot more relaxed. OK, we've all laughed a little. Let's continue with the game.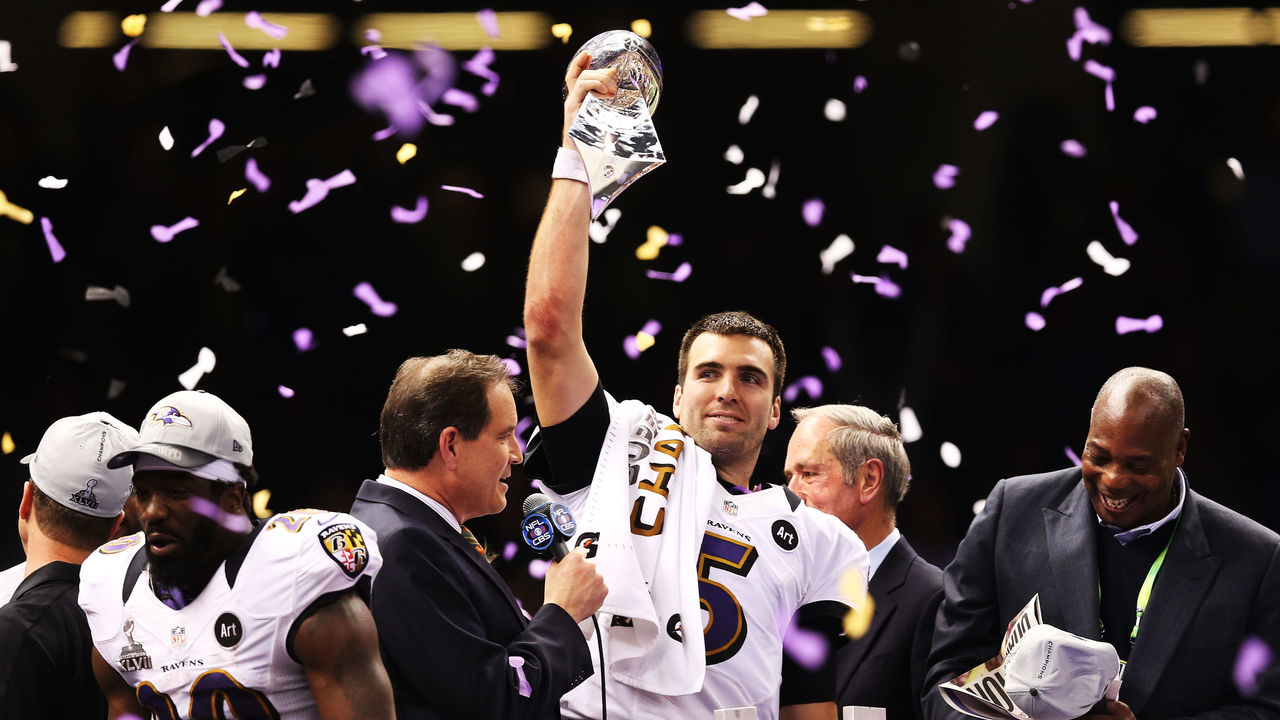 Nick Faris is a features writer at theScore.
Comments
✕
Inside the mind and the eye of a Super Bowl photographer
  Got something to say? Leave a comment below!