Key takeaways and analysis from the NFL's divisional round
Sunday Rundown recaps the most important developments from the day's action and examines their significance moving forward.
Bengals dominate up front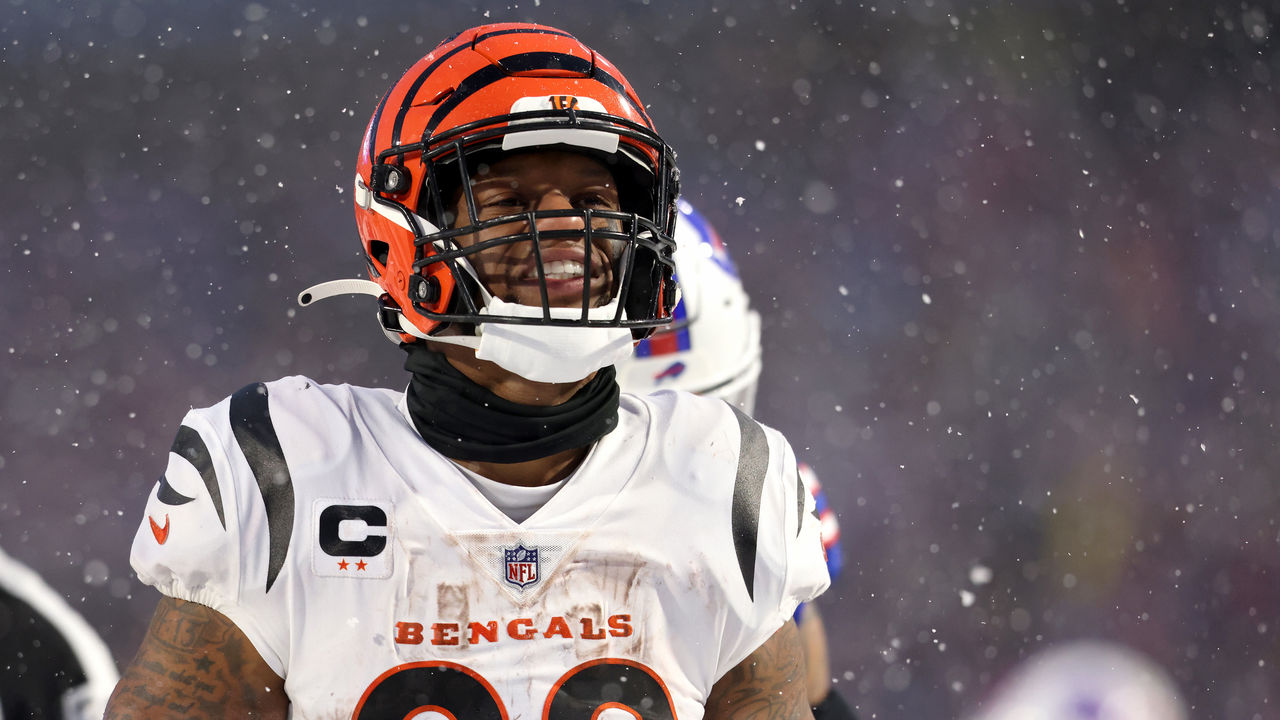 The Bengals missing three starters on the offensive line always figured to be a key storyline heading into their divisional-round matchup with the Bills. That indeed proved to be the case, but not in the way any of us could have expected.
Cincinnati's patchwork front five didn't miss a beat in snowy Buffalo. One would have thought La'el Collins, Alex Cappa, and Jonah Williams were all in the lineup, given the way that group whipped the Bills' defensive line to control the game throughout.
The Bengals' offense appeared far better equipped for the elements than the home-side favorites, moving the ball at will on the ground with 172 yards on 34 attempts for 5.1 yards per carry. By contrast, the Bills' running game couldn't take any workload off Allen's shoulders: Devin Singletary and James Cook combined for 32 yards on 10 attempts.
Consistent yardage in the run game was key to Cincinnati mounting one methodical drive after another - putting points on the board and effectively keeping the defense off the field and the ball out of Allen's hands.
Buffalo's defense will draw intense criticism for the helpless performance at home, and it was certainly fair to expect better from a unit that finished the regular season ranked fifth in rush EPA, according to Ben Baldwin's database. But this was just as much about the Bengals having mastered their offensive system as it was about the Bills coming up short in a big spot.
Cincinnati's run game has been on an upward trajectory ever since a rough first month of the season, providing the perfect complement to a high-powered passing attack. Continuing that trend, despite some key personnel losses, and getting yet another stellar performance from Lou Anarumo's defense is the latest evidence that this team is different from the one that went to the Super Bowl last year; it's miles better.
The Bengals heading back to Arrowhead for a rematch of last year's AFC Championship Game is exactly the way this conference should be decided.
Mahomes injury watch
Patrick Mahomes was at his best early Saturday afternoon against the Jaguars. He started by effortlessly marching the Chiefs down the field on an opening drive that included a ridiculous jump pass from a collapsing pocket and a jaw-dropping sidearm throw to create a passing window. He also made a few of his patented second-effort plays to find yards that weren't there in the first place. It was more ho-hum highlight-reel stuff from your soon-to-be MVP.
Everything changed when Mahomes got his right leg caught underneath a defender late in the first quarter. He returned for the second half and finished the game after reluctantly coming out and agreeing to head to the locker room for X-rays. He even came through with a few big plays to help the Chiefs seal the win. But he was a completely different player with his movement so restricted.
Mahomes has eight days to recover before next week's AFC title game at home against the Bengals. It's tough to imagine the injury keeping him off the field, so we won't even dive into that possibility. The question is whether he'll make enough progress to have any semblance of the mobility that makes him such a nightmare to defend. Unfortunately, that's no sure thing with high ankle sprains.
Make no mistake, Mahomes isn't just an improv artist - he can kill you from the pocket, too. There are still plenty of big-time throws for him to make sitting back and running the offense on schedule. But that puts more on his pass-catchers to consistently win within the structure of the play. Mahomes' ability to create magic when that doesn't happen is a big part of what makes Kansas City so unstoppable.
Any limitations in that regard should make the running game a focal point for the Chiefs next week. That may seem like an unappealing option when you look at the raw numbers from the regular season - Kansas City ranked 20th in rushing yards - but that's more a byproduct of Andy Reid leaning on the best quarterback on the planet more often than not. Kansas City's ground game has still been productive, finishing the year ranked 10th in rush EPA and sixth in rush success rate.
So don't be so quick to write off the Chiefs' chances if the coaching staff needs to dial back what they ask of Mahomes. Standout rookie Isiah Pacheco carrying the load behind one of the league's best run-blocking offensive lines can also be a recipe for success, however unspectacular it may be. Controlling the clock against an offense like that of the Bengals isn't such a bad idea, either.
Then again, this is Mahomes we're talking about. Would you really be that surprised if he comes out looking better than ever with a shot at the Super Bowl on the line? Whatever the formula ends up being, the Chiefs can make it work.
There's a reason they're playing for the AFC title for the fifth year in a row.
Different levels of good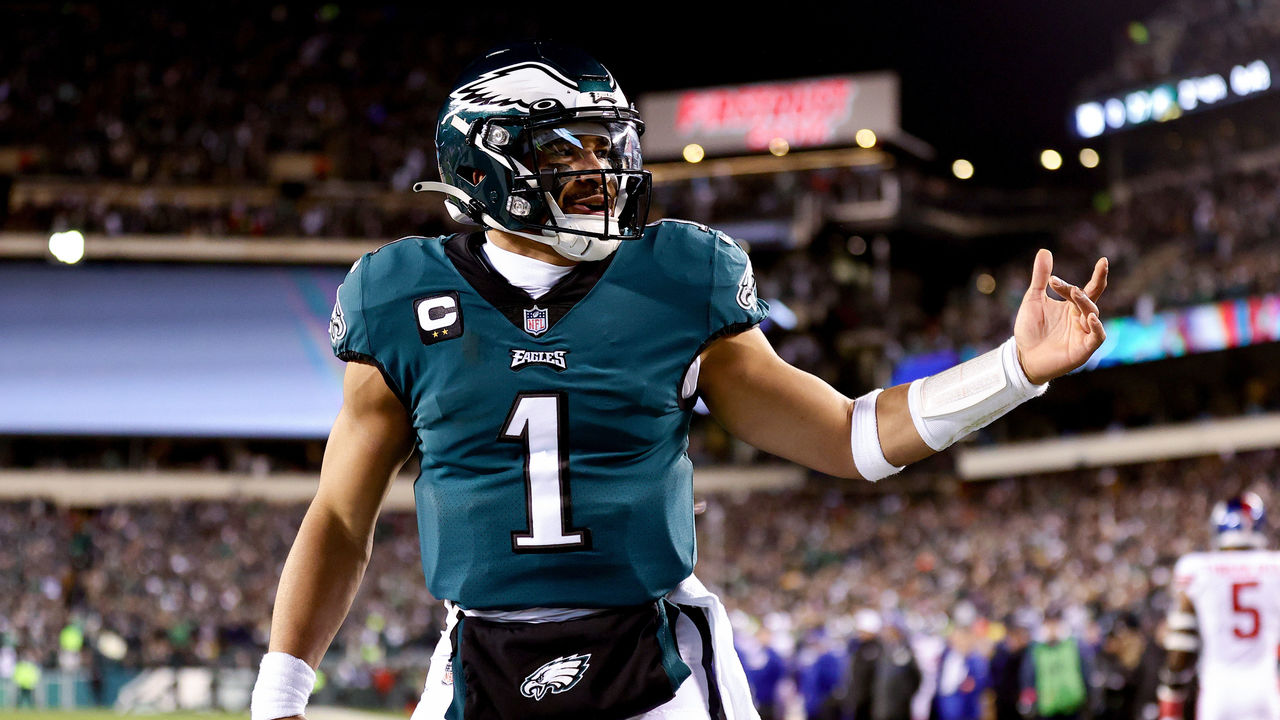 The Giants were a nice story. Nobody gave them a chance to make the playoffs, and going on the road to knock off a 13-win Vikings team is undeniably fun. Getting results before the rebuilding process ever truly has a chance to begin is also an incredibly promising sign for what's to come.
However, matching up with this Eagles team was always going to be a tall task. This is arguably the NFL's premier roster. The talent disparity is far too significant.
Philadelphia bounced back from an underwhelming finish to the regular season and came out of the bye week to stomp a division opponent in a 38-7 rout. That's a testament to everything Howie Roseman has done to turn this roster around over the last two years. The quality of players at nearly every spot on the field, particularly in the trenches, is overwhelming.
And most importantly for Philly, Jalen Hurts appears to be back to where he needs to be. The shoulder may not be feeling 100% right now or at any time in the playoffs, but there was nothing he couldn't do against the Giants. An early deep ball to DeVonta Smith was the first promising sign. The way Hurts went back to Smith later in the game, anticipating an out-breaking route under pressure from a blitz off the edge, all but confirmed there are no limitations on his ability to throw.
Hurts making minor improvements on the level of play we saw last season would have been enough for a team with this much talent to emerge as a contender. Growing into a high-level passer was the final piece to the puzzle for Philly to become the Super Bowl favorite. There's no denying that status now.
Dream NFC title game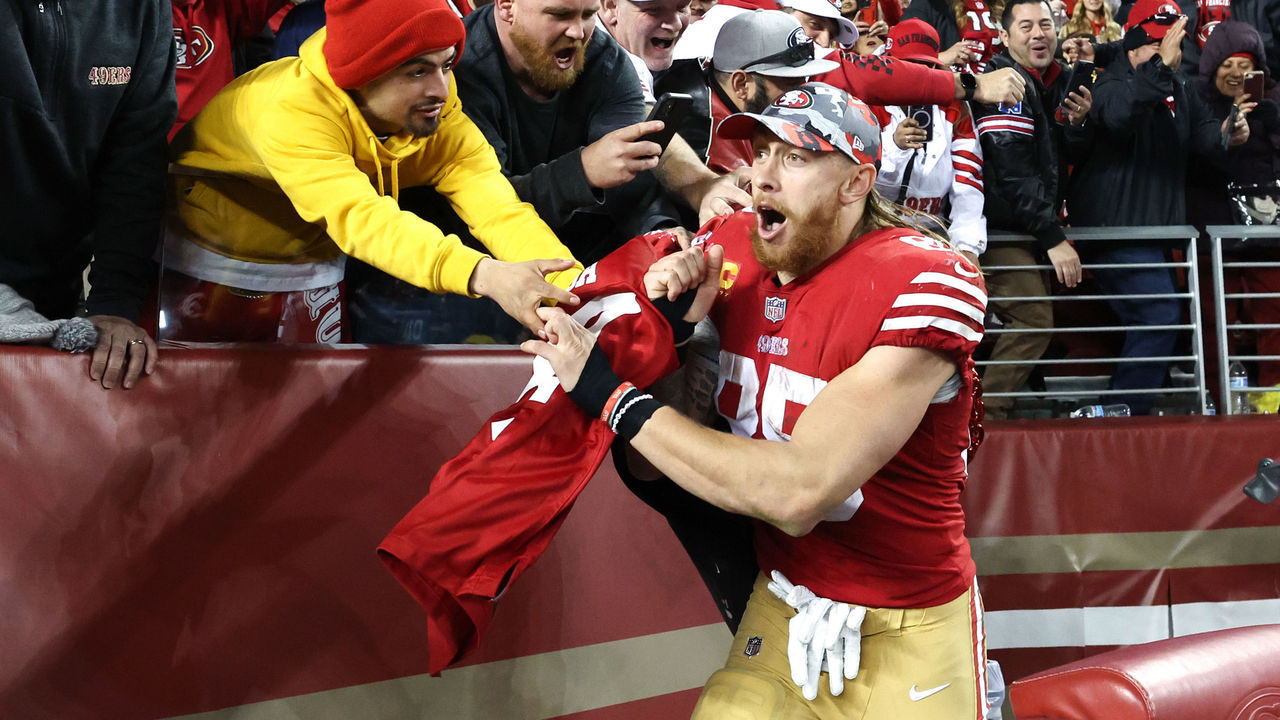 It doesn't get any better than this.
The 49ers taking care of business against the Cowboys set the stage for the best conference title matchup we could have asked for. If ever there was a team built to at least contain the juggernaut Eagles, if not send them home early, this is the one.
Philly's offense is nearly impossible to defend. An expertly designed run game that includes the quarterback and is led by the NFL's best offensive line is enough to overwhelm most opponents. And as soon as you adjust to stack the box, Hurts and an outstanding group of pass-catchers will feast on their one-on-one matchups. They've got an answer to everything you want to throw at them.
But the 49ers essentially have the defensive equivalent. San Francisco's defense finished the regular season ranked second in rush EPA, rush success rate, total rushing yards, and rushing yards per carry. And while parts of their secondary are susceptible to giving up big plays, finding opportunities to attack downfield becomes difficult when a scary group of pass-rushers can constantly pin their ears back in obvious passing situations. This is going to be a slugfest and chess match wrapped into one.
Don't sleep on the inverse matchup, either. Philly is every bit as talented on the defensive side, and its top-four unit by EPA/play presents a unique challenge to the 49ers and their group of superstar playmakers. But running the ball is the best way to attack the Eagles defense, which finished the year ranked bottom-10 in rush EPA. And nobody presents as many schematic challenges in the ground game as Kyle Shanahan.
All in all, this is going to be a fascinating matchup of two absolute powerhouses. Sunday can't get here soon enough.
Quick slants
McCarthy still safe?
Jerry Jones stressed that Mike McCarthy wasn't going anywhere before the playoffs even started, and then the Cowboys got their first postseason win since 2018. The veteran head coach probably doesn't deserve to go, but don't be surprised if it at least becomes a possibility after Sunday's loss in San Francisco. McCarthy's decision to punt while trailing by a touchdown with just over two minutes left in the game was a bizarre move, and the circus play on the final snap made it two straight years that Dallas fell to the 49ers in embarrassing fashion. While neither should decide his fate, Sean Payton is out there looking for a job. Could Jones change his mind and capitalize on this last chance to hire the superstar coach he's long admired?
Allen needs some help
Allen remains one of the most unstoppable talents in the game today. He regularly makes awe-inspiring plays while breaking all conventional rules of the quarterback position. But one man can only do so much. As strange as it may feel to say that a Bills offense featuring Stefon Diggs needs more talent at the skill positions, that's where we're at right now. Buffalo hasn't been able to get consistent production out of anyone other than their No. 1 wideout for the better part of the last three years. Loading up on weapons needs to be the top offseason priority if the Bills are going to maximize the generational talent they have behind center. If spending on a running back feels irresponsible for a team that's going to live and die by the passing game, then go get two receivers. Do something to make the most of this Super Bowl window.
Big decision for Giants
Daniel Jones has earned himself a chance to show he can be the quarterback of the future. However, there's still reason for caution from a team perspective. While Saturday night's blowout loss to the Eagles was more about the roster not being ready for that kind of opponent, it's still fair to expect a franchise quarterback to elevate those around him when faced with such a challenge. Questions remain about whether Jones can still become that kind of player. As the Giants set out to make that determination for themselves, perhaps the best course of action is to work out a long-term deal with Saquon Barkley and reserve the franchise tag for Jones. The quarterback tag won't be cheap - OverTheCap currently projects a number of $32.4 million. But the short-term commitment is far more palatable than overreacting to a promising first season under Brian Daboll and locking in such a salary on a long-term deal.
Future bright in Duval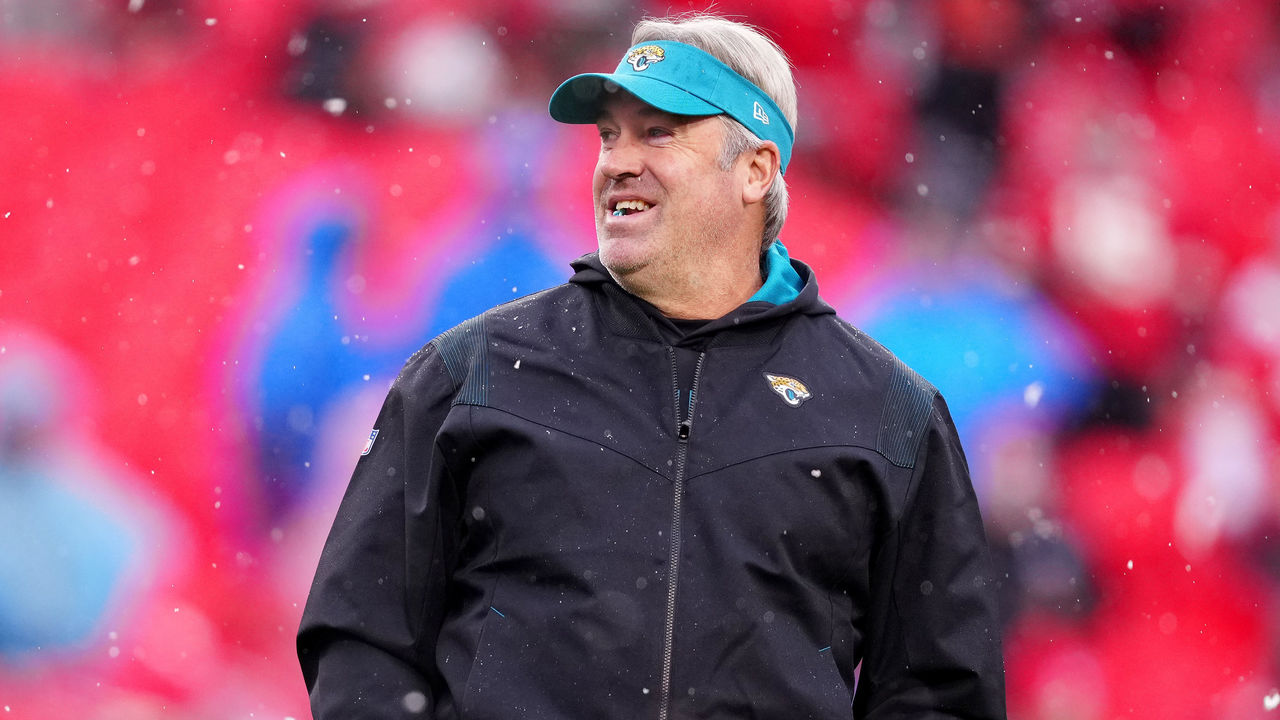 What a run. The Jaguars getting to the divisional round in Kansas City just one year removed from the disaster that was Urban Meyer's abbreviated foray into NFL coaching is a remarkable turnaround. Doug Pederson's guidance has helped Trevor Lawrence take some major steps toward becoming one of the league's next great quarterbacks. The offense only figures to get better next season with the addition of former Falcons wideout Calvin Ridley. If Jacksonville can navigate some of its cap constraints to make key additions in the secondary, the window for true contention could open as soon as next campaign. And it won't be a short one.
Free-agent steal in Reddick
A roster with this much talent getting the steal of free agency doesn't seem fair. Haason Reddick was the star of the show in Philly's beatdown of the Giants, getting to Jones for 1.5 sacks and three quarterback hits. The veteran pass-rusher's standout playoff performance comes on the heels of his 16 sacks in the regular season, which had him tied for second behind Nick Bosa for the league lead. Reddick giving the Eagles this level of production after joining the team on a three-year, $45-million contract is the kind of value you just can't expect from free agents. While everyone loves to claim "bust" about struggling young players, this is another reminder that the situation matters, too. The Cardinals trying to make their former first-rounder an off-ball linebacker sure looks silly now.
Stat of the week