Key takeaways and analysis from Week 13 in the NFL
Sunday Rundown recaps the most important developments from the day's action and examines their significance moving forward.
Jalen's best yet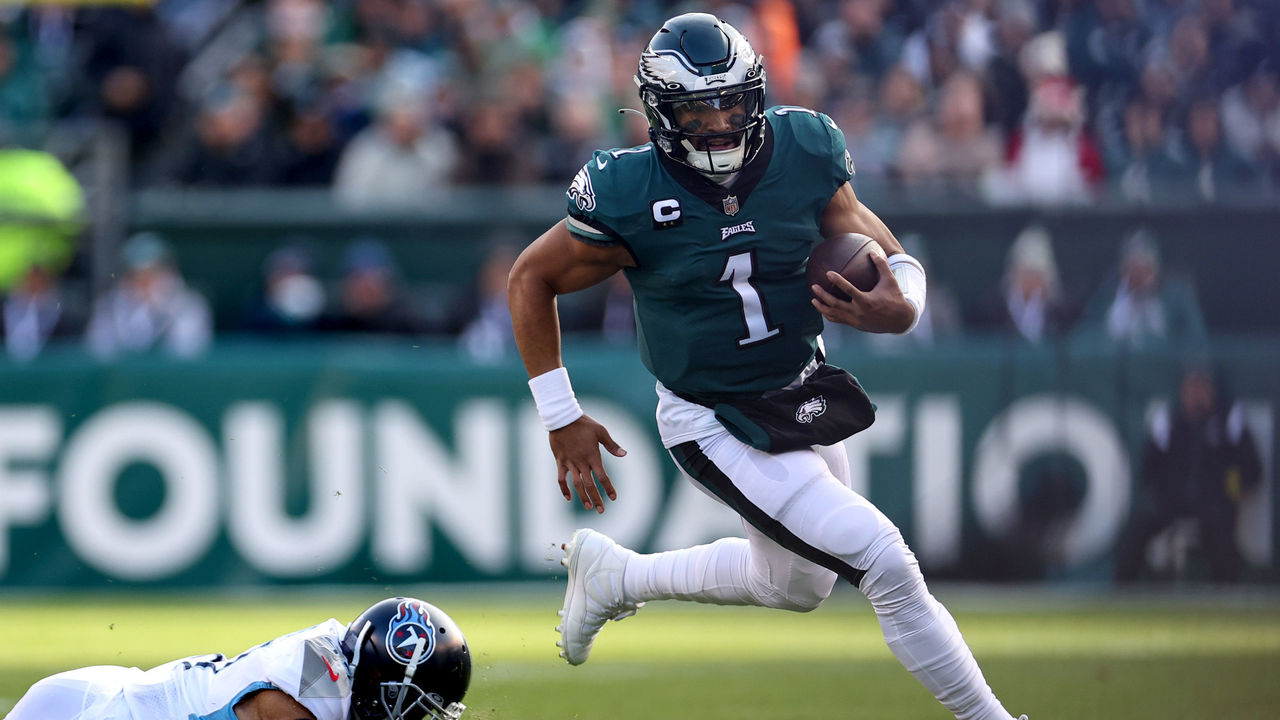 If Jalen Hurts goes on to win MVP, which is very much on the table with a month remaining in the regular season, Sunday's win over the Titans will be a moment to remember.
Philadelphia runs the ball as well as any team in the NFL this year - racking up 363 rushing yards last week against the Packers was as dominant a performance as you'll ever see - but this game was always going to be different. Gaining consistent yards on the ground is next to impossible against an outstanding Tennessee defensive front. The Eagles were evidently well aware of this heading in, as they didn't even feign an interest in establishing the run. It was all about the passing game from the jump, and their quarterback was more than up to the task.
Hurts attacked the Titans' secondary throughout the day with a season-high 39 pass attempts, completing 29 for 360 yards, three touchdowns, and no interceptions. Factoring in the opponent and just how little the team relied on the run game, this may be the best performance of his young career.
More importantly, his showing is yet another major step in what has been a remarkable period of growth for Hurts. To go from a second-round run-first quarterback project to a high-level NFL passer in such a short time is an incredible example of development - credit for which, of course, goes to Hurts himself. But the Eagles are also putting on a clinic on how to support your young signal-caller in this early stage.
Philly's most aggressive move was trading for A.J. Brown in the offseason, and the superstar wideout is making Howie Roseman look like more and more of a genius with each passing week. Brown had a revenge game for the ages against the Titans, racking up eight catches for 118 yards and two long touchdowns.
The Eagles putting up an explosive passing performance on the heels of their historic run-game output against the Packers is just the latest example of their malleability. Whatever's needed to win a given matchup, this team can do it.
That's a championship formula.
Bengals better than ever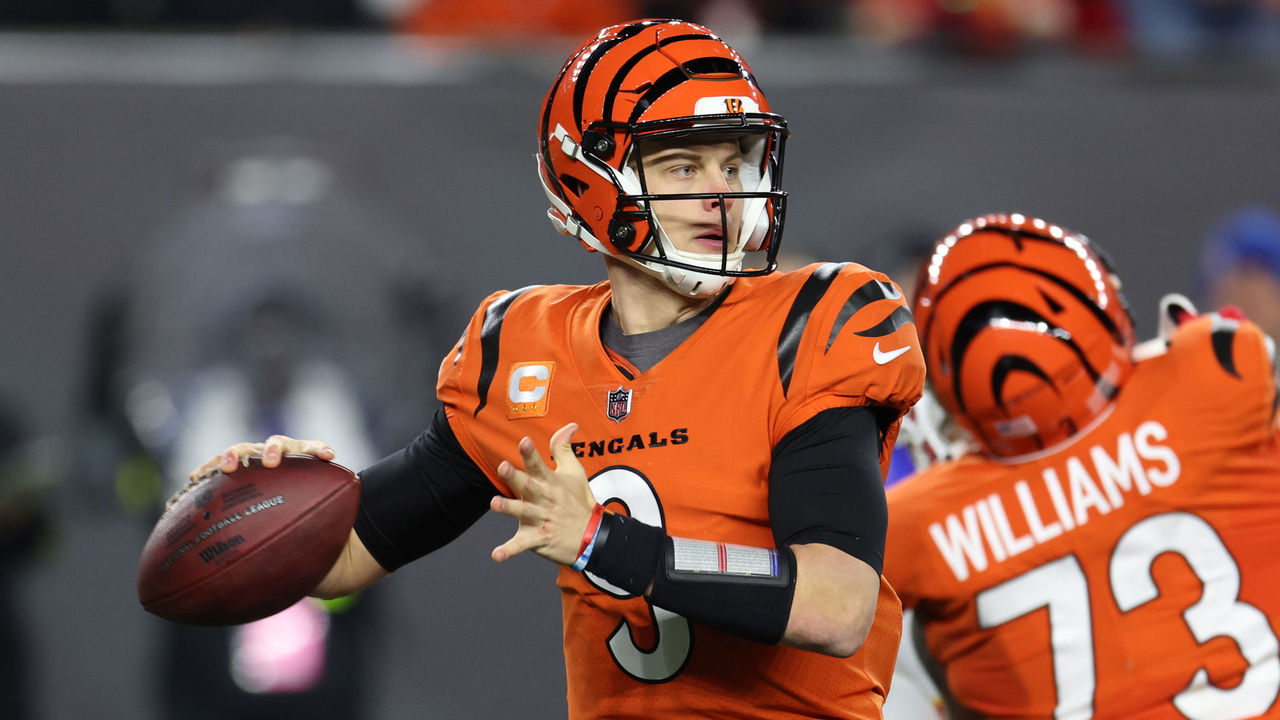 Let's be honest: The Bengals were a bit of a fraudulent Super Bowl team last year. A fun one, no doubt, but Cincinnati probably wasn't even a top 3 club in the AFC in 2021, let alone No. 1.
That's exactly why much of the football world was expecting some sort of regression - at least in postseason success - while favoring the likes of the Chiefs, Bills, and even Chargers instead. After all, getting hot at the perfect time two years in a row is extremely unlikely.
That logic assumed the Bengals weren't going to evolve year over year. But as we've seen in the last two months, with Sunday's win over the Chiefs providing the latest and most critical confirmation, that's not even remotely the case.
Personnel is part of it - particularly on the offensive line. Elsewhere in the starting lineup, this roster is largely the same. The difference, and what's making the Bengals feel like much more of a powerhouse than they were last year, is how the offense is adapting. No longer is this a unit built almost entirely on big plays downfield - it'll take them if you're bold enough to leave superstar receivers one-on-one, as any team with these weapons would - but there's far more to the equation now.
Joe Burrow and the Bengals' passing game have expertly navigated their way through some early-season struggles against two-high shells designed to take away their big plays. Slowly but surely, they've become lethal in all other areas of the field, too. Burrow's 286 yards on 25 of 31 passing with two touchdowns, no interceptions, and just one sack made for a flawless performance.
Add in an ascending run game, which accounted for 152 yards against the Chiefs despite Joe Mixon's absence, and this may be the league's most balanced attack. No matter what you throw at the Bengals offense, they've got an answer.
Cincinnati's defense is on the rise too. After finishing 19th in defensive DVOA last year, the Bengals entered this week ranked 12th before arguably their most impressive performance yet - holding Patrick Mahomes to a season-low 223 passing yards and just one touchdown.
To summarize: Don't chalk up the AFC to the Chiefs or Bills just yet. Now 8-4 and winners of four straight, Cincinnati is tied atop the AFC North and just one game back of the conference's No. 1 seed.
Other contenders, including the Chiefs, who are now 0-3 against Burrow, should worry about the prospect of the AFC playoffs going through Cincinnati. This is a better team than the one that went to the Super Bowl last year, and it's not even close.
49ers D delivers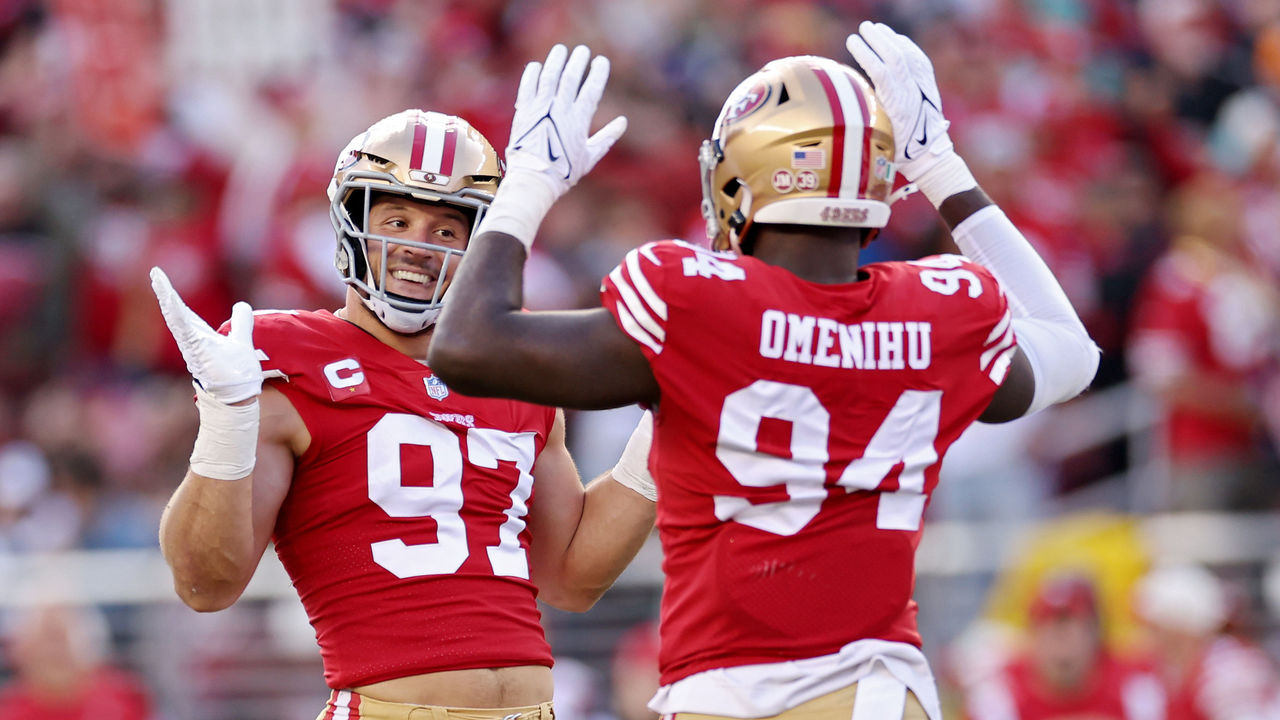 Sunday's game between the 49ers and Dolphins promised to be the ultimate matchup of elite offense versus elite defense, and it certainly did not disappoint. Miami got its shots in - as you might expect, with such dynamic playmakers in a masterfully designed passing attack - but the top-ranked San Francisco defense had the last laugh.
In a fantastic piece for The Ringer last week, Ben Solak wrote that this was going to be a game that was won in the middle of the field. Nobody had been attacking the intermediate middle as well as Tua Tagovailoa and the Dolphins' offense, while the 49ers' defense takes away that all-important area unlike any other.
Fred Warner is the key to it all for San Francisco. While some may have raised an eyebrow at the idea of an off-ball linebacker making $19 million per year, he truly is a unicorn at the position. With two-high defenses making coverage linebackers all the more valuable, he gives the 49ers the ultimate X-factor over the middle.
Continuing that level of play against a juggernaut Dolphins offense - and handing Miami its first loss in a game that Tua played in full - is a major statement for San Francisco's defense. Unfortunately, Jimmy Garoppolo's season-ending injury will require them to pull even more weight from here on out.
As poised as Brock Purdy was after being forced into action and as much as Kyle Shanahan can scheme things up in a way that is quarterback-friendly, it's just tough to imagine the offense being consistently productive with the seventh-round rookie under center.
We know the 49ers' defense is great, but we're about to find out whether the unit has a 2000 Ravens-like ability to drag its team to a Super Bowl.
Ravens in trouble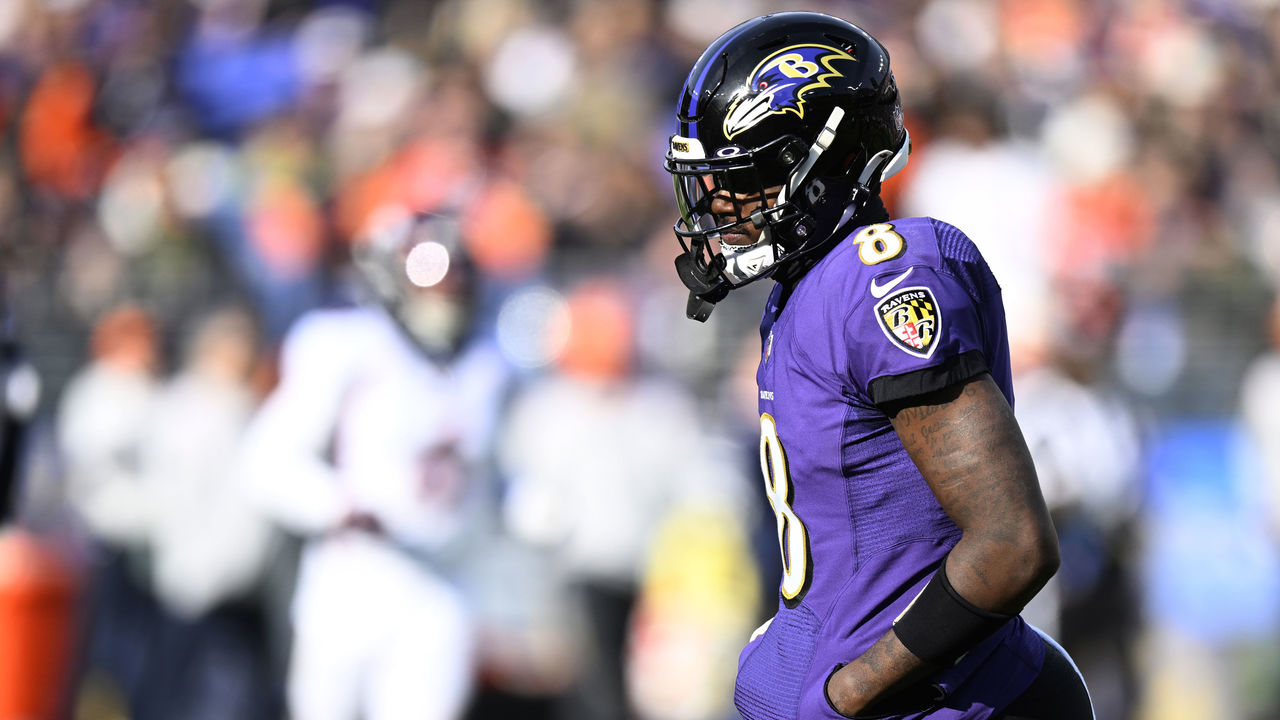 If you're looking for a would-be contender to shake things up by falling out of the playoff picture, Baltimore is starting to seem like your best bet.
An 8-4 record after eking out a win over Denver gives them some breathing room for the time being, but it's tough to be excited about the way the Ravens have been playing of late. Since their Week 10 bye, they've scored 13 points in a win over the Panthers, lost to the Jaguars, and now, barely beat the Broncos.
The issue throughout the uninspiring stretch, and for most of this underwhelming season, has been the offense consistently falling short. Once again having failed to surround their star quarterback with enough playmakers, and doing next to nothing in terms of scheme to create big plays, the Ravens are placing far too much on one player's shoulders.
And now, with Lamar Jackson potentially missing time after leaving Sunday's game with a knee injury, an already listless offense is at risk of taking another step back during the most important stretch of the season.
The upcoming schedule provides some hope, as matchups with the Steelers, Browns, Falcons, and Steelers again before a regular-season finale against the Bengals isn't exactly the most daunting stretch. But it's certainly a more challenging group of opponents than the one with which Baltimore has struggled in recent weeks - especially without Lamar.
Even if the Ravens manage to hang on and come away with one of the last AFC wild-card spots, it feels like the ceiling on any potential postseason run is jarringly low. Even with Lamar, they just don't have the supporting cast or creativity to keep pace with some of the conference's high-powered offenses.
That'll set up a fascinating offseason where management will face intense pressure to be aggressive in acquiring some offensive weapons but may not be inclined to spend big with massive contracts for Jackson and Roquan Smith presumably in the works.
Staley under pressure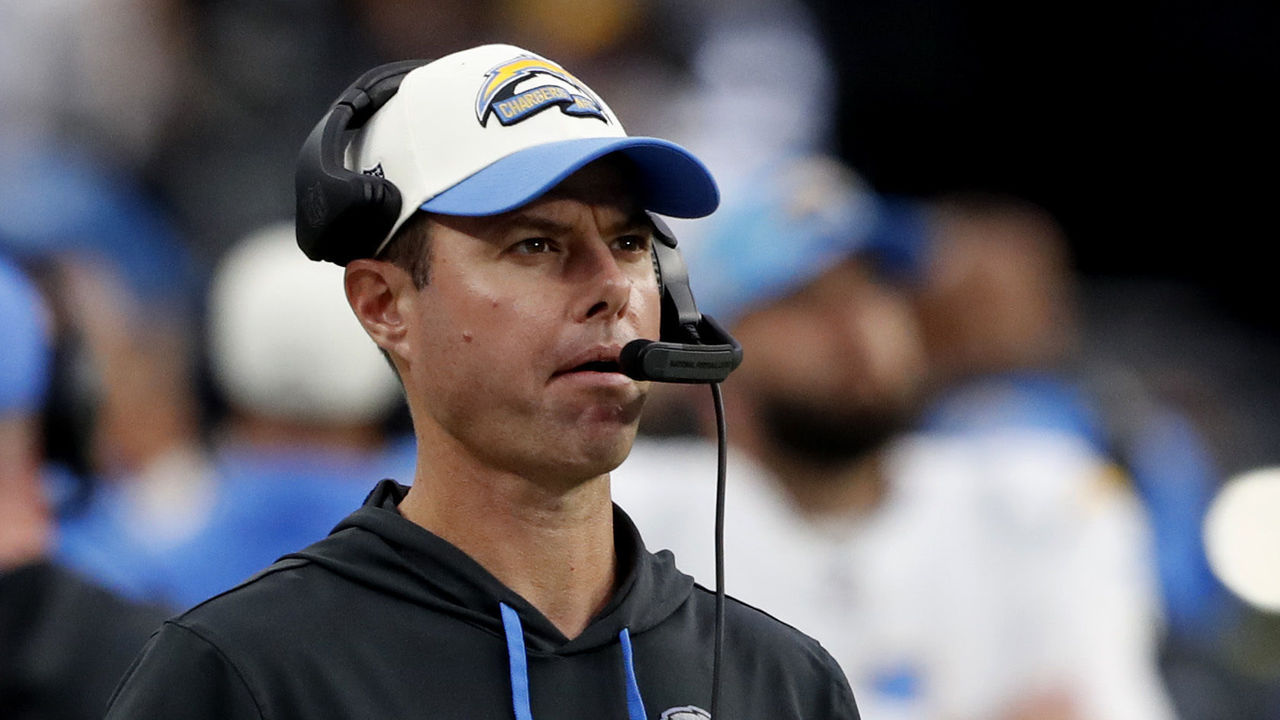 Last week, we gave Brandon Staley some well-deserved praise for his move to go for two rather than tying up the game late when the Chargers really needed a win. This week, we have to talk about the reasons they're so desperate for those wins in the first place.
This was supposed to be the year for L.A. to take that next step. Elite quarterback, great weapons, and a supremely talented defense. On paper, this was a top-five roster in football.
Injuries have been a factor, to be fair, but this team still has no business sitting at 6-6 and firmly outside of the playoff picture. That's exactly where the Chargers are following Sunday's loss to the Raiders. The responsibility ultimately falls on Staley.
The most intriguing aspect of these Chargers heading into the season was the idea that, after an aggressive offseason, they finally had the pieces to fix the porous run defense that was ultimately the reason they couldn't make the playoffs last year. Somehow, despite Staley's defensive background, that unit is now even worse.
L.A. allowed 4.6 yards per carry last season, good for 28th in the league. The Chargers entered this week's action ranked 32nd, giving up 5.4 yards per carry. Josh Jacobs capitalized on the tasty opportunity, helping the Raiders close out their win with 144 yards and one touchdown on 26 carries.
The pass defense also had no answer for Davante Adams, allowing the star receiver to go off for 177 yards on eight catches, including two long touchdowns.
With the Chargers failing to make the most of Justin Herbert's ability on offense, it feels like a change at offensive coordinator is inevitable. But if Staley's presence is also doing nothing to fix their issues on the other side of the ball despite an offseason geared toward helping him do exactly that, should the changes really stop there?
The Chargers are going to be one of the few teams that make sense for Sean Payton when he throws his hat in the ring for coaching vacancies in January. Payton's resume speaks for itself, and he'd have as good a chance as any coach of maximizing Herbert's abilities. Would ownership be aggressive enough to make it happen?
Quick slants
Cowboys wagon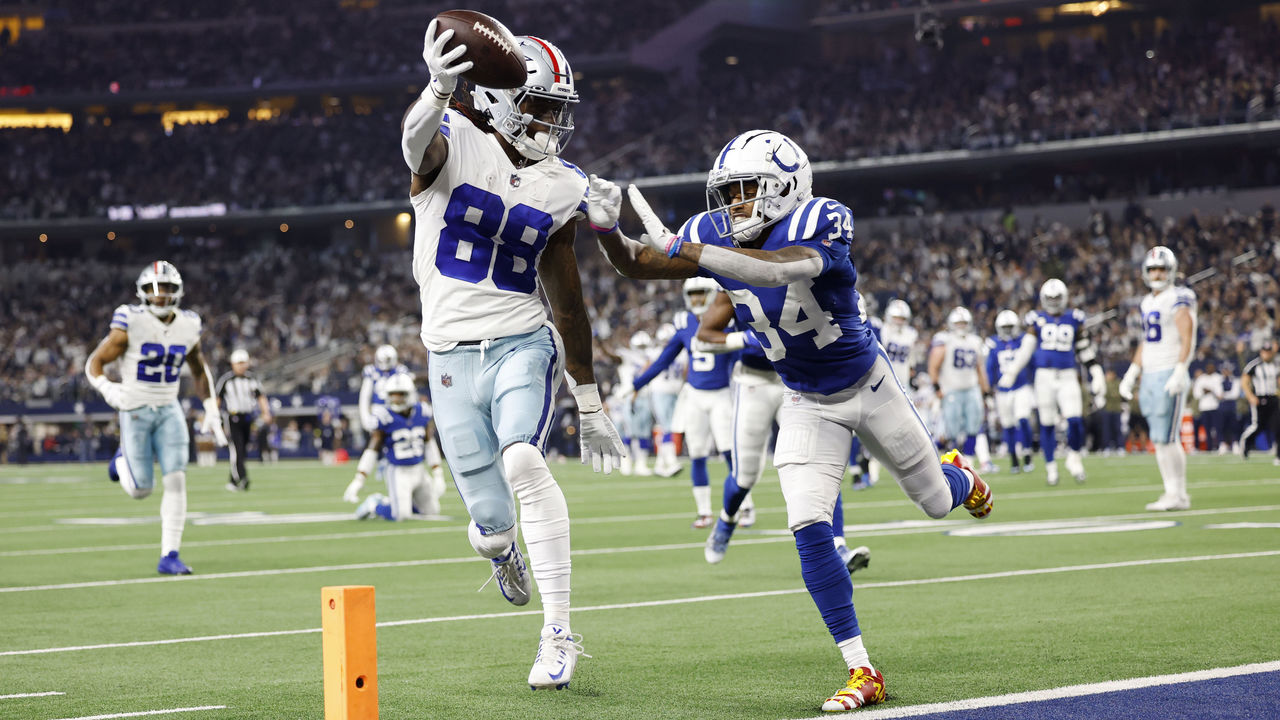 The Cowboys laid an absolute beating on the Colts on Sunday night. Not the best of competition, but it's not like any of Indy's other three opponents since hiring Jeff Saturday have come even close to this type of blowout. After entering the fourth quarter up 21-19, Dallas decided it was time to stop messing around. Five touchdowns later, the Cowboys had themselves a 54-19 win for their highest-scoring output of the year. Not a bad performance to put together in prime time on the eve of Odell Beckham Jr.'s visit to Dallas. The rich may soon get richer.
Eagles run D
Back to the Eagles for a minute. Run defense has been one of Philly's few, if any, concerns over an otherwise spectacular 12 games. Unfortunately for the rest of the league, they might be starting to figure that out too. Limiting Derrick Henry to 30 yards on 11 carries is another sign that the mid-November additions of Ndamukong Suh and Linval Joseph are working out better than anyone could have imagined. And this was with Jordan Davis, the Eagles' best interior run defender, having his snaps limited in his return to the lineup. Philly's defense is starting to peak at the perfect time for a playoff run.
Falcons too late
Arthur Smith admitted following a loss to the Steelers that everything is on the table regarding a potential quarterback change in Week 14. The Falcons head coach would deserve credit for making such a move if he didn't wait until after his team fell to 5-8 and all but out of the playoff race. Marcus Mariota's limitations as a passer have been evident all season. To not give Desmond Ridder the chance to provide a spark when it actually mattered was a disservice to the team. The third-round rookie is a more talented passer than Mariota, and there's no reason to think he can't offer just as much as a runner. It'll be nice to get a look at Ridder down the stretch, but it shouldn't have taken meaningless games for that to happen.
Jets unable to finish
The second game of the Mike White experience didn't exactly lead to the same results, with the Jets falling to the Vikings on the road. The offense didn't have any issues moving the ball, though. White threw for 369 yards on the day, and New York outgained Minnesota by a wide margin of 486-287. The Jets will need to clean things up in and around the red zone to avoid wasting drives and settling for field goals, but there are still some positive signs with this offense. It remains a massive upgrade over whatever it was they were doing with Zach Wilson.
Lions rolling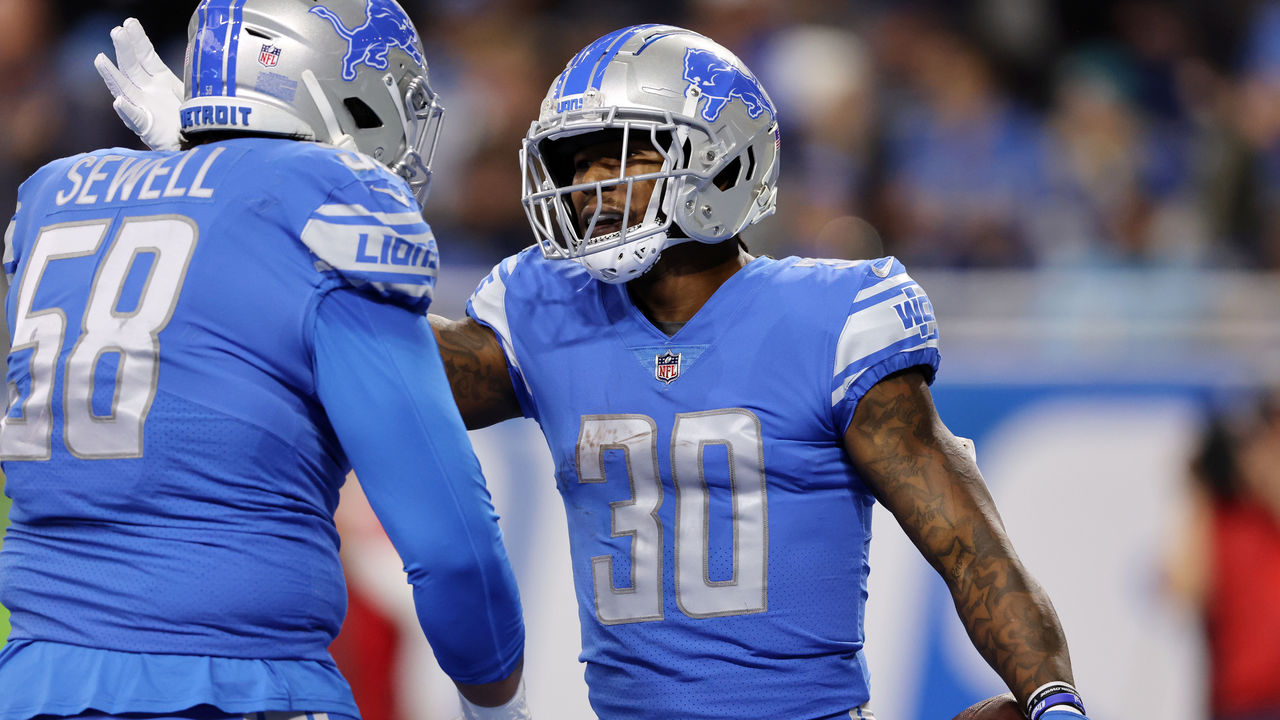 Don't look now, but a blowout victory over the Jaguars suddenly gives the Lions wins in four of their last five games. The only defeat over that red-hot stretch was a three-point loss to the Bills on Thanksgiving, and it should also be noted that they gave the Dolphins a hell of a challenge before ultimately taking another close loss the week before this little run began. The offense continues to play at an especially high level, with Jared Goff, for the second time in his career, proving to be an excellent point man for a talented group of playmakers. But the real story of late has been the defense, and that unit continuing to progress, as we saw in the 40-14 drubbing of Jacksonville, would be huge heading into an offseason where Detroit figures to spend big on that side of the ball.
Christian Watson dazzles
After years of refusing to invest in offensive weapons and drawing some deserved scorn from the football world, the Packers finally got aggressive for a receiver in the draft. And wouldn't you know it, they appear to have landed themselves a superstar. With another two-touchdown performance in a win over the Bears, Christian Watson now has an unbelievable eight scores in his last four games. The second-round rookie was always thought to be something of a project, with his rare athletic gifts giving him limitless upside long-term, but that combination of size and speed is already making him a nightmare for opponents to defend. And if he's only getting started, with the more technical aspects of his game still to come, the sky is the limit.
Deshaun's debut
Deshaun Watson was predictably rusty in his first NFL start in 700 days. Despite the luxury of playing his former Texans team and their awful defense, the Browns quarterback only completed 12 of 22 passes for 131 yards, no touchdowns, and one interception. With an ineffective passer, Cleveland's offense managed just six points on the day, but Houston's incompetence elsewhere allowed the Browns to find the end zone twice on defense and once on special teams. The last five games will be crucial for Watson to establish some sort of rhythm with the rest of the offensive unit heading into next season.
Stat of the week
Comments
✕
Key takeaways and analysis from Week 13 in the NFL
  Got something to say? Leave a comment below!