A splash of Mike White might be what keeps the Jets in the playoff picture
Jim McIsaac / Getty Images
It's Mike White time for the Jets. His dominant performance against the Bears may not be a weekly occurrence - Chicago's defense was without several starters - but it's a monumental improvement over the woeful Zach Wilson.
White, who stands 6-foot-5 and has a monstrous arm, is more of the traditional drop-back passer that head coach Robert Saleh is familiar with dating back to his time with Jimmy Garappolo in San Francisco.
"He made the easy look easy," Saleh told reporters after White went 22-of-28 for 315 yards and three touchdowns.
New York amassed 466 yards of total offense Sunday and White recorded a splendid 149.3 passer rating, the highest output by a Jets quarterback since Geno Smith's perfect 158.3 eight years ago.
Easy doesn't come easy in the NFL, so it's a telling statement from Saleh when we consider how bad Wilson has been and the idea that White will make the throws he's supposed to make and be in the places he's supposed to be. Quarterbacks' Houdini acts can drive defenses mad and make for eye-popping highlights, but there's also a benefit to knowing where your quarterback will be.
"Zach is kind of a freewheeler out there," an opposing defensive starter told me. "He's going to make some plays, but he's going to make a lot of mistakes. You just have to wait as a defense, and he'll give you the ball eventually. I'm not comparing the two because I think Zach's more talented and still young, but that was how we defended Brock Osweiler after he got paid. Just keep the pressure going and he'll give you the ball."
White, to his credit, isn't a statue back there like Joe Flacco despite being of similar stature. He can move a little bit.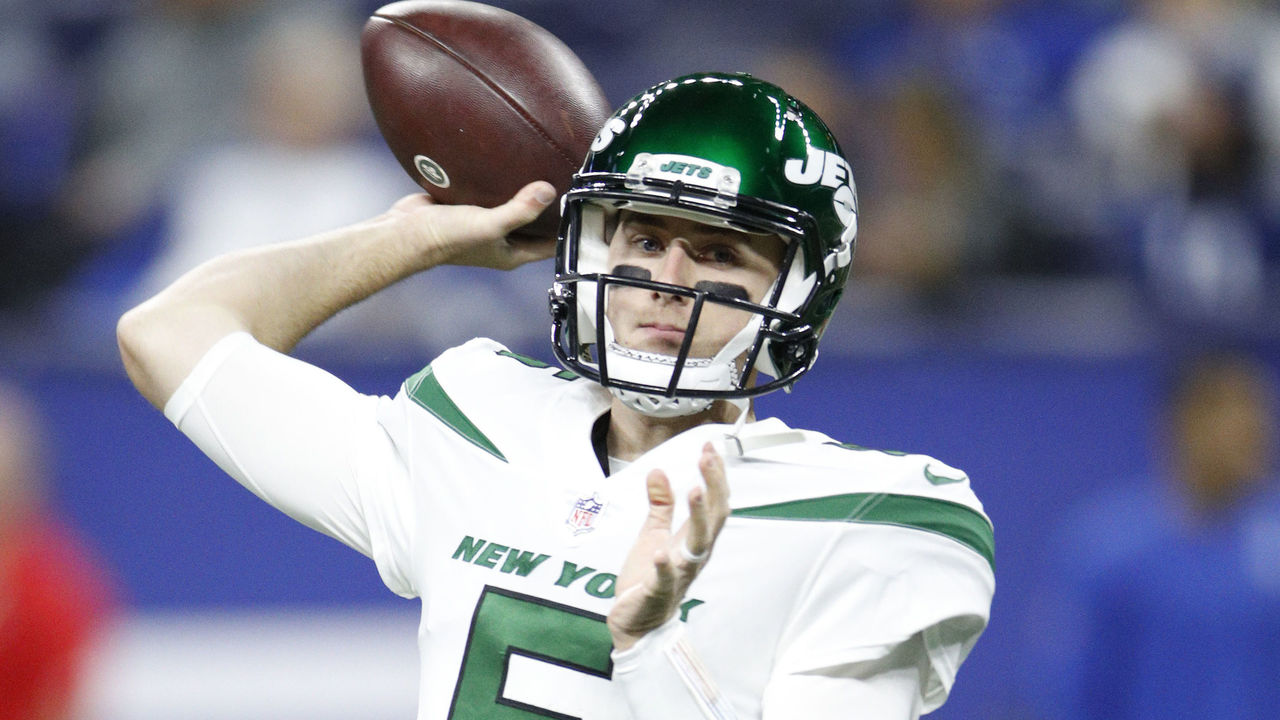 White - a 2018 fifth-rounder from pass-happy Western Kentucky - also led the week in EPA per dropback (0.65), per TruMedia, and averaged 11.25 yards per attempt. More importantly, he was lethal on third downs, going 8-of-11 for 119 yards and two touchdowns.
"He was a smooth operator," running back Ty Johnson said, according to ESPN's Rich Cimini. "He was just doing Mike White things."
The injury status of running back Michael Carter will be important for White on Sunday. He is already one of the best receiving backs in football and a clear-cut safety valve for White. A source told me essentially that Carter - who sustained a lower ankle sprain Sunday and did not return - is currently up in the air for a Week 13 meeting with the first-place Vikings.
Not long for Hackett?
Short yardage
◾️ I don't know what to make of the Chargers. Brandon Staley's not the long-term answer as head coach, but at 6-5 following a Herculean comeback over the Arizona Cardinals, the Bolts are firmly in the AFC playoff hunt. Ultimately, it all comes down to quarterback Justin Herbert's health. I don't think he's been healthy since early October when he sustained a rib fracture.
"He's not making the same velocity-type throws as he did last season," an NFL personnel director told me.
"Justin's got all the tools, all the talent, he can overcome some of that. But he's not able to deliver every ball he wants to. He is trying to fight through it. I thought they should have sat him down for two, three weeks.
"The opportunity to win games is always there with him. The receiver injuries have killed them, though. (Mike) Williams, (Keenan) Allen - those are top-notch receivers not to have for most of the year."
◾️ The 49ers have to be in the conversation of title threats. For the third time this season, DeMeco Ryans' defense didn't allow a touchdown - tied with New England for the most of any team in the league. Offensively, Garoppolo continues to play well, making accurate throws and using a smorgasbord of weapons to his advantage.
Most exciting to me was finally seeing a "George Kittle game" two weeks ago when he caught six passes for 84 yards and two touchdowns. He's one of the best tight ends in football and yet, he goes halves, games even, without seeing consistent targets.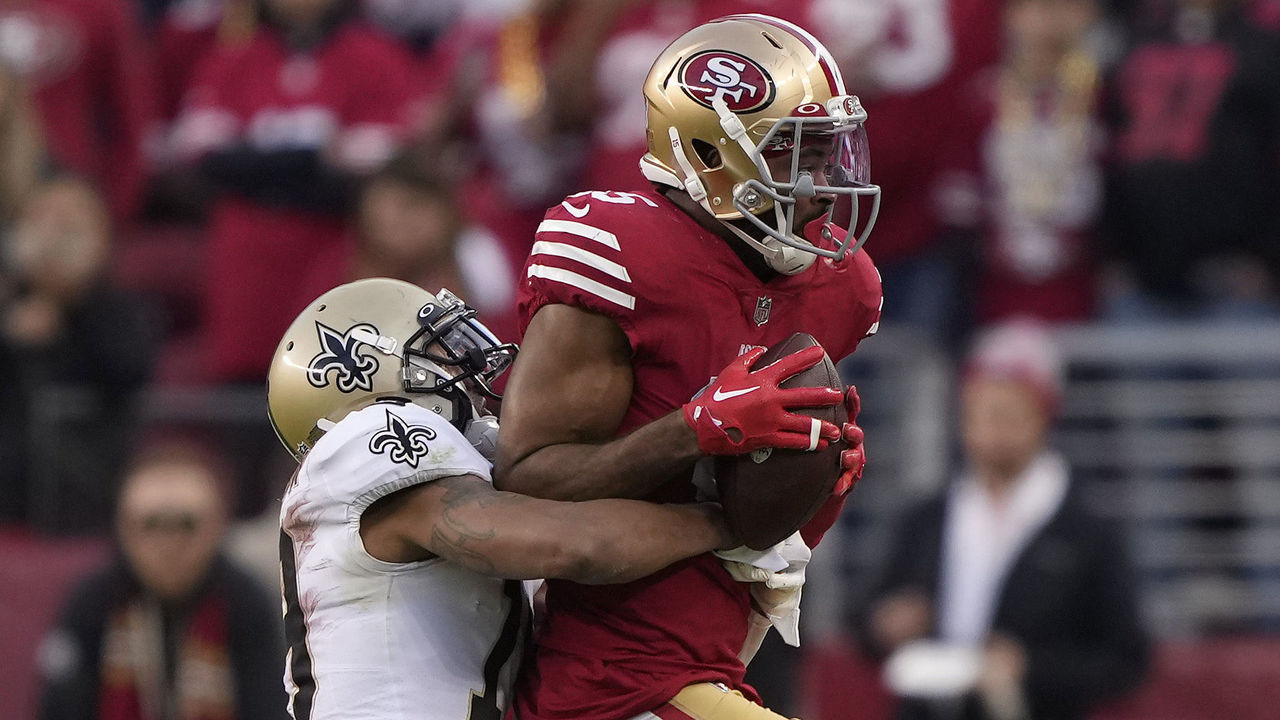 I also loved seeing Brandon Aiyuk and Jauan Jennings involved in the 13-0 win over the Saints. Aiyuk is a terrific receiver and a bona fide vertical threat. Jennings was actually the star of last season's playoff run. His six catches on seven targets Sunday were both season highs, and he found paydirt for the first time as well.
Therein lies the problem with defending the Niners, who've won four straight and currently sit atop the NFC West at 7-4.
Head coach Kyle Shanahan does as good a job as anyone with pre-snap motion, misdirection, and window dressing. With Christian McCaffrey now firmly entrenched and Deebo Samuel hopefully healthy for the stretch run, this offense will be a matchup nightmare. Combine that with a dominant defense that ranks No. 1 in total defense and points against per game, and it's fairly easy to see a Super Bowl path opening up for San Francisco.
◾️ Should the Packers start Jordan Love over Aaron Rodgers for the remainder of the season? It's a legitimate question for two reasons. No. 1: Rodgers is hurt. How much, we don't truly know, but he is clearly being tasked with playing through a legitimate injury to his ribs. No. 2: Love might just be the guy, right?
Did you see what he did Monday night against the Eagles? That's a big-time defense; he came in cold and still orchestrated a couple of excellent drives. The first wasn't so much a drive as it was a laser to Christian Watson for a touchdown. The second was why I left the game so excited. For years now, we've heard that Love - out of FCS program Utah State - isn't ready for the big time, that he's too raw, and that his mechanics are flawed. But we saw none of that against Philadelphia.
As one AFC executive told me: "(Love) looked like a different quarterback. His decisiveness and confidence running that offense. ... Not a lot of plays to go from, but still impressive."
The 6-foot-4, 219-pound Love, to his credit, worked diligently in the offseason to clean up those mechanics. The 2020 first-round pick just turned 24 years old. At some point, you'd think it would behoove the Packers to know if they've got the guy or just a guy.
◾️ College football is just better when Michigan and Ohio State are this good. The question now becomes: Will the one-loss Buckeyes get another crack at the College Football Playoff?
I was blown away by Michigan during its 45-23 win over Ohio State. Up until The Game, the Wolverines' schedule was less than challenging, so it was tough to truly evaluate what they had. Those questions were answered against a ridiculously talented Buckeyes team that boasts multiple future first-round picks.
The guy who really stood out was Michigan running back Donovan Edwards, who exploded for 216 yards and touchdown runs of 75 and 85 yards. The sophomore was thrust into a feature role because of Blake Corum's knee injury against Illinois. Edwards' breakaway speed was a thing of beauty and caught me off guard.
Edwards was a blue-chipper two years ago with offers from all the powerhouse programs: Alabama, Georgia, Florida, Notre Dame, and Ohio State. He elected to stay in-state. Corum has been so good, so dominant the past two seasons that we really haven't seen Edwards in a featured role. But the 6-foot-1, 204-pounder is a rising star who's averaging a ridiculous 7.5 yards per carry, which leads all of college football.
"He'd be one of the first running backs taken in the upcoming draft," the personnel director told me, though NFL rules do not permit Edwards to turn pro until 2023. "Strong package of speed and size. Can catch it some, although I'd like to see more. Not sure in pass (protection), but yes, a talented back."
Jordan Schultz is theScore's NFL insider and senior NBA reporter. Follow him on Twitter, Instagram, and TikTok.
Comments
✕
A splash of Mike White might be what keeps the Jets in the playoff picture
  Got something to say? Leave a comment below!