Key takeaways and analysis from Week 10 in the NFL
Sunday Rundown recaps the most important developments from the day's action and examines their significance moving forward.
Now do you believe?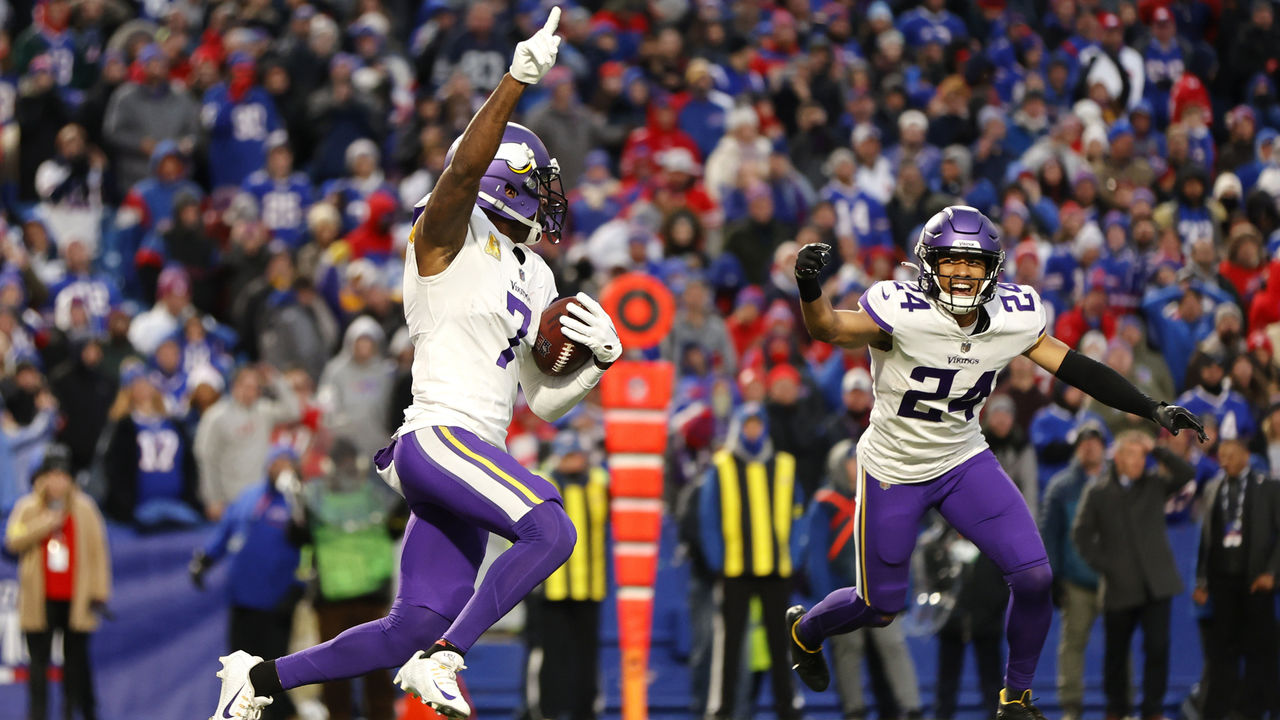 Even at 7-1 heading into this week, it was difficult to believe in the Vikings. Their only quality win came against a Dolphins team playing without Tua Tagovailoa, while the majority of their victories - which were against inferior competition - were a lot closer than they needed to be.
After going on the road to knock off the Bills in one of the craziest games in recent memory, though, how can you not start to buy in?
This one was an absolute roller coaster. With Minnesota needing a touchdown to win late in the fourth quarter, Justin Jefferson made one miraculous play after another, including one of the best catches you'll ever see, to put the Vikings on the doorstep. All appeared lost when they were stopped on fourth-and-goal from the half-yard line with 50 seconds to play, but Josh Allen then fumbled the next snap, and Minnesota recovered in the end zone for the go-ahead score.
Allowing the Bills to race down for a game-tying field goal seemed like a bad omen for the Vikings, but they responded on the first possession of overtime with another impressive drive to go up three. And just as it appeared that Josh Allen had entered hero mode, his sights set on a touchdown to win it, Patrick Peterson came away with his second interception of the day to close it out.
Constantly needing to come through in close games like this is in no way sustainable. In fact, you can almost always expect year-over-year regression from teams whose success was predicated on eking out narrow victories.
But who says the Vikings can't keep this magic going for at least this season? As unpredictable as late-game situations can be, it certainly doesn't hurt to have the best receiver in football on your side. Single-covered? Good luck. Double-covered? Jefferson doesn't seem to mind that, either. He's a big-play machine who's nearly impossible to stop.
If the defense can continue to be this opportunistic, coming through with the kind of turnovers that swing games, it'll be immensely difficult to keep up with an offense that features Jefferson, Dalvin Cook, Adam Thielen, and T.J. Hockenson.
The Vikings are a legit threat in a wide-open NFC race.
Toney the steal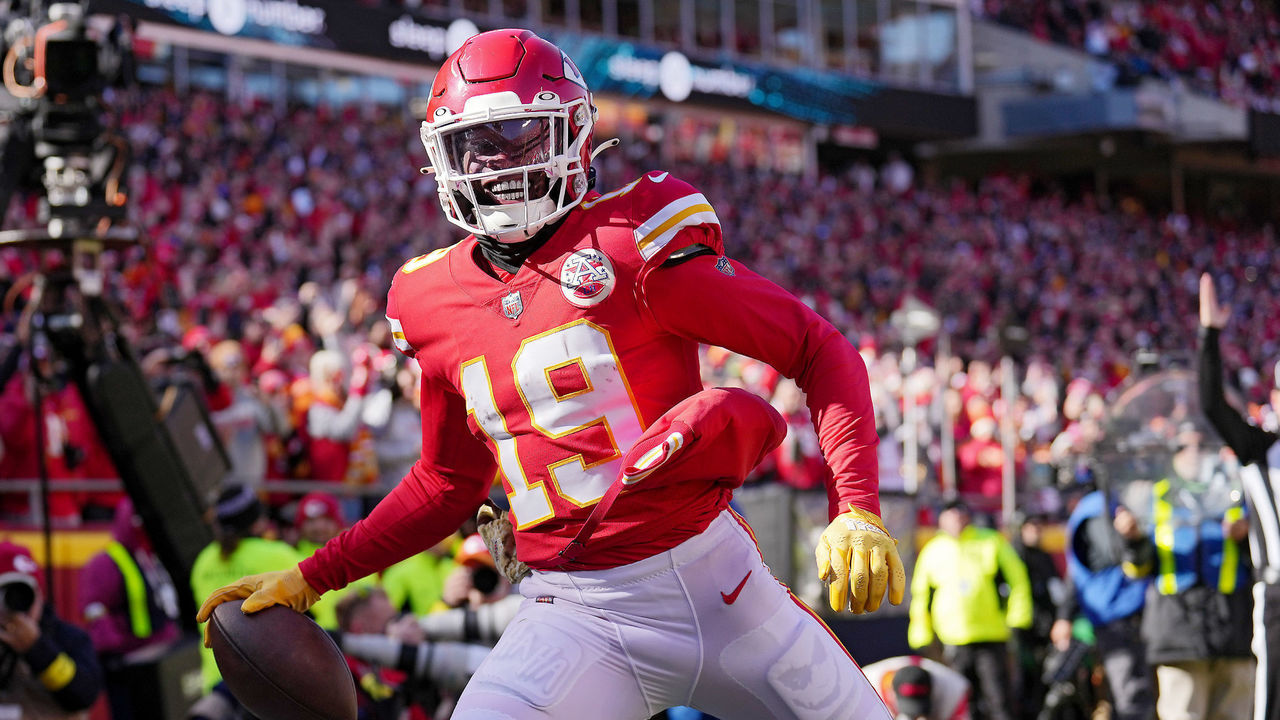 With so many prominent names on the move at this year's trade deadline, the Chiefs landing Kadarius Toney seemed to fly under the radar. It's taken just two games to conclude that the rest of the NFL is going to regret this one.
On the surface, Toney's price tag of third- and sixth-round picks wasn't all that egregious. The new Giants staff clearly didn't have any plans for him, for whatever reason, and constant injury issues over his first season and a half raised questions about whether he'd be able to stay on the field. But this is still a supremely talented first-round pick whose pro career had barely even begun.
The rare times Toney was in action with the Giants last year, it was easy to see how dynamic he could be at this level. In terms of suddenness and explosiveness after the catch, his only peers are the Tyreek Hills of the world. He really is that special of an athlete.
Andy Reid has understandably wasted no time working his newest weapon into Kansas City's offense. After seeing a few touches in his Chiefs debut last week, Toney was a focal point in Sunday's win over the Jaguars. He turned his five targets into four catches for 57 yards and the first touchdown of his NFL career while also adding 33 yards on two carries.
Kansas City had already been doing just fine without Tyreek Hill - that's the advantage of having Patrick Mahomes and one of the NFL's most creative play-callers. For the rest of the league to let the Chiefs add a playmaker of Toney's caliber - for little more than a compensatory third-round pick - is just asking for them to be even more unstoppable.
No matter the issues that led the Giants to part ways with Toney, they've got to be kicking themselves over what could've been. A team with a bottom-five receiver group giving away a talent like this makes the move all the more puzzling.
Bucs show some life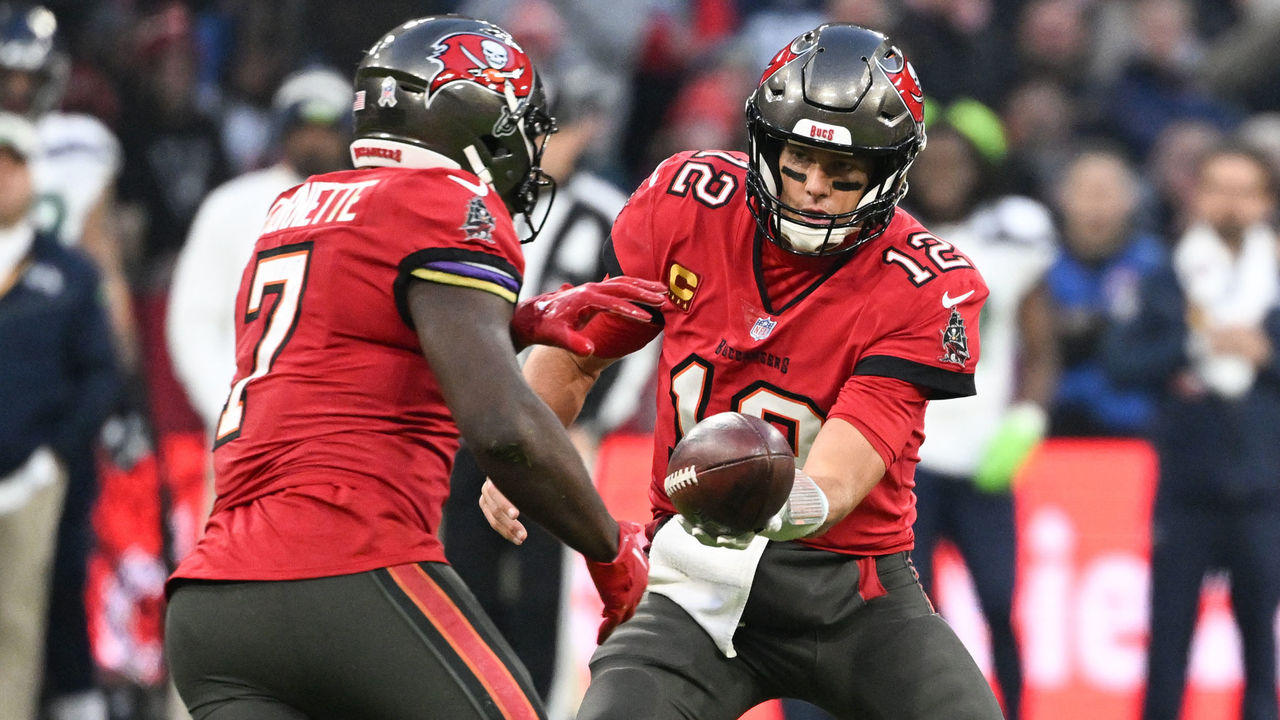 After a Thursday night snoozefest all but confirmed that the rest of the NFC South had no interest in capitalizing on Tampa Bay's slow start, the Bucs further proved that the division was never really there for the taking, anyway.
You didn't think you were going to get rid of Tom Brady that easily, did you?
Sunday's win over the red-hot Seahawks, the Bucs' second straight victory after they uncharacteristically dropped three straight, is far and away Tampa Bay's most impressive performance of the season thus far.
With several key pieces back in the mix after some injury issues early in the year, Tampa Bay's defense frustrated Geno Smith and Seattle's offense like few others have this season. The Seahawks made a late charge, with Smith continuing to prove that this late-career breakout is no fluke, but Tampa Bay gave itself enough more than enough of a buffer by keeping Seattle out of the end zone until midway through the fourth quarter.
Slowly but surely, the Bucs' offense is beginning to put it together, too. It wasn't a perfect effort by any means, as Brady's costly late interception forced them to sweat out the win. But this unit continues to look more and more in sync after a listless start to the season.
The most encouraging development Sunday was Tampa Bay finally getting the run game going. After entering this week ranked last in attempts, yards, and yards per attempt, Rachaad White and Leonard Fournette led the way to a season-high 161 yards on the ground.
This is still a far more flawed version of the Bucs than we saw in the first two years of the Brady era, and it remains to be seen whether they can replicate the same success against a more stout defensive opponent. But progress is progress, and you can't help but take notice when a Brady-led team that we were all ready to write off starts to show signs of figuring it out. Sound familiar?
McDaniels under fire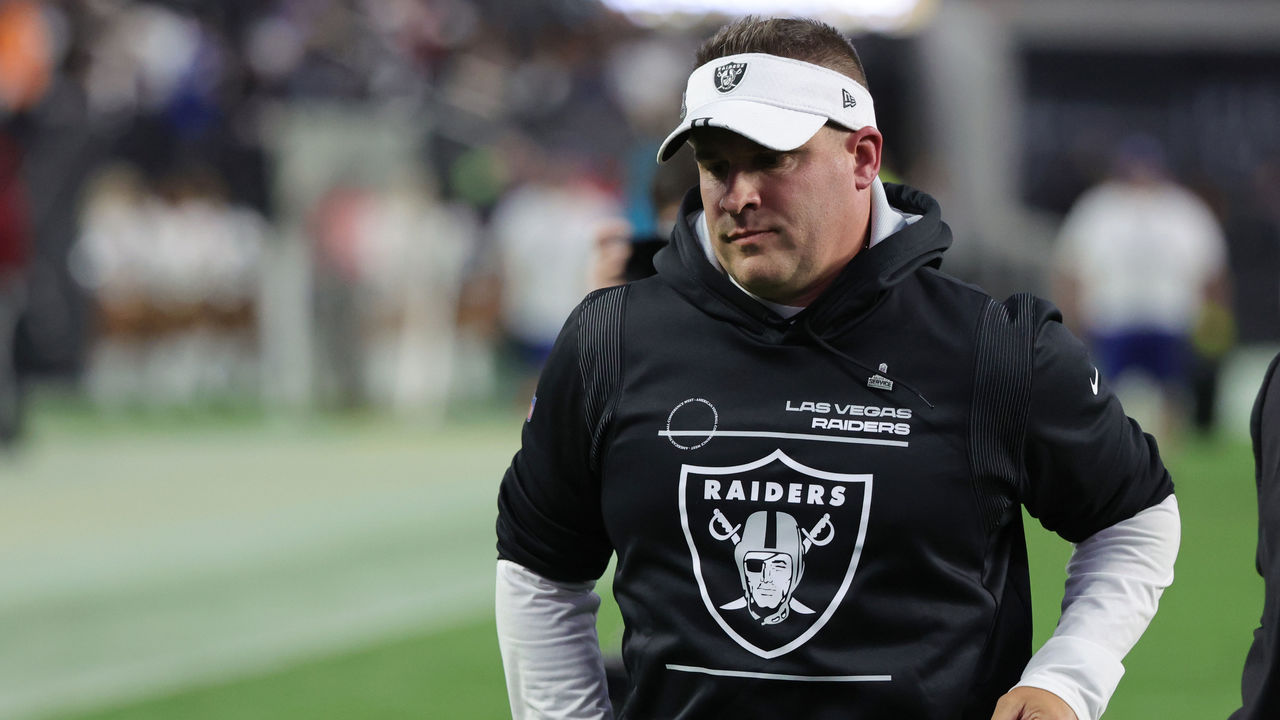 The Raiders have hit rock bottom.
An expected playoff contender starting the season 2-6 with three blown 17-point leads was bad enough. But following that up with a loss at home to the Colts, after the week that team had? It doesn't get any worse.
To recap, Indy fired Frank Reich on Monday morning. Rather than promoting from within, as NFL teams always do following midseason changes, Jim Irsay made a mockery of the coaching profession - and what the league insists is a meritocracy - by going outside the organization to hand the keys to former Colts center Jeff Saturday. His qualifications: uh, being the owner's friend?
Most teams would've stomped an opponent that rolled into town fresh off a practice week led by a former player who's only ever coached at the high school level. But the Raiders, evidently, are not most teams - not under Josh McDaniels.
Even with his previous head coaching failures, the move to hire McDaniels was an exciting one for Las Vegas. Long considered one of the game's premier offensive minds, and thought to have grown up quite a bit after a nightmare Broncos tenure, he was more than deserving of another chance. It was easy to envision how a coach with his accomplishments could help the Raiders take the next step after a wild run to the playoffs last year, especially with Davante Adams and Chandler Jones joining the mix.
That's not quite how it's worked out. Instead, we're talking about whether McDaniels is even going to make it to the end of the year. Mark Davis presumably doesn't want to make that kind of change - certainly not midseason, and probably not even after just one year. But with one embarrassment after another, and no sign that his head coach is doing anything to steady the ship, at what point is the choice made for him?
A Las Vegas team that finally appeared to be on an upward trajectory is suddenly crashing back down to the depths of the cellar this organization has so often called home over the last two decades. With eight games to play, the Raiders are in position for the No. 2 pick in a draft that's expected to be rich with quarterback talent. They've also got an out in Derek Carr's contract, so major changes could be in store either way.
Unless McDaniels can convince Davis that he can make a successful run at old friend Tom Brady in free agency - get ready for those storylines - there appears to be an increasingly real chance that the Raiders clean house for the second time in as many years.
Quick slants
Allen looks just fine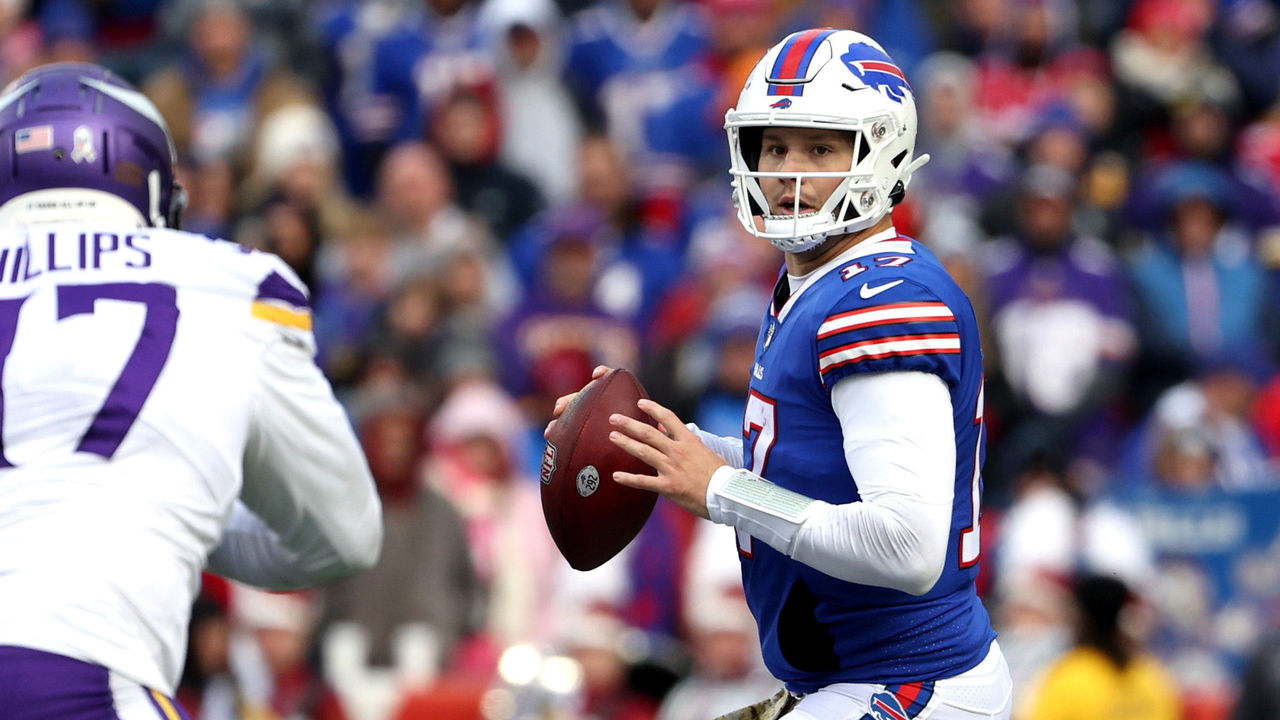 The Bills failed to capitalize on countless opportunities to put away the Vikings, dropping to 6-3 and, incredibly, third place in the AFC East. But this game's result was always going to be secondary to the health of Josh Allen, and the superstar quarterback slinging the ball around like he always does was a major relief. While a few bad decisions ended up being the difference in the game, all indications are that the elbow injury that kept him out of practice this week wasn't an issue. If Allen is healthy, the Bills will be one of the last teams standing.
Denver still stinks
The optimistic outlook for the Broncos heading into this week, if you were still clinging to hope for this team, was that the bye at least gave the offense some time to get it together. But nobody actually thought that would fix anything, did they? It was much of the same in Sunday's loss to the Titans, with Russell Wilson and Co. mustering all of 10 points and continuing to waste one of the league's best defenses. Denver's only touchdown coming on a coverage bust is pretty much par for the course. A coaching change feels inevitable at this point, but who knows whether that even solves the issue. The Broncos had better hope a new staff can get more out of their quarterback. Otherwise, the Wilson trade and subsequent contract will prove to be catastrophic decisions.
Kirk earning his deal
As a longtime basement dweller coming off a disaster 2021 campaign, the Jaguars found themselves in a position where they needed to overpay to land top free agents. Among other massive deals handed out in the offseason, it was Christian Kirk's four-year, $72-million contract that drew the most criticism. Is anyone even batting an eye at that price tag now? Kirk was been phenomenal throughout his first year in Jacksonville, and his nine catches for 105 yards and two scores against the Chiefs marked his best game yet. He's easily on pace to top the 1,000-yard plateau for the first time in his career and, more importantly, well on his way toward establishing himself as a long-term No. 1 target for Trevor Lawrence.
Fields does it again
Justin Fields was once again a nightmare to defend this week against the Lions. It didn't lead to a win, but the former first-round pick's emergence as an elite runner has been an incredible development for his early career growth. After rushing for 178 yards and a score last week, Fields torched Detroit for 147 yards and two touchdowns in defeat. That gives him a total of 749 rushing yards on the year - good for sixth among the league's leading rushers - and puts him on pace for 1,273 yards on the year, which would break Lamar Jackson's single-season record for a quarterback.
Christian Watson breakout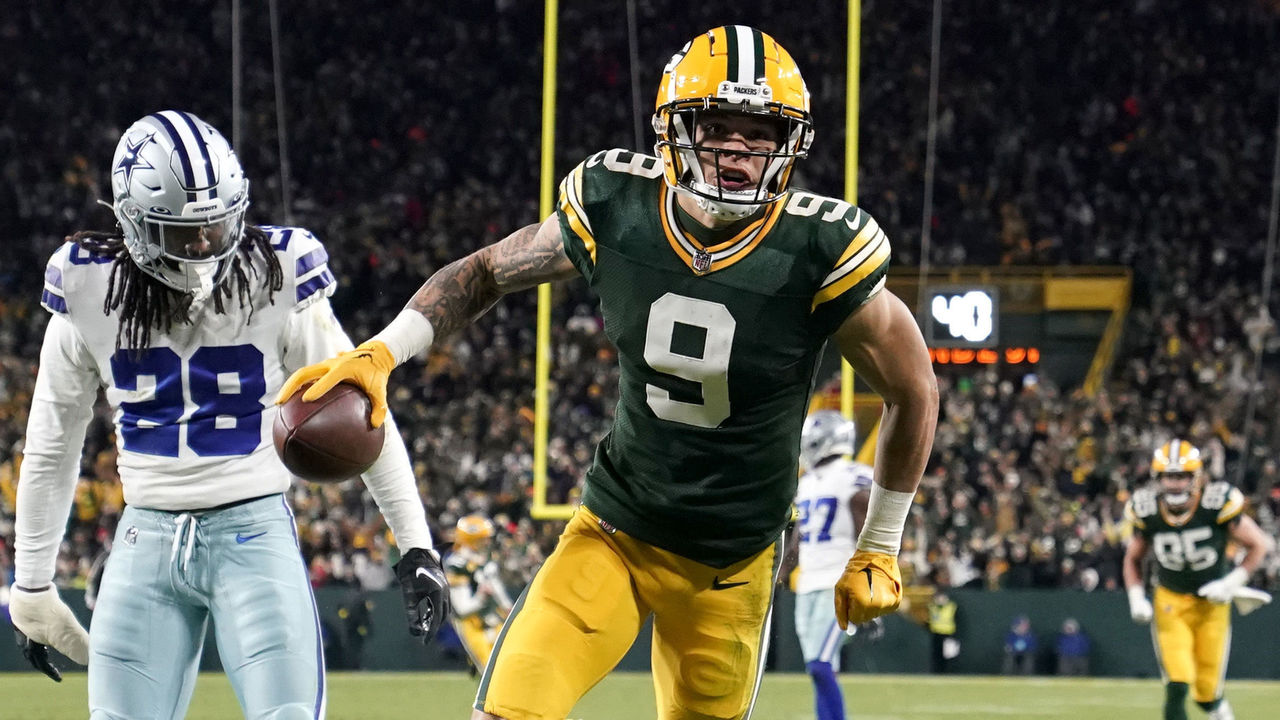 The Packers lost five straight games to drop to 3-6 mainly due to a glaring lack of offensive weapons. Might that problem soon be solved? It was just one game, but second-round pick Christian Watson finally showing flashes of his immense potential was a massive development for the Packers this week. The rookie wideout was a big-play machine, recording four catches for 107 yards and three touchdowns. Oh, and go figure - the Packers finally get some production from the receiver position, and they knock off the Cowboys. Asking for this kind of impact from Watson on a weekly basis would be unrealistic. However, his making the case for a prominent role alongside Allen Lazard suddenly makes the outlook of Green Bay's passing game a whole lot less bleak.
Ryan returns as starter
Jeff Saturday kicked off his Indianapolis tenure with a surprise move, giving the starting job back to Matt Ryan after the Colts had turned to Sam Ehlinger for the last two games. The plan, as now-former head coach Frank Reich had announced in Week 8, was to have Ehlinger start for the rest of the season. But things apparently changed amid the turmoil of this past week, and, as we saw in the win over the Raiders, it was the right move. Ryan shouldn't have been benched in the first place. The first seven games of the season were rough, to be sure, but it wasn't the veteran quarterback's fault. And Ehlinger was never going to give the Colts a better chance to win. If their pass protection holds up as it did this week, the offense has a chance to be productive with Ryan under center.
Wilson fitting right in
The blockbuster Christian McCaffrey trade wasn't just good for the 49ers and Panthers - the Dolphins are making out pretty damn well, too. McCaffrey's arrival made Jeff Wilson expendable for San Francisco. Knowing exactly what he can bring to an outside-zone offense, having coached with the 49ers, Mike McDaniel saw a perfect fit. Two games later, Wilson has solidified himself as the Dolphins' top running back. He was a major factor in Miami's blowout win over Cleveland, taking 17 carries for 119 yards and a touchdown. A fifth-round pick was a small price to pay for the balance a reliable ball carrier could bring to this offense down the stretch.
Browns are done
Speaking of the Browns, it's pretty much curtains for their season. The goal was to keep things afloat until Deshaun Watson returned from his 11-game suspension. There were times when it looked like they may do just that, including a season-opening stretch that easily could've been 4-0 instead of 2-2. But another loss now drops the Browns to 3-6 with games against the Bills and Bucs up next before Watson debuts in Week 13. The question is whether the quarterback situation gives the coaching staff a pass looking ahead to next season.
Stat of the week
Comments
✕
Key takeaways and analysis from Week 10 in the NFL
  Got something to say? Leave a comment below!