Burrow, Bengals rebound now that offensive line has found its footing
Cooper Neill / Getty Images
Perhaps no quarterback's early season struggles were more agonized over than those of Bengals' Pro Bowler Joe Burrow. It was justified, too.
Through two weeks - both losses - Burrow threw four interceptions but only three touchdowns. He was sacked 13 times, putting Cincinnati in the company of 19 other teams that allowed 13 or more sacks in the first two weeks of the season. He looked anything but the dominant QB we grew accustomed to seeing when he guided the Bengals to their first Super Bowl appearance since 1988.
"Unsettled is the word I kept coming back to," one assistant NFL coach told me. "Protection was breaking down and that's when you saw the forced throws. Burrow's a guy who can take chances because of his arm talent and confidence, but you press when you don't have time and when you're down in games."
Burrow seemed thrilled with his protection following Thursday night's 27-15 win over Miami.
"All day the protection was awesome," he told reporters.
In the Bengals' two wins, Burrow was sacked only three times. "I had all the time I needed in the pocket to find the guys I needed," he told reporters.
Make no mistake: It's not all perfect just yet. Burrow's Bengals rank 18th in expected points added per play, but 2-2 sounds a whole lot better than 0-2.
"It all comes down to the (offensive) line," the assistant coach said.
"He's gonna make enough plays to win games, but if he's protected the way they hoped with (free agent acquisitions La'el) Collins and (Alex) Cappa, then we will see the same great quarterback from last year." The Bengals also added center Ted Karras via free agency. All three have started every game in 2022.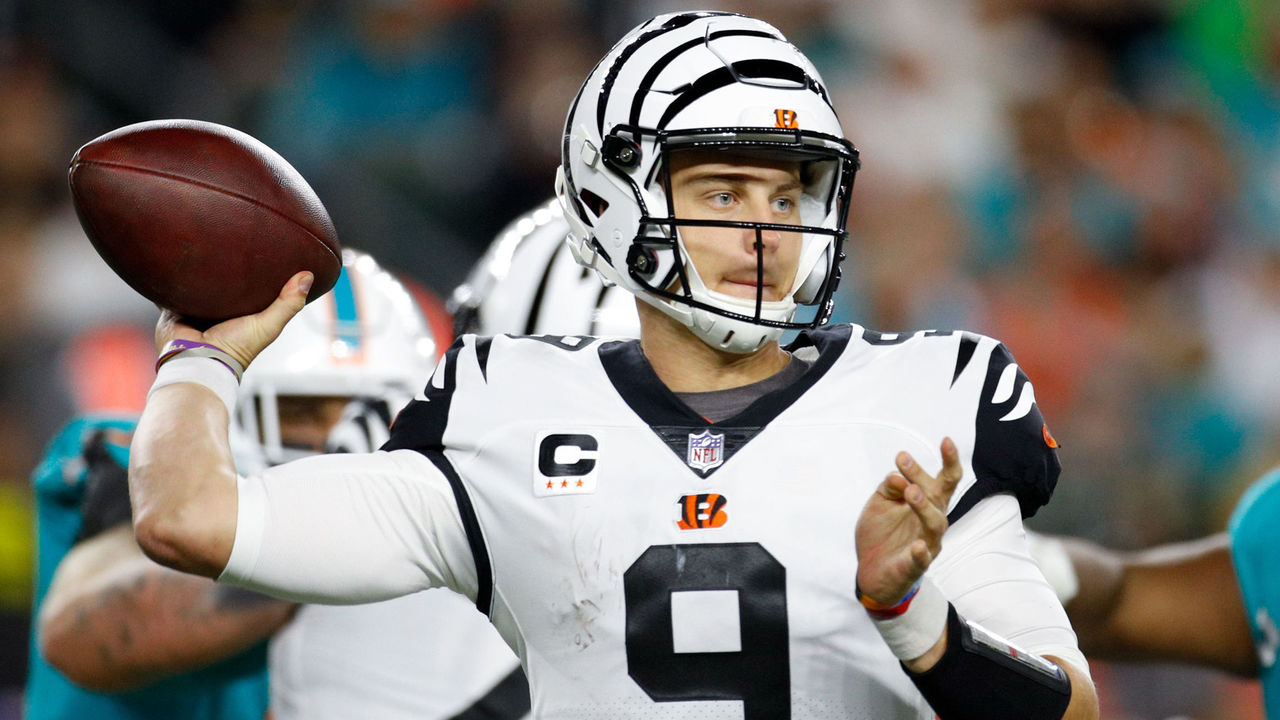 With the improved protection, Cincinnati's playoff probability has climbed to 40.8% at Football Outsiders.
Ja'Marr Chase, Tee Higgins, Tyler Boyd, and Joe Mixon represent a skill position quartet few teams in the league possess. Plus, with the combination of Burrow and head coach Zac Taylor - a Sean McVay disciple widely lauded for his offensive scheme - there's no reason to think Cincinnati can't rediscover last season's magic.
Maximum Cooper
The goal of any backup quarterback forced into a starting role is to keep your team in games. Don't turn the ball over. Make enough good throws and lean on the running game to control the clock. Cooper Rush has done more than that. In fact, Rush is the first quarterback in franchise history to win his first four starts (dating back to last season). Troy Aikman, Roger Staubach, Tony Romo, Dak Prescott, Danny White: None of them did it.
Better yet, Rush is the first undrafted QB since Kurt Warner to throw for 750 or more yards and win each of his first three starts.
The Central Michigan product has completed almost 62% of his passes and has four touchdowns - with zero interceptions - during his three starts in 2022.
With Prescott on the mend - he's pushing to play this weekend - and Jerry Jones waxing poetic about Rush, we'd be foolish to think there's not at least a snippet of NFL folks wondering if some competition has developed.
"(Rush has) got a lot of confidence in the offense that he knows where the cars are on the freeway," Jones said, via The Athletic's Jon Machota. "He gets a good ball to the receivers. They have confidence in him … (His play) is far more than I could have ever expected."
At the very least, Rush, 28, has earned himself a chance for a big score when he hits free agency after the season, as Richard Sherman mentioned on his podcast recently.
As long as the Cowboys' defense - third in scoring (15.5 per game) and seventh in yards allowed (308.5) - continues to play well and the offensive line further settles in, Rush will do his part to win games.
"He's poised, he makes good decisions, and his arm is more than enough," an NFL scout told me.
Goff roars
Jared Goff is playing lights out right now and it's about time we start mentioning him in the MVP conversation. You heard me.
After a subpar first half against Philadelphia in Week 1, Goff has thrown for more than 1,100 yards, with 11 touchdowns (tied for the league high) and three interceptions. That adds up to a sterling 99.9 passer rating, which ranks seventh in the NFL after four weeks.
Arguably more impressive is the fact Goff just had his best game of the year without receivers Amon-Ra St. Brown and DJ Chark, and running back D'Andre Swift.
Last year's Lions scored 134 points through their first eight games. This team's already surpassed that number in half the time. Goff's 22/5 TD-to-interception ratio since Week 12 of last season is fourth behind Aaron Rodgers (22/3), Patrick Mahomes (23/4), and Russell Wilson (19/4).
"Goff's making throws he's never made before," the NFL scout said.
"He's been able to throw some guys open with tight windows. The receivers have made plays, and he's always had a good, strong arm."
The former No. 1 overall pick is still only 27 years old and ascending into the role as franchise quarterback for the upstart Lions' offense.
Short yardage
◾️ Derrick Henry is still a force. The Henry I saw during Tennessee's 24-17 win at Indianapolis ran with precisely the type of anger and force that made him a generational back in 2019 and 2020.
It's no surprise that his PFF run grade Sunday was 80.3, his best of the young season. More importantly, the King totaled 76 of his 114 yards after contact, while recording four runs of 10-plus yards for the second straight week. That should silence doubters who said he's not the same guy he was before he broke a bone in his foot.
◾️ Fifth-round rookies generally aren't called upon as first-year difference-makers, but don't tell that to cornerback Tariq Woolen, whose pick-6 on Goff helped the Seahawks improve to 2-2. Woolen inexplicably dropped in the draft despite measuring 6-foot-4 and 215 pounds, and clocking a 4.26 40 with a 42-inch vertical at the combine.
There are certain players you see who stand out athletically - even at this level - and Woolen is one of them. Teammate DK Metcalf is another one of those players, and it was Metcalf who raved about Woolen to me before the season and again this week.
"Watch, he's going to be very good," Metcalf told me Tuesday. "Tariq is similar to me athletically, except he's a DB. You can't coach that. He's got the perfect mentality, too."
The way Woolen tracks the ball and uses his length to cover ground is already a problem for receivers. Sherman, a former Seahawks legend, has noticed.
Like Sherm, Woolen embodies the sort of big, physical DB that helped define the Legion of Boom. It would be unfair to expect the former UTSA star to reach the level of a Sherman, but you couldn't ask for a better start from Woolen if you're head coach Pete Carroll or GM John Schneider.
◾️ Jalen Hurts and the 4-0 Eagles are the league's lone unbeaten team, which isn't necessarily a surprise considering their preseason hype. What is surprising: this is just the fourth time in the last 20 seasons that only one team has made it to Week 4 undefeated. The others were 2010 and 2017 (both Kansas City), and last season's Arizona Cardinals.
◾️ Rookie QB Bailey Zappe looked the part when he took over for Brian Hoyer on Sunday - mid-game, on the road, against Aaron Rodgers. The fourth-round draft pick out of Western Kentucky completed 10-of-15 passes for 99 yards and a touchdown, albeit in a loss. Zappe was lauded throughout the pre-draft process for his accurate arm and football acumen from the pocket. I'd love to see more of him while Mac Jones nurses his injured ankle, especially if Hoyer can't go.
◾️ I watched UCLA improve to 5-0 with an impressive 40-32 win at the Rose Bowl last week over previously undefeated Washington. Quarterback Dorian Thompson-Robinson was sensational, sparking the Bruins' upset. Thompson-Robinson, in his fifth year out of powerhouse Bishop Gorman High School in Las Vegas, diced up a very good defense to the tune of 315 yards and three scores - not to mention another 53 yards on the ground, including a gorgeous TD scamper and Olympic hurdler audition.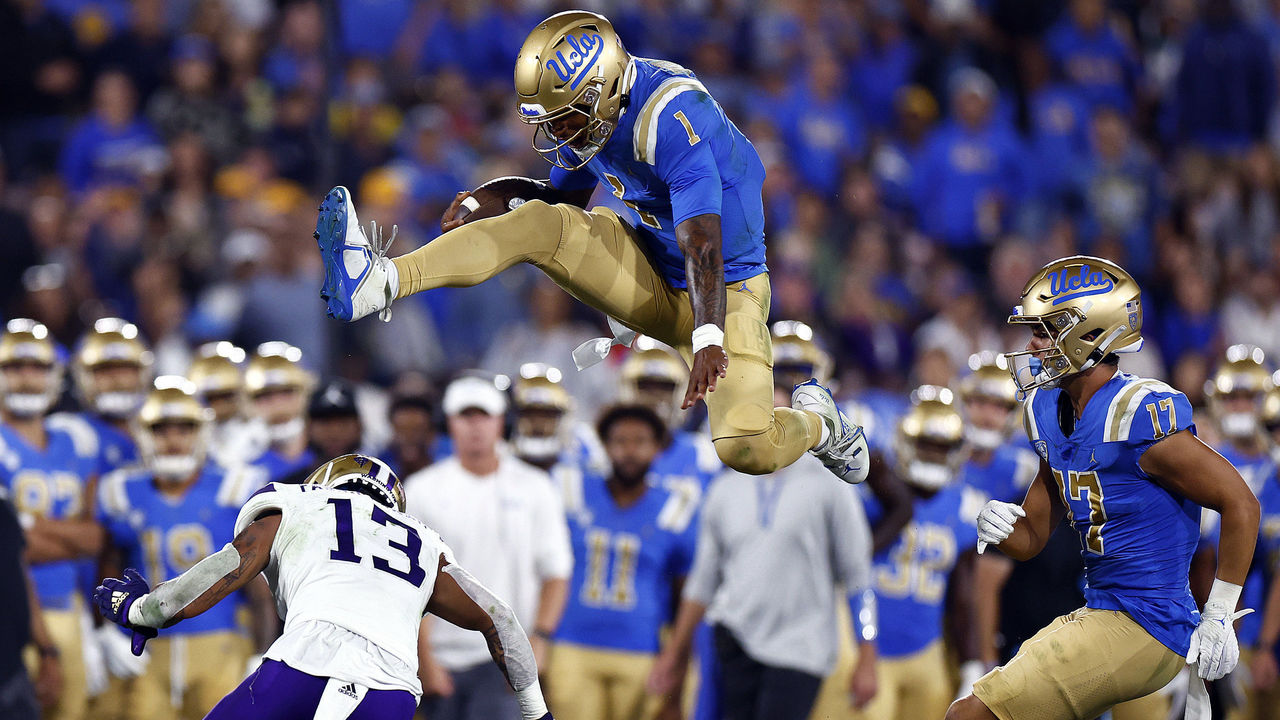 Chip Kelly's bunch (now ranked 18th) has won eight straight dating back to last season. We'll learn a lot more about the Bruins with a stiff test against visiting No. 11 Utah and their All-American cornerback candidate Clark Phillips III on Saturday.
Jordan Schultz is theScore's NFL insider and senior NBA reporter. Follow him on Twitter, Instagram, and TikTok.