Schultz: Russell Wilson's magic seems to have disappeared
Jamie Schwaberow / Getty Images
Russell Wilson is a future Hall of Famer with enough credentials to make a case as one of the 10 greatest quarterbacks ever.
When Wilson, 33, was traded to the Broncos back in March, it symbolized the beginning of a new era in Denver. For the first time since Peyton Manning, the Broncos had a transcendent, franchise quarterback.
The organization was able to pair Wilson with newly hired head coach Nathaniel Hackett. He was widely viewed as a true up-and-comer who drew rave reviews from Aaron Rodgers during their tenure together in Green Bay.
Through three weeks, however, Wilson has looked anything but the dominant signal-caller we're accustomed to seeing, while Hackett has looked like a fish out of water. There was perhaps no better example than Week 1 on Monday Night Football in Wilson's return to Seattle.
"They have terrible clock management," Mike Tannenbaum, the former Jets and Dolphins GM, told theScore.
Wilson, meanwhile, is averaging a middling 7.0 yards per attempt, which has him ranked 17th, just ahead of Geno Smith, who replaced him with the Seahawks. In the last two weeks, Wilson's yards-per-attempt figure is a woeful 6.3.
Plus, with only two touchdown passes and a 45.5 QBR that slots him 21st in the NFL among regulars, concern is mounting.
"Wilson isn't running anymore," an assistant offensive coach told me. "One of the things that made him so deadly during those Seattle years was his ability to make magic out of nothing."
Through two weeks, there's been no magic, particularly on the ground. Wilson has just 22 rushing yards on nine attempts.
In 2014, his third season, he amassed a career-high 849 rushing yards for an average of 53.1 yards per game. With Denver, he's averaging 2.4 yards per game.
It's understandable why the Broncos and Wilson don't want him taking unnecessary hits with run-option plays. But completely taking the threat away makes life much easier on defensive coordinators who no longer have to plan for it.
To be sure, the blame hardly falls all on the quarterback. Hackett has been an unmitigated disaster. Clock management, decision-making, and overall game plans have been bad.
"It's not that he's a bad coach or a bad offensive coach even," a current NFL executive told me.
"But this is a very tough league, and his lack of experience is showing right now."
Reinforcements are coming, including on the offensive line, which will receive a big boost - especially in pass protection - with the anticipated return of right guard Quinn Meinerz and right tackle Billy Turner.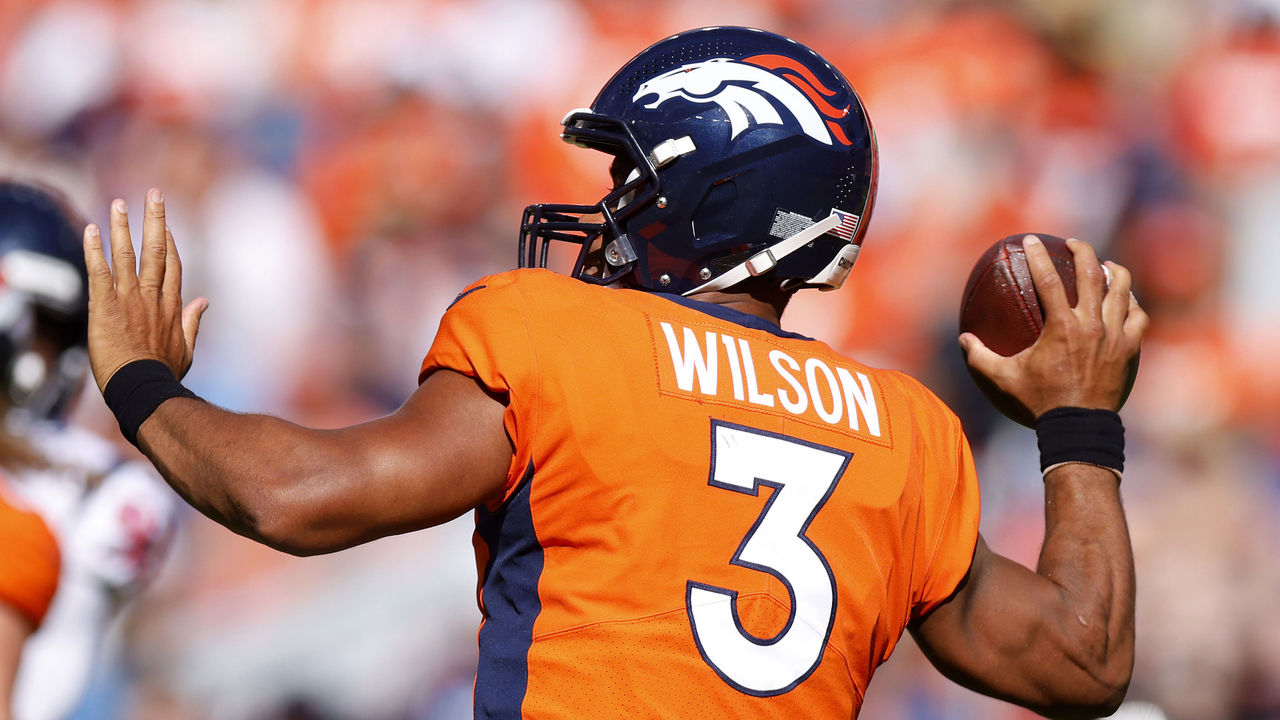 "When the line is healthy, it should be one of the best he's had," the executive said. "At least an above-average group."
The Broncos have also been bitten by injuries, specifically at wide receiver. Tim Patrick, who signed a three-year, $30-million extension in November, tore his ACL in August. Jerry Jeudy, a first-round pick in 2020, hasn't been 100% while dealing with shoulder and hip issues.
No matter who's been at receiver, however, Wilson has always been one of the league's premier deep-ball throwers. So where are all the classic downfield shots that made him so devastating? According to Sports Info Solutions' database, Wilson attempted 85 deep balls from 2015-21 and had an IQR (SIS's own rating metric) of 100. This season he's thrown 14 deep balls for an 84 IQR.
"There are a number of growing pains in the Broncos' offense," Tannenbaum said. "Russ is getting used to a new set of weapons and a new offense. I think his deep-ball accuracy will return with more reps during the season."
In a rugged 11-10 Week 3 win over the 49ers, the Broncos went three-and-out nine times - the highest-ever total by a Wilson-led offense.
"He hasn't been accurate enough is one way of putting it," the offensive assistant said.
Wilson's lack of accuracy has been especially apparent during Denver's seven red zone trips, resulting in just one TD pass. His 59.4 completion percentage this season is the lowest of his career by almost two percentage points.
He's recorded a miserable 1.9% touchdown rate through three games. During his final season with the Seahawks - widely regarded as his worst - he still managed a 6.3 percent TD rate. In fact, his TD rate has been 6% or higher in eight of his previous 10 seasons.
Ever the optimist though, No. 3 has hardly lost hope.
"We're still all learning each other," Wilson told reporters after beating the Niners.
"We're so close. I've been a part of some good offenses, and I think we have a chance to be really, really great … I'm excited because I can feel it - everything is just that close."
Jordan Schultz is theScore's NFL insider and senior NBA reporter. Follow him on Twitter, Instagram, and TikTok.