Key takeaways and analysis from Week 3 in the NFL
Sunday Rundown recaps the most important developments from the day's action and examines their significance moving forward.
Eagles lighting it up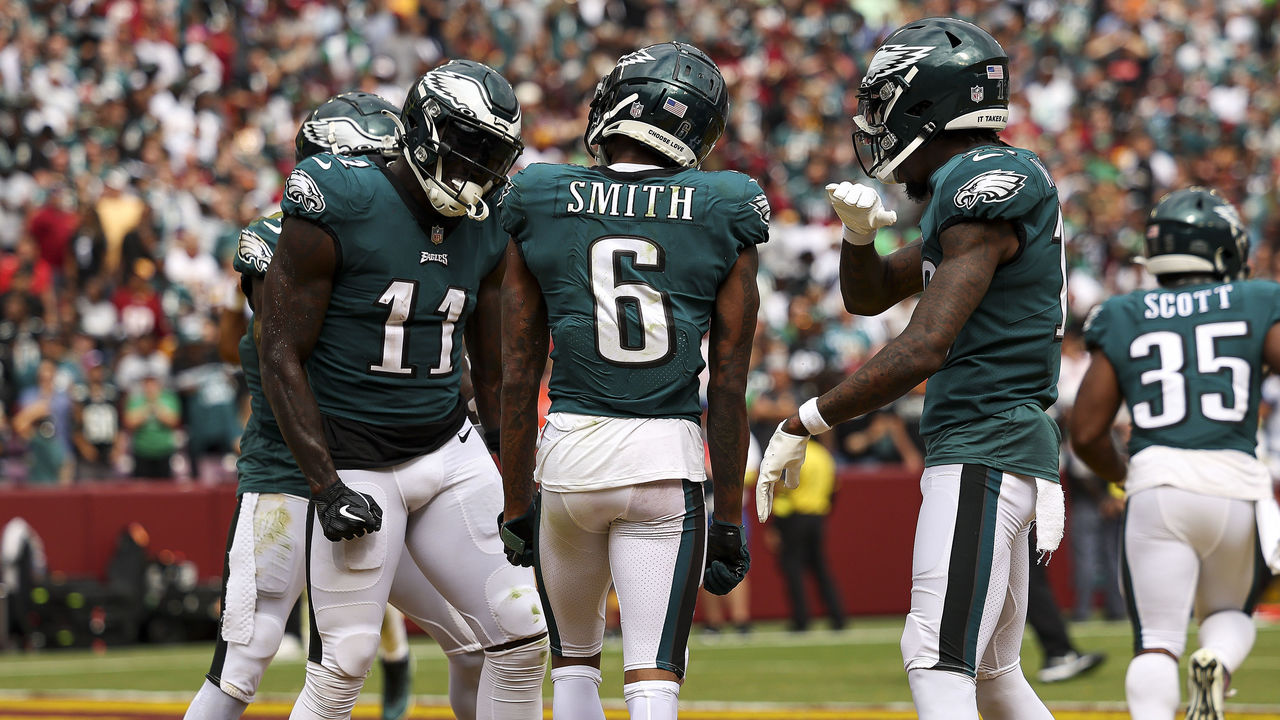 Jalen Hurts was a popular MVP bet over the summer for obvious reasons. Considering the odds that were available relative to some of the league's premier quarterbacks, there are far worse wagers you could make than gambling on a dual-threat leader of an ascending team.
But did anybody really see this kind of development as a passer coming? Hurts once again lit it up through the air as the Eagles moved to 3-0 with a win over the Commanders, completing 22 of 35 attempts for 340 yards, three touchdowns, and no interceptions. That's a three-game total of 916 yards, putting him on an early pace for over 5,190.
Not bad for someone who, upon entering the league as a second-round pick in 2020, faced questions of whether he would ever become a reliable player from the pocket. And he may only be getting started.
Some impressive roster-building from Howie Roseman and the Eagles' front office has afforded Hurts perhaps the best imaginable situation to foster the growth we've seen.
A.J. Brown has been everything the Eagles could have wanted, already making the price tag of a first-round pick look hilariously cheap. DeVonta Smith's breakout season continued Sunday with the best performance of his young career, as he racked up a game-high eight catches for 169 yards and one score. Having to deal with a duo of this caliber on the outside, while also accounting for a strong run game led by arguably the NFL's premier offensive line, has to be a nightmare for opponents.
Oh, and the defense? Nine sacks to spoil Carson Wentz's dreams of a successful revenge game.
The ceiling for Philly is clear - it doesn't exist. The Eagles have gone from all the Wentz drama to legitimate Super Bowl contenders in under two years. Incredible.
Dolphins' defense doing its part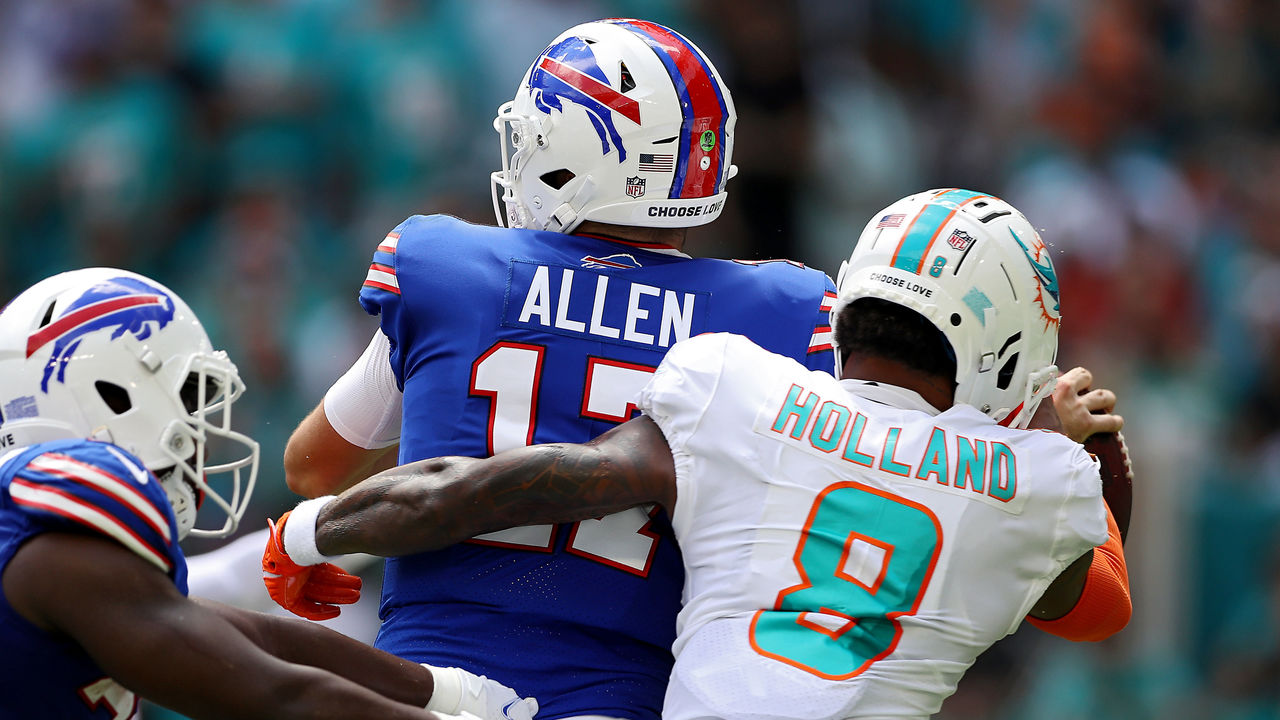 The big story coming out of last week's action was Tua Tagovailoa and two impossible-to-defend receivers leading an absolute wagon of an offense in Miami. Naturally, that led us to expect a shootout with the Super Bowl favorite Bills on Sunday.
It didn't quite play out that way, but prevailing in a low-scoring affair is all the more impressive for the Dolphins. Josh Allen's 400 yards looks like a big day on the surface until you consider the bloated total came on on a career-high 63 passes. His measly 6.3 yards per attempt pretty much sums up just how relentless Miami's defense was throughout.
As much as the offense would love to light up the scoreboard on a regular basis, that's not a realistic expectation. The defense at the very least providing a suitable complement was always going to be imperative for this team to emerge as a contender. Putting the clamps on a top-three quarterback demonstrates the potential for a hell of a lot more.
The Dolphins aren't just firmly in the mix among the many playoff-caliber teams in the AFC, they're making an increasingly strong case to be considered as one of the best of the bunch.
Miami so quickly rising to contention, while also maintaining such a bright future, presents a fascinating opportunity to look back at one of the offseason's more underrated stories. The plan, heading in, was reportedly to bring a Sean Payton-Tom Brady duo to South Beach. Three games into the Mike McDaniel era, it's safe to assume Dolphins fans are pleased with the way things worked out.
How 'bout the Jags?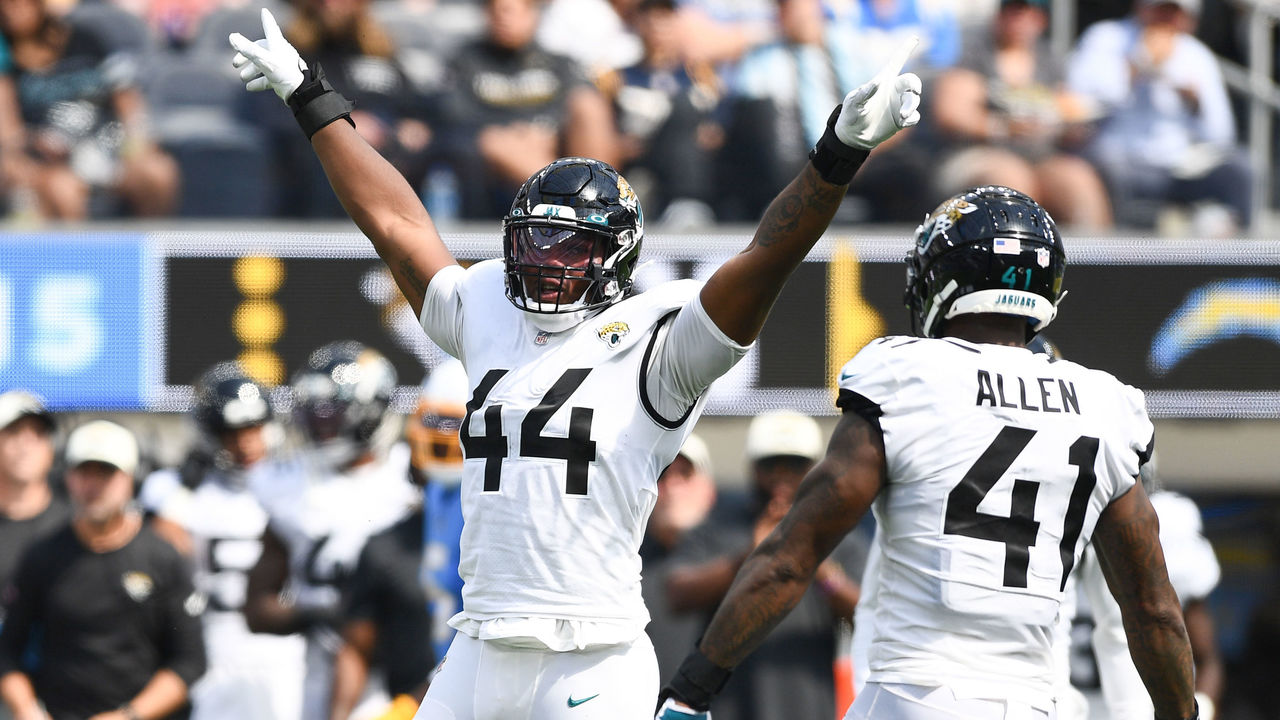 The Jaguars heading out to the West Coast and absolutely taking it to the Chargers probably isn't something any of us were expecting. As we digest the weekend's most shocking result, perhaps we should warm up to the idea of Jacksonville returning to the playoffs for the first time since 2017.
It's early, but how can you not love what we've seen from the Jaguars in the first year under Doug Pederson? Trevor Lawrence is beginning to show real signs of the generational talent he was considered to be coming out of Clemson. As we touched on last week, it's probably safe to put that difficult rookie season squarely on Urban Meyer's shoulders.
A franchise quarterback is, of course, the most important piece of the puzzle. And all indications are that the Jaguars finally have one. But he's not the only piece leading the turnaround. Pederson remains one of the league's most underrated offensive minds, and he's putting those chops on full display with a roster that most of us weren't too eager to believe in.
Christian Kirk and Zay Jones have quickly begun to justify the Jaguars' perceived overpays in free agency. The pair of veteran receivers are seemingly perfect fits with both Lawrence and Pederson, and the young quarterback is justifiably feeding them with all the targets they can handle.
The defense has been even more impressive. Shutting out the Colts was cool and all, but stifling Justin Herbert and the Chargers in a 38-10 win was the real statement. Travon Walker and Devin Lloyd joining Josh Allen gives the unit a real foundation of young talent, and much like the offense, a pair of big-money additions in Foyesade Oluokun and Folorunso Fatukasi are already making us forget about their lofty price tags.
Jacksonville leads the AFC South at 2-1. That gives the club a one-game lead over the rest of the division, but at this early stage, it hasn't been nearly that close.
Night, Raiders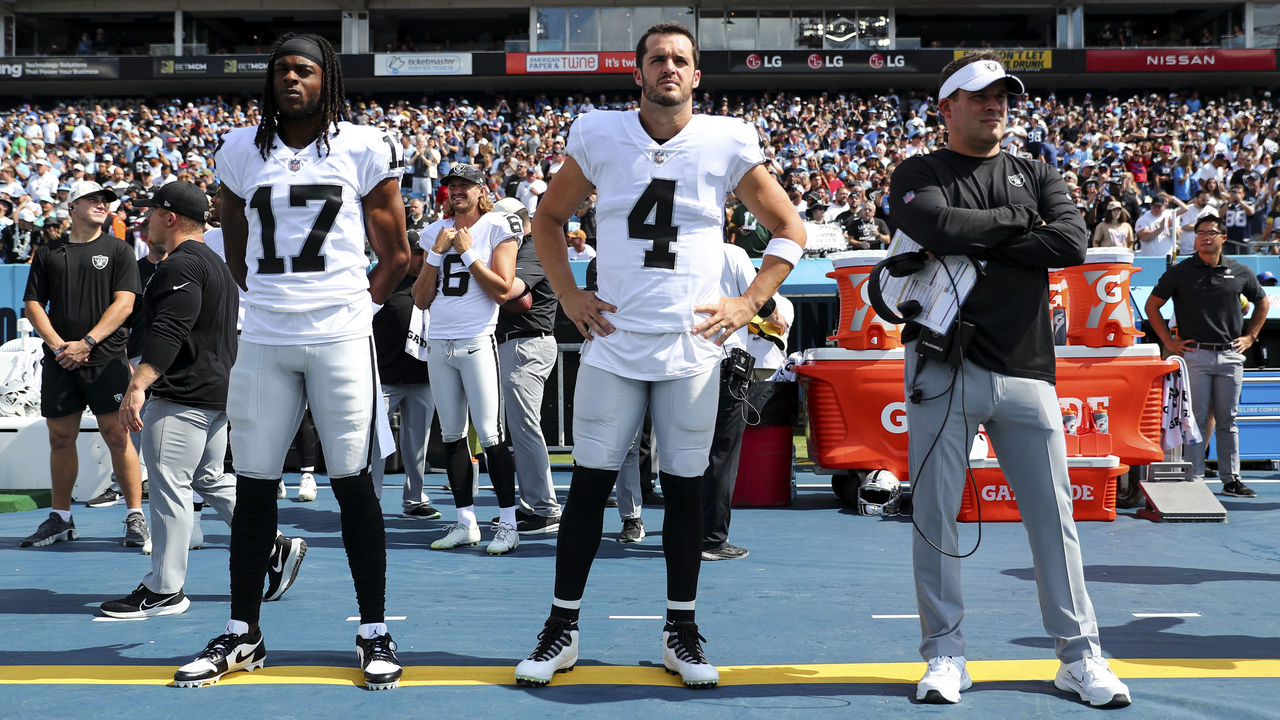 Dropping to 0-3 with a loss to the previously winless Titans is about all we need to see from the Raiders. It didn't take very long for a supposed playoff contender to clear up the AFC race by bowing out.
It was easy to get excited about Las Vegas' prospects after an aggressive offseason. In short: A team that earned the No. 5 seed in last year's playoffs against all odds then added Davante Adams, Chandler Jones, and what appeared to be major coaching upgrades - Josh McDaniels has always been one of the game's most respected offensive minds, and the defense seemed certain to improve under Patrick Graham.
Perhaps Derek Carr needs time to master McDaniels' system. But time isn't something you're afforded in the NFL, especially after signing a three-year, $120.5-million extension. There are certainly other issues with the offense (namely, pass protection) but the reality is that, rather than taking his game to another level with McDaniels' guidance, Carr seems to have taken a step back.
So even with arguably the best receiver on the planet joining Darren Waller and Hunter Renfrow, the offense is somehow worse than it was last year. And for as much as things may look different on the defensive side with Graham's multiple system replacing Gus Bradley's antiquated Cover 3 approach, the results are no better.
The takeaway here is that the Rams are the exception to the rule when it comes to competing with a top-heavy roster. As exciting as it may have been to add the superstars they did, the Raiders bizarrely failed to adequately address their weaknesses on the offensive line, the interior defensive front, and in the secondary.
Las Vegas gets the Broncos at home and the Chiefs on the road heading into the Week 6 bye. There's a real chance this team is 0-5 to start the McDaniels era. At that point, if not already, Carr's extension oddly not having any guaranteed money beyond this year will become extremely noteworthy.
Rams need OBJ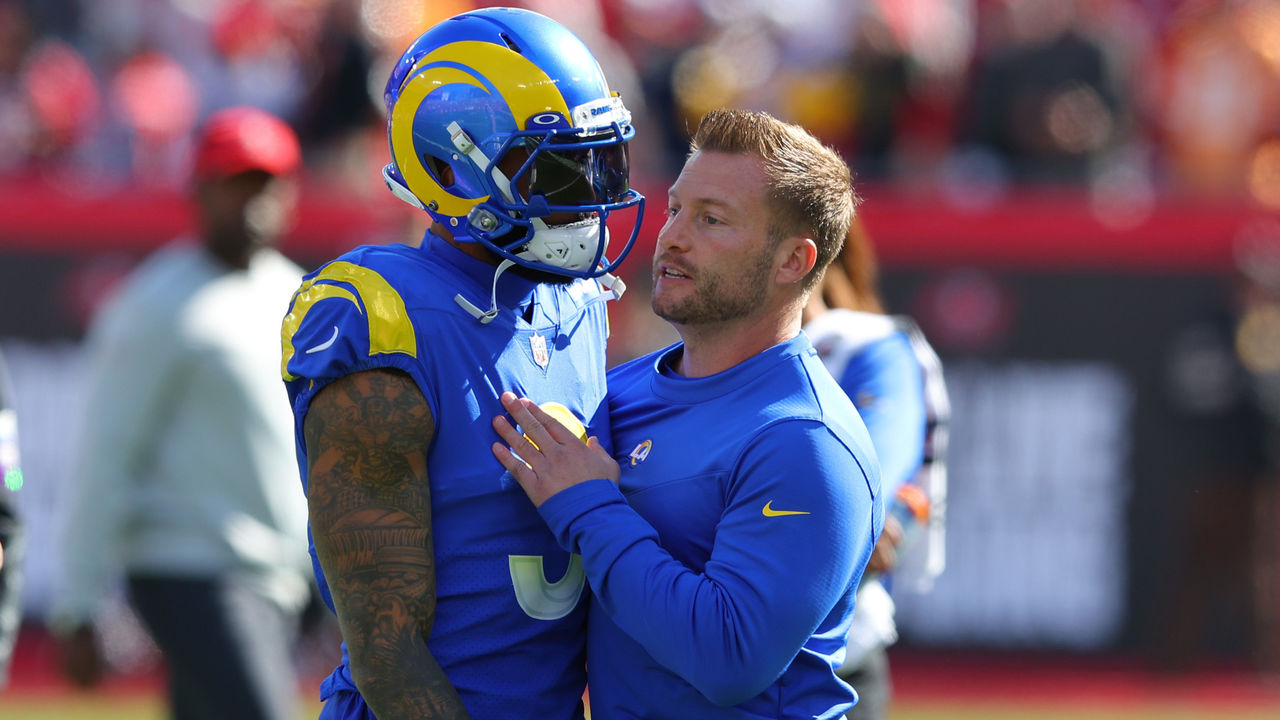 The defending champs are 2-1 and sitting alone atop the NFC West standings. Most teams would happily take that, but you just know it's eating at Sean McVay that his offense isn't quite clicking the way he'd like.
After a season-opening loss to the Bills that wasn't all that competitive, the Rams nearly blew a 28-3 lead against the Falcons. This week, they managed just 20 points in their victory over the Cardinals. The sky isn't falling here, but the standard is higher for a team with championship aspirations.
When the Rams signed Allen Robinson to a three-year, $46.5-million contract in free agency, it was only fair to assume he was Odell Beckham Jr.'s replacement. Paying three top receivers would be tough for any club, let alone an L.A. team that regularly works so tight to the cap. But it increasingly feels like we haven't seen the last of Odell in blue and gold.
McVay and the Rams have never been shy about making it known they want Beckham back. Whether they could make it work contract-wise is another question. The interest, however, was always there. And it certainly appeared to be mutual.
Beckham's return makes all the more sense now when you consider how much Robinson has struggled to replace his production. Through three games, Robinson has managed just eight catches for 88 yards. For reference, his 12 targets are one fewer than Ben Skowronek's 13, which is second only to Cooper Kupp's 35 among receivers.
When healthy, Beckham would open things up for all other playmakers, Robinson included. Money will remain an important factor, but having seen that Robinson alone isn't enough to keep the offense humming at last year's level, you can expect the Rams to soon do whatever necessary to keep another team from swooping in and stealing Beckham away.
Quick slants
Chiefs get deserving loss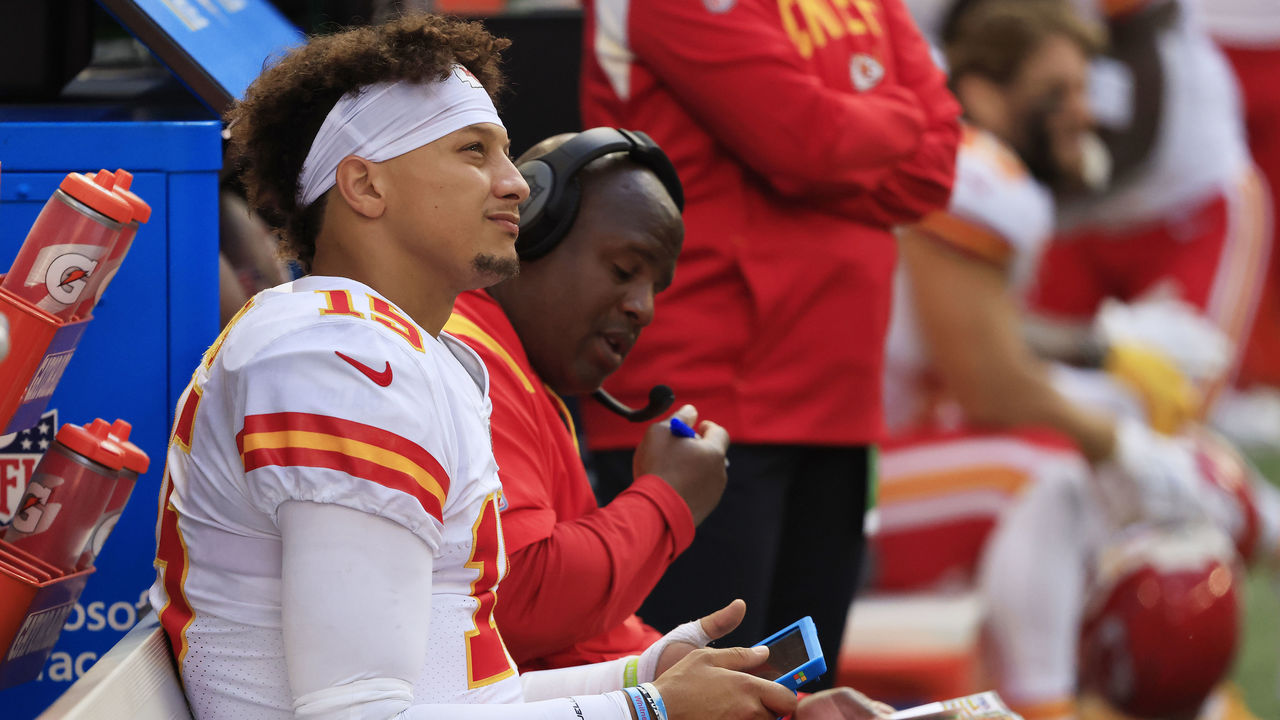 Patrick Mahomes admitted postgame that his argument with OC Eric Bieniemy heading into halftime, caught on camera by the broadcast, centered around the quarterback wanting the offense to have more urgency to score before the break. There were other costly mistakes from the Chiefs, but a potential field goal in that situation proved to be the difference in their 20-17 loss to the Colts. When you get conservative with Mahomes as your quarterback, you deserve to lose.
Packers winning differently
For as long as most of us can remember, the Packers have gone as far as Aaron Rodgers has taken them. The future Hall of Famer will undoubtedly still have plenty of influence on their season, but the offense isn't quite the high-powered attack it used to be. Green Bay is going to depend on the defense more than it has in any year since the 2010 Super Bowl campaign. As we saw in a 14-12 win over Tom Brady and the Bucs, that unit seems up to the task.
Okudah rounding into form
For the most recent example of needing patience with young players, look no further than Jeff Okudah. The former Ohio State star's first two seasons at the professional level didn't exactly go as planned, with injuries and subpar play leaving him competing for a starting job in training camp this year. Three games in, he looks a lot like the player everyone expected when the Lions selected him at No. 3. His latest work: helping limit Justin Jefferson to three catches for 14 yards.
Saints missing Payton
Continuity was a big selling point for Dennis Allen as the new head coach of the Saints. In theory, the defense would keep doing its thing under his watch, and longtime OC Pete Carmichael would continue to run Sean Payton's offense. The latter part hasn't quite worked out as planned, even with the healthy returns of Jameis Winston and Michael Thomas. Getting shutout in the first three quarters before ultimately falling to the lowly Panthers is all the evidence we need to understand that taking Payton's system and running with it is far easier said than done.
Olave breaking out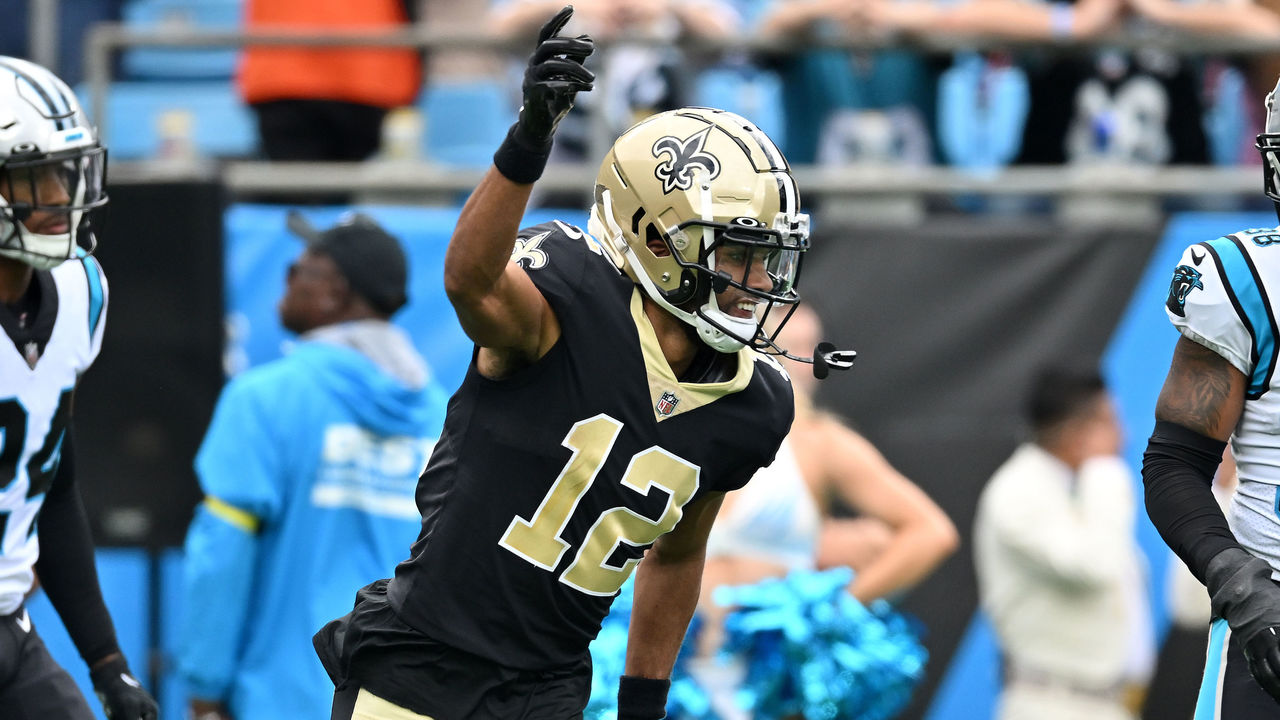 One thing the Saints are doing right offensively is getting the ball to their first-round rookie receiver. After just three targets in the opener, Chris Olave has seen 13 passes thrown his way in back-to-back games. On this occasion, he turned those opportunities into nine catches for 147 yards. It seems we have a new WR1 in New Orleans.
Bears win despite Fields
Just as everyone predicted, the Bears are 2-1. The latest win came Sunday against the Texans, so it wasn't exactly a statement game, but the real takeaway is that it came despite an awful 106-yard, two-interception performance from Justin Fields. We know Chicago needs to do a better job of surrounding its young quarterback with playmakers, but these kinds of showings won't help the new regime commit to him long term.
Herbert deserves a lead job
So how did the Bears win with such a terrible display from Fields? Khalil Herbert, who stepped into the feature role after an early injury to David Montgomery, was the star of the show. The second-year back took his 20 carries for 157 yards and two touchdowns. The numbers are impressive, no doubt, but it's really just more of what Herbert has always done in his limited opportunity. As free agency looms for Montgomery, it appears a potential successor is already waiting in the wings.
AFC West starting slow
After all the time we spent talking about how loaded the AFC West is, here's where each team stands through 3 games:
Chiefs: 2-1
Broncos: 2-1
Chargers: 1-2
Raiders: 0-3
And that's with the Broncos barely squeaking out two wins, during which their offense was regularly booed off the field by the home crowd. It's been a strange start for these teams, highlighted by a combined 1-3 mark in Week 3, where the Chiefs, Chargers, and Raiders all fell to opponents in the AFC South, potentially the worst division in football.
Stat of the week
Comments
✕
Key takeaways and analysis from Week 3 in the NFL
  Got something to say? Leave a comment below!