Week 1 NFL Power Rankings: Where every team stands entering season
The NFL Power Rankings are selected by a panel of theScore's football editors.
1. Buffalo Bills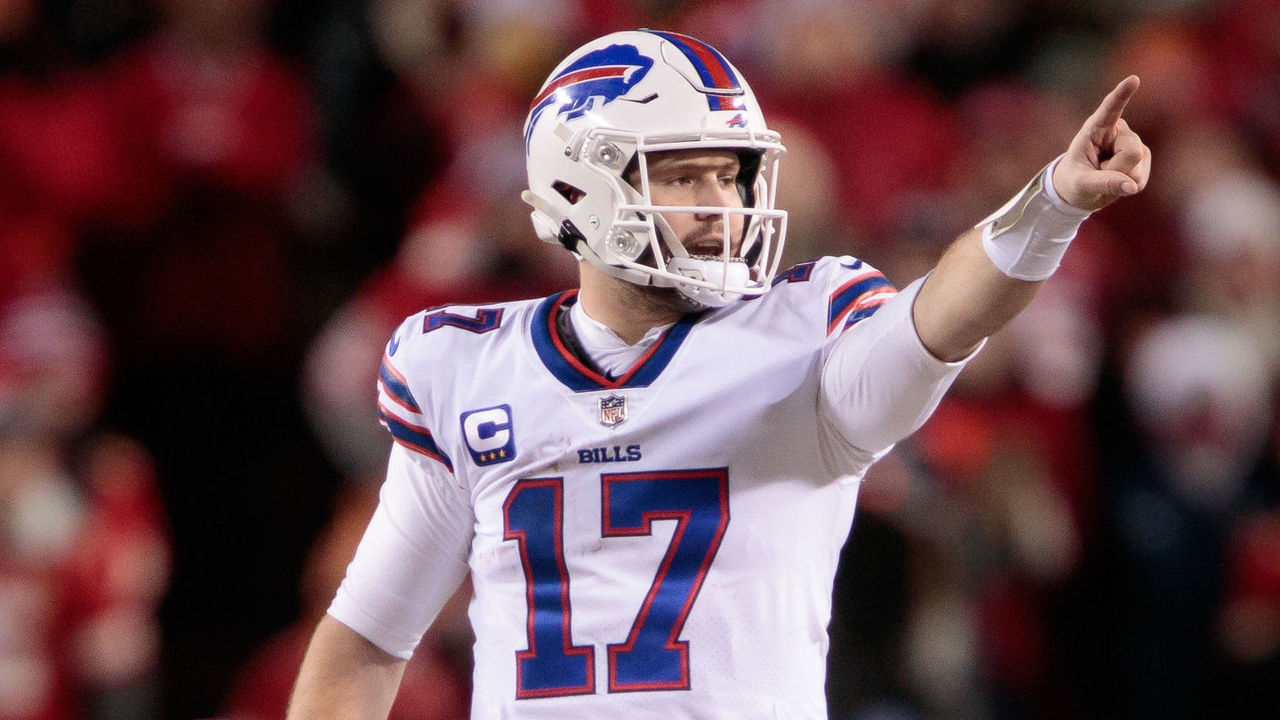 Preseason rank: 1
All eyes are on the Bills entering the 2022 season. With Josh Allen commanding a high-powered offense and Von Miller now set to cause havoc on the defensive side of the ball, Buffalo is the team to beat this year.
2. Los Angeles Chargers
Preseason rank: 4
There's just so much to be excited about with the Chargers this season. The offense should be one of the league's best, with MVP candidate Justin Herbert leading the way, and significant improvements to the defense should provide the perfect complement on the other side. This is a legit Super Bowl contender.
3. Kansas City Chiefs
Preseason rank: 3
Much of the football world seems to expect the Chiefs to take a step back after trading away Tyreek Hill this offseason; we don't. The offense will be different with a new-look receiver group, but there's no reason it can't be every bit as effective, and don't sleep on the young talent added on defense.
4. Tampa Bay Buccaneers
Preseason rank: 6
Tom Brady returns for his 23rd season, and this could be the best team he has played on to date. Mike Evans, Chris Godwin, Julio Jones, and Russell Gage form one of the best pass-catching units in the league. Meanwhile, Akiem Hicks and Vita Vea are one mean duo on the interior of the defensive line.
5. Los Angeles Rams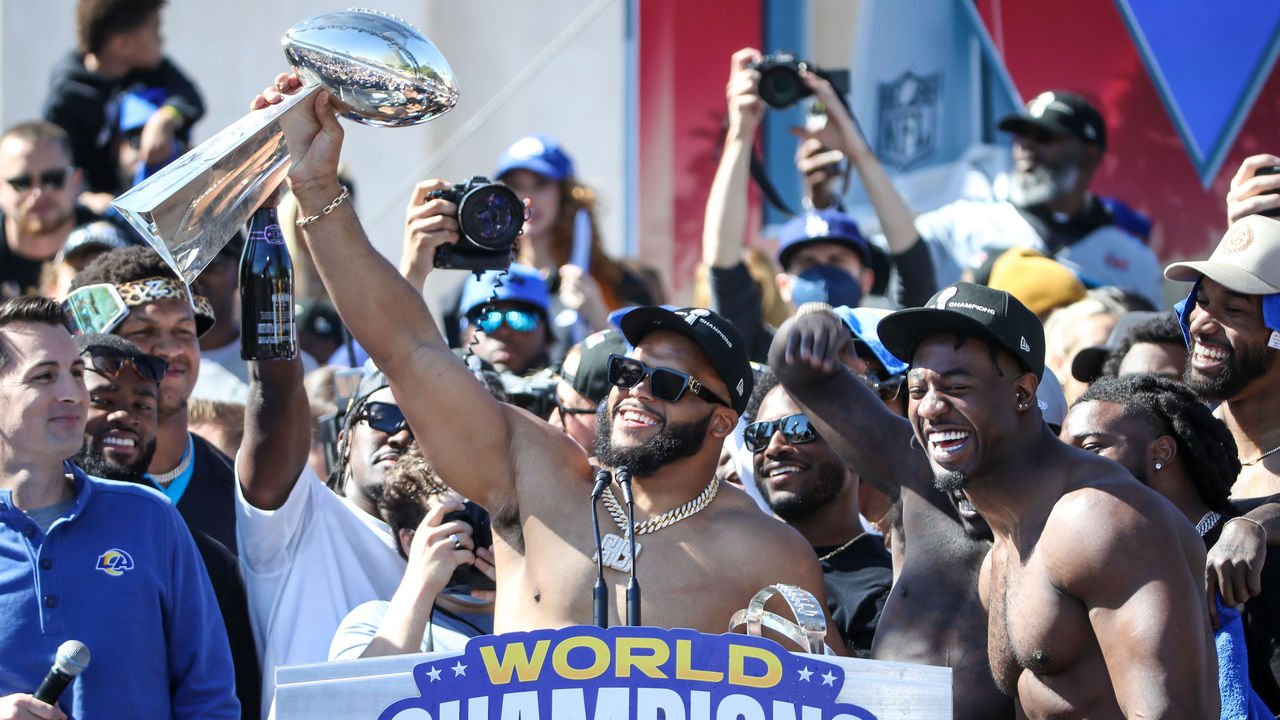 Preseason rank: 2
A top-heavy roster keeps the Rams out of the first few spots on our rankings, but that didn't present many issues en route to a Super Bowl title last year. If Matthew Stafford's training camp elbow issues are truly nothing to worry about, L.A. should be every bit as good this season.
6. Green Bay Packers
Preseason rank: 7
Questions remain regarding an unproven wide receiving corps entering the season. Reigning MVP Aaron Rodgers' resolve will be tested, especially with left tackle David Bakhtiari's availability uncertain to begin a new campaign.
7. Baltimore Ravens
Preseason rank: 8
The Ravens are putting an injury-plagued 2021 campaign in the rearview as they turn their attention toward 2022. Lamar Jackson and Co. appear likely to compete for the AFC North title after some narrow losses last season.
8. Philadelphia Eagles
Preseason rank: 12
General manager Howie Roseman has to be commended for a terrific job over the offseason. By bringing in the likes of A.J. Brown and Chauncey Gardner-Johnson, Philadelphia has its sights on the NFC East crown and maybe more.
9. Cincinnati Bengals
Preseason rank: 5
The reigning AFC champions look like viable contenders after losing Super Bowl LVI. Joe Burrow is back under center after missing the entire preseason following appendix surgery. An improved offensive line should help the Bengals' offense continue its upward elevation.
10. Denver Broncos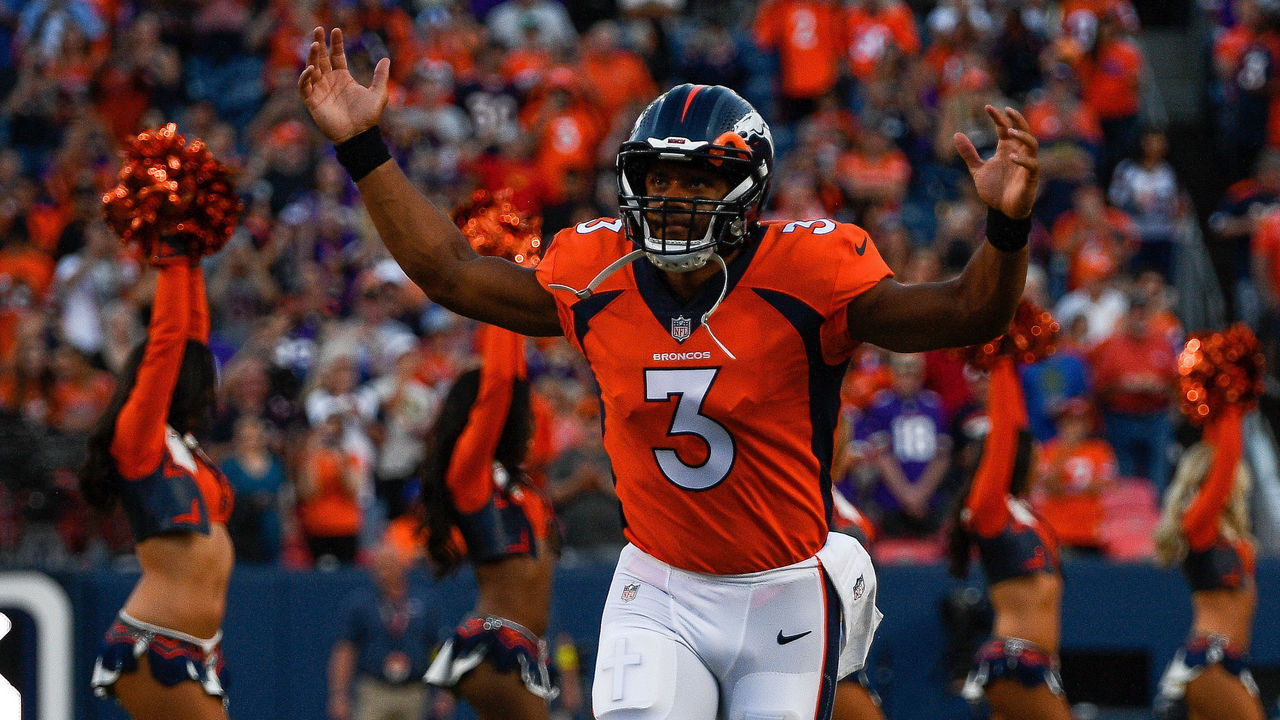 Preseason rank: 9
We've all said for years that the Broncos are a quarterback away from being a Super Bowl contender. Now, we put that theory to the test. Russell Wilson certainly gives Denver the potential to rejoin the NFL's elite.
11. Las Vegas Raiders
Preseason rank: 10
All four AFC West teams checking in among our top 11 tells you everything you need to know about that division. The Raiders have their work cut out for them, but they made a number of aggressive moves to give themselves a chance in that race.
12. San Francisco 49ers
Preseason rank: 17
It's all about Trey Lance this season in San Francisco. The 49ers have the weapons to support him and the defense to keep opponents off the scoreboard. If the 2021 No. 3 overall pick can perform as expected, there's no reason this team can't contend in the wide-open NFC.
13. Indianapolis Colts
Preseason rank: 13
Frank Reich will work with his fifth different starting quarterback since taking the head coaching job in 2018. Matt Ryan will look to rejuvenate his career in Indy and will have last year's leading rusher to assist him. Jonathan Taylor took the league by storm last season and will run behind a solid offensive line again.
14. Dallas Cowboys
Preseason rank: 11
The Cowboys need to dig deep as they limp into the 2022 season. Left tackle Tyron Smith is expected to be out until December, while wideout James Washington is sidelined, and Michael Gallup's status for the season opener is also uncertain.
15. Minnesota Vikings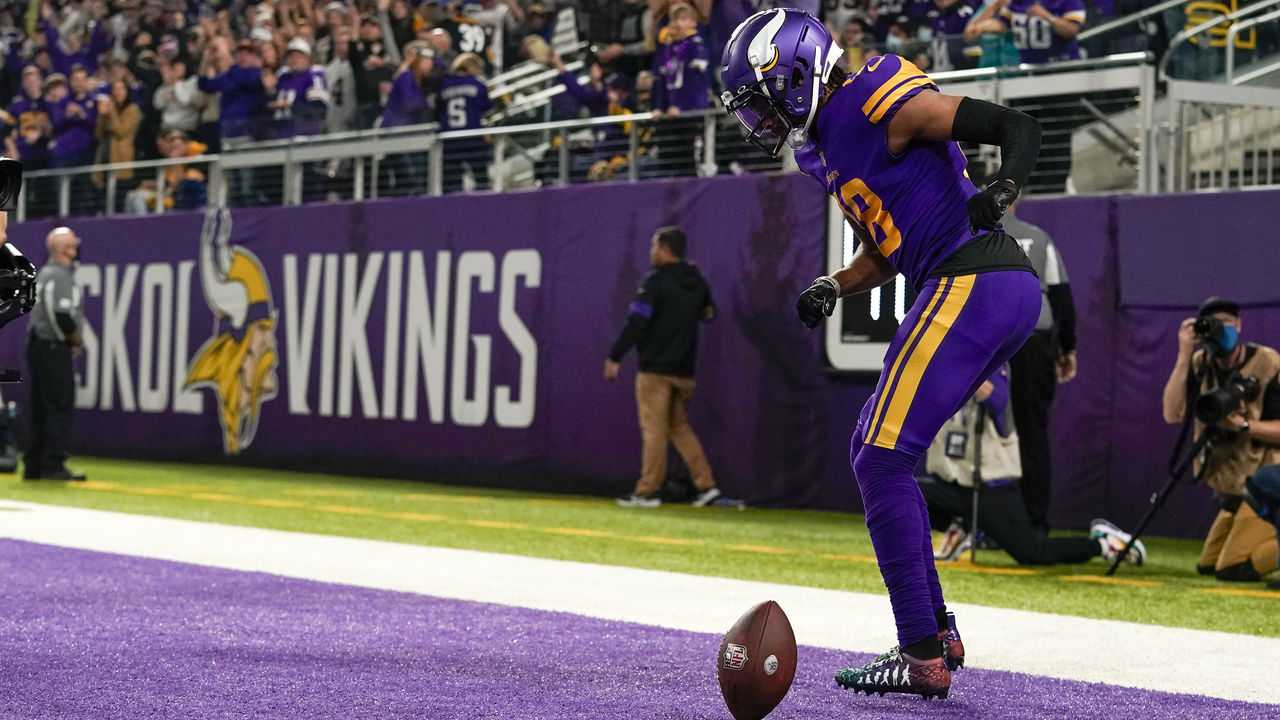 Preseason rank: 18
The Vikings appear to be all-in on being a true contender in Kevin O'Connell's coaching debut. A healthy Dalvin Cook to go along with the dynamism of Justin Jefferson could have Minnesota climbing the rankings in short order.
16. New Orleans Saints
Preseason rank: 20
Jameis Winston is back after tearing his ACL midway through last season and will have some new weapons to work with. Michael Thomas, Chris Olave, and Jarvis Landry round out the best group of playmakers the Saints have had in years. All eyes will be on new head coach Dennis Allen as he looks to continue the success Sean Payton established in New Orleans.
17. Miami Dolphins
Preseason rank: 16
For the first time in a long time, there's a real buzz about the Dolphins. With a new head coach and superstar Tyreek Hill in the fold, there's a high level of confidence that Tua Tagovailoa can be the franchise passer that Miami envisioned.
18. Tennessee Titans
Preseason rank: 14
The loss of Harold Landry is a serious blow to Tennessee's defense. The Titans are counting on second-year pass-rusher Rashad Weaver to fill Landry's shoes. Derrick Henry is back healthy and should continue to see a heavy workload. With Malik Willis waiting in the wings, this could be Ryan Tannehill's last year in Tennessee.
19. Arizona Cardinals
Preseason rank: 19
The Cardinals are one of the biggest mysteries in the league this year. It's possible they're more like the team that dominated the first few months of last season before falling off a cliff down the stretch, but it's tough to count on that with the roster still having some glaring weaknesses on paper.
20. Cleveland Browns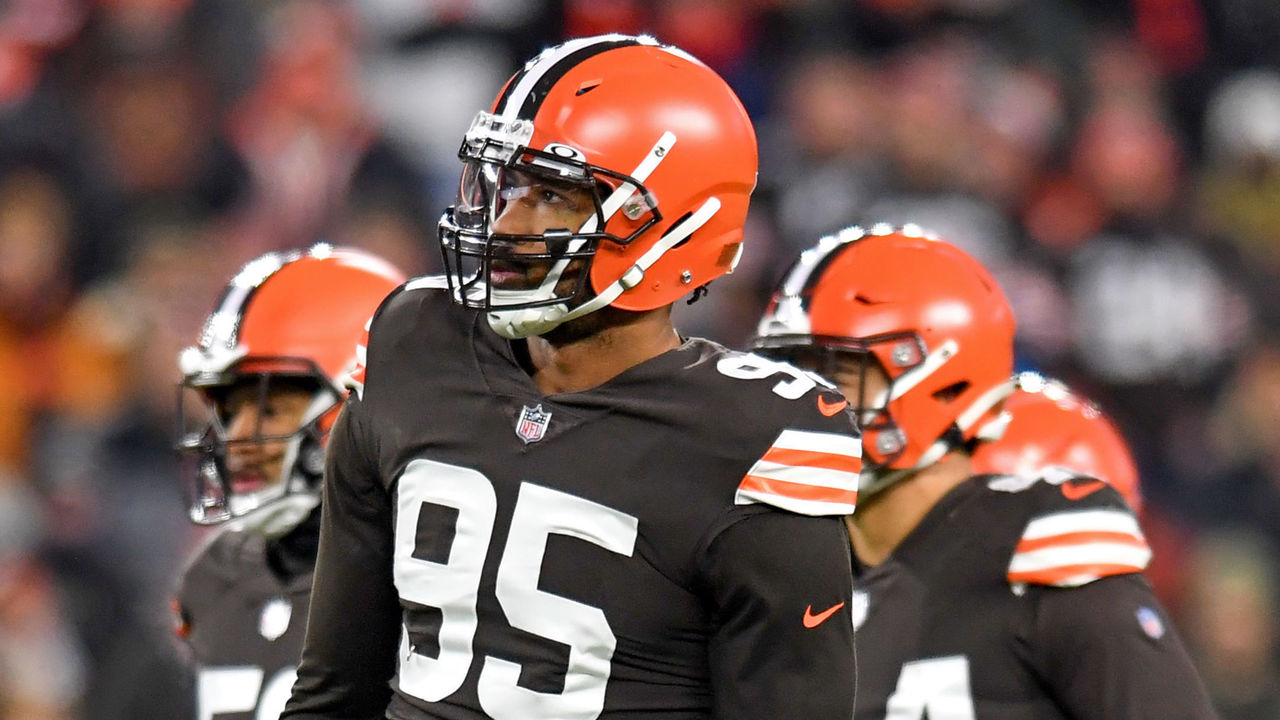 Preseason rank: 15
Deshaun Watson and the NFL agreed on an 11-game suspension that'll keep the signal-caller off the field for most of the regular season. There will be pressure on Kevin Stefanski to keep Cleveland in striking position for a playoff push. Myles Garrett and Denzel Ward lead a headlining defense for a club with postseason ambitions.
21. Pittsburgh Steelers
Preseason rank: 22
Head coach Mike Tomlin continues to be tight-lipped regarding whether Mitchell Trubisky or Kenny Pickett will be named the starting quarterback. Both passers have shined in the preseason but can either provide enough consistency following Ben Roethlisberger's retirement?
22. New England Patriots
Preseason rank: 21
Mac Jones should take another step in his second year, but questions persist about those tasked with aiding his development. Matt Patricia and Joe Judge - two veteran coaches with little experience on offense - will have big shoes to fill replacing Josh McDaniels.
23. Carolina Panthers
Preseason rank: 23
Baker Mayfield takes over as the Panthers' starting quarterback, their third different Week 1 starter in as many seasons. Christian McCaffrey is set to return healthy and will look to get back to his 2019 form.
24. Washington Commanders
Preseason rank: 25
It's Year 3 for Ron Rivera, and Washington still hasn't won more than seven games in a season under his direction. Whether he breaks through may come down to if his staff can domesticate new quarterback Carson Wentz's often erratic play.
25. Detroit Lions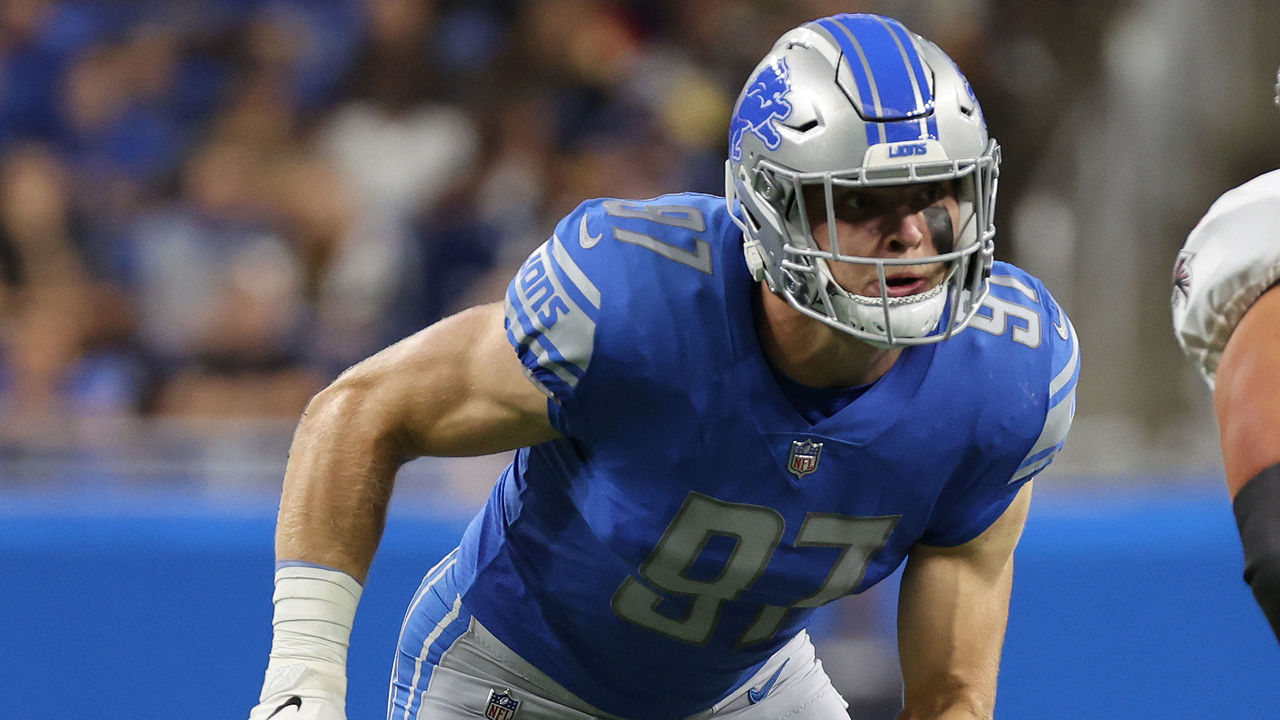 Preseason rank: 26
The stars of the latest season of "Hard Knocks" are set to prove that Dan Campbell's vision for the franchise isn't just talk. The Lions' youth movement will either raise or sink the team's rebuild this season. All eyes will be on hometown hero Aidan Hutchinson, who the club expects to become a franchise pillar sooner than later.
26. New York Jets
Preseason rank: 24
The Jets were temporarily grounded when second-year passer Zach Wilson went down with a knee injury in the preseason. It'll be up to Joe Flacco to avoid a turbulent start if New York wants to make some noise once Wilson returns.
27. Jacksonville Jaguars
Preseason rank: 27
Doug Pederson takes over as head coach and will try to get the Trevor Lawrence era back on track. The Jaguars spent a ton of money in free agency to give Lawrence some weapons, adding Christian Kirk, Zay Jones, and Evan Engram. First overall pick Travon Walker will help a pass rush that finished 26th in sacks last season.
28. New York Giants
Preseason rank: 28
The Giants have invested a lot of capital in their offense over the years but haven't seen much return. Brian Daboll will need to translate his great work in Buffalo to get the most out of Daniel Jones, Saquon Barkley, Kadarius Toney, and Co.
29. Seattle Seahawks
Preseason rank: 29
It's weird to see the Seahawks this low on the list, but that's just the reality they face after trading away their franchise quarterback. The goal for this season should be to develop some of the intriguing young talent now on the roster. Wins could be difficult to come by.
30. Atlanta Falcons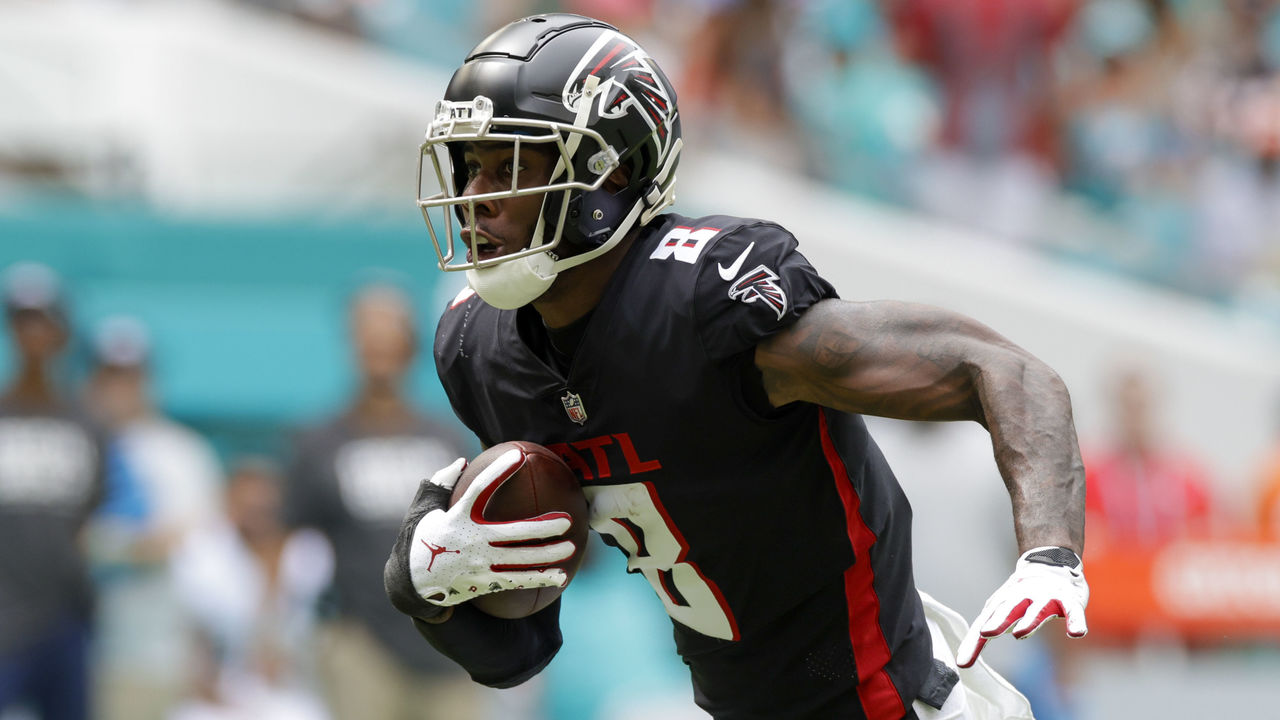 Preseason rank: 30
Marcus Mariota will get the start in Week 1 and will have some exciting playmakers to throw to in Kyle Pitts and Drake London. Besides that, the Falcons' roster lacks proven talent. The offensive line allowed a sack or pressure on 28% of snaps in 2021, and Atlanta didn't make any changes to that unit for this season.
31. Chicago Bears
Preseason rank: 31
The Bears managed to convince Roquan Smith to end his holdout and return for a final year. It's rare positive news for a franchise that plans to ask a lot of second-year passer Justin Fields. It seems like rookie head coach Matt Eberflus and general manager Ryan Poles are in for a bumpy ride.
32. Houston Texans
Preseason rank: 32
The Texans are in rebuild mode, with their sights set on competing in 2023. They now have the draft capital from the Watson trade to start building a competitive roster. This year is about finding out if quarterback Davis Mills can be the leader of the franchise.