NFL Power Rankings - Week 8: Every team's scariest trend
The NFL Power Rankings are selected by a panel of theScore's football editors.
With Halloween right around the corner, we're uncovering a scary trend for each team that will leave fans trembling in fear.
1. Philadelphia Eagles (6-0)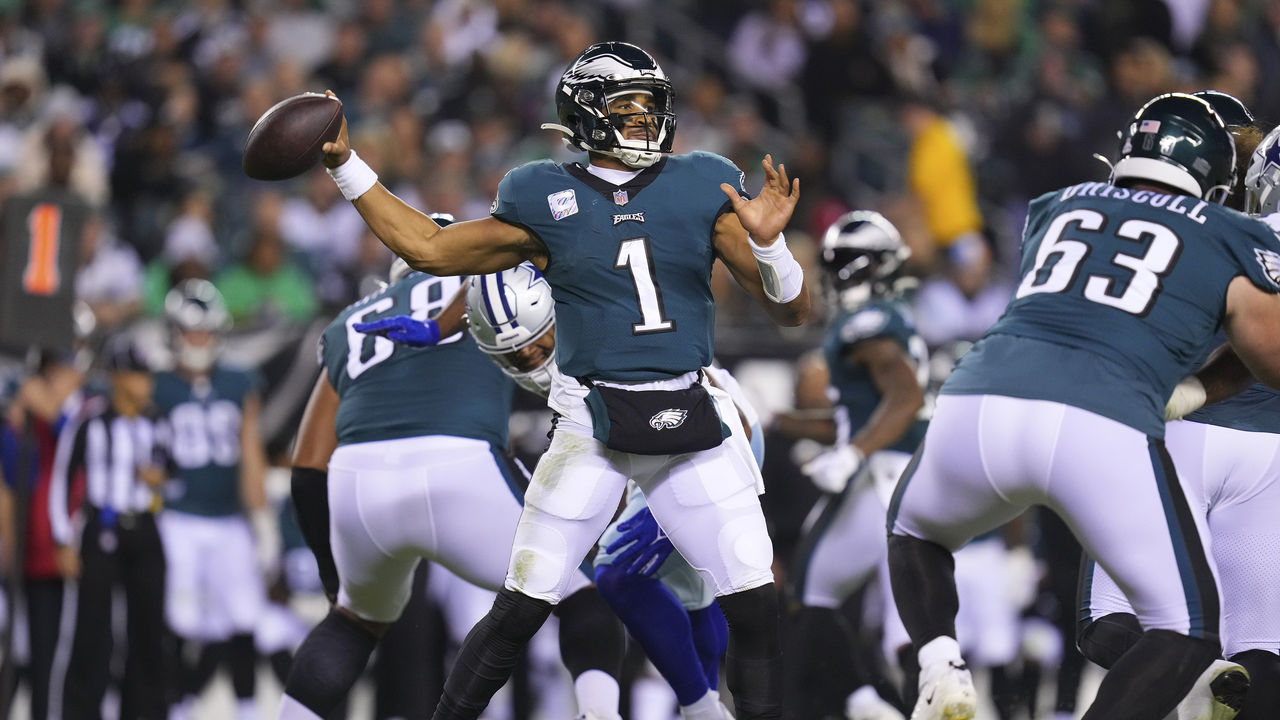 Previous Rank: 1
Scariest trend: Jalen Hurts averaged 305 passing yards per game over the season's first three weeks. In the three games since, that number is below 200 yards. Wins are wins, so it's tough to be too concerned. But Hurts needs to be a big-time passer for the Eagles to be at their best in the playoffs.
2. Buffalo Bills (5-1)
Previous Rank: 2
Scariest trend: The Bills sit alone atop the division, but every other team in the AFC East is also above .500 outside the Patriots. That kind of competition significantly increases the risk of one or two losses down the stretch that could swing the race for home-field advantage.
3. Kansas City Chiefs (5-2)
Previous Rank: 3
Scariest trend: Capable as the Chiefs may be in shootouts, that's not the most comfortable way to play games deep into the postseason. Kansas City's defense has to be better than its current No. 30 ranking against the pass.
4. Dallas Cowboys (5-2)
Previous Rank: 4
Scariest trend: The Cowboys' defense is outstanding against the pass. However, it's been another story defending the run, as Dallas is giving up over 120 rushing yards per game. That could be an issue against a few NFC playoff teams with strong ground attacks.
5. New York Giants (6-1)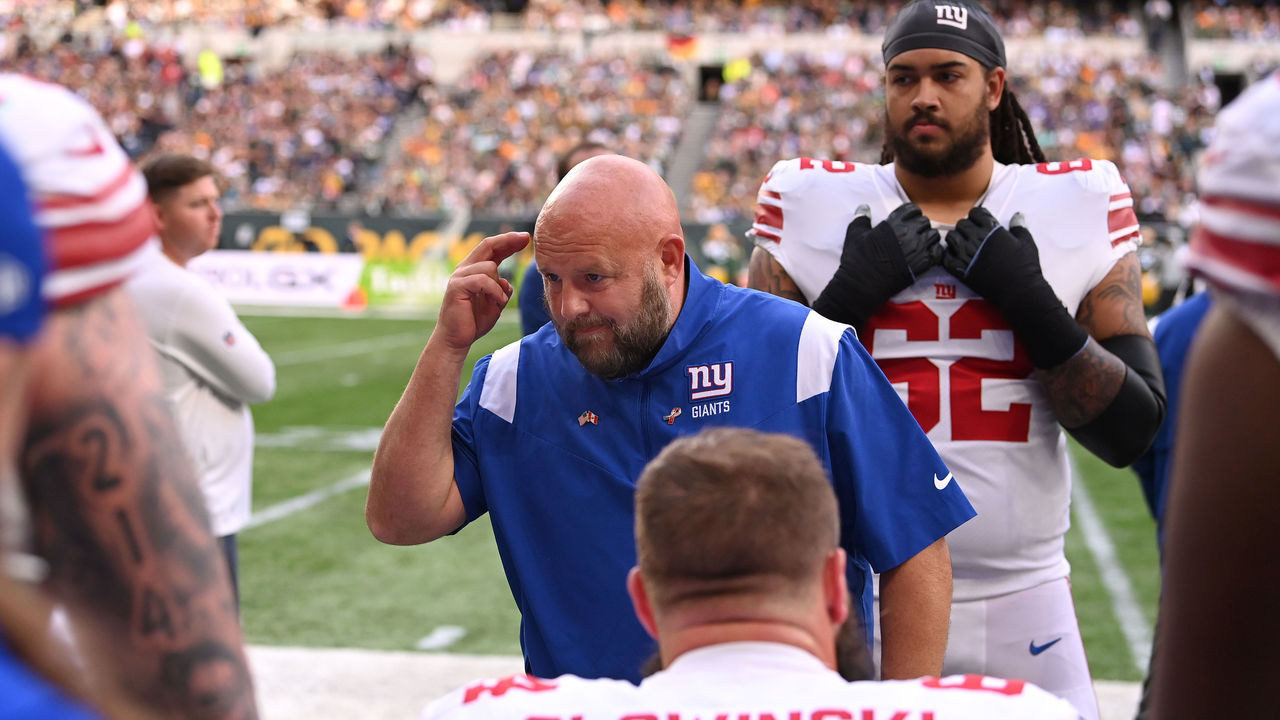 Previous Rank: 5
Scariest trend: The record speaks for itself. But each of the Giants' six wins came down to the wire, with the final results within a single possession. That's not sustainable in any situation, particularly when looking ahead to a potential playoff run.
6. Cincinnati Bengals (4-3)
Previous Rank: 11
Scariest trend: Joe Mixon is averaging 3.3 yards per carry due largely to some continued adventures on the offensive line. The Bengals will never be a run-dominant team. But they'd have an easier time getting opponents out of those challenging two-high looks if their rushing game posed even a small threat.
7. Minnesota Vikings (5-1)
Previous Rank: 6
Scariest trend: Kevin O'Connell was supposed to take the Vikings' passing attack to another level. Instead, Kirk Cousins has thrown for 6.5 yards per attempt, by far the lowest mark of his career as a full-time starter. Minnesota's record is nice, but the club needs more from its offense if it wants to continue winning when the schedule gets tougher.
8. Baltimore Ravens (4-3)
Previous Rank: 7
Scariest trend: Baltimore has blown a lead in the second half in each of its three losses this season. It nearly happened again last weekend against Cleveland before the defense came through to close things out. The talent is there, but the Ravens have to finish games.
9. Miami Dolphins (4-3)
Previous Rank: 13
Scariest trend: Injuries are starting to pile up in Miami's secondary, including Brandon Jones now heading to IR. That's a major concern for a Dolphins defense that ranks 24th against the pass this season. Don't rule out a trade to bolster the defensive backfield.
10. San Francisco 49ers (3-4)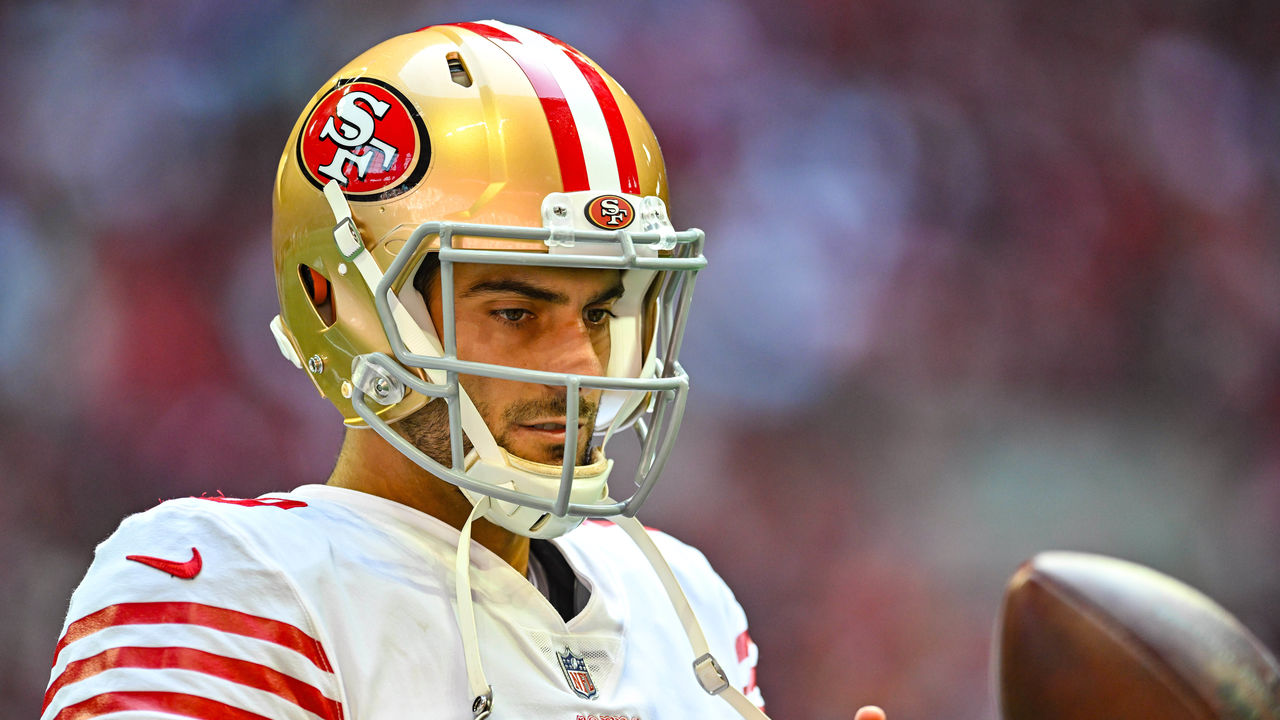 Previous Rank: 9
Scariest trend: The 49ers have turned the ball over three times in each of the last two weeks and in three different games this season. It's no coincidence they lost each of those contests. Giving the opponent extra possessions is a surefire way to waste the efforts of an outstanding defense.
11. Seattle Seahawks (4-3)
Previous Rank: 18
Scariest trend: Seattle's offense has been one of the campaign's biggest surprises, but the Seahawks still turn the ball over too much. They're one of only four teams with at least one giveaway in every game, and Seattle's 10 total turnovers are tied for the eighth most in the NFL this year.
12. Tennessee Titans (4-2)
Previous Rank: 16
Scariest trend: Tennessee has won four in a row, but its offense remains a concern after not scoring a single touchdown in Week 7. The Titans, who have yet to put up 25 or more points in a game this year, rank 31st in yards per play and big-play passes (25-plus-yard completions).
13. Los Angeles Rams (3-3)
Previous Rank: 12
Scariest trend: The Rams' defense misses Von Miller. Los Angeles has pressured opposing quarterbacks in just 12.9% of their dropbacks - the second-worst rate in the league - while ranking in the bottom 10 with only 12 sacks in 2022.
14. Los Angeles Chargers (4-3)
Previous Rank: 8
Scariest trend: Injuries have been the biggest concern for the Chargers, who've played multiple games without crucial starters. The list includes receiver Keenan Allen, left tackle Rashawn Slater, center Corey Linsley, and defensive end Joey Bosa. Things got worse for L.A. in Week 7 as wideout Mike Williams suffered a high ankle sprain and corner J.C. Jackson sustained a season-ending knee ailment.
15. New York Jets (5-2)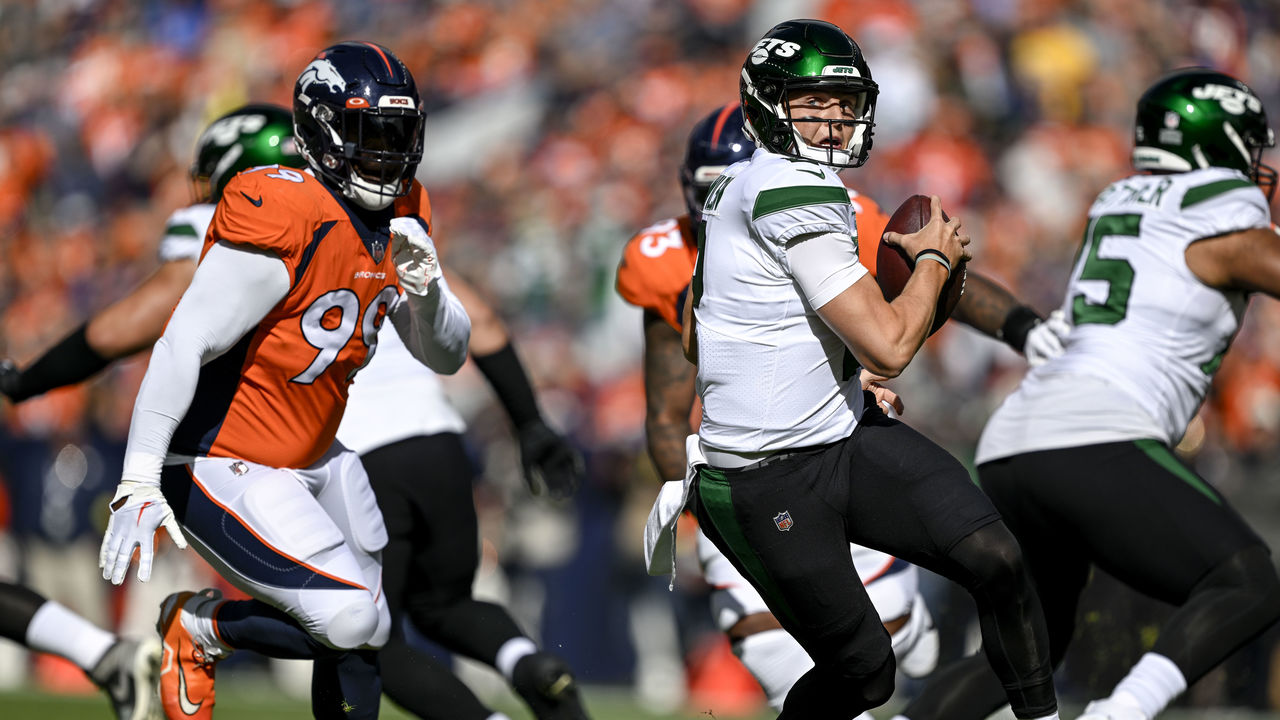 Previous Rank: 15
Scariest trend: Zach Wilson has struggled since returning from injury in Week 4. He hasn't tossed more than 210 yards or a touchdown in each of the last three contests. It'll be tough for him to get his game back on track after standout running back Breece Hall and guard Alijah Vera-Tucker both suffered season-ending injuries Sunday.
16. Tampa Bay Buccaneers (3-4)
Previous Rank: 10
Scariest trend: What happened to the Bucs' run game? Tampa Bay's rushing attack has been far from perfect in recent years, but it often provided stability and balance to Tom Brady when the quarterback needed it most. However, the Buccaneers rank dead last in rushing yards and yards per attempt this year.
17. Atlanta Falcons (3-4)
Previous Rank: 14
Scariest trend: Does Arthur Smith believe in Marcus Mariota? The quarterback attempted just 13 passes despite the Falcons trailing by at least two possessions for most of Sunday's loss. Mariota also hasn't recorded 20-plus pass attempts in three of his last four games. Joe Flacco, who started only the first three weeks for the Jets, has thrown the ball more times (155) than Mariota has in seven starts (150).
18. Arizona Cardinals (3-4)
Previous Rank: 22
Scariest trend: Since Kliff Kingsbury became the coach in 2018, the Cardinals have struggled to sustain success in the second half of their schedules. Arizona has posted a combined 9-19 post-Week 7 record in three years under Kingsbury. Plus, the team has yet to win in Week 8 over that span (two losses and one bye).
19. Green Bay Packers (3-4)
Previous Rank: 17
Scariest trend: There are too many issues in Green Bay right now amid the team's three-game losing streak. Perhaps the Packers' biggest concern is their third-down offense. The club's converted just eight of 32 third-down attempts since Week 5. Sunday's loss to Washington was the first time since 1999 (370 games) that Green Bay didn't convert a third down in a game (0-for-6).
20. Las Vegas Raiders (2-4)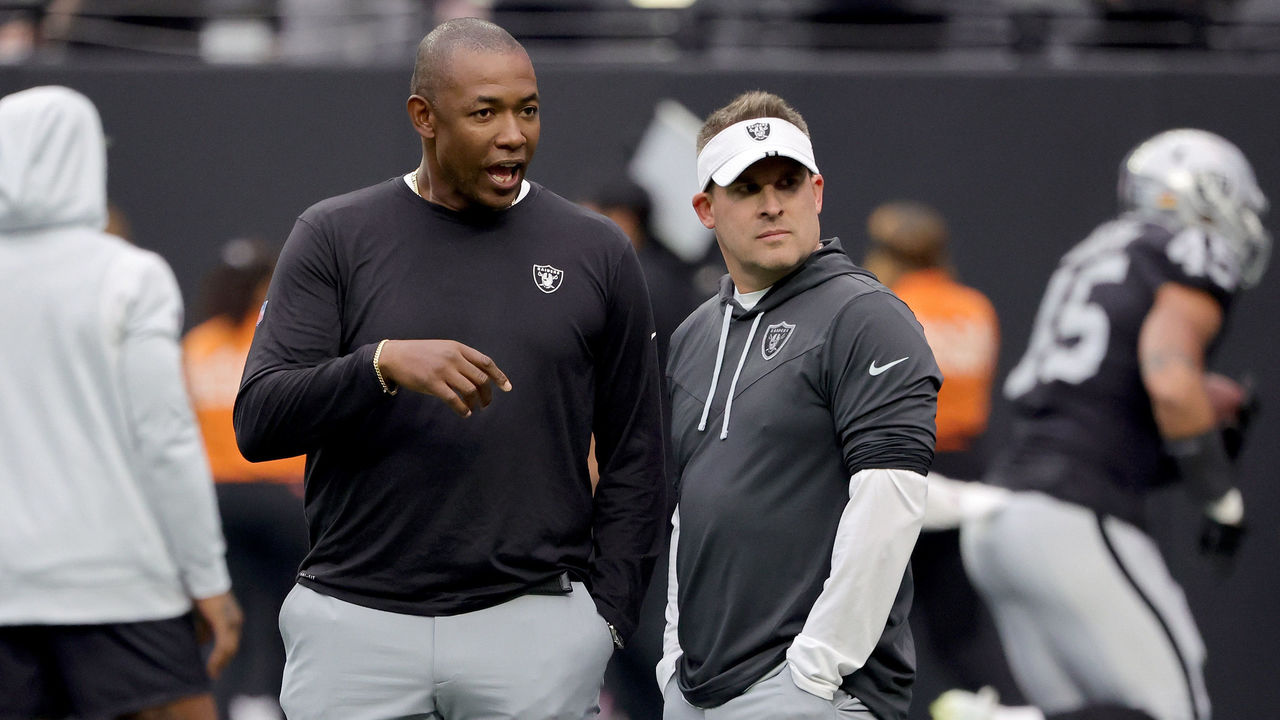 Previous Rank: 24
Scariest trend: The Raiders need to start making things more difficult for opposing quarterbacks if they want to turn their season around. Las Vegas' defense is allowing a 104.7 average passer rating, the worst mark in the league.
21. Indianapolis Colts (3-3-1)
Previous Rank: 19
Scariest trend: Matt Ryan played poorly, but the Colts - as head coach Frank Reich admitted - failed to provide him the protection they promised. Even a change to a more mobile Sam Ehlinger won't fix an expensive line that's allowed the fourth-most sacks per game.
22. Washington Commanders (3-4)
Previous Rank: 30
Scariest trend: The Commanders' offense has struggled this season, especially early in games. They've averaged just 6.3 points in the first half of contests, the second-worst mark. Perhaps Washington's offense can find its groove faster with Taylor Heinicke now under center for the injured Carson Wentz.
23. Chicago Bears (3-4)
Previous Rank: 31
Scariest trend: Justin Fields had one of his better passing performances of the season on Monday Night Football, but his unwillingness to challenge tight coverage continues to be a concern. Although a lack of pass-catching talent doesn't help, Fields ranks last in Next Gen Stats' aggressiveness metric, which tracks pass attempts with a defender within one yard of the receiver.
24. New England Patriots (3-4)
Previous Rank: 20
Scariest trend: With only two games left against teams currently below .500, the Patriots have the highest strength of schedule remaining in the NFL. Even those "easy" matchups aren't as easy as they may sound, as New England will visit the Cardinals and Raiders, two clubs that made the playoffs last year.
25. Jacksonville Jaguars (2-5)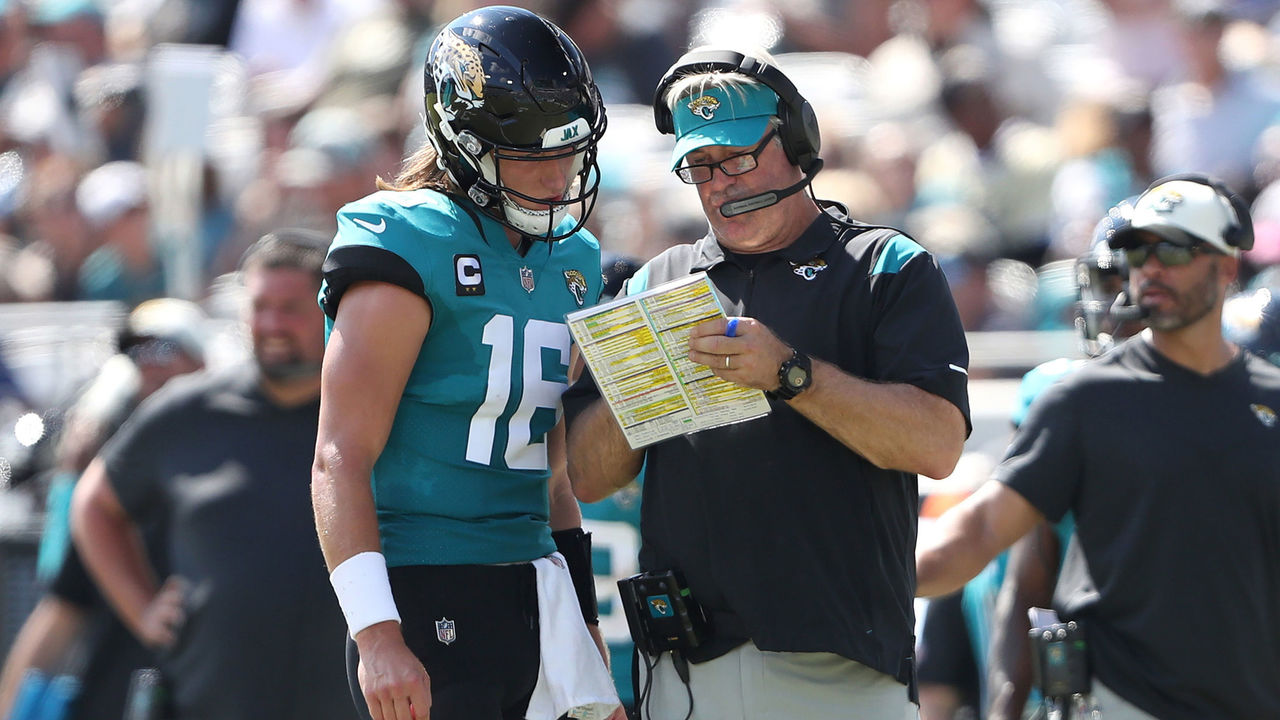 Previous Rank: 23
Scariest trend: The Jaguars are certainly better under head coach Doug Pederson than Urban Meyer. But their inability to come through in the clutch is concerning. Jacksonville is now 0-5 in one-score games this campaign after losing to the Giants in Week 7.
26. New Orleans Saints (2-5)
Previous Rank: 21
Scariest trend: If the Saints had one strength entering the season, it was their pass defense. However, the unit has fallen off over the last three weeks, with opposing quarterbacks averaging 7.8 yards per attempt (27th) and completing 70.33% of their passes (28th).
27. Pittsburgh Steelers (2-5)
Previous Rank: 25
Scariest trend: Kenny Pickett's had more mistakes and fewer splash plays than the Steelers likely hoped, but blaming a rookie quarterback over his inept offensive coordinator is unfair. Only the Broncos have scored fewer offensive touchdowns through the last three games than Matt Canada's unit.
28. Cleveland Browns (2-5)
Previous Rank: 28
Scariest trend: Cleveland likely knew it would punt on the 2022 campaign, and now it's official. The already free-falling AFC North club faces the third-hardest schedule by the average DVOA of its remaining opponents.
29. Denver Broncos (2-5)
Previous Rank: 27
Scariest trend: In his prime, Russell Wilson routinely killed defenses that got too aggressive with blitzes. But after seeing a decline in his final years in Seattle, Wilson is now completing just 45.9% of his passes (ahead of only Fields) against additional pressure.
30. Carolina Panthers (2-5)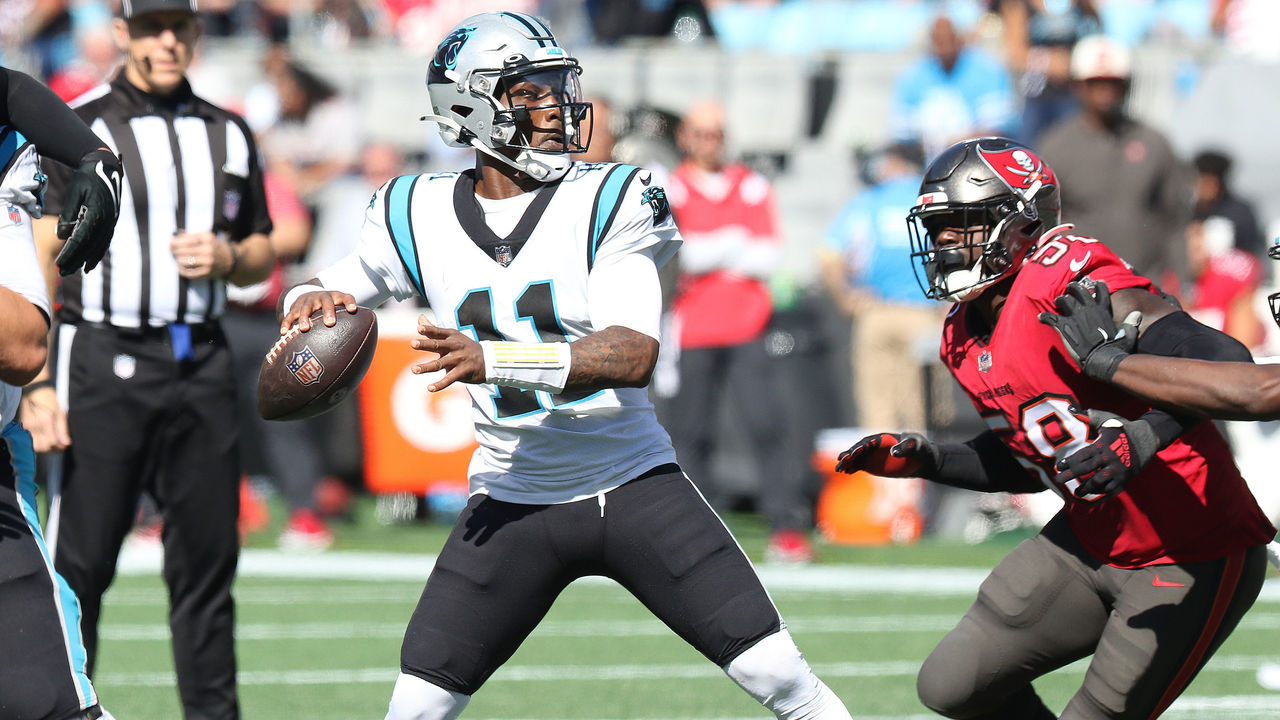 Previous Rank: 32
Scariest trend: All the upheaval on Carolina's offense likely explains its third-down struggles. However, the Panthers haven't just been bad; they're in historically awful territory. The club has converted just 25% of their third-down attempts. No other team is below 30%, and no team has finished a season with a 25% conversion rate since the Rams in 2015.
31. Detroit Lions (1-5)
Previous Rank: 26
Scariest trend: The Lions' offense was their lone bright spark through the season's first four weeks, averaging an eye-popping 35 points per game. While the unit has been dealing with injuries, producing zero touchdowns and six total points over the last two weeks is inexcusable.
32. Houston Texans (1-4-1)
Previous Rank: 29
Scariest trend: Although winning games might not be in the Texans' best long-term interests, fans would likely feel better about the team heading into 2023 if it consistently fought for an entire game. Houston's defense isn't great, but it really falls apart in the fourth quarter, averaging the fourth-most points allowed in the league (9.7).
Comments
✕
NFL Power Rankings - Week 8: Every team's scariest trend
  Got something to say? Leave a comment below!