The Bengals are good. How did that happen?
In Week 14, the Cincinnati Bengals lost an overtime heartbreaker at home to the San Francisco 49ers. It was their fourth loss in six games.
The 2021 season had offered so much promise: Joe Burrow's successful return from ACL surgery, Ja'Marr Chase's emergence as a big play in waiting, a sweep of the hated Pittsburgh Steelers, a blowout of the Baltimore Ravens on the road. But it seemed doomed to end in disappointment, just as so many other Bengals seasons did in the 31 years since the franchise last won a playoff game. Even in the wide-open AFC, Cincinnati entered Week 15 with a 7-6 record and just a 30% chance of making the postseason, according to ESPN.
So much for all that. The Bengals won their next three - finishing a sweep of the Ravens and holding off the red-hot Kansas City Chiefs - to wrap up the AFC North title. They did it with a week to spare, too. Then the Bengals defeated the Las Vegas Raiders to secure their first playoff victory since the 1990 season. And now here they are, gearing up to face the top-seeded Tennessee Titans in the divisional round as just 3.5-point underdogs (as of Friday).
What happened? Two years ago, Cincinnati was a league-worst 2-14, which allowed it to select Burrow with the No. 1 overall pick in the draft. But just last season, the Bengals were 2-6-1 when Burrow's rookie campaign ended because of a knee injury.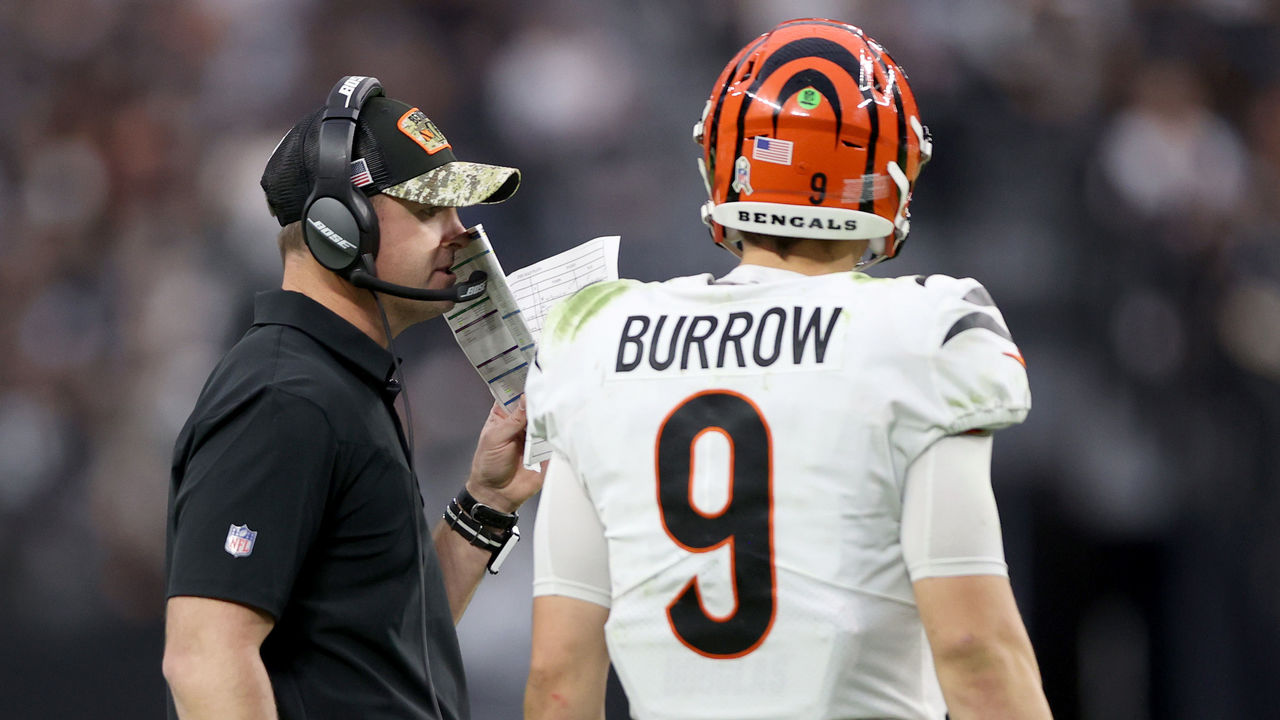 Burrow's ascension this year - aided by the addition of Chase as his wingman - is an obvious place to start. But the Bengals' front office hit on several other draft picks in recent years. An uncharacteristic aggressiveness in free agency last offseason likewise paid significant dividends, and a late-season schematic flourish by offensive coordinator Brian Callahan and head coach Zac Taylor also helped.
Let's start with the recent drafts. Nine of Cincinnati's 11 offensive starters from last week's wild-card win are homegrown, including eight draft picks. Six of those eight were selected in the first two rounds:
Cincinnati also selected kicker Evan McPherson in the fifth round of the 2021 draft. McPherson made 9 of 11 field goals of 50 yards or more during the regular season and was a perfect 4-for-4 on field goals against the Raiders.
The defensive starters feature four more draftees: defensive end Sam Hubbard, linebackers Logan Wilson and Germaine Pratt, and safety Jessie Bates III. The other seven defensive starters are all free-agent additions from the past two offseasons, including five players from 2021:
Cincinnati has three other players in its defensive-line rotation - end Cameron Sample, plus tackles Josh Tupou and B.J. Hill - who have played at least 27% of the snaps. Sample is a 2021 fourth-round pick, Tupou was a 2017 undrafted free agent, and Hill was acquired via an August trade with the New York Giants. One of those tackles will draw into the starting lineup Saturday after Ogunjobi was placed on injured reserve this week.
The Bengals' front office has remained the same for a long time. Owner Mike Brown, the 86-year-old son of the team's founder, has also held the general manager's title since 1991. And another executive on the football side, director of player personnel Duke Tobin, has been on the job since 1999.
Despite its run of futility across the last 30 years - only the Cleveland Browns and Detroit Lions have a lower winning percentage since Brown took over for his old man as GM - Cincinnati has had its share of successes. All of them just happened to be short-lived.
The Bengals won the AFC North in 2005 and 2009 when Carson Palmer - another first overall pick - was their quarterback. And from 2011-15, with Andy Dalton at the controls, Cincy made the playoffs five straight times, including division titles in 2013 and 2015. All seven of those postseason appearances under head coach Marvin Lewis ended with losses in the wild-card round.
There was some crummy luck involved. In 2005, the Bengals' offense was fifth in DVOA during the regular season, but Palmer was knocked out of their playoff game when Steelers defensive tackle Kimo von Oelhoffen rolled into his knee just as he completed a 66-yard strike to Chris Henry on his first pass attempt. The 2015 Bengals finished third in overall DVOA and second in offensive DVOA, but Dalton broke his thumb in Week 13 while trying to make a tackle after an interception. With rookie A.J. McCarron at QB, Cincy overcame a 15-0 fourth-quarter deficit against Pittsburgh in the playoffs, only to blow the game in the waning seconds because of an unfathomable meltdown of penalties.
It wasn't all luck, though. In 2011, Palmer refused to play again for the Bengals and eventually forced a trade. In a podcast appearance years later, he told former NFL scout John Middlekauff that he was frustrated the organization wouldn't spend money on the pieces the Bengals needed to build on what they had - and to sustain that success.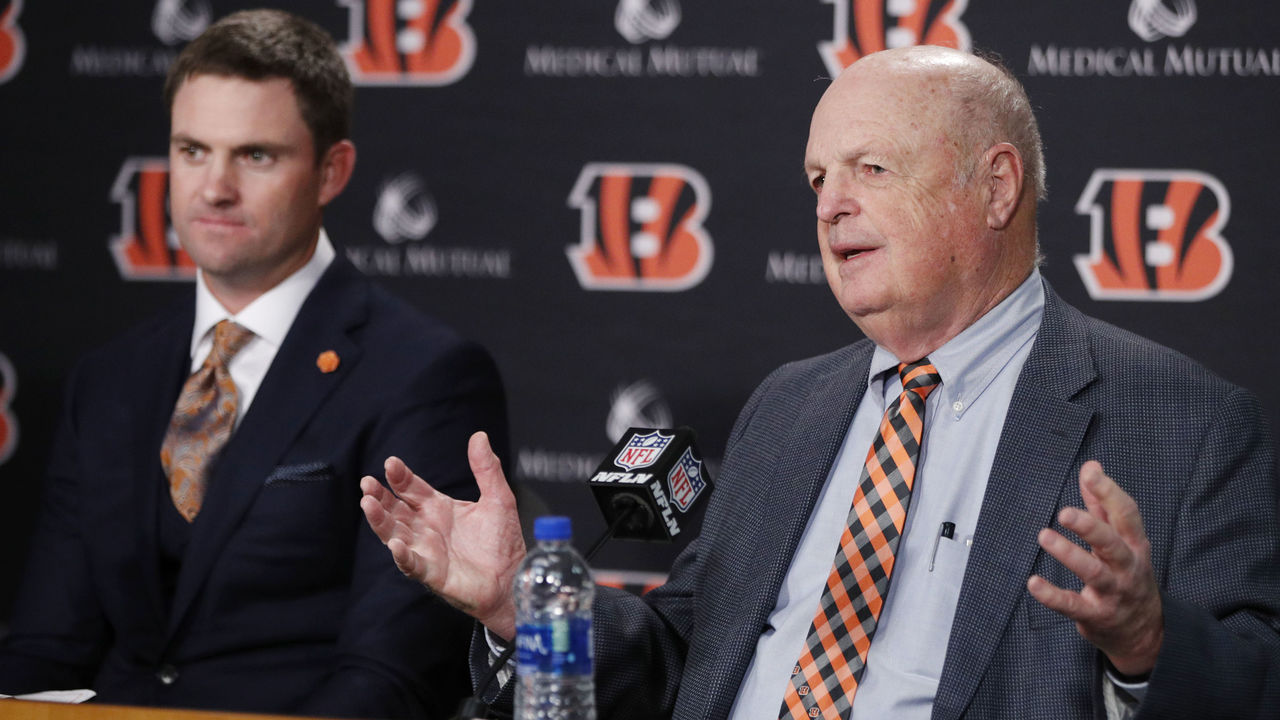 "I had gone to the organization and was like … we need a couple players here, a couple players there … and then of course the offseason comes, and nothing happens. Nothing changes," Palmer told Middlekauff on "3 and Out."
"And it was year after year. In order to win in the NFL … you've got to be desperate to win a championship. You've got to be all in. The financials and the money side of it are very important, obviously, to owners, and to everybody that's invested in the organization. But if the most important thing is the financials and the second-most important thing is winning, then you don't have a chance. And it's so important that ownership is willing to do what it takes to win."
That's the part that's changed a bit recently. Look again at the list of free agents added in the last two years. The Bengals committed $64.75 million in practical guarantees to sign Reader, Bell, Hendrickson, Hilton, and Awuzie, according to Over the Cap. It was by no means a reckless spending spree: Cincy used signing bonuses and rolling guarantees to structure those contracts, and it's not on the hook for any back-breaking cap consequences if it moves on from any of those deals.
But it was still a substantial outlay that's had a significant impact.
Hendrickson finished the regular season with 77 pressures, per PFF, which was tied for fourth-most among edge rushers. His 14 sacks ranked fifth. His presence was enormous against the Raiders last week, too: Before sustaining a concussion, Hendrickson was on the field for 10 pressures among Derek Carr's first 23 dropbacks, per Next Gen Stats. After he left the game, the Bengals didn't pressure Carr again in his next 11 dropbacks. Hendrickson has been cleared to play against the Titans.
Awuzie and Hilton both earned top 30 coverage grades among all cornerbacks from PFF.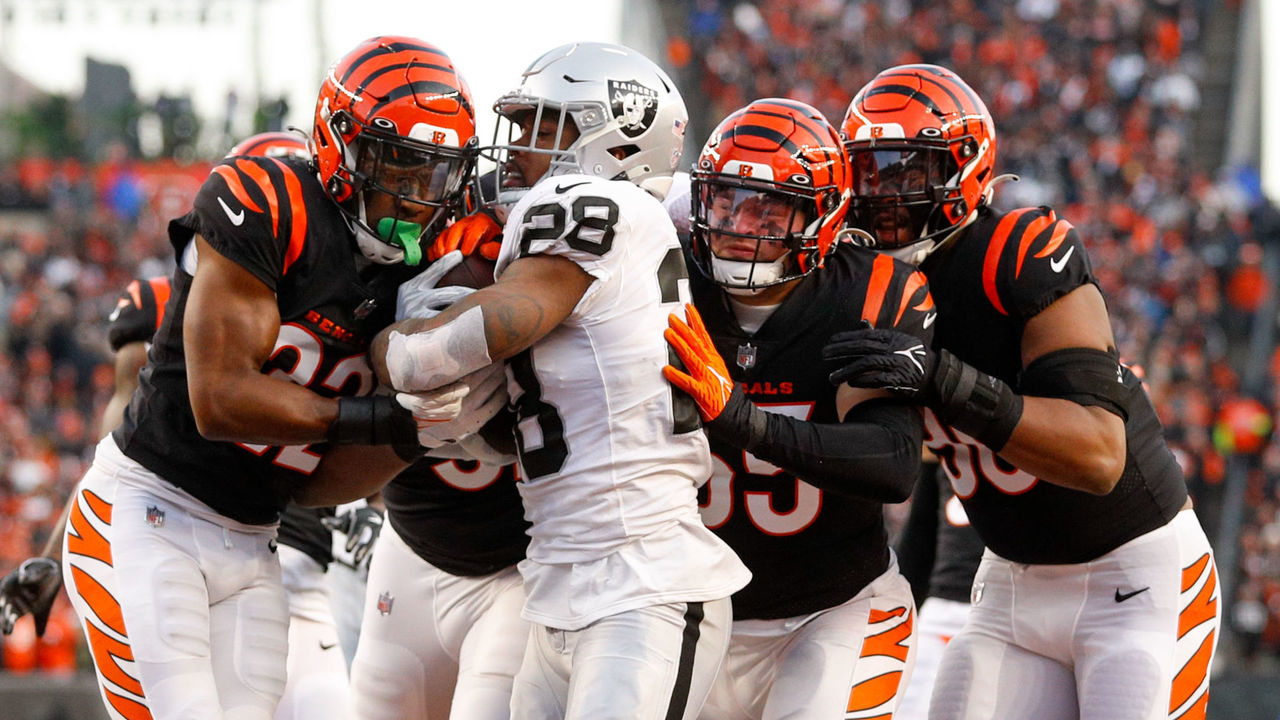 The common denominator these last two years is Taylor. Sure, the Bengals bottomed out in Taylor's first season, which allowed them to select Burrow. But the front office's willingness to be more aggressive in free agency has coincided with the cap advantages of having Burrow on a rookie contract. Taylor has also schemed to recreate what Burrow had at LSU, from an emphasis on empty-backfield spread formation looks to the addition of Chase as a downfield threat.
Taylor and Callahan made a late-season scheme change that's helped, too: From Weeks 1 through that 49ers loss in Week 14, the Bengals ranked 24th in early-down pass rate (49.1%), per Ben Baldwin's database. Since then (excluding Week 18, when they rested their starters), Cincinnati is passing on first and second down 59.8% of the time, the third-highest rate in the league.
The Bengals have benefited from being healthy, and they'll have some big decisions to make this offseason (starting with Bates, who might prove to be out of Cincinnati's price range). For now, however, they've at least laid the foundation with Burrow and Chase - and they're not done yet.
Dom Cosentino is a senior features writer at theScore.
Comments
✕
The Bengals are good. How did that happen?
  Got something to say? Leave a comment below!