NFL award rankings: Race heating up for MVP, rookie honors, more
Here's a current look at the best five candidates for the main honors:
Coach of the Year
5. Brandon Staley, Chargers
First-year head coaches often have the inside track for this award, and Staley is certainly the cream of the rookie crop. The Los Angeles Chargers haven't been the most consistent team in the NFL, and Staley's decision to have Joe Lombardi be his offensive coordinator remains questionable. But the head coach has L.A. firmly in the fight for the AFC West crown after a dominant win over the Cincinnati Bengals.
4. Mike Vrabel, Titans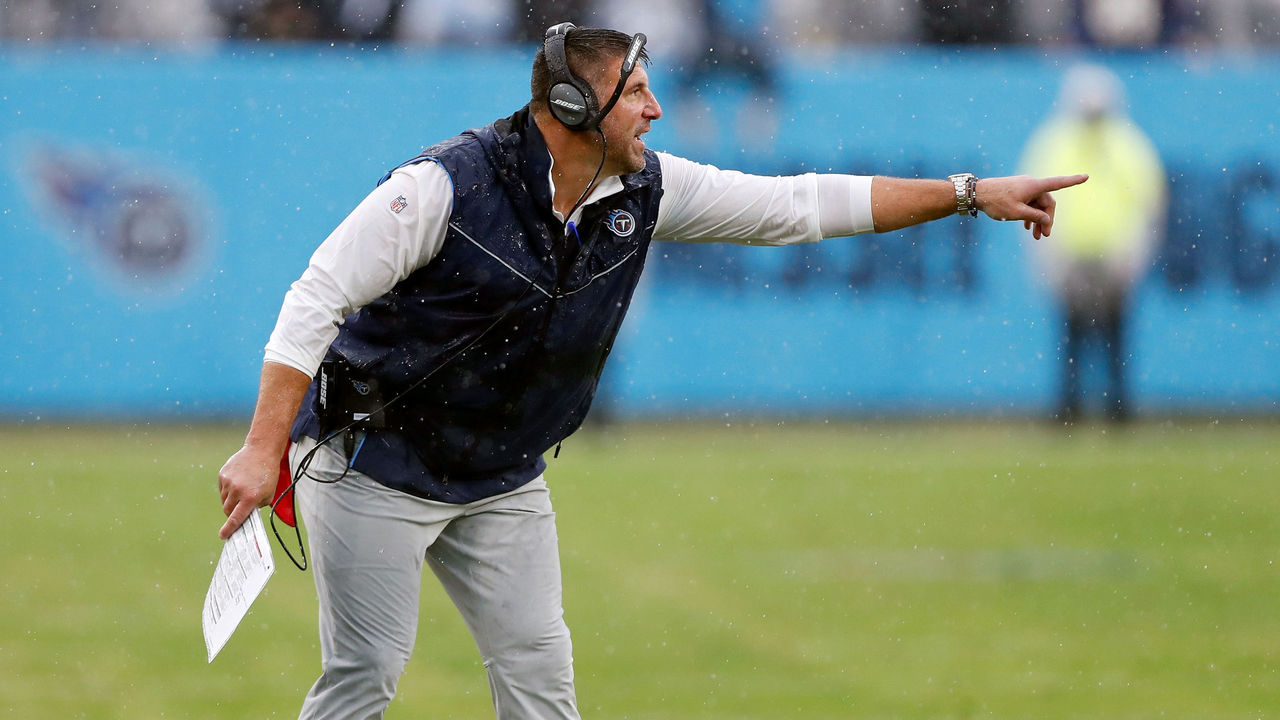 Two straight losses for the Tennessee Titans, including an embarrassing defeat to the lowly Houston Texans, have led to Vrabel falling from one of the favorites for Coach of the Year. But we still can't forget the bench boss led the Titans to consecutive wins over the Buffalo Bills, Kansas City Chiefs, Indianapolis Colts, Los Angeles Rams, and New Orleans Saints while also losing star rusher Derrick Henry in the middle of that stretch.
3. Matt LaFleur, Packers
LaFleur scored a huge win going into the bye week with a statement victory over the Rams. Since their season-opening loss, the Green Bay Packers have won nine of 11 contests, with those nine wins being tied for most in the NFC over that span. And compound Green Bay's run with the fact that they haven't had Jaire Alexander's, David Bakhtiari's, or Za'Darius Smith's services for either the majority or all of it. Adversity has come at the Packers, but LaFleur has built a resilient squad.
2. Kliff Kingsbury, Cardinals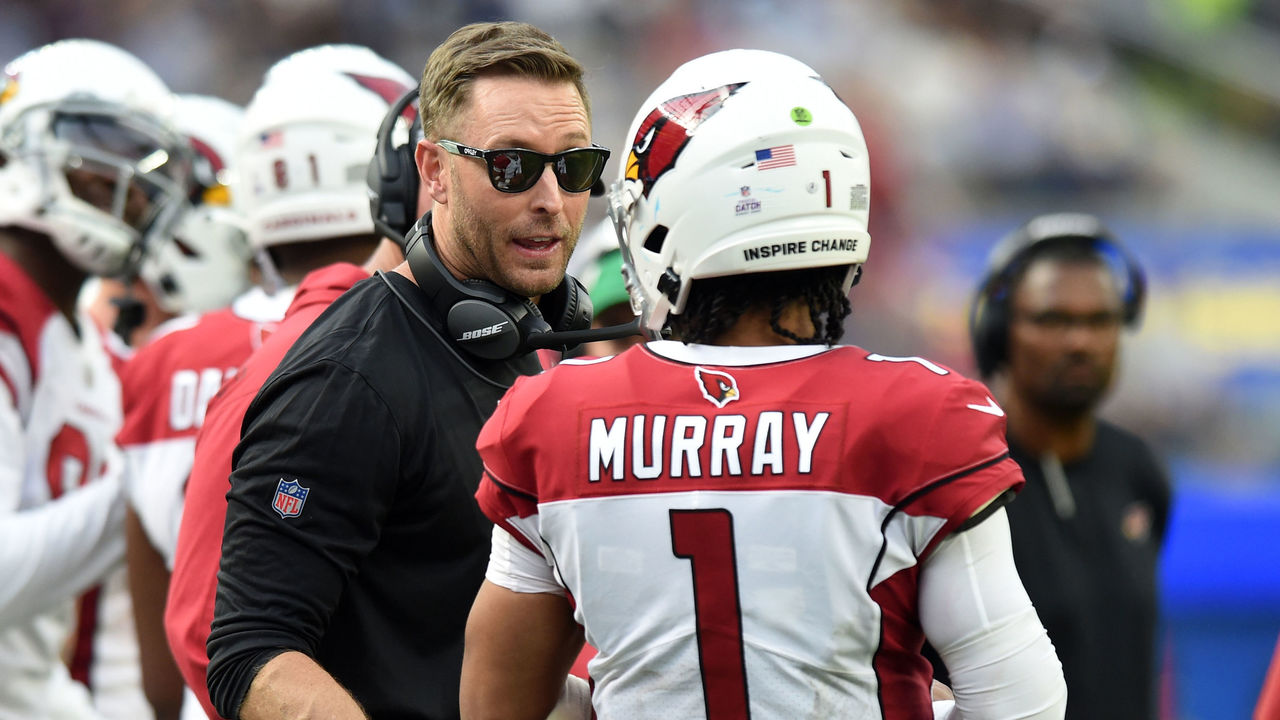 Kingbury's chances of landing COY looked to be in harm's way with the extended absences of Kyler Murray and DeAndre Hopkins. However, the offensive guru put together a masterclass, guiding the Arizona Cardinals to a 2-1 mark during their three-game stint on the sideline. After a dominant victory in Week 13, which saw Murray and Hopkins return, Kingsbury has his foot on the gas for a potentially extraordinary finish.
1. Bill Belichick, Patriots
We saw another prime-time masterclass from Belichick on Monday, who coached circles around Sean McDermott to further strengthen his grip on the division and the conference. With a masterful retooling of his roster, the Patriots' leader has erased any lingering doubts from 2020 and proved he is still the best coach in the game. Belichick owns three COY awards but somehow hasn't won since 2010. A fourth would tie him with Don Shula for the most in NFL history.
Offensive Rookie of the Year
5. Najee Harris, Steelers
Harris, one of the favorites for this award entering the campaign, has been a workhorse for the Pittsburgh Steelers. However, the running back will likely need an epic finish to stand a chance to win. While Harris' volume stats look good - 779 rushing yards, 387 receiving yards, seven total touchdowns - he's averaging just 3.6 yards per carry and has only two runs of 20 yards or more.
4. Kyle Pitts, Falcons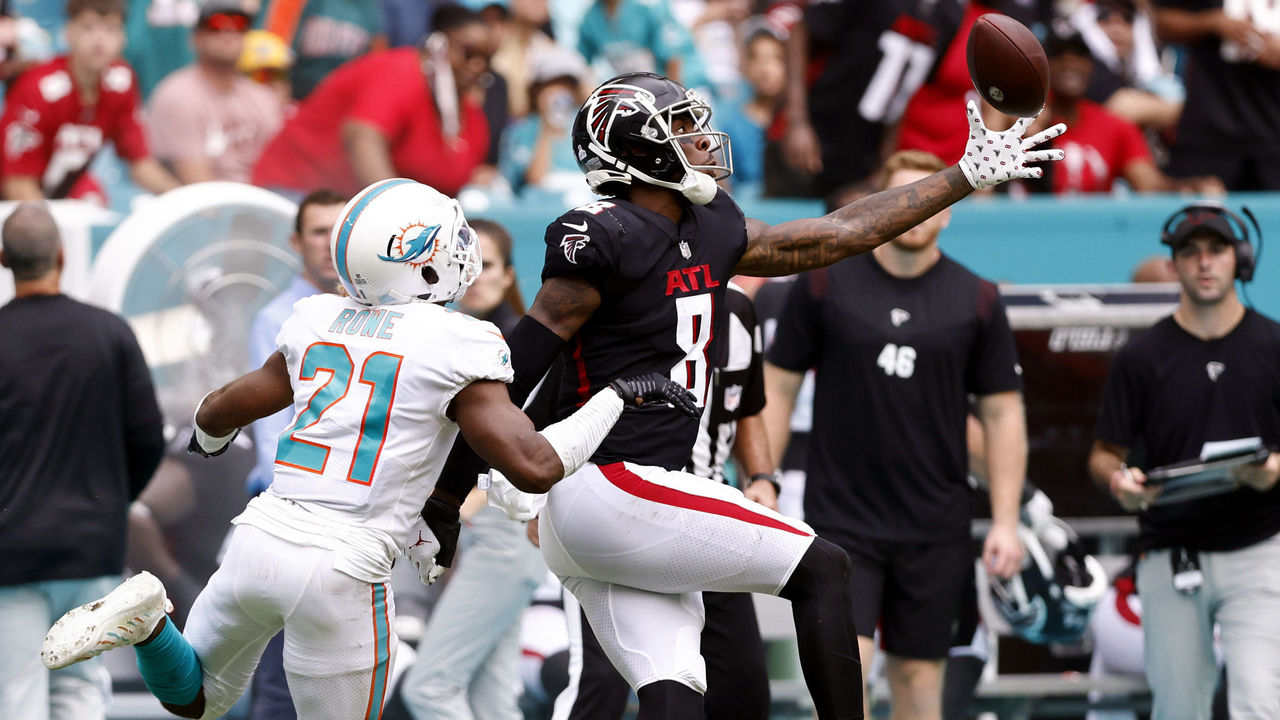 Aside from a lack of touchdowns, Pitts has been everything critics hyped him up to be during the draft process. He ranks third among tight ends with 709 yards and 14.5 yards per catch despite playing on an Atlanta Falcons offense that's far less talented since Julio Jones' trade and Calvin Ridley's decision to step away from football.
3. Jaylen Waddle, Dolphins
Waddle hasn't been the explosive weapon with the Miami Dolphins that he was at Alabama, but that's more the fault of the team's scheme than any limitations the wideout has at the NFL level. He ranks 14th in receiving yards with 849 after a strong November in which he caught 38 of 46 targets and helped the Dolphins save their season with a five-game winning streak.
2. Ja'Marr Chase, Bengals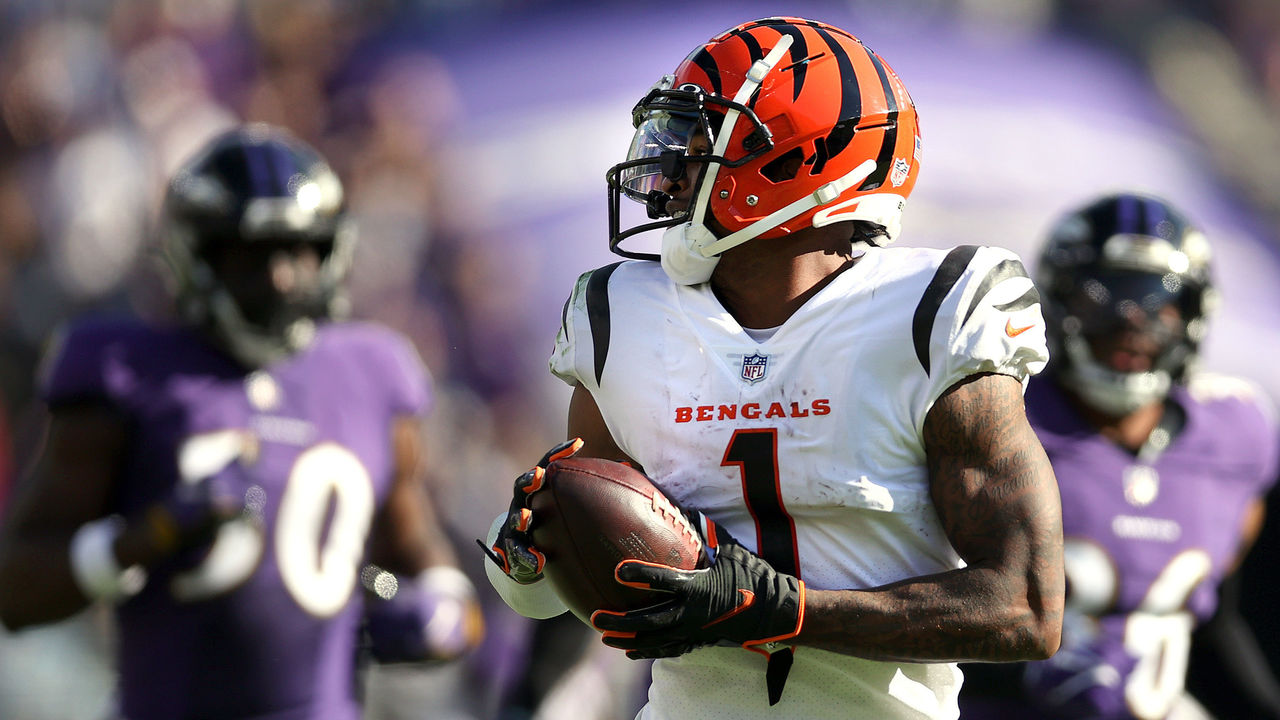 Chase has cooled off considerably after a ridiculous start to the campaign, allowing the No. 1 spot - as well as a touchdown or two - to slip from his grasp. However, the Bengals receiver is just 42 yards away from a 1,000-yard season and is still tied for fourth in touchdown receptions with eight and fourth in yards per catch with 17.4.
1. Mac Jones, Patriots
Jones is surrounded by the best infrastructure a rookie quarterback could ask for with the New England Patriots. If that wasn't obvious before, it is now after he just won a prime-time game while completing just two passes. But the former Alabama standout is still playing incredibly solid football, especially compared to his draftmates. Quarterbacks have a history of winning this award, and Jones is a lock now that New England seems set to claim the AFC's top seed.
Defensive Rookie of the Year
5. Asante Samuel Jr., Chargers
Samuel has lost a bit of steam after missing the last two games due to a concussion, but he hangs on to a spot on the DROY rankings. The 22-year-old has put up two interceptions, seven pass defenses, and a 62.5% passer rating allowed when targeted, per PFR. The L.A. Chargers will be hoping that he returns sooner rather than later.
4. Jaelan Phillips, Dolphins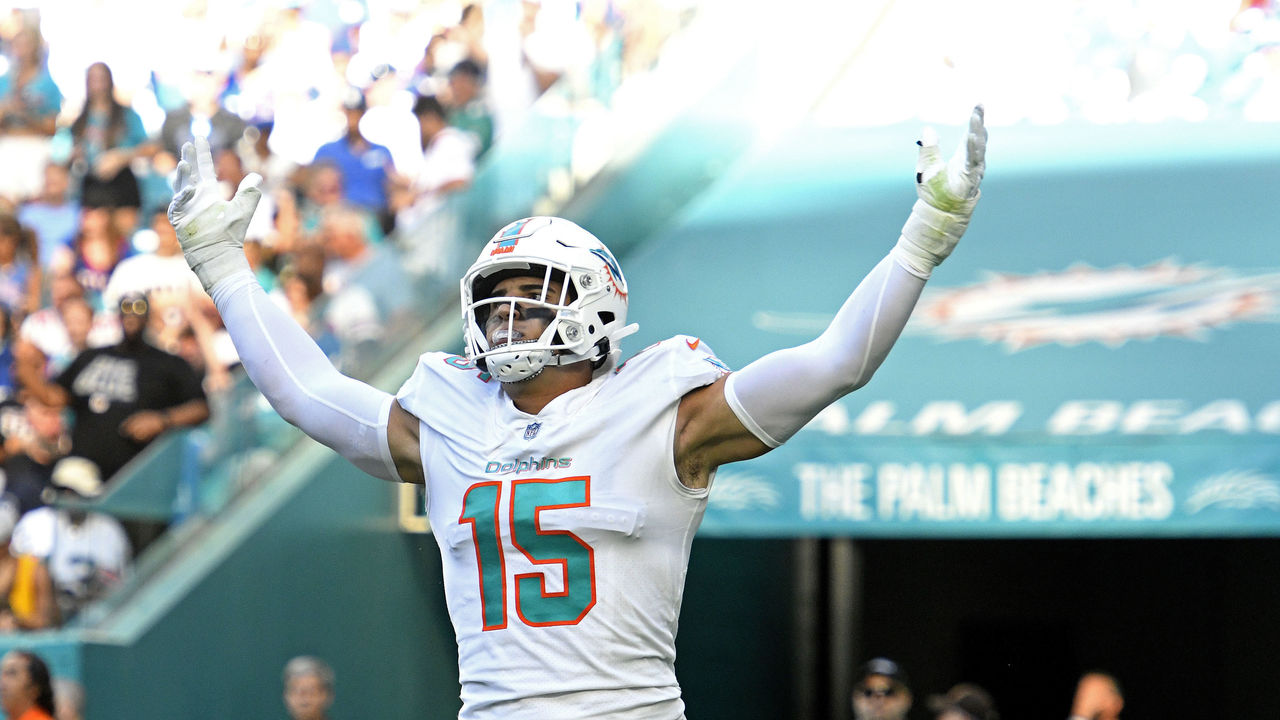 Phillips has been an instrumental part of Miami's resurgence. Not only does he lead all rookies in sacks (8.5), but no player in the NFL has gotten to the quarterback as many times as Phillips since Week 11 (six). While he'll have to continue his torrid pace to have any shot at Defensive Rookie of the Year, it looks like the Dolphins have found a player who could lead their defense for years to come.
3. Odafe Oweh, Ravens
Oweh isn't leading the 2021 class in sacks, but he's shown a tendency to make an impact when it matters most. He's gotten to the quarterback five times and has notched three forced fumbles, with all three coming in victories for the Baltimore Ravens. Oweh's pass-rush grade ranks second among all first-year edge rushers, and he also grades higher than Phillips, per PFF.
2. Patrick Surtain, Broncos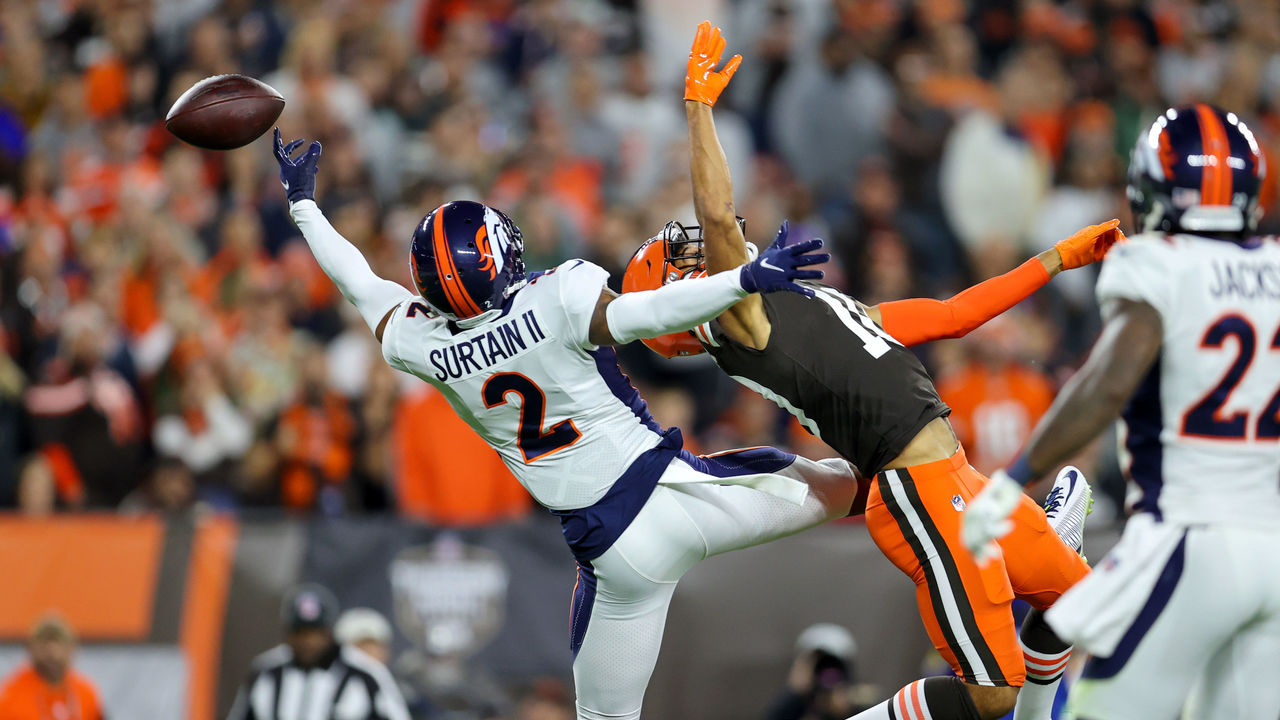 Despite still being a rookie, Surtain continues to be the crown jewel of the Denver Broncos' cornerback group. Surtain followed up a two-interception performance last week with another pick in Week 13. The Broncos have managed to get to 6-6 thanks in large part to a dominant defense that has benefited from the young corner's play.
1. Micah Parsons, Cowboys
Parsons may be in his first year, but you certainly wouldn't be able to tell from watching him play - the Dallas Cowboys linebacker looks like a seasoned pro in the middle of his prime when he's out there. After an impressive first half, Parsons has smashed through any idea of a rookie wall, putting up 7.5 sacks, nine tackles for a loss, and 14 QB hits over his last five games. At this pace, the league might as well get a headstart on etching his name onto the DROY award.
Defensive Player of the Year
5. Aaron Donald, Rams
Donald falls into a rare category of players that can make the extraordinary look ordinary. That's exactly what's happened this season as the All-Pro lineman reached seven sacks and 17 quarterback hits. Unfortunately, his box score stats don't do his contributions justice, but Donald ranks as PFF's highest-graded interior defensive lineman for the 2021 campaign.
4. Matt Judon, Patriots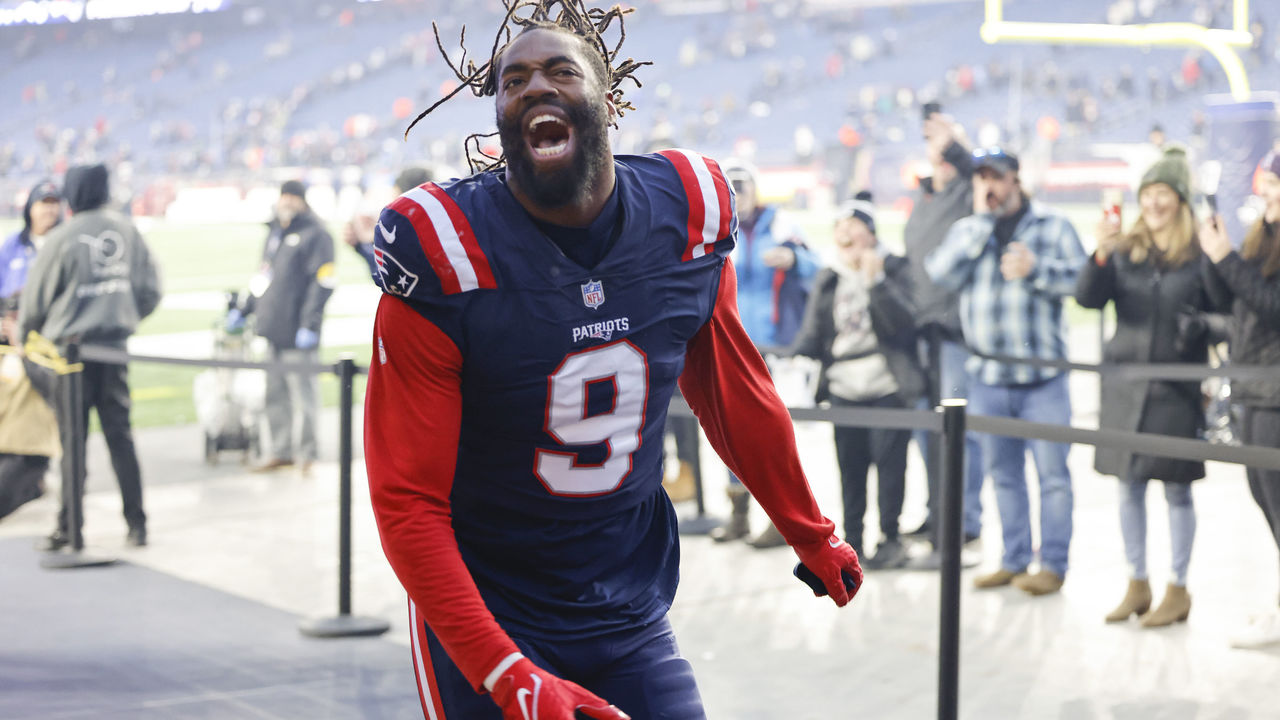 Belichick poured a load of money into free agency last offseason, and his wisest decision undoubtedly looks to be handing a massive contract to Judon. While Judon flew under the radar during his time with the Ravens in previous years, he's become a front-row attraction in Foxborough. Not only has he set a new career-high in sacks (12.5), Judon trails only T.J. Watt and Myles Garrett in the AFC in that category.
3. Trevon Diggs, Cowboys
Diggs' side of the field shouldn't be labeled an island - it feels much more appropriate to compare the cornerback's area to shark-infested water. Field generals who take the bait often get bit by Diggs' superb ball skills. With his interception in Week 13, Diggs became the first player to record nine interceptions in his first 12 games of the season since Everson Walls in 1981.
2. Myles Garrett, Browns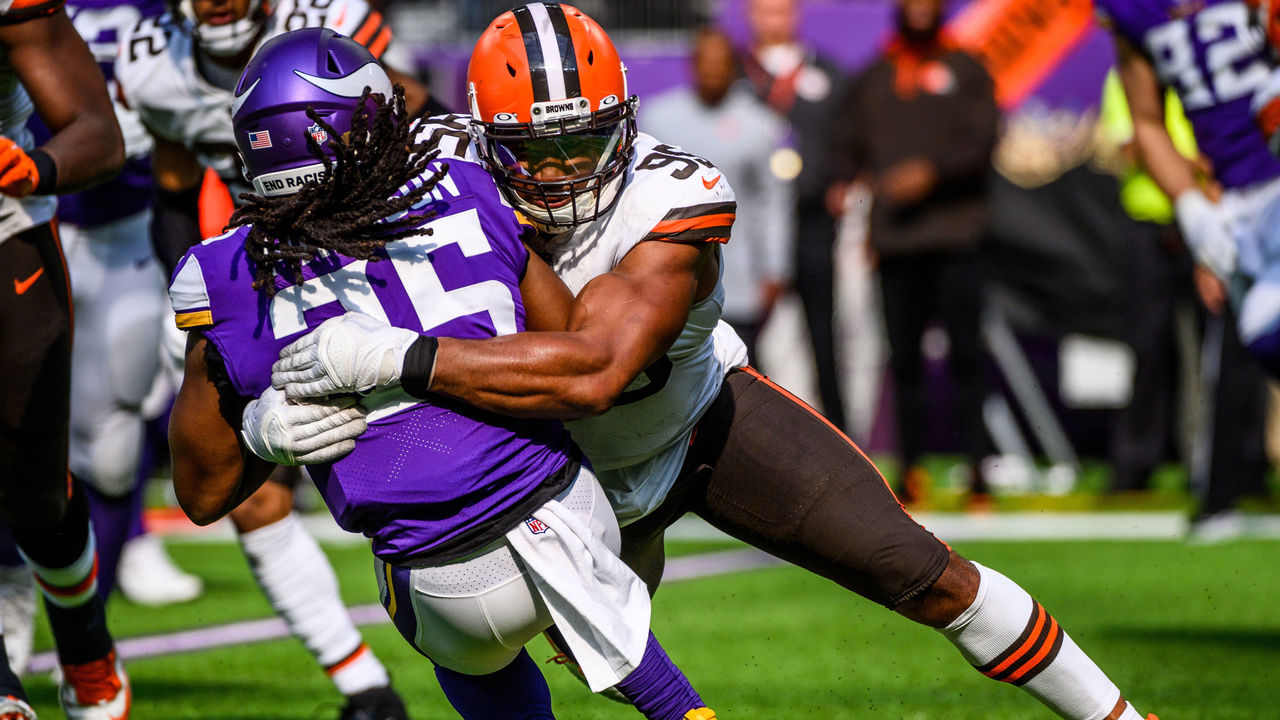 The DPOY honors are going to come down to the wire, and Garrett has almost guaranteed he will be one of the finalists with his play this campaign. Garrett brings two solid points for his case: Volume and consistency. He not only has 14 sacks, but he's also recorded at least a 0.5 sack in 10 of 12 games this season. Now coming off a bye week, don't be surprised to see Garrett make a strong push to the end to leapfrog the No. 1 candidate on our ranking.
1. T.J. Watt, Steelers
The fight for the top spot is going to be a slugfest, with two titans in their primes trading blows until the campaign is over. There's not much separating Watt and Garrett, but the Steelers linebacker has simply done more with less. The 27-year-old leads the NFL with 16 sacks - an incredible feat considering he's already missed two games. Watt's also added four forced fumbles and 16 tackles for a loss for good measure. Garrett will have to give it all he has, with the award being Watt's to lose as the league enters its closing stretch.
MVP
5. Jonathan Taylor, Colts
Dak Prescott, Josh Allen, Patrick Mahomes, and Justin Herbert all have an argument to claim the No. 5 spot. But all four have been inconsistent this season, and each fails to clearly stand out over the others. So instead, we're giving love to Taylor after an extraordinary stretch. The Colts running back - who earned back-to-back AFC Offensive Player of the Month awards - has put up 1,034 rushing yards, 266 receiving yards, and 16 total touchdowns since Week 4 to get Indy back into the playoff picture after a 0-3 start.
4. Matthew Stafford, Rams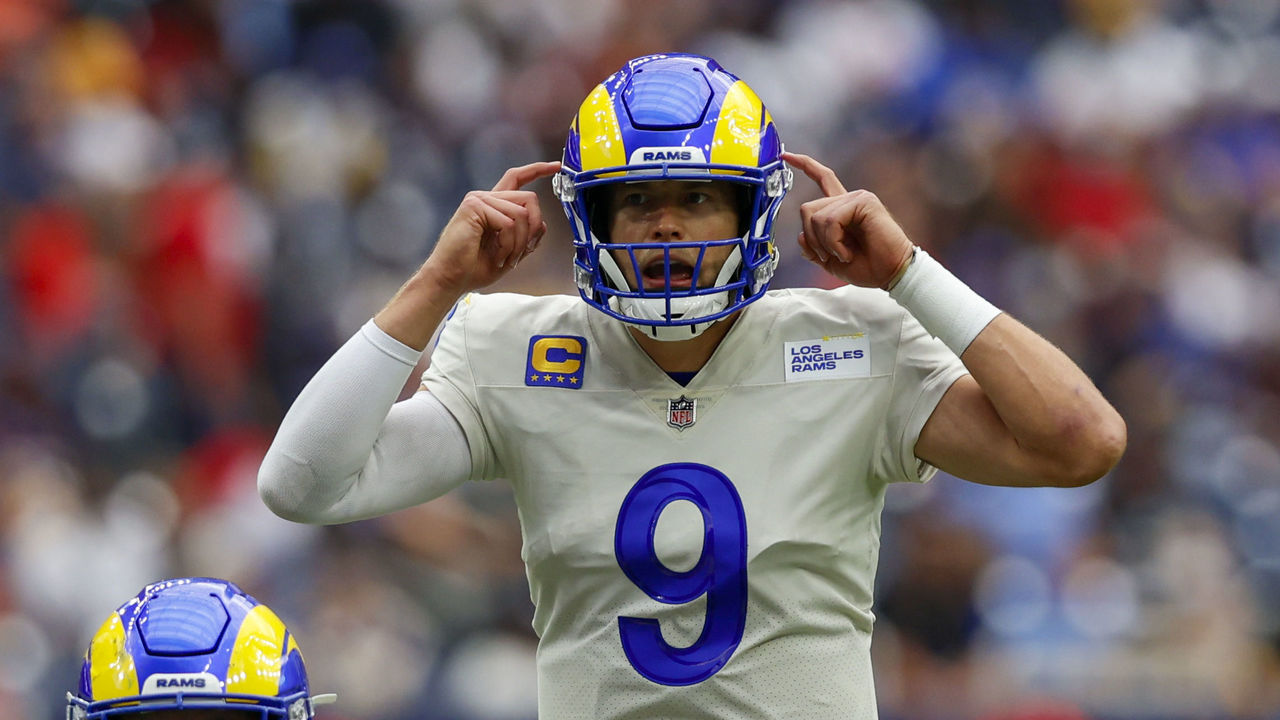 Stafford enjoyed a red-hot start to his first season with the Rams, winning seven of eight while putting up some of the best numbers of his career. But L.A. and Stafford came back down to earth in Weeks 9-12. The team lost three straight games to likely end its hopes of a playoff bye, and Stafford threw more interceptions (five) than he had in the previous eight games. But the quarterback bounced back against the Jaguars and still ranks second in touchdown passes (30) and third in QBR. If he can outduel Kyler Murray on Monday, he will be back in the race.
3. Kyler Murray, Cardinals
Murray faces an uphill battle to claim his first MVP award, with his rivals likely to overshadow the volume of his production following a three-game absence. But the youngster was clearly at the head of the pack before being hurt, and his competition hasn't created an unassailable lead. While Murray doesn't have the gaudy numbers, he does boast elite efficiency, leading the NFL in touchdown pass percentage (7%), yards per attempt (8.9), and completion percentage (72.7%). If Arizona can secure the No. 1 seed and Murray puts together a few big-time performances, voter fatigue with the next two candidates could cause the decision-makers to turn to the Cardinals star.
2. Aaron Rodgers, Packers
Rodgers' production is far from his MVP campaign a year ago, but the veteran once again has his side in contention for the NFC's No. 1 seed and the division all but wrapped up. The future Hall of Famer might only be tied for seventh in touchdown passes (23) and 12th in passing yards (2,878), but he's also been his usual mistake-free self, boasting just four interceptions. The controversy surrounding Rodgers' one-game absence due to COVID-19 could impact his case, but if he can get the Packers to the top of the conference, he'll stand a good chance of winning back-to-back awards.
1. Tom Brady, Buccaneers
Brady is the favorite to win his fourth career MVP - a miraculous feat considering quarterbacks rarely play average football beyond 40, let alone sit among the best players in the league. In a relative down year for the position, the legendary signal-caller leads the NFL in both passing touchdowns (34) and passing yards (3,771) while ranking second in QBR and fifth in passer rating. Brady's 10 interceptions are unusual for him, but it doesn't really hurt his candidacy as the number's in line with the other top quarterbacks this season outside of Rodgers.
Comments
✕
NFL award rankings: Race heating up for MVP, rookie honors, more
  Got something to say? Leave a comment below!