10 takeaways from NFL Week 13
L to R (Getty Images): Rey Del Rio/Emilee Chinn/Steven Ryan
Sunday Rundown recaps the most important developments from the day's action and examines the significance of them moving forward.
Cardinals first to 10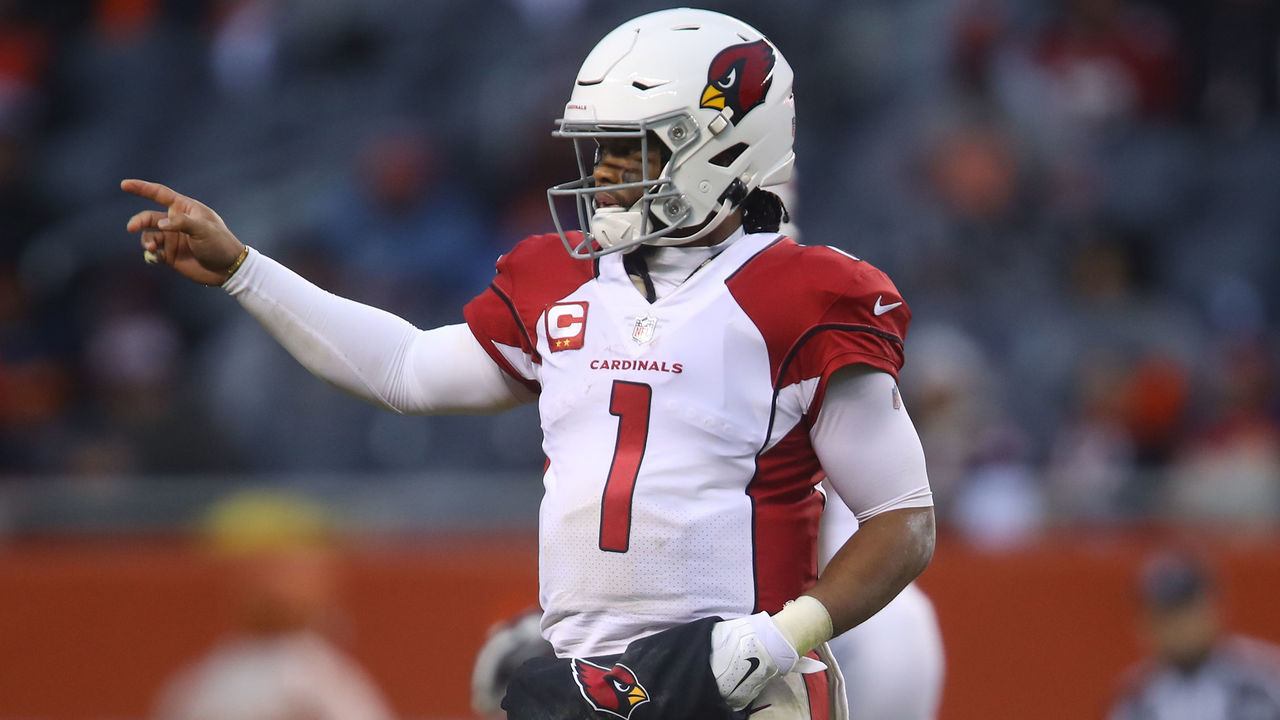 With Kyler Murray and DeAndre Hopkins back from injuries for the first time since Week 8, the Arizona Cardinals flew into Chicago and rag-dolled the Bears. And, atop the top-heavy NFC standings, the Cardinals became the league's first team to win 10 games. At this point, a lot would have to go wrong for them to miss the postseason: Their playoff odds are now greater than 99%.
Murray and Hopkins connected on a touchdown, but they didn't have to do a whole lot because Arizona's defense continues to dazzle. The Cardinals picked off Andy Dalton four times, with all four takeaways setting Arizona up inside Chicago's 30-yard line and resulting in 23 points. It's a pattern, too: The Cardinals entered Week 13 plus-8 in turnover differential, and their defense is ranked third in DVOA and second in EPA/play.
Believe it or not, Arizona can all but put away the NFC West by winning next Monday night's home game against the Los Angeles Rams.
Minshew mania in Philly?
Gardner Minshew started for the injured Jalen Hurts and led touchdown drives on the Philadelphia Eagles' first three possessions while also completing his first 11 passes. Who cares that it came against the weak-sauce New York Jets. It still counts.
Minshew cooled down a bit in the second half when the Eagles were much more content to run the ball and protect their lead. He still finished with an outstanding EPA/dropback of 0.61 and a 63% success rate on dropbacks. Can anyone else believe the Jacksonville Jaguars traded him for just a sixth-round pick?
The Eagles have won four of six to pull within a half-game of the Washington Football Team for the NFC's last playoff spot. They also still have to play Washington twice. However, their bye comes next week, which leaves plenty of time for Philly's typically calm, measured fan base to have a good-faith, reasonable discussion about whether Hurts or Minshew should start going forward.
Lions win!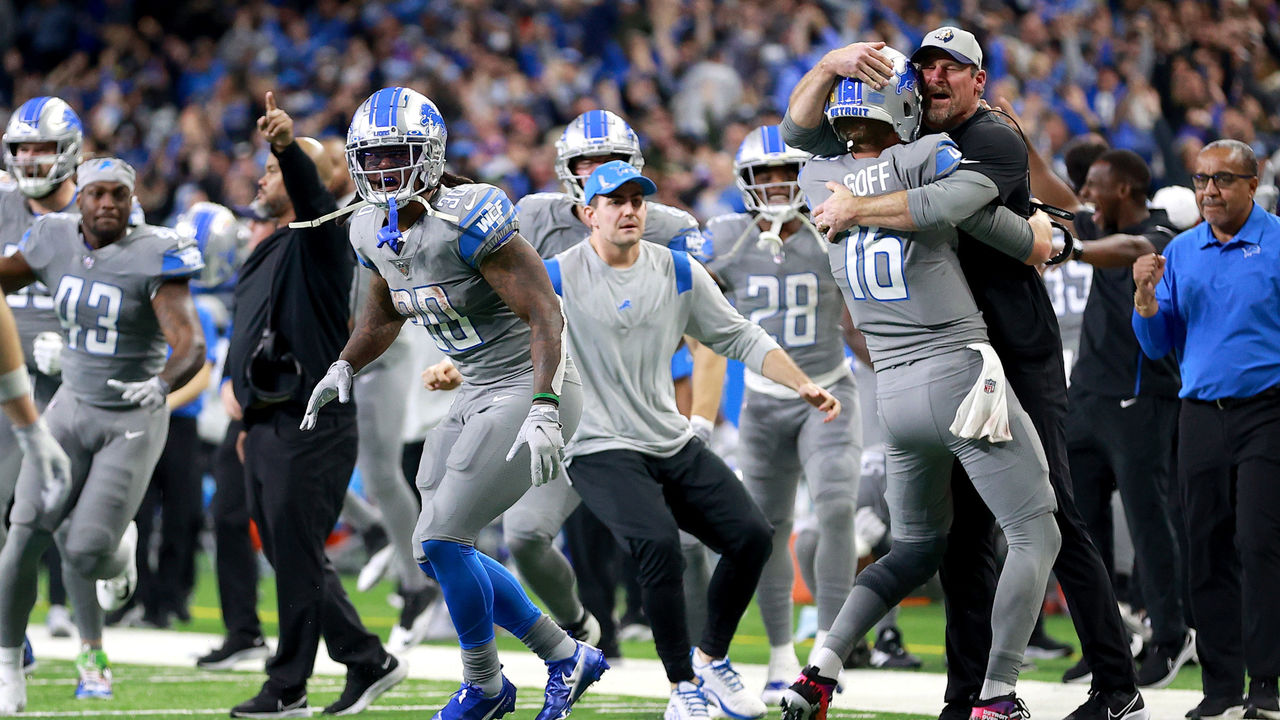 The Detroit Lions have spent the season playing hard while finding creative ways to lose, even for them. But just when it looked like the Lions had drawn up another way to gag away a fourth-quarter lead to remain winless, they found a way to beat the Minnesota Vikings at the buzzer.
Detroit had lost five one-score games and tied another. The Lions were ahead 20-6 in this one, and after Minnesota got within 23-21, Detroit justifiably went for it on fourth-and-1 from its own 28 with four minutes to go. However, Jared Goff got strip-sacked, which seemed appropriate. The Vikings took the lead two minutes later.
Even after somehow taking a delay-of-game penalty on third-and-1 from the Minnesota 24 with 23 seconds left, the Lions got it done. Sure, the Vikings helped the cause (more on that in a bit), but a win is a win, and Detroit earned one. Pay no mind to the Lions' remaining schedule. Just savor this one, Lions fans. You deserve to experience some joy.
The Vikings blew it, and this one's going to sting
Astoundingly, Minnesota has played 11 one-score games this season, including all seven of its losses. But biffing a lead against the winless Lions - and doing it like that - takes the cake.
The Vikings allowed Goff to march Detroit 75 yards on 14 plays in the final 1:50 with zero timeouts. And they did it by playing a lot of soft coverage that gave the Lions' pass-catchers a huge cushion at the snap, including on the game-winner. Look where cornerback Cameron Dantzler and safety Xavier Woods were after the ball was in the air: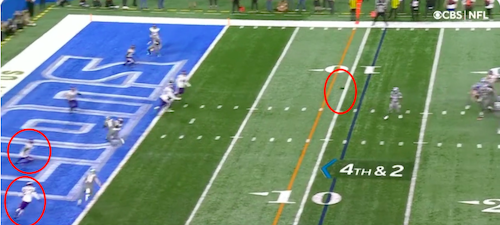 I mean, it's fine that the Vikings wanted to defend the goal line, and Dantzler clearly was playing outside leverage in case Amon-Ra St. Brown broke outside. But Woods was on his heels back by the end line, for some reason, until it was way too late.
It was a colossal screwup, and if head coach Mike Zimmer gets fired after the season, this game - and that play - will best summarize why.
Maybe the Steelers aren't dead yet?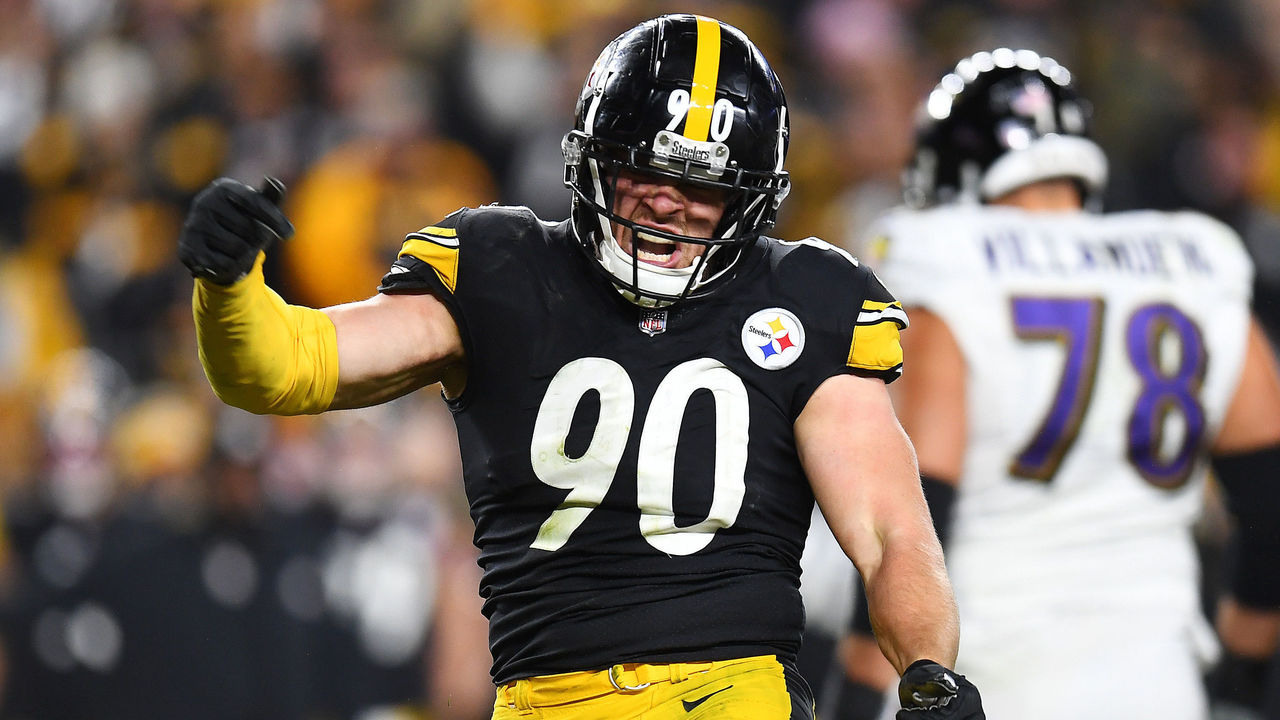 One day after an ESPN report that suggested this will be Ben Roethlisberger's final season, the reeling, left-for-dead Steelers climbed back into the AFC North chase by coming from behind and holding off the rival Baltimore Ravens in a thriller.
Credit where it's due: After scuffling for most of the game, the creaky, over-the-hill Roethlisberger went 9-for-10 for 129 yards and two touchdowns in the fourth quarter, leading the Steelers to 17 of their 20 points. It was his 51st game-winning drive, which ties him with Tom Brady for third-most all time, and his 39th fourth-quarter comeback, which ranks third all time behind Peyton Manning and Brady.
Of course, this would've been a loss had the Ravens converted a two-point conversion with 16 seconds to go. But Steelers edge rusher T.J. Watt - who finished with 3.5 sacks and six quarterback hits to again assume the league's lead in sacks despite missing 2.5 games with injuries - rushed Lamar Jackson into making an errant throw to a wide-open Mark Andrews. Watt finished with an astounding 12 pressures on 32 pass-rush snaps, per Next Gen Stats. This is why he's the highest-paid defensive player in the game.
Pittsburgh is still on the outside of the AFC playoff picture, but it's also just 1.5 games behind the Ravens for first place in the AFC North. Given the way the Steelers' up-and-down season has unfolded, that sounds about right. Thursday night's visit to the Vikings is a huge game for both teams.
Chargers, Bengals stay inconsistent
The Los Angeles Chargers-Cincinnati Bengals game Sunday was a lot like that Spider-Man pointing at Spider-Man meme come to life.
The Chargers jumped to a 24-0 lead, only to have the Bengals pull within 24-22 and drive into L.A. territory. Then, Joe Mixon fumbled and Tevaughn Campbell returned it for a 61-yard touchdown that kick-started a 17-0 Chargers run to end the game.
All of this was one week after L.A. couldn't get out of its own way against the meh Denver Broncos while the Bengals kicked dirt on what seemed like a lifeless Steelers team.
L.A. and Cincy are 7-5 and positioned for the final two playoff spots in the AFC, with the Chargers now holding the tiebreaker. Tune in next week when the Chargers host the Giants and the Bengals play the 49ers at home. Anything could happen!
Dolphins win again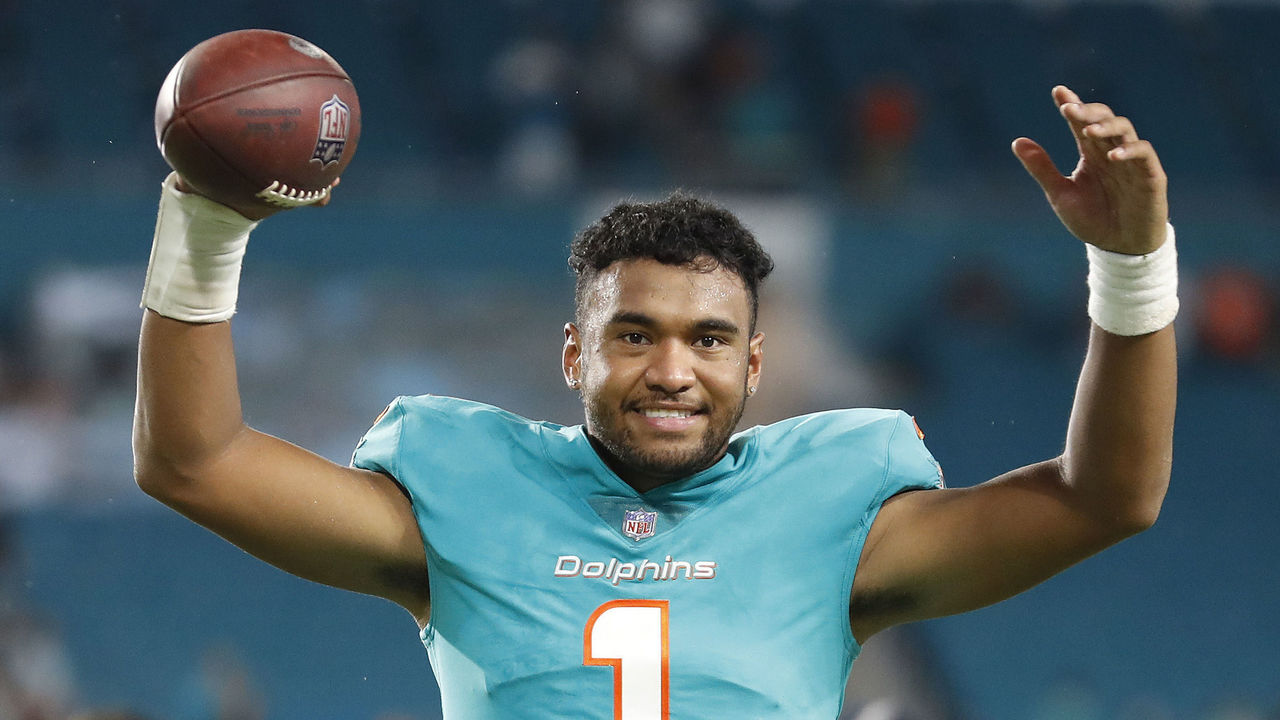 Make it five straight victories for the Miami Dolphins after a 1-7 start, this one a slow stifling of the hapless New York Giants. Something to keep in mind: Miami's defense was ranked 26th in DVOA after Week 8; the Dolphins haven't allowed more than 17 points in a game since.
OK, fine, the combined record of Miami's five opponents during its streak is 22-38, but the Dolphins didn't create the schedule. All they have to do is beat their opponents, and they're doing that. They now get a bye before facing the Jets at home and the New Orleans Saints on the road. That means an 8-7 record is possible before Miami ends the season by visiting the Tennessee Titans and hosting the New England Patriots.
Panthers make news on their bye
The mess the Carolina Panthers have created at quarterback the last two years has found another scapegoat. Shortly after 1 p.m. ET Sunday - just as the attention of the football world turned toward the day's games - the Panthers announced they'd fired offensive coordinator Joe Brady.
Maybe Brady wasn't the best fit - Teddy Bridgewater suggested as much in an interview last spring - but it's also pretty clear that Carolina has made one wrong personnel move after another at the quarterback position since the team hired head coach Matt Rhule before the 2020 season.
At this point, it's pretty clear that Rhule and general manager Scott Fitterer have run out of people to blame.
Colts seem satisfied with Wentz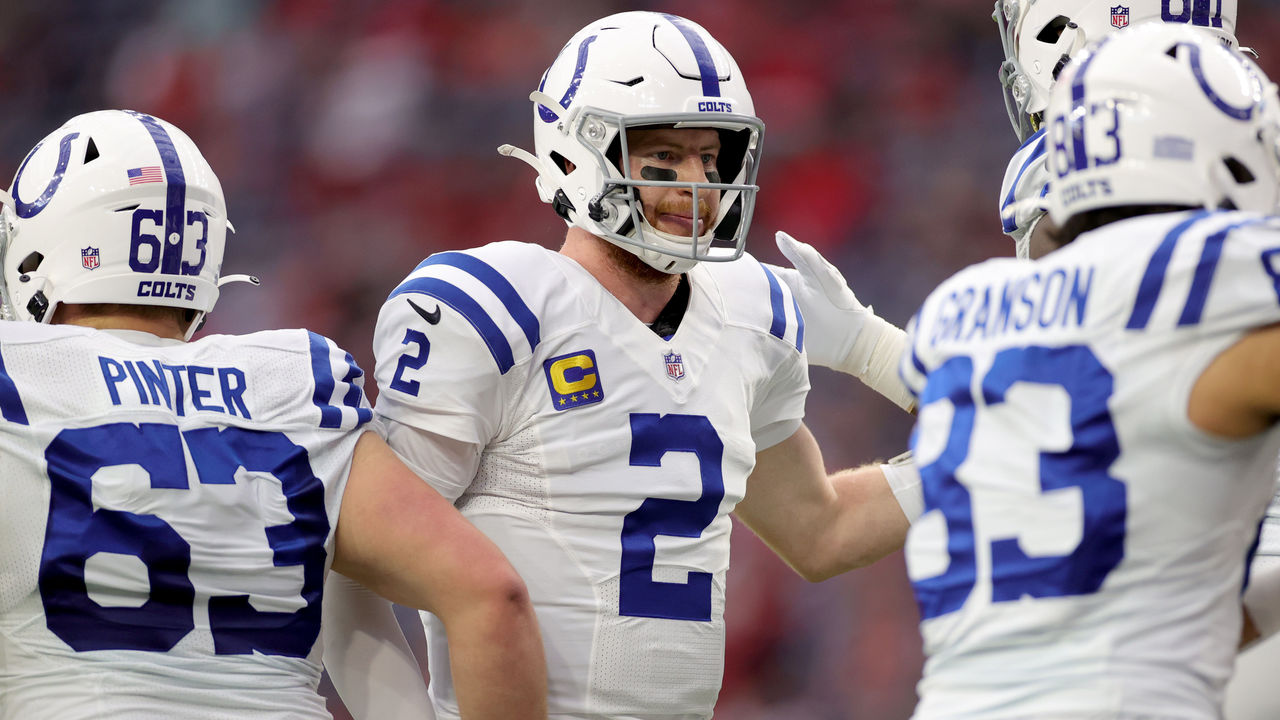 In the Indianapolis Colts' easy win over the Houston Texans, Carson Wentz probably cleared the 75% snap threshold, per ESPN's Adam Schefter, meaning the Colts will have to send the Eagles their 2022 first-round pick. And Indy seems to be fine with that.
Wentz is by no means having a great season, but he's been a capable steward of the offense head coach Frank Reich has built for him, allowing Wentz to minimize the ghastly turnovers that so often haunted him in Philly.
Heading into their bye, the Colts are now on a 6-2 stretch after a 1-4 start. Coming out of that bye, they host the Patriots before playing at the Cardinals, a two-game span their season could hinge upon.
A not-so-good note about Trevor Lawrence
Trevor Lawrence was drafted to be the fulcrum for the Jaguars' massive reclamation project. Now, head coach Urban Meyer has stepped on a rake a bunch of times, and the roster still needs a ton of reinforcements. Much of that was to be expected during Lawrence's rookie year. But what about Lawrence's future?
The Jags got steamrolled by the Los Angeles Rams on Sunday, and Lawrence has now thrown just one touchdown pass in his last five games. It's not all on him, of course, but a strong surrounding environment can go a long way in helping a quarterback establish success (see: Jones, Mac).
It's too soon to worry about Lawrence, but it's also fair to start thinking about whether his circumstances will help him improve or completely consume him.
Dom Cosentino is a senior feature writer at theScore.
Comments
✕
10 takeaways from NFL Week 13
  Got something to say? Leave a comment below!