NFL Power Rankings - Week 13: Every team's biggest offseason regret
L to R (Getty Images): Patrick Smith/Sam Greenwood/Stacy Revere
The NFL Power Rankings are selected by a panel of theScore's football editors.
This week, we identify every team's biggest offseason regret.
1. Arizona Cardinals (9-2)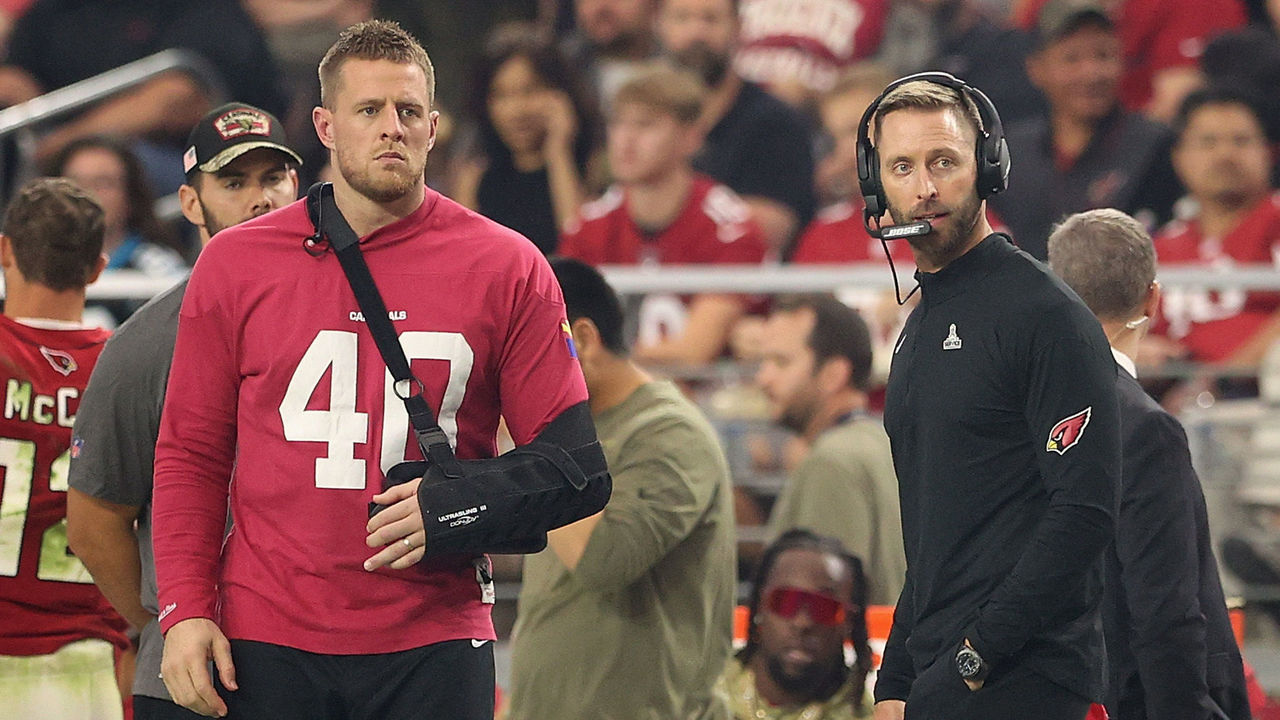 Previous Rank: 1
Signing J.J. Watt brought a spark to the Cardinals, but it was a regrettable move financially. Arizona knew about Watt's injury history, yet it gave him $23 million in guaranteed money. The 32-year-old isn't expected to play again this season due to a shoulder injury, meaning he'll finish his debut campaign in Arizona with one sack over seven appearances.
2. Green Bay Packers (9-3)
Previous Rank: 3
The Packers' front office surely regrets how it handled its relationship with Aaron Rodgers, who's been disappointed by a series of recent personnel decisions. Rodgers returned for one more year, but there are no guarantees this won't be his last dance with the team.
3. Tampa Bay Buccaneers (8-3)
Previous Rank: 2
It's hard to question the Bucs' offseason after they brought back every starter from a championship-winning roster, but the one box they forgot to check was depth at inside linebacker. That hasn't been a big problem because Lavonte David and Devin White are always on the field, but White could miss time after suffering a thigh injury in Week 12.
4. New England Patriots (8-4)
Previous Rank: 4
The Patriots had as successful an offseason a team can have. However, one of their few mistakes was giving a four-year, $50-million contract to Jonnu Smith, who has only 25 catches for 259 yards and one touchdown this year.
5. Kansas City Chiefs (7-4)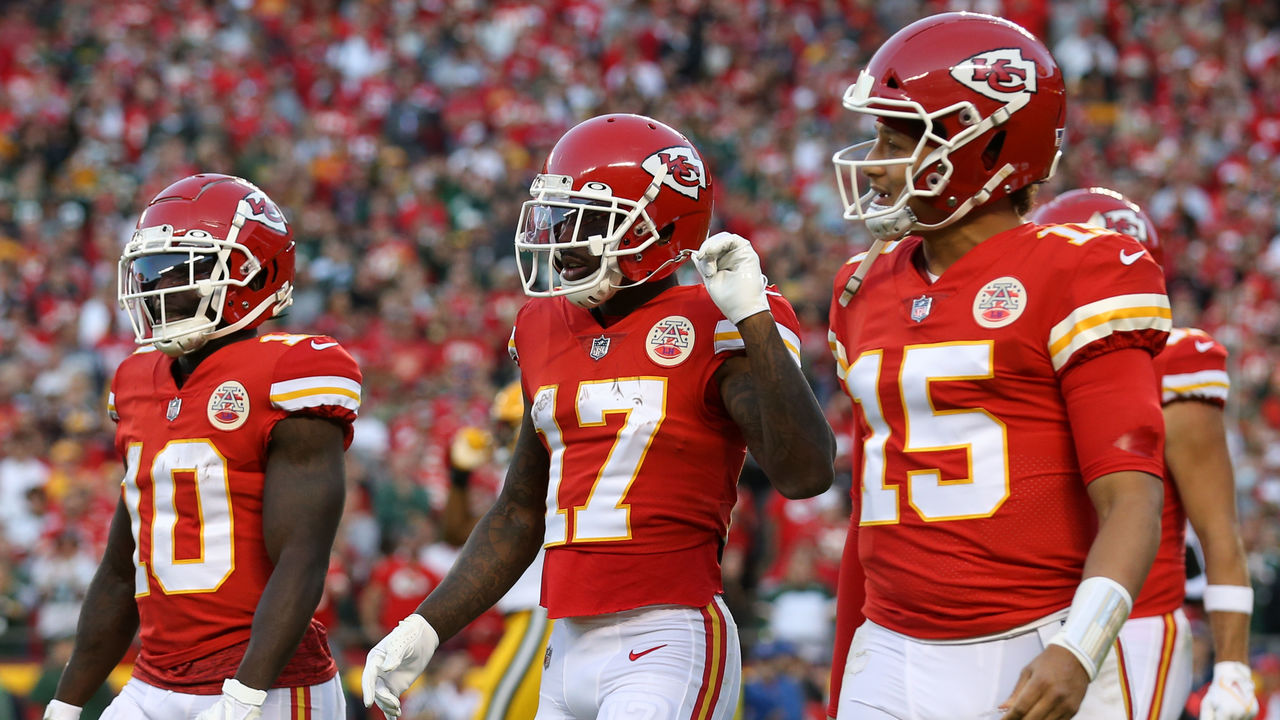 Previous Rank: 7
Kansas City was so focused on improving its offensive line that it might have forgotten to look at the wide receiver depth chart. The Chiefs needed a replacement for Sammy Watkins as their No. 3 target, and they thought Mecole Hardman, DeMarcus Robinson, or Byron Pringle would be up to the task. However, they've all underperformed so far.
6. Buffalo Bills (7-4)
Previous Rank: 11
The Bills didn't add a proven tailback after mistakingly thinking Devin Singletary and Zack Moss were the answers for their running game. Having an effective runner not only would've made their offense more dangerous, but it likely would've reduced the number of scary hits Josh Allen has taken.
7. Baltimore Ravens (8-3)
Previous Rank: 8
Baltimore wishes it had extended Lamar Jackson, whose value is only going up in 2021 due to his MVP-caliber campaign. Dak Prescott ($40 million per year) and Josh Allen ($43 million) both landed monster offseason extensions, and Jackson will be in position to demand more money once his time comes.
8. Cincinnati Bengals (7-4)
Previous Rank: 13
Although the Bengals' blocking unit has played better this year compared to last season - especially in the running game - Cincy should regret not bolstering its offensive line even more before the season. Joe Burrow has already been sacked 30 times, 10th most in the league.
9. Los Angeles Rams (7-4)
Previous Rank: 6
Shouldn't the Rams have pursued a proven inside linebacker in the offseason, given the lack of consistency from their young defenders against the run and, especially, in pass coverage?
10. Dallas Cowboys (7-4)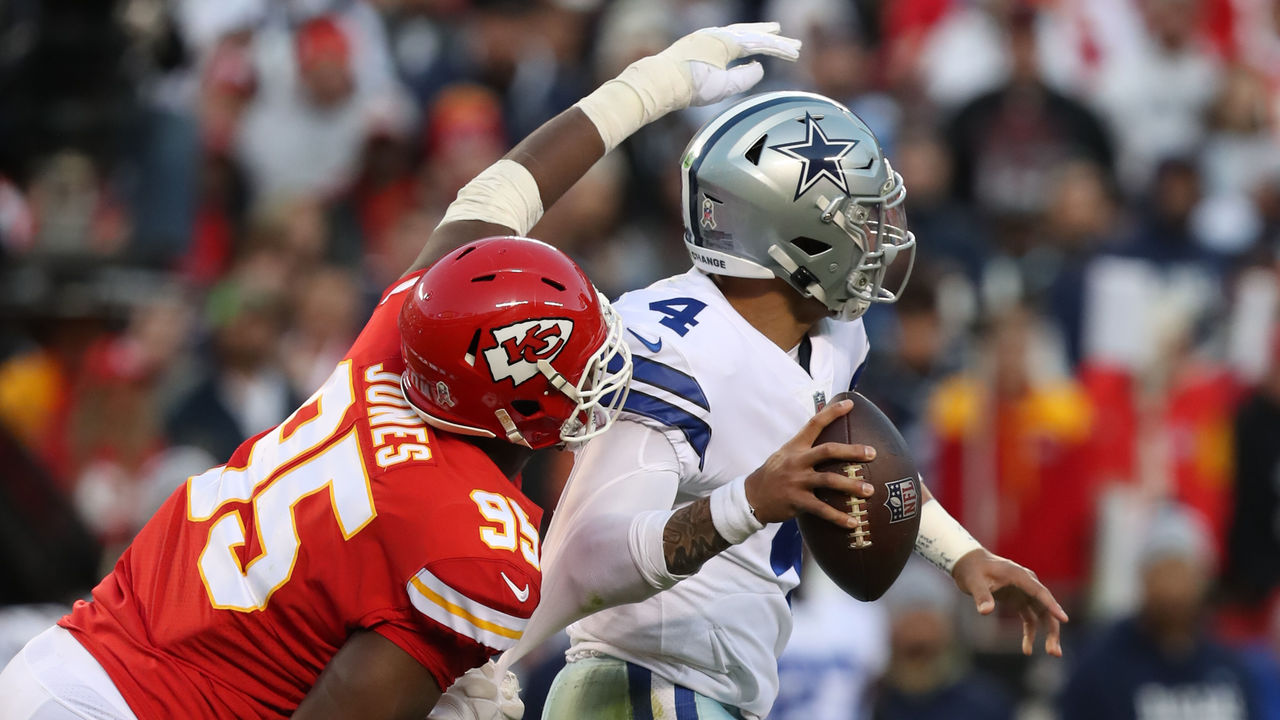 Previous Rank: 9
The Cowboys' offensive line is among the NFL's best, but Dallas' lack of depth up front might hurt the team as the season progresses. In their loss to Kansas City two weeks ago, the Cowboys' blocking unit allowed five sacks while being down two starters.
11. Tennessee Titans (8-4)
Previous Rank: 5
Having a future Hall of Famer on the roster is tempting, but giving up second- and fourth-round picks for Julio Jones is looking awful for the Titans right now. The 32-year-old has yet to catch a touchdown with his new team and was placed on injured reserve only six games into the season.
12. San Francisco 49ers (6-5)
Previous Rank: 16
The lack of depth at wide receiver was a big storyline for the 49ers before the season, and now it's clear why. Deebo Samuel suffered a groin injury last week and is set to miss time, leaving Brandon Aiyuk as San Francisco's only quality starting wideout available.
13. Indianapolis Colts (6-6)
Previous Rank: 12
General manager Chris Ballard sure wishes he'd added a star pass-catcher to the roster. There's a big gap between Michael Pittman - the Colts' only wideout with at least 35 receptions and 350 yards in 2021 - and their second-best wide receiver.
14. Los Angeles Chargers (6-5)
Previous Rank: 10
Los Angeles hasn't had a disruptive pass-rusher other than Joey Bosa for multiple years now, yet the team refused to address that issue in the offseason once again. Bosa, the only Chargers player with more than five sacks last year, is also their only defender with three-plus sacks so far in 2021.
15. Minnesota Vikings (5-6)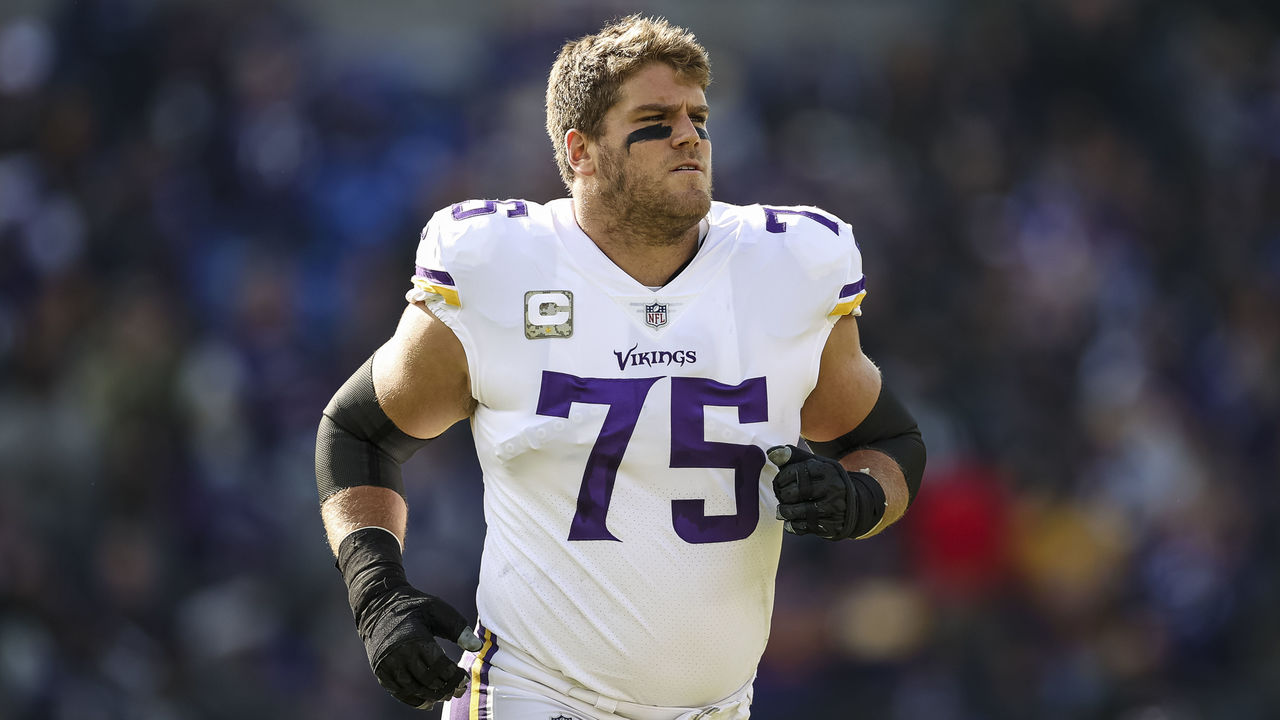 Previous Rank: 14
Everyone was stunned after the Vikings gave Brian O'Neill a $92.5-million extension before the season, and rightfully so. Minnesota wouldn't have overpaid him if it weren't for the club's major offensive line issues. And as good as O'Neill is, the Vikings will likely wish they had that money available to spend on other players in the near future.
16. Las Vegas Raiders (6-5)
Previous Rank: 21
We learned one major thing from the Raiders in the offseason: how not to build an offensive line. Las Vegas got rid of its best veteran blockers and replaced them by making several questionable moves, including drafting Alex Leatherwood 17th overall.
17. Cleveland Browns (6-6)
Previous Rank: 15
It's easy to say this now, but the Browns should regret not trading Odell Beckham Jr. before the 2021 campaign. Then, teams were reportedly interested in Beckham, who was never a great fit in Cleveland. Had the Browns dealt the wideout instead of waiving him two months into the season, they would've had more time and assets to fix their wide receiver issues.
18. Denver Broncos (6-5)
Previous Rank: 20
The Broncos' decision to trade for Teddy Bridgewater and pass on a quarterback in the draft was questionable in April. Seven months later, we can call it a mistake. Denver used the ninth overall pick to select cornerback Patrick Surtain II despite Justin Fields and Mac Jones still being on the board. Surtain is a star in the making, but Bridgewater's been far from great, meaning the Broncos still have a question mark at football's most important position.
19. Pittsburgh Steelers (5-5-1)
Previous Rank: 17
The Steelers knew this would likely be Ben Roethlisberger's final season, yet they didn't address their future at quarterback. Mason Rudolph, Pittsburgh's 2018 third-round pick, hasn't shown any signs that he's ready to replace Roethlisberger over 10 career starts.
20. Miami Dolphins (5-7)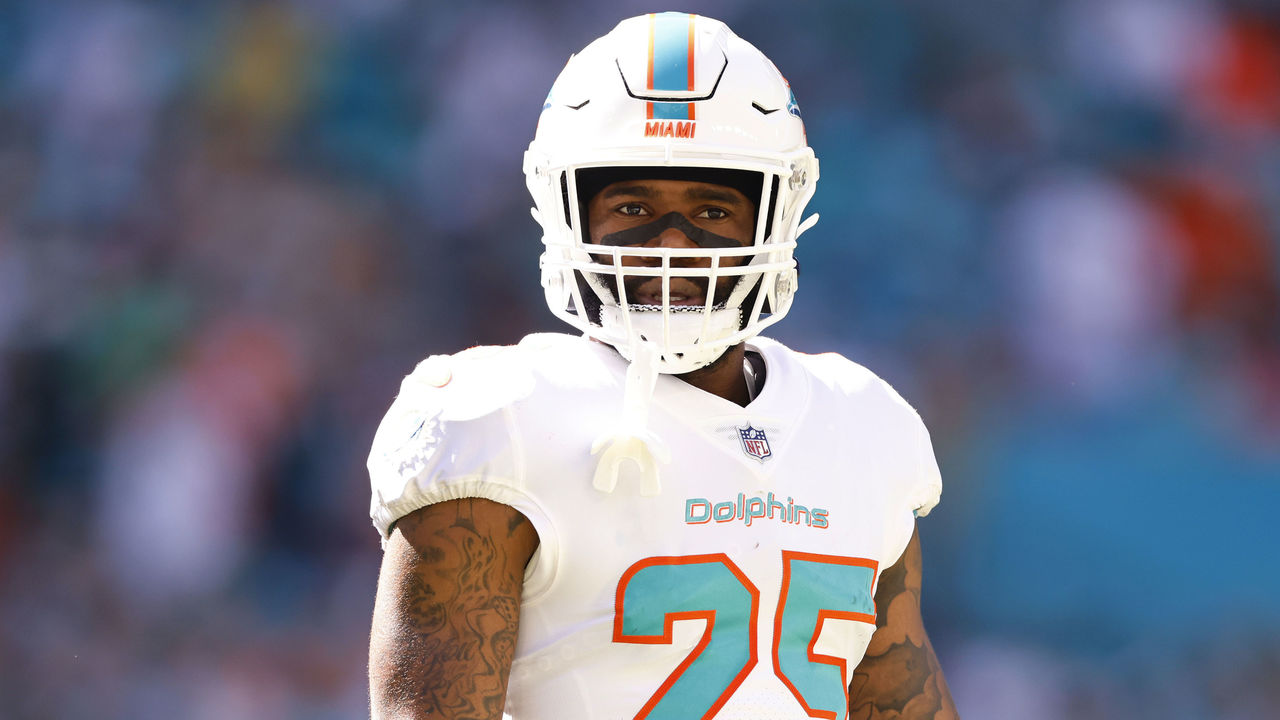 Previous Rank: 24
The Dolphins should've traded Xavien Howard, who doesn't have many more years left in his prime. The offseason was Miami's best opportunity to maximize its return for the 28-year-old after he led the NFL with 10 interceptions in 2020.
21. Washington Football Team (5-6)
Previous Rank: 22
Washington will regret not signing Brandon Scherff to a long-term extension. The All-Pro guard is playing under the franchise tag for the second straight season, suggesting this might be his last year in Washington. Losing Scherff would be a big problem for the team.
22. New Orleans Saints (5-6)
Previous Rank: 18
It's still unclear what led to Michael Thomas not having his ankle surgery earlier in the offseason, but New Orleans would definitely like to go back and fix its issues with the wide receiver. Thomas was initially set to return in October but was later ruled out for the year, leaving the Saints with one of the league's least-talented receiving corps.
23. Philadelphia Eagles (5-7)
Previous Rank: 19
The Eagles have apparently found their offensive identity, but questions remain on the defensive side of the ball. Granted, Philly has played better in recent weeks, but the front office has to be questioning its hiring of defensive coordinator Jonathan Gannon after multiple players criticized his scheme.
24. Chicago Bears (4-7)
Previous Rank: 26
Despite last year's playoff berth, the Bears should've fired Matt Nagy after finishing 2020 with an 8-8 record. It's not a coincidence that Justin Fields had arguably his most exciting performance of the season in Week 10 when offensive coordinator Bill Lazor called the plays with Nagy absent due to COVID-19 protocols.
25. New York Giants (4-7)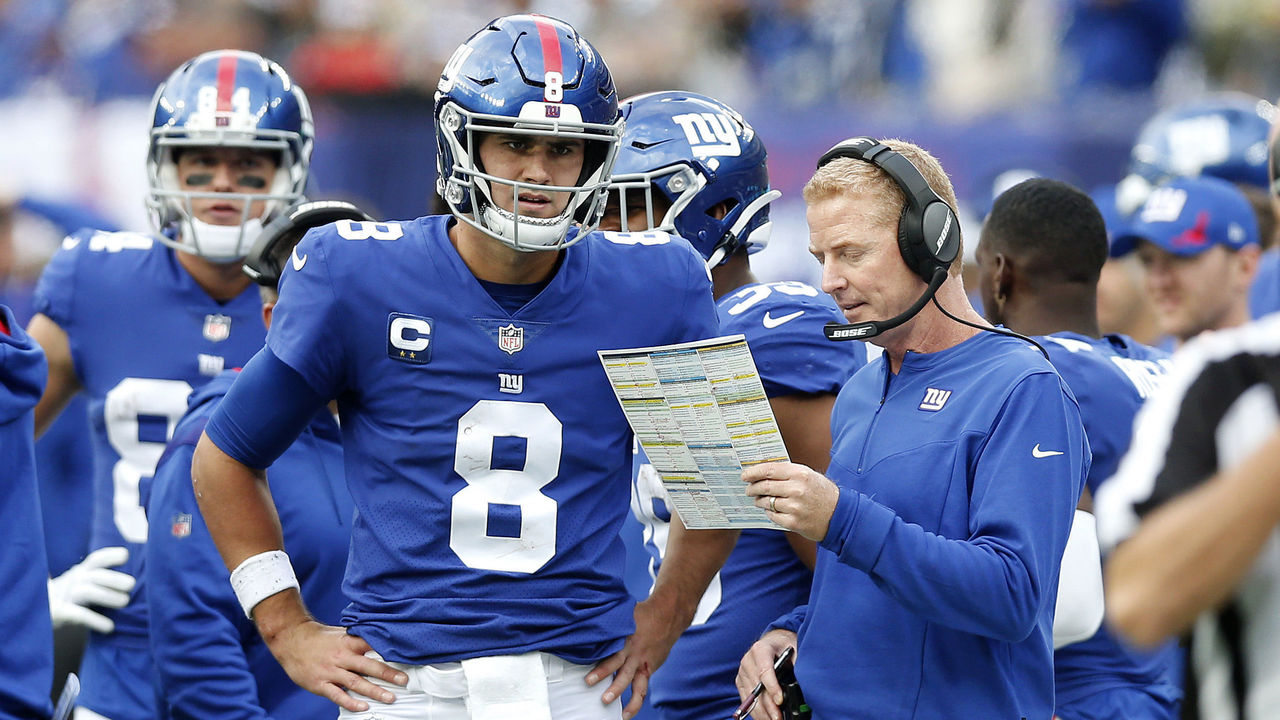 Previous Rank: 28
Firing offensive coordinator Jason Garrett after Week 11 was the right thing to do, but the Giants made a mistake in insisting on Garrett in 2021 after their offense struggled in 2020.
26. Seattle Seahawks (3-8)
Previous Rank: 25
We're surprised every time Jamal Adams snags an interception, which shouldn't be the case since he's the NFL's highest-paid safety. Adding to the mistake of Adams' four-year deal in August is that the three-time Pro Bowler has yet to record a sack in 2021 after racking up 9.5 last year.
27. Carolina Panthers (5-7)
Previous Rank: 23
If Carolina could go back in time, the team wouldn't have taken a swing at Sam Darnold, who struggled through most of the season before suffering an injury. Trading for Darnold not only cost the Panthers second- and sixth-round picks, but it also led to Carolina drafting cornerback Jaycee Horn No. 8 overall instead of going after a quarterback.
28. Atlanta Falcons (5-6)
Previous Rank: 27
The Falcons were negligent in addressing their pass rush. Atlanta finished in the bottom 10 in sacks last year, yet the team didn't make any big signings in free agency and didn't draft an edge rusher until the fifth round. That explains why the Falcons have a league-low 15 sacks.
29. New York Jets (3-8)
Previous Rank: 31
The Jets spent all camp and began the season with zero NFL experience at quarterback. Considering New York drafted Zach Wilson second overall in April, giving the rookie a veteran passer to act as his mentor and help in his development should've been on the team's to-do list.
30. Houston Texans (2-9)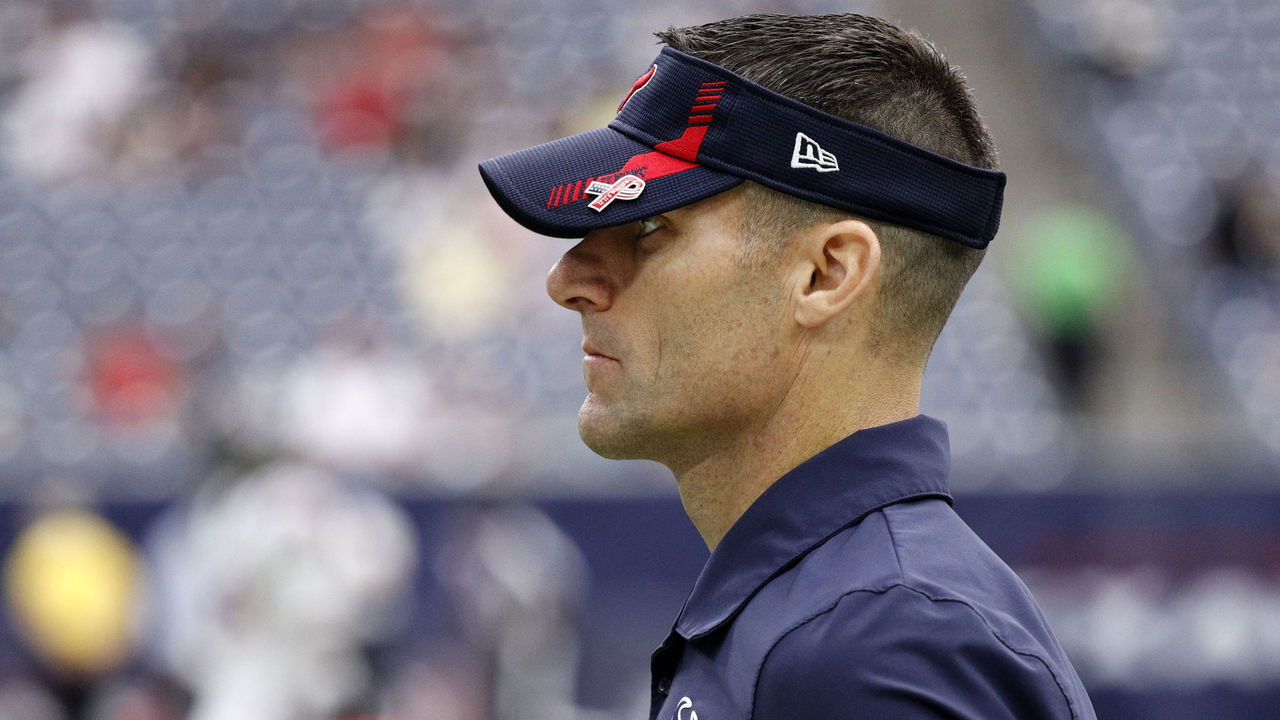 Previous Rank: 29
The Texans must regret not having a roster-management plan. Why did they start the season with a handful of veteran running backs who are years removed from their primes? Why did they trade a pick for Anthony Miller just to release the wideout months later? It feels like Houston's rebuild didn't take any steps forward in 2021.
31. Jacksonville Jaguars (2-9)
Previous Rank: 30
The Jaguars have had very few signs - if any - that hiring Urban Meyer as head coach was the right call for the franchise. Meanwhile, there are several arguments to be made against the legendary college football coach.
32. Detroit Lions (0-10-1)
Previous Rank: 32
The Lions would've picked someone else other than Anthony Lynn as their offensive coordinator if they had a chance. Lynn recently lost his play-calling duties amid Detroit's struggles, and it'd be shocking if he returns in 2022.
Comments
✕
NFL Power Rankings - Week 13: Every team's biggest offseason regret
  Got something to say? Leave a comment below!