10 takeaways from NFL Week 6
L to R (Getty Images): Icon Sportswire/Richard Rodriguez/Rey Del Rio
Sunday Rundown recaps the most important developments from the day's action and examines the significance of them moving forward.
Cowboys get it done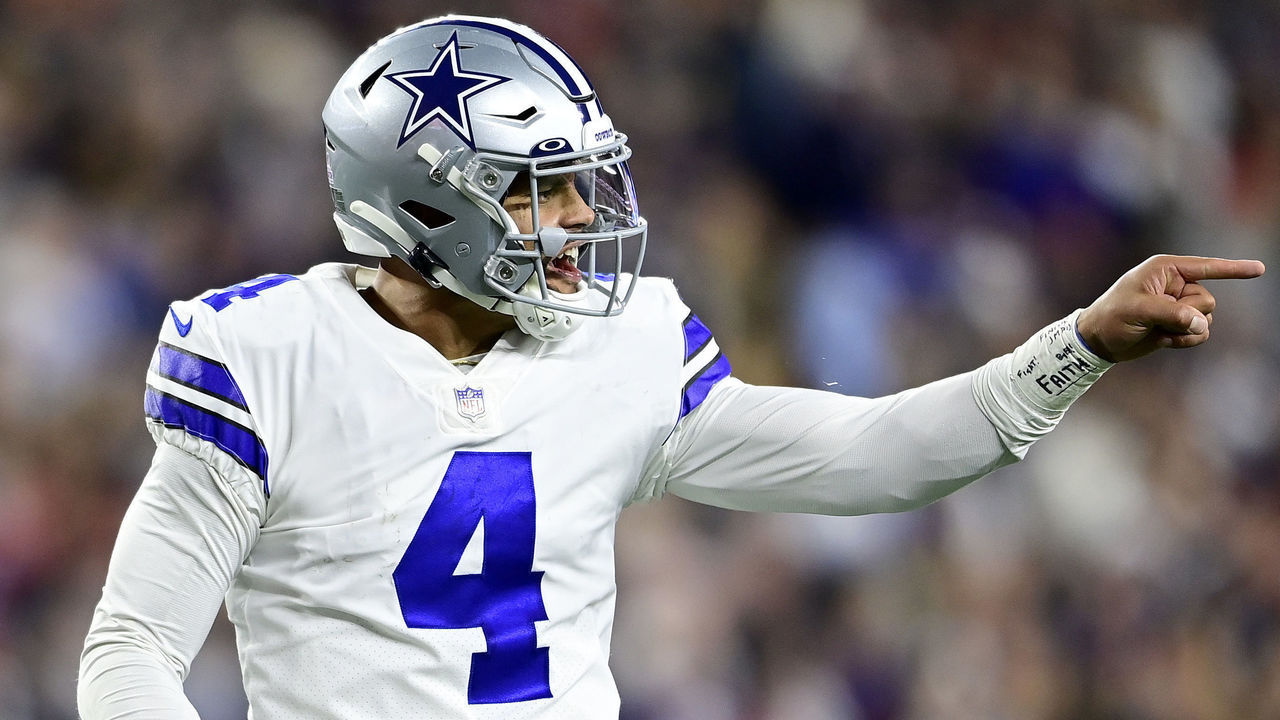 This is why the Dallas Cowboys are paying Dak Prescott $40 million a year. The Cowboys had the ball six times after halftime in their wild win at the New England Patriots. Prescott moved them into scoring position five times. They came away with points on four of those possessions, including Greg Zuerlein's game-tying field goal at the end of regulation and a seven-play touchdown drive on their only overtime possession to win it.
Prescott threw for 445 yards - the most against a Patriots team coached by Bill Belichick - and a had a robust EPA/dropback of 0.37. He also thrived on the move:
There's no denying Prescott has been one of the NFL's best quarterbacks this season. Dallas is a last-second loss at the world champion Tampa Bay Buccaneers away from being undefeated, and it has as many wins as the rest of the garbage-barge NFC East. At this rate, it feels like the division is the Cowboys' to clinch by Thanksgiving.
Vikings make no sense
Minnesota outlasted the Carolina Panthers in overtime, but not without another agita-inducing performance that could have gone either way after initially looking like a sure thing. It's what the Vikings do.
The Vikings blew an 11-point lead in the last five minutes, but Kirk Cousins marched them into field-goal range in the last 42 seconds, only to have Greg Joseph miss from 47 yards. Then they won it on the first possession of overtime - all on a day when Panthers quarterback Sam Darnold was especially dreadful, with an EPA/dropback of minus-0.23 and a completion percentage over expected of minus-8.8. Having fun yet, Vikings fans?
Minnesota is now 3-3. Those three losses came by a combined 11 points, the team eked out its win over the Detroit Lions in the last 37 seconds after a two-point conversion appeared to have Minnesota beaten, and now this. Exhale. The Vikes get a bye next week, but after that, they face the Cowboys, Baltimore Ravens, Los Angeles Chargers, and Green Bay Packers. Whee!
TJ Watt to the rescue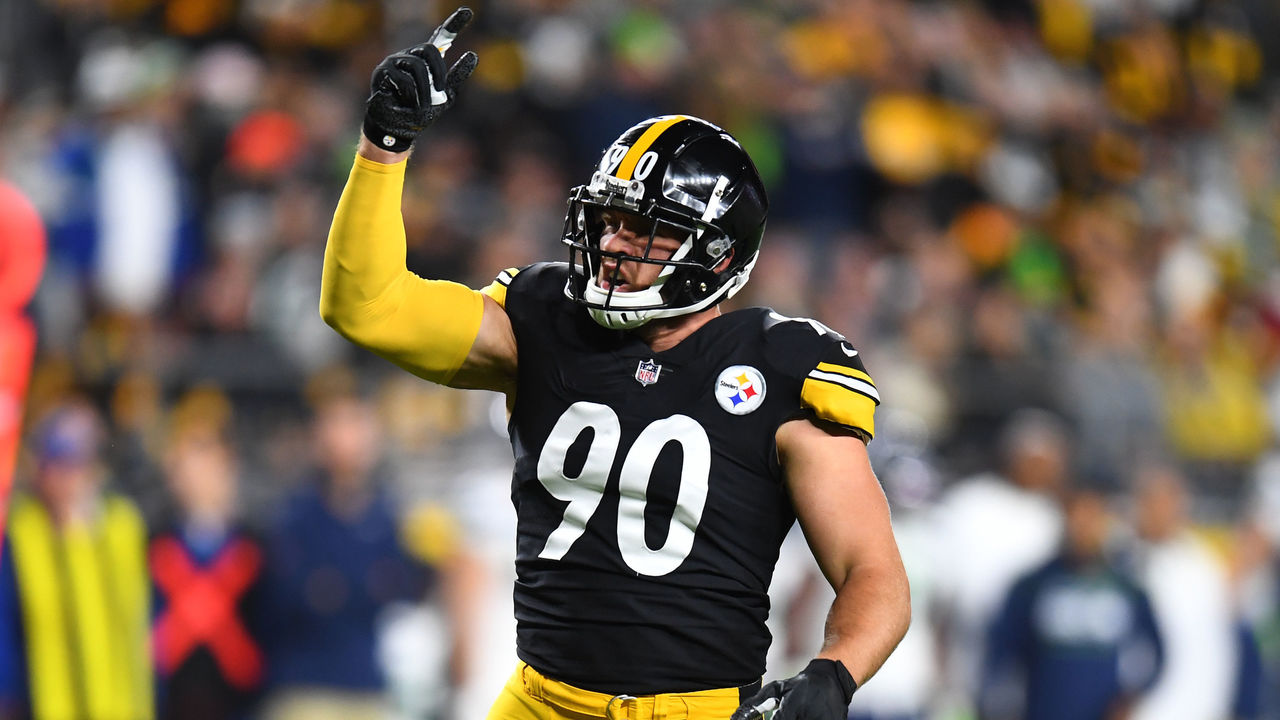 The Pittsburgh Steelers jumped on the Russell Wilson-less Seattle Seahawks 14-0, but their offense sputtered out in the second half, as it tends to do these days with Ben Roethlisberger inconsistently flipping the ball near the line of scrimmage. The Seahawks, meanwhile, battled back to force overtime by running the ball and by using play-action to scheme Geno Smith into easy throws.
Then T.J. Watt showed the world why he's the NFL's highest-paid defensive player.
Watt had a gigantic third-down sack on the first possession of overtime, followed by another sack that forced a fumble and set up Chris Boswell's game-winning field goal from 37 yards out. The Steelers improved to 3-3 heading into their bye, but they also maybe learned that the best way for them to win against a backup QB might be to keep the ball out of Roethlisberger's hands entirely.
Ravens turn back time to keep it rolling
The Baltimore Ravens handily won their showdown against the surging Chargers, but what's remarkable is that they did it while powered by some of the league's best running backs from five years ago.
Baltimore lost J.K. Dobbins, Justice Hill, and Gus Edwards before the season, and left tackle Ronnie Stanley has been out since Week 1. The Ravens entered the game ranked 16th in rushing DVOA, but against the Chargers, they pounded out 187 rushing yards on 38 carries, with Devonta Freeman, Latavius Murray, and Le'Veon Bell (remember him?) doing a lot of the work. It was a smart approach considering the Chargers' D entered as the second-worst team in the league in EPA/play, per Ben Baldwin's database.
Quarterback Lamar Jackson chipped in by rushing for 51 of those yards and posting a fantastic 80% success rate on his runs. Jackson didn't have his best day throwing the ball, but he keeps finding ways to beat teams, much as he did during his MVP season two years ago. He's now won 35 games as a starter before the age of 25, breaking a mark that had been held by Dan Marino. Can we please retire the narrative that the rest of the NFL has figured him out?
Staley still correct on fourth down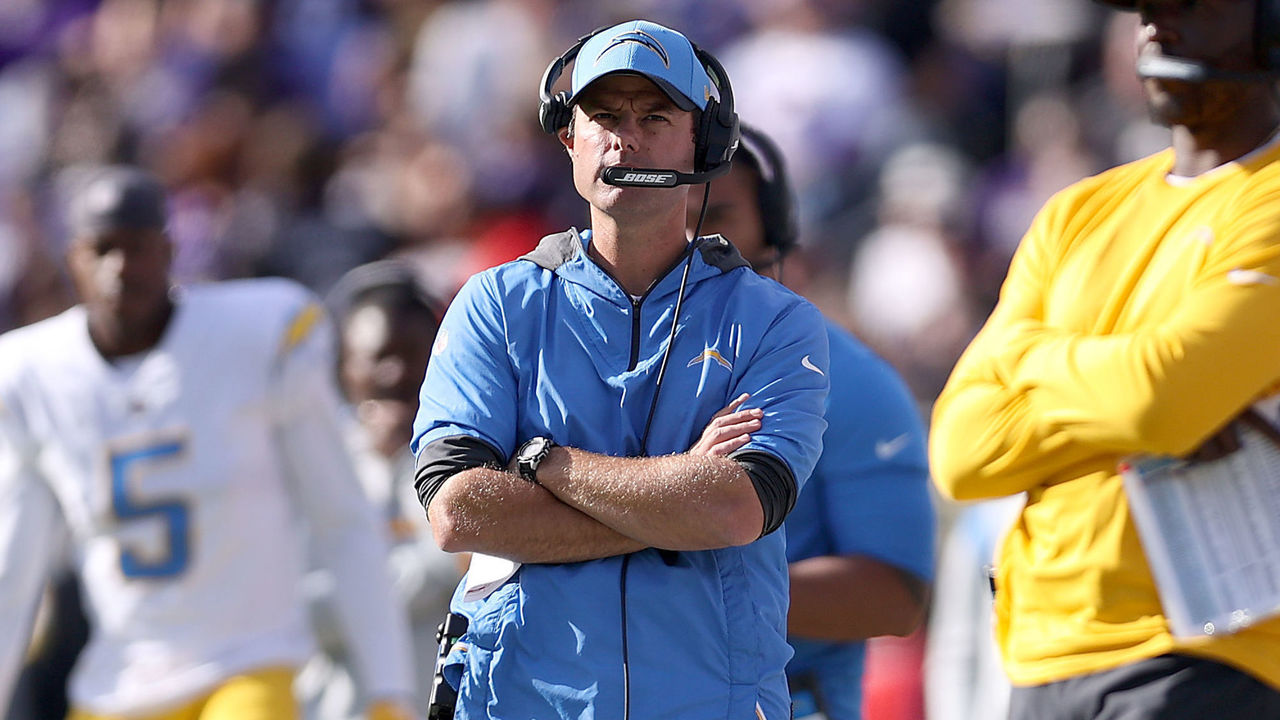 I keep banging this drum, but Chargers head coach Brandon Staley did it again: He went for it on fourth down in a way that contradicts conventional football thinking. This time, it didn't work. But it was still the right call.
Trailing 24-6 with 5:58 to go in the third quarter, Staley elected not to punt. The problem wasn't the decision to go for it, but rather the play L.A. decided to run. Quarterback Justin Herbert's quick throw to Josh Palmer fell incomplete.
The Chargers' win probability in that spot was already quite small, but they still stood to increase their chance of winning the game by going for it and succeeding.
Also, the Chargers were down by 18 with an offense and a quarterback they trust immensely. Doing everything possible to hold on to the ball was the right choice, even if it didn't work.
Some perspective on Mahomes
Patrick Mahomes threw a pair of first-half interceptions against the Washington Football Team, bringing his season total to eight in just six games. Mahomes threw just six picks in 2020 and five in 2019. Maybe he's … oh, come on. Don't even think about it.
Sure, Mahomes' second pick on Sunday was entirely his fault …
... but his first one went right through Tyreek Hill's hands, as did one of his two picks last week against the Buffalo Bills. Three of his other interceptions have been arm punts when chucking it deep on third down.
Yes, there are times when Mahomes tries to do too much, and it costs him. But after halftime, he was downright flawless - 19-for-24, 175 yards, two TDs - and the Chiefs scored three unanswered touchdowns. They won with ease.
Good Patrick Mahomes will still happen more often than not. Don't bother wondering whether he's been solved.
Broncos crash back to Earth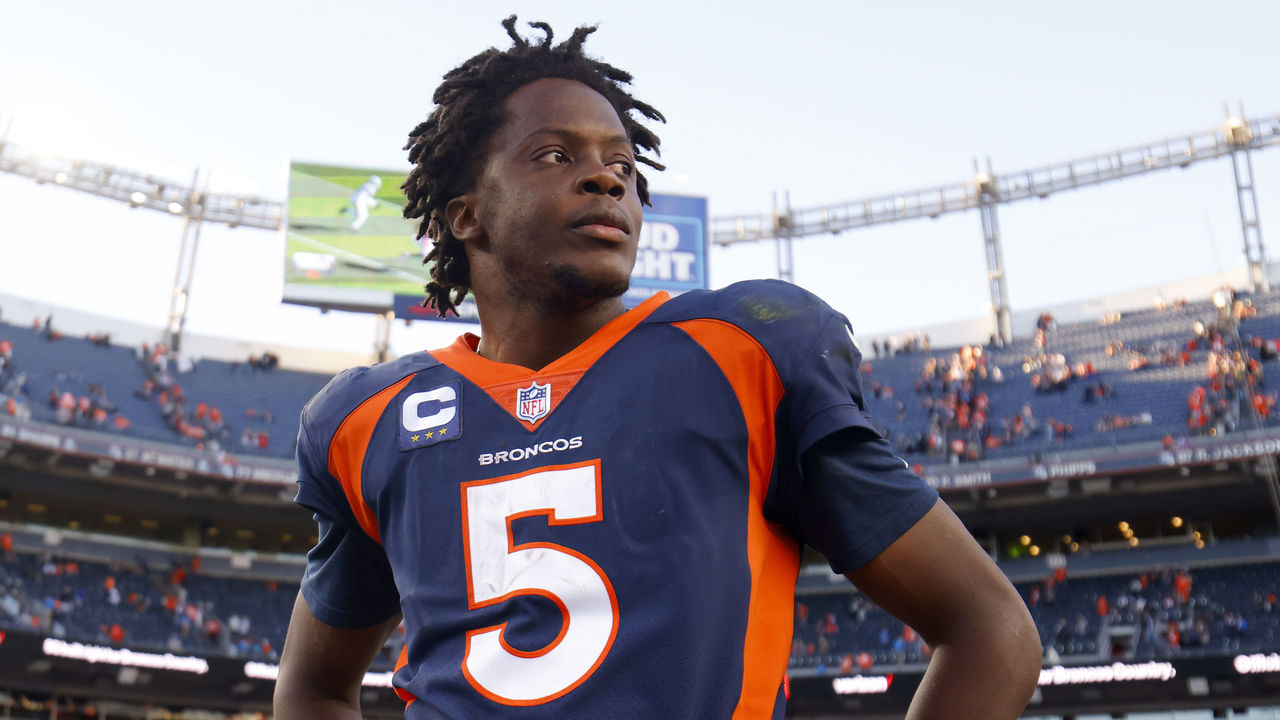 Denver's 3-0 start, which came against three punching bags that began the season a combined 0-9, is looking like a mirage.
Losses to the Ravens, Pittsburgh Steelers, and a Las Vegas Raiders team that just lost head racist Jon Gruden might be much more revealing about who the Broncos actually are.
Thursday night's game in Cleveland could answer the question once and for all.
Cardinals continue to impress
The Arizona Cardinals flew across the country without head coach Kliff Kingsbury to face a very good Cleveland Browns team. They came away with another decisive victory, and it was more dominant than the 37-14 final score indicated.
Even without Kingsbury to call the plays, Kyler Murray continued doing Kyler Murray things, throwing for four touchdowns and posting an EPA/dropback of 0.54. Murray hasn't tossed an interception in his last three games. The Cardinals were 9-for-16 on third and fourth down and averaged more than one point above expectation per play on those late downs.
The defense again deserves plenty of credit. It sacked Baker Mayfield five times, and other than a Hail Mary at the end of the first half, Arizona allowed one scoring drive.
The Cardinals host the Houston Texans for a walkthrough next Sunday before Aaron Rodgers and the Packers come to town in Week 8 for what might be the biggest Thursday night game of the season.
Dolphins are a disaster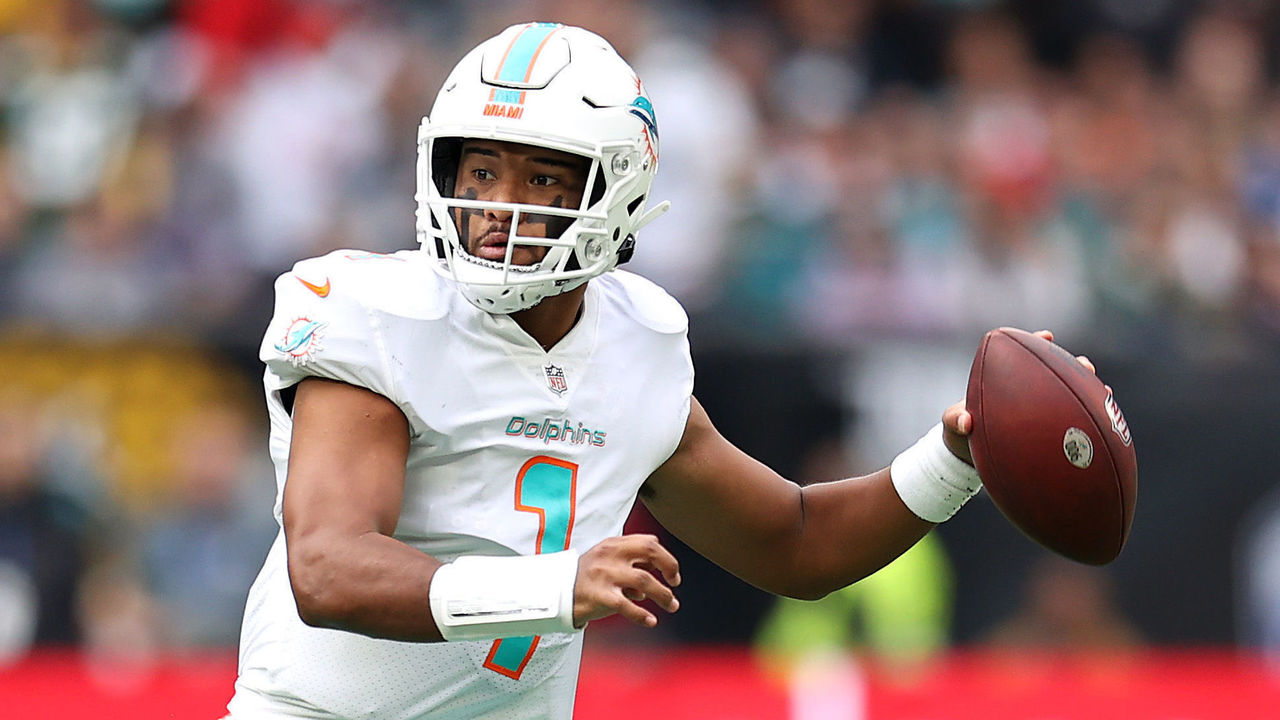 Miami's loss to the hapless Jacksonville Jaguars was its fifth loss in a row. Only the Texans have a worse point differential than the Dolphins' minus-78. And if it weren't for a red-zone fumble in a Week 1 win at New England, Miami would be staring at an 0-6 record. This is not how the Dolphins' once-promising rebuild was supposed to go.
The defense, which came in ranked 24th in DVOA, has been a problem. And Tua Tagovailoa, who played for the first time since a Week 2 rib injury, still hasn't looked like a quarterback drafted fifth overall should look nearly halfway through his second season.
There are other issues. The Dolphins got stoned on a crucial fourth-and-1 after having Tagovailoa hand it off out of the shotgun. Even if the team wanted to avoid having Tagovailoa sneak it or run a run-pass-option keeper because of his ribs, it would have been smarter to run a play from under center. Then, with the Jags backed up at second-and-16, head coach Brian Flores opted to let the clock run rather than use his last timeout. Miami never got the ball back.
Jacksonville had lost 20 games in a row - the second-longest streak in NFL history. To make matters worse, the Dolphins are currently in line for the second pick in the draft, per Tankathon. But they've already traded that selection to the Philadelphia Eagles. Ouch.
Chase is right fit for Bengals
The Cincinnati Bengals chose to select wideout Ja'Marr Chase with the fifth pick in the 2021 draft rather than address an offensive line that allowed Joe Burrow to get absolutely creamed as a rookie. It's shaping up as the right decision.
Chase is proving to be one of the league's best deep-ball threats. He entered Week 6 with an NFL-best six catches on passes covering 20 or more yards in the air, per PFF. He had another one in the third quarter of Sunday's cakewalk at the sad-sack Lions.
For good measure, Chase threw in an outstanding downfield block on running back Joe Mixon's 40-yard touchdown reception:
The Bengals are 4-2, and their losses came by a combined six points. Next Sunday's visit to the division-leading Ravens is a biggie.
Dom Cosentino is a senior features writer at theScore.
Comments
✕
10 takeaways from NFL Week 6
  Got something to say? Leave a comment below!