NFL award rankings: Updated look at race for MVP, rookie honors, more
The NFL's elite players and coaches are beginning to solidify their respective cases for the league's top individual awards midway through the 2021 season.
Here's a current look at the best five candidates for the main honors:
Coach of the Year
5. Matt LaFleur, Packers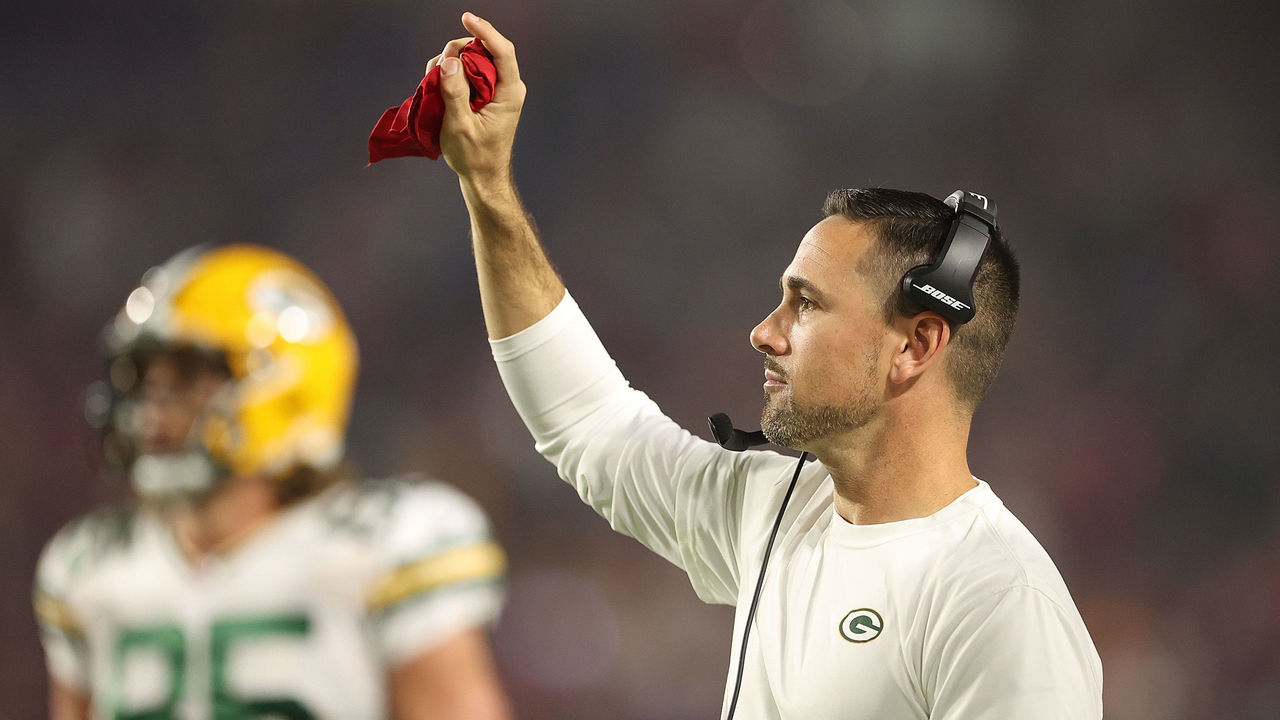 The Packers reeled off seven straight wins before Aaron Rodgers tested positive for COVID-19. Unlike other clubs that scored big-time performances without their stars, LaFleur's team struggled mightily in Jordan Love's first start, putting up just seven points in a loss. One defeat shouldn't overshadow a great run, though, as LaFleur once again has Green Bay in the conversation for the NFC's strongest club.
4. Sean Payton, Saints
The Saints are one of several clubs in the upper midfield of the NFL standings. But what separates them from the pack is the man in charge. No coach has extracted more from less than Payton has from the 5-3 Saints. New Orleans has a tough road ahead and won't have Jameis Winston or Michael Thomas. But Payton's ability to keep his team competitive despite a lack of star power shouldn't be brushed aside.
3. Sean McVay, Rams
A letdown performance on Sunday Night Football has soured McVay's chances of landing this honor, but he still holds third place on the podium. The Rams rank top 10 in both points scored and points allowed, and with Von Miller in the fold, McVay and Co. have all the pieces to make another run at a Super Bowl.
2. Mike Vrabel, Titans
There's no hotter team in the NFL than Vrabel's Titans. After a shocking Week 4 loss to the Jets, Tennesee has won five in a row and is running through anyone in its way. It hasn't been a cakewalk either; the Titans' last four wins have come against the Bills, Chiefs, Colts, and Rams. Their latest triumph was a cruise-control road victory over L.A. without Derrick Henry, which only bolstered the argument that Vrabel may be the league's most underrated head coach.
1. Kliff Kingsbury, Cardinals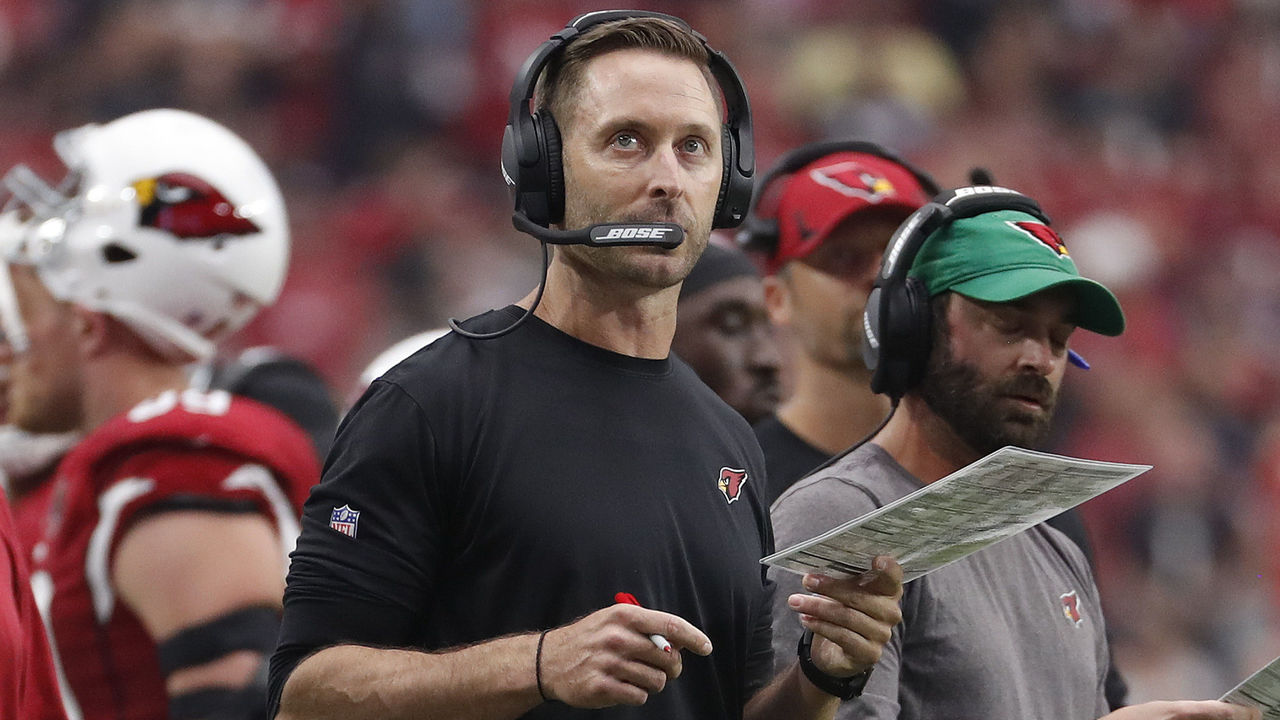 Kingsbury has done an impeccable job coaching the Cardinals this season. His most impressive performance may have occurred Sunday when Arizona easily disposed of the 49ers without Kyler Murray, DeAndre Hopkins, or A.J. Green. Don't forget: The 8-1 Cardinals are one goal-line miscommunication from a perfect record. That's a testament not only to Murray's star power but also to the man orchestrating the Cardinals' high-octane attack.
Offensive Rookie of the Year
5. Jaylen Waddle, Dolphins
Waddle isn't getting much attention this season with the Dolphins mostly struggling, but his numbers speak for themselves. The Alabama product leads Miami in targets and receptions, and he's totaled 56 catches - tops among rookies - for 496 yards and three touchdowns. He also ranks top 10 among NFL wideouts with a 71.8% catch rate.
4. Kyle Pitts, Falcons
It's no coincidence the Falcons' offense is at its best when Pitts is involved. The 2021 fourth overall pick had a slow start and didn't top 75 receiving yards in any of his first four NFL games. But he's averaged 89 yards per contest in his last four appearances, helping Atlanta win three games in that span.
3. Mac Jones, Patriots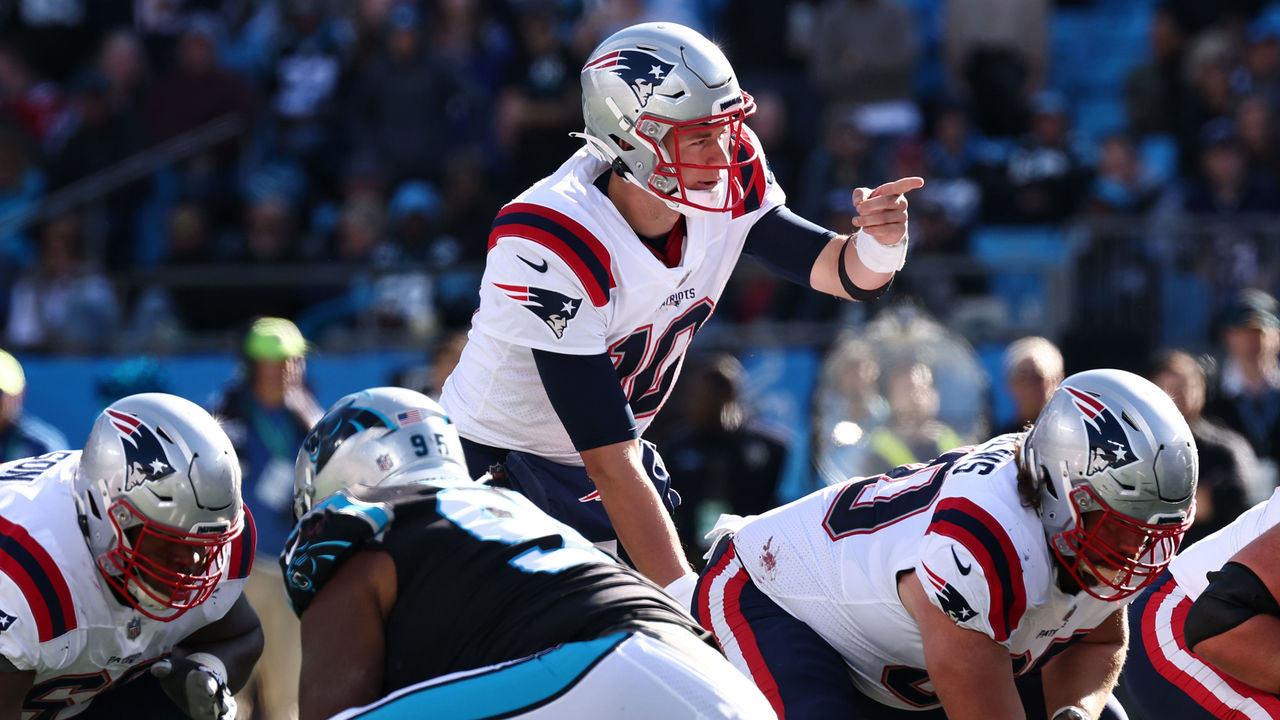 Jones may not be among the league's most entertaining passers due to his inconsistency as a deep thrower, but his short- and mid-range games have been solid enough for the Patriots. Granted, excellent performances from New England's defense have taken some pressure off Jones and mitigated most of his rookie mistakes. Still, the first-round passer has completed 68% of his throws (ninth-best among all quarterbacks), is 5-4 as a starter, and has helped the Patriots win three straight.
2. Najee Harris, Steelers
The Steelers' offense has been one of the least productive units in the NFL this season, but it would be even worse if not for Harris, who leads all rookies in touches and scrimmage yards per game. Though the first-round running back is averaging under 4 yards per carry behind Pittsburgh's subpar offensive line, his playmaking ability as a catcher has been vital for quarterback Ben Roethlisberger.
1. Ja'Marr Chase, Bengals
Chase is coming off arguably the worst performance of his NFL career, yet the race for Offensive Rookie of the Year still isn't close. The Bengals' first-round wideout is among the best players in the league this season, ranking top five in receiving yards (835), yards per reception (19), and touchdown catches (seven). Chase has only 81 receiving yards over his last two games after posting a whopping 201 yards in Week 7, but he's still in a league of his own among rookies.
Defensive Rookie of the Year
5. Nick Bolton, Chiefs
A new contender for Defensive Rookie of the Year has emerged in the form of Chiefs linebacker Nick Bolton, who earned Rookie of the Month honors in October. No performance was as impressive as his Week 7 showing against the Titans: He became the first player in Chiefs history to record 15 combined tackles and four tackles for a loss in a single game. Kansas City's defense has been far from great, but the second-round pick has been a bright spot.
4. Azeez Ojulari, Giants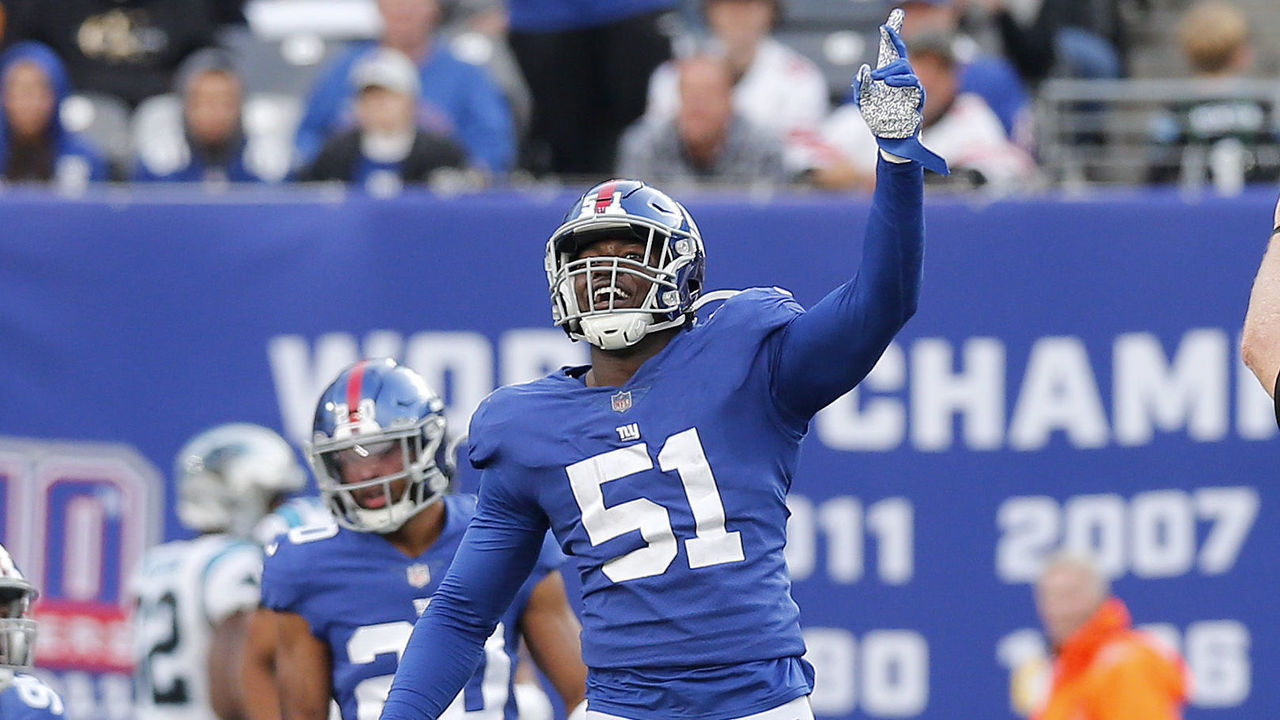 Ojulari cooled off after recording a sack in each of the Giants' first three games of 2021, but a 2.5-sack performance in Week 7 has reignited his campaign. Though the Georgia product has been streaky over the second quarter of the season, he still leads all rookies with 5.5 sacks.
3. Patrick Surtain, Broncos
The Broncos parted ways with Von Miller after he led their defense for a decade, but Surtain may be a candidate to lead the unit for the next decade. Denver inserted the No. 9 overall pick into the starting lineup in Week 2, and Surtain hasn't looked back. Another strong performance Sunday against the Cowboys helped solidify his rise to the top three.
2. Asante Samuel Jr., Chargers
Samuel missed Week 9 due to a concussion but still holds the midseason No. 2 spot. The Chargers cornerback has looked like a total pro, with his two interceptions tying for both the team and rookie lead. Forty-six players heard their names called before Samuel, yet only a handful have made the transition to the NFL look as easy as he has.
1. Micah Parsons, Cowboys
Parsons still leads the pack in his charge for Defensive Rookie of the Year. The uber-athletic linebacker enjoyed another fine performance Sunday, totaling 2.5 sacks and three tackles for a loss against the Broncos. The Cowboys' defense has made serious strides in 2021, and Parsons has been one of its driving forces.
Defensive Player of the Year
5. Darius Leonard, Colts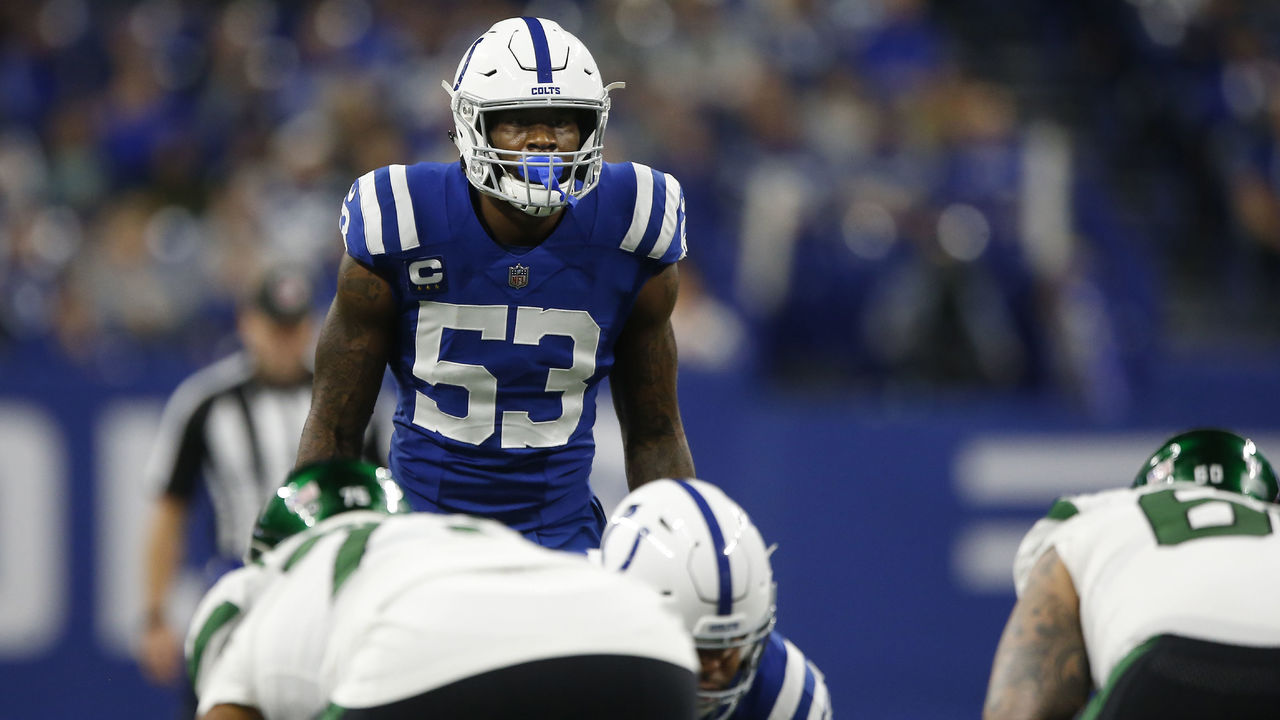 Leonard believes he should be in the discussion for Defensive Player of the Year, and the numbers support his case. The 26-year-old is tied for the league lead with four forced fumbles and has three fumble recoveries and two interceptions. Leonard is the heartbeat of a Colts defense that's recorded at least one takeaway in every game this campaign. A linebacker hasn't won this award since Luke Kuechly in 2013. If there's anyone who can end that streak, it's Leonard.
4. Maxx Crosby, Raiders
Crosby has slipped a few positions since the early rankings, but that's due more to other players' performances than to his stellar play. "Mad Maxx" has done laps around opposing offensive linemen; he entered last week leading the league with 47 pressures, according to PFF. He's also notched five quarterback hits in three games this season. Quarterbacks are keeping an eye on Crosby, and the NFL's award voters should do the same.
3. Trevon Diggs, Cowboys
Diggs was red-hot to start the 2021 campaign, recording an interception in six straight games for a league-leading seven picks. Unfortunately, those who play with fire eventually get burned. That's exactly what's happened to Diggs recently, with Broncos wideout Tim Patrick beating the corner for a long touchdown Sunday. Regardless, corners with elite ball skills don't come around often. It'll be hard to pick against Diggs if he snags a few more interceptions by season's end.
2. Myles Garrett, Browns
No surprise here: One of the front-runners for this award is none other than the league's sack leader. Garrett's 12 sacks through nine games represent an astronomical feat, putting him on pace to barely break the NFL's single-season record of 22.5 sacks over a 17-game campaign. It seems foolish to doubt whether Garrett can replicate his form over the second half of the year, as there doesn't appear to be an offensive line that can stop him. He's recorded 0.5 sacks or more in all but one of the Browns' contests this year.
1. T.J. Watt, Steelers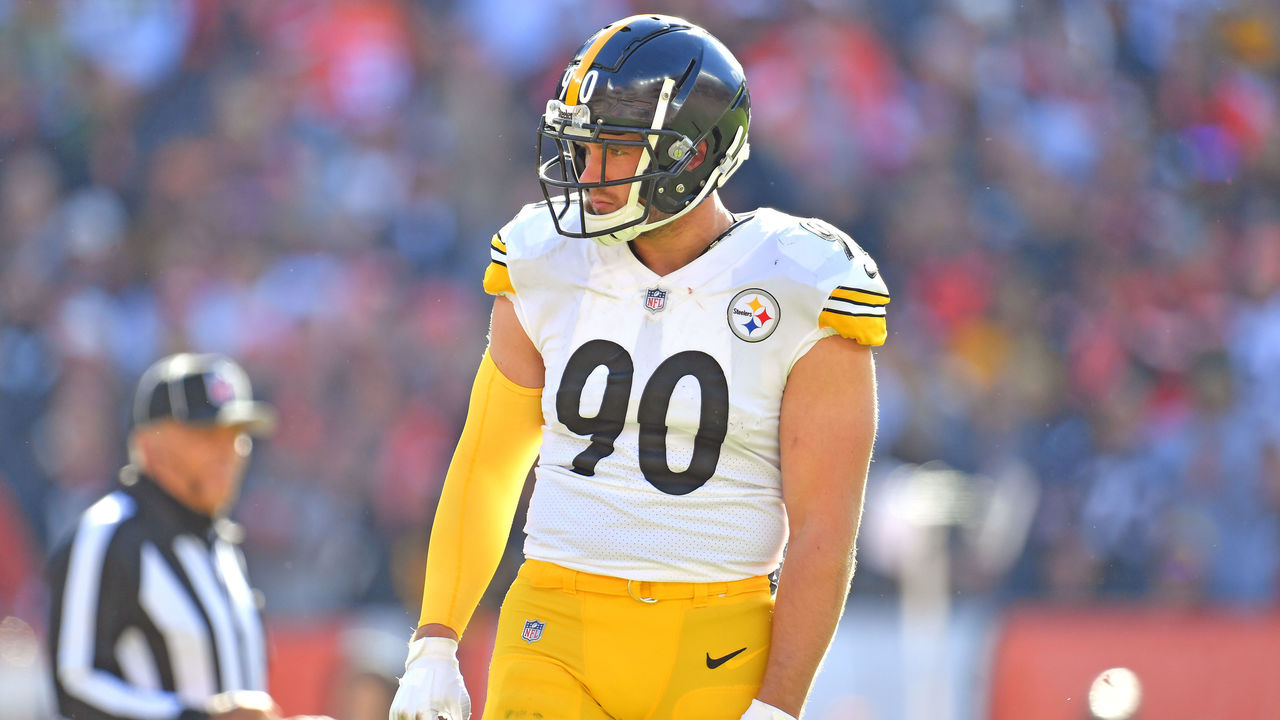 Forgive us if you've heard this before, but Watt is once again within striking distance of Defensive Player of the Year honors. Hampered by a groin injury after essentially missing training camp due to contract negotiations, Watt is somehow enjoying his best season yet. He's put up 11.5 sacks and three forced fumbles thus far. The 27-year-old has come close in years past, but a strong push from here on out could make 2021 the year Watt finally wins this award.
MVP
5. Dak Prescott, Cowboys
Prescott enjoyed stellar performances through the first six weeks - tossing at least three touchdowns in all but one contest - but the Cowboys' last two games dealt a blow to his MVP case. Dallas beat the Vikings in Week 7 without Prescott on the lineup, and then the two-time Pro Bowler struggled to a 48.7% completion rate and 232 yards in a blowout home loss coming off a bye. It's premature to declare Prescott out of the MVP race, but he needs to rediscover his early-season form quickly to have a realistic shot.
4. Lamar Jackson, Ravens
It's impossible to imagine the 2021 Ravens succeeding without Jackson, who continues to overcome his limitations as a passer by making absurd plays as a runner. In Week 9, for instance, Jackson threw two interceptions, including a bad one in overtime. But he still finished the contest with a season-high 120 rushing yards and put Baltimore in a position to kick the game-winning field goal that lifted the team to 6-2. Jackson leads the NFL with four fourth-quarter comebacks this year.
3. Tom Brady, Buccaneers
Brady's production through eight games speaks for itself. The 44-year-old has completed 67.3% of his passes - his best rate since 2016 - while tossing a league-leading 25 touchdowns and 331.3 yards per game. With the Buccaneers encountering more defensive issues than anticipated, Brady's consistency under center has been critical for Tampa Bay's success. The reigning champions currently have the NFL's top-ranked scoring offense and lead the NFC South with a 6-2 record through Week 9.
2. Matthew Stafford, Rams
One can make the argument that Stafford is the MVP after nine weeks. He leads the NFL in QBR and expected points added; the latter category has seen its leader win MVP every year since 2016. But the Rams have faced only one opponent above .500 since Week 4 - the Titans in Week 9 - and Stafford had his worst performance of the year on that occasion. Still, despite posting a 71 passer rating versus Tennessee, the 33-year-old is on pace for a career year in his 13th NFL campaign.
1. Kyler Murray, Cardinals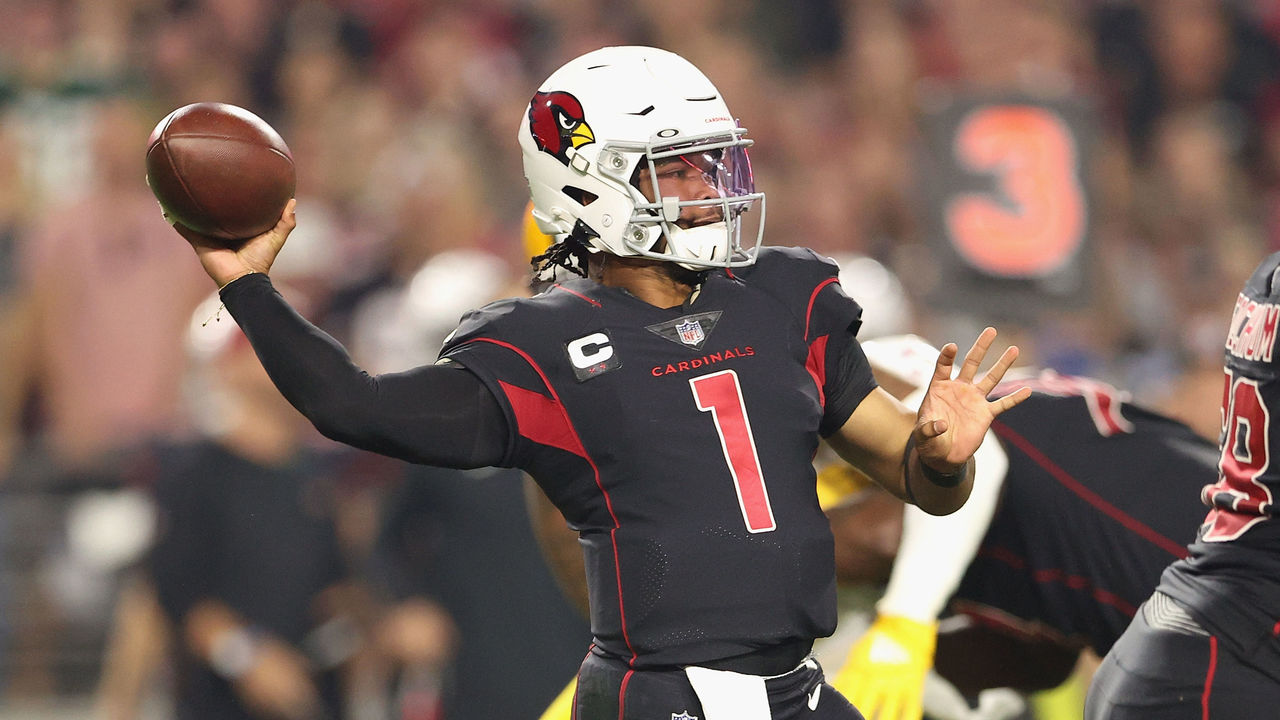 Murray's Week 9 absence due to injury didn't hurt his MVP case as much as it could have, with other legitimate MVP contenders failing to boost their respective cases. Murray hasn't been flawless - he's tossed seven interceptions in eight games - but the Cardinals signal-caller was football's most exciting player through the season's first half. He's 7-1 as a starter and has a 110.4 passer rating with a 72.7% completion rate. He's also delivered when Arizona has needed him most, recording a passer rating of 122.1 in third-down situations.
Comments
✕
NFL award rankings: Updated look at race for MVP, rookie honors, more
  Got something to say? Leave a comment below!