NFL trade grades: Jones gives Titans the firepower to compete with Chiefs
Kevin C. Cox / Getty Images Sport / Getty
The Tennessee Titans won the Julio Jones sweepstakes Sunday, sending a 2022 second-round pick and a 2023 fourth-rounder to the Atlanta Falcons for the star wide receiver and a 2023 sixth-rounder.
The writing was on the wall for Jones' time with the Falcons ever since he essentially called to be traded on "Undisputed" in late May, telling Shannon Sharpe he was "outta there."
Here, we examine whether Atlanta or Tennessee came off better in the blockbuster deal:
Tennessee Titans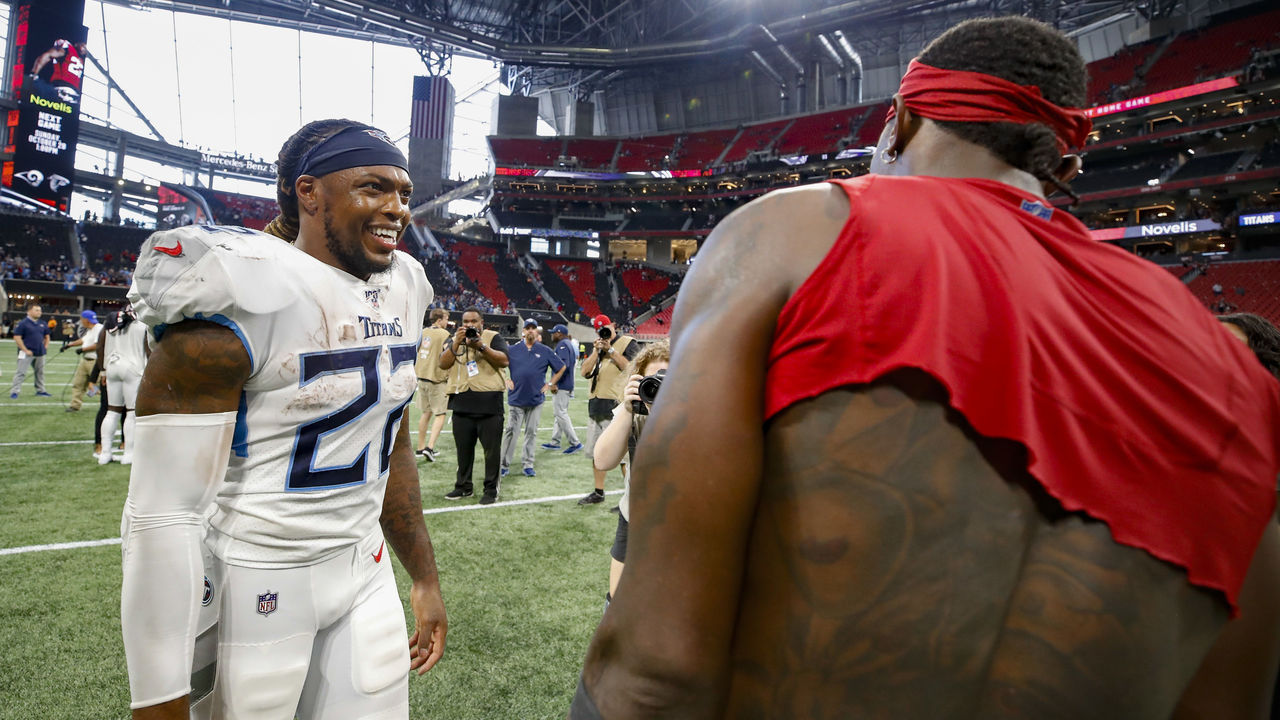 The Titans' offense now boasts rushing king Derrick Henry, rising star A.J. Brown, and Jones. That's an astonishing trio, and opposing defenses will drive themselves crazy trying to figure out who to stop. Tennessee needed a second receiving threat after losing Corey Davis to the New York Jets in free agency, and landing Jones was the dream scenario.
Yes, Jones just turned 32 years old and is coming off an injury-shortened campaign. But even if the seven-time Pro Bowler is no longer at the peak of his powers, he's still very close to it. Jones was fourth in yards per route run last season (right behind new teammate Brown), per Adam Levitan of Establish The Run. Moreover, the wideout's average of 85.7 yards per game ranked seventh, and he's just a year removed from racking up the second-most yards in the league with 1,394.
Perhaps Jones' hamstring issues last year and his foot injury in 2019 are signs that his body is breaking down. We've seen leg injuries sap other uber-athletic receivers toward the tail end of their careers before, with Calvin Johnson - who retired while two years younger than Jones is now - among the most notable examples. But considering the former Falcons pass-catcher missed only four games over the six campaigns prior to 2020, it's definitely a risk worth taking for Tennessee.
With quarterback Ryan Tannehill playing the best football of his career and Henry likely having two or three years of dominant football left in the tank, the Titans are in win-now mode. Yet Tennessee was arguably in the third tier of AFC teams prior to this move, with the Baltimore Ravens and Buffalo Bills a step ahead and the Kansas City Chiefs in a group of their own.
But the Titans can now argue they're just as much of a threat to the Chiefs as the Ravens or Bills for the reasonable cost of a second-rounder, a swap of Day 3 picks in 2023, and a contract with cap hits of $15.3 million in 2021 and $11.5 million in 2022 and 2023, per Spotrac.
To beat Kansas City, it's no secret you need firepower. A strong running game and a stingy defense will only contain Patrick Mahomes and Co. for so long, and Tennessee doesn't even have the defense. At some point, you'll need to go touchdown for touchdown with Mahomes to win the AFC crown. The Titans lacked that gear in their 20-13 wild-card loss to Baltimore. Now, with Jones in town, they might stand the best chance of keeping pace with the Chiefs.
Grade: A-
Atlanta Falcons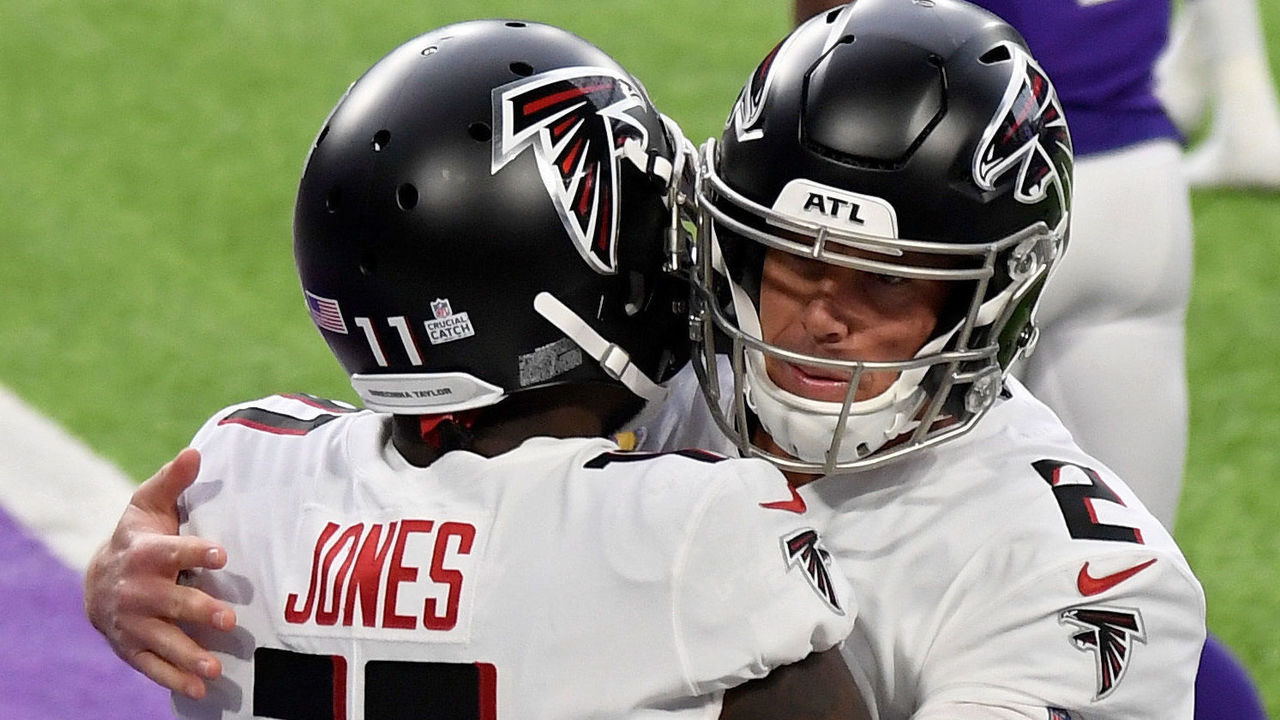 What's the plan in Atlanta? Are the Falcons retooling for another run or rebuilding under new head coach Arthur Smith and new general manager Terry Fontenot? Their offseason moves haven't been consistent with either path, and they're in danger of failing on both fronts while trying to walk the line between competitiveness and building for the future.
Let's look at the Falcons' three major decisions following a 4-12 season. They gained $14 million in cap space after restructuring quarterback Matt Ryan's contract in March, but he now accounts for cap hits of $48.6 million in 2022 and $43.6 million in 2023. If Ryan - who's 36 and has been good but not great since winning MVP in 2016 - is released or traded after this season, Atlanta would incur a near-unworkable dead-money hit of $40.525 million, per Spotrac.
Prior to Ryan's restructure, which likely locks him as the starter until 2023, it was speculated Atlanta could take a quarterback at No. 4 overall or trade down to receive more assets and retool. But even with Justin Fields available, the Falcons passed on both options in favor of tight end Kyle Pitts.
It made some sense prior to trading Jones. A trio of Pitts, Jones, and Calvin Ridley meant Atlanta could potentially field a top-five offense that would help it compete in the competitive NFC South despite a lackluster defense. Also, the Falcons wouldn't have reaped the massive benefits of a starter on a rookie contract with Ryan's deal stuck on the books.
Now that Jones is gone, the addition of Pitts, at best, keeps the Falcons' offense at the same mid-tier level of 2020 and 2019. And even that's optimistic. While Pitts is the best tight end prospect in recent memory, rookies at the position historically struggle to produce in their first season. By the time he's a star, Atlanta could be moving on from Ryan and scrambling to find the quarterback's successor. Pitts seems even more like a luxury pick for a team that hasn't come close to the playoffs in three years.
Moreover, Atlanta arguably didn't even maximize Jones' trade value. Its leverage was admittedly lost somewhat by the wide receiver's public comments on his future, but the team has to bear responsibility for allowing its relationship with Jones to reportedly sour to the point that he wanted to force his way out.
The Titans have won at least nine games for five straight years, so the Falcons will likely receive a pick in the mid-to-late 50s plus some change for the greatest player in franchise history. That's decent, but it's far from enough to compensate for the loss of Jones' All-Pro contributions and help the team acquire a future Ryan replacement.
The Falcons' cap situation is undeniably ugly. But time and time again, other teams have proven that, with enough creative thinking, no financial issues can't be worked around. If Atlanta wanted to keep the Pro Bowler, it could've found a way around the cap, as Tori McElhaney and Jeff Schultz of The Athletic reported in late May. Smith and Fontenot inherited the issues with Jones and the poor cap situation, but their decisions this offseason might've doomed Atlanta to more mediocrity for the foreseeable future.
Grade: C
Comments
✕
NFL trade grades: Jones gives Titans the firepower to compete with Chiefs
  Got something to say? Leave a comment below!