Twenty-three yards from the far chain, 44 yards from the goal line, Trey Lance crouched in shotgun formation intending to pass to the right. Jimmy Kepouros lined up wide left, processing the situation: third down, start of the fourth quarter, his and Lance's undefeated squad up eight in the 2020 FCS national championship game. Teeing up a field-goal attempt might have padded the lead, provided Lance was inclined to settle for the safe play. But no receiver got open, so he sprinted forward, ball in hand, and no defender so much as laid a finger on him.
"I made a good block on the outside," Kepouros, a senior wideout for that season's North Dakota State Bison, said recently. He laughed into the phone, making clear his contribution to the title-sealing score was secondary.
About Lance, Kepouros added: "I just remember jumping on top of his head when he was in the end zone."
This was the second-last game of Lance's college career, a 28-20 win over James Madison 15 months ago that amplified his NFL draft buzz. Lance is part of his class' crowded second tier of quarterback prospects, jockeying with Zach Wilson, Justin Fields, and Mac Jones to be selected ASAP after Trevor Lawrence goes first overall next Thursday. There's an argument to be made that Lance is the group's most fascinating player, partly since the pandemic postponement of North Dakota State's season limited him to a single game last fall.
Lance is undeniably the least tested of this draft's potential elite pivots. He attempted only 318 career passes at North Dakota State, 300 fewer than Fields and 519 fewer than Wilson, and he's never faced anything that resembles Power 5 opposition.
That said, Lance's positives are seductive. His arm's a cannon: Kepouros swears that he's seen his passes soar as far as 80 yards downfield. Lance tossed zero interceptions as a redshirt freshman in 2019-20, his lone full season helming the Bison's offense.
Combine that power and precision with Lance's legs and build - at 6-foot-4, 224 pounds, he's bigger than many FCS linebackers, not to mention Lamar Jackson and Kyler Murray - and you get a quarterback who rushed for a touchdown per game in college. Winning a national title put Lance on par with his two most recent Bison QB predecessors: Chargers backup Easton Stick and Carson Wentz, the NFL's No. 2 draft pick in 2016.
Lance is his own player, unburdened by the baggage of Wentz's downfall in Philadelphia. If anything, their connection is a fun piece of trivia, one more quirk to contextualize the push Lance will make to reach his superstar upside.
"I think he can carry a franchise with his personality and with his leadership," Bison quarterbacks coach Randy Hedberg told reporters at North Dakota State pro day in March. "He has that it factor. That's important. When he enters a room, you know who it is."
Trey Lance at North Dakota State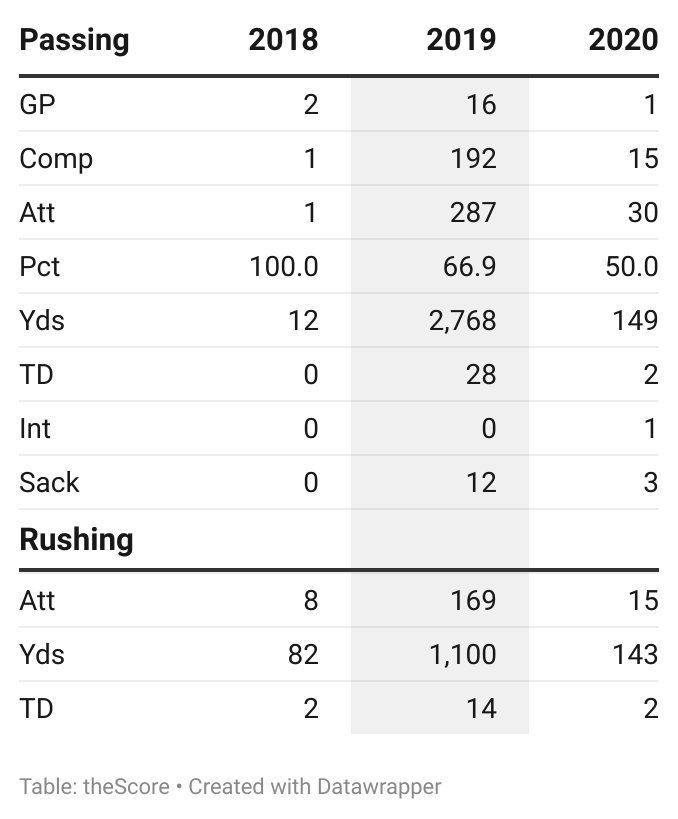 College teammates like Kepouros and Ben Ellefson, now a Jacksonville Jaguars tight end, say Lance projects confidence that elevates his offense. It's ideal to run routes for a quarterback who delivers 50-yard go passes on a dime, but who doesn't force big throws - partly because he can escape any pocket to race for a gain, as James Madison well knows.
Lance also has a record of rising to high-pressure moments, chief among them the 2020 title game and North Dakota State's 39-28 home win over Central Arkansas last Oct. 3. The scouts from 20 NFL teams who flocked to Fargo for his last collegiate start witnessed one of football's rarest sights: Lance whipping a pass into the hands of a rival defensive back, Nick Nakwaasah. It was an aggressive attempt that didn't go to plan, leading to the only interception of his college career. It hardly mattered when Lance rebounded to lead the Bison to a 21-point fourth quarter.
"I don't think he'd make that same decision again," said Quincy Avery, Lance's offseason QB trainer, reflecting on the interception. "But such is life."
People fixate on the pick because Lance made sound decisions throughout North Dakota State's 2019 season, when his 287 attempts without an interception established an all-division NCAA record. His 1,100 rushing yards ranked third among the nation's quarterbacks. Lance was named the best offensive player in the FCS, and he steered the Bison to college football's first 16-0 season in 125 years, previously the sole domain of the 1894 Yale Bulldogs.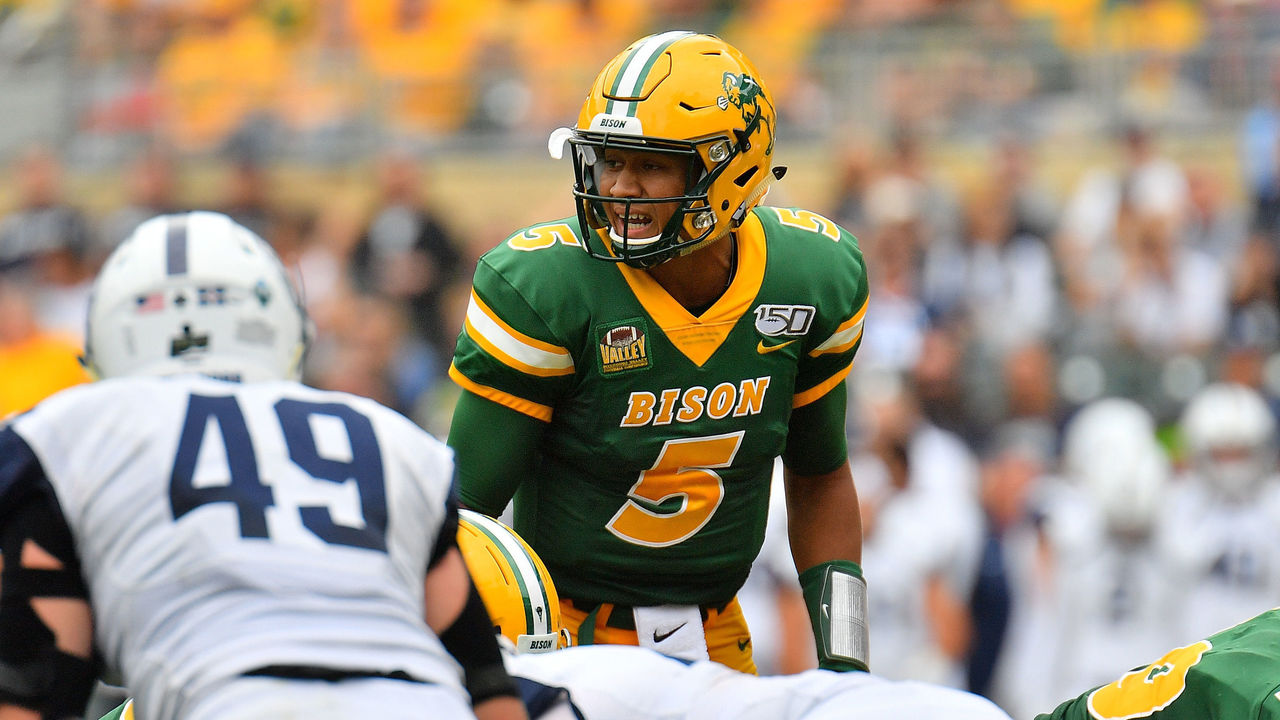 Not bad for a Minnesota kid from small-town Marshall High School whose Power 5 suitors uniformly wanted him to shift to wideout, linebacker, or defensive back. Chris Klieman, North Dakota State's head coach from 2014-18, persuaded Lance to head to Fargo for a one-year redshirt apprenticeship behind Stick, the winningest QB in FCS history, who now backs up Justin Herbert in Los Angeles.
Soon it was Lance's turn to shoulder duty and authority in the Bison's pro-style offense. As Hedberg pointed out at pro day, North Dakota State differs from programs that employ sideline flash cards, instead demanding its quarterback relay the plays in the huddle and make checks and protection calls under center. The system hinged on Lance's intelligence and composure, traits that have Avery convinced he's NFL-ready at a tender age. (Lance turns 21 in May.)
"He might not have played as many college games, but every snap that he had was really, really meaningful, in terms of the mental stress that he had on every single play," Avery said.
"He understood really well what his team needed. His team needed him to be safe with the ball, be smart, and be all the things that North Dakota State (wants) to do. They're going to run the ball. They're going to own the clock. Win the turnover battle. Those are the things that he was mindful of."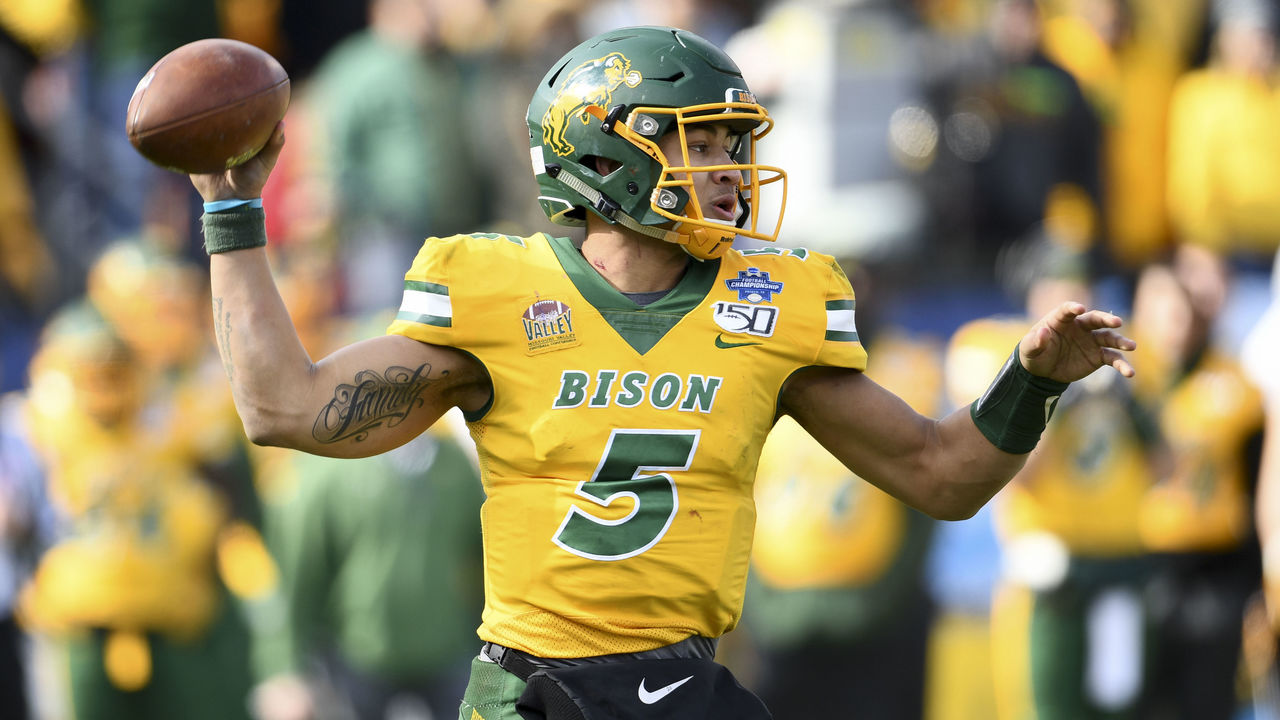 When Roger Goodell announces Lance's name next Thursday, perhaps within the top three or five picks, he'll be the seventh quarterback since 2006 to go in the first round after starting fewer than 20 college games, per ESPN. Three became Pro Bowlers: Murray, Cam Newton, and Ryan Tannehill. Dwayne Haskins and Mitchell Trubisky remain in the league, but they and Mark Sanchez represent worse career outcomes.
Again, that's trivia; interesting to know but less urgently relevant to Lance's own story than, say, the work he put in to sustain a college dynasty. The 2019 FCS title was North Dakota State's eighth in nine years under four different quarterbacks. The other three (Wentz, Stick, and retired CFL backup Brock Jensen) were threats to run the ball, but none scampered with Lance's speed or agility, to say nothing of his willingness to truck defenders.
"There's evidence on tape of him running people over," Ellefson said. "Sometimes you see quarterbacks shy away from taking a big hit. He would dive headfirst compared to sliding sometimes to get those couple extra yards that we might need on a third-and-7."
Whatever it took to move the needle in difficult moments. In Lance's final appearance against Central Arkansas - "You only have a one-game audition going into the NFL," Avery said, summarizing the stakes - he passed and ran for fourth-quarter touchdowns, reclaiming the lead in the wake of his interception. Against James Madison in last season's title game, Lance completed a mere 6 of 10 passes for 72 yards, but he ran roughshod, amassing a career-best 166 yards on the ground.
The backbreaking play was Kepouros' indelible memory, that of Lance checking into a run on third-and-long - how many young quarterbacks would have the wits and wheels to do that, Hedberg wondered at pro day - and motoring 44 yards to the end zone. Down eight, the Dukes had held North Dakota State to two straight punts, preserving their chance to come back. That hope was shot by the time Lance's receivers mobbed him.
"I just remember thinking: Wow. This kid is incredible," Kepouros said. "This is going to be a story one day to tell."
Nick Faris is a features writer at theScore.