The window for NFL teams to assign the franchise and transition tags begins Feb. 23 and ends at 3:59 p.m. ET on March 9.
It might be a particularly interesting period, as tag values are projected to decrease in 2021 while the NFL continues to mitigate financial losses from the COVID-19 pandemic. Tag-and-trade scenarios could be more likely given the salary-cap decrease, too.
The franchise tag restricts a player's rights in free agency, and their team offers them a one-year contract worth no less than the average of the top five salaries at their position. The player can sign the tender any time and then get roughly four months to negotiate a multi-year extension. They're not obligated to fulfill any team duties until inking the tender.
Meanwhile, the transition tag allows a player to test free agency while his incumbent team gets the right to match any offer. It's a one-year contract worth the average of the top-10 salaries at the player's position.
Candidates to get 2nd straight tag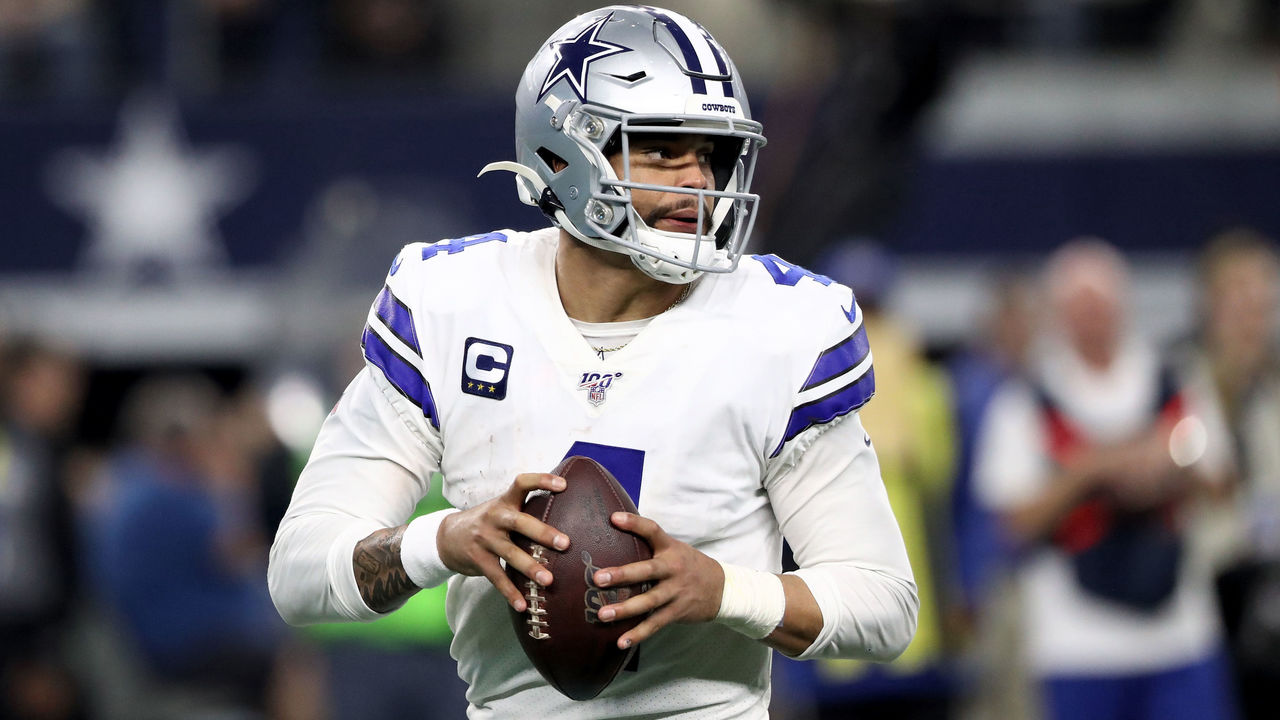 Dak Prescott, QB, Cowboys
Projected franchise tag salary: $37.7M
Prescott is the league's most likely player to be tagged if the Cowboys once again can't work out a long-term extension with him. He was enjoying a career year and further cementing his value to the franchise when the signal-caller fractured his ankle five games into the 2020 season. Dallas won't let its quarterback hit free agency, so Jerry Jones may finally need to budge and meet Prescott's demands. A new deal would surely net the passer north of $40 million per year, which is well worth it at this point. Things would get really interesting if he plays the 2021 season on another tender.
Shaq Barrett, OLB, Buccaneers
Projected franchise tag salary: $17.752M
Barrett isn't the likeliest Buccaneer to be franchise tagged this offseason because his value isn't quite as high as last year after a 19.5-sack campaign. However, the pass-rusher could still be tagged if Tampa Bay is confident in retaining Chris Godwin with a new contract. Barrett will be in demand as a free agent and is looking to "break the bank."
Leonard Williams, DL, Giants
Projected franchise tag salary: $19.3M
New York won't want to franchise tag Williams again, though the team also certainly doesn't want the defensive lineman to walk in free agency. The 2015 sixth overall pick enjoyed a breakout season with 11.5 sacks in 2020, thriving in his first full campaign with the Giants. If the sides can't come to a long-term pact - and there's plenty of incentive for Williams to test the market - the Giants will be compelled to tag him again.
Justin Simmons, S, Broncos
Projected franchise tag salary: $13.7M
Coming off two elite seasons, Simmons' one-year contract would be fully guaranteed in 2021 if he's tagged for a second straight time. The Broncos must at least try to retain their star defensive back, and working out a lucrative deal with Denver - or another franchise - is more plausible due to the financial commitment. However, John Elway's inability to strike an agreement with Simmons last offseason is somewhat concerning.
Brandon Scherff, G, Washington
Projected franchise tag salary: $18.04M
Washington is in a tough spot, as a second tag would be an extremely expensive commitment for a guard. But Scherff is a high-level blocker, and a one-year tender could be used as a potential bridge to working out an extension. Washington must find a sweet spot for its All-Pro lineman.
Matt Judon, OLB, Ravens
Projected franchise tag salary: $20.2M
With a significant potential cap hit after a six-sack 2020 season, the Ravens aren't likely to tender Judon for a second straight year. We can't rule it out altogether, as the versatile defender is vital to Baltimore's unit. But attempting to work out a new contract on the open market feels more likely here.
Yannick Ngakoue, OLB, Ravens
Projected franchise tag salary: $17.752M
Ngakoue didn't sign his one-year tender after the Jacksonville Jaguars tagged him last offseason, and he was eventually traded to the Minnesota Vikings and inked a one-year deal. Therefore, franchising the young pass-rusher would be cheaper than doing the same with Judon. Ngakoue wasn't a great fit in Baltimore, but the team could look to retain him with so many other players set to hit free agency.
Hunter Henry, TE, Chargers
Projected franchise tag salary: $12.7M
Henry racked up a career-high 60 catches for 613 yards and four touchdowns in 2020, acting as a security blanket for Justin Herbert. The Chargers won't want to rob their emerging young quarterback of a dependable weapon. Negotiations could get tricky if Henry pushes for a deal similar to those of fellow tight ends George Kittle ($15 million per year) and Travis Kelce ($14.3 million), so it seems likely L.A. will tag the 26-year-old again to buy more time.
Likely to be tagged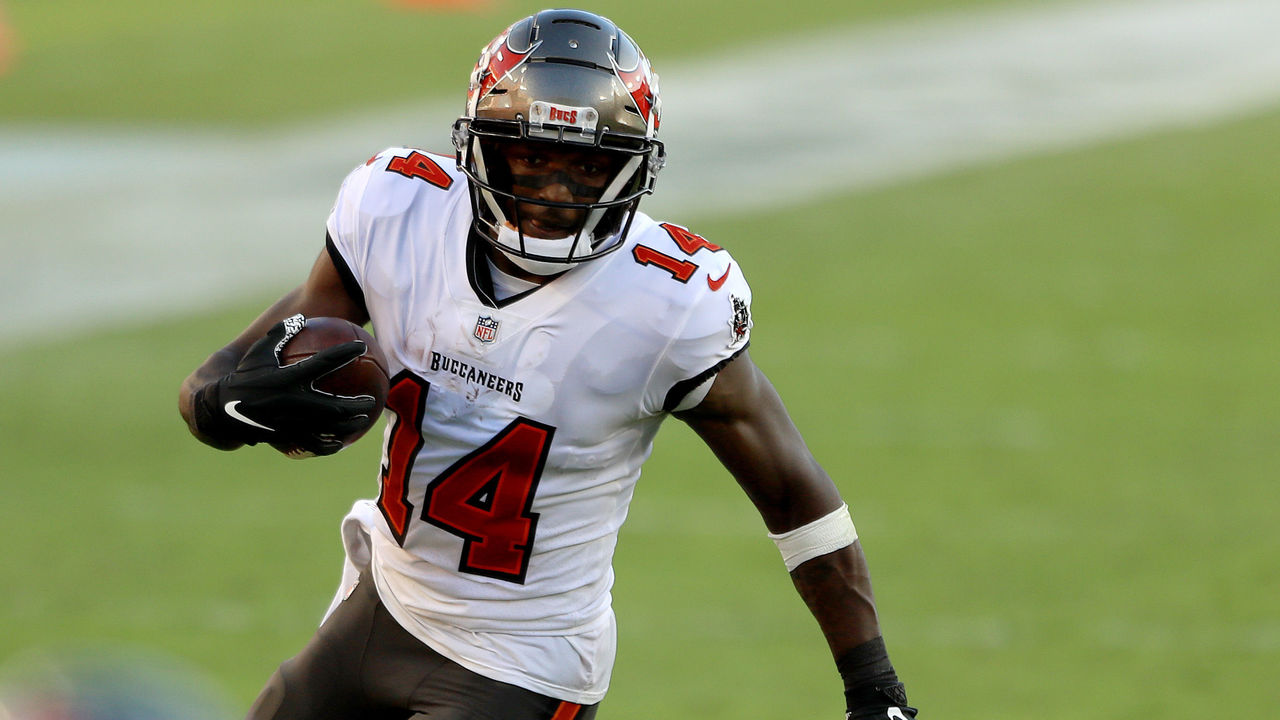 Chris Godwin, WR, Buccaneers
Projected franchise tag salary: $16.43M
With Godwin all but guaranteed to net well over $16 million annually on the open market, tagging the talented receiver is in Tampa Bay's best interest. The Bucs are deep at the position, but the 24-year-old's role in Bruce Arians' passing attack can't be understated. Godwin was named a second-team All-Pro after a breakout 2019 campaign, and there's no easy internal replacement on the Bucs' roster.
Allen Robinson, WR, Bears
Projected franchise tag salary: $16.43M
Robinson's situation is one of this offseason's most intriguing. GM Ryan Pace acknowledged the possibility of tagging the veteran receiver following the 2020 campaign, though Robinson isn't a fan of the idea. If the two sides can't work out a long-term deal, the franchise tender could soon follow. Chicago simply can't let its premier offensive player walk that easily.
Kenny Golladay, WR, Lions
Projected franchise tag salary: $16.43M
Golladay battled injuries for most of last season, but he's a legitimate No. 1 receiver when healthy. Despite a current lack of cap space and a new coaching staff in tow, the Lions at the very least will tag Golladay and weigh their options. If signing the 2019 Pro Bowler to a blockbuster extension presents too much risk for new general manager Brad Holmes, the one-year tender could be where the club lands.
Carl Lawson, DE, Bengals
Projected franchise tag salary: $17.752M
While he's yet to replicate his 8.5-sack rookie campaign, Lawson is viewed as an important young defender in Cincinnati. The Bengals are already desperate for pass-rush help, and letting an ascending lineman walk wouldn't make much sense. The team and player will presumably work toward an extension this summer, as $17.75 million is a hefty one-year investment.
Taylor Moton, OT, Panthers
Projected franchise tag salary: $14.51M
With both of Carolina's starting offensive tackles on expiring contracts and Moton viewed as the top available free-agent right tackle, new Panthers GM Scott Fitterer will look to lock up the 26-year-old. Moton has developed into a reliable blocker, and he'll probably be retained through a tag or a new long-term pact.
Could be tagged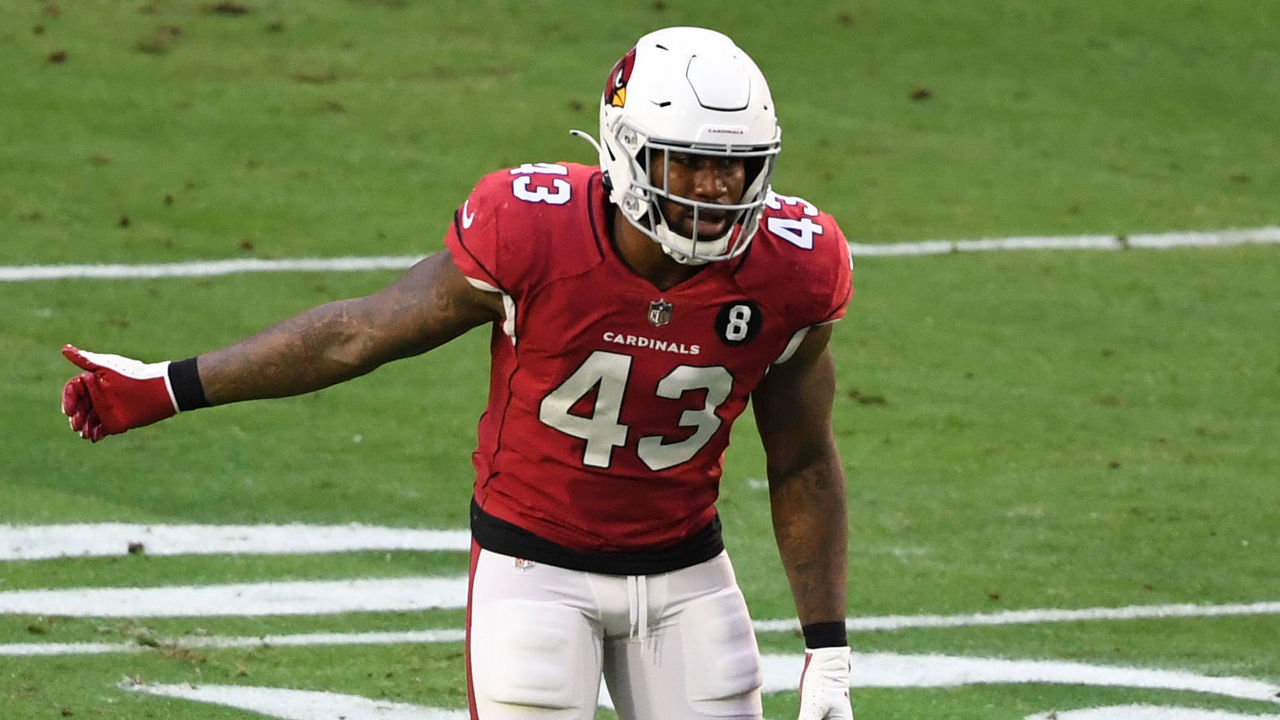 Haason Reddick, OLB, Cardinals
Projected franchise tag salary: $17.752M
After three disappointing years in Arizona, Reddick exploded for 12.5 sacks and six forced fumbles during his first season as a full-time edge rusher. His 2020 breakout leads to an interesting case for the Cardinals. The tag is an expensive one-year deal with some risk, but it would give the team one more campaign to see if Reddick can produce again before committing long term.
Aaron Jones, RB, Packers
Projected franchise tag salary: $11.112M
Jones isn't the likeliest franchise-tag candidate, as he'll no doubt seek a longer and more lucrative contract in free agency. However, the Packers may opt to use the tag as a stepping stone toward an offseason extension. Jones is a key contributor in Green Bay's offense, and he's scored 30 touchdowns over the last two seasons.
Will Fuller, WR, Texans
Projected franchise tag salary: $16.43M
If the Texans are committed to rebuilding their relationship with Deshaun Watson, getting his favorite pass-catcher under contract would be a good start. Fuller, 26, missed the last five contests of the season due to a six-game suspension for performance-enhancing drugs, but he got off to a great start, setting new career highs in receiving yards (879) and touchdowns (eight). In an offseason featuring a few head-scratchers, finding a way to retain Fuller seems like a no-brainer for Houston.
Marcus Maye, S, Jets
Projected franchise/transition tag salary: $11.196M/$9.55M
Maye is one of the few transition-tag candidates this offseason. Jets general manager Joe Douglas isn't known to splurge against the cap, but he could prioritize retaining a key defensive piece. New York can let Maye walk if the multifaceted safety commands a massive deal on the open market. Regardless, re-signing Maye to a longer, more team-friendly extension appears to be the most likely path.
Marcus Williams, S, Saints
Projected franchise tag salary: $11.196M
New Orleans surely wants to retain Williams before the star safety commands a lucrative contract on the open market, but a tag doesn't appear to be likely. Currently sitting at roughly $70 million over the salary cap, the Saints won't be able to afford the one-year hit.
William Jackson III, CB, Bengals
Projected franchise tag salary: $15.266M
If the Bengals don't tender Lawson, Jackson could be a fallback plan. The 28-year-old projects to be one of the top cornerbacks available this offseason after Cincinnati gave $14 million annually to Trae Waynes in 2020. The club may look for cheaper alternatives elsewhere, or attempt to re-sign Jackson during the second wave of free agency.
John Johnson, S, Rams
Projected franchise tag salary: $11.196M
Following a breakout campaign, the Rams would undoubtedly love to retain Johnson through the tag or an extension. However, Les Snead historically doesn't like to commit big money to safeties, and he added a few young players at the position over the last two drafts. Even after acknowledging Johnson's importance, L.A. may be too strapped against the cap to lock him up.
Shaquill Griffin, CB, Seahawks
Projected franchise tag salary: $15.266M
Griffin could easily be tagged this week because cornerback franchise tenders aren't as expensive as other positions. The 2017 third-round pick is a key contributor to Seattle's defense, and a long-term deal could cost the club more in the immediate future. The Seahawks also aren't exactly deep at corner.
Jonnu Smith, TE, Titans
Projected franchise tag salary: $10.167M
Several key Titans players are set to become free agents, and tagging Smith would be a cheap way to retain one of them. It's not the most likely scenario, but there aren't many difference-making tight ends around to replace him. Smith is coming off a career-high eight touchdowns in 2020.
Matt Milano, LB, Bills
Projected franchise tag salary: $15.657M
Milano will be seeking a big payday after switching agents. However, the Bills may not lose him without a fight. Tendering the linebacker could force Buffalo to release other players or prevent general manager Brandon Beane from making moves, but Milano is important to the team's defense when healthy.
(Salary projections courtesy: OverTheCap)