10 takeaways from Super Bowl LV
Patrick Smith / Getty Images Sport / Getty
The Tampa Bay Buccaneers defeated the Kansas City Chiefs 31-9 to win the Super Bowl for the second time in franchise history. Here's a rundown of what went down and what some of it means.
Tom Brady is the GOAT
Anyone who tries to argue with that statement at this point is either willfully ignorant or just a troll.
Brady earned his seventh ring in his 10th Super Bowl, and he did it in his first season away from the New England Patriots and Bill Belichick. Yes, Brady joined a club that surrounded him with excellent skill players, a terrific defense, and solid coaching. But every quarterback needs a good support structure to thrive. Brady made his share of great plays, too. He's also 43 years old.
What sets Brady apart is his adaptability. Adjustments were key to the Patriots' success, and Brady brought that with him to Tampa Bay. After two quick early possessions, which featured straight dropbacks that ended in punts, Brady and the Bucs went heavy on play-action and quick throws on their third series. The result was an eight-play, 75-yard drive that ended with a touchdown pass to Rob Gronkowski on a run-pass option that included a Mike Evans pick. Notice how Brady sold it to perfection:
The Bucs were off and running. By the time it was over, Brady completed 21 of 29 passes for 209 yards, three touchdowns, zero interceptions, a 125.9 passer rating, and 0.36 expected yards per dropback. If there's still a debate happening somewhere about whether Brady is the greatest QB of all time, just end it now. The only conversation on the topic worth having now is about the distance between Brady and everyone else.
Bucs' defense does it again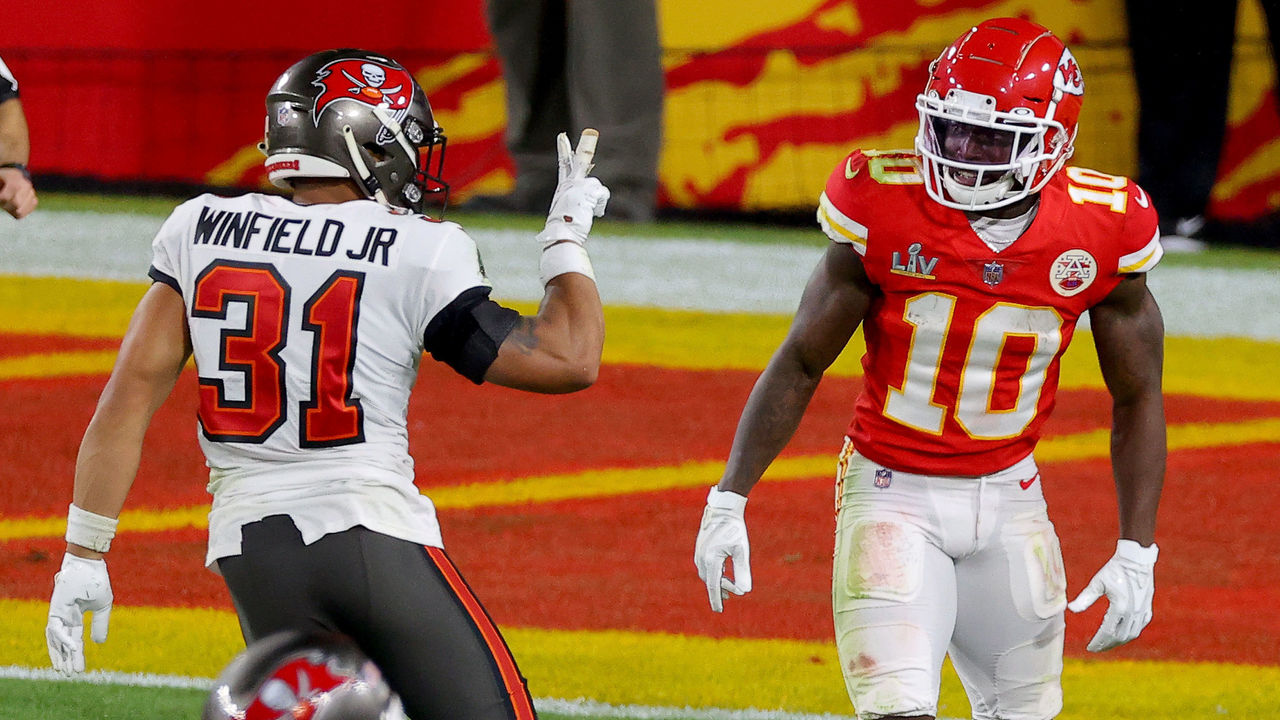 Brady was named MVP, but Tampa Bay's defense dominated this game from start to finish, harassing quarterback Patrick Mahomes without blitzing and snuffing out a Chiefs offense that has always seemed inevitable. An MVP case can be made for edge rusher Shaquil Barrett, who finished with a sack and a whopping eight pressures, according to Next Gen Stats.
Defensive coordinator Todd Bowles cooked up a scheme that largely kept two safeties deep to prevent big plays and relied on the Bucs' front to bring pressure against the Chiefs' injury-ravaged offensive line. Per Next Gen Stats, Tampa Bay blitzed on just five of Mahomes' 52 dropbacks. This left Devin White and Lavonte David - two of the league's best cover linebackers - to patrol the middle of the field, with plenty of personnel behind them to squeeze the Chiefs' vertical attack. It all worked to perfection.
Mahomes finished with a career-low passer rating of just 52.3. Travis Kelce and Tyreek Hill combined for 17 catches for 206 yards, but neither seemed to be much of a threat. It was a virtuosic performance by the Bucs' defense, and it was one to remember.
Bad night for the Chiefs' O-line
Kansas City entered the Super Bowl with backups playing four of the five positions along the offensive line. One starter (right guard Laurent Duvernay-Tardif) opted out before the season, while his backup, right guard Andrew Wylie, was forced to play right tackle. Three other starters - left tackle Eric Fisher, left guard Kelechi Osemele, and right tackle Mitchell Schwartz - were all out with injuries. It's safe to say it showed.
Mahomes was pressured on 33% of his dropbacks, per Next Gen Stats, but he seemed to be running for his life on just about every snap. Much credit goes to the Bucs' performance and scheme, but Mahomes and the Chiefs seemed to be playing with one arm tied behind their backs.
Gronk is back
Tight end Rob Gronkowski, Brady's former wingman with the Patriots, came out of retirement to join his old QB this season. Gronk wound up winning his fourth ring, but on Sunday, he was featured in a way that he hadn't been for much of the year.
Though Gronk was often a bit player in an offense that features Mike Evans, Chris Godwin, Cameron Brate, and Antonio Brown in its passing attack, he caught six passes for 67 yards and a pair of touchdowns in the Super Bowl. That equaled a season high for catches and was his third-best yardage total of the year. Interestingly, Gronk's season-high 106 yards receiving had come in Tampa Bay's Week 12 loss to Kansas City.
Fournette is also back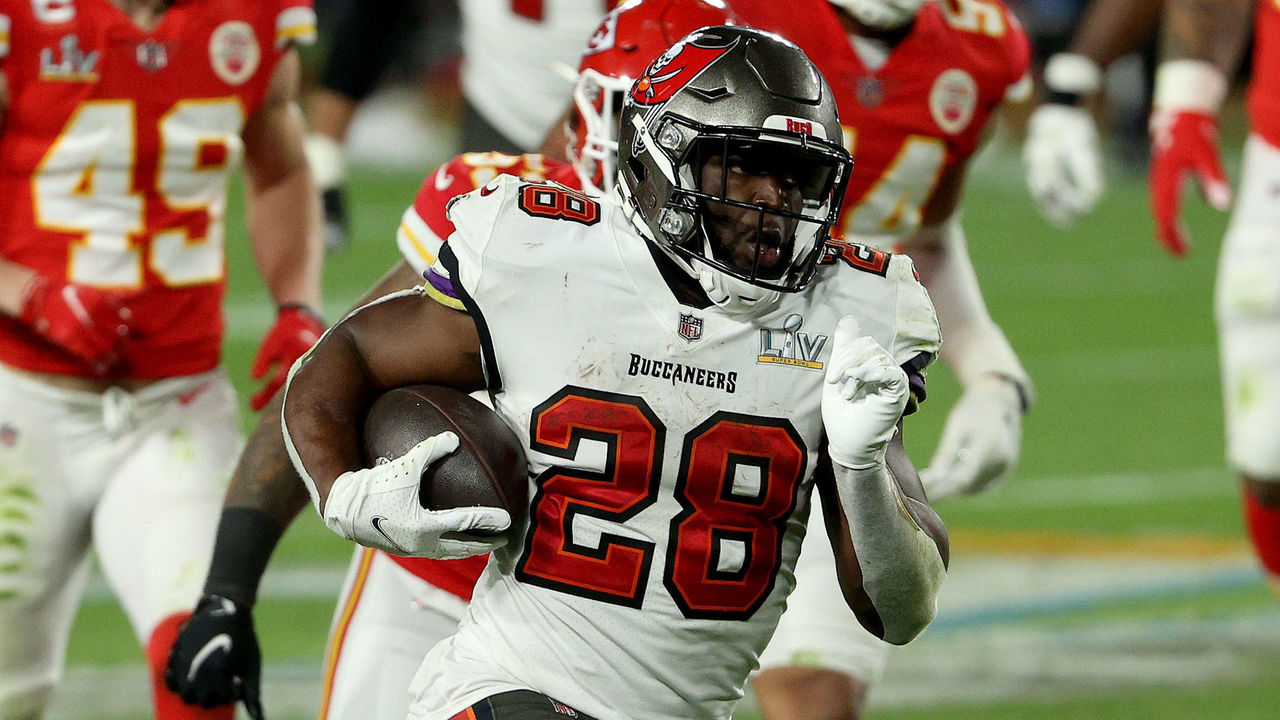 Leonard Fournette, a running back, was drafted fourth overall in 2017, but the Jacksonville Jaguars waived him at the end of training camp last summer. The Bucs scooped him up a week later. He played a minor role for most of the season, but Playoff Lenny enjoyed solid games in Tampa Bay's three postseason victories coming into the Super Bowl. He then saved his best for last.
Though platooning from one possession to the next with Ronald Jones, Fournette rushed for 89 yards on 16 carries and caught four passes for 46 more yards. His 27-yard touchdown run on a counter midway through the third quarter extended the Bucs' lead to 28-9 and basically put the game out of reach. Strangely, he also wasn't on the field when Jones got stopped on fourth-and-goal from the 1-yard line early in the second quarter.
Fournette is heading to free agency, and while it's tough to say what his market might be due to the declining value of running backs in today's NFL, now is probably not the time to think about that. He was a key cog for a team that won its last four regular-season games just to qualify for the playoffs before ripping off four more wins to capture a title.
Those penalties were weird
The Bucs clearly deserved this win, but the Chiefs were whistled for an inordinate number of penalties in the first half, which set a rather strange tone.
Kansas City got flagged five times for defensive holding or defensive pass interference in the first half. The team hadn't been hit with more than three combined defensive holding and DPI penalties in a full game all season long, according to Pro Football Reference. The Bucs picked up six first downs in the first half by penalties alone.
All told, the Chiefs racked up a Super Bowl-record 95 yards in first-half penalties. Tampa Bay, meanwhile, was flagged just once for 5 yards. What's strange is that a lot of calls that were made were plays that officials let go during the season, as CBS analyst Tony Romo pointed out during the broadcast and NBC rules analyst (and ex-official) Terry McAulay also noted:
All those penalties didn't matter in the end - the Chiefs' high-octane offense was suffocated and failed to reach the end zone - but it was hard not to notice the trend as it was happening.
This doesn't tarnish Mahomes
Mahomes versus Brady - baby GOAT versus big GOAT - was the obvious billing for this one, and while Brady's easy win is what will be remembered, let's not forget that Mahomes still played astonishingly well for a dude who seemingly had to go it alone because no one could block for him.
Mahomes threw two picks and finished with an EPA/dropback of minus-0.19. The Chiefs didn't reach the end zone. But time and again, Mahomes made every effort to extend plays while managing to fire a ball in the vicinity of a receiver. It seemed unfair that he had to play a dang Super Bowl against a pass rush as ferocious as the Bucs' with a patchwork offensive line, but that's the way things go. Mahomes is just 25. This was the first time that he lost a game by more than one score. He'll be back.
A little help, anyone?
I mean, just watch this:
That pass was dropped. And another sensational, unlikely throw from earlier in the game hit Hill in the facemask. Mahomes really had no help Sunday.
Reid would like that one back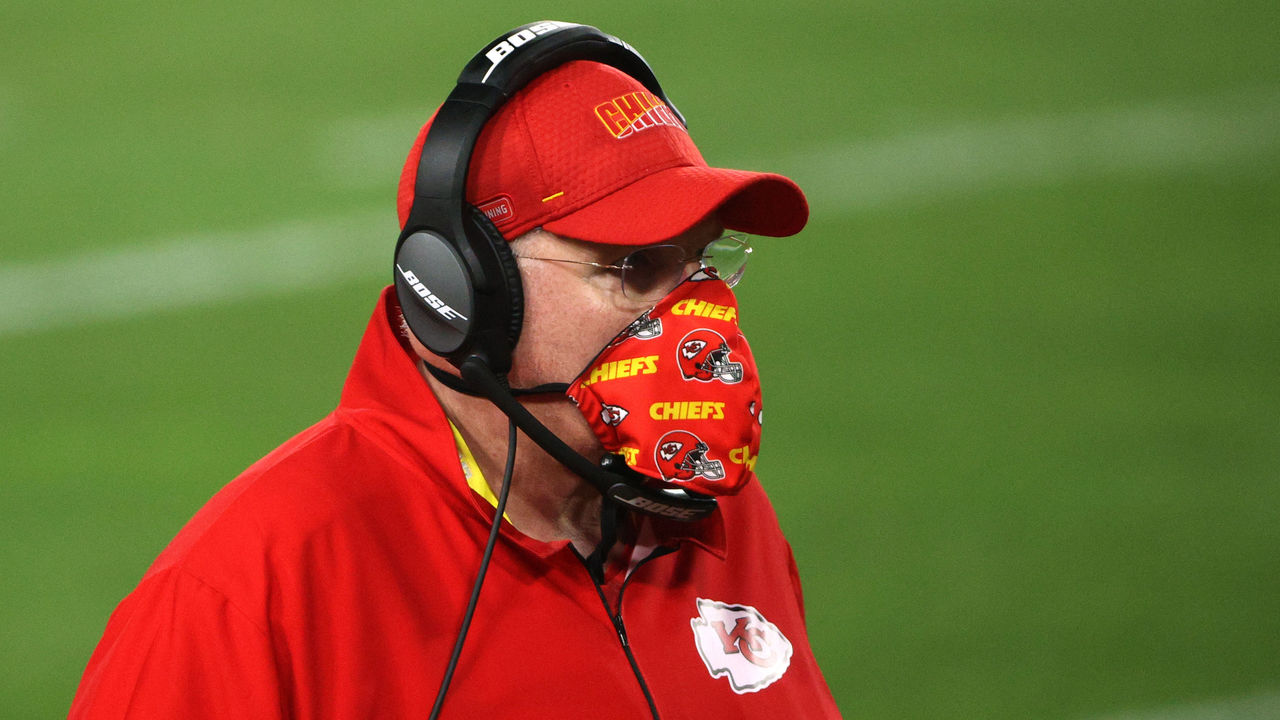 Reid has been such an exceptional, forward-thinking head coach for so long that it's easy to forget some of the lapses that had prevented him from winning a Super Bowl until last year. The penalties and lack of discipline in Super Bowl LV were a reminder of some of that, as was Reid's decision to kick a pair of field goals with the Chiefs trailing.
On the first one, Reid went for three on fourth-and-6 from Tampa Bay's 14 with about a minute remaining in the first half and the Chiefs trailing 14-3. Tampa Bay got the ball back with better field position (its own 29), and, aided by a pair of penalties, Brady guided the Bucs to another touchdown just before halftime to extend the lead to 21-6.
Then, on the first possession of the third quarter, Reid opted to have Harrison Butker try a 52-yard field goal on fourth-and-7 from the Bucs' 34. The Chiefs needed to close the gap there, and Reid's lack of aggressiveness seemed decidedly out of character.
Brady, Arians ain't done
Brady is under contract for one more year, and he said from the dais after the game that he planned to be back next season when he'll be 44. Bruce Arians, who won a ring for the first time as a head coach at the age of 68, also said afterward that he'll be back.
There will come a day when Brady's body will betray him, but after watching him stand there clutching the Lombardi Trophy yet again, who wants to take a guess as to when that might actually happen?
Dom Cosentino is a senior features writer at theScore.
Comments
✕
10 takeaways from Super Bowl LV
  Got something to say? Leave a comment below!