The Tampa Bay Buccaneers held off the Green Bay Packers in the NFC Championship Game, and Kansas City Chiefs thumped the Buffalo Bills in the AFC Championship Game, which means your matchup for Super Bowl LV on Feb. 7 in Tampa, Florida, is now set. Let's take a closer look at what went down in the conference championship games.
Tom Brady, again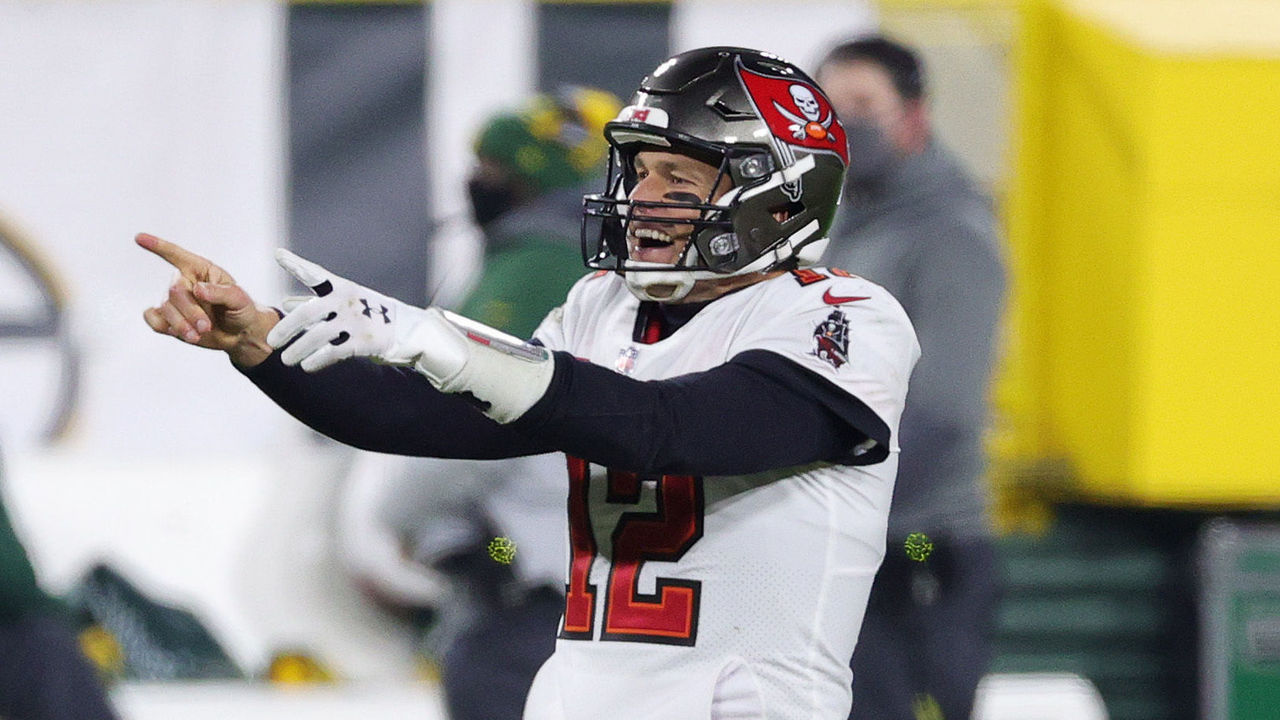 What's left to be said? Brady left the dynastic Patriots to join the Tampa Bay Buccaneers - the active franchise with the worst winning percentage in NFL history, and one that hadn't made the playoffs in 13 years - and he's going to another Super Bowl. That makes 10 Super Bowl appearances for Brady in 19 seasons. He's always had lots of help - as all great quarterbacks do - but he's also the obvious common denominator here.
This wasn't a scintillating Brady performance - he threw interceptions on three consecutive possessions in the second half - but that's not what matters now. Brady converted three third downs on the game's opening possession, and the Bucs succeeded on eight of their first 11 third downs in total. He threw three touchdown passes, which gives him 80 for his playoff career - no one else has more than 45. He's also thrown seven TDs during this postseason alone.
Brady came to Tampa Bay in part because it had a solid roster with a stable group of skill position players and a good coaching staff. He just won three postseason games on the road, and now he gets to play a Super Bowl at home.
The Chiefs look so complete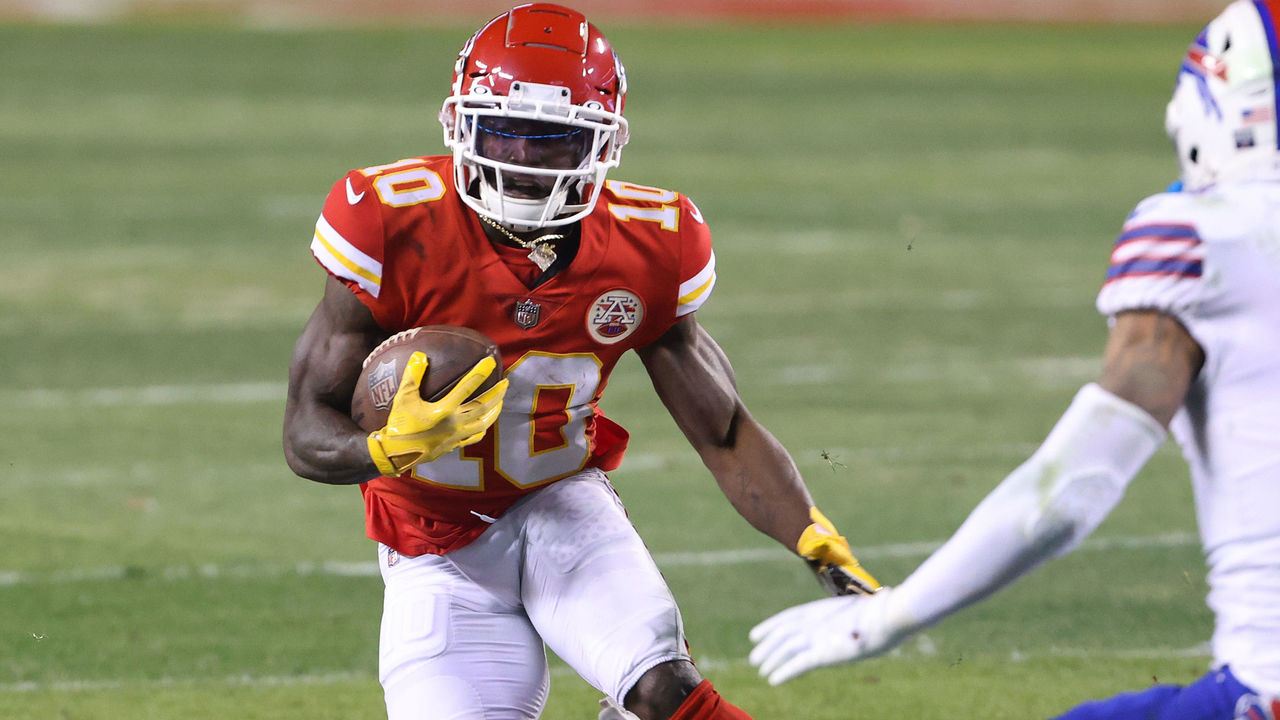 The Chiefs wrecked the Bills on both sides of the ball. Their offense was its usual masterful self, but the defense - which is often leaky - played brilliantly from front to back, too. Including last season's playoffs, Kansas City has now won 19 of its last 20 games when not resting starters. There are many reasons why.
Travis Kelce (13 catches, 118 yards) and Tyreek Hill (nine catches, 172 yards) always seemed to be open or to be running free with the football once they got it in their hands. Hill racked up 116 of his yards after the catch, according to Next Gen Stats. When he lines up in the slot, Hill seems to be unguardable. Mecole Hardman's lone carry on a reverse went for 50 yards. Of course, the Chiefs use so much deception - motion, shifts, misdirection, play-action - and have so much speed, it's hard to know where the ball is going to go. And I still haven't mentioned Patrick Mahomes.
The star quarterback hadn't played for three weeks leading up to the divisional round. Then he suffered turf toe and sustained a concussion that had him in the protocol all week. He posted an expected points added per dropback of 0.56 anyway. Mahomes was a ridiculous 11-for-11 for 173 yards and a touchdown on play-action passes. The Chiefs punted on their first possession. Not counting the ends of the half and the game, they went TD-TD-TD-FG-TD-TD on the rest of their possessions. Ho-hum.
Kansas City's defense was the bigger surprise. The Chiefs sacked Josh Allen four times and hit him 10 times, generating a pressure rate of 25%, per Next Gen Stats. The Chiefs were especially adept with a four-man rush, with Frank Clark and Chris Jones frequently getting to Allen when they had to. Cornerback L'Jarius Sneed got to him, too, on a blitz. On the back end, they often doubled Stefon Diggs and played either man or match coverage well enough for Allen to have few throwing lanes.
The Super Bowl's dominant storyline will be Brady versus Mahomes, and that's unavoidable. But Kansas City and Tampa Bay both have solid all-around foundations, and it ought to make for a fun matchup.
Tampa Bay's defense keeps doing it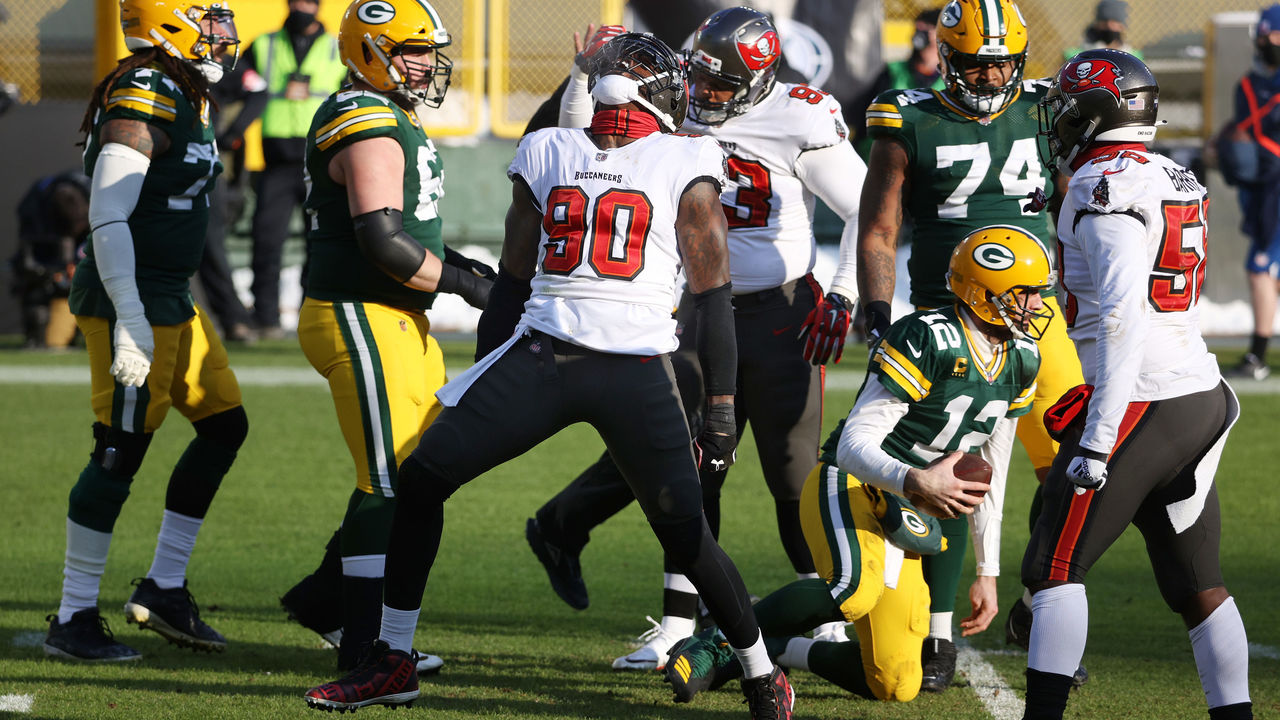 The Bucs' D was the difference in last week's win at the New Orleans Saints, and the unit did it again, clamping down on Aaron Rodgers and an offense that looked unstoppable all season long.
The Packers lost all-world left tackle David Bakhtiari to a season-ending knee injury on Dec. 31. He was clearly missed in this one. The Bucs sacked Rodgers five times and hit him on eight occasions. They only blitzed 32.3% of the time, per Next Gen Stats, which was down from their regular-season rate of 39%. But edge rushers Shaquil Barrett (three sacks, four pressures) and Jason Pierre-Paul (two sacks, four pressures) won a bunch of their one-on-one matchups, while nose tackle Vita Vea frequently pushed the pocket from the middle. Ndamukong Suh also had three pressures, and he ever-so-slightly tipped a pass that wound up being dropped by Equanimeous St. Brown on a crucial two-point conversion.
In the secondary, Tampa Bay played a lot of 2-man defense to keep Rodgers from attacking them deep with any frequency, which also allowed the Bucs to pinch the middle of the field. Cornerback Sean Murphy-Bunting had another interception, and safety Jordan Whitehead forced a fumble. The Bucs turned the short fields created by both turnovers into touchdowns.
Rodgers threw six interceptions all year, playoffs included, but three of them came in his two games against the Bucs. Full credit goes to a talented front-to-back unit, and to Todd Bowles, who has certainly reasserted himself as one of the game's best defensive coordinators.
A word about the officiating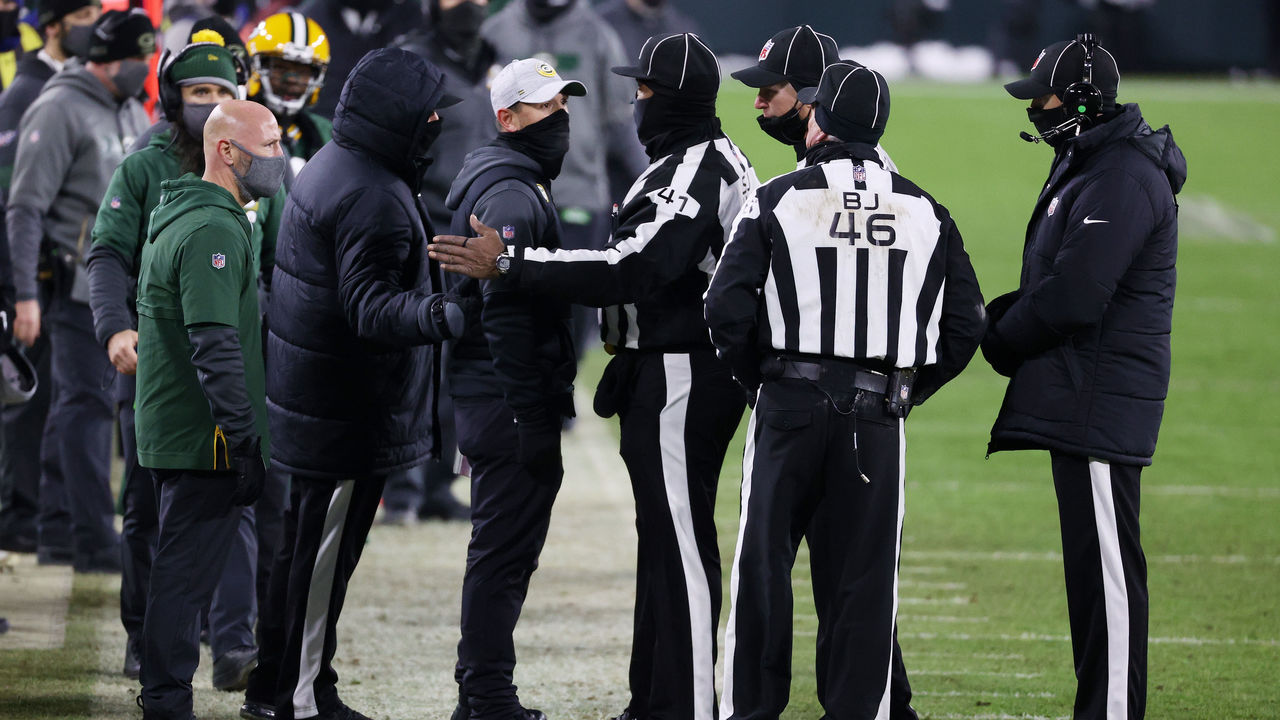 The officials let a lot of calls in Bucs-Packers go, at least until they didn't.
On a game-deciding third down late in the contest, Green Bay cornerback Kevin King was flagged for defensive pass interference after grabbing the jersey of Bucs wideout Tyler Johnson. The ensuing first down effectively ended the game. It was the correct call, but it was also inconsistent with how the rest of the tilt - and much of the season - had been officiated.
Murphy-Bunting of the Bucs got away with similar jersey grabs at least twice earlier in the game, including on his interception. And no flags at all were thrown in the first half.
After the pandemic wiped out offseason programs and the preseason, the league seemed intent on juicing things for offenses this season. According to an analysis by Andrew Beaton of the Wall Street Journal, penalties during the regular season were down by 16.4% compared to 2019. More specifically, offensive holding was down 37.3%, defensive holding was down 31.3%, and offensive pass interference was down 31.3%. It ought to come as no surprise that the NFL set records in 2020 for points scored, yards gained, pass completions, first downs, and passing touchdowns.
The league clearly wanted to avoid having the officials get too involved in determining the outcome of games. But that's also why it was so noticeable when a flag was thrown at such a high-leverage moment, even if it was a call that had to be made.
Josh Allen will be fine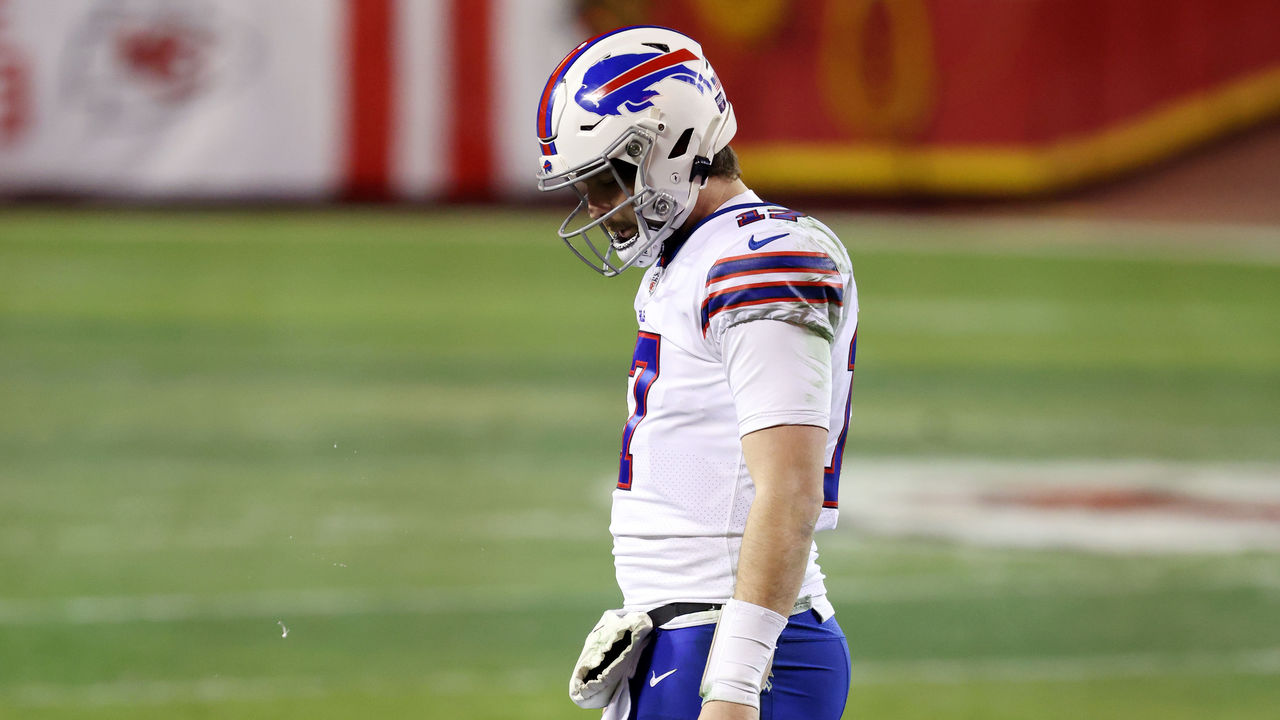 Allen had exceeded expectations all season long, establishing himself as a true franchise quarterback who could throw with accuracy and stretch the field now that he has Diggs in the fold.
His performance Sunday was less inspiring, with some of the old accuracy concerns resurfacing, along with a troubling tendency to hold on to the ball and backpedal in a futile attempt to salvage a play; Allen lost a whopping 53 yards on just four sacks. But he's still just 24 - and now eligible for a lucrative contract extension that ought to be coming his way this offseason - so let's not let this one game overshadow what he accomplished this year, or what's still to come.
Why did they do that?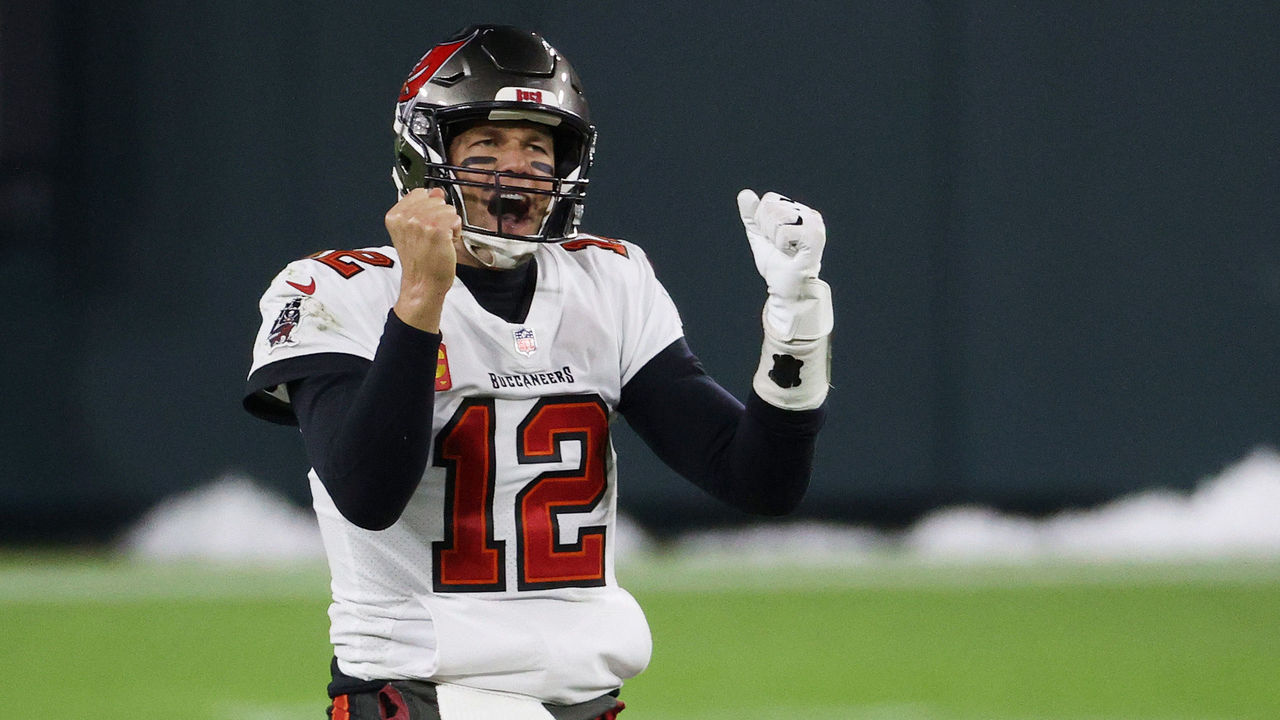 Two decisions will no doubt haunt the Packers.
The first happened when Brady threw a 39-yard touchdown pass to Scotty Miller right at the end of the first half. Why on Earth were the Packers playing man coverage with a single-high safety? And why did cornerback Kevin King, whom Miller beat, play inside leverage, a technique designed to force the receiver toward the sideline and behind him?
There were eight seconds left in the half and Tampa Bay was out of timeouts. All the Packers had to do was guard the sidelines and the goal line with a preventive zone. Instead, they put themselves at risk of giving up a touchdown - and Brady and Miller made them pay.
The second was head coach Matt LaFleur's decision to kick a field goal on fourth-and-goal from the 8-yard line while trailing by eight with 2:09 to play. Needless to say, LaFleur's choice put a dent in Green Bay's chances of winning:
Not to mention the Packers still needed to score a touchdown after kicking that field goal, and they were about to give the ball back to Tom freaking Brady with very little time on the clock. They never got it back.
A tough stat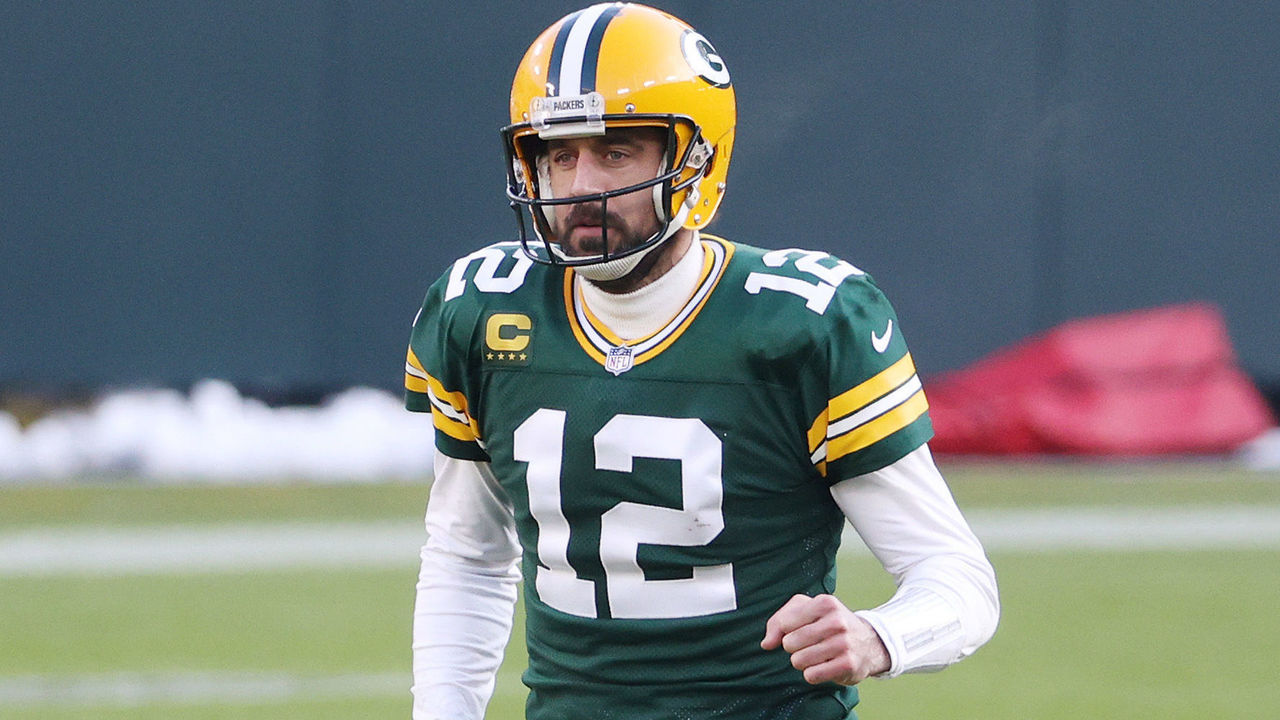 It will now be more than 10 years since the Packers reached a Super Bowl with Aaron Rodgers as their quarterback. They're also now 0-4 in the NFC Championship Game in the last decade. Tom Brady makes it seem easy, but winning a championship is pretty damn hard.
Keep an eye on this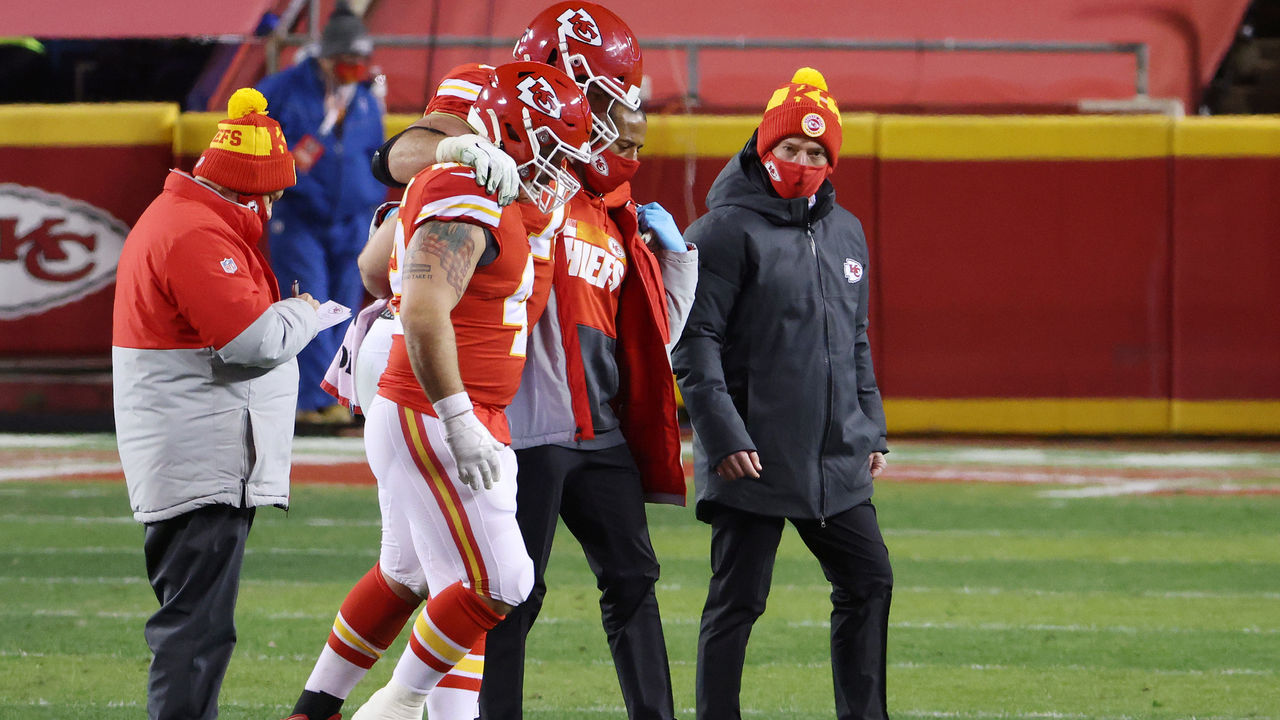 It was a damn shame that Chiefs left tackle Eric Fisher injured his Achilles early in the fourth quarter, and not just because it's a damn shame when any football player is hurt in a potentially serious way.
Fisher's injury could also have huge ramifications for the Super Bowl. The Chiefs have already been without right tackle Mitchell Schwartz (back) for most of the season, so the possibility of being down both starting offensive tackles while having to face a Bucs pass rush that features Barrett and Pierre-Paul off the edges seems less than ideal.
There will be many matchups to look forward to in Super Bowl LV, but the Chiefs' O-line against the Bucs' D-line is certainly going to be one of the bigger ones.
Dom Cosentino is a senior features writer at theScore.