Sunday's divisional-round doubleheader ended with the Kansas City Chiefs surviving the Cleveland Browns in the AFC, and the Tampa Bay Buccaneers outlasting the New Orleans Saints in the NFC. Let's take a closer look at what went down and what it means. For takeaways from Saturday's games, click here.
Chad Henne is the future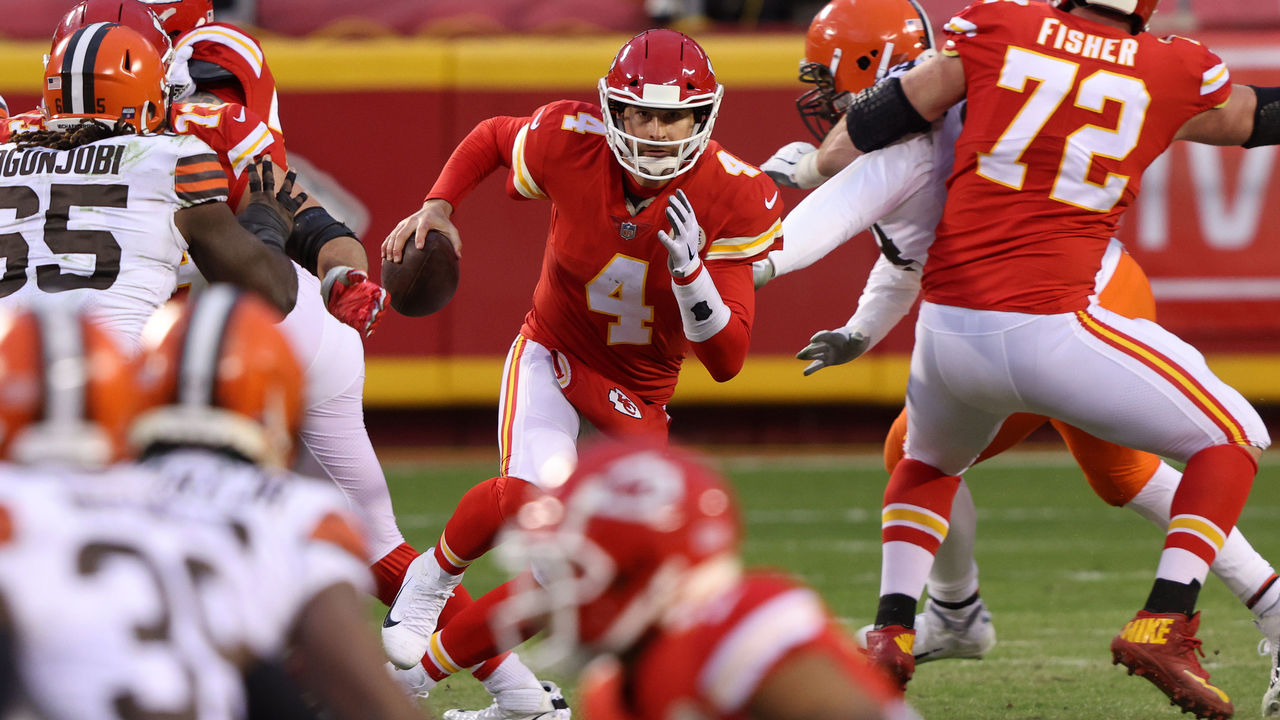 OK, that's obviously a joke. But the Chiefs were still able to hold off the feisty Browns despite losing Patrick Mahomes to a concussion midway through the third quarter. And they did it because Andy Reid and Eric Bieniemy stayed aggressive in high-leverage situations with Henne in the game.
Henne, 35, has been in the league for 13 seasons. He'd spent most of that time playing forgettable games for the Miami Dolphins and Jacksonville Jaguars. Before starting in Week 17, when Kansas City rested its regulars, Henne had last started an NFL game in 2014.
Henne finished the drive Mahomes started by making three handoffs and completing one short pass to set up a field goal. He then tossed a horrible interception into the end zone that gave the Browns the ball with eight minutes to go, trailing by five.
Kansas City's defense held - with an assist from some bizarre decisions by Cleveland - and Henne got the ball again with 4:09 to go. Rather than play it safe, Reid had Henne throw it on third down - with a quick flair to running back Darrel Williams that picked up five yards on third-and-4.
With the Browns now out of timeouts, Reid and Bieniemy stayed aggressive. They had Henne throw again on second down, and he was ultimately sacked just before the two-minute warning. Then, on third-and-14 from its own 35, Kansas City had Henne pass again. That's when this happened:
On fourth-and-inches, would Henne try to lure Cleveland into jumping offside before calling timeout and having the Chiefs punt? Nah. He did let the clock run down - fooling CBS analyst Tony Romo, who was convinced there'd be no play based on the players' body language - before doing this:
Game over.
The dynamic obviously changes for the Chiefs if Mahomes can't play in next week's AFC Championship Game against the Buffalo Bills. But on Sunday, they had a lead, and Reid and Bieniemy maximized their chances to win by doing all they could to avoid giving Cleveland the ball back with the game on the line. More NFL coaches should take the same approach.
Browns beat themselves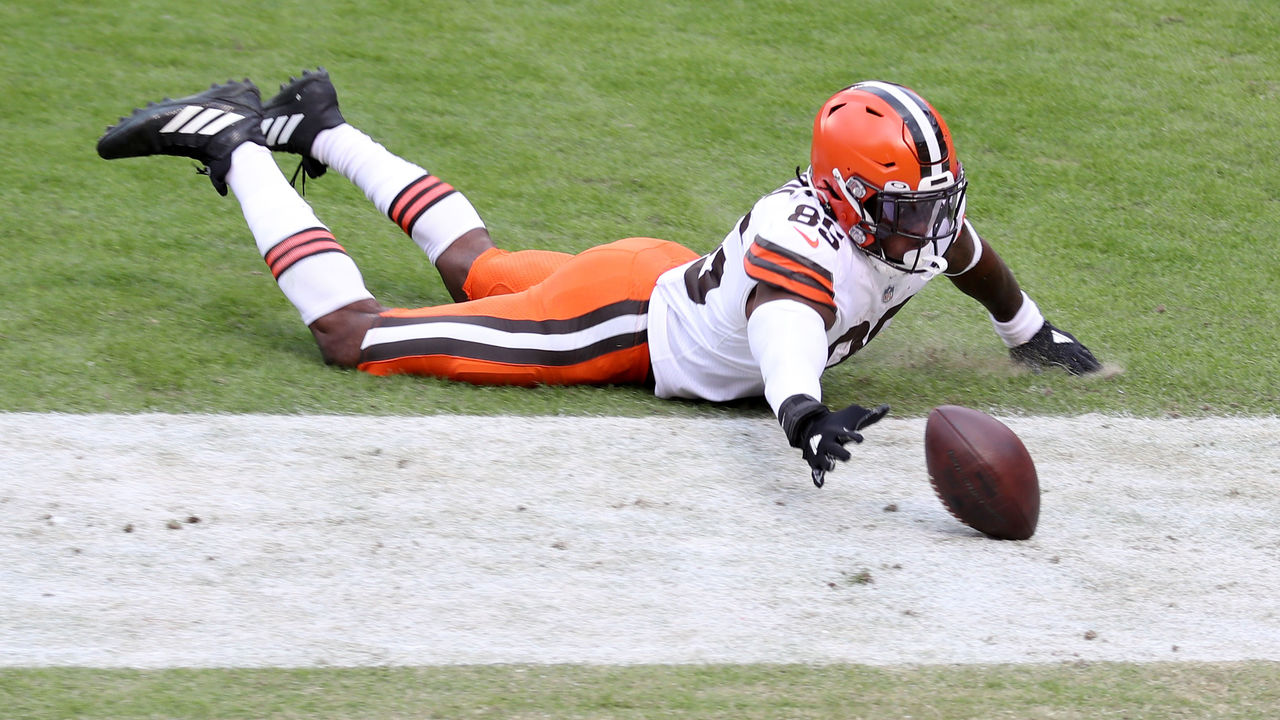 Yes, Kansas City won it for all sorts of reasons, but, man, the Browns made some strategic errors that proved costly, too.
After Tyreek Hill made a difficult catch on first down with 11 minutes to go, Browns head coach Kevin Stefanski was quick to toss his challenge flag even though a replay showed Hill managed to pin the ball against his leg to hang on. The failed challenge cost Cleveland a timeout it needed later.
A few minutes later, after Henne's interception, the Browns slow-walked what proved to be their final possession, chipping away with running plays and short throws. The clock bled, but the Browns really didn't go anywhere. They took nearly four minutes to gain a total of 12 yards. To make matters worse, Cleveland also burned a second timeout - after it had picked up a first down on fourth-and-1.
The Browns needed to play with more tempo and show more urgency. Instead, they punted the ball back to the Chiefs with 4:09 to go and one timeout. Thanks to Reid's and Bieniemy's aggressiveness - and Henne making just enough plays - they never got the ball back.
Tampa Bay's defense was the difference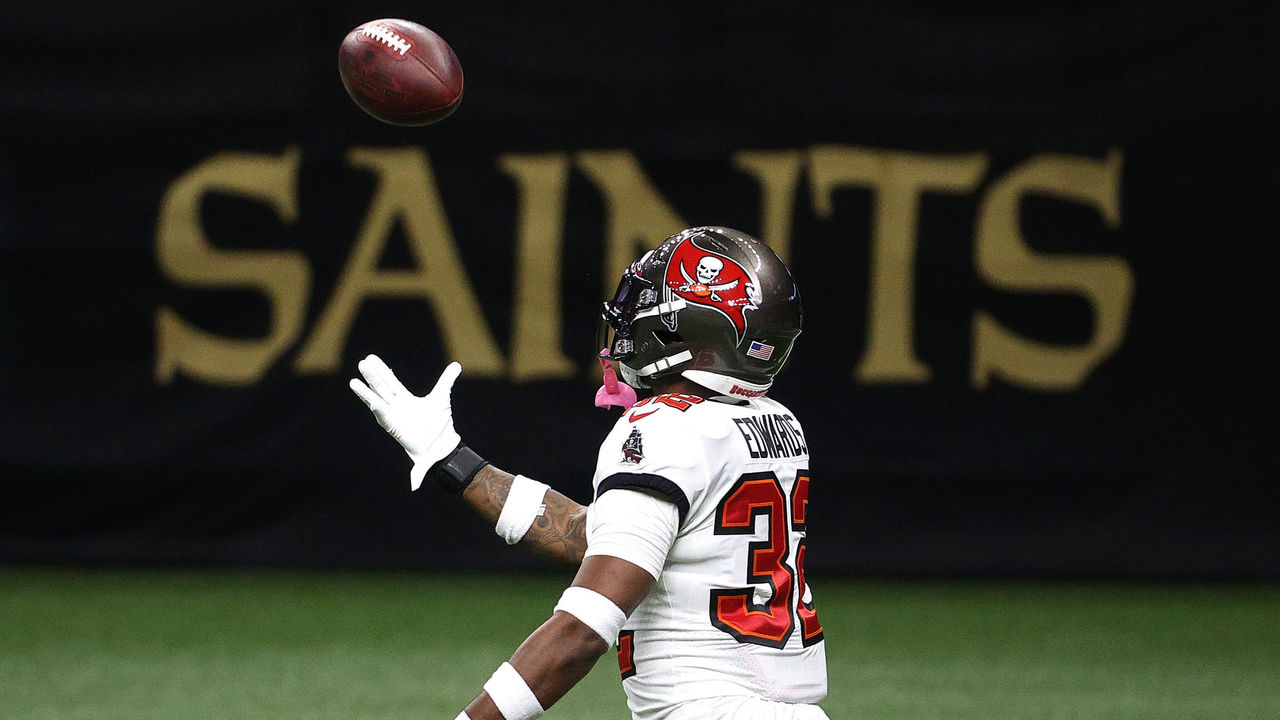 And so Tom Brady will play in a conference championship game for the ninth time in 10 years, and for the 14th time in his 21 seasons. Now, he'll be going there without Bill Belichick and the New England Patriots. Brady is the GOAT, and he had plenty of help in this one.
Namely, the Bucs' defense had the perfect plan to attack Drew Brees, whose inability to consistently connect on downfield throws has been a problem, especially after he missed four games late in the regular season with multiple broken ribs. That problem became a liability on Sunday, in what might have been Brees' final NFL game, thanks in part to the blitz-heavy scheme cooked up by Bucs defensive coordinator Todd Bowles.
Per Next Gen Stats, Brees was blitzed on a staggering 52.9% of his dropbacks, and he did not attempt a deep throw (20 or more air yards from scrimmage) at all. Only eight of his 34 pass attempts were in the intermediate range (10 to 19 air yards), and he frequently struggled to hit his targets. Brees finished with a completion percentage over expectation of minus-10.8 and an expected points added per play of minus-0.56.
The Bucs didn't record any sacks, had only three QB hits, and pressured Brees just seven times, but they were disruptive. The unit had three interceptions, and rookie safety Antoine Winfield Jr. also forced a fumble that led to a game-tying touchdown. Tampa Bay's cornerbacks were outstanding in coverage:
Most notably, all but one of the Saints' four turnovers came on their own side of the field, and Brady and the Bucs were able to convert all three of those plus-territory possessions into 17 points.
The Bucs were the only team to completely wreck the seemingly unstoppable Green Bay Packers, but that was back in Week 5. Tampa Bay has now won six in a row, including two straight on the road in the postseason. Aaron Rodgers and the Packers will be playing at home and at night in the Wisconsin winter. Can the Bucs' defense find a way? Or will Brady and his many weapons have to keep up?
Farewell, Drew Brees?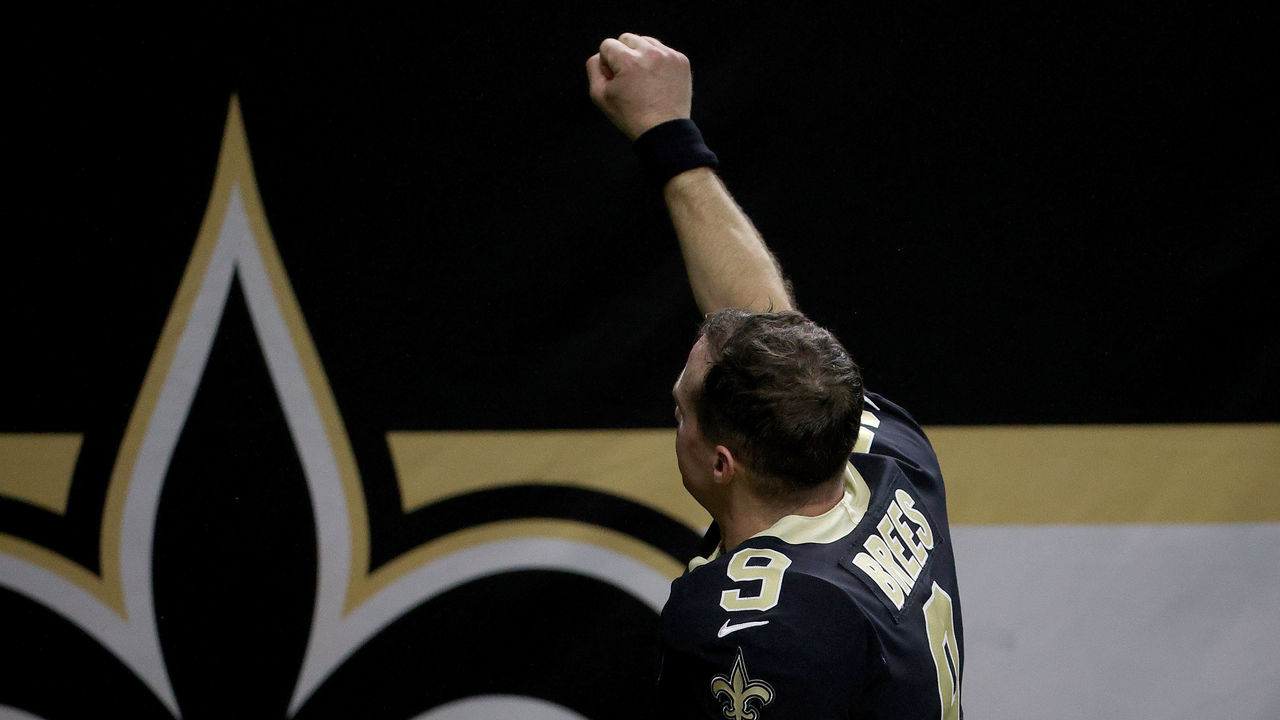 If this indeed was Brees' final game, as Fox Sports' Jay Glazer suggested shortly before kickoff, it's certainly the end of a storied career, even if it ended with something of a thud.
Brees entered the league facing doubts about his height, then remade himself after a shoulder injury that had the potential to end his career long before he went on to do most of his best work. Elite athletes rarely get to script their own endings, but the full book on Brees' playing career ought to lean heavily on all he was able to achieve.
Dom Cosentino is a senior features writer for theScore.