Saturday's divisional-round doubleheader ended with the Green Bay Packers rolling over the Los Angeles Rams in the NFC, and the Buffalo Bills taking out the Baltimore Ravens in the AFC. Let's take a closer look at some of what went down and what it means.
Can the Packers' offense be stopped?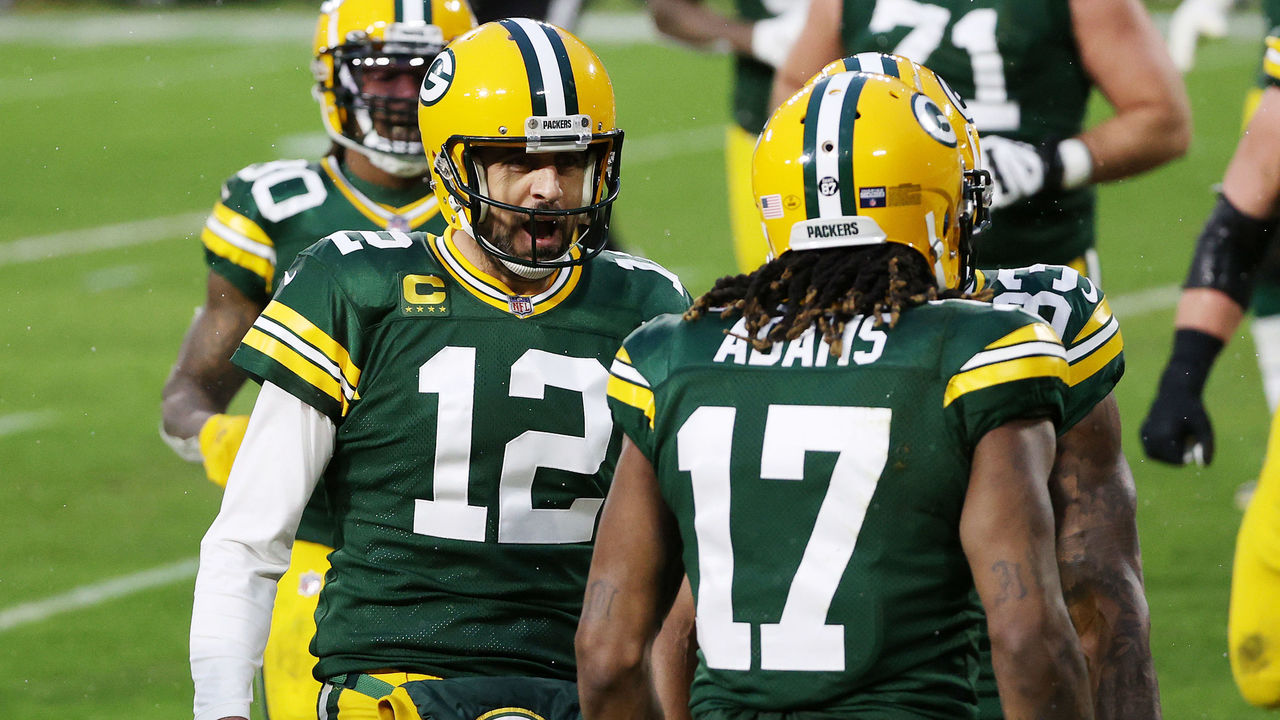 It doesn't look like it, does it? The Rams schemed to take away the deep throw, but Green Bay consistently moved the ball by pounding it on the ground and tossing a lot of short, quick passes. Aaron Jones, Jamaal Williams, and A.J. Dillon combined for 191 rushing yards on 32 carries, while Aaron Rodgers - who registered 0.47 expected points added per dropback - was clinically efficient.
The Packers scored on their first five possessions, were 8-for-11 on third down (not including a kneel down on the game's final play), and had no turnovers or sacks. Rodgers was hit just once. Did anyone even notice that all-world left tackle David Bakhtiari is out for the season with a knee injury? That's how seamless it all looked.
Of course, L.A.'s all-world defensive tackle, Aaron Donald, was limited by a rib injury. But still, Green Bay used its usual mix of motion, misdirection, and shifts to constantly stress the Rams' defense - and even took it up a notch. According to Next Gen Stats, the Packers used pre-snap motion or shifts a season-high 71% of the time, including 88% of the time in the red zone. All four of their touchdowns were scored on plays that featured shift or motion.
After L.A. got within a touchdown and started to key on the run, Rodgers deftly used play-action to set up a deep shot to Allen Lazard that put the game away. Watch the way safeties John Johnson (No. 43) and Jordan Fuller (No. 32) bit on the play-fake. Fuller had no chance to recover to give cornerback Troy Hill, who was playing with outside leverage, the help he needed on the inside:
Rodgers was 12-for-13 for 75 yards and a touchdown on passes thrown in fewer than 2.5 seconds. He was also 8-for-10 for 98 yards and a score on play-action. When play-faking this season, Rodgers has thrown for 21 touchdowns and zero interceptions. He'll now get to play in an NFC Championship Game at home for the first time in his storied career. And when's he's dealing like this, the Packers simply look unstoppable.
Bills' defense gets it done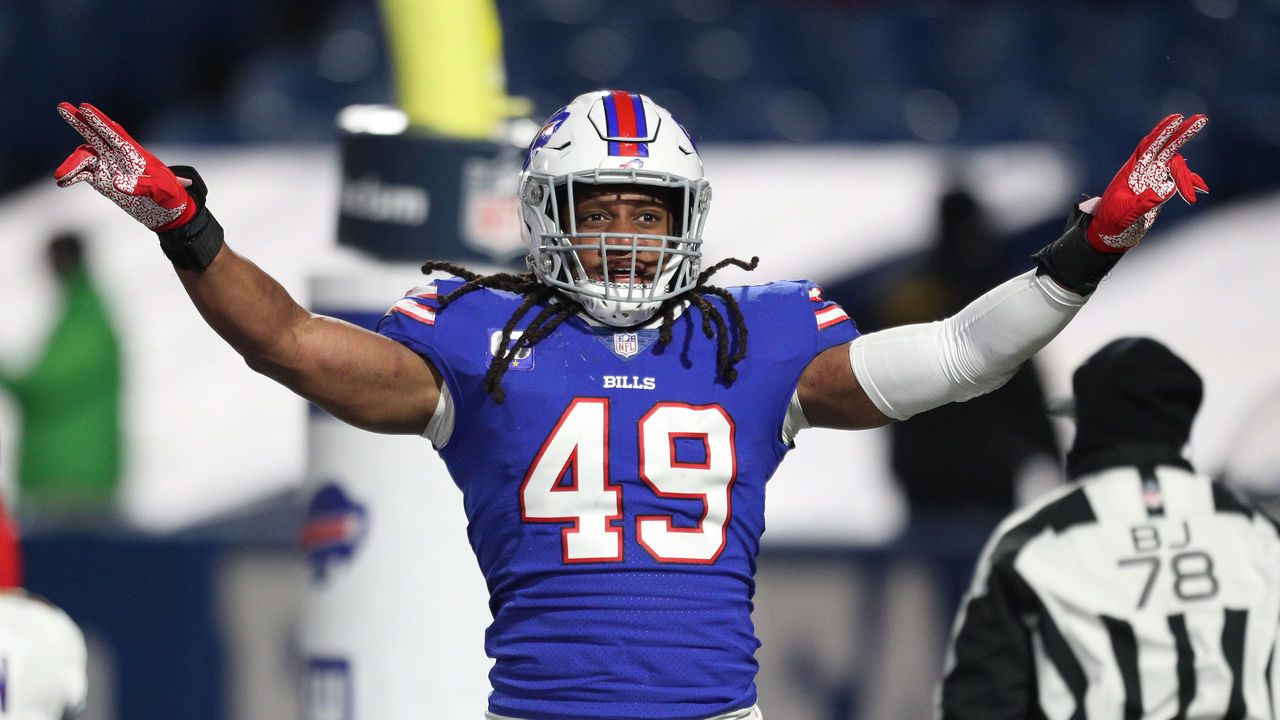 Buffalo's offense has gotten a lot of attention this season, and deservedly so. But its defense won this one.
The Bills' defensive game plan was to force Lamar Jackson to throw. The Ravens moved the ball - they outgained the Bills, 340 yards to 220 - but the strategy worked. Baltimore scored just three points, and Jackson posted an EPA/dropback of -0.33 before he left the game at the end of the third quarter due to a head injury.
So, how did Buffalo do it? The Bills largely stuck to their base defense (four defensive backs) to counter the Ravens' frequent use of multi-running back sets. Per Next Gen Stats, the Bills also blitzed like crazy, bringing extra pass-rushers on a whopping 48.1% of Jackson's dropbacks. They managed to pressure him 40.7% of the time. Behind that pressure, Buffalo largely played a lot of zone coverage to prevent any backbreaking runs from Jackson. He finished with just 34 rushing yards on nine carries.
Perhaps most importantly, the Bills largely stayed in their gaps to prevent Jackson from getting any real running lanes. There were occasional missteps - a stunt on a third-and-13 in the third quarter created a ton of space that Jackson exploited for a first down. But the damage proved to be minimal.
Defensive end Jerry Hughes - the Bills' longest-tenured player - led the way with two sacks and seven pressures, per Next Gen Stats. That includes a crucial pressure in the red zone that kept Jackson from delivering an on-target throw to a wide-open Marquise Brown for a touchdown. The play was followed by cornerback Taron Johnson's game-changing, 101-yard pick-6. All told, 11 different Bills players had at least one pressure.
Buffalo defensive coordinator Leslie Frazier is reportedly set to interview for the Houston Texans' head coaching job Sunday. This was quite a resume-topper.
Aaron Donald was not himself
Donald is the fulcrum for a Rams defense that led the league in EPA/play during the regular season, but he also tore cartilage in his ribs during last week's win over the Seattle Seahawks. It clearly bothered him Saturday, and it had an obvious negative effect on L.A.s' defense.
Donald had played 85% of the Rams' defensive snaps during the regular season. He was out there for just 54% of the snaps Saturday, and he seemed to lack the strength and burst that has long made him so disruptive. Donald finished with just one tackle, and his frustration seemed to get the best of him: Early in the second quarter, Donald got flagged for grabbing the facemask of Packers left guard Elgton Jenkins during a brief scuffle. The ensuing penalty turned what should have been a third-and-7 into a first down. Green Bay reached the end zone five plays later.
Afterward, Rams head coach Sean McVay told reporters that Donald was able to sub himself out. That Donald was off the field so frequently - including on Aaron Jones' 60-yard run on the first play of the second half - is a pretty good indication he was banged up.
Mistakes doom Ravens
There's no denying that Buffalo's defense was great. But Baltimore also had far too many unforced errors to overcome.
Justin Tucker, the league's most accurate place-kicker of all time, missed two first-half field goals. But things really went sideways for the Ravens in the second half.
During the opening drive of the third quarter, Baltimore only had two defenders lined up to stop three receivers in a bunch formation, resulting in Josh Allen's 3-yard touchdown pass. Oops.
The Ravens responded with a 15-play drive that consumed nearly nine minutes of game time, but on first-and-goal at the 10-yard line, Jackson dropped a shotgun snap and had to improvise a run that netted just one yard. Two plays later, Jackson misread the Bills' basic bluff pressure, which morphed into a Cover 2. Jackson locked onto tight end Mark Andrews, and Taron Johnson was watching him the whole way. His pick-6 essentially ended the game:
On Baltimore's next possession, a shotgun snap sailed over Jackson's head. (Bad snaps were a frequent problem for the Ravens for much of the season.) Jackson recovered it at the 2-yard line, but rather than fall on the ball, he picked it up and heaved it out of bounds in an attempt to salvage the play. As a result, Jackson suffered a head injury that knocked him out of the game, and he was penalized for intentional grounding.
The Bills did plenty of things to win this game. They earned it, and they deserve to be playing in the AFC Championship Game for the first time in 27 years. But the Ravens now have a long offseason to ponder all the things they did to lose Saturday.
Dom Cosentino is a senior features writer at theScore.