The NFL Power Rankings are selected by a panel of theScore's football editors.
In this week's edition, we try to sum up the momentum from each team entering the final month of the regular season.
1. Kansas City Chiefs (10-1)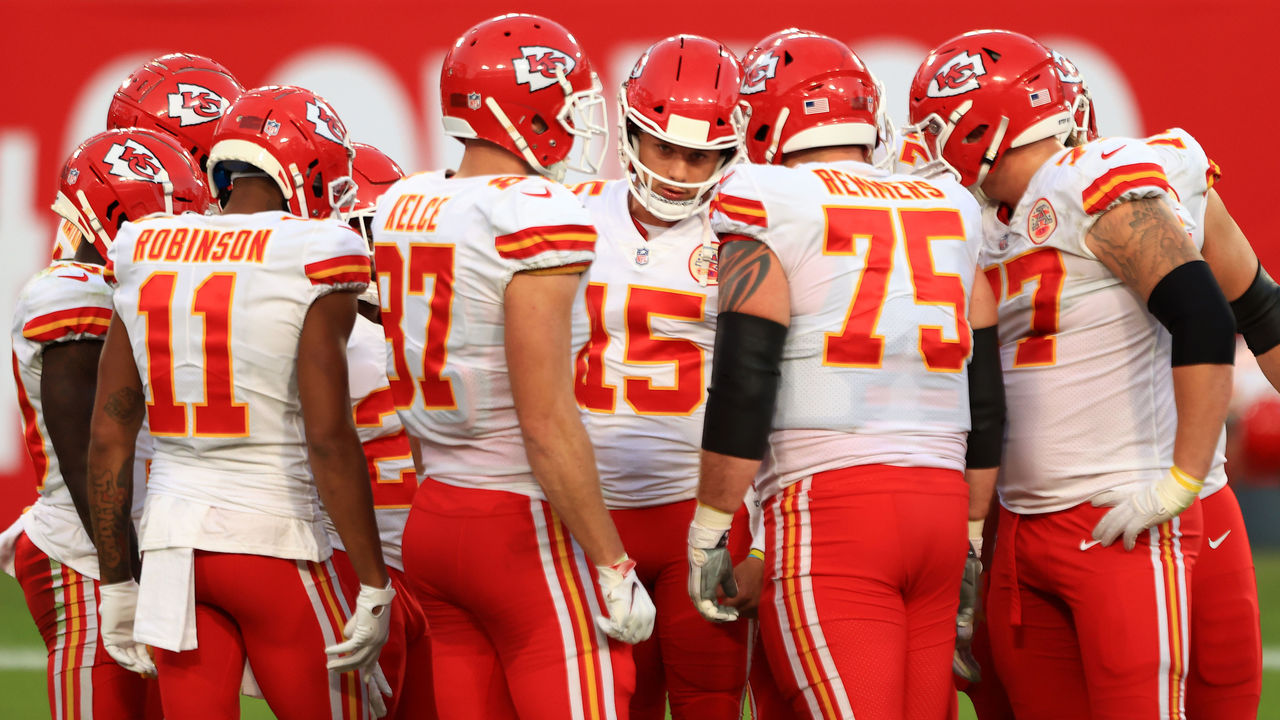 Previous Rank: 1
Patrick Mahomes threw for 462 yards and three touchdowns in his first career game at Raymond James Stadium, where Super Bowl LV will be played in February. If you think Mahomes could be back at the stadium in a couple of months, you aren't the only one. The Chiefs sometimes look like men amongst boys this season.
2. Pittsburgh Steelers (11-0)
Previous Rank: 2
Eleven games completed, five more to go. The Steelers continue chasing a 16-0 record, but not only to make history - with Kansas City in the rearview, a flawless campaign may be the only way to clinch a first-round bye. Pittsburgh's last week off was in Week 4.
3. New Orleans Saints (9-2)
Previous Rank: 3
The Saints don't necessarily play the best football in the NFC but they might be the conference's toughest team to beat at this point. Sean Payton has found different ways to win games without some of his superstars at his disposal. The Saints allowed more than 13 points in just one game in November and a total of 28 points against their last four opponents.
4. Green Bay Packers (8-3)
Previous Rank: 8
The Bears didn't offer a difficult challenge to the Packers in Week 12, but the defense stepped up and the running game produced - the 182 yards on the ground were the team's second-most this season. Aaron Rodgers is on a mission for his third MVP award and that's the kind of support he needs.
5. Buffalo Bills (8-3)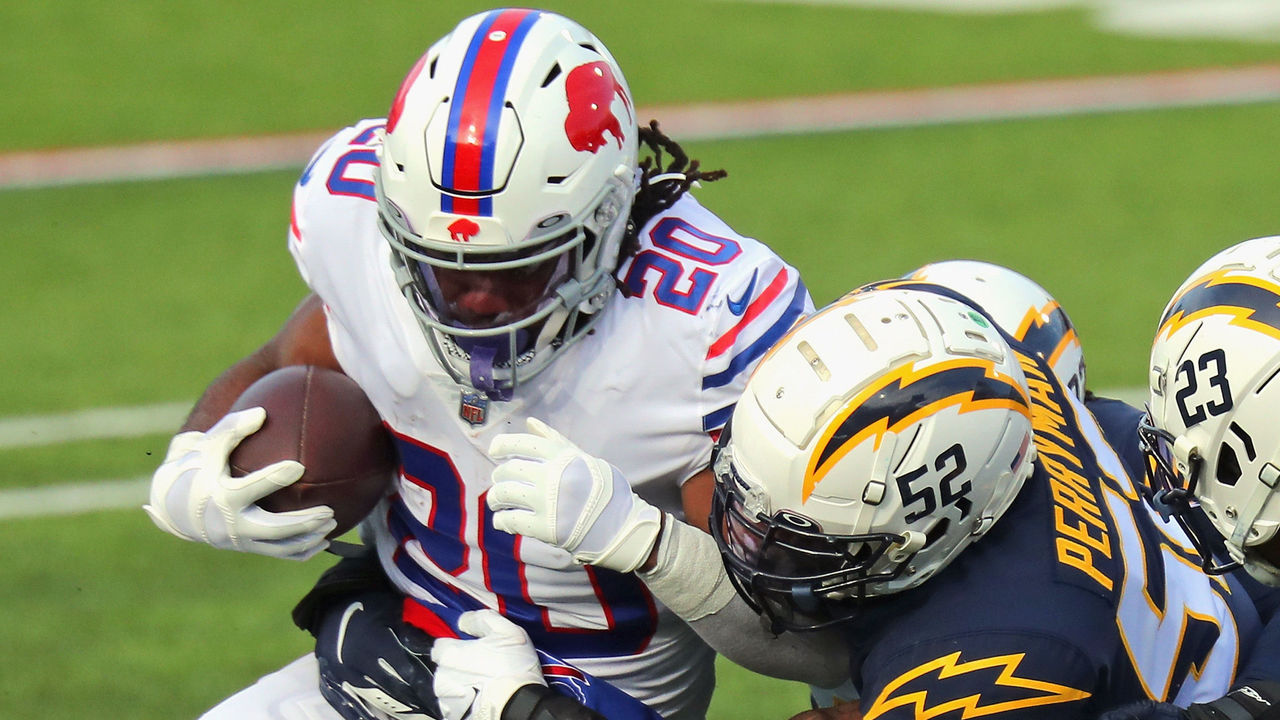 Previous Rank: 4
Not every week has been pretty for the Bills, but the team has found multiple ways to win, and that's crucial ahead of the playoffs. Josh Allen was held to 157 passing yards versus the Chargers, but Buffalo's inconsistent running game stepped up with 172 yards - the club's second-highest mark this year.
6. Seattle Seahawks (8-3)
Previous Rank: 5
Although the Seahawks aren't playing their best, they have now won back-to-back games for the first time since Week 4 and 5. Seattle is in the driver's seat of the NFC West and has one of the NFL's easiest remaining schedules.
7. Tennessee Titans (8-3)
Previous Rank: 10
The Titans dominated the Colts in their most important game of the year so far with another outstanding performance by Derrick Henry, who leads the NFL in carries and rushing yards by a significant margin. The AFC South is now back in Tennessee's hands, and the team has the perfect man to carry it.
8. Indianapolis Colts (7-4)
Previous Rank: 7
The Colts missed defensive lineman DeForest Buckner against the Titans, which resulted in a season-high 45 points allowed for Indianapolis. They also racked up just 56 yards on the ground offensively, their lowest this year. Despite the tough loss, Indy still has a 55% chance of making the playoffs, the third-highest among AFC wild-card teams, according to FiveThirtyEight.
9. Los Angeles Rams (7-4)
Previous Rank: 6
Good news: the team probably won't play the 49ers again this year - Los Angeles is 0-4 against San Francisco over the last two seasons. The bad news: Jared Goff's issues remain - his 14 turnovers are the second-most among quarterbacks. The Rams are the only team in the NFC to turn the ball over at least once in every game this season.
10. Cleveland Browns (8-3)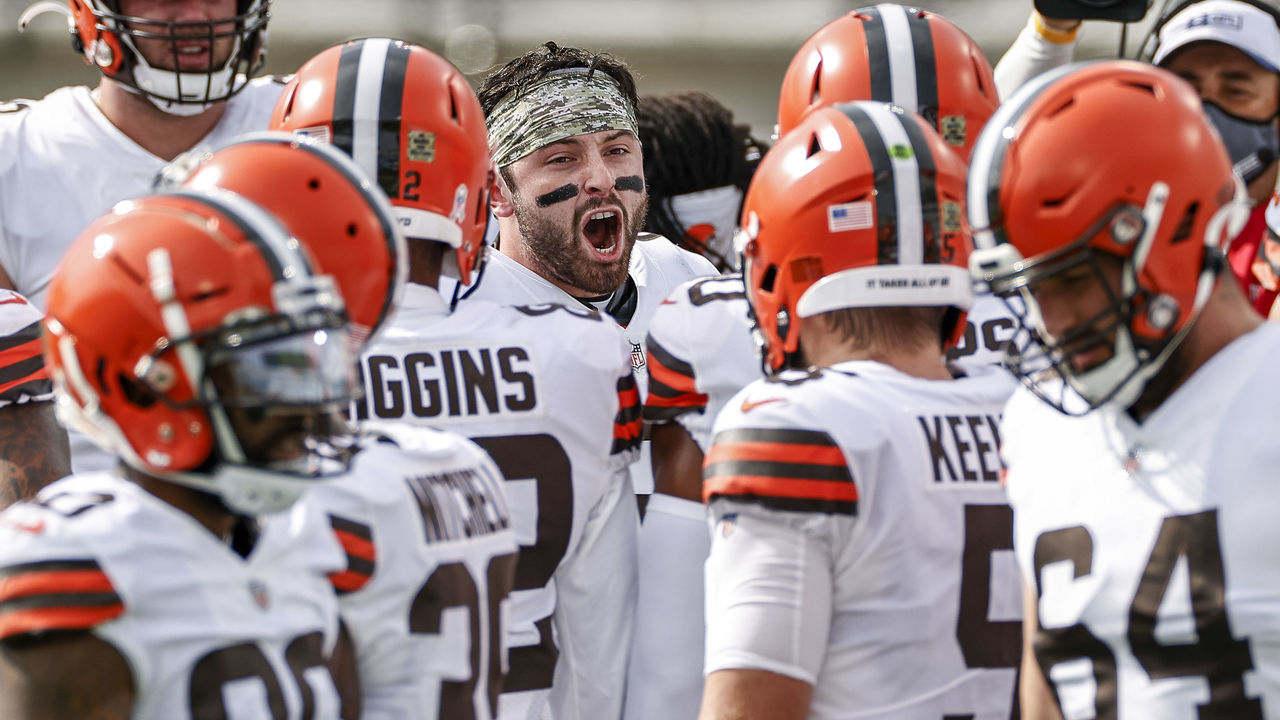 Previous Rank: 14
The Browns have already won eight games this year, clinching a non-losing campaign for the first time since 2007. However, it's fair to say none of Cleveland's wins were convincing over the last three weeks. The team still doesn't play like a playoff contender, but it'll have chances to prove critics wrong with matchups against the Titans and Ravens on deck.
11. Miami Dolphins (7-4)
Previous Rank: 15
The winless Jets were exactly what the Dolphins needed in Week 12 coming off a disappointing loss to the Broncos. Miami allowed three total points in two games against New York this season. While the Jets are irrelevant, one thing's clear in South Beach: the Dolphins will go as far as their defense can lead them.
12. Tampa Bay Buccaneers (7-5)
Previous Rank: 11
The bye week couldn't have come at a better time for the Buccaneers after the team lost three of their last four games. Tampa Bay is now 1-4 against teams currently in playoff spots this season. Bruce Arians, Tom Brady, and Co. have plenty of work to do once they return to the field.
13. Baltimore Ravens (6-5)
Previous Rank: 13
The Ravens have lost three straight for the first time since 2018, and they look nothing like a Super Bowl contender. In fact, Baltimore is currently out of the AFC playoff picture. However, a generous December schedule still gives the team a great chance to make the postseason.
14. Arizona Cardinals (6-5)
Previous Rank: 9
Arizona is too dependent on Kyler Murray, and the team doesn't know how to win games when he has an off day. The Cardinals would be on a four-game skid if it wasn't for a Hail Mary, and they need some quick answers if they want to stay in the NFC's playoff picture.
15. Las Vegas Raiders (6-5)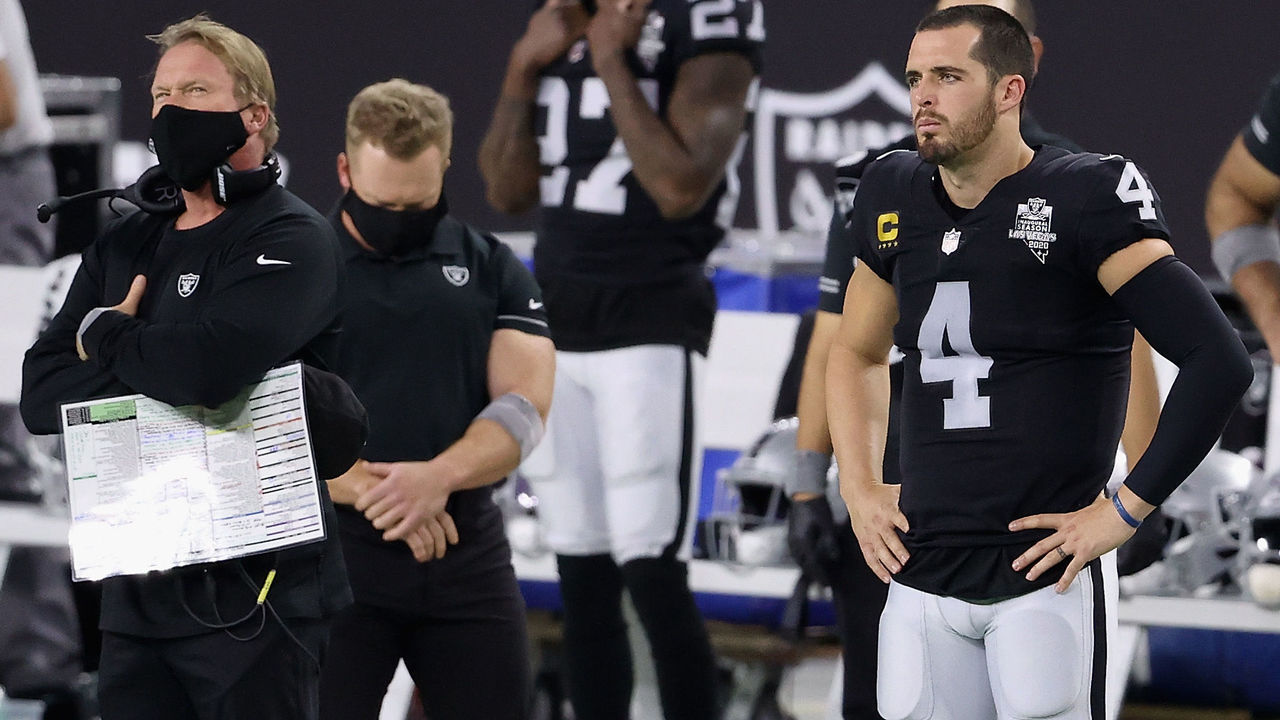 Previous Rank: 12
What happened to the Raiders against the Falcons? Las Vegas was a legit challenge to the Chiefs and scored 30-plus points in three straight weeks before Atlanta. Raiders fans just hope this season's conclusion won't be a repeat of last year when they were also 6-4 in Week 11 before losing five of the last six games.
16. Minnesota Vikings (5-6)
Previous Rank: 16
Don't rule the Vikings out just yet. Granted, their playoff chances aren't great, but the fact Minnesota won four of its last five games is an enormous turnaround for a club that was 1-5. The Vikings are now just one game behind the seventh seed in the NFC and beat the Panthers despite not having Adam Thielen and an unimpressive performance by Dalvin Cook.
17. San Francisco 49ers (5-6)
Previous Rank: 17
A round of applause to the 49ers' coaching staff, which has helped the team post a 5-6 record despite several major injuries. San Francisco has been able to stay alive in the playoff hunt - its 28% chance to make the postseason is the best for a fourth-place team in any division - thanks to great performances from young playmakers. In Week 12, it was Javon Kinlaw's time to shine.
18. New England Patriots (5-6)
Previous Rank: 18
Cam Newton was held to 84 passing yards and had two interceptions against the Cardinals but the Patriots were able to escape with a win due to Bill Belichick's solid defense. New England hasn't played well very often, but somehow it gets more competitive each week. The Pats have now won three of their last four.
19. Carolina Panthers (4-8)
Previous Rank: 20
The loss to the Vikings will hurt for a few days but it essentially encapsulated the Panthers' campaign. Carolina has been good, but not good enough after a roster overhaul in the offseason. The early success of promising young players like safety Jeremy Chinn proves Carolina is doing the right things.
20. Atlanta Falcons (4-7)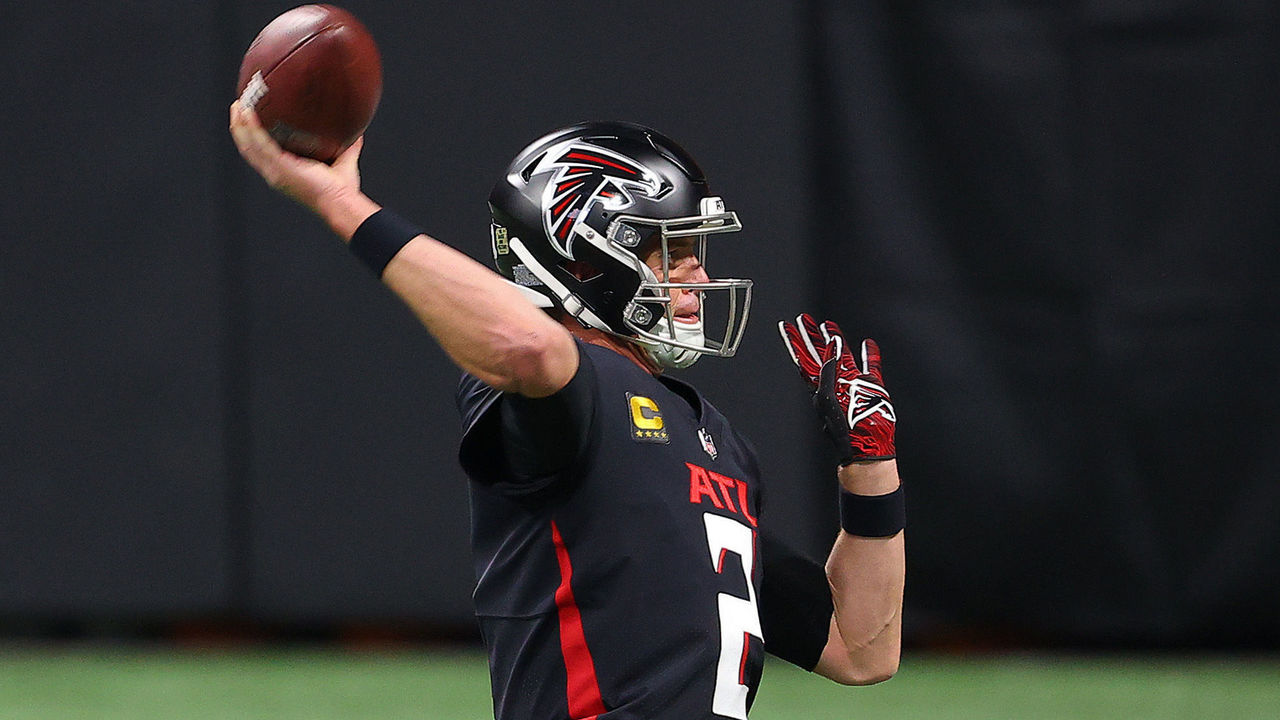 Previous Rank: 23
The Falcons started the season 0-5 and are 4-2 since Dan Quinn was fired (they would be 5-1 had Todd Gurley kneeled at the goal line versus the Lions). Atlanta still isn't a flawless team, but at least interim head coach Raheem Morris has put his players in a position to perform at their best. Morris should be a front-runner for the Falcons' vacant head coaching job.
21. Houston Texans (4-7)
Previous Rank: 25
Houston likely won't be going to the playoffs, but Texans fans can at least still enjoy big plays from their superstars every Sunday. Deshaun Watson is playing as well as any quarterback in the NFL this year and J.J. Watt's pick-6 against the Lions was nostalgic. Houston is 3-1 since its Week 8 bye.
22. New York Giants (4-7)
Previous Rank: 22
The Giants have already matched their win total from last season. They have won three straight for the first time since 2017, and that's enough for first place in the NFC East. New York still has some major issues on its roster, but the club clearly has progressed under coach Joe Judge.
23. Washington Football Team (4-7)
Previous Rank: 29
Alex Smith continues to write new chapters for his incredible comeback story. The quarterback is now 2-1 as a starter this season and with Washington's defense improving each week, the team has emerged as a serious candidate in the NFC East.
24. Chicago Bears (5-6)
Previous Rank: 19
Remember when the Bears were 5-1 in October? Those days feel like years ago, as the team is currently on a five-game losing streak and is mired in a quarterback controversy. There's a lot that needs to be fixed in the Windy City.
25. Denver Broncos (4-7)
Previous Rank: 21
One week after their best win of the season versus the Dolphins, the Broncos were forced to go with undrafted rookie receiver Kendall Hinton at quarterback after Drew Lock, Brett Rypien, and Blake Bortles were deemed high-risk close contacts of Jeff Driskel, who tested positive for COVID-19. Regardless of who's under center, Denver has been inconsistent this year: the team has scored 20-plus points in back-to-back games just once.
26. Los Angeles Chargers (3-8)
Previous Rank: 26
Even when the Chargers lose acceptable games to superior teams, head coach Anthony Lynn comes under fire. This time it was poor play-calling late against the Bills that did Los Angeles in. The Justin Herbert era just started, but the team needs to soon make sure there's nothing holding it back.
27. Philadelphia Eagles (3-7-1)
Previous Rank: 27
Although Carson Wentz is the only quarterback in the NFC East that has stayed healthy this year, his costly turnovers have really hurt the Eagles. Philadelphia - the third-place team in the division - has major issues on both sides of the ball and its performance in December will be crucial for Wentz and coach Doug Pederson to keep their jobs.
28. Detroit Lions (4-7)
Previous Rank: 24
It's not hard to understand why Detroit is back on the market for a general manager and head coach. The Lions' defense has now allowed 40-plus points three times this season - the worst mark in the NFL. Also, most of their recently acquired players aren't performing as expected. Matt Patricia leaves the team with 13 wins in three seasons combined.
29. Dallas Cowboys (3-8)
Previous Rank: 28
The Cowboys can't seem to figure out an effective game plan that works, the defense is one of the worst in the NFL, and Ezekiel Elliott has more fumbles (6) than rushing touchdowns (5). Combine that with major injuries, and the result might be football's most disappointing team in 2020.
30. Cincinnati Bengals (2-8-1)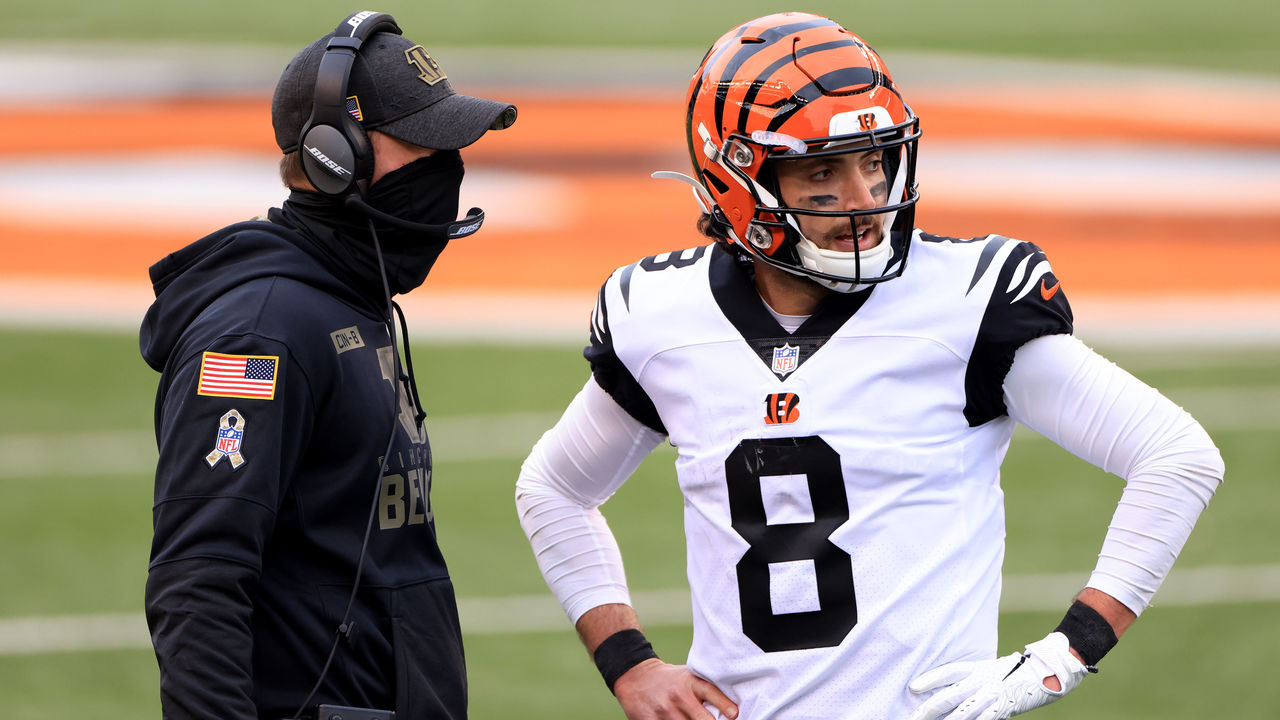 Previous Rank: 30
Bengals fans don't have much to watch in the final month of the regular season with Joe Burrow out for the year and Joe Mixon currently on the injured reserve. With only two wins, the jury is still out on head coach Zac Taylor.
31. Jacksonville Jaguars (1-10)
Previous Rank: 31
General manager Dave Caldwell was fired after Jacksonville's 10th straight loss, and that likely won't be the club's last big off-field move this season. The Jaguars are keeping the race for next year's first overall pick wide-open ahead of the final stretch of the season.
32. New York Jets (0-11)
Previous Rank: 32
The Jets had a slight improvement with Joe Flacco under center in Week 9 and 11 - not that they could get any worse. But New York again looked like an 0-11 team with Sam Darnold at quarterback in Week 12. The Jets now have more games in which they were held under 10 points (4) than Darnold has touchdown passes (3) this season.