A rundown of the best games and most interesting trends to watch for in Week 9 of the NFL. All times Eastern.
Giddy up
Saints (5-2) at Buccaneers (6-2), 8:20 p.m.
Whose idea was it to put this game on Sunday Night Football? As if anyone wants to watch a pair of 40-something quarterbacks in prime time. It's not like this is a great intra-division matchup, either. Especially with Texans-Jaguars sitting right there!
In all seriousness, the Bucs continue to be one of the league's best teams, even coming off Monday night's near-loss to New York's Other Hapless Team. Tampa Bay is ranked No. 1 in overall DVOA and No. 1 in defensive DVOA. And on offense, where Tom Brady's already set up with a multitude of weapons, the Bucs are also adding Antonio Brown to the mix for the first time.
A stat that ought to be of interest, with Brady getting Brown as a target in an offense that's already full of great targets: According to PFF, Brady has 17 deep-ball completions, which is the third-highest total in the league. His deep-ball passer rating of 110.4 is fifth-best in the NFL. The Bucs have as complete a passing attack as any in the league. And they need this game to avoid being swept by New Orleans.
The Saints, meanwhile, have relied heavily on Drew Brees having to throw short, quick passes. But Brees will get wideout Michael Thomas back. There's no shortage of fascinating subplots to this game, which means it's somehow an even bigger event than it seemed back when the schedule was drawn up in the spring.
This should be fun
Seahawks (6-1) at Bills (6-2), 1 p.m.
Buffalo is a blitz-heavy team (35.7%, seventh-most in the league) that doesn't generate much pressure (21.2%, 18th). Russell Wilson is Russell Wilson, which is a simpler way of saying "the NFL's best quarterback through the season's first eight weeks."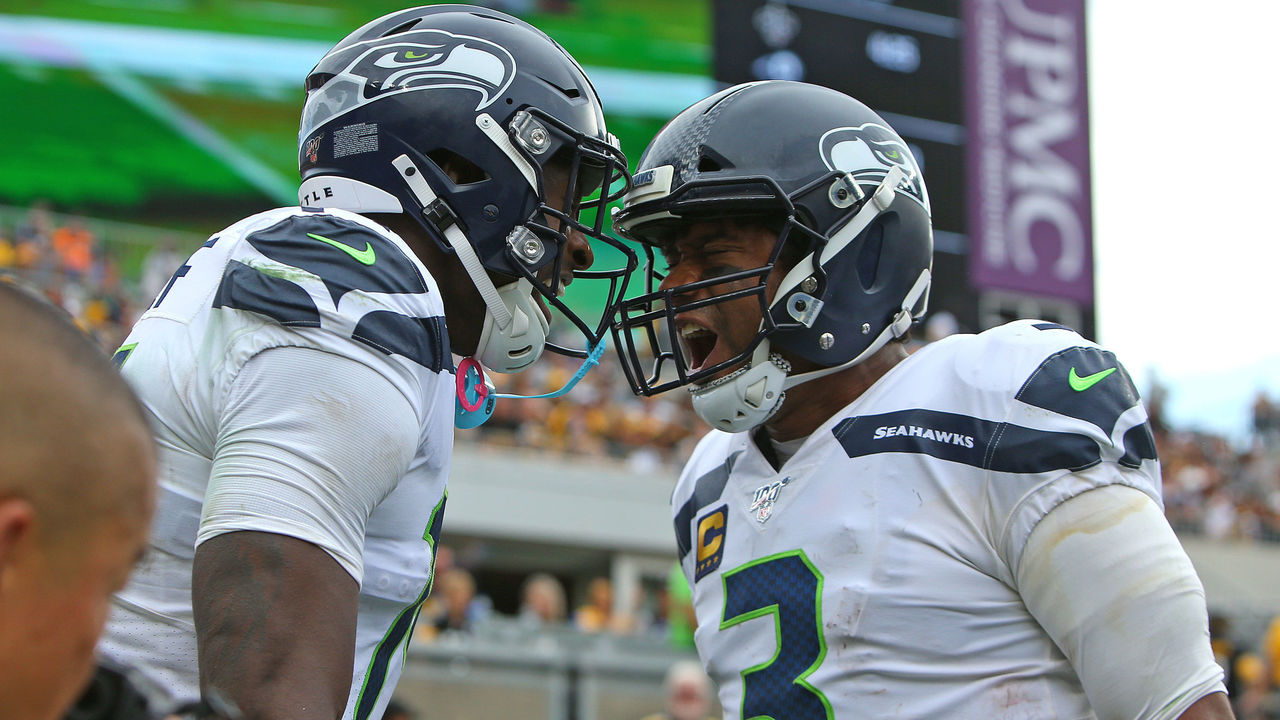 According to Ben Baldwin's database, Wilson leads the league in expected points added per play (EPA/play) plus completion percentage over expectation (CPOE), which is just proof he's productive and making big throws. Wilson's also doing this without forcing throws into tight coverage - his 11.3% aggressiveness ranks fifth-lowest in the league, per Next Gen Stats. The legend of wideout DK Metcalf grows after his monster game (12 catches on 15 targets, 161 yards, two TDs) last week against San Francisco.
Then there's Bills QB Josh Allen, who's fifth in combined EPA/play+CPOE and seventh in Football Outsiders' defense-adjusted yards above replacement (DYAR). He'll be matched against a Seahawks defense that's ranked 30th in DVOA against the pass, though it will be getting safety Jamal Adams back, in addition to having newly acquired Carlos Dunlap and Damon Harrison ready to make their debuts along the defensive line.
Try not to peek too much at the scoreboard. You might miss something exciting.
Something's got to give
Ravens (5-2) at Colts (5-2), 1 p.m.
How big was the Ravens' loss last week to the Steelers? Baltimore went from potentially being in the pole position in the AFC North to being at risk of being on the fringes of the possible playoff field with another loss this week at Indy.
It's too soon to make snap judgments about the playoffs, of course. But even though I'm spending a lot of time doing that right now, it certainly won't benefit the Ravens down the road to have another loss against another potential AFC playoff team. So indulge me on this.
Indianapolis, meanwhile, is coming off of two of Philip Rivers' best games, though they came against the Cincinnati Bengals and Detroit Lions, who are no one's idea of two of the league's best teams. In fact, the Colts have played the league's easiest schedule so far, but they've got the Tennessee Titans twice sandwiched around a home game against the Green Bay Packers coming up.
All of this is a very longwinded way of saying that the outcome of this game has quite a bit riding on it.
Knock, knock …
Giants (1-7) at Washington (2-5), 1 p.m.
This horse has been dead for weeks, but let's beat it one final time. The Philadelphia Eagles have a bye, but Washington can pull even with them in the win column with a victory. That's it. That's the joke. Don't forget to tip your bartender.
What happened?
Bears (5-3) at Titans (5-3), 1 p.m.
Here we have two teams that, as recently as two weeks ago, both looked suspiciously like two of the league's best. Now? The loser risks a free fall into that same crowded field of potential playoff fence-sitters that awaits the Ravens with another loss.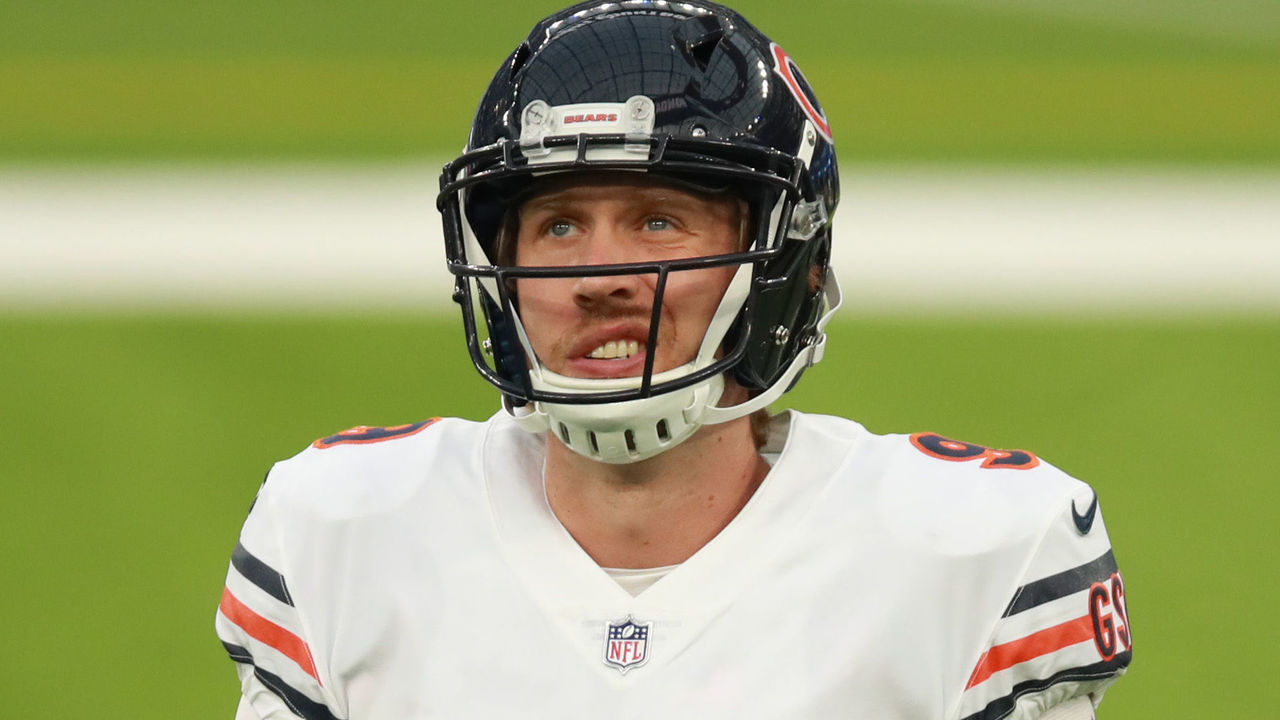 Chicago's problem has been the same as it's been for the last, oh, 70 years or so: poor quarterback play. Nick Foles is ranked 26th in DYAR and DVOA, and 27th in QBR, which pretty much makes him the spiritual successor of every Bears quarterback since the Truman administration.
The Titans' defense is like an intersection without a stop sign. They're the league's worst on third down (61.9%), and they've managed only seven sacks, which ranks next to last. Tennessee hit Bengals QB Joe Burrow just twice last week, which is a difficult way to try to stop a quarterback.
Dom Cosentino is a senior features writer at theScore.