NFL Rookie of the Year rankings: Burrow, Herbert battling for top spot
James Gilbert / Getty Images Sport / Getty
The NFL's offensive and defensive Rookie of the Year races are shaping up as the 2020 season passes its midpoint.
Here's a current look at the top five candidates for each award.
Offensive Rookie of the Year
5. Tristan Wirfs, Tampa Bay Buccaneers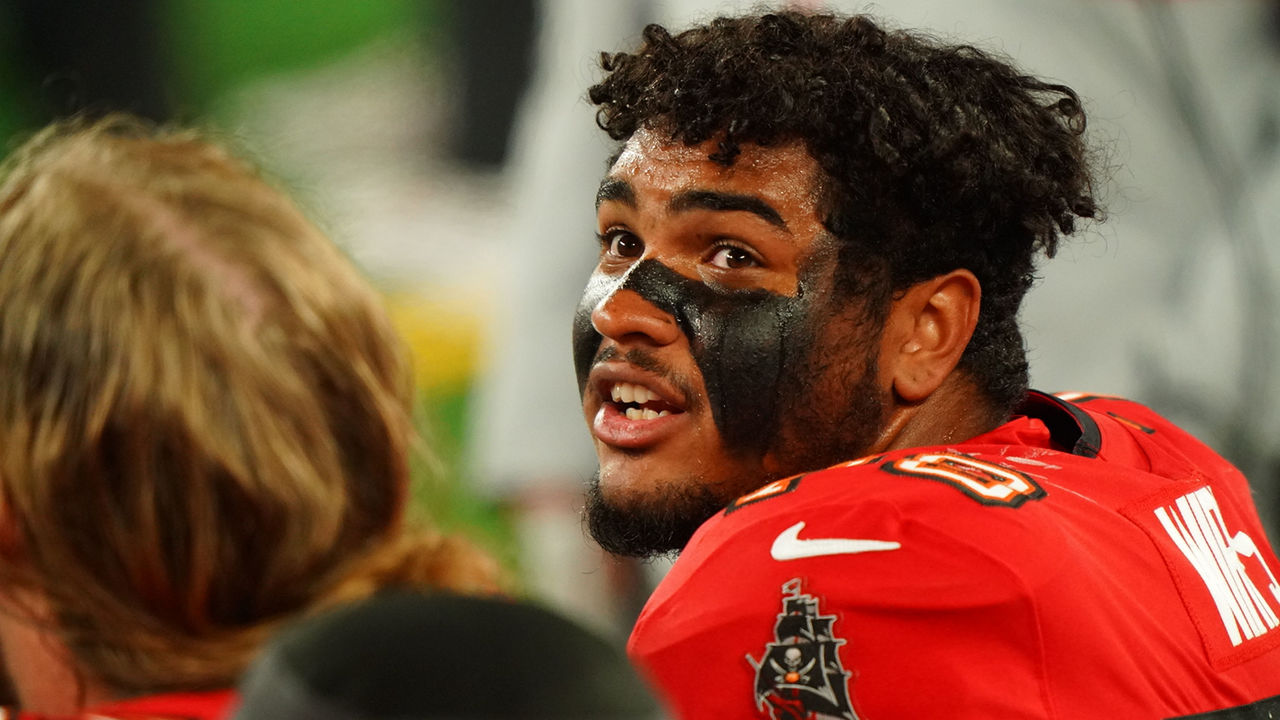 Remember when right tackle was a concern for the Buccaneers?
Wirfs is not only this season's best rookie offensive tackle, but he's also among the NFL's top players at his position overall. The Iowa product has played every offensive snap this year (603) while committing just three penalties and allowing 16 pressures.
Though it's unlikely Wirfs will have a real shot at the award as an offensive lineman, he should at least be considered for the honor after excelling as both a pass-protector and run-blocker against some of the league's best defensive linemen.
4. James Robinson, Jacksonville Jaguars
Robinson ultimately gets the edge over fellow rookie running back Clyde Edwards-Helaire because he's done more with less around him. While Edwards-Helaire is surrounded by superstars in Kansas City, Robinson - an undrafted rookie - carries the load for a star-starved Jacksonville squad.
Additionally, though the Chiefs' first-round runner currently has more rushing yards than Robinson, he's also played in one more game. Robinson, meanwhile, leads all rookie rushers in running attempts, catches, yards, and touchdowns per contest.
3. Justin Jefferson, Minnesota Vikings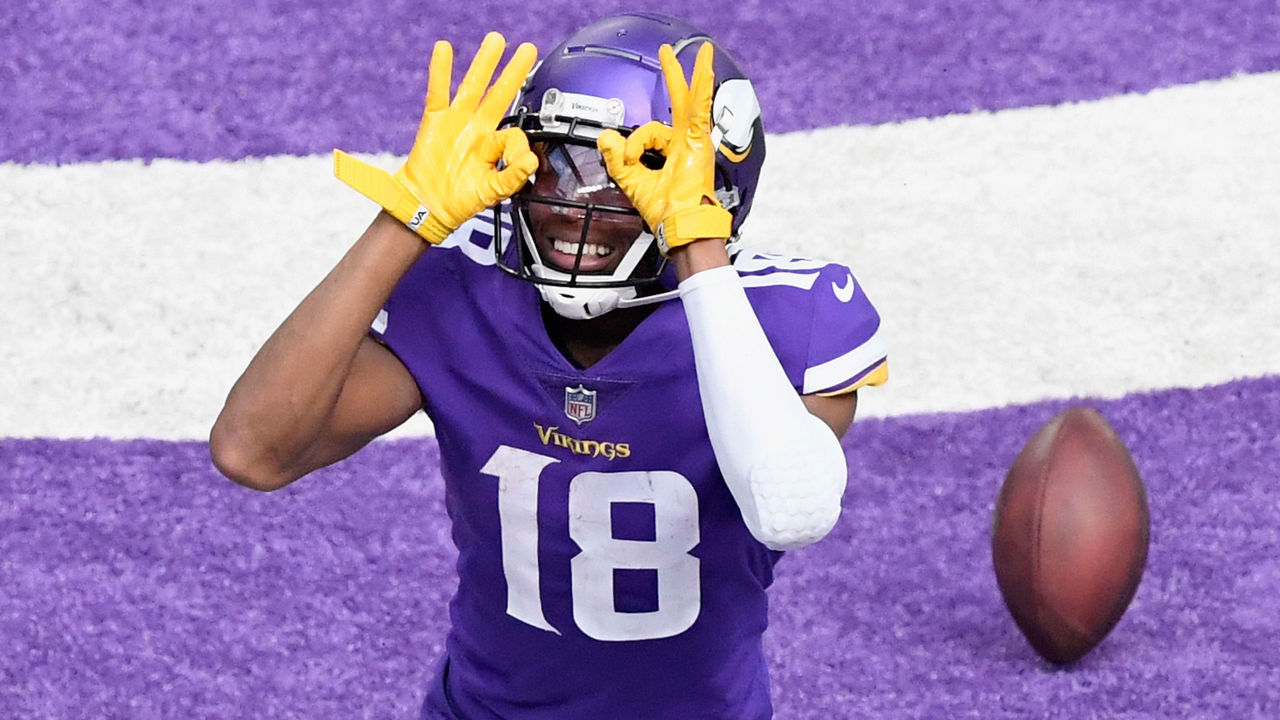 It didn't take long for the Vikings to find a new starting wide receiver after Stefon Diggs' offseason departure. Despite Jefferson's slow start during training camp, he's stepped up as a great complementary weapon alongside Adam Thielen.
Jefferson has taken advantage of easier matchups while Thielen gets most of the opposing defense's attention. The explosive wideout currently leads his team - and all rookies - with 627 receiving yards and is second in the league among qualifying pass-catchers with 18.4 yards per reception.
2. Justin Herbert, Los Angeles Chargers
The race for the Offensive Rookie of the Year award is likely a two-man competition between Herbert and Joe Burrow. Which one of the front-runners will get the last laugh, though, is a question that will likely persist until the final weeks of the campaign.
Herbert has displayed great awareness and athleticism while amassing eye-popping numbers. The freshman signal-caller has completed over 67% of his pass attempts for 2,146 yards and 17 touchdowns against just five interceptions.
Though Herbert hasn't been able to translate his stats to wins, all six of his NFL defeats have come by seven or fewer points. He might be close to putting Los Angeles back on the right track.
1. Joe Burrow, Cincinnati Bengals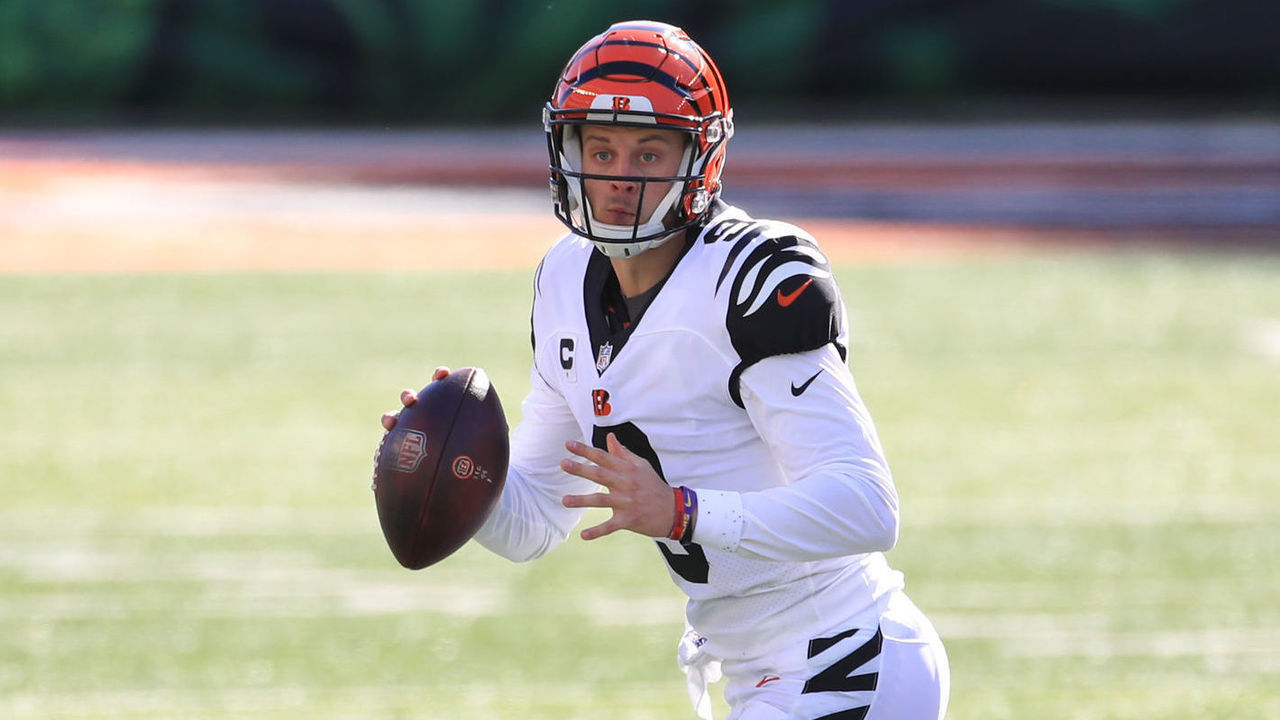 Herbert edges Burrow in terms of offensive efficiency, but the first overall pick earns the top spot on this list because he's found more answers in his young career playing with less talent.
Despite lacking any 2019 Pro Bowlers around him, the reigning Heisman Trophy winner has already matched the Bengals' win total from last season with a 2-5-1 record while posting a historical rookie campaign.
Burrow is tied for an NFL-high five 300-passing-yard performances this season and is on pace to surpass Andrew Luck's rookie record of 4,374 passing yards. Additionally, Burrow's 221 completions are the most in league history for a quarterback through his first eight career starts.
Honorable mentions: Chase Claypool (Steelers), Clyde Edwards-Helaire (Chiefs), Antonio Gibson (Washington), CeeDee Lamb (Cowboys)
Defensive Rookie of the Year
5. Jaylon Johnson, Chicago Bears
Johnson's played in 618 defensive snaps this season - most among all rookies - and it's not hard to understand why the Bears trust him. He's allowed completions on just half of the 50 targets against him while breaking up 12 passes, which is also the highest mark among first-year defenders.
Though Johnson can still improve specific aspects of his game - he has yet to record an interception - his physicality and coverage instincts leave little doubt that he's one of the game's best young defensive backs.
4. Jeremy Chinn, Carolina Panthers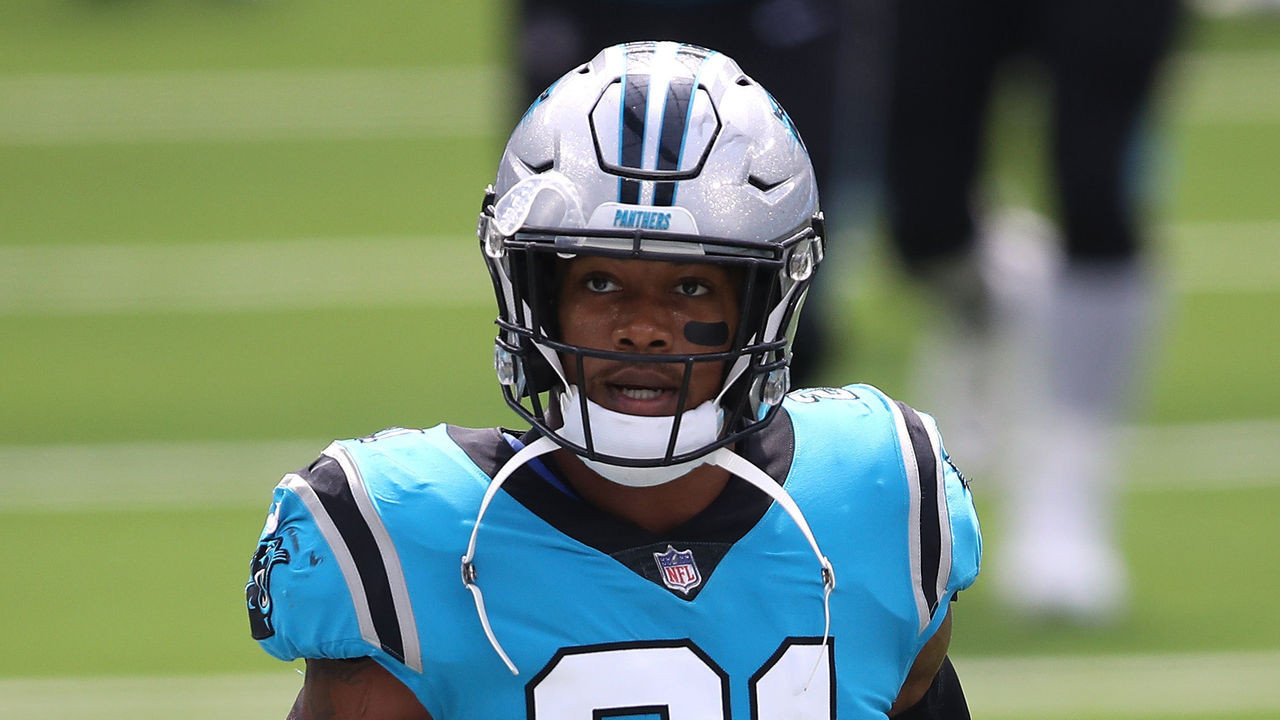 Chinn is already one of the most important players on the Panthers' rebuilding defense. The second-rounder tops all first-year players with 67 tackles, which was also a team high before he was sidelined in Week 9 due to injury.
His versatility has been a huge asset for head coach Matt Rhule, who's played Chinn at safety - his natural position - linebacker, cornerback, and even as a runner on a fake punt.
3. Patrick Queen, Baltimore Ravens
Queen's 52 tackles, two sacks, and two forced fumbles so far - in addition to a 53-yard touchdown - give him a real shot at the Defensive Rookie of the Year award. However, his case takes a hit due to repetitive coverage mistakes and his 12 missed tackles.
Yet despite Queen's flaws, his unreal athleticism is a perfect fit for the linebacker-needy Ravens. The former LSU stud is one of the game's most fun young defenders to watch.
2. Chase Young, Washington Football Team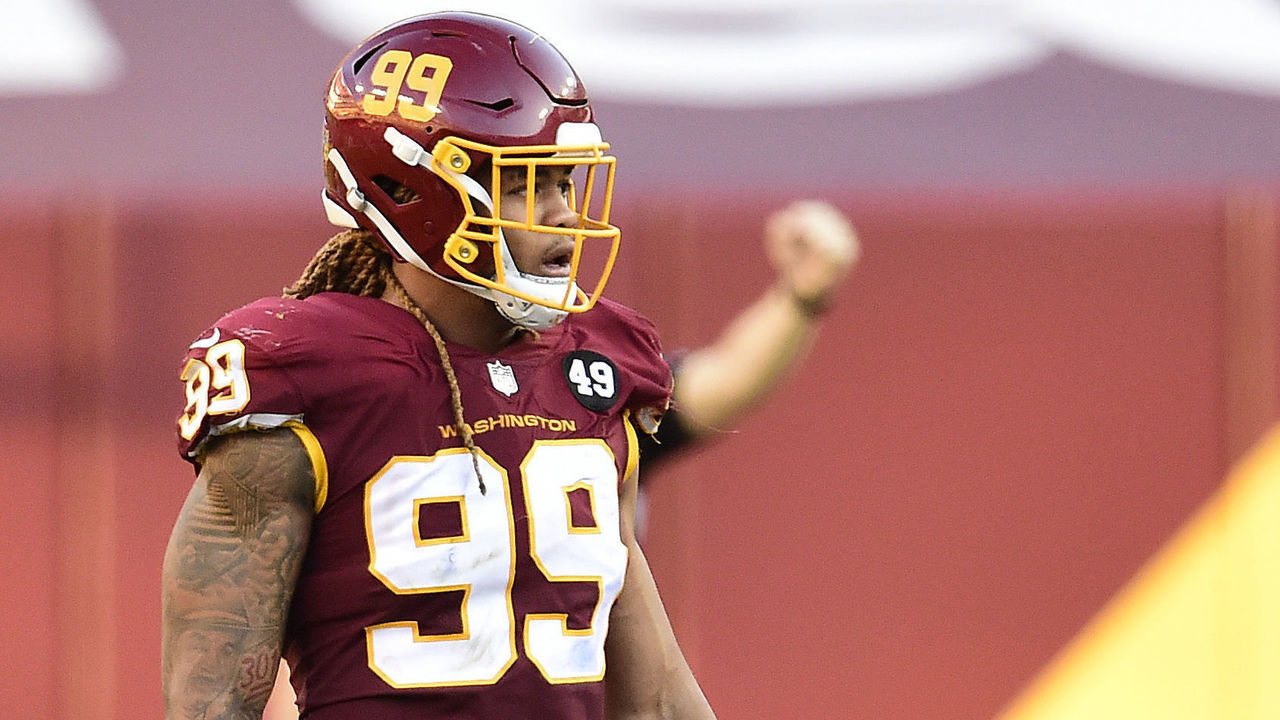 Young's overall stats don't jump out of the screen - 20 tackles, 3.5 sacks, and four quarterback hits through seven games - but his impact for Washington goes beyond his numbers. The defensive end often garners double-teams, which helps his teammates get easier matchups.
Though Young's mom graded his rookie campaign thus far a C+ because he's not "leading the league in sacks," it appears to be just a matter of time until the second overall pick adds some big plays to his highlight reel. Young remains a favorite to take home the award.
1. Antoine Winfield Jr., Tampa Bay Buccaneers
Winfield topped our initial rankings, and there's no reason to move him down now as he continues to look like a veteran. No other rookie defender has made his presence felt like the Buccaneers safety, who's been all over the field for one of the NFL's top defensive units.
The second-round defensive back is still a work in progress in pass coverage, but he's produced plenty of highlights stopping the run and even pressuring opposing quarterbacks. Winfield's one of just two first-year defenders to record at least 30 tackles, one sack, one interception, and multiple pass breakups through the first nine weeks of the 2020 campaign.
Honorable mentions: Julian Blackmon (Colts), Derrick Brown (Panthers), Trevon Diggs (Cowboys)
Comments
✕
NFL Rookie of the Year rankings: Burrow, Herbert battling for top spot
  Got something to say? Leave a comment below!