Timeline: Antonio Brown's roller-coaster ride from Pittsburgh to Tampa Bay
MediaNews Group/Boston Herald via Getty Images / MediaNews Group / Getty
What a long, strange trip it's been.
In a matter of 22 months, Antonio Brown went from a future Hall of Famer with the Pittsburgh Steelers to a late free-agent addition with the Tampa Bay Buccaneers. He also had brief stints with the then-Oakland Raiders and the New England Patriots in between.
The winding road was long, so allow us to recap it all for you.
Dec. 23, 2018: AB's last game with the Steelers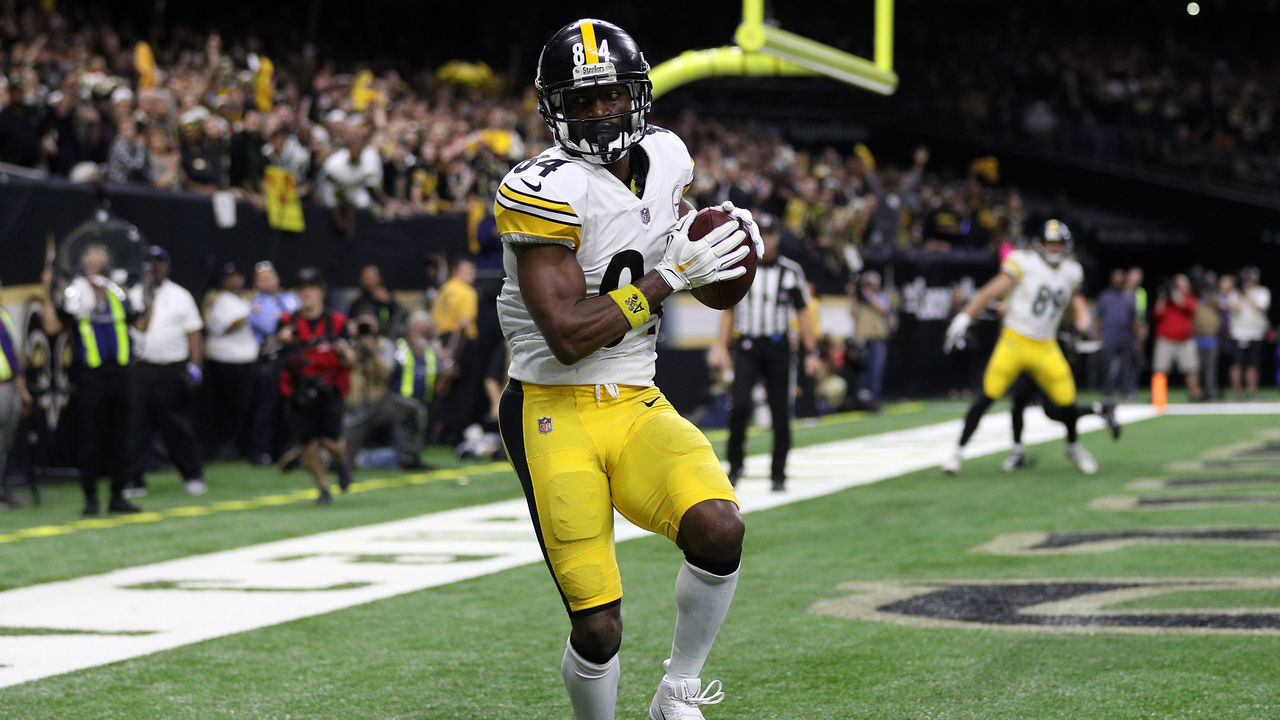 The most trouble Brown had caused in Pittsburgh to this point came when he went on Facebook Live and filmed Mike Tomlin delivering an expletive-laden speech after a postseason victory.
The Steelers were 8-6-1 and chasing a playoff spot heading into their Week 16 matchup with the New Orleans Saints. Brown had a trademark day in the shootout, recording 14 catches for 185 yards and two touchdowns on 19 targets. Those were his 14th and 15th scores of the season. Few could predict the falling out that soon followed.
Dec. 30, 2018: Brown benched
The week played out like this: Brown was given a "rest day" Wednesday and missed Thursday's practice with what was listed as a knee injury. He was said to be undergoing tests Friday and again did not practice Saturday.
Pittsburgh made Brown inactive for the must-win Week 17 contest against the Bengals. Coach Mike Tomlin confirmed he benched AB "due to injury and lack of information" leading up to the game.
There were reports Brown threw a football at Ben Roethlisberger during a midweek walkthrough, and that he was set off by JuJu Smith-Schuster being named team MVP. Nonetheless, after nine seasons and a Hall of Fame trajectory, Brown's Steelers tenure was over.
Jan. 15, 2019: Arians calls AB a 'diva'
Brown's former offensive coordinator with the Steelers, Bruce Arians, weighed in on the drama and made pointed remarks at the receiver.
"There's too much miscommunication, too much ... diva," Arians said on a podcast. "I've heard so many stories - I like Antonio - he plays as hard as anybody on Sunday, and he practices hard. He's just gotta make better decisions off the field, be on time, do some of those little things."
Feb. 5, 2019: Legal troubles
Brown was involved in a domestic dispute in early February 2019, though he wasn't arrested in the incident. A week later, he was found guilty of reckless driving. It would be just the beginning of the receiver's legal troubles.
Feb. 19, 2019: Steelers, Brown move on
After Brown met with owner Art Rooney II one final time, both player and team agreed to mutually part ways following the messy end to the 2018 season.
While confirming their desire to move such a significant piece, the Steelers were adamant they would not settle for less than market value for Brown.
March 7, 2019: Brown ➡️ Bills?
After Pittsburgh explored multiple options, a late-night rumor had the Buffalo Bills closing in on a trade for AB.
The wideout quickly shot that down.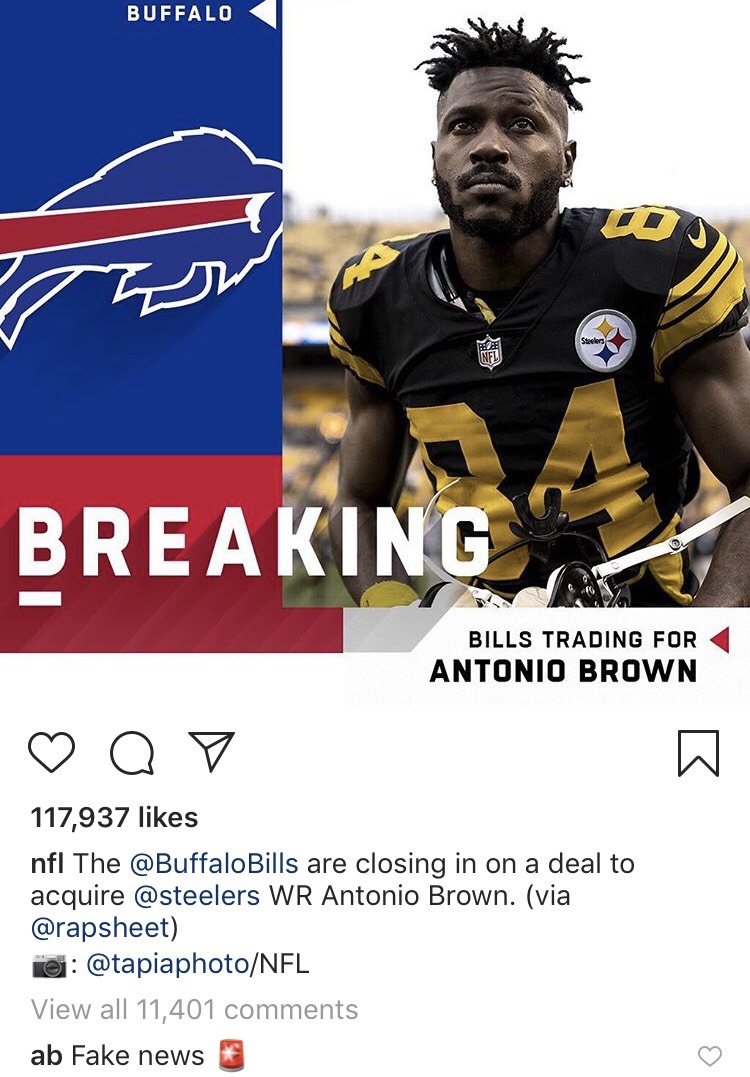 March 10, 2019: Traded to the Raiders ☠️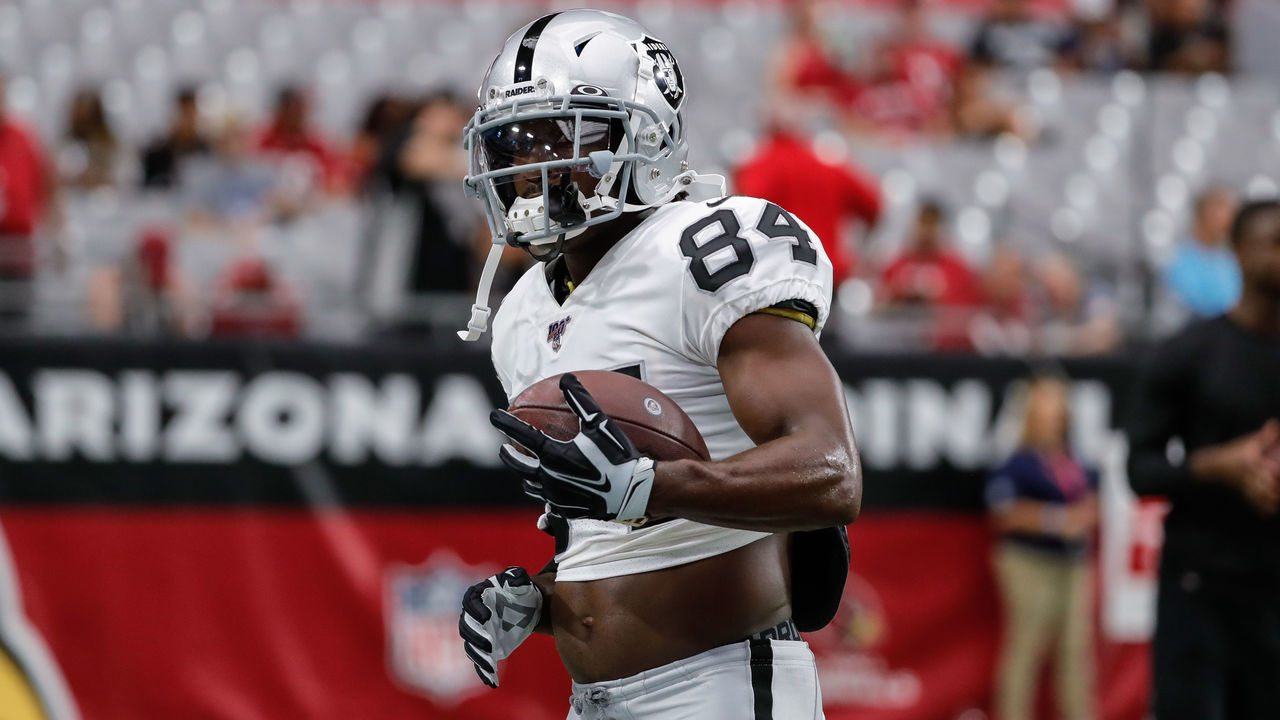 The Steelers finally dealt Brown in March 2019, trading him to the Raiders for a third- and fifth-round pick.
Then, the Raiders immediately made Brown the NFL's highest-paid receiver at the time by signing him to a new three-year, $50-million deal with $30 million guaranteed.
Aug. 3, 2019: Cryogenic chamber mishap
Not only did Brown show up to the Raiders' training camp in a hot air balloon, but he also arrived with foot issues. Brown posted a gnarly image on Instagram of his mangled feet, which was reportedly a result of him wearing improper footwear in a cryogenic chamber in France during the offseason.
It was only the beginning of Brown's head-to-toe problems.
Aug. 9, 2019: AB vs. NFL's helmet rules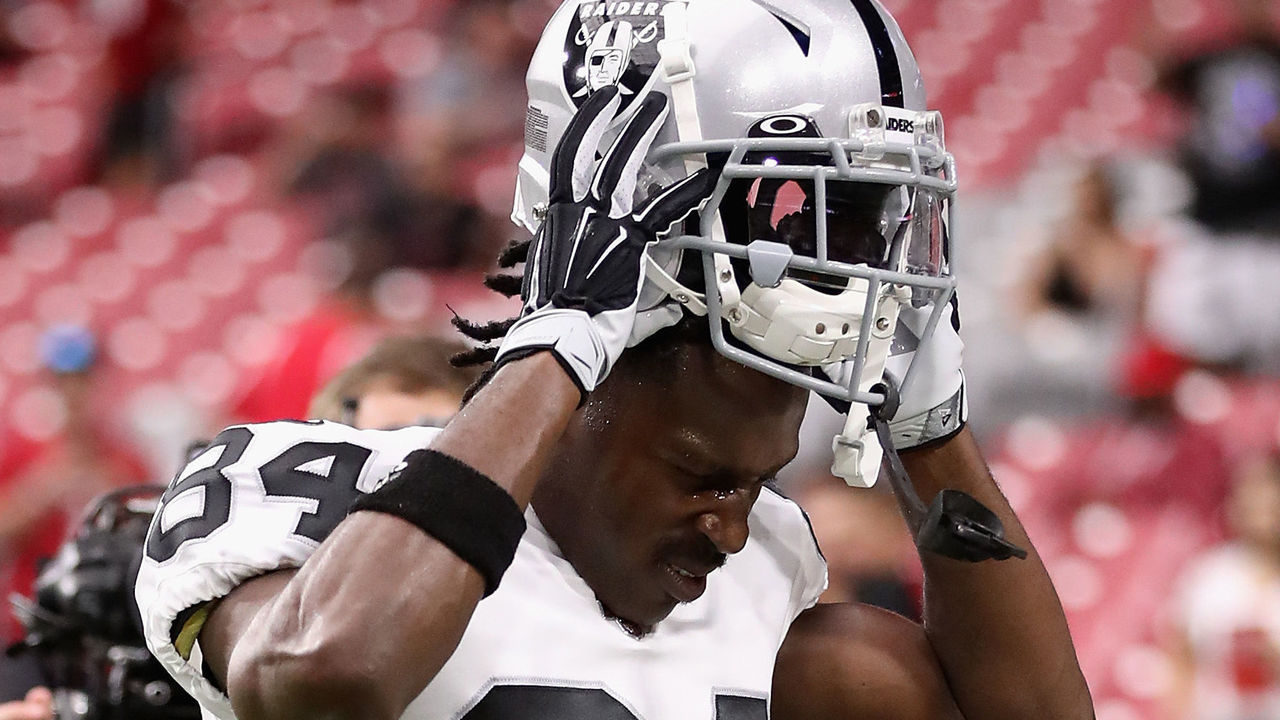 While Brown's feet were healing, he struck up a battle with the NFL over its new rule banning older helmet models due to safety concerns. With his preferred helmet no longer approved for use, Brown apparently threatened to retire.
He filed multiple grievances against the NFL and stayed away from the Raiders' practices until he could find suitable headwear.
Sept. 5, 2019: Brown gets into it with GM
The Raiders fined their star receiver nearly $54,000 for skipping mandatory team activities, practices, and preseason action, which reportedly led to a heated confrontation between Brown and general manager Mike Mayock.
It also led to speculation the team could suspend Brown for the upcoming season opener.
Sept. 7, 2019: Released by Raiders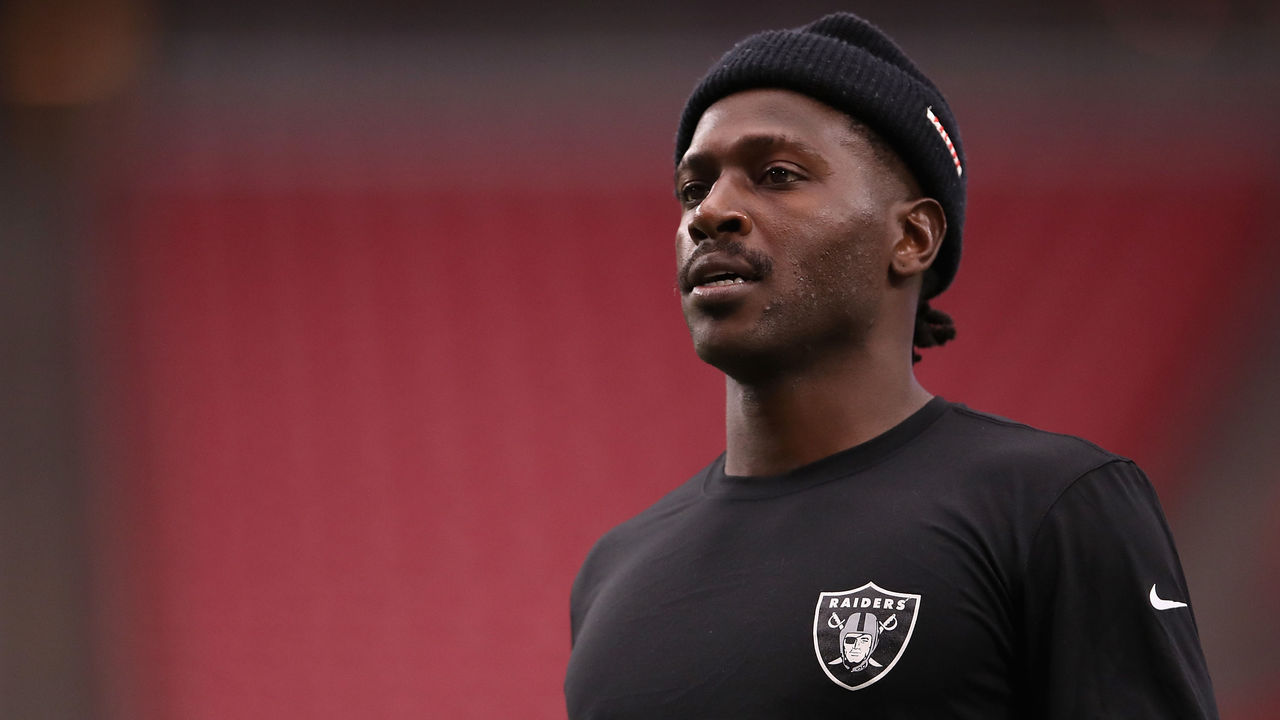 Following a 24-hour span in which Brown apologized to the team for the incident with Mayock, posted audio of a phone conversation with head coach Jon Gruden online, and then asked for his release in an Instagram post, the Raiders granted his wish.
In a masterstroke, the Raiders dismissed the wideout only after fining him for conduct detrimental to the team and rendering his guaranteed money void.
Nonetheless, Brown celebrated the move in a video posted to YouTube.
Sept. 7, 2019: Brown joins Patriots
Bill Belichick and the Patriots scooped up Brown within hours of his release, signing him to a one-year, $15-million deal with a team option for 2020.
Owner Robert Kraft declared the team was "a million percent in" on the partnership, but the pairing would only last so long.
Sept. 10, 2019: Brown hit with lawsuit
Shortly after landing on his third team, Brown's former trainer accused him of raping her in a federal lawsuit. Britney Taylor said Brown sexually assaulted her on three separate occasions in 2017 and 2018.
The lawsuit prompted an NFL investigation and threw his future with the Patriots into question.
Sept. 15, 2019: Brady to Brown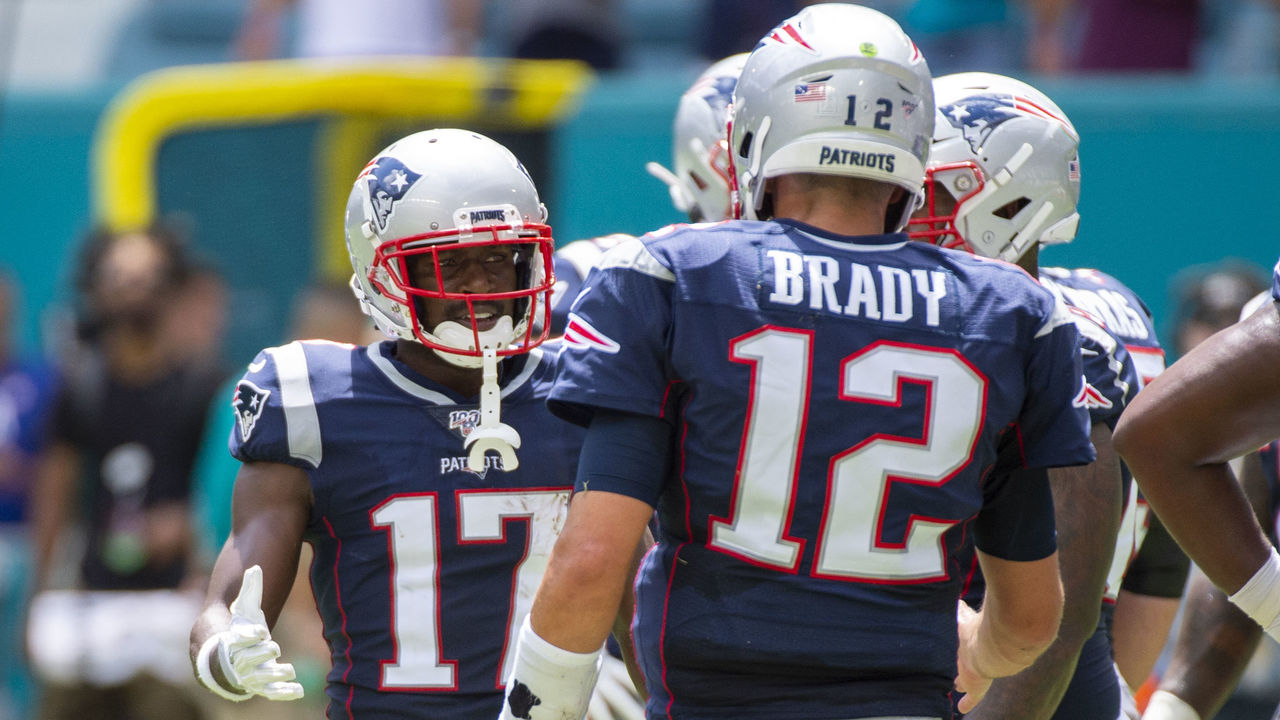 However, Brown did suit up for New England's Week 2 contest against the Miami Dolphins. In his last appearance on an NFL football field, Brown caught four passes for 56 yards, including a 20-yard touchdown pass from Tom Brady.
Sept. 20, 2019: Released by Patriots
Despite the on-field results, Brown was met with more legal trouble off it. A second woman accused him of sexual misconduct. Brown then reportedly sent threatening messages to the woman.
The Patriots released Brown soon after. He'd miss the rest of the 2019 season as the NFL conducted an investigation into the multiple accusations of sexual misconduct and sexual assault against him.
Dec. 27, 2019: Brown visits with Saints
While teams awaited word from the NFL on its investigation, the Saints brought Brown in for a workout.
Brown and his entourage recorded footage of the visit and the wideout turned the event into a hip-hop track. Nothing else came of the meeting.
January 2020: More off-field drama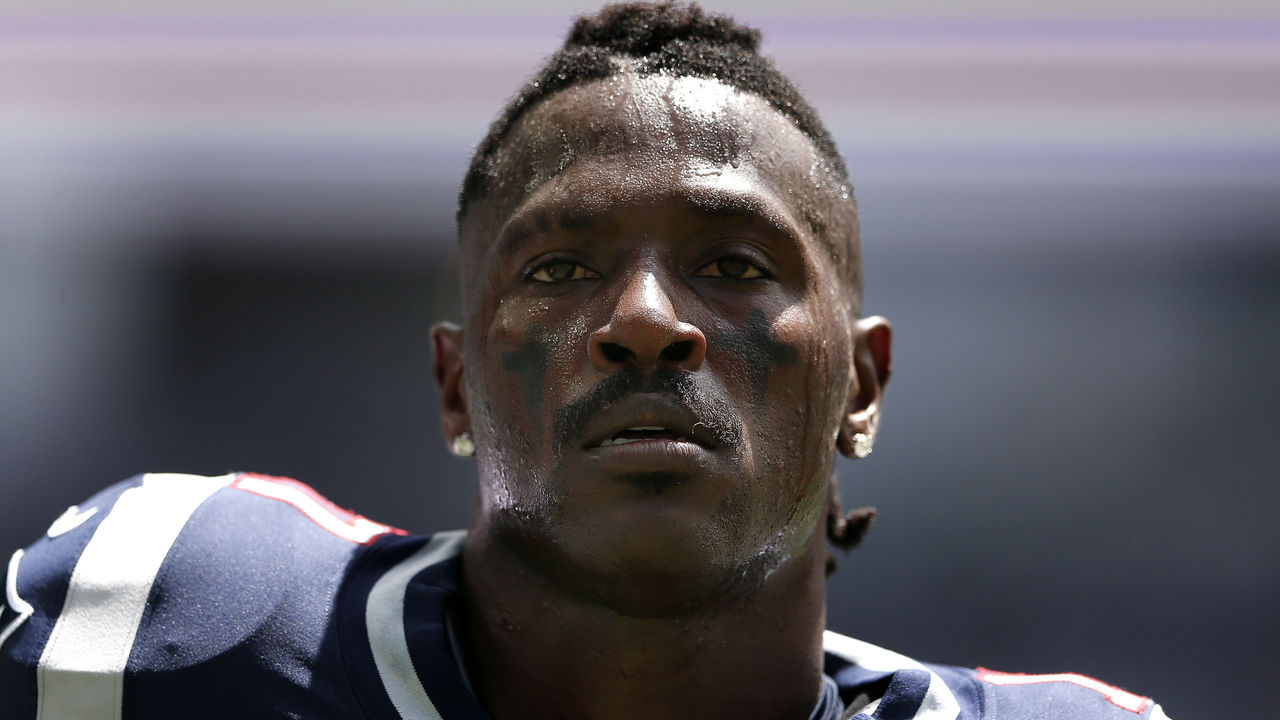 Brown's downward spiral included a run-in with a moving company, viral video of his interactions with Florida police after a domestic dispute at his home, and his longtime agent, Drew Rosenhaus, severing ties with him.
An arrest warrant was then issued for Brown for felony burglary and battery charges. He turned himself in to police a day later before posting bond.
March 26, 2020: Arians shoots down AB rumors
Not long after Brady signed with the Buccaneers in free agency, rumors swirled that the quarterback pushed for a reunion with the wideout in Tampa Bay. Arians, the Bucs' head coach, again didn't speak of Brown in glowing terms.
"There's no room and probably not enough money. It's just not gonna happen. It's not a fit here," Arians said. "I just know him and it's not a fit in our locker room."
July 31, 2020: 8-game suspension
Though Brown's legal matters remained unresolved, the NFL concluded its lengthy investigation and handed out an eight-game ban.
As a result, teams such as the Baltimore Ravens and the Seattle Seahawks were rumored to be interested in adding the free agent.
Oct. 21: Bucs clear cap space for AB
It seemed innocuous at the time, but the Buccaneers quietly cleared $4.125 million in cap space Wednesday when they restructured guard Ali Marpet's contract, converting a portion of his salary into a bonus.
Such a move is typically made to clear room to add another body. But who at the time thought the Bucs were eyeing Brown?
Oct. 23: Brown ➡️ Buccaneers
The bombshell dropped at 6 p.m. ET when Aaron Wilson of the Houston Chronicle reported both the Bucs and Brown were "highly motivated" to reach a deal. By 7:30 p.m., ESPN's Adam Schefter reported the deal was done.
Brown and Brady will soon be reunited, and the feared Buccaneers offense will be that much more dangerous with the addition of the four-time All-Pro wideout.
Pray for NFC South secondaries.
Comments
✕
Timeline: Antonio Brown's roller-coaster ride from Pittsburgh to Tampa Bay
  Got something to say? Leave a comment below!