A rundown of the best games and most interesting trends to watch for in Week 5 of the NFL. All times Eastern.
Just like back in the day
Browns (4-1) at Steelers (4-0), 1 p.m.
There was a time when Cleveland-Pittsburgh was one of the NFL's most intense rivalries. Then Art Modell ruined the fun by carpet-bagging the Browns to Baltimore, where the New Old Browns developed sustained competence and emerged as Pittsburgh's biggest antagonist. Meanwhile, the New New Browns were resurrected and affixed with a "Kick Me" sign that they've worn ever since. But not anymore, maybe. And now this matchup means something again.
After a Very Browns blowout loss to the New Old Browns to start the season, Cleveland has won four in a row. The streak includes last week's impressive thumping of the Indianapolis Colts, which followed a total rag-dolling of the Dallas Cowboys in Big D. Stop me if you've heard this one before, but Cleveland might be good. A win down the highway at the hated Steelers, where the Browns have somehow lost 16 games in a row, would make it official.
There's real juice to this game, and not just because the Browns finally seem to be able to take the field without putting their helmets on backward. There was last year's ugly brawl, which may or may not have been triggered by a racist slur from Steelers (now backup) quarterback Mason Rudolph. It led to a lengthy suspension for Browns defensive end Myles Garrett, who had tried to beat Rudolph with Rudolph's helmet.
Steelers head coach Mike Tomlin wants to move on, but Browns running back Kareem Hunt brought it up again, though Garrett said Friday he was willing to make amends with Rudolph. Who knows what might happen. One thing's for sure: The TV broadcast will mention it before, during, and after the game. There might even be a nostalgic clip of Turkey Jones seriously injuring Terry Bradshaw thrown in for good measure.
Football-wise, the Browns lead the NFL in rushing yards (942) and are fourth in rushing DVOA, per Football Outsiders, while the Steelers have allowed the fewest rushing yards (256) and rank first in run defense DVOA. Also, teams have only bothered running the ball 77 times against Pittsburgh, even though all four of the Steelers' games have been relatively close.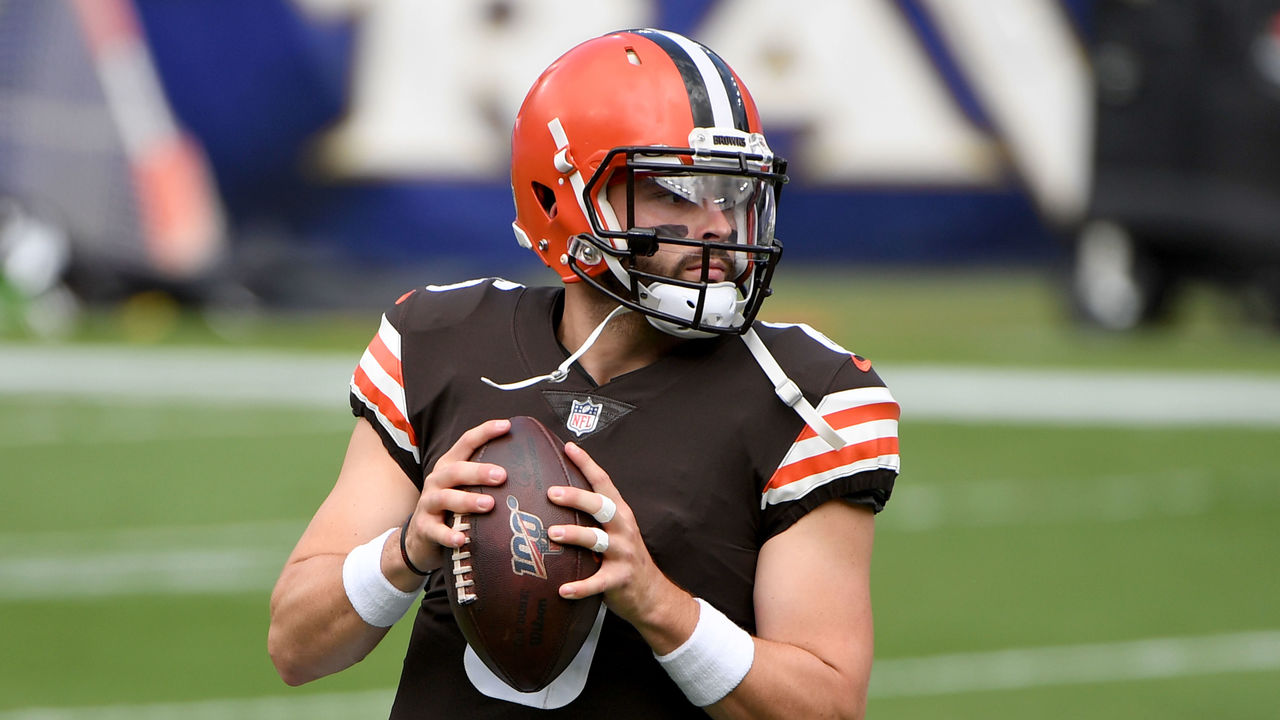 The Steelers love to blitz - they've done it a league-high 48.8% of the time, which has helped fuel a league-best 41.2% pressure rate, per Pro Football Reference. But it's going to be tough to bring extra pass-rushers against the Browns because quarterback Baker Mayfield uses a lot of play-action - 34.1% of all dropbacks, per PFF, which is fifth-most in the league. According to Sports Info Solutions, Mayfield has the most passing attempts (28) and passing yards (227) in the NFL when using play-action and moving outside the pocket.
In addition, ESPN ranks Cleveland's O-line second in pass block win rate, with right tackle Jack Conklin (98%) first among tackles, left tackle Jedrick Willis (94%) ninth among tackles, and left guard Joe Bitonio (97%) first among guards.
Steelers quarterback Ben Roethlisberger has struggled with deep passes - a 22.2% completion rate that's unchanged when adjusted for drops, per PFF - but he's thrived with a lot of short, quick throws to a variety of targets all over the field.
One last fun fact: The Browns also lost 16 in a row in Pittsburgh from 1970-85, a stretch that coincided with the opening of the old Three Rivers Stadium. That's also a stat that has absolutely no relevance to what might happen Sunday.
The stars are out
Packers (4-0) at Buccaneers (3-2), 4:25 p.m.
The entire country will get to see this game live in Sunday's late-afternoon window. It has to be because the Packers' offensive line leads the league in adjusted sack rate and pass block win rate, while the Bucs' D-line is ranked fourth in adjusted sack rate and its overall defense is ranked fifth in pressure rate. That's the kind of stuff fans tune in to see.
Packers left tackle David Bakhtiari (94%) is fifth in pass block win rate among tackles, center Corey Linsley (97%) is sixth among centers, and left guard Elgton Jenkins (95%) is 10th among guards. The Bucs' Shaquil Barrett (28%) is fifth in pass rush win rate among edge defenders, while defensive end Jason Pierre-Paul has four sacks, two forced fumbles, and eight total pressures.
Give the NFL and its television partners credit for knowing how to maximize exposure for the league's top stars by making this a national game.
Go figure
Bears (4-1) at Panthers (3-2), 1 p.m.
The Bears continue to be a tough team to pin down. With Mitchell Trubisky and Nick Foles at quarterback, they've won four of their first five games, with three of those wins coming against the Detroit Lions, Atlanta Falcons, and New York Giants, and the other against Tom Brady and the Bucs. Football Outsiders ranks Chicago 23rd in Total DVOA, and the Bears' minus-7.4% DVOA is one of the worst ever for a 4-1 team. The only one that was worse? The 2010 Bears, who wound up going to the NFC Championship Game.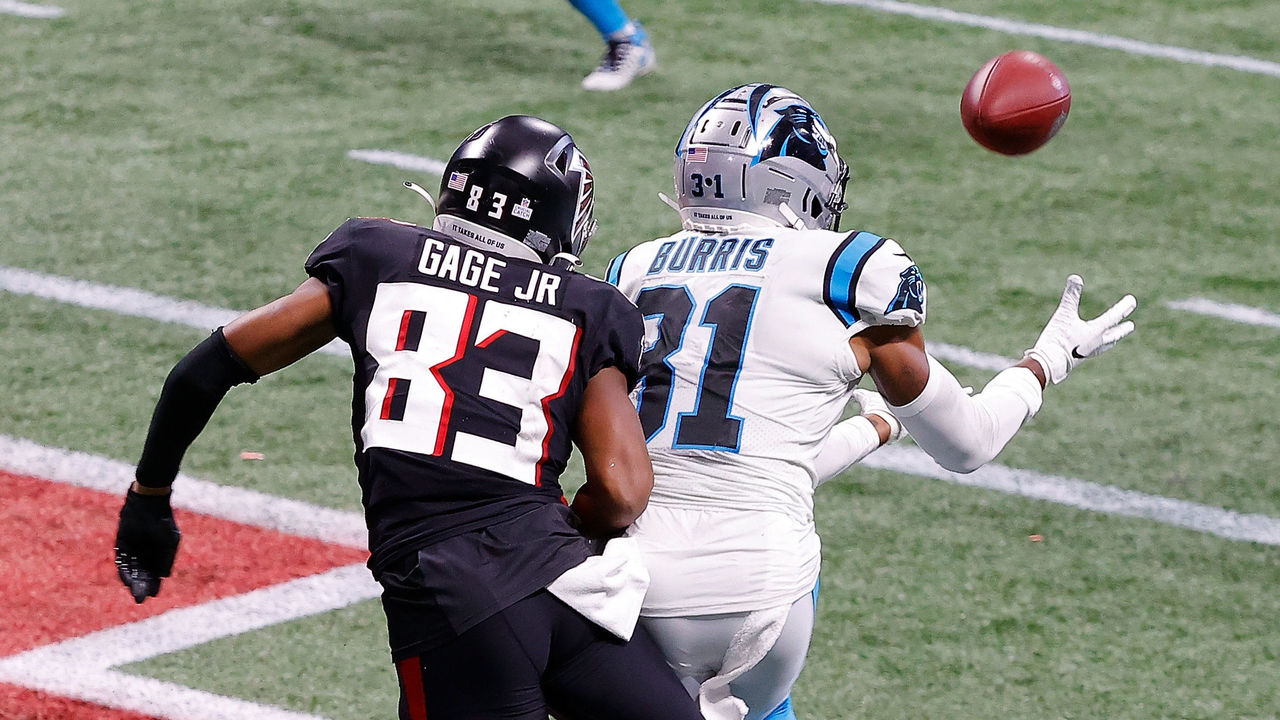 This week, the Bears are matched up against a Panthers team featuring a defense full of no-names with unspectacular resumes. For example, cornerback Juston Burris, whose end-zone interception of Matt Ryan preserved last week's win at the Falcons, was a 2016 fourth-round pick of the New York Jets who's since bounced around with the Browns, Raiders, and back to the Browns before landing in Carolina.
Carolina's defense is ranked 23rd in DVOA, but it's 14th against the pass despite getting pressure on just 17.7% of all defensive snaps, the third-worst total in the league. Slot cornerback Corn Elder is allowing just 0.48 yards per slot-coverage snap, which is the third-lowest in the league, according to PFF. The Panthers drafted Elder in 2017 but cut him at the end of camp in 2019, and he spent last season on the Giants' practice squad. Matt Rhule might be able to coach a little.
Uh-oh
Rams (4-1) at 49ers (2-3), 8:20 p.m.
The 49ers have been banged up pretty good, and they're winless against anyone other than the two junior varsity teams from New York. The latest loss was last week's blowout by the Miami Dolphins and Dr. Jekyll Fitzpatrick, whose 99.1 Total QBR was the best single-game QBR by any quarterback this season.
The bad news for the Niners is that after this game, they're scheduled to play at the Patriots, at the Seahawks, the Packers at home, at the Saints, at the Rams, and the Bills at home, all in succession. The good news is that all four of the Rams' victories have come against the four teams in the NFC East.
Happy Hour special
Chiefs (4-1) at Bills (4-1), Monday, 5 p.m.
A bounce-back game for two AFC contenders, right at quittin' time. Both defenses are coming off games in which they got rolled, and both teams are coming off games in which they were penalized 10 times.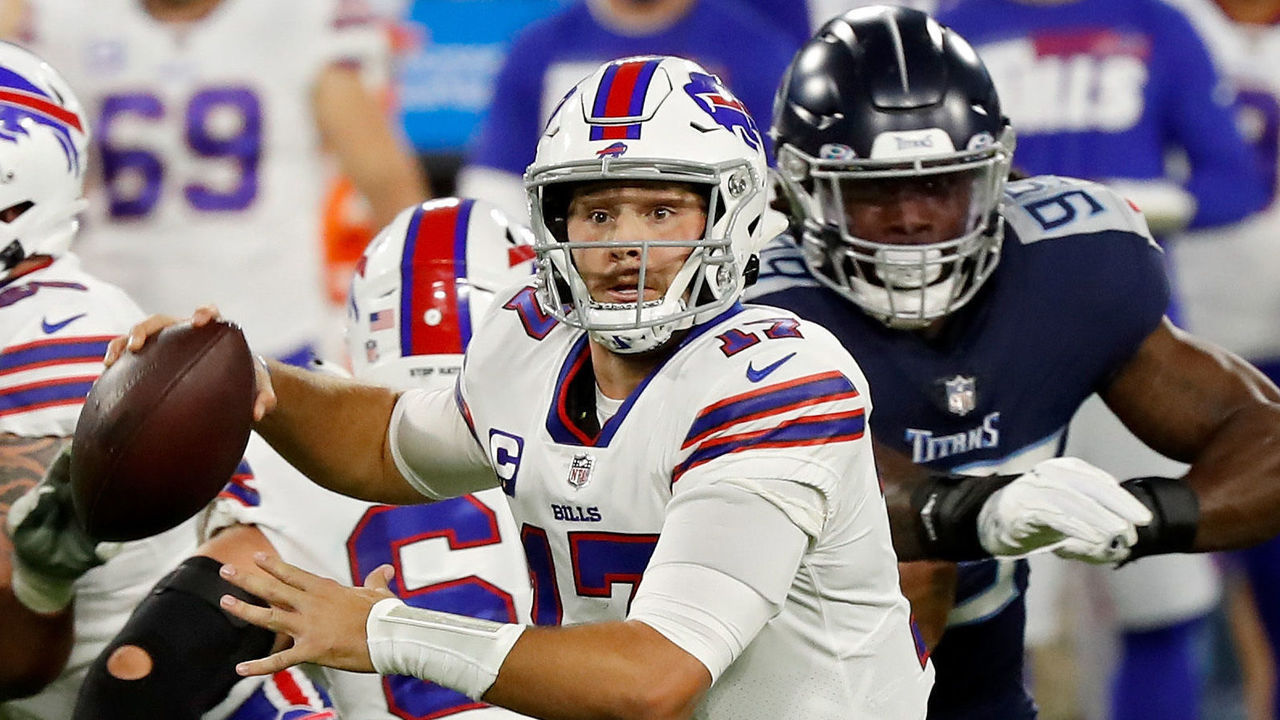 Tuesday night leftover
Titans 42, Bills 16
I just wanted to watch Derrick Henry's pitiless stiff arm of Josh Norman again, and I figured you did, too. So here you go:
That is all.
Dom Cosentino is a senior features writer at theScore.