A rundown of the best games and most interesting trends to watch for in Week 4 of the NFL. All times Eastern.
Some holds barred
The NFL's on a scoring binge entering Week 4: 281 total touchdowns, 273 offensive touchdowns, and 2,446 points scored - all records for the first three weeks of the season.
Also, opponents in the same game have already both scored at least 30 points 10 times. Going back to 1985, there's never been more than 28 such games in an entire regular season, according to Football Outsiders. Something's up - and it's not just the points. So what's going on?
Scoring's trended upward in the NFL for a while, with two of the highest-scoring full seasons coming in the last four years. There are plenty of reasons for this:
Rule changes in the last 10 years to protect quarterbacks and pass-catchers
Quality young QBs
An analytics trend that's led to more aggressiveness on fourth down
The proliferation of spread offenses that use the entire field, along with an increased use of deceptive elements like play-action and motion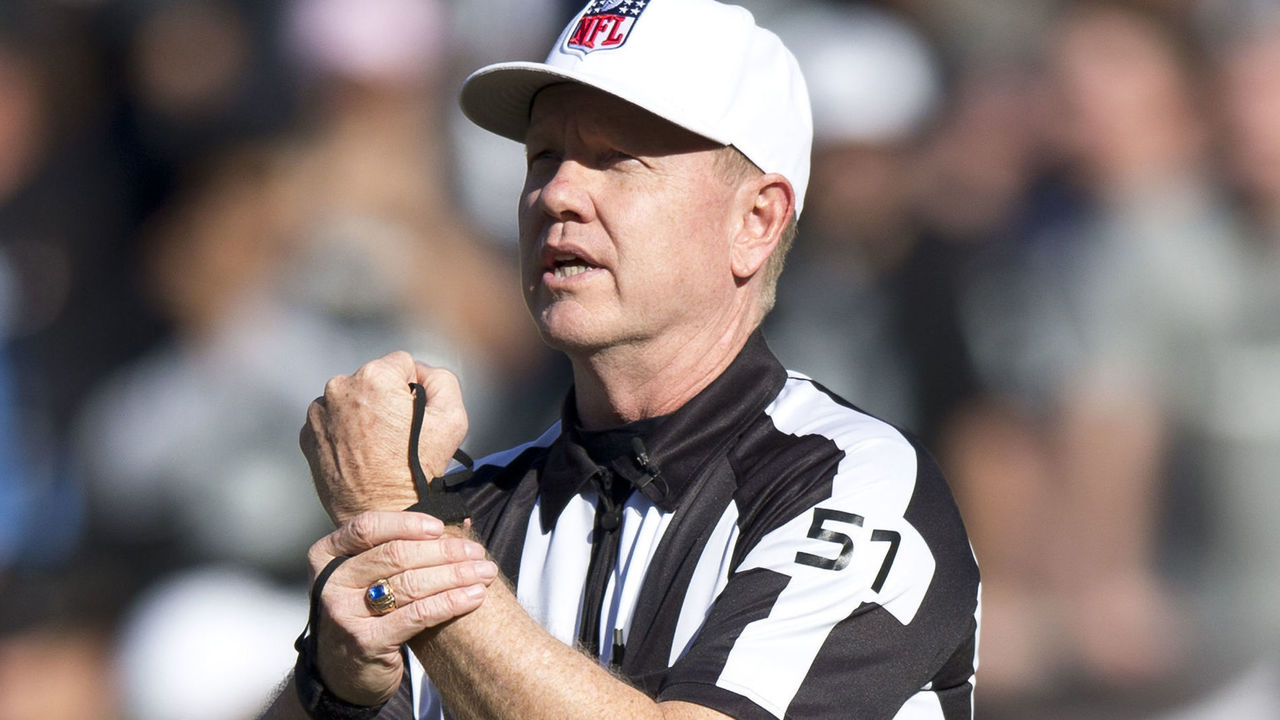 But something else seems to be at work to account for all the additional scoring so far this year, and ESPN's Kevin Seifert noticed it in the penalty counts: offensive holding calls are way, way down, while defensive pass interference is way, way up - and the league might want it that way.
There were a total of 95 offensive holding penalties in the first three weeks - a drop from 234 over the same span last year, according to NFLPenalties.com. There's a caveat, however: offensive holding had been a point of emphasis for officials heading into the 2019 season, and after a whopping 179 were called in the first two weeks, the league agreed to have officials chill out.
It now seems as though the NFL's completely gone in the opposite direction. Offensive holding is down 45% from the previous five-year average, according to Seifert. In addition, there were 72 defensive pass interference flags from Weeks 1 through 3 - up from 50 in 2019, or an increase of 44%, per NFLPenalties.com.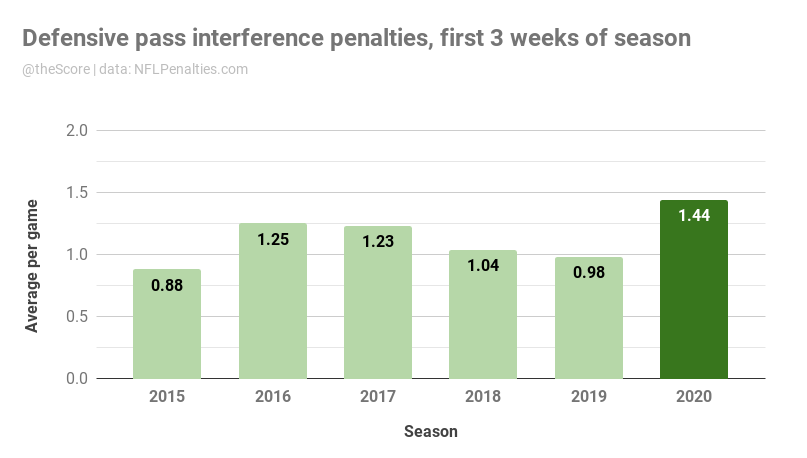 Seifert couldn't get anyone at the league office to respond for a comment, but the data suggests the NFL is trying to boost offenses and scoring to increase excitement for fans. He pointed to an interview that retired referee Walt Anderson recently did with NFL Media's Ian Rapoport. Anderson, now the league's senior VP of officiating training and development, said the NFL wanted officials to focus on "clear and obvious" penalties, rather than "the ticky-tack stuff."
Due to the COVID-19 pandemic, there was no offseason program or preseason, and training camps were altered. Additionally, the NFL's had to compete this fall with the NBA and NHL, rather than only MLB. When Anderson was asked by Rapoport whether what was happening was what he wanted, he may have inadvertently provided the real explanation.
"That's not as important as what the NFL likes and what the audience likes," Anderson said.
The NFL's long treated its rules as suggestions, but Anderson's comment is about as revealing as it gets.
Break up the Browns!
Cleveland (2-1) at Dallas (1-2), 1 p.m.
The Browns have won two in a row and now have a winning record for the first time since 2014, so congrats to them for being above .500 this, uh, late in the season.
Nick Chubb and Kareem Hunt are the league's only tandem to have rushed for more than 200 yards already, according to NFL Next Gen Stats. After the Browns fell behind in the third quarter last week against the Washington Football Team, Baker Mayfield completed all five of his pass attempts, and all went for first downs, including a touchdown.
The Browns take to the road to face a Cowboys team that's allowed 77 points the last two weeks by a defense that's ranked 24th in DVOA against the pass. Should Dallas lose, owner Jerry Jones will likely find a way to blame quarterback Dak Prescott anyway.
Go figure
Indianapolis (2-1) at Chicago (3-0), 1 p.m.
The Colts have the league's best overall DVOA and best defensive DVOA through Week 3. Granted, they've played the Vikings and Jets, with the latter game including a pair of pick-sixes and a safety, the defense's second in as many weeks. Also, Football Outsiders doesn't start tossing opponent adjustments into the DVOA crockpot until after Week 4.
But still: the trade for DeForest Buckner looks brilliant so far. Buckner has 1.5 sacks, five QB hits, and two tackles for a loss. He also ranks sixth among defensive tackles in run-stop win rate, per ESPN. The Colts are thriving defensively because they're able to generate lots of pressure (33.3%, which ranks third) without having to blitz all that much (11.8%, second lowest).
Now they get the Bears, who are unbeaten with both Mitchell Trubisky and Nick Foles having engineered fourth-quarter comebacks. Chicago is a difficult team to figure out: the Bears' opponents are a combined 1-5, their DVOA is among the worst all time for a team that started 3-0, and Foles will be making his first start after spending his 19 first minutes after replacing Trubisky heaving the ball all over the place before throwing for three TDs in the last seven minutes. Then again, the Colts also lost to the Jaguars, so nothing makes sense.
Run, run, run
New England (2-1) at Kansas City (3-0), TBD
Editor's note: This article was published before the NFL announced the Patriots and Chiefs' Week 4 game is postponed to Monday or Tuesday following positive COVID-19 tests on both teams. Patriots quarterback Cam Newton is reportedly one of the players testing positive and is ruled out of the game.
The Baltimore Ravens were quick to abandon the running game in their Monday night loss to the Chiefs. Kansas City's defense did a terrific job of containing reigning league MVP Lamar Jackson in the passing game, but the Patriots present an entirely different challenge - albeit one that makes for an interesting matchup based on the way the Chiefs play.
New England leads the league in rushing yards and rushing offensive DVOA, but its two wins came against the Dolphins and Raiders. The Pats might try to pound the ball to control the clock and keep Patrick Mahomes off the field.
But can they stop the Chiefs? Kansas City's offense looked far less explosive in its first two games than it did when Andy Reid rifled deep into the playbook against the Ravens. It's possible to imagine the Patriots grinding out long drives, only to have Mahomes and his complement of speedsters vaporize the Pats' D in only a few plays.
Thursday night leftover
Broncos 37, Jets 28
The entire bill of particulars against the Jets' Adam Gase for his crimes against coaching would take up too much space and too much of your time, and no one needs to think that much about Gase right now. But allow me to share just one of Gase's crimes:
That right there is first-round pick Mekhi Becton, a left tackle who's already established himself as a player with dominant potential at a prime position - exactly the sort of building block the Jets need if they're ever going to climb out of the quicksand they've been stuck in for the last 10 years.
Becton didn't start Thursday because of a shoulder injury. He remained active anyway, and when starter Chuma Edoga was injured after four plays, Gase put Becton into the game.
As you can see above, Becton was clearly in pain at the end of a couple of series, and he lasted only 17 snaps before returning to the bench for good. Beyond the obvious indifference to a player's health - and not for the first time, for that matter - Gase's determination to damage the Jets now and into a future beyond whenever it is he's eventually fired deserves special recognition here.
Dom Cosentino is a senior features writer at theScore.