It's hard to believe, but Mahomes is getting better
Rob Carr / Getty Images Sport / Getty
The Kansas City Chiefs won this month's Game of the Year by thumping the Baltimore Ravens 34-20 on Monday night. Below are five key takeaways looking at what went down and what it all means.
Reid's play-calling + Mahomes = not fair
The Chiefs used a variety of sets and positioned their playmakers in all sorts of different positions, which they combined with lots of pre-snap and at-the-snap motion, and plenty of misdirection. The Ravens were constantly on their heels.
There was a play with a quad stack ...
... and there were several kinds of screens to negate the Ravens' pressure, including one in which Tyreek Hill lined up in the backfield before flaring out to the right, only to have Patrick Mahomes flip an underhand toss to fullback Anthony Sherman for a touchdown:
Andy Reid can do this because he has a wide array of speedy playmakers at his disposal: tight end Travis Kelce; wideouts Mecole Hardman, Sammy Watkins, and Hill; plus rookie running back Clyde Edwards-Helaire. But having Mahomes as the conductor of the entire operation is almost unfair. Mahomes' 20-yard touchdown pass to Hill and his 49-yard TD toss to Hardman - after a deep-drop backpedal - were absolutely perfect throws.
Then, after the Ravens pulled within seven early in the fourth quarter, the Chiefs answered with a 13-play, 75-yard drive that devoured 6:41 - and ended with Mahomes completing a pass to left tackle Eric Fisher, who reported as eligible. It was anything goes for the Chiefs, and everything seemed to click.
There's also an indescribable flair to the way Mahomes does all this. He makes it look so easy, like he's shrugging his way through a casual exhibition routine and not carving up one of the NFL's best defenses. He's in only his third season as a starter. He's already won a league MVP and a Super Bowl MVP. But when he plays like he did Monday night, and when Reid digs that deep into the playbook to emphasize so much of what he does best, Mahomes looks like he's somehow still stretching the limits of what's possible.
Why'd the Ravens abandon what they do?
Baltimore's built a power running game around quarterback Lamar Jackson, who's also a dangerous rushing threat himself. The Ravens' opening drive was true to type, with six runs on their first seven scrimmage plays that totaled 60 yards, including a 30-yard dash by Jackson off play-action. And then ... that was it.
The Ravens passed on second and third down before kicking a field goal on fourth-and-3 from the Kansas City 8-yard line. It was an out-of-character sequence for a team that so often stresses sticking to its script and staying aggressive by going for it on fourth down - especially against an opponent it wasn't going to beat by kicking field goals.
Mysteriously, the Ravens then continued to avoid the run. They attempted only three more running plays in the remainder of the first half, though there was a designed run by Jackson that went for 14 yards that was negated by a penalty. The half ended with the Chiefs in front 27-10, with the Ravens' lone touchdown coming on Devin Duvernay's 93-yard kickoff return. Jackson wasn't at his best, but neither was the scheme.
Ravens not used to playing from behind
They're also not good at it. Baltimore won its final 12 regular-season games last year, but it also frequently played with a lead. Then came a loss to the Tennessee Titans in the Ravens' first playoff game, when they fell behind early.
NFL Media's Tom Pelissero pointed out that the largest deficit the Ravens have come back from with Jackson under center is eight points, and that they've never won when trailing at halftime since Jackson became the starter in 2018.
That feels like a stat that's going to get talked about a lot as this season wears on and the Ravens have to play the New England Patriots, Tennessee Titans, and Dallas Cowboys, along with two games against the rival Pittsburgh Steelers, who are 3-0 now that they have quarterback Ben Roethlisberger back.
Don't get carried away doubting Lamar
Yes, he's 0-3 against Mahomes, and he's belly flopped in both of his playoff games, but Jackson typically shows what he's capable of doing week in and week out. Also, it's Week 3, and the Chiefs are the champs for a reason.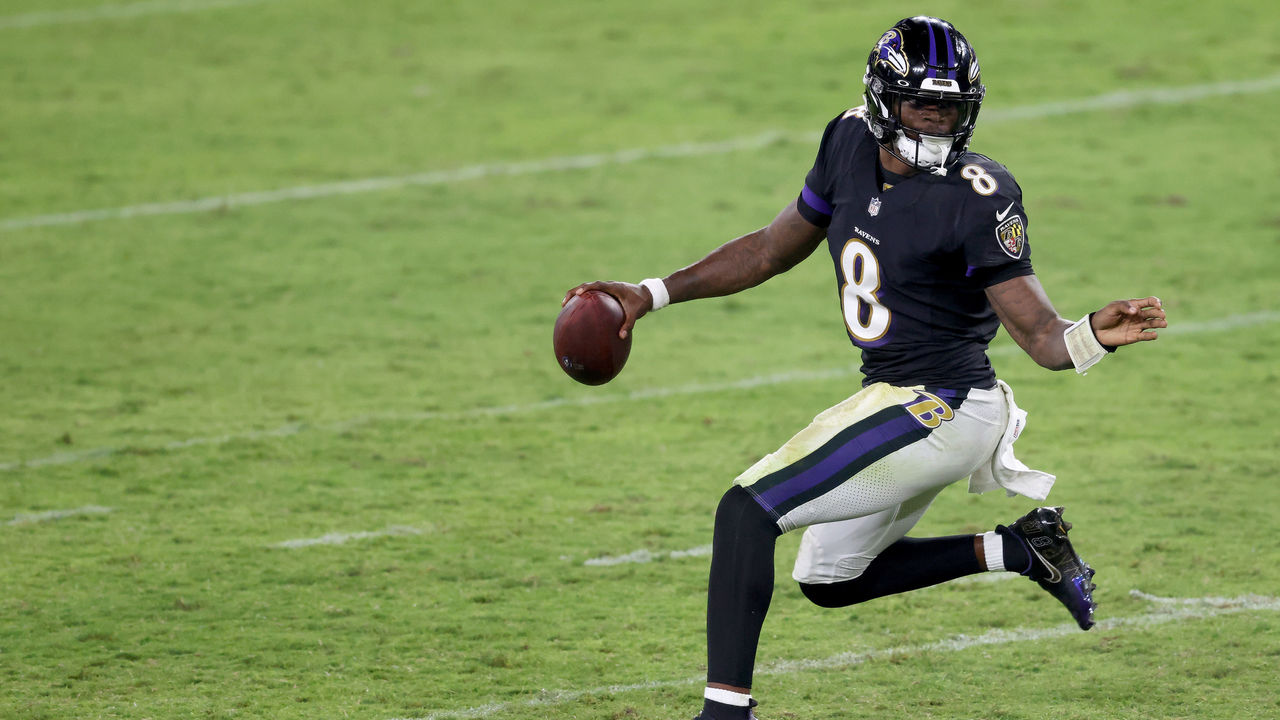 The Ravens have built around Jackson, both from a personnel and a play-design standpoint, and they're still one of the AFC's top contenders. Jackson certainly made his share of mistakes Monday, but it might help if offensive coordinator Greg Roman wasn't so quick to scrap the kind of stuff they like to run at the first sign of trouble.
Jackson is still 21-1 as a starter in the regular season against teams that aren't the Chiefs. And there are 13 games to go, starting with a trip down the road to face Washington on Sunday.
Maybe don't sleep on the Chiefs' defense?
Mahomes and the offense tend to take up all the oxygen in the room - and with good reason - but Kansas City's defense demonstrated its ability to hold its own, too.
Defensive ends Chris Jones and Frank Clark showed why the Chiefs were willing to give them both big contracts during the last two offseasons. The duo combined for three sacks, three quarterback hits, and a tackle for a loss against the Ravens, but they both also did a terrific job with controlled rushes to prevent Jackson from straying too far from the pocket. The Chiefs blitzed Jackson on 52.9% of his first-half snaps Monday, according to NFL Next Gen Stats, but they didn't overpursue to let Jackson run free.
Kansas City's already beat Jackson and Deshaun Watson, and next up is Cam Newton and the Patriots' varied approach.
Dom Cosentino is a senior features writer at theScore.
Comments
✕
It's hard to believe, but Mahomes is getting better
  Got something to say? Leave a comment below!