Why the Rams could bounce back this year
Heading into the season, the common narrative surrounding the Los Angeles Rams suggested their small championship window might have closed.
The Rams reached the Super Bowl two years ago and went all-in by trading away draft capital and loading up on expensive contracts. Then, last year, injuries affected the offensive line and some of the shine on quarterback Jared Goff and head coach Sean McVay wore off. Though they finished 9-7, the Rams looked like a team with a bloated salary cap, and the rest of the league had figured out how to stop them. With the NFC West appearing formidable, the notion that the Rams would have a middling 2020 (or worse) gained plenty of momentum.
But after they held off the Dallas Cowboys at home and routed the Philadelphia Eagles on the road, it's fair to wonder whether this analysis might have been premature. The Rams' offensive line is healthy and intact (at least right now), they're getting contributions from some of their youngsters on defense, and McVay has found new ways to scheme Goff into the sort of easy throws that keep the offense humming.
The Rams entered the season with more than $36 million of this year's salary cap wasted on dead money, largely as a result of huge deals for Todd Gurley and Brandin Cooks that had to be eaten. Only the Jaguars and Panthers had more dead money sitting on their books, and they're both in full-on rebuild mode this season.
L.A. also has more than one-fourth of its cap accounting wrapped up in two players - Goff and defensive tackle Aaron Donald - and some serious decisions to make about getting compliant next year, when the cap could decrease by as much as 12% and they once again won't have a first-round draft pick. But all of that can wait.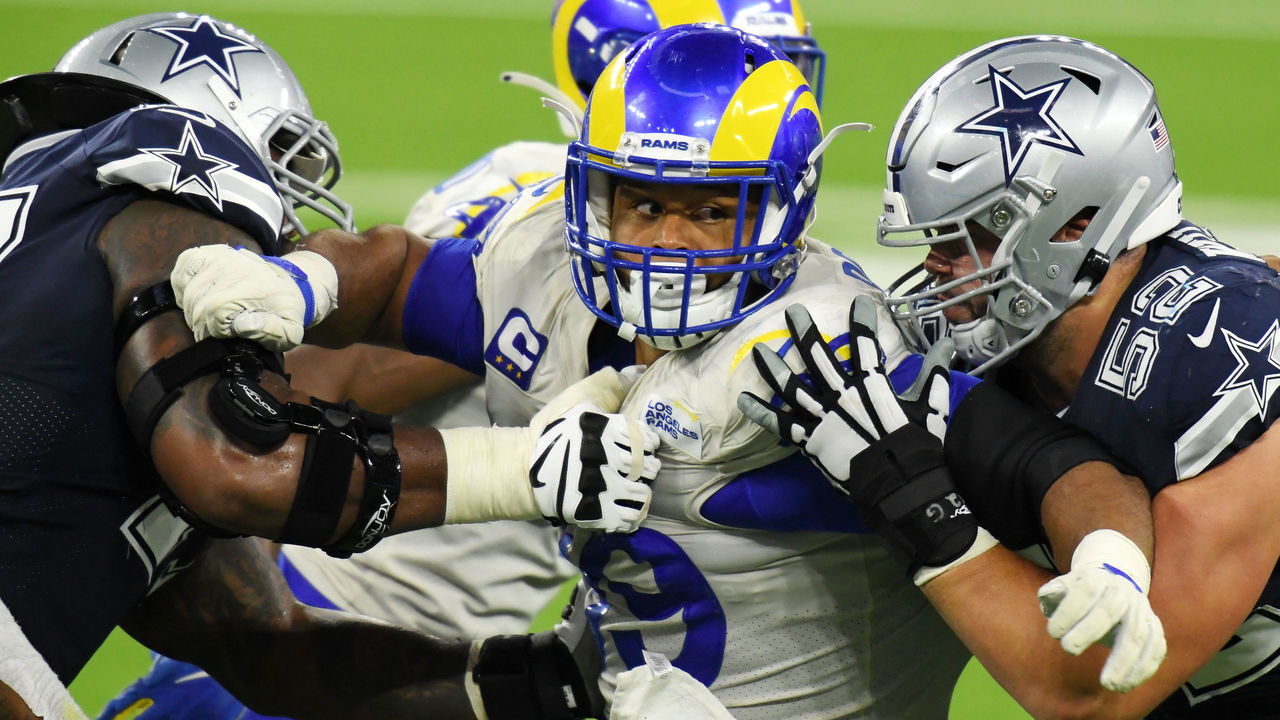 In the here and now, the Rams are playing quality football. It all begins - as it so often does - with the quarterback. Goff leads the league in net yards per attempt (8.78), with PFF noting that he's one of just two quarterbacks (along with Aaron Rodgers) who hasn't thrown a turnover-worthy pass yet this year. QBs are in many ways products of their surroundings, and McVay has again placed Goff in situations in which he can thrive.
As Rivers McCown pointed out over at Football Outsiders, the Rams have gone with a more horizontal attack that relies more heavily on motion, play-action, quick throws, and end-arounds than taking deep shots. Per Sports Info Solutions, Goff's average depth of target so far is just 5.8 yards, well below the marks of 8.0, 8.2, and 7.3 he established across the previous three seasons
ESPN's Seth Walder noted that they've used motion at the snap 31.3% of the time - the second-most in the league. And on Sunday at the Eagles, they went heavy on pre-snap motion to keep the defense off-balance:
Goff has used play-action more frequently than any other quarterback (48.4%), and he play-faked on a whopping 56.7% of his dropbacks against the Eagles, according to PFF. On those play-action throws, Goff was 12 of 15 for 158 yards, two touchdowns, and a passer rating of 150.1.
In another twist, the Rams are also running the ball more on early downs in neutral situations (i.e., when win probability is between 20% and 80%). The result has been efficiency when running the ball - the Rams rank second in rushing DVOA, according to Football Outsiders - and when passing: Per nflfastR data, their pass frequency on those plays ranks fourth-lowest in the league (42.1%), but because of all the motion and play-action, their expected points added (EPA) on those early-down dropbacks is 0.353, which ranks third-best in the NFL.
I'll let analyst Brian Baldinger explain how all of this can work so seamlessly, with wideouts like Robert Woods blocking on the edge after motioning across the formation to assist the run game …
… and play-action, pin-and-pull blocking, and route combos working in concert to set up easy throws for Goff like this touchdown pass to tight end Tyler Higbee:
There's a lot of season left, but having the entirety of the Rams' offensive line healthy and able to play has also helped. According to the Football Outsiders Almanac, not one Rams offensive lineman missed a start in 36 regular-season and playoff games in 2017 and 2018, but only left tackle Andrew Whitworth started every game last year. All told, L.A.'s offensive line ranked eighth in most adjusted games lost and 12th in continuity score in 2019.
On defense, even though renowned defensive coordinator Wade Phillips is gone, the Rams still have Donald the human wrecking ball up front and cornerback Jalen Ramsey patrolling the outside. But among the pleasant surprises has been inside linebacker Micah Kiser, who was named the NFL's Defensive Player of the Week after his first defensive start Sunday. A fifth-round draft pick in 2018, Kiser spent his first season playing exclusively on special teams and missed 2019 with a torn pectoral muscle. On Sunday, he recorded 16 tackles, broke up a pass, and forced a fumble.
The Rams will obviously need more contributions like that from Kiser and others, and there's a long way to go. NFC West teams are a combined 7-1 so far, and the Rams' schedule is backloaded with division games in five of their last eight contests. But there's no reason to dismiss the Rams just yet, and every reason to think they might again be in the NFC's wide-open playoff mix.
Dom Cosentino is a senior features writer at theScore.
Comments
✕
Why the Rams could bounce back this year
  Got something to say? Leave a comment below!