Find positional rankings, additional analysis, and subscribe to push notifications in the NFL Fantasy News section.
Every Monday during the season, theScore's Justin Boone runs down the recommended waiver wire pickups.
Rostered percentages are based on Yahoo leagues. Free Agent Budget (FAB) amounts are set off a $100 salary cap. Only players rostered in less than 60% of leagues are considered.
Quarterbacks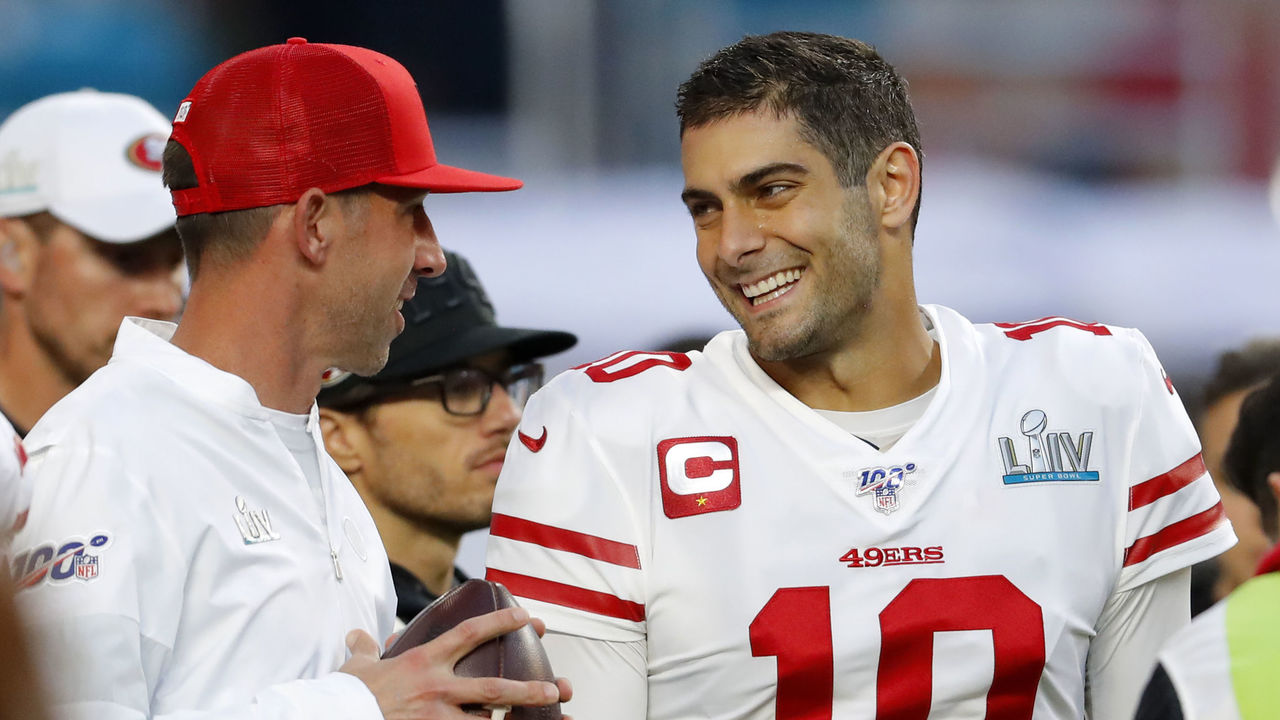 Jimmy Garoppolo, 49ers
| Next Up | Rostered | FAB |
| --- | --- | --- |
| at NYJ | 52% | $1 |
Garoppolo makes his second straight appearance in this section after throwing for 259 yards and two scores against the Cardinals in Week 1. Though we're still not spending much to acquire Garoppolo, he's an excellent early season streamer thanks to his schedule which features the Jets, Giants, Eagles, and Dolphins over the next four weeks. The Jets just allowed Josh Allen to crack the 300-yard mark for the first time in his career and look like the ideal pass defense to attack in fantasy matchups this year.
Gardner Minshew, Jaguars
| Next Up | Rostered | FAB |
| --- | --- | --- |
| at TEN | 25% | $1 |
Minshew's first game in offensive coordinator Jay Gruden's system couldn't have gone better. The sophomore quarterback completed a staggering 95% of his passes while throwing three touchdowns in an upset win over the Colts. With a bevy of new playmakers around him, Minshew is poised to be a sneaky fantasy starter - especially over the next five weeks when he faces the Dolphins, Bengals, Texans, and Lions. Next week's matchup with the Titans isn't as appealing, but there should be plenty of optimism surrounding Minshew and the Jags' weapons after their performance in Week 1.
Long-term options: Ryan Tannehill vs. JAX (45% rostered)
Streamer options: Kirk Cousins at IND (34% rostered), Mitch Trubisky vs. NYG (3% rostered), Philip Rivers vs. MIN (27% rostered)
Running backs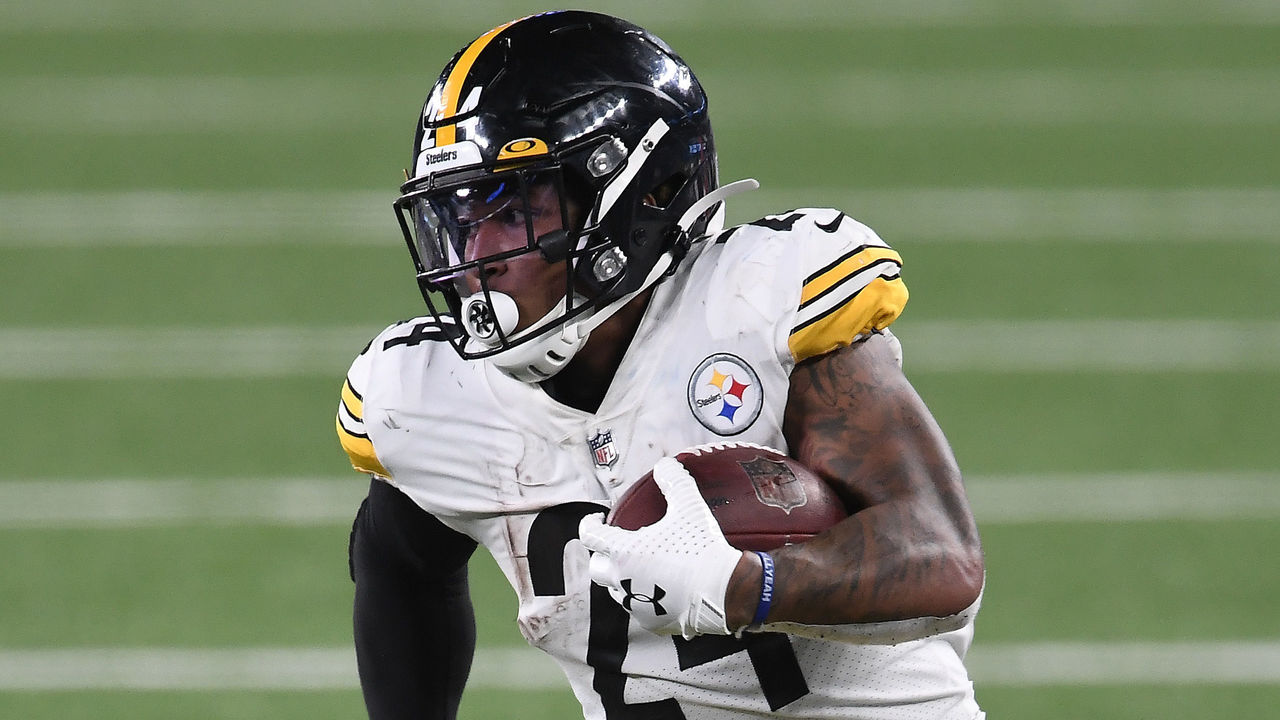 Benny Snell Jr., Steelers
| Next Up | Rostered | FAB |
| --- | --- | --- |
| vs. DEN | 11% | $24 |
As much as the term "injury prone" can be overstated, it was hard to ignore the time James Conner spent on the trainer's table during his first three NFL campaigns. In the offseason, we referred to him as the running back equivalent of Will Fuller - a player who is a solid fantasy starter for as long as he can stay healthy. Unfortunately for Conner, he made it just 15 snaps in Week 1 before suffering an ankle injury and sitting out the rest of the game. He'll be re-evaluated on Tuesday and the team is optimistic for a timely return, according to ESPN's Adam Schefter. Even so, we have to accept the reality that Conner has been unable to hold up physically in the NFL. Meanwhile, his backup Snell earned a ton of positive reviews in training camp for shedding weight and coming back in much better shape. It showed on Monday as he gained 113 yards on 19 carries. We don't know how long Snell will have the lead back job, but he'll be an RB2 in those starts. He also assumes added long-term value with Conner's ongoing durability concerns.
Malcolm Brown, Rams
| Next Up | Rostered | FAB |
| --- | --- | --- |
| at PHI | 24% | $24 |
Brown was the star of the Rams' offense on Sunday night, making two trips to the end zone while amassing 79 yards on 18 carries and adding another 31 yards on three receptions. The veteran led the backfield after playing 60% of the team's snaps, compared to 33% for rookie Cam Akers and just 7% for Darrell Henderson. In addition to being the most productive, Brown simply looked like the best back on the roster, and with the trust of the coaching staff behind him, it might take a while for Akers and/or Henderson to eat into his workload. Akers taking over as the lead back is still the most likely outcome by midseason, so don't spend your entire budget on one prime-time performance by Brown. He's an early season RB2 who can fill a spot on your roster until you find someone else for the stretch run.
Nyheim Hines, Colts
| Next Up | Rostered | FAB |
| --- | --- | --- |
| vs. MIN | 19% | $19 |
If Marlon Mack hadn't suffered a season-ending Achilles injury in Week 1, Hines might not be as high on this list. Even after compiling eight catches, 72 yards from scrimmage, and two scores against the Jaguars, Hines still would have been locked into a three-way committee. However, with Mack on the sidelines, Hines' volume is now secure as he shares the Colts' backfield with rookie Jonathan Taylor. Philip Rivers' arm isn't what it once was and his affinity for using running backs in the passing game is clear. Hines isn't Austin Ekeler, but he'll benefit from Rivers' presence in the same way Ekeler did with the Chargers. That makes Hines a top-30 fantasy back in PPR leagues and someone who might return RB2 value on a weekly basis.
Adrian Peterson, Lions
| Next Up | Rostered | FAB |
| --- | --- | --- |
| at GB | 45% | $14 |
How long can Peterson continue to prove us wrong for doubting him? Following his release by Washington, Peterson told reporters his decision to sign with the Lions came down to them offering him a chance at volume. With D'Andre Swift and Kerryon Johnson already on the roster, we assumed Peterson would work into what was surely to be a committee. Though the snap counts reflect that - with the rookie Swift leading the way at 44%, Peterson at 31%, and Johnson at 26% - it was AP who dominated touches with 17 to Swift's eight and Johnson's seven. And it was the veteran who carried the backfield with 114 yards from scrimmage. Similar to Brown, Peterson's time as the most-productive back in Detroit likely has an expiration date when Swift takes over. But the 35-year-old showed once again he can deliver in real life and fantasy while still warranting a spot on your roster.
Joshua Kelley, Chargers
| Next Up | Rostered | FAB |
| --- | --- | --- |
| vs. KC | 12% | $14 |
We tried to tell you. Kelley was featured in this space a week ago after he somehow went undrafted in almost 90% of fantasy leagues. His 12 carries for 60 yards and a touchdown might not look like much, but the performance put his hard running style on display. The rookie proved he can be the perfect complement to Austin Ekeler, serving in the vacated Melvin Gordon-type role on the Chargers' offense. Last week we said Kelly could be a sneaky fantasy option and was available for free on the waiver wire. If you want him now, you'll have to pay up.
James Robinson is around the 60% rostered mark and should be rostered in almost all leagues.
High-upside backups like Alexander Mattison (45% rostered), Tony Pollard (37% rostered), Chase Edmonds (41% rostered), and Darrel Williams (23% rostered) should be rostered in almost all leagues.
Upside flex options: Jerick McKinnon at NYJ (11% rostered), Peyton Barber at ARI (3% rostered)
Risky flex options: Frank Gore vs. SF (4% rostered), Josh Adams vs. SF (0% rostered), Myles Gaskin vs. BUF (0% rostered)
Deeper upside backups: Brian Hill at DAL (4% rostered), Carlos Hyde vs. NE (19% rostered), Giovani Bernard at CLE (5% rostered), Mike Davis at TB (1% rostered), Darrynton Evans vs. JAX (4% rostered)
Long shot bench stashes: Devonta Freeman - free agent (11% rostered), Corey Clement vs. LAR (2% rostered), Anthony McFarland Jr. vs. DEN (2% rostered), Devontae Booker vs. NO (0% rostered), Jordan Wilkins vs. MIN (0% rostered), Bryce Love vs. PHI (12% rostered),​​​​​​ Royce Freeman at PIT (2% rostered), La'Mical Perine vs. SF (1% rostered), J.J Taylor at SEA (0% rostered), Buddy Howell vs. BAL (0% rostered)
Wide receivers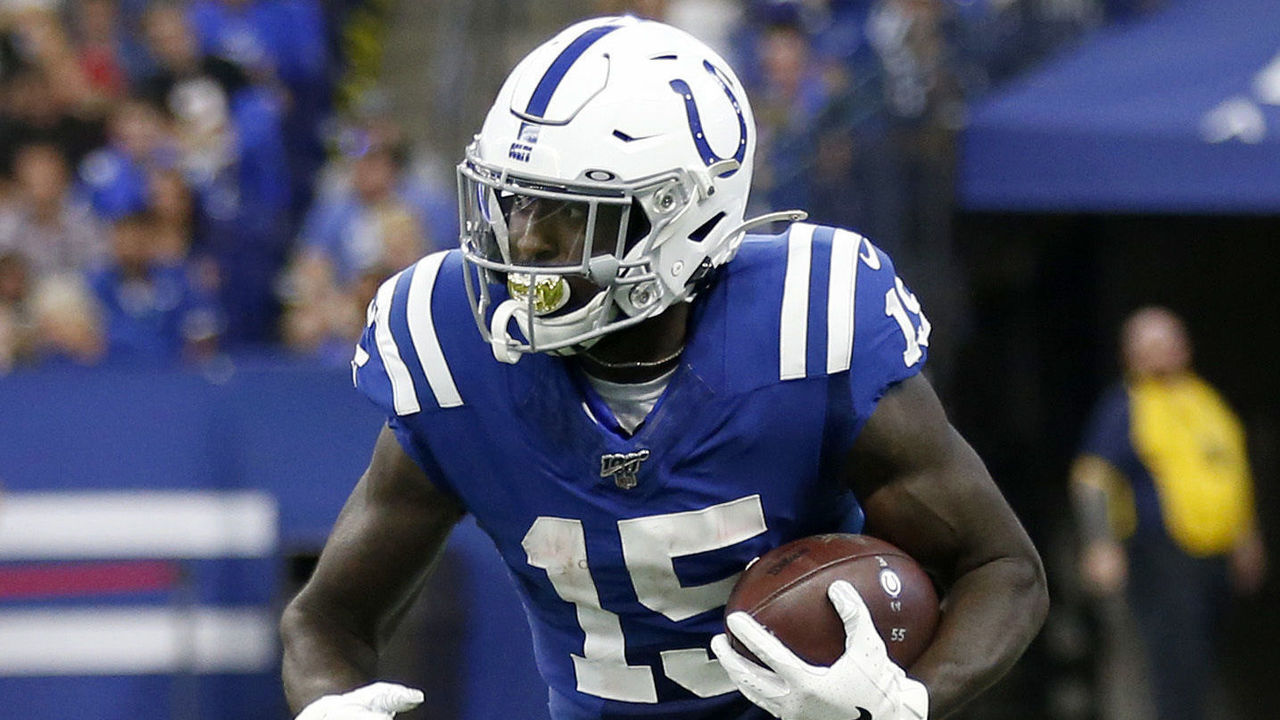 Parris Campbell, Colts
| Next Up | Rostered | FAB |
| --- | --- | --- |
| vs. MIN | 22% | $24 |
Campbell was someone we identified as a potential breakout candidate in 2020 after injuries derailed his rookie season. The electric playmaker with a RB/WR hybrid build worked on his body during the off months in an effort to avoid further injuries. If the early returns are any indication ... it paid off. The sophomore led the Colts' receiving corps in snaps (82%), targets (9), receptions (6), yards (71), and also got a rushing attempt with which he picked up nine yards. Campbell's skill set appears to mesh well with Rivers' aging arm, since he can use his speed to turn short crossers into bigger gains. Every year we see a new batch of stars emerge in the first few weeks and Campbell checks a lot of those boxes. With T.Y. Hilton turning 31 in November, a transition of power might be taking place in Indy's WR room.
Sammy Watkins, Chiefs
| Next Up | Rostered | FAB |
| --- | --- | --- |
| at LAC | 49% | $19 |
Watkins led the Chiefs in receiving during the season opener Thursday, continuing a streak of solid outings for him dating back to last year's Super Bowl run. The 27-year-old put up stat lines of 2-76-0, 7-114-1, and 5-98-0 during Kansas City's three playoff appearances before starting this year with 7-82-1. We've seen Watkins tease us with big games in the past only to revert to his often inconsistent ways. That's why we're not overreacting here. Securing pieces of a Patrick Mahomes-led offense is always a smart investment, so see if you can get Watkins at a decent value on the waiver market. If he stays healthy, he could be an upside WR3.
Preston Williams, Dolphins
| Next Up | Rostered | FAB |
| --- | --- | --- |
| vs. BUF | 38% | $19 |
Williams is back for a second consecutive week in the waiver column. His return from a torn ACL in November has gone as well as can be expected, and despite talk he might be eased into the season, Williams opened the year by playing 90% of snaps. His two catches for 41 yards on seven targets leave a lot to be desired, but he was also facing one of the leagues best secondaries in New England. Another difficult matchup with the Bills awaits in Week 2. However, DeVante Parker might not be available for that game after re-aggravating his hamstring injury, thrusting Williams into the unchallenged No. 1 spot. As we stated last week, Parker's injuries could open the door for Williams to stay in that top role long term. Don't view this as a pickup for next Sunday, see it as a pickup for the rest of the season.
Corey Davis, Titans
| Next Up | Rostered | FAB |
| --- | --- | --- |
| vs. JAX | 4% | $19 |
When the Titans declined Davis' fifth-year option, it seemed like the right move considering his limited accomplishments since being selected fifth overall in 2017. However, on Monday night he looked like the best receiver on the depth chart - outperforming his much more heralded teammate A.J. Brown. Now we have to wonder how much of Davis' recent struggles were due to a toe injury that sapped his agility in 2019 and the routinely bad quarterback play from Marcus Mariota over the years. Tennessee's low-volume passing attack might not be able to support multiple fantasy assets, so if Davis' emergence is real, it might turn both he and Brown into inconsistent producers. It's still worth taking a shot on him to see if he can be this year's DeVante Parker - a former first-rounder who finally broke out after everyone had given up on him.
Allen Lazard/Marquez Valdes-Scantling, Packers
| Next Up | Rostered | FAB |
| --- | --- | --- |
| vs. DET | 43%/7% | $14/$7 |
The Packers stunned everyone, including the Vikings, by taking a pass-heavy approach in Week 1. The result was a monster 14-156-2 game for Davante Adams, as well as 4-96-1 from Valdes-Scantling and 4-63-1 from Lazard. Even if the pie isn't this big in every contest, Aaron Rodgers should be able to take advantage of a supbar Lions secondary in Week 2. The stats don't reflect that Lazard was the more consistent option between these two, with MVS bringing a mix of game-breaking downfield speed and occasional drops. Both receivers offer intriguing upside if Green Bay continues to attack through the air. They need to be rostered until we find out if this was a one-week blip or a sign of things to come.
Anthony Miller and Mike Williams are around the 60% rostered mark and should be rostered in almost all leagues.
Upside flex options: Robby Anderson at TB (31% rostered), Russell Gage at DAL (1% rostered), Golden Tate at CHI (42% rostered)
Promising rookies: Brandon Aiyuk at NYJ (35% rostered), Jalen Reagor vs. LAR (39% rostered), Laviska Shenault Jr. at TEN (12% rostered), Bryan Edwards vs. NO (24% rostered)
Deeper bench stashes: Curtis Samuel at TB (31% rostered), N'Keal Harry at SEA (32% rostered), James Washington vs. DEN (12% rostered), Scotty Miller vs. CAR (5% rostered), Tre'Quan Smith at LV (2% rostered), Steven Sims Jr. at ARI (7% rostered), Miles Boykin at HOU (5% rostered), Olabisi Johnson at IND (1% rostered), Isaiah Ford vs. BUF (0% rostered)
Tight ends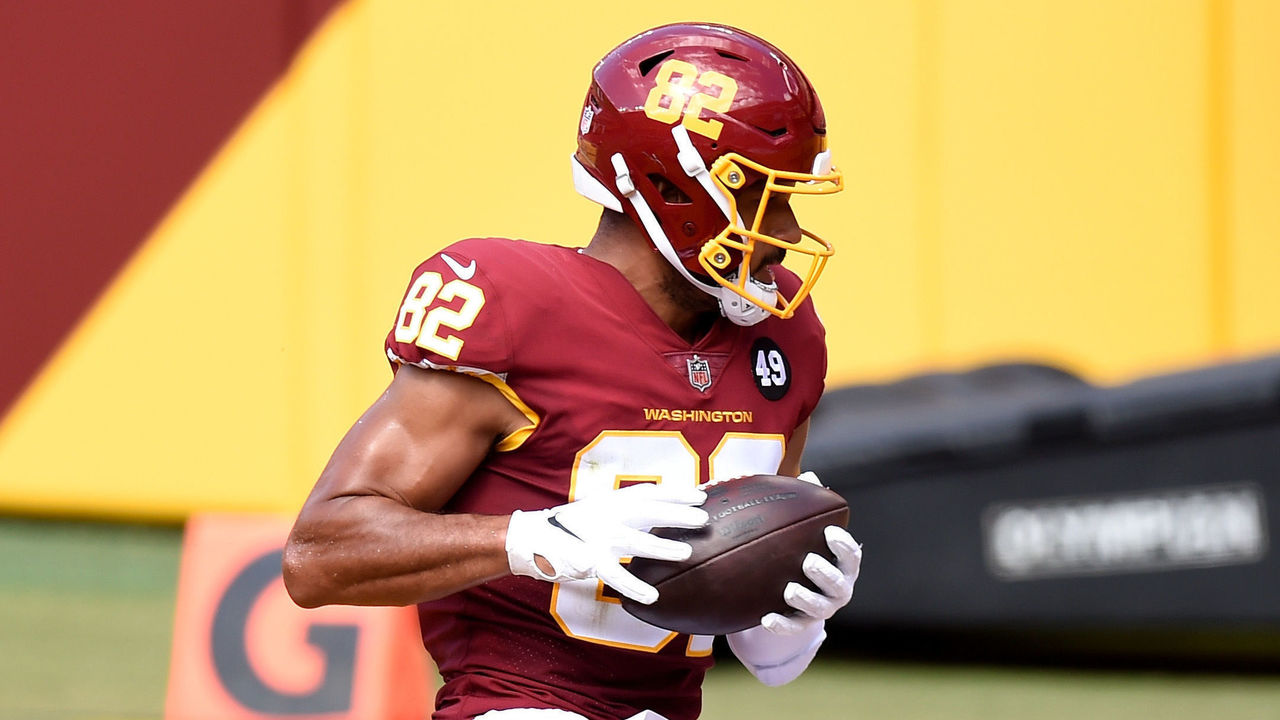 Logan Thomas, Washington
| Next Up | Rostered | FAB |
| --- | --- | --- |
| at ARI | 1% | $2 |
Thomas was one of those long shot options who had the right mix of talent and opportunity heading into Week 1. Recognizing that, Washington gave him a team-leading eight targets in the game and Thomas came away with four receptions, 37 yards, and a touchdown. On a team that lacks receiving threats outside of star wideout Terry McLaurin, it's possible Thomas could be this year's Darren Waller - a player who saw significant volume on a Raiders offense thin on pass-catching talent in 2019.
Eric Ebron, Steelers
| Next Up | Rostered | FAB |
| --- | --- | --- |
| vs. DEN | 28% | $1 |
Despite a quiet opener, we remain optimistic about Ebron's chances of producing in 2020. After all, he's a new addition to this offense and wasn't afforded a real offseason or preseason to build chemistry with Ben Roethlisberger. That trust will develop over time, and with the coaching staff looking to use Ebron as a mismatch all over the field, he might just work his way back into the TE1 conversation.
Dallas Goedert and Jonnu Smith are around the 60% rostered mark and should be rostered in almost all leagues.
Other options: Jack Doyle vs. MIN (27% rostred), Chris Herndon vs. SF (52% rostered), Greg Olsen vs. NE (26% rostered), Jordan Akins vs. BAL (1% rostered), Jimmy Graham vs. NYG (5% rostered), O.J. Howard vs. CAR (17% rostered), Dawson Knox at MIA (3% rostered)
Defenses
Week 2 streamers
| Team | Next Up | Rostered |
| --- | --- | --- |
| Titans | vs. JAX | 49% |
| Buccaneers | vs. CAR | 24% |
| Cardinals | vs. WAS | 3% |
| Browns | vs. CIN | 9% |
Favorable upcoming schedules: Buccaneers DEF (24% rostered), Cardinals DEF (3% rostered), Jaguars DEF (1% rostered)