There are a number of contradictory factors to consider when evaluating Sam Darnold's standing as the New York Jets' quarterback ahead of his third NFL season.
Over here, he had mono. Over there, he saw ghosts. Over here, he went 6-2 to finish the 2019 season. Over there, that second-half schedule was populated with relatively weak pass defenses. Over here, most of his advanced stats are pretty meh. Over there, the Jets' offensive line was terrible. Over here, he made a lot of bad throws. Over there, he improvises a lot and his pass-catchers were subpar. And so on. In the middle of all that? Head coach Adam Gase.
Yes, it's low-hanging fruit to rag on the Jets for being a clown-shoe operation that specializes in finding new frontiers of comic dysfunction. But Darnold was supposed to be the hinge upon which they might finally snap themselves out of their decade-long funk. Yet the Jets still look on paper like a team likely to stagger through another losing season, which means they'll have wasted the opportune years afforded them by the value of Darnold's rookie contract.
One obvious caveat: general manager Joe Douglas has only been on the job for 14 months. This offseason was his first chance to attack free agency and the draft, to implement his slow-but-steady approach to team building. Douglas reworked the offensive line - a vital but long-neglected unit that will feature four new starters this year - with value signings. He also traded safety Jamal Adams for a bounty of draft capital. Douglas is setting the Jets up to succeed in the future. But when will that future arrive? And will Darnold be a part of it when it does? That it's already fair to ask the latter question speaks to the sort of burden Darnold faces this season.
The 2020 Football Outsiders Almanac offers up a damning statistic: Darnold is one of 13 quarterbacks since 2004 to post a negative DYAR (defense-adjusted yards above replacement) in each of his first two seasons. Alex Smith is the only member of that group who's had a decent career. In addition, per the Almanac, of the 43 quarterbacks drafted since 2004 to have started at least 17 games in his first two seasons, Darnold ranks just 24th with an ANY/A (adjusted net yards per pass attempt, which factors in sacks and interceptions) of 5.37.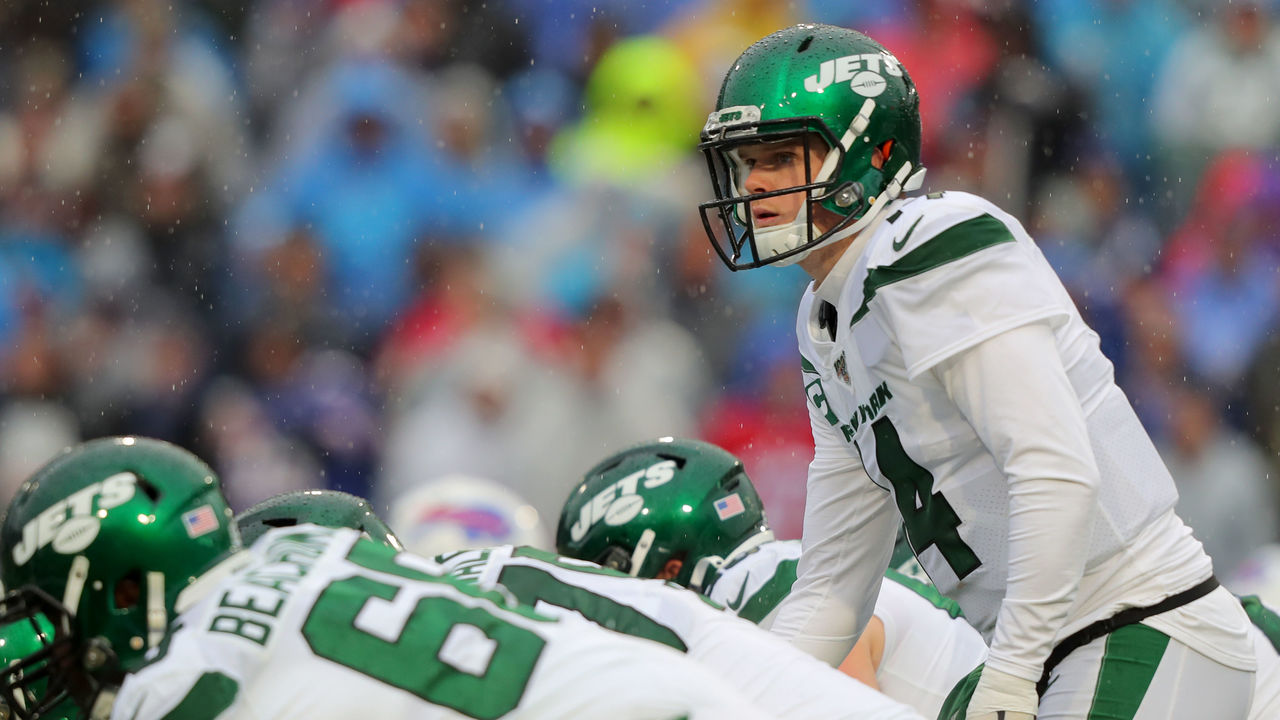 Interestingly, one of the QBs with a lower ANY/A in his first two seasons was Ryan Tannehill, who earned a big contract from the Tennessee Titans this offseason after flowering into an efficient replacement for Marcus Mariota. But Tannehill's experience reveals how much a quarterback can be influenced by circumstances beyond his control like coaching and surrounding personnel. It's important to keep that in mind when it comes to Darnold.
One of the Jets' biggest acquisitions in 2019 was running back Le'Veon Bell, whose versatility figured to be a major asset. Inexplicably, Gase didn't use Bell the same way the Pittsburgh Steelers did. Bell still racked up 311 touches, including 66 catches, according to PFF. He ran a receiving route on 50% of his snaps played - a jump from 31.6% during his final season with the Steelers in 2017. But Gase largely positioned Bell in the backfield, rather than line him up in the slot.
In 2017, Bell ran 12.9% of his receiving routes from the slot, per PFF. But last season, the Jets had him do that just 5.9% of the time, which was only 23 snaps. According to analyst Warren Sharp's data, the Jets ranked dead last in early-down success rate (50% of necessary yardage on first down, 70% on second down). They ran the ball third-most on second down and 10 or more yards, and those runs had a 15% success rate. When the Jets won the early-down success rate battle, they were 6-1. When they lost it, they were 1-8.
Gase also had a way of telegraphing that the Jets might run the ball when they had multiple tight ends on the field. Per Sharp, whether they were in "12," "13," or "22" personnel (the first number indicates the number of running backs and second the number of tight ends), their tendency to run the ball ranked in the top three in the league.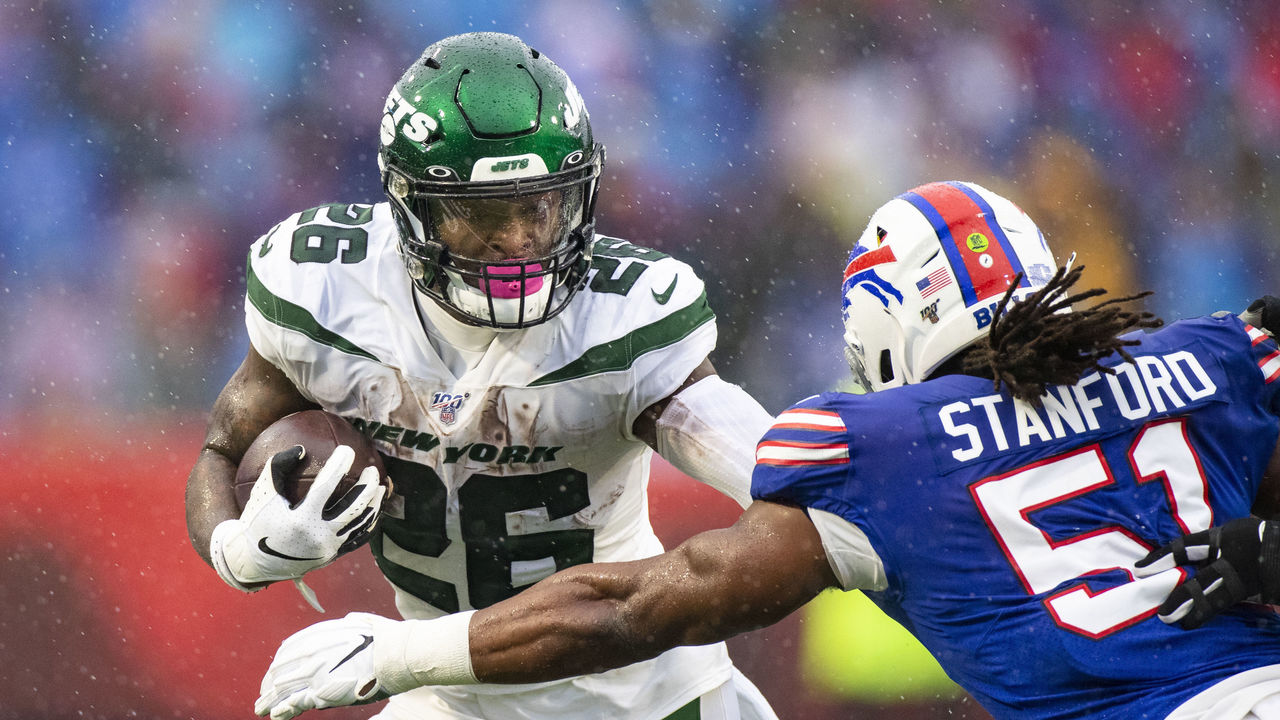 Gase told reporters this week he did a "bad job" using Bell early last season, when he "was really trying to get him going, and at the same time teams kind of knew what we were doing and they were loading up the box and he was taking some shots." Gase is allegedly an offensive innovator. What took him so long to recognize this?
Darnold's been saddled with crummy pass-catchers in his first two seasons, and not having injured tight end Chris Herndon was certainly a blow. Herndon is back, and Breshad Perriman and rookie second-round pick Denzel Mims are now the complements to slot man Jamison Crowder. But ESPN's Bill Barnwell noticed something worrisome about the route combinations in the Jets' passing game:
More than any offense I can remember, the Jets would end up with three or four receivers occupying the same small area of the field, making it impossible for Darnold to make a throw without risking an interception. It was troubling when he would sometimes miss all of them with his pass. Flooding one side of the field at multiple levels is common, of course, but these were routes with no more than a few yards of spacing.

That wasn't all. It was one thing when I saw two Jets receivers nearly run into each other downfield while they were running post and go routes together early in the season. It's another when they did the same thing on the same concept again in December!
These are among the factors that are beyond Darnold's control. The question, heading into Year 3, is whether he's capable of overcoming them.
"Sam Darnold does have the talent to be consistent top-10 quarterback," NBC Sports analyst Chris Simms said this week. "He's going to have to make some of these plays on his own. It's going to be tougher for him, and I think it will be on him to make a few more plays at times this coming year to put their offense and their team in some good positions."
Ideally, the Jets would have been better positioned by now to provide Darnold with a stronger support system. Things could improve this year, but it's going to require a lot from Darnold. Until further notice, the future the Jets are pointed toward still looks a lot like their recent past.
Dom Cosentino is a senior features writer at theScore.