A rundown of the best games and most interesting trends to watch for in Week 5 of the NFL. All times Eastern.
COVID-19 continues to set its uncertain terms
Another day, another NFL news cycle dominated by positive test results, negative test results, postponed games, the possibility of postponed games, and lots of uncertainty about where this is all headed.
To be clear: Once it decided to press forward as scheduled, with full travel and no bubble, the league knew it would have to adjust to shifting circumstances. The spread of the coronavirus was always part of the game plan. What's less certain - as any parent of a school-aged child well understands - is how disruptive COVID-19 is going to be.
The league lucked out when it had to postpone last week's Steelers-Titans game. It was easy to move the game to Week 7 - the Titans' scheduled bye - by pushing a Steelers-Ravens game to Week 8, when both teams had their original byes. The Titans apparently violated the league's protocols, but it was the Steelers who were punished by having a midseason bye unexpectedly moved to Week 4. Pittsburgh must now face the Titans, Ravens, and Cowboys on the road in consecutive weeks. No one said this would be fair.
Similarly, the NFL managed to knock a pair of Patriots games back a day, shift the Bills-Titans game to Tuesday, and toss next Thursday's Chiefs-Bills contest to Saturday. But at some point, it will likely become too difficult to simply spackle the holes in all of these game dates. Canceling games is likely not an option - there's just too much television money at stake - but adding weeks or delaying the postseason is always a possibility. Super Bowl in the springtime, anyone?
There are too many variables at play for anyone to know how this might go. The virus' incubation period can last up to 14 days, which means a person who tests negative today could test positive tomorrow or even several days from now, depending on when they might have been exposed and the viral load they've accumulated. This explains what happened in recent days to Patriots cornerback Stephon Gilmore. But it also reveals how quickly a single positive test result can potentially lead to an unforeseen outbreak, which can wreak all sorts of havoc.
Commissioner Roger Goodell can wag his finger through stern memos that remind everyone he's in charge and ready to do something at some point, but COVID-19 is not something the NFL can control, and it never was.
What could go wrong?
Las Vegas (2-2) at Kansas City (4-0), 1 p.m.
The Raiders have surrendered at least 30 points to three of their four opponents this season. They also rank 30th in defensive DVOA against both the run and the pass, and 31st overall. They should be just fine on the road against Patrick Mahomes and the Chiefs, right?
On a somewhat related note: The Chiefs are 28-3 against the rest of the AFC West since the start of the 2015 season - far and away the best in-division record in the NFL. With a victory over the Raiders, Kansas City can also extend its lead in the division to three games. Any way to relegate the remainder of the AFC West to the NFC East?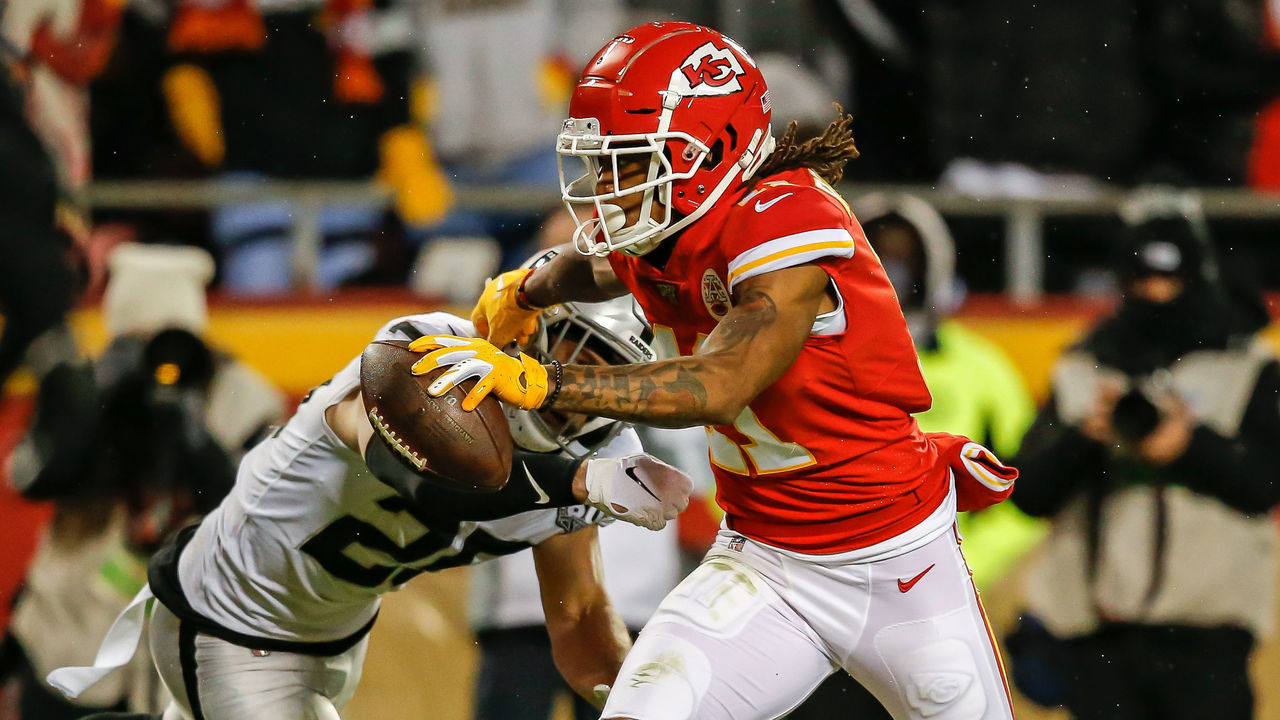 That's probably not going to cut it
Arizona (2-2) at NY Jets (0-4), 1 p.m.
Some idiot wrote something a couple of weeks ago suggesting the Cardinals might be legit. That idiot was me. Arizona has since lost to the Lions and Panthers. So what's gone wrong?
Kyler Murray looks like he's putting up some swell numbers, posting a 68.8% completion rate while on pace for 1,060 rushing yards on the season. But it's really some serious empty calories: Murray completed 24 of 31 passes last week, notching three touchdowns and a passer rating of 116.7. But he threw for just 133 yards.
Murray's net yards per attempt, a metric that factors in the one sack he took, was just 4.16 in that game. According to Chase Stuart of Football Perspective, that's the third-lowest average passing gain for a QB with a passer rating greater than 115 since 1970.
Murray and the Cardinals get a bit of a reprieve this week, when they face the Adam Gase-Joe Flacco Jets. The Jets had a bit of a COVID-19 scare on Friday morning, but subsequent testing revealed that a player had what turned out to be a false positive. The running joke among Jets fans is that it might be the team's biggest win of the season.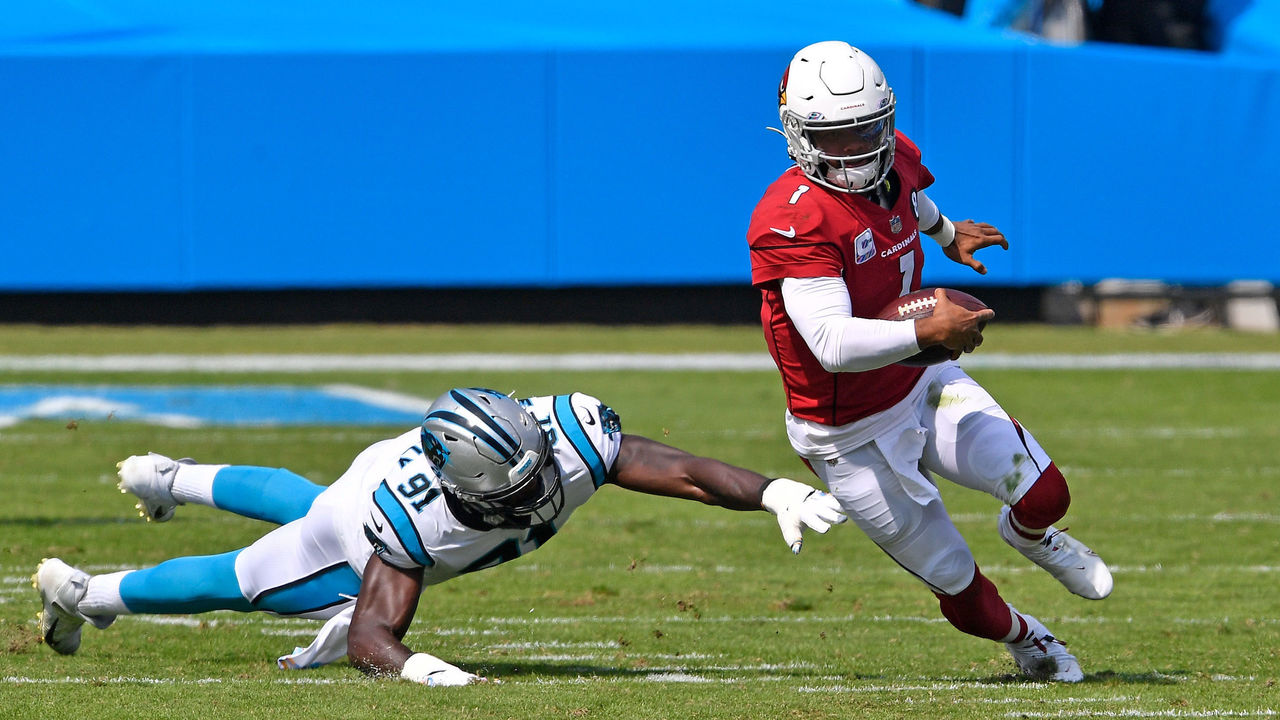 Potential shootout alert
Minnesota (1-3) at Seattle (4-0), 8:20 p.m.
The Vikings are strange. They've scored at least 30 points in three of their first four games, but they've only won once. Their 38% passing success rate in the first three quarters is the lowest of any team in the league, according to PFF, yet their 69% mark in that category in the fourth quarter is the best in the NFL. Kirk Cousins has as many touchdowns as interceptions (six), but he also leads the league in yards per completion (14.2). You get the idea.
After spending much of the first two weeks playing from behind, Minnesota has found its offensive stride in its last two games. The emergence of rookie wideout Justin Jefferson has provided a complement to Adam Thielen and a replacement for Stefon Diggs. Throw in running back Dalvin Cook, who's racked up 311 of his league-leading 424 rushing yards in the last two weeks, and Cousins now seems to have a full complement of weapons.
In fact, according to PFF, Cousins leads the league in deep-ball completions with 13. His average completed air yards (9.2) and intended air yards (10.8) are by far his best since he joined the Vikings in 2018. Minnesota's offensive line is shaky - as always - but the Seahawks don't have much of a pass rush. Cousins and Russ both figure to cook in this one.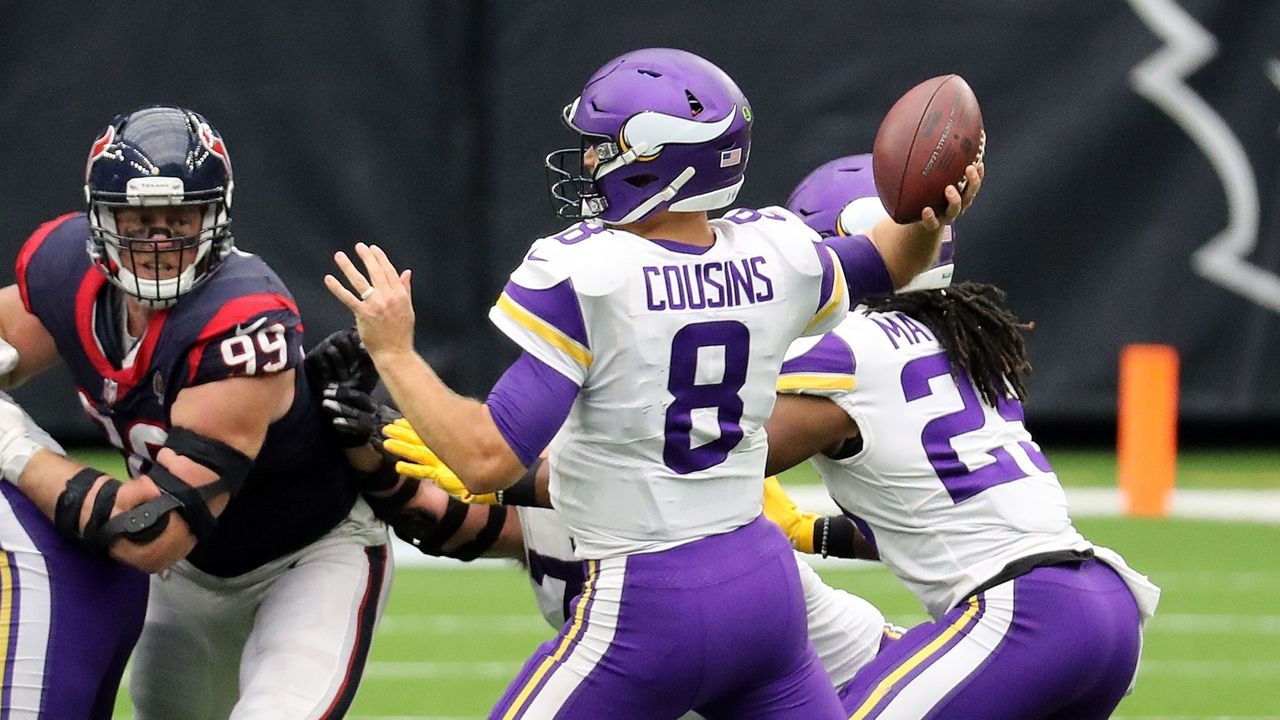 Thursday night leftover
Chicago 20, Tampa Bay 19
Tom Brady appearing not to know if it was fourth down and the overblown question of whether he refused to shake Nick Foles' hand after losing to him again were the dominant storylines, but it's time to talk about both head coaches' poor clock management at the end of this one.
Leading by two, Brady and the Buccaneers got the ball at their own 16 with 2:48 remaining. The Bears still had all three timeouts. Tampa went three-and-out and punted the ball back to Chicago after losing two yards and forcing the Bears to use just one of those timeouts. Head coach Bruce Arians had Brady try to throw on both second and third down, and both passes fell incomplete. It all took only 16 seconds off the clock.
Needing just a field goal to take the lead, the Bears got the ball back at their own 48 with 2:21 left. After five plays, they had a first-and-10 at the Tampa 25 - well within field-goal range - with 1:36 to go. Head coach Matt Nagy called a run on first down, forcing the Buccaneers to use their second timeout. So far, so good.
On second down, however, Nagy had Foles take a shot toward Allen Robinson in the end zone; the pass fell incomplete, stopping the clock. A short completion on third down finally got Tampa to use its last timeout. But after Cairo Santos' 38-yard field goal gave Chicago the lead, there was still 1:13 remaining. With Tom Brady getting the ball back.
It worked out for the Bears in the end, but it was quite something to watch both coaches give the opponent so much time to work with at the end of a game decided by just one point.
Dom Cosentino is a senior features writer at theScore.